Brittany is a very particular region in Northwest France, well known for its cider and especially, its great food.
The region's unique culture, heavenly landscapes and earthy food far outweigh its notoriously bad weather. La Creperie in District 1 is an example of the delicious dishes that this region can offer.
With an extensive menu of Brittany specialities, some of which have a Vietnamese touch, the food is great for foreigners and locals alike. And the prices will not disappoint - you can find starters from VND35,000 and very affordable mains.
I strongly recommend that you try the baked scallop with mushrooms; it is just one scallop but don't scream yet, as you will when you see its size (bigger than my hand), baked to perfection, a huge portion offering freshness and complexity of flavours from land and sea - very filling and tasty!
Seafood and Galettes are some of the main courses and the open kitchen gives you the chance to watch the chef preparing the dishes, skilled not only in cooking but also in flipping the pancakes.
If you're hungry, try the Galette La Nantaise, with asparagus, bacon, mushrooms cream and salad. Huge size, very tasty and filling; even I could not finish it. However bear in mind that La Creperie offers twenty different Galettes (seven of which have no cheese), so plenty there are plenty of options.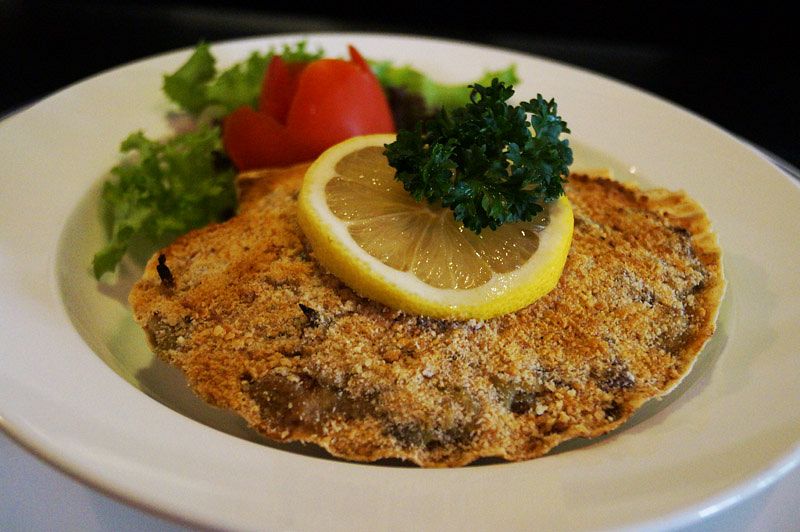 If you have a sweet tooth, eighteen different crepes will be waiting for you, seven of which include ice cream, prices start at VND65,000, but other desserts are also available.
The atmosphere is relaxing and the restaurant has been decorated in a maritime theme; take the stairs to the top floor and enjoy the paintings but don't leave without looking at the ceiling…you will see why when you visit it.
Cider (a low alcoholic drink, similar somehow to beer, made from apples) is also very popular from this French region, and La Creperie offer three types of it. Cider is becoming a favourite among Vietnamese women who are looking for a healthy drink, low in alcohol and tasty which will not give them a beer belly (at least that's the hope).
La Creperie excels in traditional Breton recipes with imported and local ingredients, bringing the finest from different regions.
Open seven days a week from 11 to 11, La Creperie presents a nice alternative to traditional French restaurants. Families will also be happy to know that they offer a weekend children's menu.
La Creperie. 17/7 Le Thanh Ton, District 1, HCMC. T: 08 38 24 70 70.