You'll have to clear an afternoon to get to Baby African.
It's not the kind of place you can swing by when you're "in the neighborhood" or spend a spare half-hour. Unless you, too, live in the furthest reaches of Go Vap, a meal at one of Saigon's only Nigerian eateries is a pilgrimage in which the destination is a one-room restaurant with no menu and no fixed pricing but also one serious plate of jollof.
Eight months ago, I began a fruitful relationship with Baby African based on nothing more than a business card and a phone number. A year or two before, the story goes, my boss had stumbled upon a Nigerian place with a buddy. His eyes lit up when he talked about the plates full of fried plantains and roast chicken, served in the living room of an unmarked house.
Ever since, I have been recounting the legend of this Nigerian food spot in secret, telling only close friends and those I know will never visit anyway. At least once every fortnight, I call up Baby African on behalf of our entire office and order enough food to feed a small army. It arrives in black plastic garbage bags, hand-carried by a grisled old Vietnamese man on a skeleton bike. From there, it gets hazy; my entire workplace goes quiet as we devour piles of beans and rice. But in the subsequent food coma, I always manage to text Baby African and shower them with praise. This is a relationship I cannot afford to destroy.
"Where are you from?" she asked me one day over the phone. "Not Vietnam."
"No," I said.
"Are you Nigerian?"
"No," I said again. "Canadian."
The silence on her end of the phone gave away her confusion. But last week, in an effort to take our relationship to the next level, I made the pilgrimage to Baby African to meet the woman I'd been food-texting since September.
The trip is long enough that we bought drinks for the road. By the time the poor soul driving our GrabCar arrived, we were laden with snacks and refreshments, piling into his seven-seater for the 40-minute trek. We blundered north through Binh Thanh District, snaking along Le Quang Dinh toward the wider thoroughfares of Go Vap, heading to that ambiguous no man's land between the chaotic outer districts and the suburbs.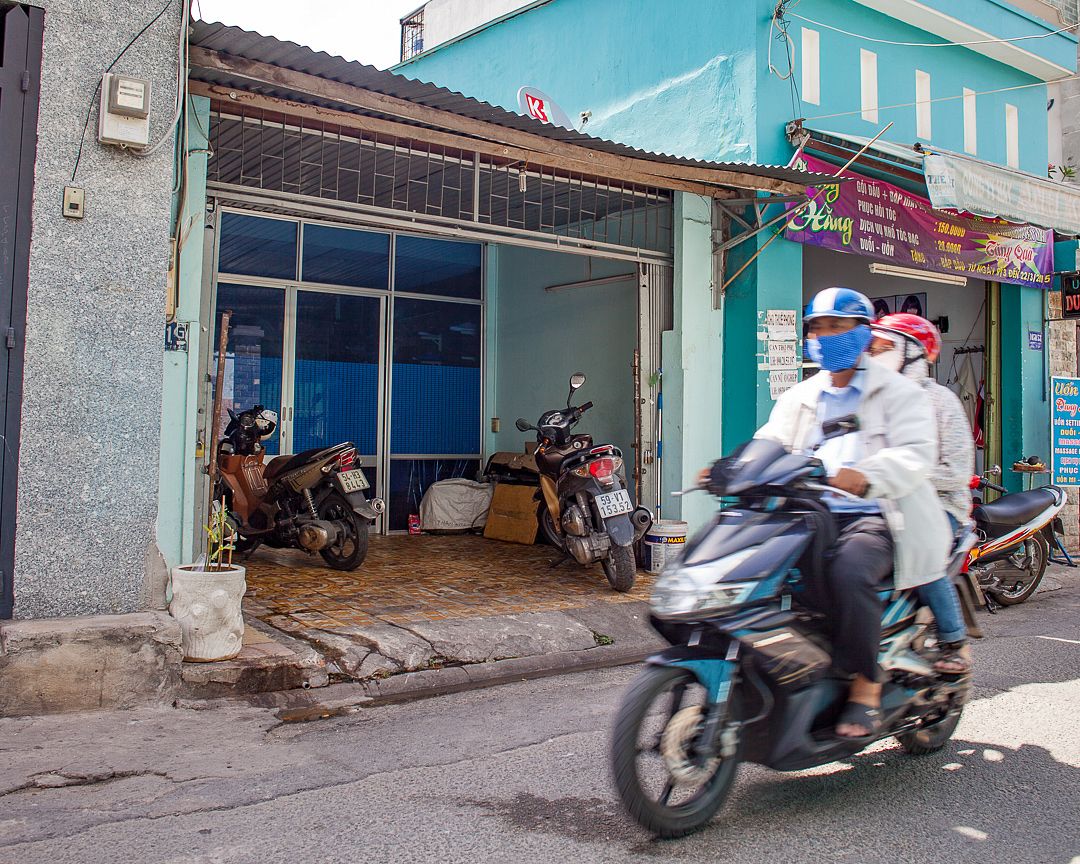 When we reached the address on the business card, it seemed the restaurant had disappeared. A handful of neon signs advertised tạp hóa and a series of random housefront shops, but there was no indication – apart from the addresses on neighboring buildings – that the house in question was, in fact, inhabited, let alone a restaurant. To say you would miss this spot if you weren't paying attention is only partly true: in order to see Baby African, you need to already know it exists.
I called the number again and a stocky Vietnamese woman poked her head out the window to wave us over. We left the GrabCar and found ourselves face-to-face with a sliding door. On the other side, much to our delight and their confusion, sat a group of Nigerian men having lunch.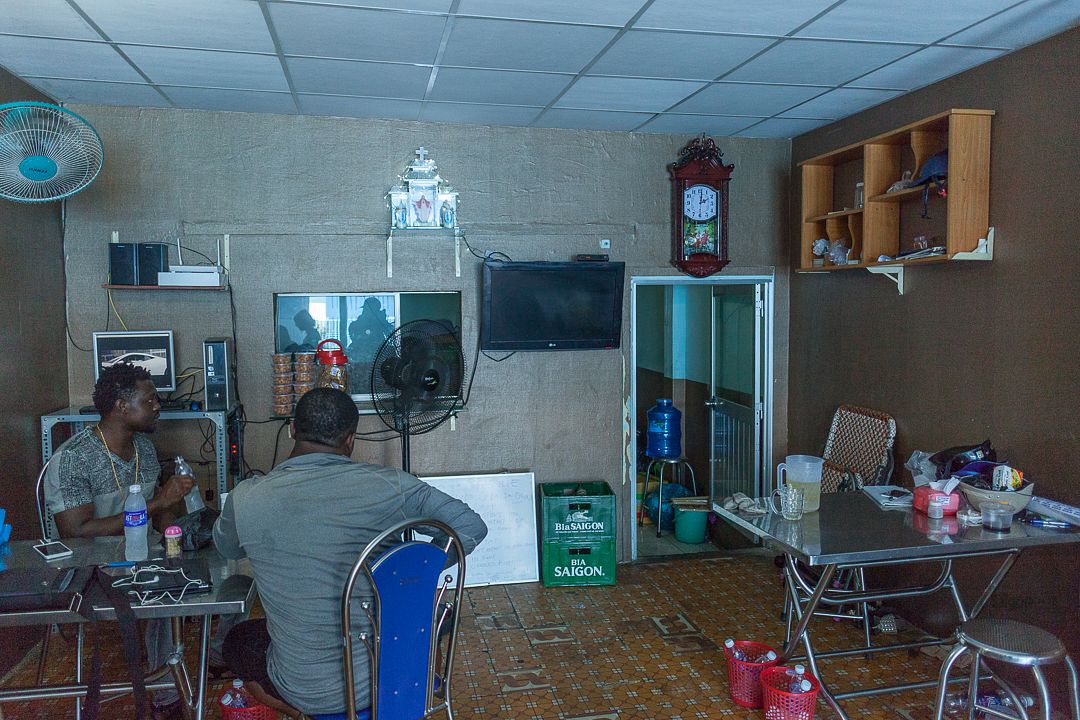 "Hello!" I said, a little too loudly. No one replied.
While it could have probably got more awkward from there, I was saved because I had an in with the cook. It didn't take long for her to figure out that I was the person who had been texting her elaborate thank yous for making my lunch these past few months. We chatted for a moment, I asked for the usual and then we sat in silence, buzzing with excitement, amid a group of people who did not seem nearly as ecstatic about lunch.
But really, they should be. This food is worth two phone calls, a 40-minute car ride and whatever price the owners feel like charging that day (usually around VND100,000/plate).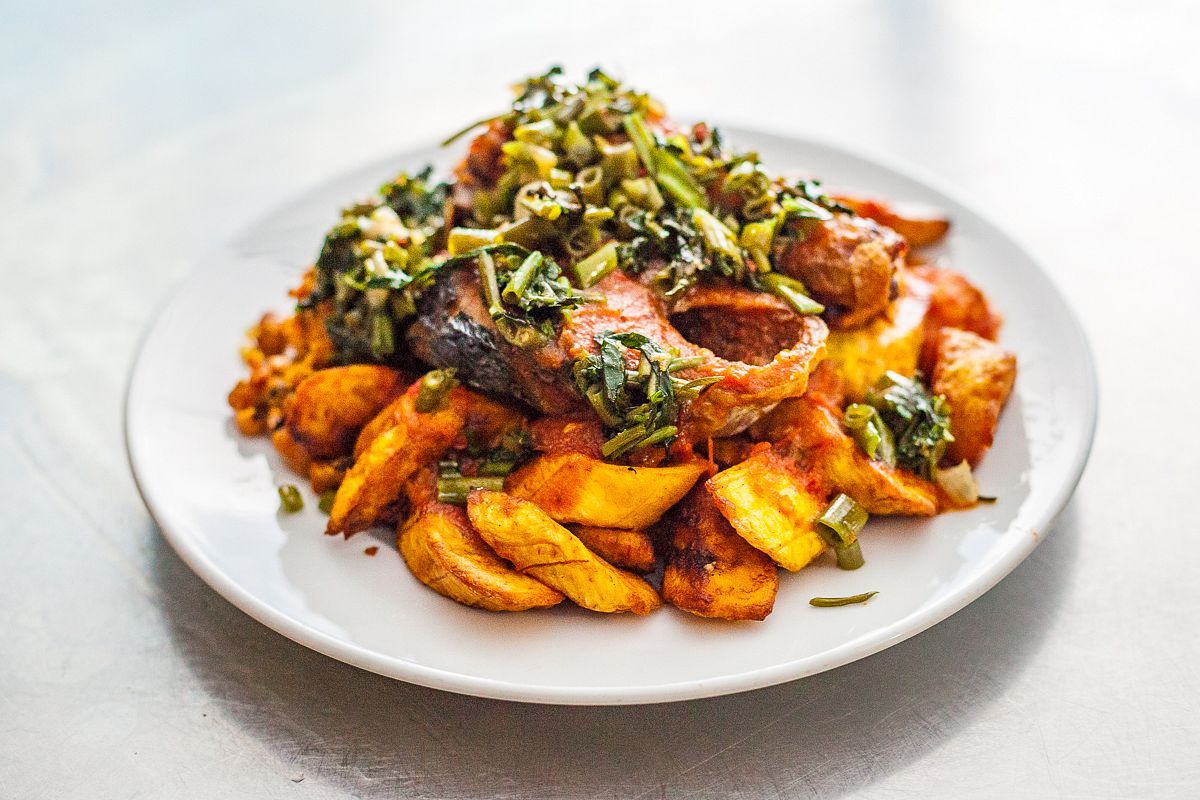 While the menu changes from day to day, there are a few mainstays that remain the highlight of Baby African. Jollof, a West African staple, consists of rice cooked in a combination of tomatoes and cayenne pepper, curry powder and thyme. It has its own kick; the spice is distinctly different from Vietnamese chilis and the meal is often accompanied by a chicken thigh or fish. While fried rice comes off as greasy and steamed rice is but an accompaniment to something else, you could eat jollof all by itself.
Our other favorite is a heaping plate of beans and fried plantains. Cooked in palm oil – thick, red, delicious, terrible for you – and topped with a tomato sauce, this dish is a mountain of carbs and protein topped with both chicken and fish. Once you've tried "bean-plantain", as the Baby African lady calls it, you can pretty much induce a food coma by thinking about it.
When our food arrives, the beginning of the meal is a free-for-all. Even though we've ordered four dishes to our five people, the food is abundant. The first 20 minutes oscillate back and forth between gorging ourselves on Nigerian food and rehashing the journey to get to this spot before we slow down, pacing ourselves to match the gargantuan task before us.
As we polish off the last of the food, lapsing into a carb-induced silence, Baby African's main cook comes over to show us freshly made pots of beans and stew. Much like her curiosity toward me, I have a few burning questions about her, a Vietnamese lady who is an expert in Nigerian cuisine. Though the details are a little vague, she viewed it as a business opportunity: Nigerians were coming to Vietnam for work, and no one knew how to make West African food. After studying under a Nigerian lady, she opened her own shop and took to serving Nigerian dishes to the small but loyal community in the area.
Now, 11 years later, it's mostly Nigerians who turn up here but there's also the odd Ghanaian, a few Kenyans and, once, a Cameroonian guy, she says. Without a doubt, the place is no-frills – more than four is a crowd here – but the food and the adventure required to obtain it weed out all but the most devoted foodies. It may not be an everyday place but it's worth a weekend afternoon. Baby African is open for lunch and dinner from Monday to Saturday; it's best to call before you set off just to make sure.
To sum up:
Taste : 5/5
Price : 4/5 – usually no more than VND100,000/portion
Atmosphere : 3/5
Friendliness : 4/5
Location : 2/5 – Best to call ahead before you go; bear in mind there are no English speakers here (09 33 732 325).
Dana is 70% caffeine, 50% fish sauce and hasn't taken a math class since 2004.
Nigerian food
439/10 Cay Tram, Ward 12, Go Vap District

---

Related Articles:
---