The weather was truly Hanoian earlier this week. Outside, rain fell in sheets, flooding the pockmarked alley outside our office door. The sun had disappeared. Though a few particularly photo-obsessed teens continued to pose before the graffiti splashed across 3A Station's walls, most had given up and retreated to shops and cafes.
My colleagues and I made several attempts to wait out the rain to no avail so shortly after noon we set off in the cold, dreary weather, dodging puddles and unruly motorbikes the entire way. As a bona fide southerner, these circumstances were something of a hardship, but it was fitting for a midday bowl of bún chả.
There is no longer much need to describe the dish (thanks, Obama), but in case you've been living under a rock: cold rice noodles, grilled pork, fresh greens and a soupy, watered-down version of fish sauce that's good enough to drink. While phở gets all the glory, bún chả is, in reality, the one Hanoian specialty worth braving cold weather, paying foreigner prices or sitting on a plastic stool in a winter rainstorm to enjoy.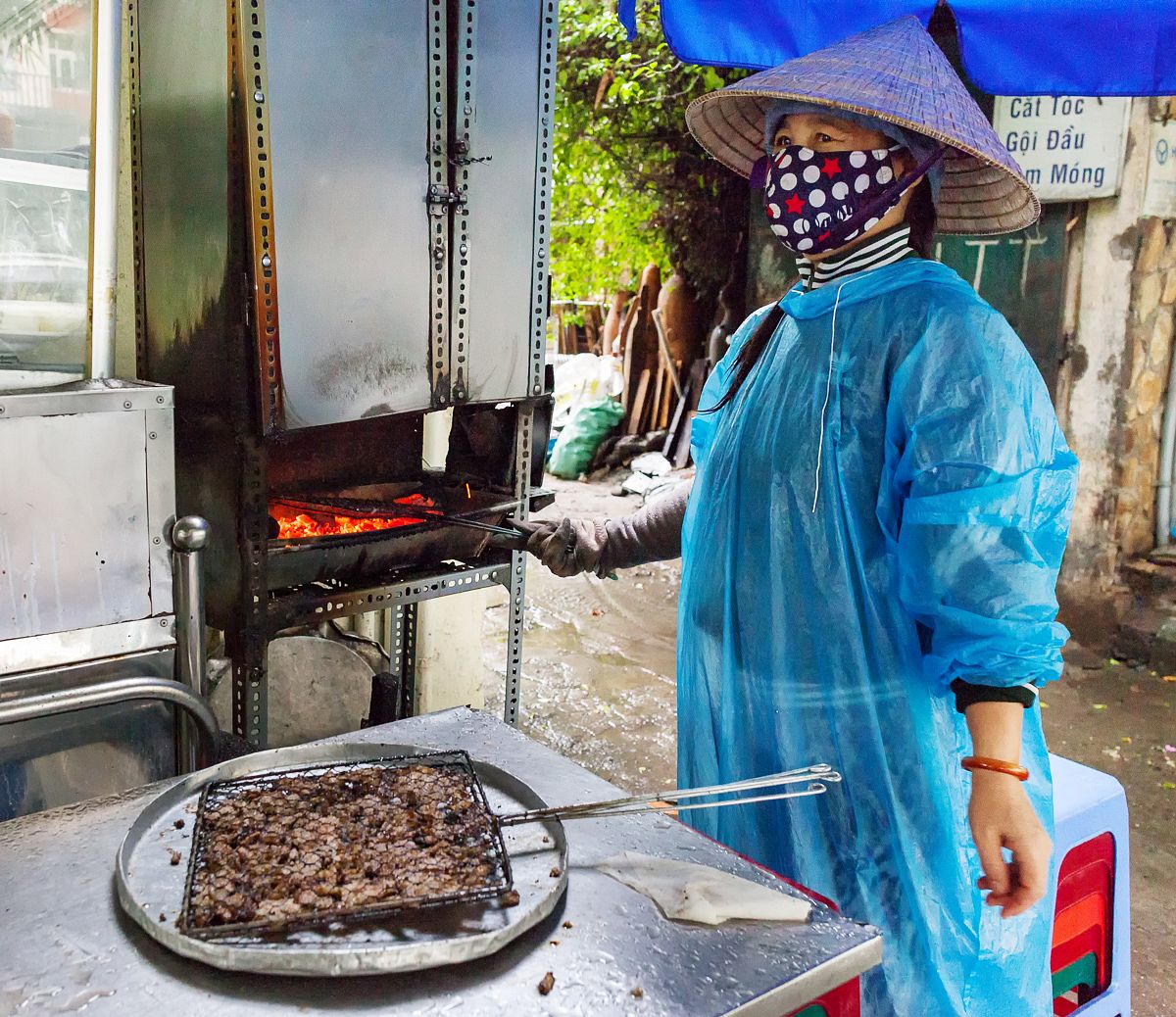 Quan So 8 was quiet when we arrived, largely because of the recent downpour. Still, tarps and tables were neatly arranged out front, ready for the lunch rush. Residents in the capital, I imagine, would have ventured out regardless, huddling around their bowls in gloves and jackets, but Saigon decided to stay indoors. We grabbed a seat at the back of the small house, shielded from the rain.
Almost immediately a pile of bún and fresh greens appeared. We ordered two-thirds of the standard suất Obama: bún chả and nem cua. Sadly, Bia Hanoi was not an option, as it tends to make the midday nap significantly longer.
Around the same time our heaping bowls of chả turned up so did the proprietor, a middle-aged woman with a wrist brace and a fanny pack. One eye on us, she shuffled to the corner of the room and sat down to supervise our lunch. No one seemed to be in a hurry to get things done, but when you're serving customers from morning to night it's fair to take a little down time during the off hours.
Being a fat kid at heart, I ate voraciously. The chả, grilled to perfection, floated in a glorious soup of nước chấm, light but packed with flavor. Pair this with fresh noodles and crunchy greens, and the dish really hits its stride, drawing together a beautiful combination of flavors and textures. You have the option to add chili flakes and a few other condiments, if desired, but even by itself this bún chả is just right.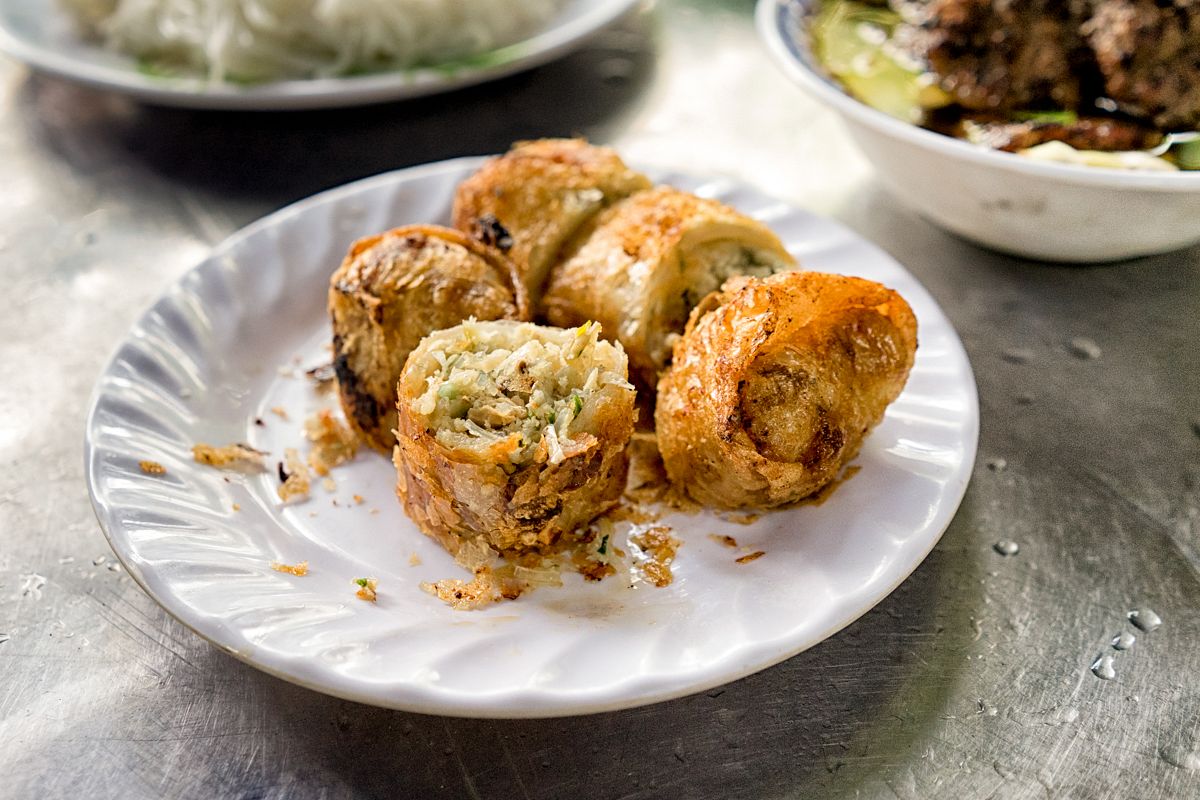 As for the nem, it's not quite as Hanoian as we'd hoped. Though the front awning boasts the "most delicious bún chả and nem in Hanoi", only half of the claim is true (if, of course, you switch "Hanoi" to "Saigon"). Unfortunately, the nem cua biển leaves something to be desired; at Quan So 8, the capital's trademark fried spring roll is made with southern sea crab, which doesn't translate as well into the square-shaped spring roll. Also, their square-shaped spring rolls are cylindrical. If you're looking for genuine Hanoian nem cua bể, it's better to give this one a pass.
Once we'd finished hoovering our food, I made my usual attempt to chat up the proprietor. She was a little stiff, unsmiling, but nonetheless willing to hold a conversation. The shop, she told me, has been open for 20 years. A modest, one-room joint, it sits next to a towering office building just near the intersection of Ton Duc Thang and Ly Tu Trong. After a bit of coaxing, she informed us that we were, in fact, eating at the most expensive (VND55,000/each) bún chả spot in town.
She followed up this confession: "It's also the most delicious."
Given the distance, I'm not sure I can support the claim of Hanoi's most delicious, but when it comes to Saigon, Quan So 8 takes the prize.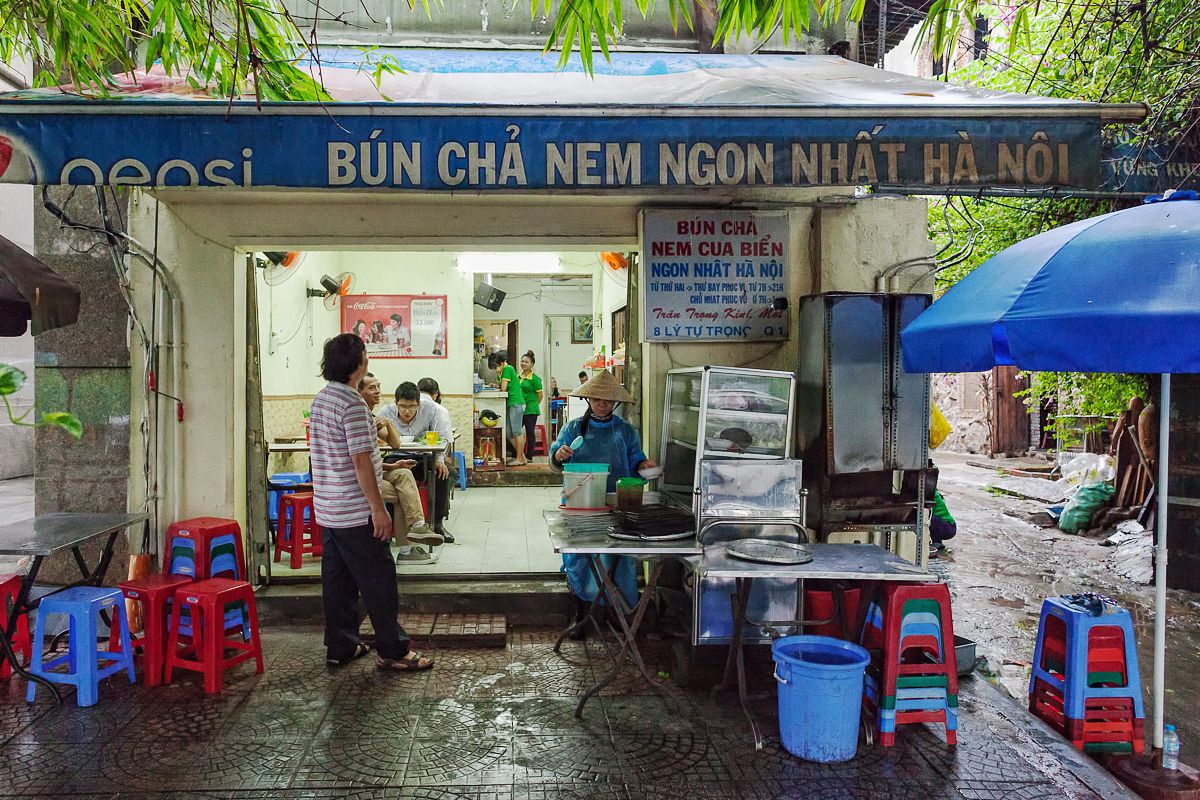 To sum up:
Taste : 4/5
Price : 3/5
Atmosphere : 3/5
Friendliness : 3/5
Location : 5/5
Dana is 70% caffeine, 50% fish sauce and hasn't taken a math class since 2004.
Bún chả
8 Ly Tu Trong, Ben Nghe Ward, D1

---

Related Articles:
---