The Deck has been an institution in HCMC for those of us who enjoy great food, top service and a luxurious and sophisticated environment.
Chef Adrian Scott, who is also behind the iconic Mekong Merchant, has created a new fusion menu to delight all of us who like simplicity in life but complexity in wines and fine food.
The Deck is situated in a quiet area of District 2, right along the river, offering three main seating areas: patio seating, surrounded by tropical gardens; indoors seating and seating by the deck overlooking the river. The latter is my personal favourite, as I find it a very relaxing place to have some food, or even just one of their magnificent cocktails, while watching the patches of plants floating down the river.
As for the food, the menu is printed on a single double size page, making it easy and straightforward to see all the options; if you are concerned about lack of choices, don't because with so many yummy dishes the difficulty is to choose what not to have!
While you wait for the food, expect to be served three homemade, delicious dips and hot bread, a very nice touch.
The beef carpaccio (VND235,000), which we had as a starter, was presented on a long plate, with sliced raw beef softly marinated in lime and olive oil and topped with cheese savings and cooked minced garlic; the light olive oil makes it ideal as it preserves the flavours of the beef and cheese but it gives the dish that extra layer of flavour.
The Nha Trang oysters (VND220,000), which are imported from France and then grown in Nha Trang, were fabulous. Served by the half and full dozen, don't bother with the latter as they are so delicious that you won't be able to stop eating them. With three options available, those served with chorizo were my favourite, but the rest were also deliciously fresh. If you think that oysters and chorizo don't go together, just wait until you try these! Another option are those served with baked cheese, were creamy, delicate and crunchy. If you are into wine, I recommend you have the Gentil Riesling with them, as it proved a great match.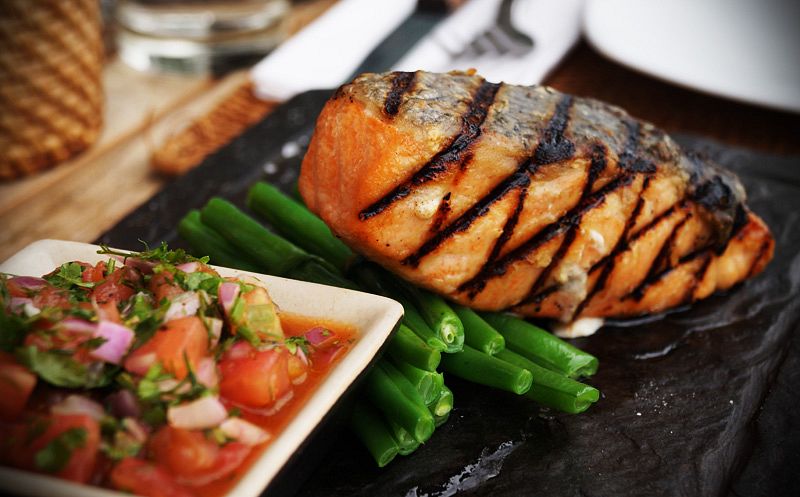 The grilled salmon (VND350,000) for the main course was served with green beans and tomato salsa, on top of a generous piece of fish - ideal for the hungry. With a very delicate texture and full of flavour, the salsa gives it an exotic touch and that extra kick to make it fabulous. The Petit Closs wine was delicious and exposed the right level of acidity to enhance the sweet touch of the salmon.
We finally tried the char grilled lamb kushiyaki (VND440,000), cooked and served on young bamboo sticks; it had a great presentation and an even better taste. Tender and elegant, served with a delicious sweet sauce giving it a fusion touch without compromising the taste of the imported lamb. The Terrazas Malbec, also available by the glass, really enhanced the dish's flavours.
This urban retreat is in my top 3 favourite places for cocktails in Ho Chi Minh City: not only for the variety and quality but knowledgeable staff.
The Deck is currently offering a Sunday promotion where after booking a table, you can have a complimentary, one-way boat trip from District 1 directly to the Deck, what a treat!
And if you are into Champagne, at Saturday and Sunday lunch, if you buy a bottle of Moet Chandon you get another free. Just realize you probably won't do anything productive that afternoon…
The Deck. 38 Nguyen U Di, Thao Dien, District 2, HCMC, T: 083 744 6632.