It seems that in the UK and Europe, street food has taken off like never before. Everyone has their own reasons: it's cheaper; it's a refreshing change from the boredom of chain restaurants and it gives people the feeling that they are directly supporting their local businesses and community.
While Europeans seem to be lapping it up, what surprises me is that while back home people are raving about this new trend, here in Vietnam, very few foreigners and tourists actually go to street vendors. This is a bit ironic since the city is literally packed with street vendors that, in a world where authenticity and originality are slowly disappearing, are definitely one of the few unique and interesting things to explore when visiting other countries and cultures. The reasons are the obvious ones: hygiene (they are afraid of spending one week of their trip sick in bed), lack of food knowledge and also being afraid to be ripped off or over charged.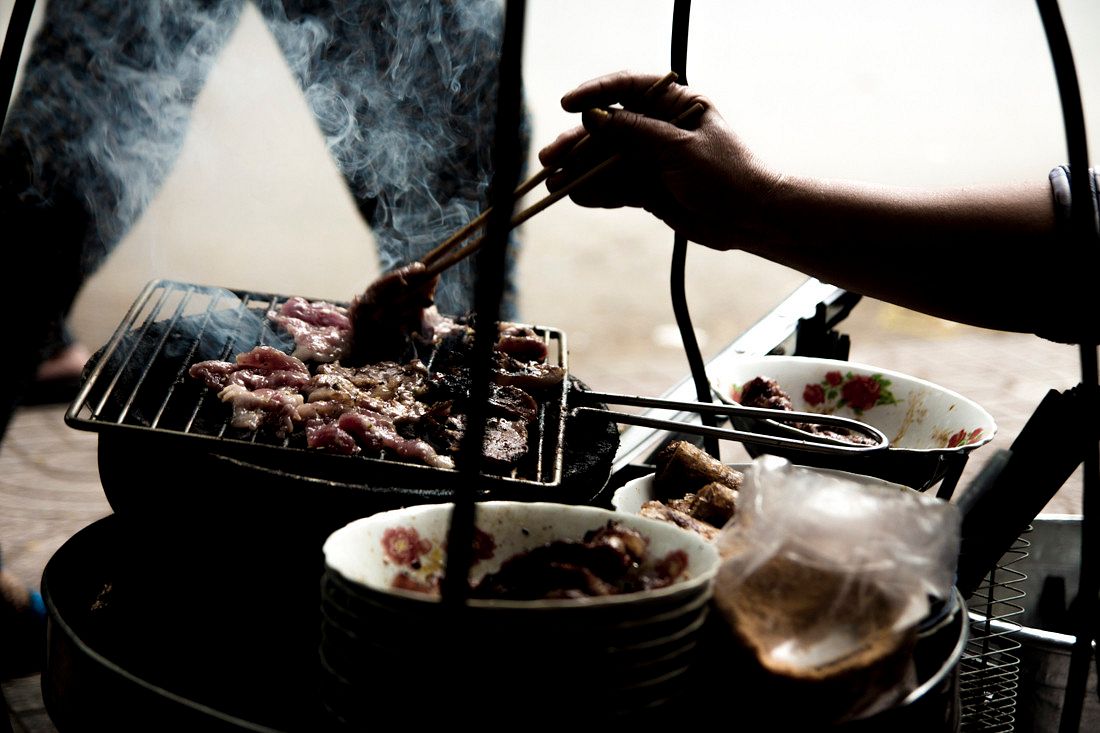 I love everything about street food: the unpretentiousness, the authenticity, the messiness, the freedom that lets people start their own business and/or to support their family without having to work for someone else. They have specialised in cooking one local speciality since most of them have been selling the same dish for many years, sometimes for generations.
This has made me realise that, despite having lived in Saigon for nearly two years, I have never really fully explored the street food scene. I am not referring to street restaurants but rather to small local vendors sitting on the sidewalk with their "quang gánh".
Luckily for me, one of my Vietnamese friends offered to take me to a couple of places that he reckons are good and where no foreigners go.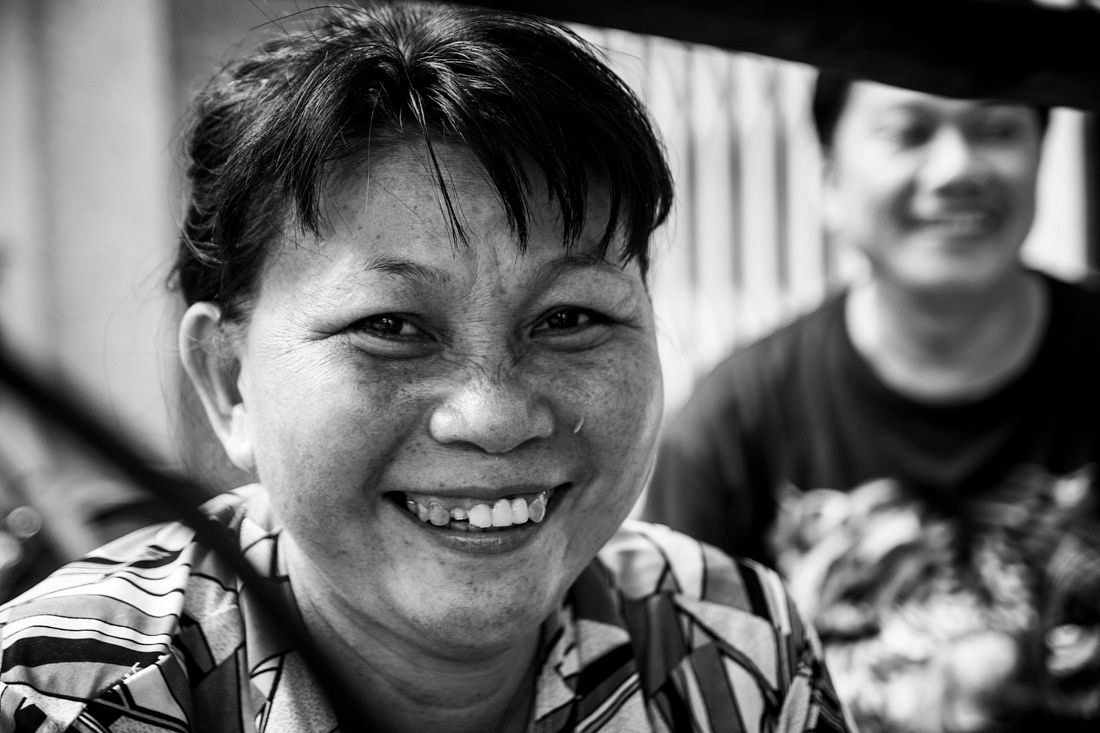 The first place we tried was right in front of 359 Tùng Thiện Vương, p.12, q.8.
Ms. Phương welcomes you straight away with a big smile. She has such a contagious laugh and she's full of life.
Small metal chairs are arranged around her "quang gánh" for customers to sit down. It is immediately clear that she enjoys talking to people, telling stories about her neighbourhood and about its past. She tells me that foreigners do not go and eat at her place mainly, she reckons, because it is such a local Vietnamese area and not many foreigners visit it. She is curious and interested about us and asks many questions to my poor friend that had to translate everything for me.
In between our conversation, she starts preparing Bún Thịt Nướng, cold rice noodles with various vegetables (lettuce, fish herb, and beansprouts), pork shoulder marinated in honey, milk and lemon grass, barbeque crispy pork skin, pork sausages and deep fried spring roll (VND30,000). It was so good and filling, I did not have anything else to eat for the rest of the day. She does not serve drinks but next to her there is another stand from where we ordered homemade daisy tea with sugar.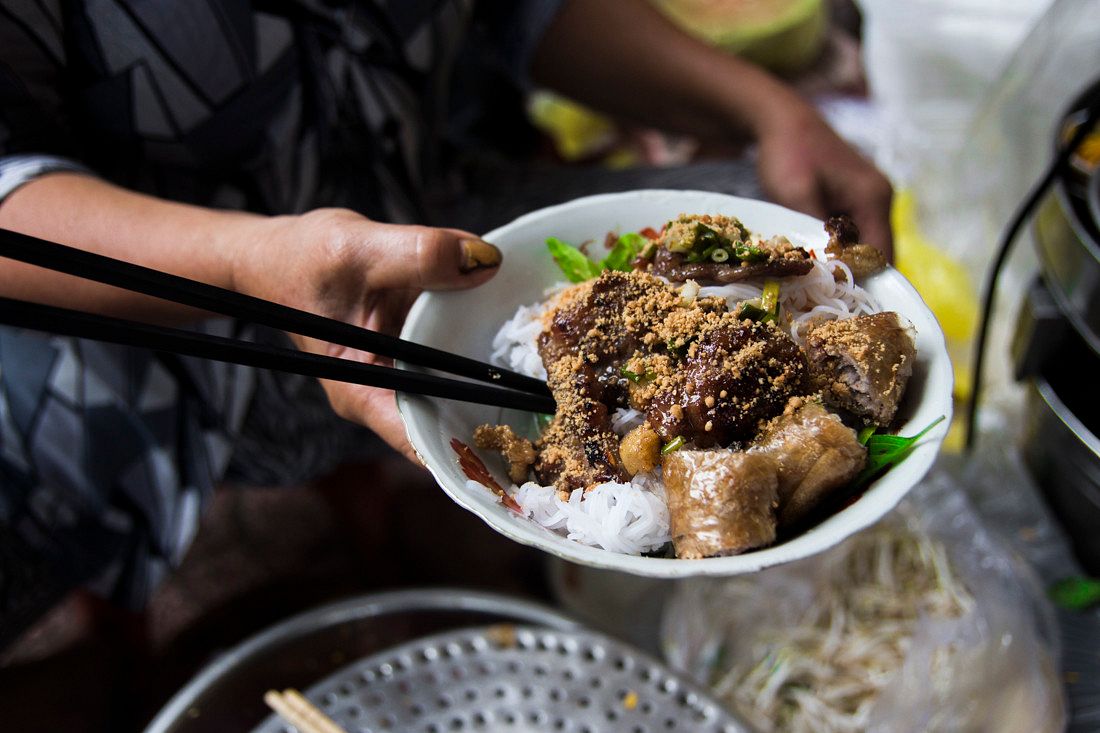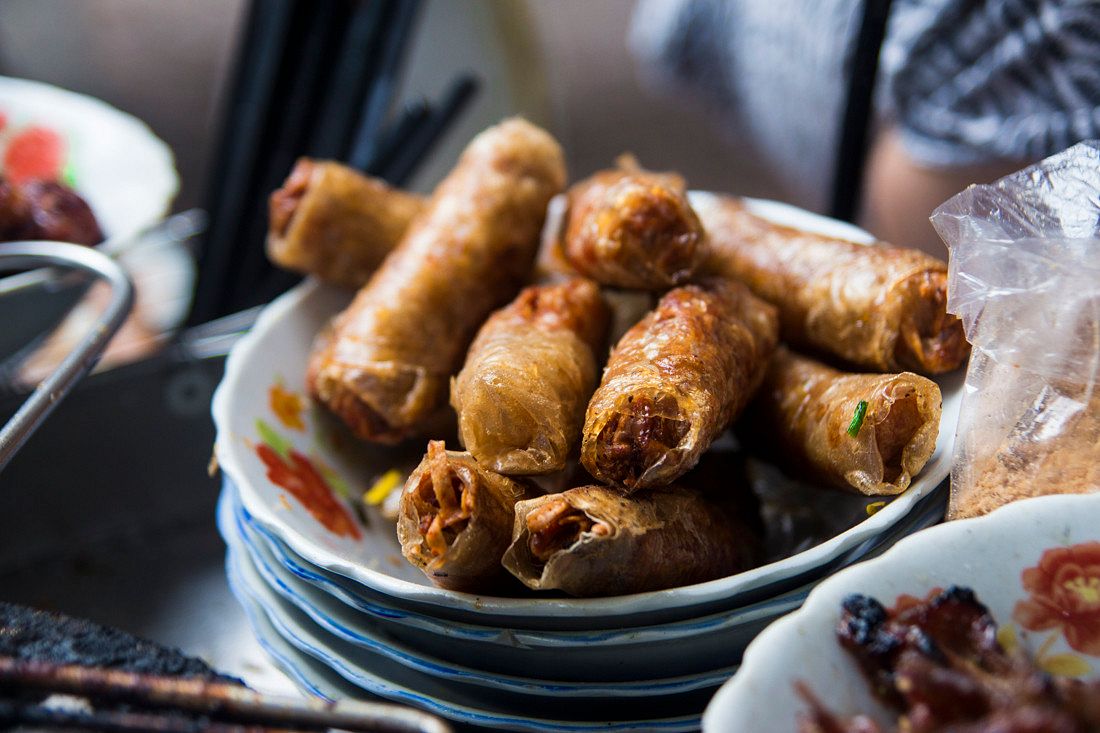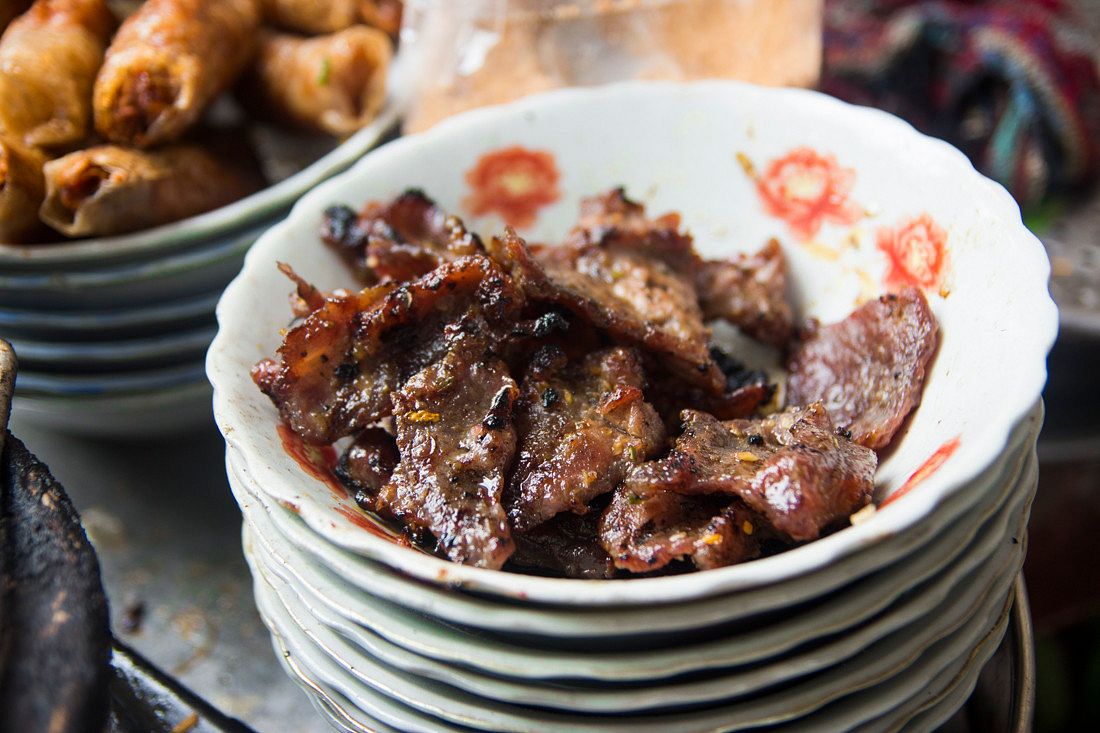 Ms Phương has been cooking and selling the same dish, in the same place for forty-two years. She started to follow her mother to work when she was eight years old and when her mother passed, she took over her job. She tells me that she believes that if a person knows how to cook well, this person has to be prepared for a hard working life. She wakes up every morning at around 3am to get ready to go to the local market to buy the best meat and pork.
Things have changed since the times when her mother was doing this job - in the past, they had to burn oil and wood to make the cooking fire. Inhaling these fumes wasn't good for her mom's health.
In the old days there were very poor people living in that area but it was also buzzing and alive with many street restaurants and vendors.
Understandably, the situation changed drastically after the war. For instance, the authorities ordered that the people that were not originally from Saigon had to go back to their hometown in the countryside. Her mom managed to stay in Saigon but some families left the area and some shops closed down.
It was such an interesting and refreshing day for me, both because of the food and because of the people I met. I am definitely going to try other places and I hope that tourists and foreigners will enjoy more all the amazing local specialities that Saigon has to offer.
Don't forget to check back for part 2!