During a busy Thursday lunch hour, my coworker and I commit a soup drive-by.
Just after noon, we hop on a motorbike and jet our way over to District 3's Vo Van Tan Street. The further we get from its downtown beginnings, the traffic picks up, the storefronts shrink and a jumble of colorful mismatched signs appear above the open dining rooms and modest display windows of the neighborhood's many small businesses.
Here, among clothing shops and local cafes and the odd tạp hoá, lies the city's Bermuda triangle of soups, so named after the trifecta of dishes that make up the menus at the neighborhood's best eateries: phở, hủ tiếu and mì. Not only does this great triangle present a beautiful assemblage of southern Vietnam's culinary influences – Vietnamese, Chinese and Cambodian – but its proprietors and their shops showcase a considerable range of Saigon street food.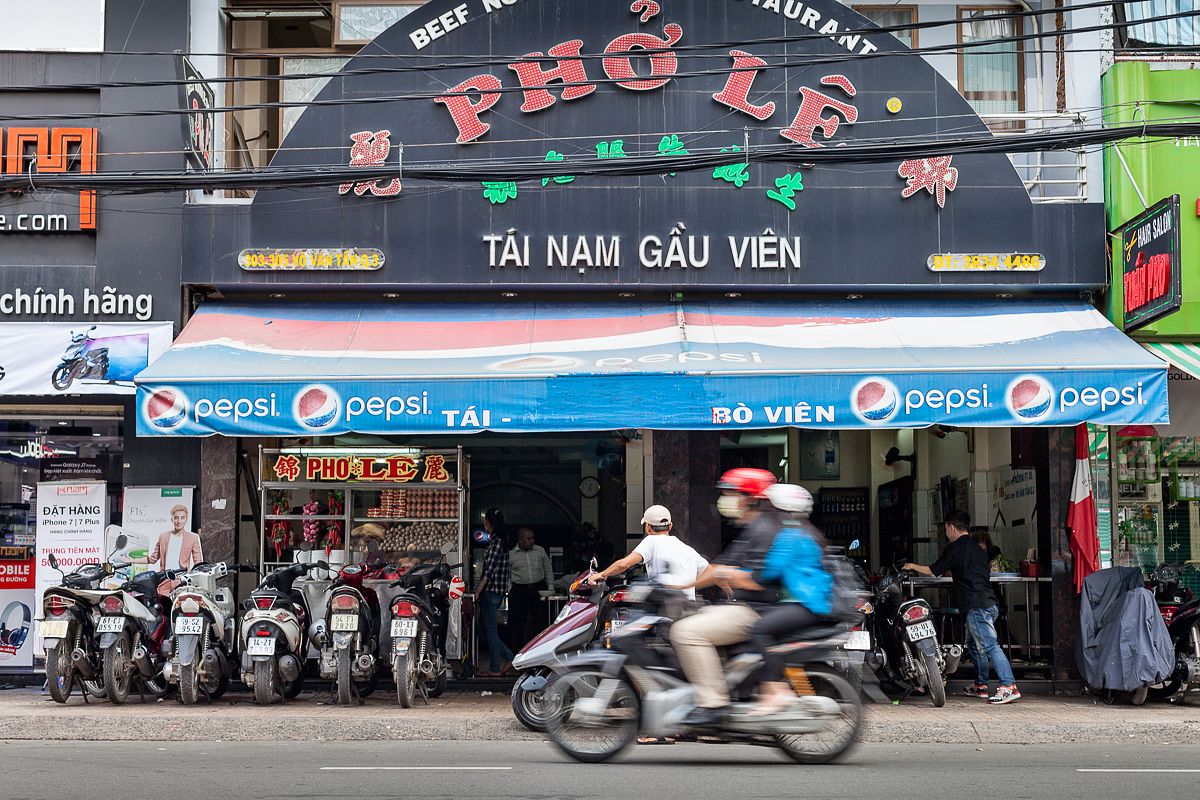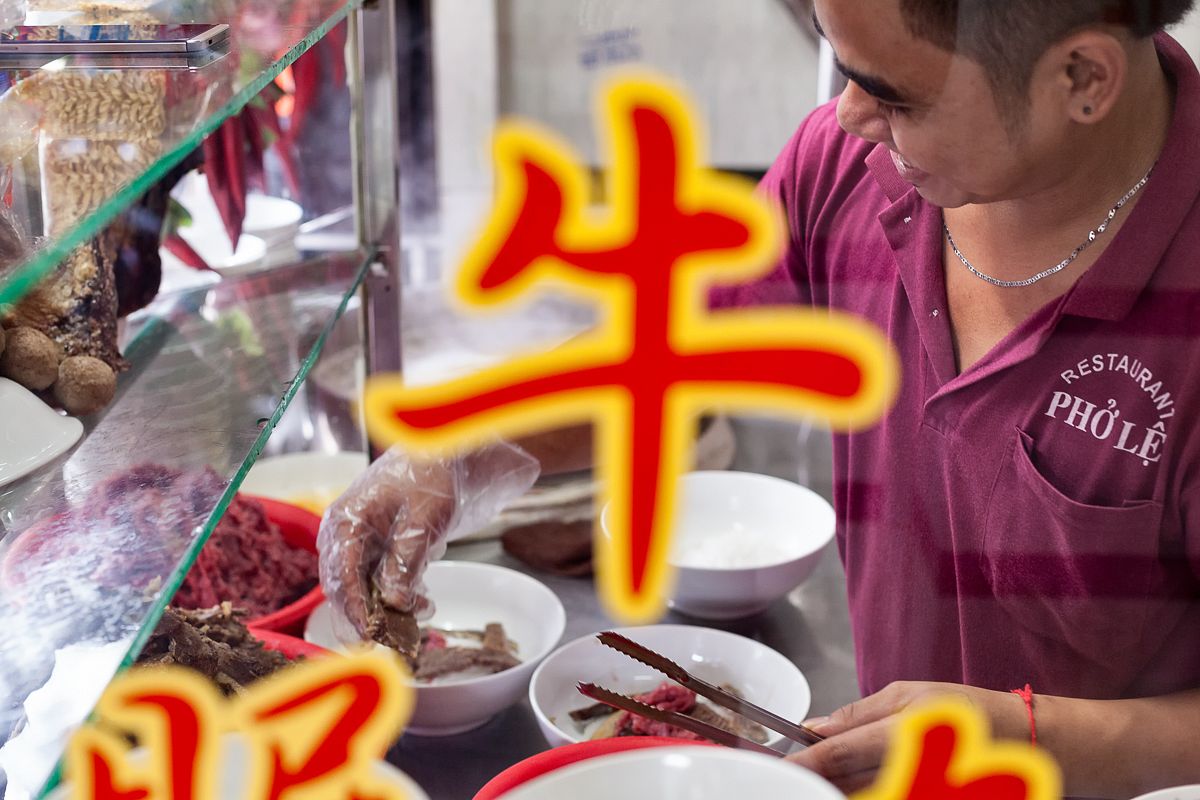 Our first point on the triangle is Pho Le (303-305 Vo Van Tan). If ever there was a phở superstore, this is it; the place makes the stuff in bulk. Servings come in regular and enormous, but it's really the mountain of bean sprouts piled onto each individual table that highlight Pho Le's ability to deal in large quantities. All manner of phở lovers are welcome here, too, as the dining room is well-equipped with every phở garnish and sauce under the sun.
When it comes to phở, popular joints sometimes get a bad rep for becoming too famous. As soon as the tourists start to turn up, it seems, a place's reputation takes a hit. While Pho Le is certainly on the city's tourist radar, it was famous with the locals first, and though its notoriety has created some changes – a bowl of phở will set you back between VND60,000 and VND70,000 – the shop manages to deliver a high-quality serving of phở sans accoutrements, allowing diners to create their own perfect bowl.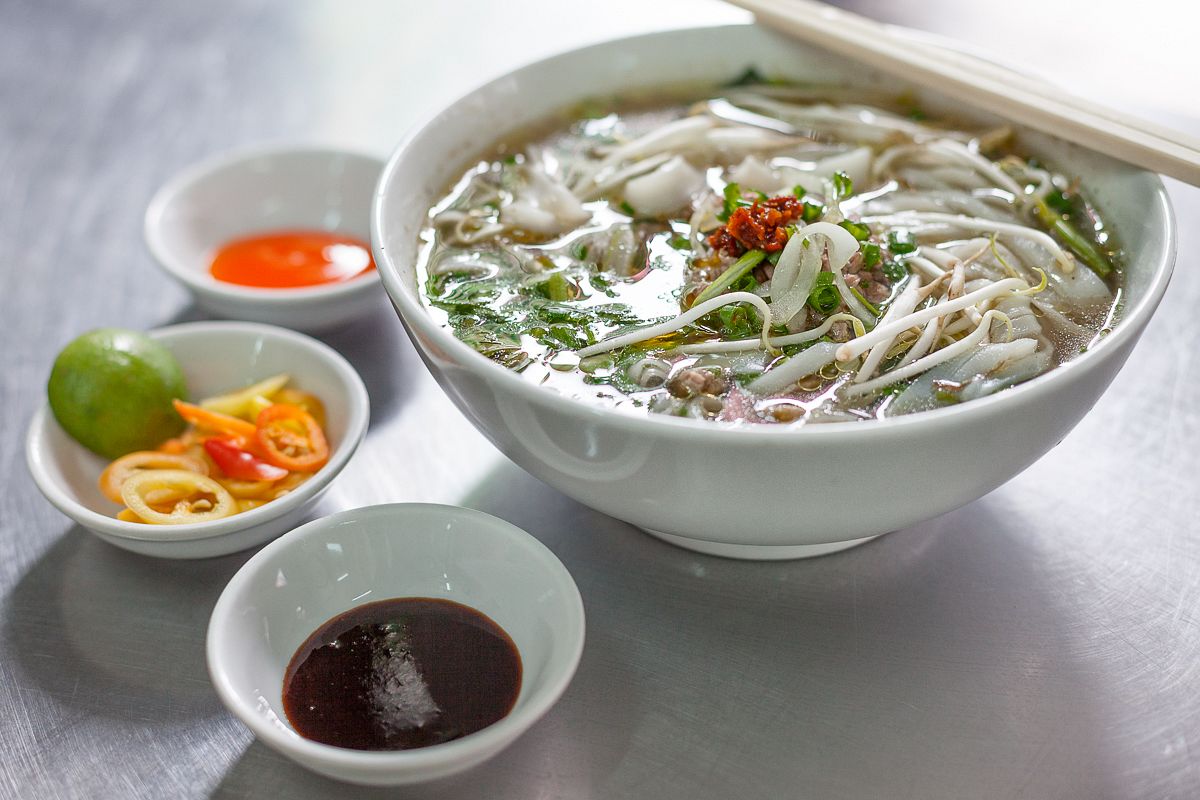 Just two doors down is the second point of District 3's soup Bermuda triangle. After inhaling a "small" helping of phở tái, we shuffle down the road to Mi Gia Tan Tong Loi (311 Vo Van Tan). Though this shop's claim to fame is actually mì vịt tiềm, it's the sủi cảo you want to put your money on.
For our second lunch, we order a bowl of mì cảo hoành and dig in to the steaming pile of egg noodles swimming beneath our soup's clear surface. The fried wonton starts to disintegrate pretty quickly, but the tightly packed sủi cảo dumplings hold up well under the soup's intense heat and stand out among their fellow ingredients.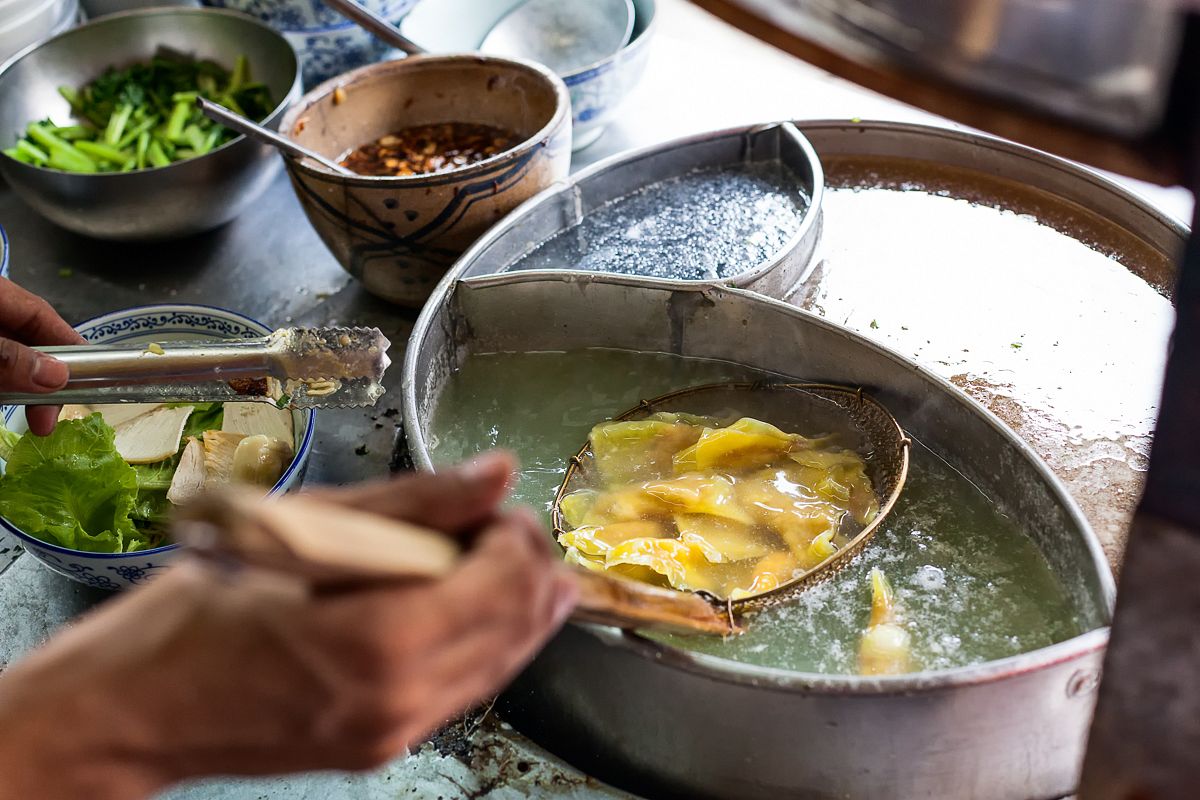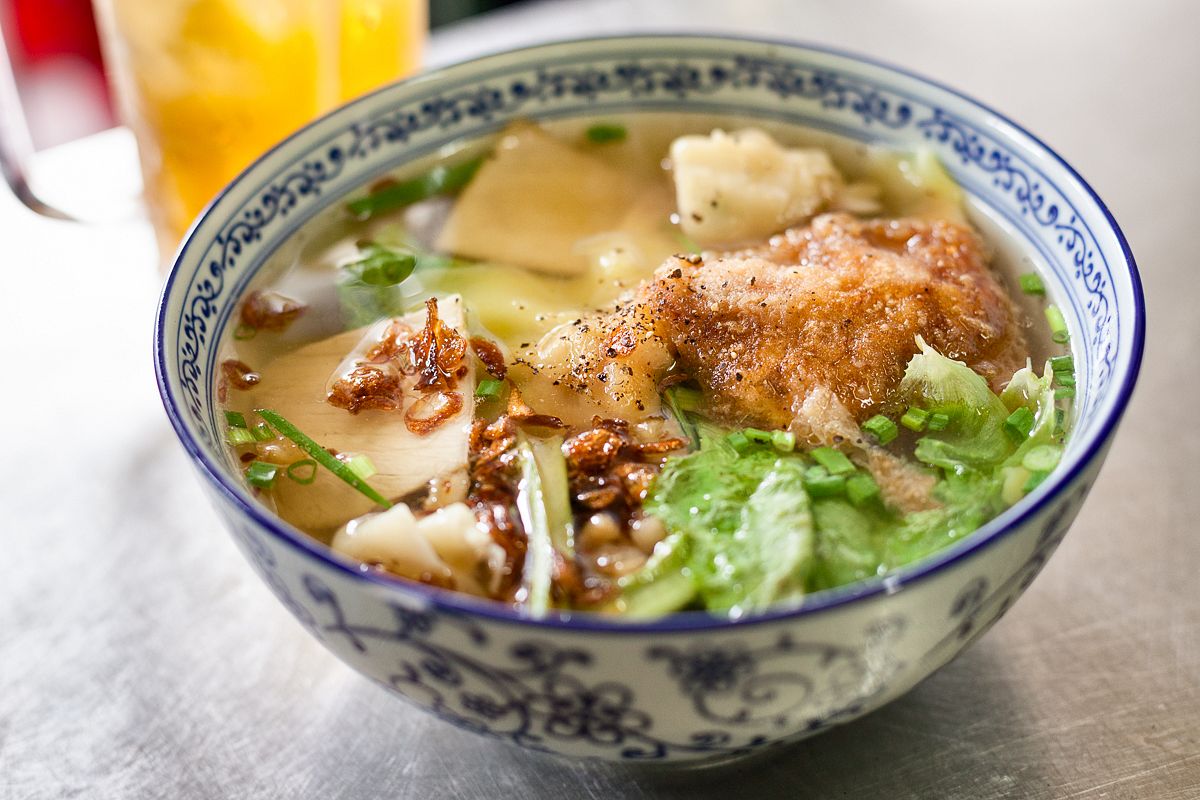 The shop, too, has a grittier feel to it than the mass-market assembly line at Pho Le. Instead, a group of friendly, young men with interesting haircuts man the old Chinese wooden cart that houses Tan Tong Loi's prep station. The cart, now likely immobile, has seen better days but its team of noodle vendors are still in reasonably good shape, young and cheerful and blasting Vietnamese techno beats in the background. While we could do without the music, the whole ambiance makes for a nice collision of past and present in one place.
Now stuffed with two meals and fading fast, we turn right and head north up Nguyen Thuong Hien, a hallowed street of Saigon roadside dining. In the late afternoons, Hu Tieu Nam Vang Nhan Quan (72 Nguyen Thuong Hien) finishes off the triangle with a Phnom Penh-style hủ tiếu. We, of course, learn this the hard way; because the shop isn't open until 4pm, we're forced to return to work for a few hours before heading back to complete the triangle.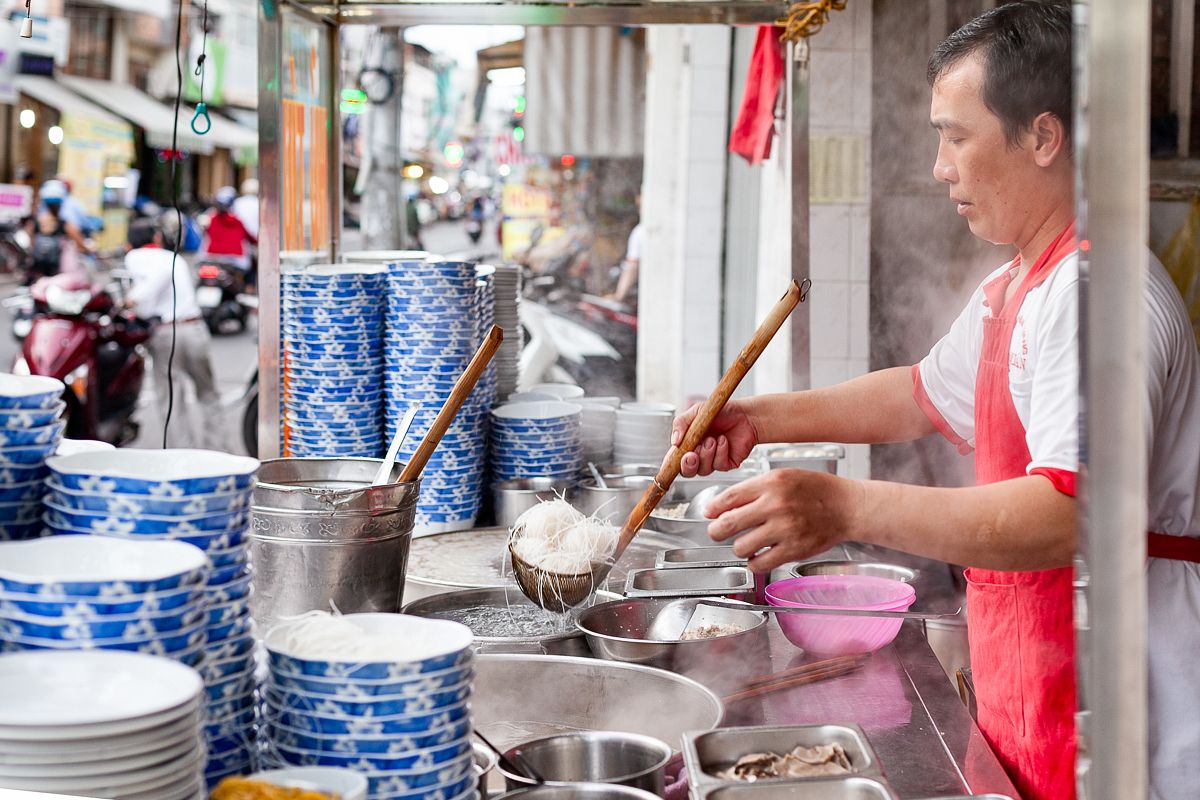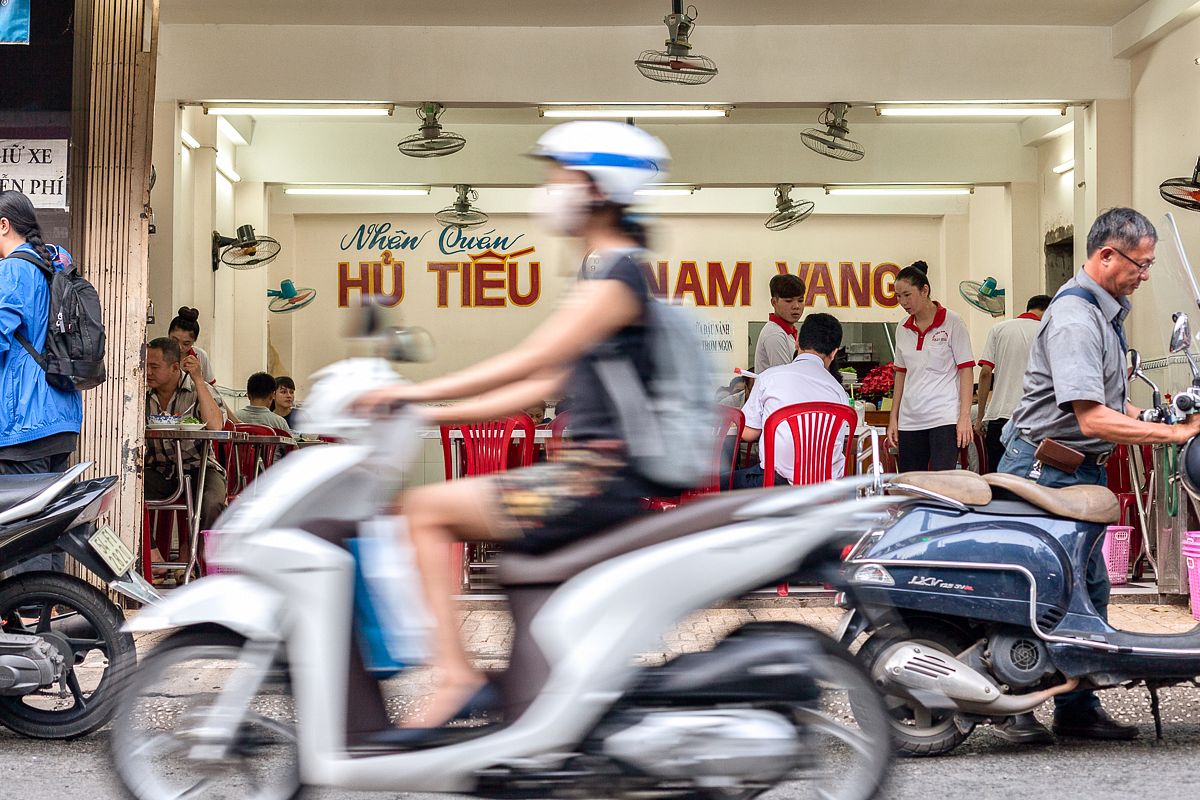 When we turn up in the late afternoon, however, the large, open-front dining area – not to mention the shop's employees – is calling our name. Those few in-between hours have cleared our palates, made room in our stomachs and rekindled our desire to tuck in to a piping hot bowl of soup. This is all good news given the size of Nhan Quan's portions, which are generous, to say the least. Fat, juicy shrimp sit on top of a pile of noodles, accompanied by slices of pork and a few quail eggs. Once again, there is a price tag to match the size of the dish – VND70,000 a bowl – but its light, savory broth is worth the extra cash.
A little dazed by an afternoon of continuous consumption, we emerge from the final shop both heavier and sleepier, but happy to have lost ourselves in the din of Saigon's own Bermuda triangle.
To sum up:
Taste: 4/5
Price: 3/5
Atmosphere: 4/5
Friendliness: 5/5
Location: 4/5
Dana is 70% caffeine, 50% fish sauce and hasn't taken a math class since 2004.
D3's Soup Bermuda Triangle
Vo Van Tan and Nguyen Thuong Hien, Ward 5, D3

---

Related Articles:
---