"When in doubt, have chicken." – Saigoneer proverb
Saigoneer might have a chicken problem. In the span of two years, we have traversed the city's busiest streets and dingiest hẻms in search of the best and most memorable culinary experiences. While you can always trust that local chefs will have your back and offer up something tasty no matter what their specialty, it seems that, more often than not, chicken as a protein is the best starting point for a mouthwatering meal. From a bowl of hearty phở gà in District 3, to Lao Huong Than's perfectly fried chicken to decadent grilled chicken asses, in Saigon you can't go wrong – most of the time – with chicken.
This week, Saigoneer gives in to our deep obsession and makes our way to District 4's Mi Gia 79, a quaint neighborhood eatery that serves up a mean mì gà, or noodles with chicken.
Located just a stone's throw from the Vinh Khanh – Hoang Dieu intersection, Mi Gia 79 seems rather incongruous with its surroundings at a glance. For strangers to this neck of the woods, Hoang Dieu is one of the busiest and most frequently congested streets in District 4. If I had to hazard a guess, the scores of wonderful street food spots and nhậu venues might have something to do with the constant throng of traffic on this thoroughfare. Mi Gia 79 is smack in the middle of this babes-and-booze paradise, opposite two seafood restaurants.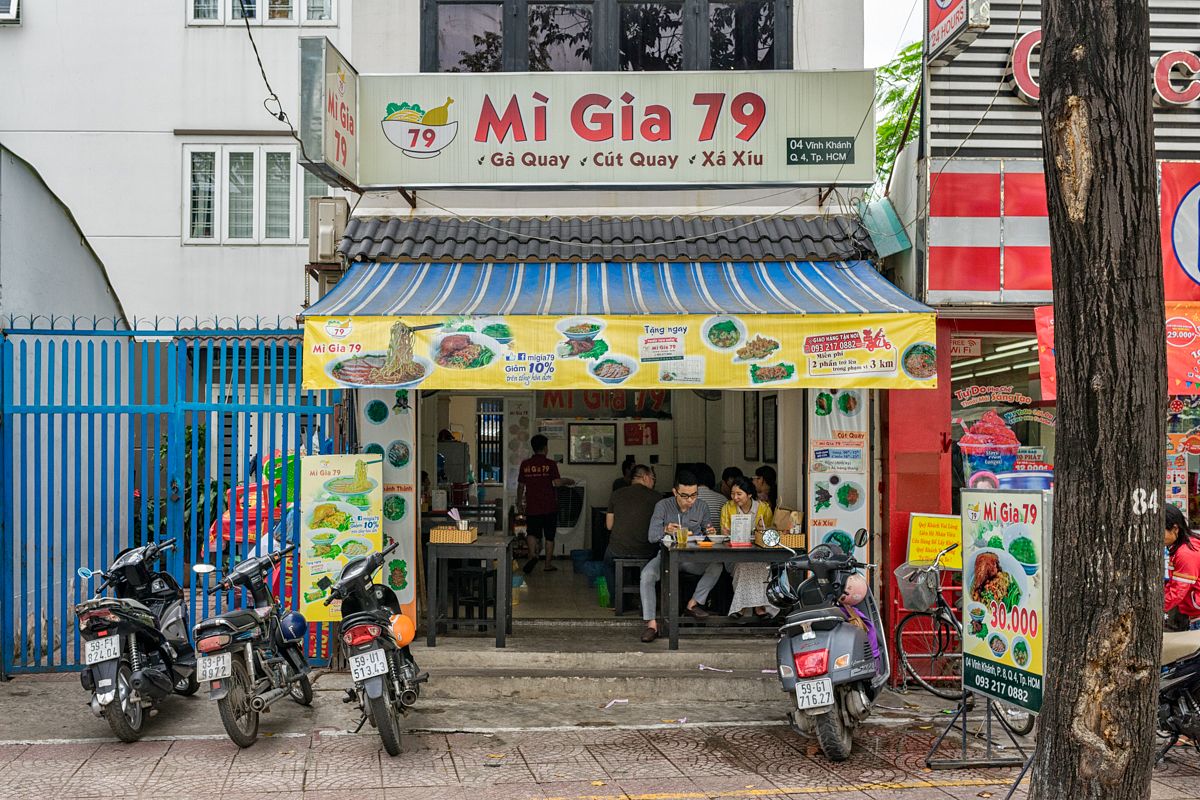 I'll admit that the eatery's dining area might make you question your decision to head to District 4: it's sparsely decorated and has neither the rustic charm of sidewalk-bound carts nor the sleek, modern furnishings of Saigon's crop of new restaurants. Mi Gia 79's menus – laminated cards that have seen better days – have only two pages. One can opt for either mì or hủ tiếu with fried chicken or quail, on a bed of dry noodles or served with noodle soup. We decide to go with dry chicken noodles with spicy sauce because I've heard good things about this elusive chili concoction.
The staff, led by a flamboyant and friendly owner, is easygoing and happy to accommodate our various dietary requests. After we spend a few moments shooting the breeze, our portions arrive in…children's bowls. The oval-shaped dish-bowl hybrid is rather small and inconvenient for mixing but the food looks mesmerizing: a bed of glistening noodles with a golden chicken drumstick, garnished with dried Chinese daikon and fried shallots.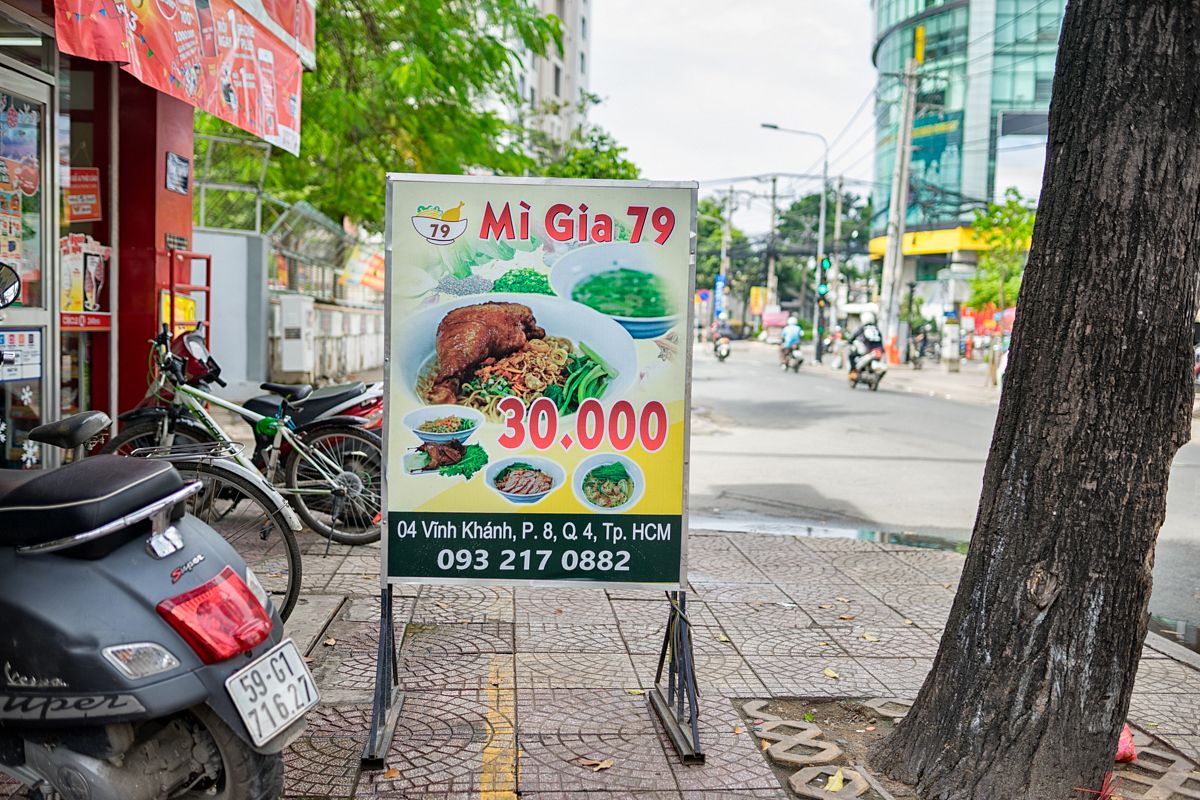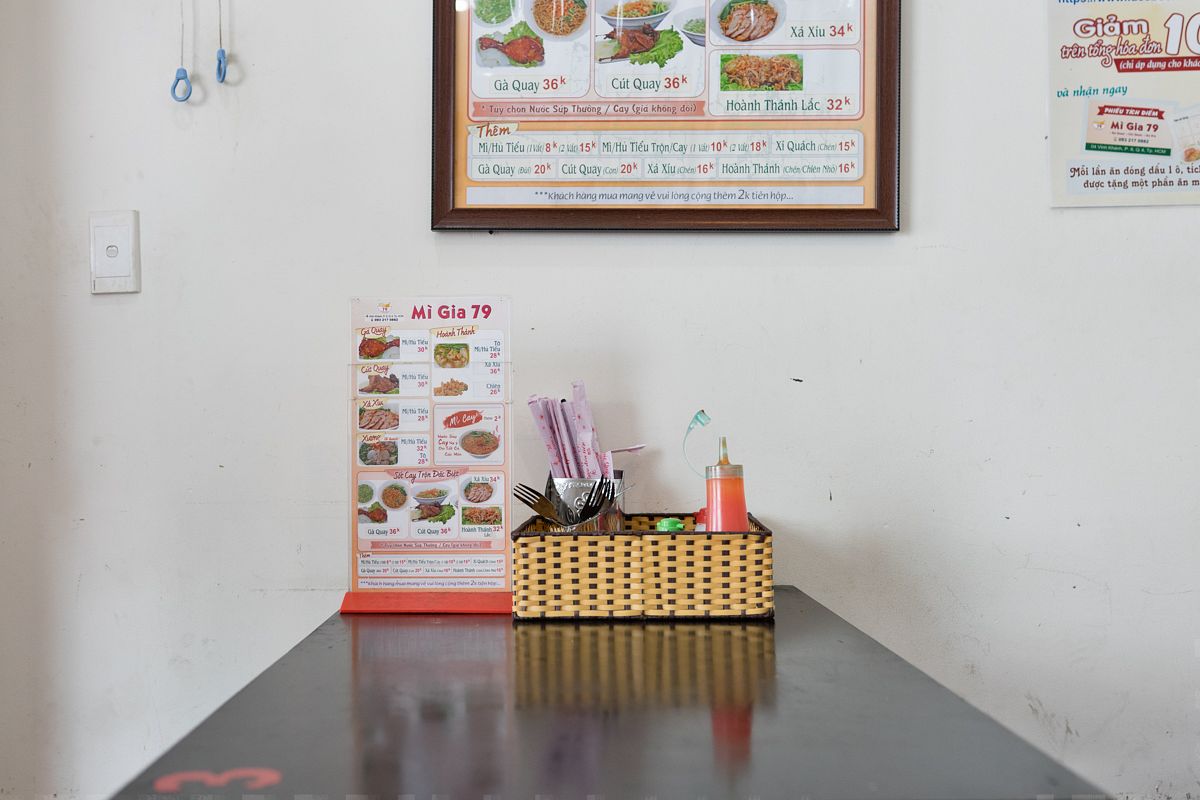 Each dish also comes with a bowl of accompanying broth and spicy sauce that one may use for dipping or, in my case, mixing. The sauce is nowhere near as spicy as advertised but is pleasantly sweet, sour and savory and perfectly lifts up the otherwise mediocre noodles.
The chicken drumstick, however, steals the show: it's crispy and golden brown on the outside while juicy and cooked all the way through inside, not an easy feat to accomplish. A dish-bowl of spicy chicken noodles will set you back VND36,000, the most expensive item on the menu, while other options are all below VND40,000. This makes Mi Gia 79 a solid lunch option for those who love simple but well-cooked food, or for the rest of the city's chicken fiends.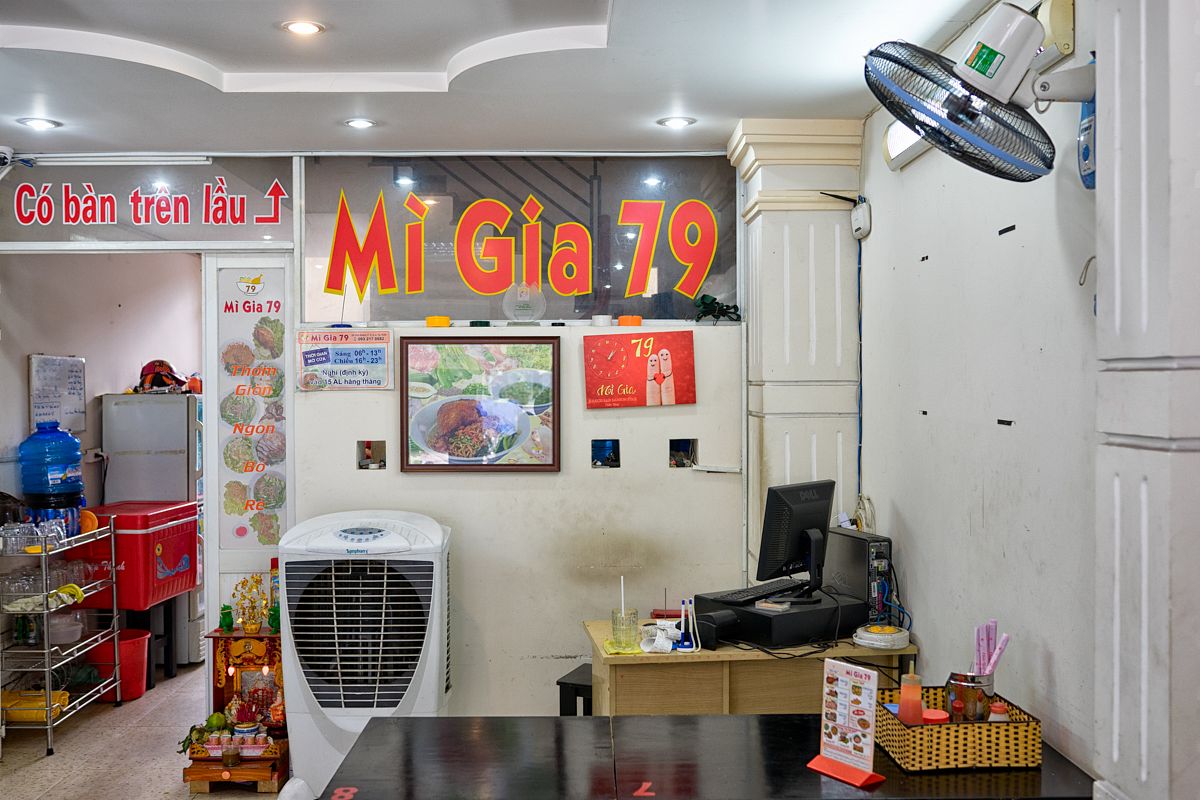 To sum up:
Taste: 4.5/5
Price: 5/5
Atmosphere: 3/5
Friendliness: 4/5
Location: 4/5
Khoi loves chicken, is a raging millennial and will write for food.
Mi Gia 79
4 Vinh Khanh, Ward 8, D4

---

Related Articles:
---