The alley where cô Thao has set up shop isn't worth remembering. A high concrete wall runs down one side, reflecting the sun that's sapping our energy on this hot, dusty Friday afternoon, while the other is lined with modest storefronts half-obscured by tattered awnings.
Still, it's here we find ourselves, in cô Thao's all-day hotpot spot at the recommendation of a particularly esteemed eater, shuffling upstairs to a quiet, open-air dining room in the middle of the day.
The only other patrons in the place are a pair of red-faced men, still reveling in the celebratory post-Tet atmosphere, who take shots from an unmarked water bottle on the table. Independent of cô Thao and her staff, we share a welcome drink as the waiter looks on.
After a quick once-over of the plastic menu on the table, we settle on two dishes: bò nướng – of the self-barbecuing variety – and a small order of lẩu bò. Our waiter shuffles away and the accoutrements for bò nướng begin to appear one-by-one: a portable gas stove, a grill, a pair of small bowls and eventually the beef.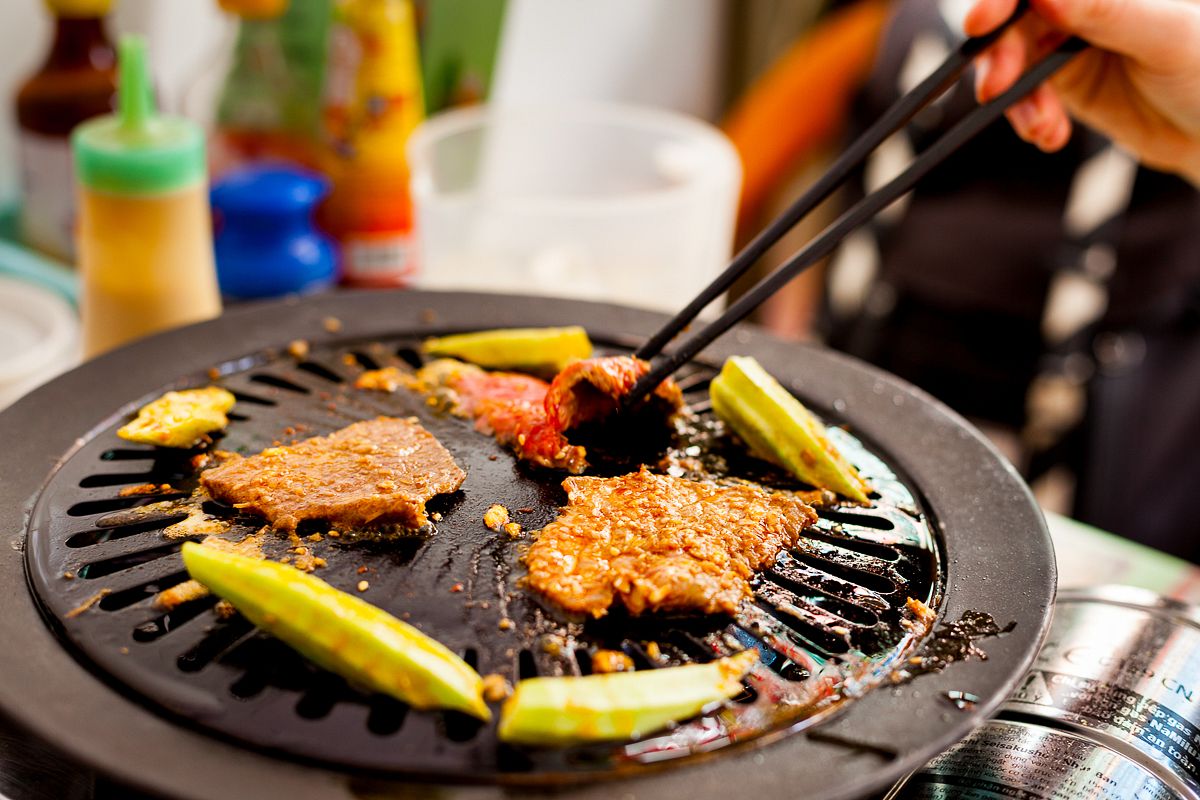 As you ought to expect of freshly barbecued meat, cô Thao's thin, mouthwatering slices of beef, marinated in chili, lemongrass and garlic, are tender and juicy. Sliced okra pods, also sizzling on the grill, complement the rich flavor of their meaty counterpart.
In our eagerness, we fiddle with the stove's knobs a bit too much, and our neighbors have to step in and provide brief tutorials on both manning a portable gas stove and mixing a quality dipping sauce. For the record, the latter consists of equal parts hoisin sauce and sốt chao, a white, fermented soybean condiment.
Content with our first course, we continue to eye the barbecue, flipping slices of beef and eating until the plate is empty.
Then: "Người Tây đâyyy!"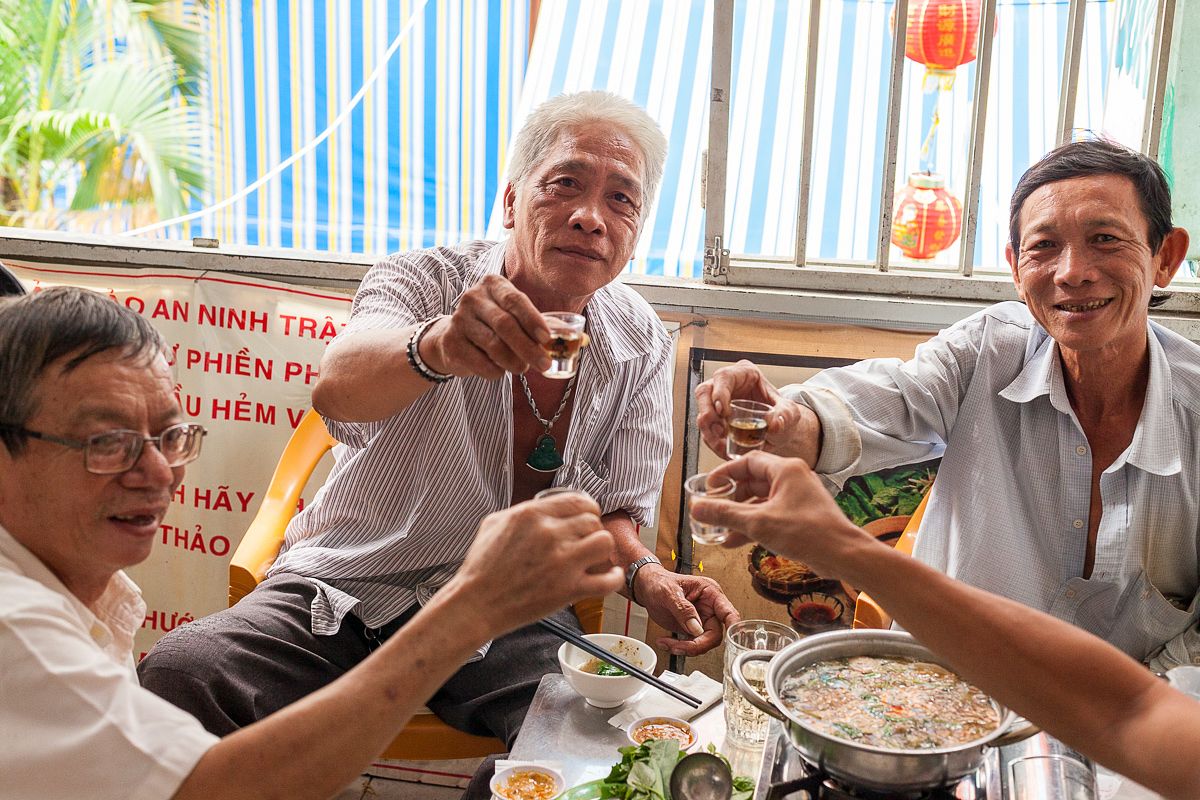 In raucous fashion, a quartet of jovial, middle-aged men charge up the stairs, bearing armfuls of alcohol, apparently also privy to the need for post-Tet celebration. The most outgoing of the group, a white-haired gentleman who is missing his front teeth, looks as if he's just won the lottery. "Hello!" he chimes.
But before we can get pulled in to the gentleman's post-Tet euphoria, our hotpot arrives, brimming with beef broth and a variety of tripe, meat and innards. Side plates of fresh greens, fried taro, tàu hũ ky, and both egg and phở noodles appear on the table and we supervise the simmering hotpot, dropping in a bit of everything as the broth begins to bubble.
In truth, cô Thao's lẩu scores points for its broth, the backbone of any soup dish, as well as the melt-in-your-mouth fried taro but, perhaps as a result of the especially succulent barbecue we'd just enjoyed, its cuts of beef were a minor let-down. Still, we feast on the soup's leafy greens, hearty mushrooms and savory tàu hũ ky, or tofu skin.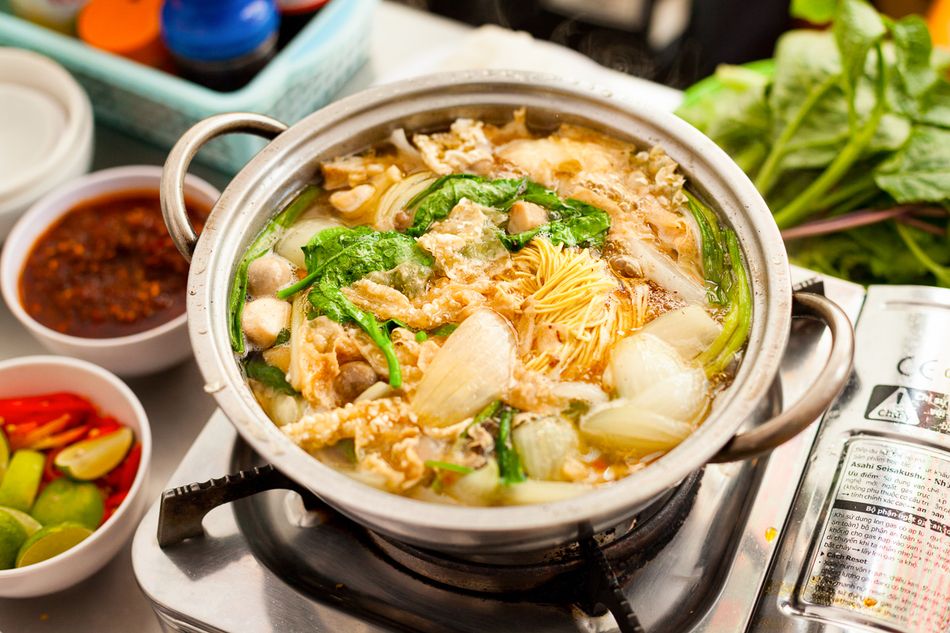 Halfway through the meal, I am hit in the head with a plastic cork. The white-haired gentleman shouts from two feet away: "Xin lỗi nhé!" To remedy the situation, he pours out a shot of Chardonnay and proposes a toast with his buddies. We repeat this a few more times before our respective parties return to their meals, finishing up the remainder of our side dishes.
Twenty minutes later, the white-haired gentleman is back, holding out a final shot. "You see this?" he says in Vietnamese, holding up a stout wine bottle. "From California."
I nod and compliment the gentleman's beverage choice. We clink glasses and take a shot; this time, it's not Chardonnay. He sets down the Californian wine and picks up another, larger bottle, emblazoned with a golden label: Joé Whiskey.
"You see this?" he continues. "From Go Vap."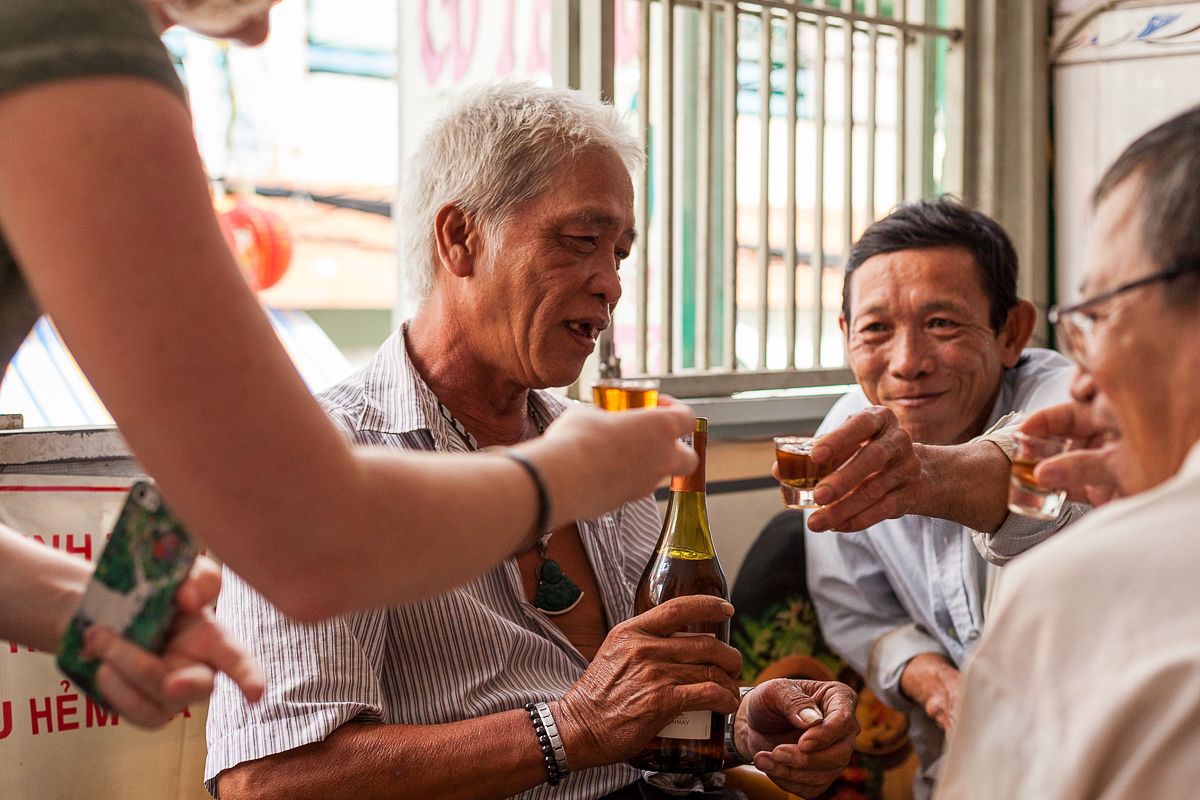 It's around this time we recognize that our continued participation in the white-haired gentleman's post-Tet celebration stands to affect our afternoon plans, and so we finish up the rest of our hotpot, thank him once again for his hospitality, wave goodbye to the dipping sauce connoisseurs at the table next door, and head downstairs to pay. It's nearly two o'clock and the sun still threatens to lull us into sleep along with our full bellies and a gentle buzz. We exchange small talk with the cooks downstairs, settle up and, satisfied, head back into the midday sun.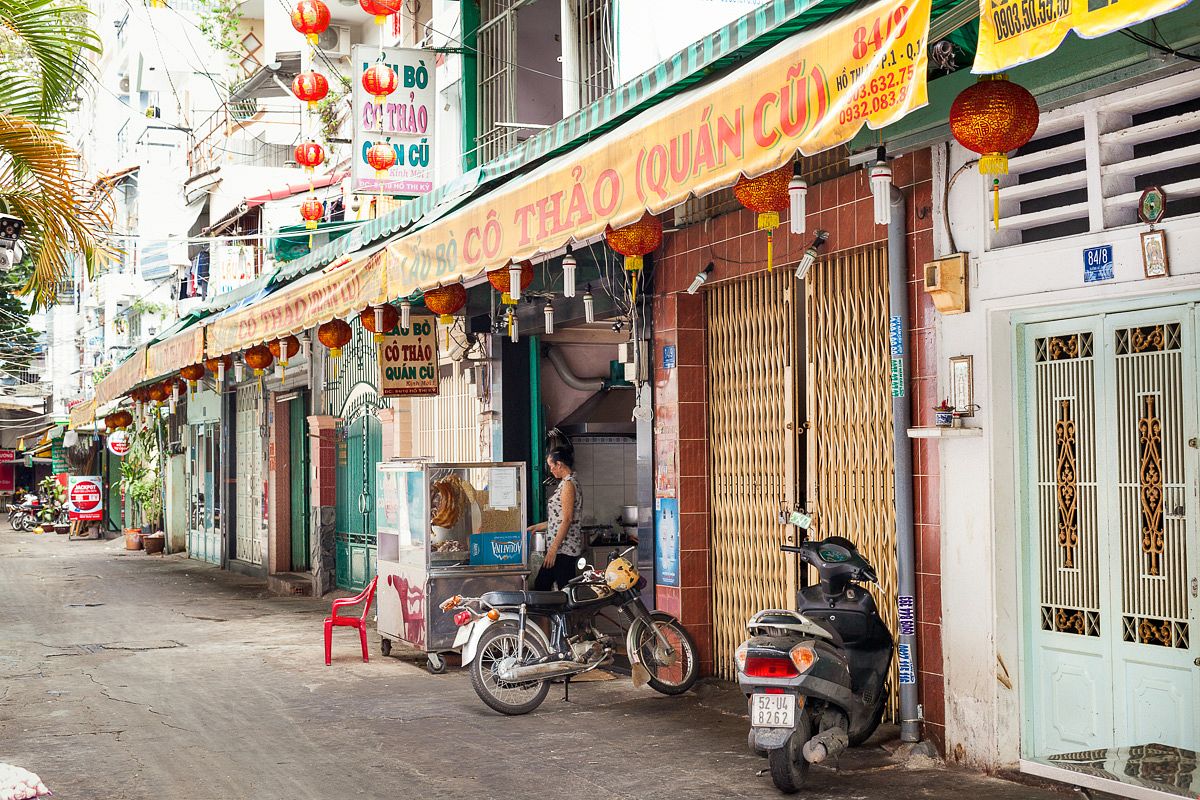 To sum up:
Taste: 4/5
Price: 4/5 – VND100,000-120,000 for bò nướng, VND150,000-180,000 for lẩu bò
Atmosphere: 5/5
Friendliness: 5/5
Location: 3/5
Dana is 70% caffeine, 50% fish sauce and hasn't taken a math class since 2004.
Lau Bo Co Thao
84/10 Ho Thi Ky, Ward 1, D10

---

Related Articles:
---