Is there room for improvement in the way we write Vietnamese? According to a project by a local academic, the Vietnamese language might be due for a major overhaul.
Over the past few weeks, the local public has been up in arms – both online and offline – regarding a controversial linguistic project, cheekily dubbed the "Tieq Viet" project by netizens, which seeks to thoroughly revamp the orthography of the Vietnamese language.
The project was elaborated in detail in an essay by veteran linguist Bui Hien called "Chu quoc ngu and hoi nhap quoc te" (Modern Vietnamese script and globalization). This was part of a linguistic book published at a national conference held in Quy Nhon in September, reports Thanh Nien.
Hien's Tieq Viet project is highly contentious because of the extensive orthographic alterations he proposed. According to the academic, since Vietnam made the switch from writing in chữ Nôm (Southern characters), a logographic system, to chữ Quốc ngữ (modern Vietnamese alphabet), a system using Latin script, the current writing system has revealed many inconsistencies which make the learning process time-consuming and confusing for new learners.
Thus, in order to simplify our alphabet, Hien came up with a series of controversial changes. His proposal takes the dialect of Hanoi, where he lives and works, as the standard and aims to ensure that each sound is only represented by one consonant. To make this possible, Hien removes the grapheme Đ and adds in F, J, W and Z.
Phonetically, 12 consonants would be affected by this change, as below (the former will replace the latter):
C = Ch, Tr
D = Đ
G = G, Gh
F = Ph
K = C, Q, K
Q = Ng, Ngh
R = R
S = S
X = Kh
W = Th
Z = D, Gi, R.
Nh = N'
The Hanoi influence can be spotted in the case of C and Z, as currently in the Hanoian dialect, the pronunciation of consonants that would be replaced is mostly indistinguishable. According to the linguist, he's been working on this as a "pet project" for the last 20 years of his 40-year body of research on the Vietnamese language, and didn't just come up with it on the fly.
Hien told Bao Moi that in his estimate, should Vietnam decide to apply his suggestions, it could reduce waste by 8%, meaning for each book published, Vietnam could save 8% of paper and ink.
His ground-breaking but highly controversial proposal has inspired a slew of passionate and vitriolic responses from the online community, members of which are vehemently against the changes for a variety of reasons.
Some are against for purely aesthetic reasons: unbeknownst to Hien, his inclusion of new foreign characters would make the new alphabet look like "teen talks" from the early 2000s, which are frowned upon by teachers and experts for "degrading the purity of Vietnamese".
Others criticize the academic for being "culturally insensitive" and his project for its short-sightedness. Vietnam's regional dialects have been a sensitive spot for a long time, and Hien's decision to base his changes on Hanoi's lexicon doesn't sit well with speakers from regions other than northern Vietnam.
Moreover, by shuffling consonants around and assigning existing graphemes new phonetic values, the project has created confusing – and at times, downright hilarious – sentences, according to netizens. A notorious example of this is a meme that has been making the rounds online over the last fortnight: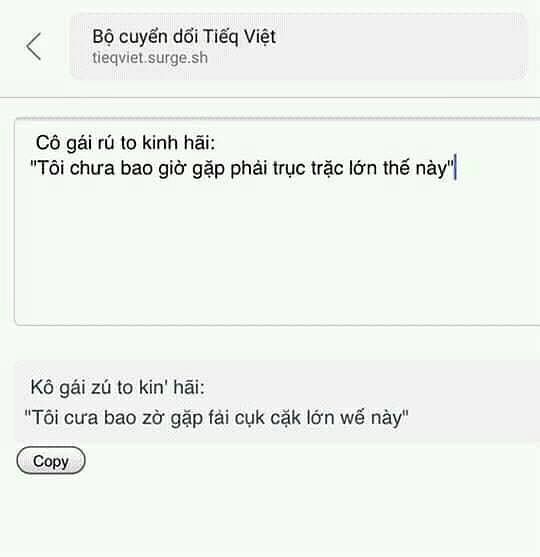 In the image, after applying Hien's various changes, the word "trục trặc" (difficulty) becomes "cụk cặk", which can be mistaken for a crude word meaning "penis". Try your hand at the new version of Vietnamese spelling via this nifty app that ingenious local programmer Phan An whipped up not long ago.
A few supporters of the projected compared it to similar revamps in the past, such as Vietnam's own switch from chữ Nôm to chữ Quốc ngữ as mentioned above, or China's use of both traditional and simplified characters. However, literature expert Lai Nguyen An doesn't agree with these comparisons.
In an interview with Tuoi Tre, he shared that when Vietnam stopped using chữ Nôm, only a small portion of the population was affected. According to An, in the 1920s when the switch took place, the country only had a population 25 million people, of which only 10% could read and write with the southern script. Therefore, only 2.5 million people were inconvenienced by the change, mostly those working in government administration.
Today, that figure would be at least 80 million people, and having to support two writing systems would place major strain on the country.
He also warned that apart from being a bureaucratic hassle, the major switch in script decades ago also resulted in a cultural loss that has gotten worse over time, as later generations can't comprehend chữ Nôm and the many amazing works of literature that were written in it.
---

Related Articles:
---