Bosgaurus is the scientific name of a rare, revered wild gaur indigenous to Vietnam in need of protection and advocacy.
The founders of a new Saigon coffee shop chose this name to reflect their hopes of preserving and promoting another Vietnamese native - Arabica coffee beans. Through transparently-sourced and expertly made drinks, Bosgaurus is nurturing Vietnamese coffee culture while simultaneously establishing new flavor standards.
During business trips throughout Europe, Hung Nguyen-canh discovered that not all coffee delivered the brash, bitter taste he grew up with in Vietnam. He fell in love with dynamic flavors that were fruity and floral, sweet and buoyant. Hoping to introduce them to people in his own country, he then soon quit his high-paying engineering job and started taking courses with some of the world's most famous roasters. After receiving his Specialty Coffee Association (SCA) certification he opened Bosgaurus and set out to change how people in Saigon understand and experience new wave coffee.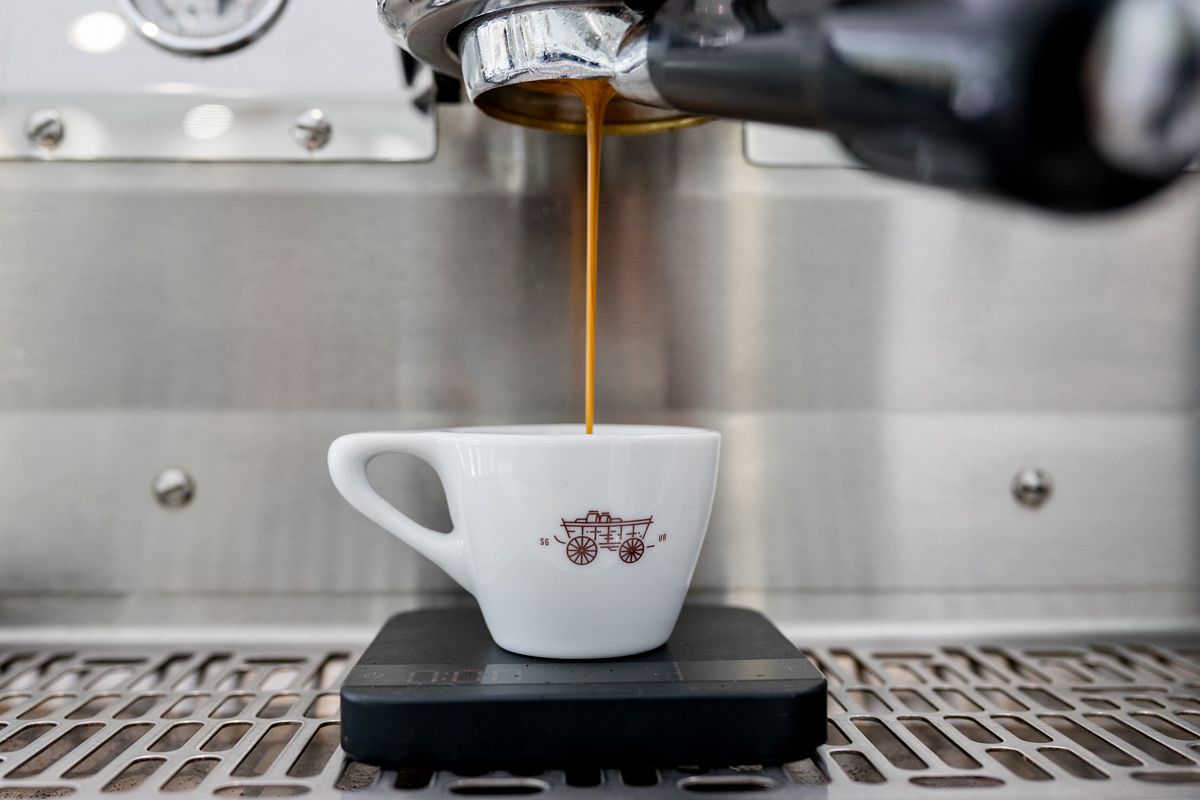 There are over 100 coffee species, however the two that are widely produced and used are Coffea Arabica (Arabica) and Coffea Canephora (Robusta). If you've ever had coffee in Vietnam, whether from a street-side stall, famous chain or high end restaurant, it is almost certainly made using Robusta or a blend. While easier and cheaper to grow, the beans lack Arabica's superior flavors and pleasant aftertaste. Bosgaurus is one of the few shops in Vietnam that only serves 100% Arabica coffee, and the difference is profound. Upon taking my first sip of cà phê sữa đá at Bosgaurus, I instantly noticed the bright, silky mouthfeel of the clean sip that lingered on my tongue the way the afternoon sun rests on the Saigon river. It was lighter, sweeter, more complex and less bitter than any coffee I've had in Vietnam. Bosgaurus roasts all their beans in-house and for those grown in Vietnam, offers two differentblends - the lighter Fumée and darker Big Smoke. Both are available for cà phê đen or sữa đá, depending on your preference.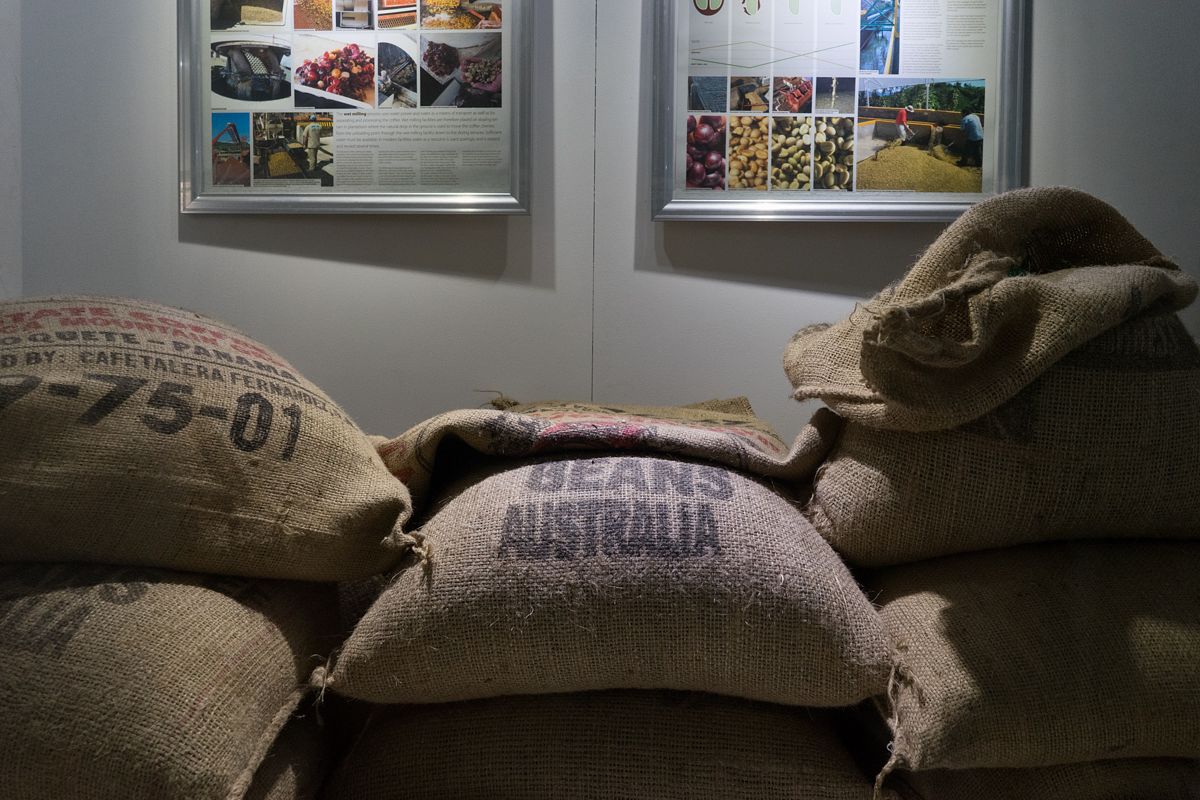 Bosgaurus dreams of the day when everyone has experienced and can appreciate the delightfully nuanced arrival and aftertaste of a 100% Arabica cà phê sữa đá. To facilitate this, Bosgaurus leads open classes for roasters, baristas and tasters at the shop's training center. The inviting space is where Hung educated two-time Vietnam National Barista Champion and Bosgaurus employee Tran Que Han. With enough time and research, they hope that the Arabica beans grown in Vietnam reach world-class quality levels with global demand to match. Such successes will help nurture coffee culture in and outside the country.
In addition to the coffees that rely on Vietnamese-grown beans, Bosgaurus prepares a rotating selection of Arabica coffees made with Single Origin beans from Africa, South / Central America and throughout Asia. In response to the shop's commitment to transparent, quality ingredients, all the beans are imported from Project Origin in Australia, Nordic Approach in Norway, and The Coffee Collaborative & Falcon from the UK. A single cup, warm or cold, will reveal to customers the great diversity of globally-sourced Single Origin coffee. The offerings change for the sake of variety and according to seasonal availability. And before anything is put on the menu, the dedicated team conducts daily tastings to test the quality of any roast to ensure it adheres to the shop's strict standards.
As committed to coffee as Bosgaurus is, they also serve a diverse selection of other drinks and food items. Tea, juice, soda and sparkling water are served as well as freshly made in-house yogurt, salad, pasta, American-style waffles and bread. And for evenings, Bosgaurus offers a wide selection of craft beer on tap. Bosgaurus welcomes groups of people to enjoy a beer and bring their own food to share (small service fee applies) outside on a patio that overlooks the Saigon river.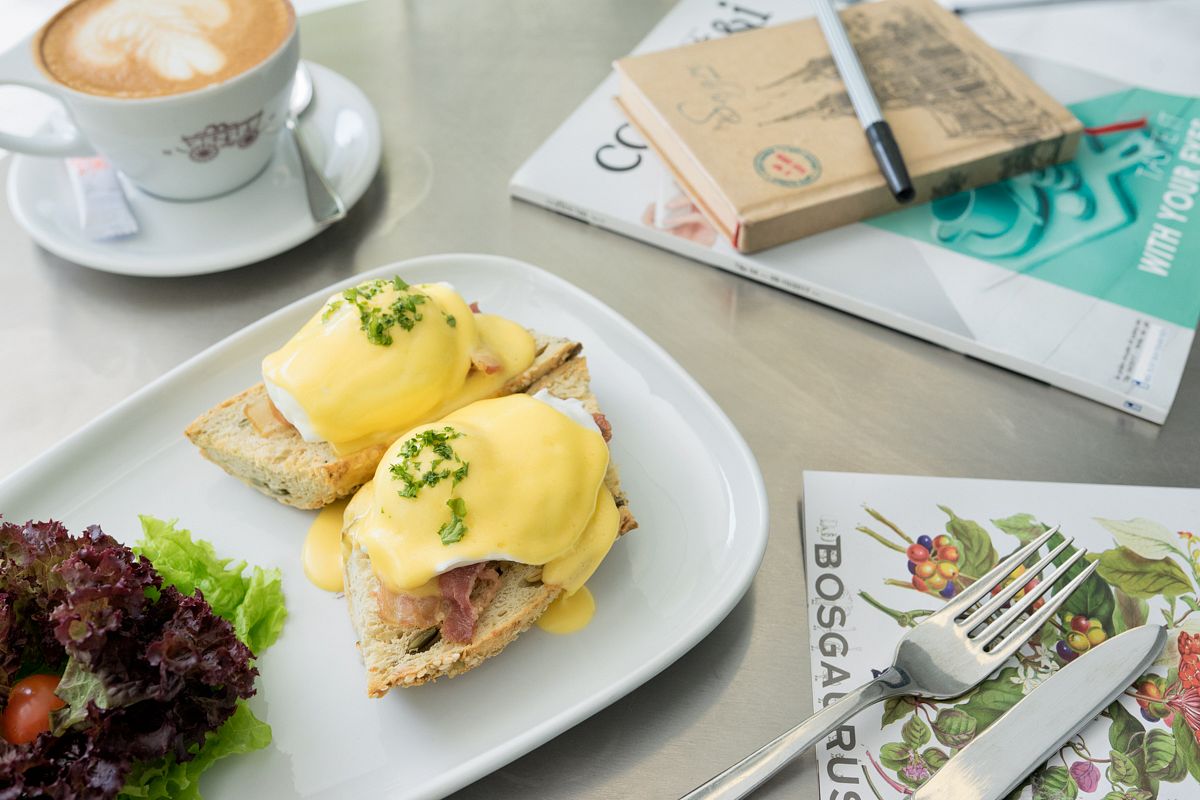 Transparency and cleanliness are two of Bosgaurus' core principles. They pursue this not only in how they source and roast beans and prepare drinks, but also in the shop's design and environment. Inspired by a Scandinavian simple, white style, the large space features clean steel and soft edges. Guests can watch roasters roast the beans behind an open-bar that allows for the baristas to easily attend to customers. The downstairs kitchen is surrounded by windows so customers can view all the food preparation as well as the state-of-the-art storage room that keeps the beans at a constant temperature and humidity. Ideal for studying, meetings or casual conversations, Bosgaurus is a cozy space, perfect for long afternoons and early mornings.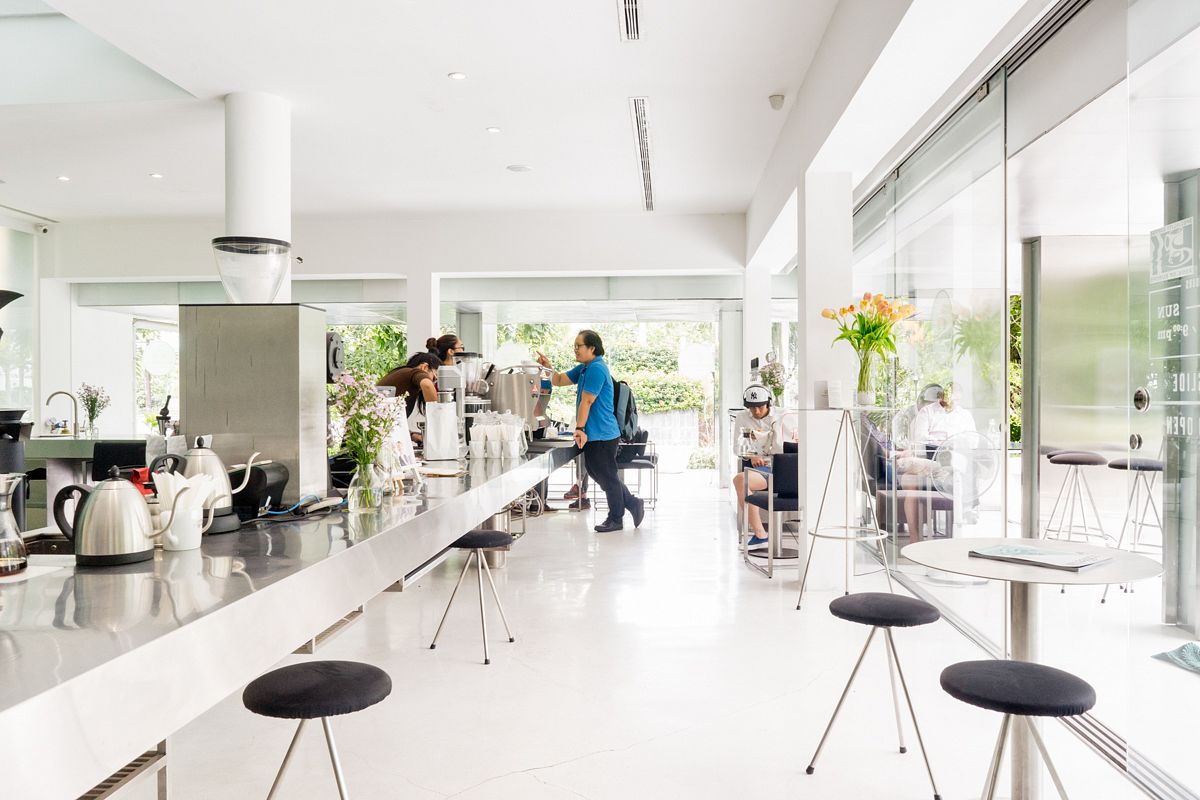 Bosgaurus' slogan is "Keeping Hope Awake." The phrase refers to the shop's desire to maintain Vietnam's unique coffee culture while adding to it a deep appreciation for cà phê sữa đá made with native-grown Arabica beans. Their transparent sourcing practices combined with the extreme care they give each roast, brew and pour contribute to a truly wonderful cup that will change how you understand Vietnamese coffee.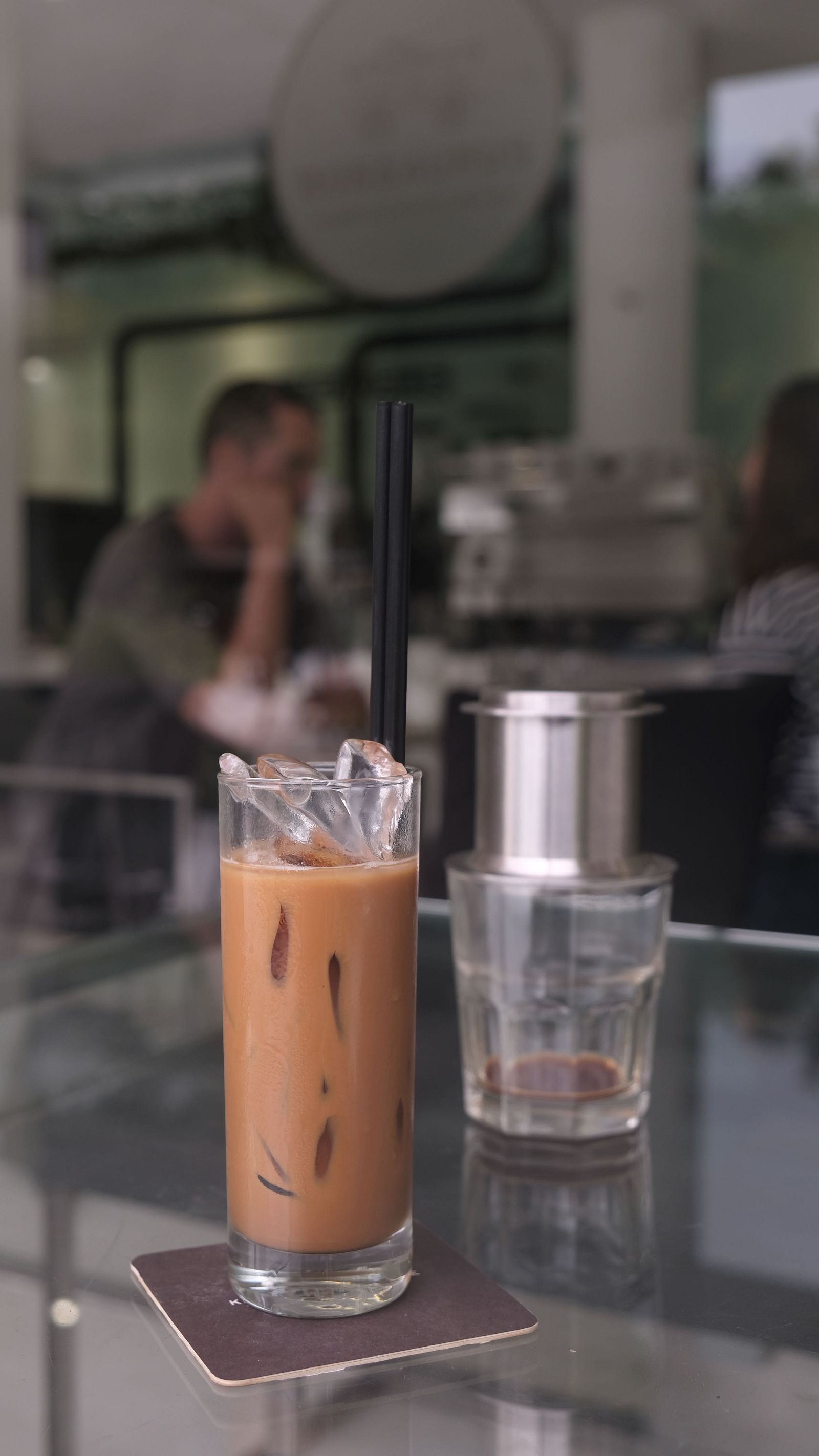 090 142 68 77
Operating hours: 7:00am - 9:00pm
92 Nguyen Huu Canh, No.1D5, Sai Gon Pearl Villa, Ward 22, Binh Thanh Dist, Ho Chi Minh City