For Hôtel des Arts Saigon, art is more than just a trendy word to include in their motto. It navigates every aspect of a guest's experiences. From architecture to performances, dining, and service, the hotel relies on creativity and care that is rarely seen outside studios or galleries.
Opening the downtown building's large oak door reveals a spacious lobby inspired by Indochine architecture and concepts of feminine beauty tinged with romantic melancholy. From the soft, rounded chairs, to the expansive windows' billowing drapes, and the building's entrance roof, which resembles a wind-tousled áo dài, the female form is mutely evoked throughout.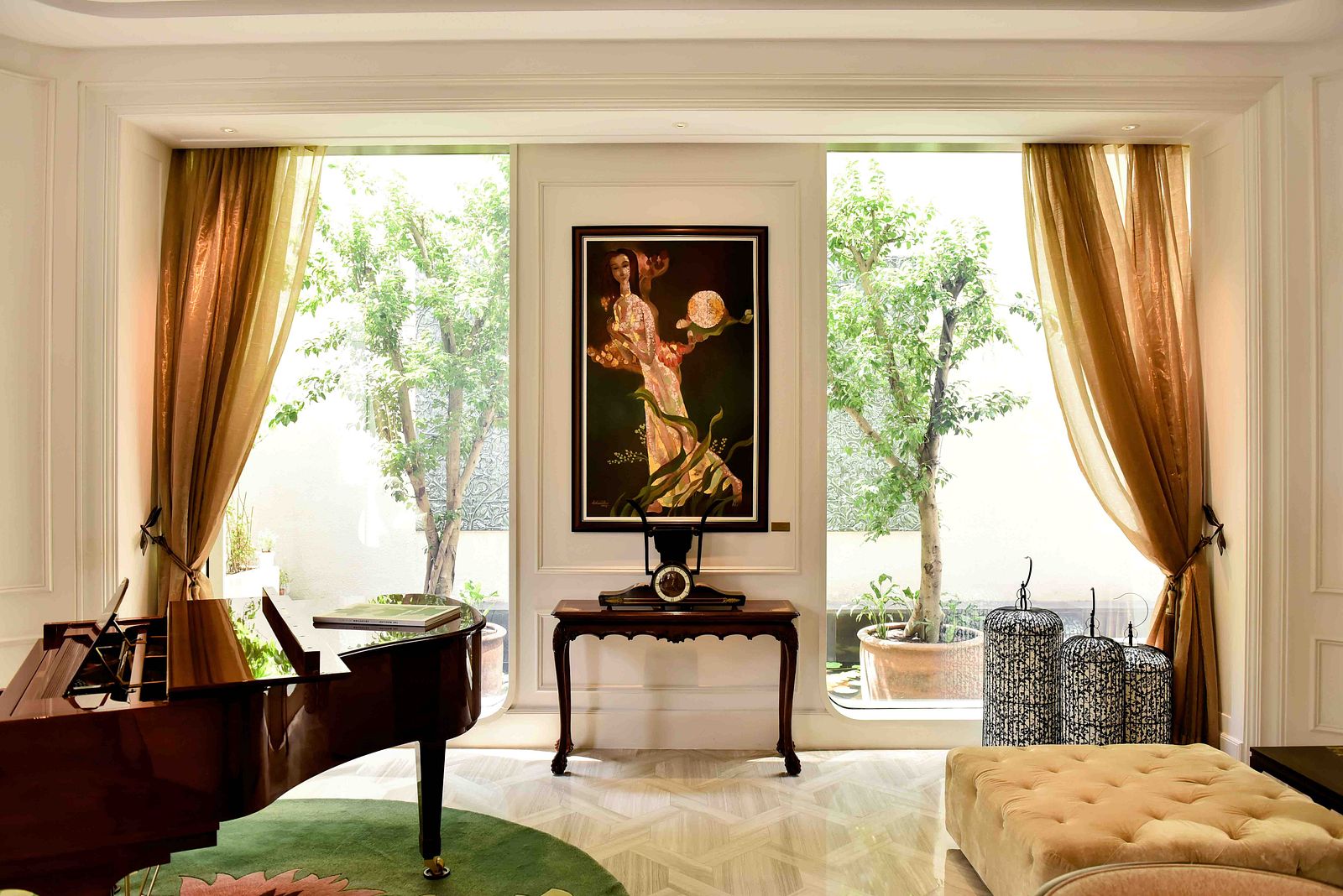 Bangkok-based architect Scott Whittaker explained the inspiration came from the hotel owner's private art collection: "The paintings were intense and moody and mostly told the story of a woman who had been separated from her lover over a long time…so the hotel overall is like that beautiful woman with a sad but romantic past."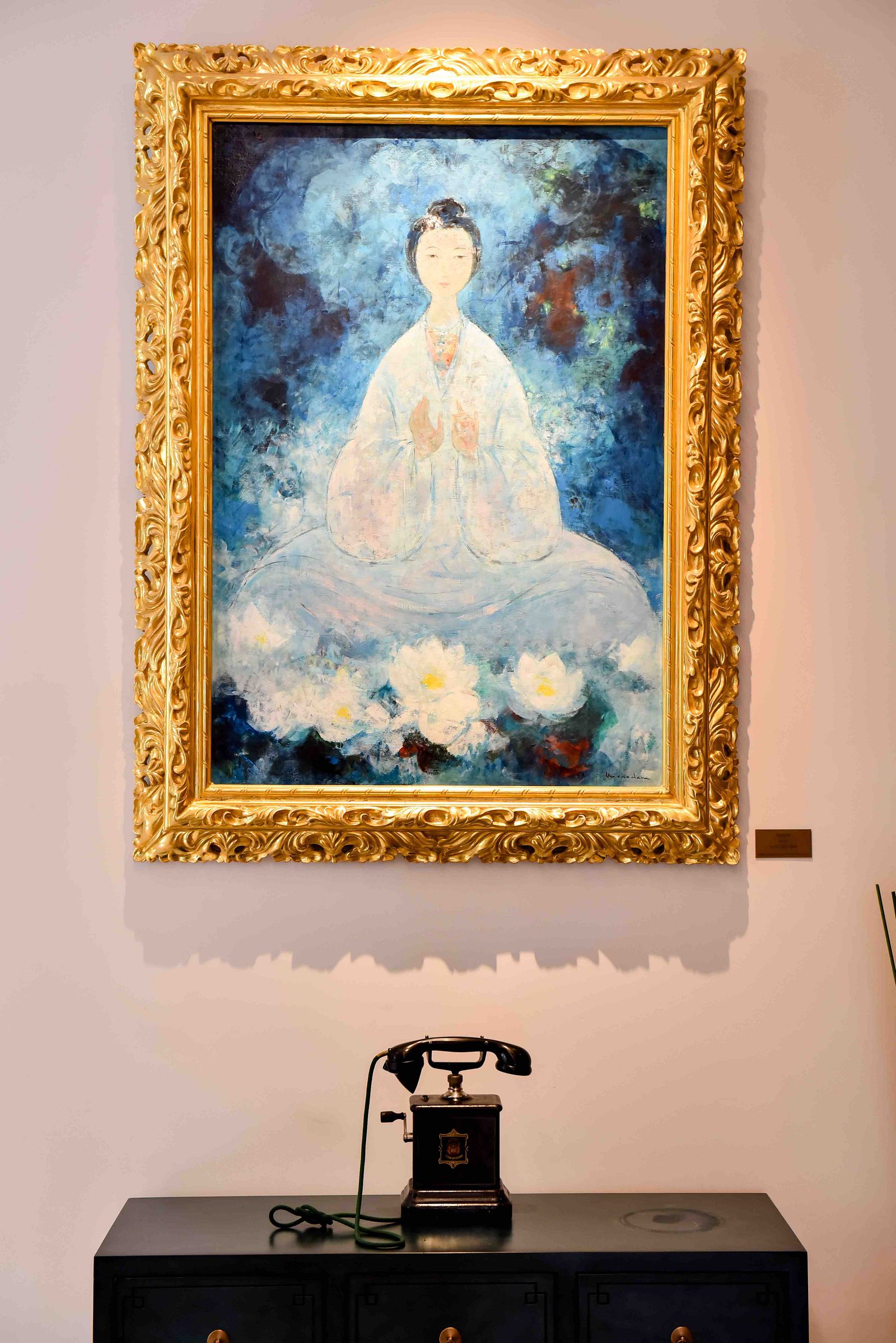 Guests immediately pick up on the atmosphere thanks to Vu Cao Dam's painting "Divinity," which features a serene female Buddhist depicted in placid pastels. She overlooks the entrance, casting a peaceful blessing on all who enter. This painting, which is in many ways the mascot of the hotel, is not for sale, but the hotel's own art pieces, many of them featuring tragedy-tinged females, are. The hotel's owner, who is an avid art collector, carefully selected the Vietnamese and Western paintings, pottery and lacquer works. They frequently change as visitors buy them. Throughout the hotel, art books further allow people to indulge in visual pleasures.
Beyond the basic design and decor, the hotel's emphasis on art can be categorized in three ways - La Table, De Vivere, and Etrain. The first refers to the two restaurants, whose delicately arranged dishes resemble still life paintings.
Whittaker explains that Saigon Kitchen, the hotel's Asian cuisine venue, was designed to "evoke the feeling of a Vietnamese market where you eat street food by day but then by night it is transformed into an elegant and intimate dining room." The chairs are a mishegoss of designs - an elegant take on the plastic chairs one would encounter arranged in a slapdash style on a hectic Saigon street corner.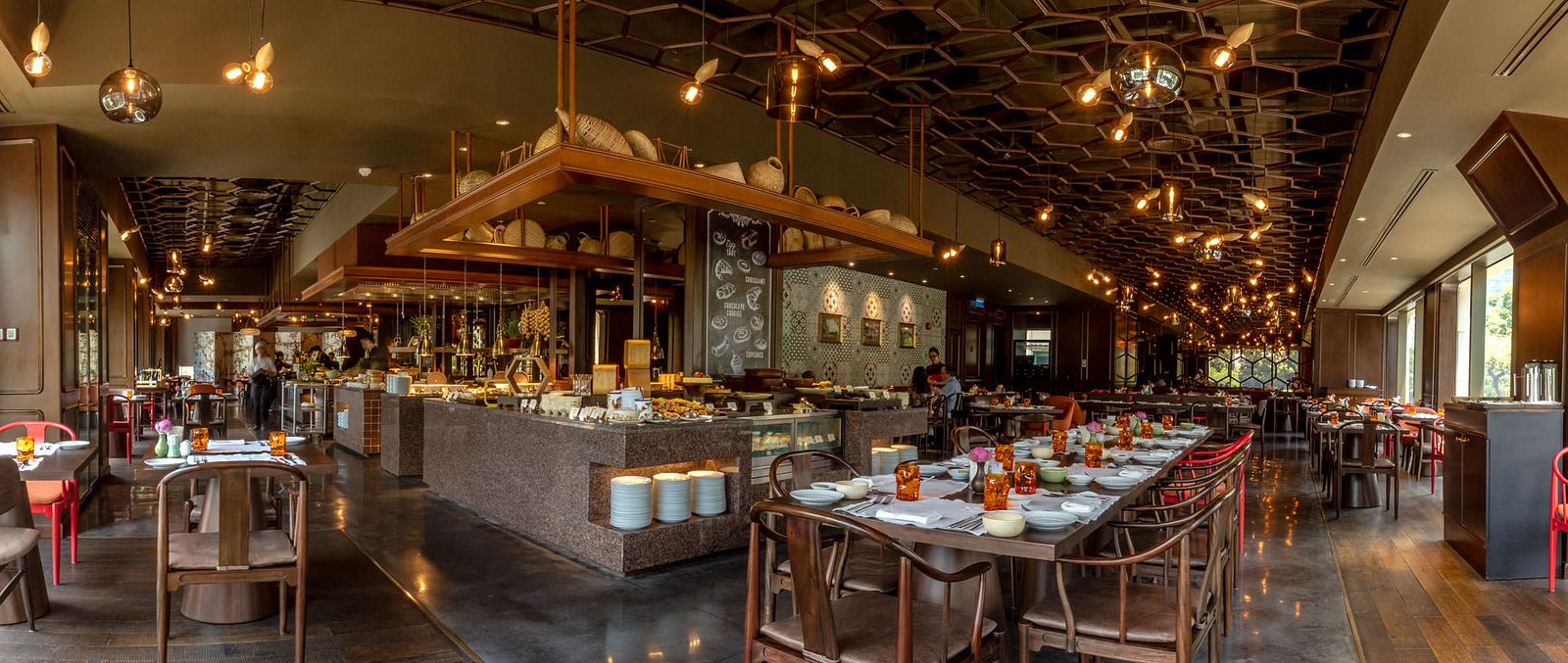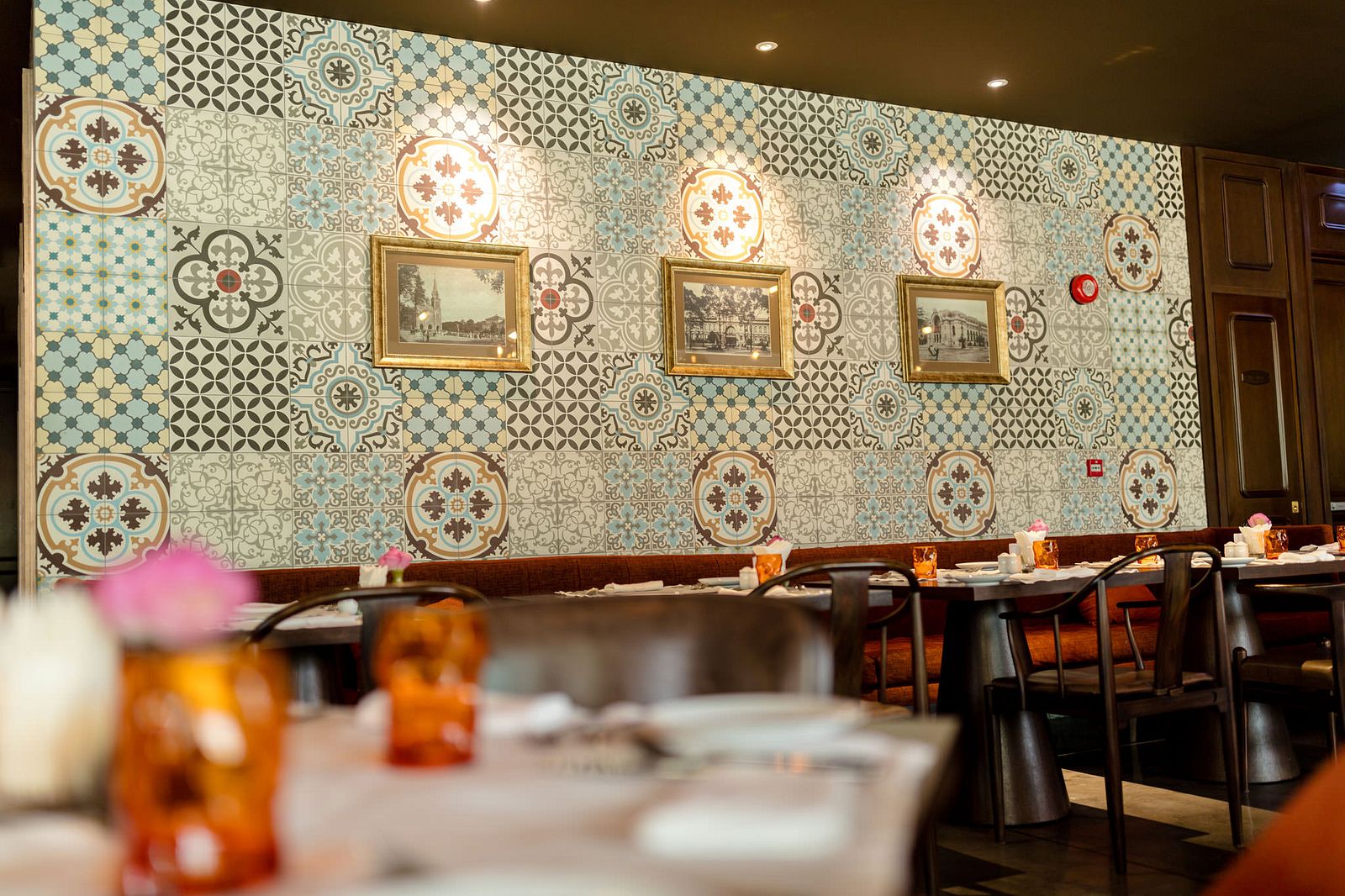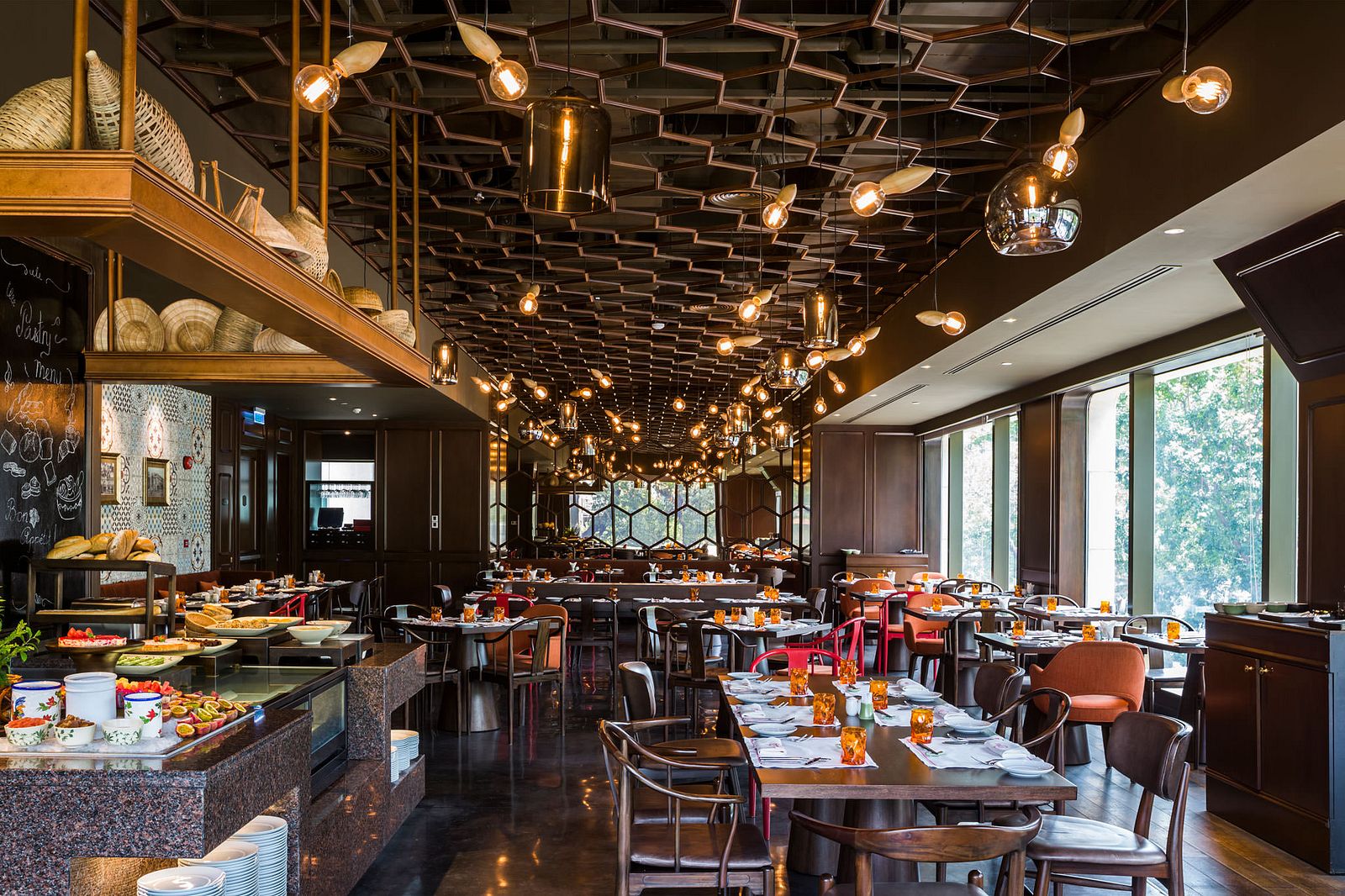 The walls feature ceramic tiles similar to those used in floors in southern Vietnamese houses, while traditional wicker fishing equipment decorates the ceiling above the daily buffet. Whittaker further says that Hôtel des Art Saigon aims to feel like an elegant home one hasn't been to yet. Even the lights in Saigon Kitchen reflect this theme in their resemblance to bees returning to their hive after a long day spent collecting pollen.
The second dining room, the Social Club Restaurant, takes inspiration from 1910s Victorian London. Created by famed Japanese designer Super Potato, it features warm velvet chairs, graceful chandeliers and cozy dining alcoves that were made using pillars consisting of complex collages of mismatched table legs. The centerpiece of the 23rd-floor restaurant is the large wood bar the owner imported from a London gentleman's club.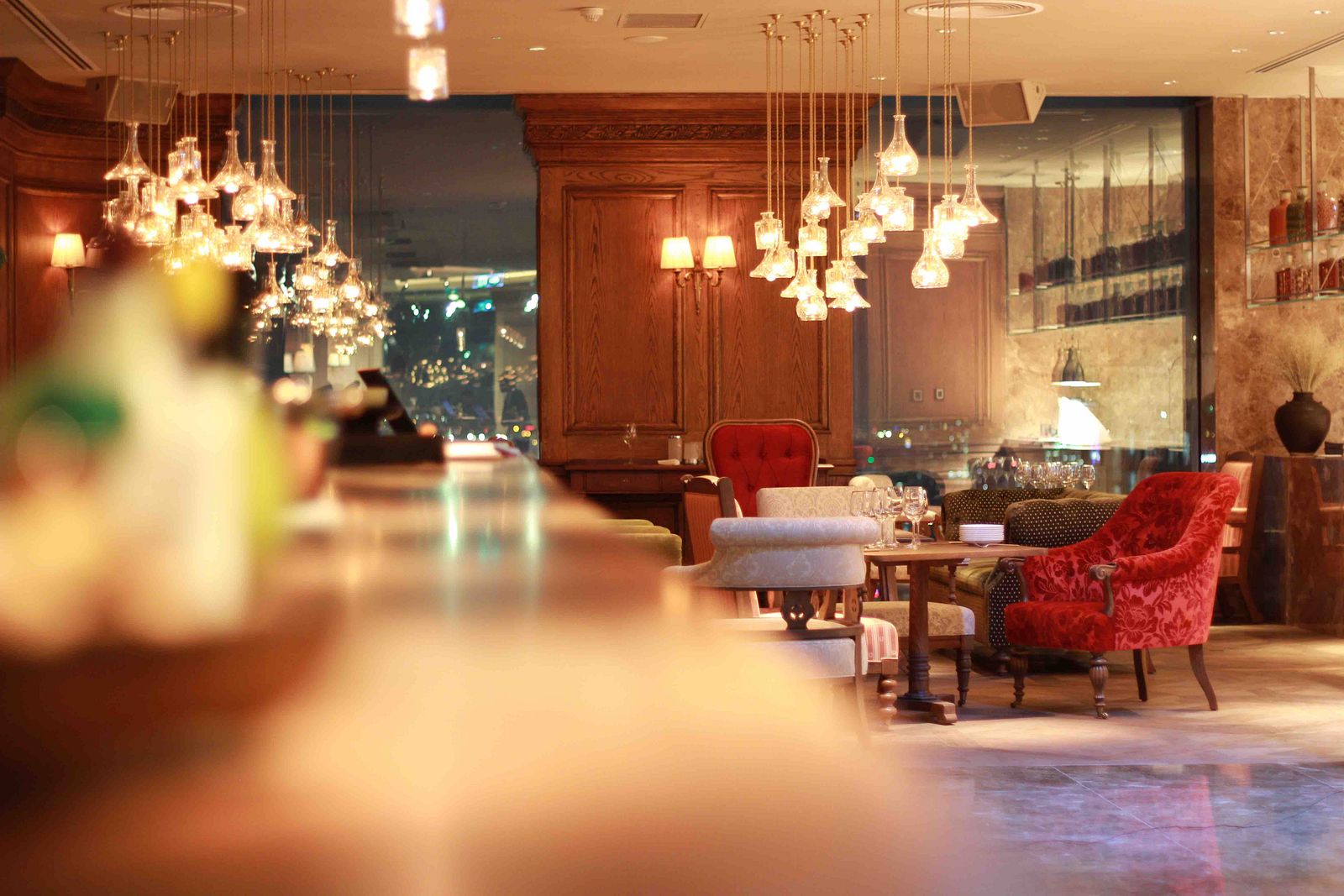 Guests that take the "stairway to heaven" from the restaurant will encounter one of the best views in the city, as an unobstructed skyline spreads out behind the Social Club Bar, which frequently features live DJs and performances. Hotel guests are granted exclusive use of the highest infinity pool in the city. A unique, clear-bottom bridge connects the hotel with the neighboring Centec building - a feature that evokes the image of the hotel's female character holding hands with a male companion.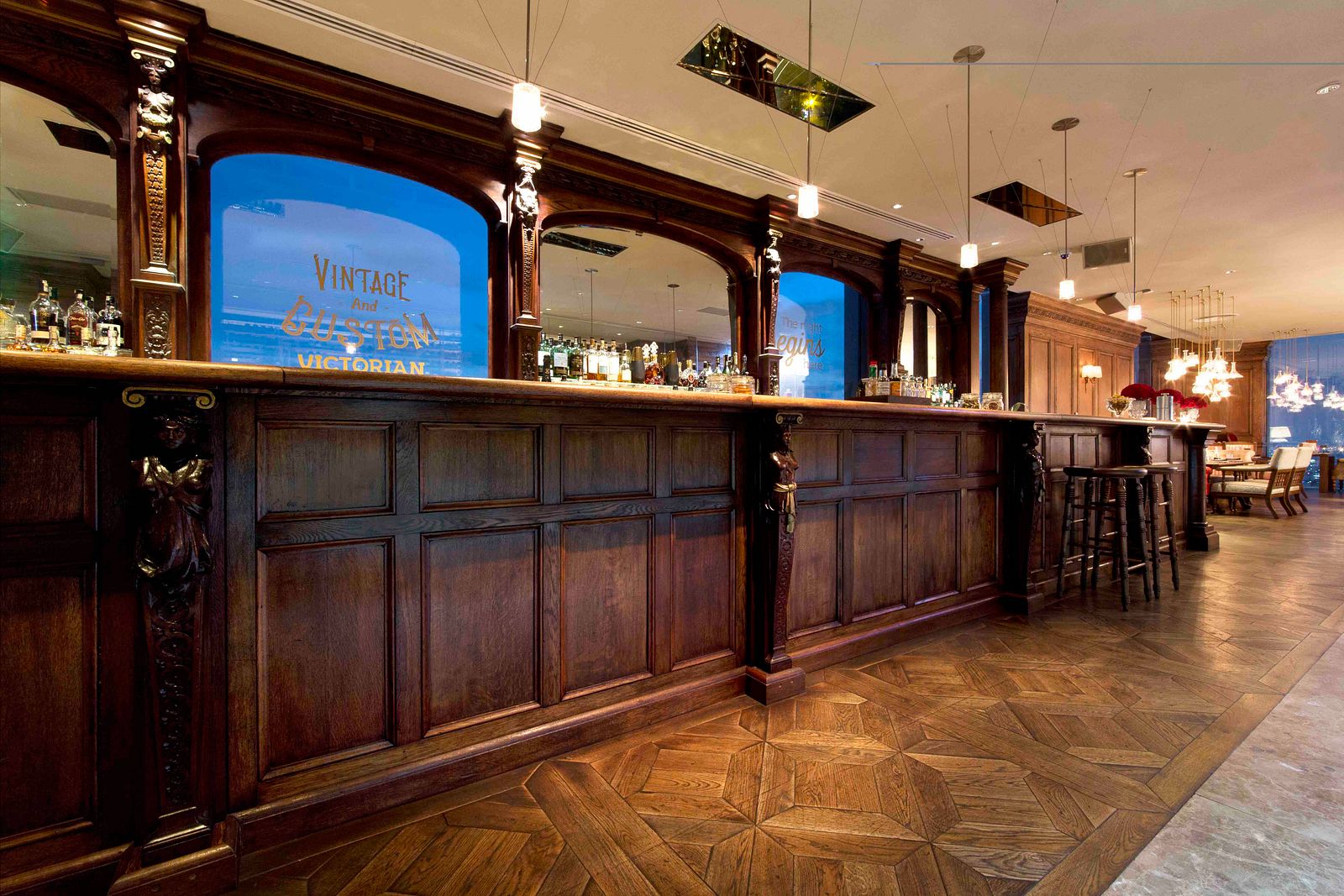 De Vivere, the second pillar of Hôtel des Art Saigon's commitment to art, involves making guests feel as if they are living in an elegant black and white movie, complete with performances and events. Nightly jazz music is played in The Social Club, and live songs regularly echo from the lobby's piano. Next month award-winning Vietnamese-Australian pianist Van-Anh, and international DJ Mark Olsen will visit for a series of concerts. Each Van-Anh song will be paired with a signature cocktail, similar to a previous event that matched her music with Australian cuisine. Because living art involves all the senses including taste, Michelin star chef Bruno Menard will host a series of special meals. These regular events exemplify the hotel's aim for guests to not simply admire art, but also actively experience it.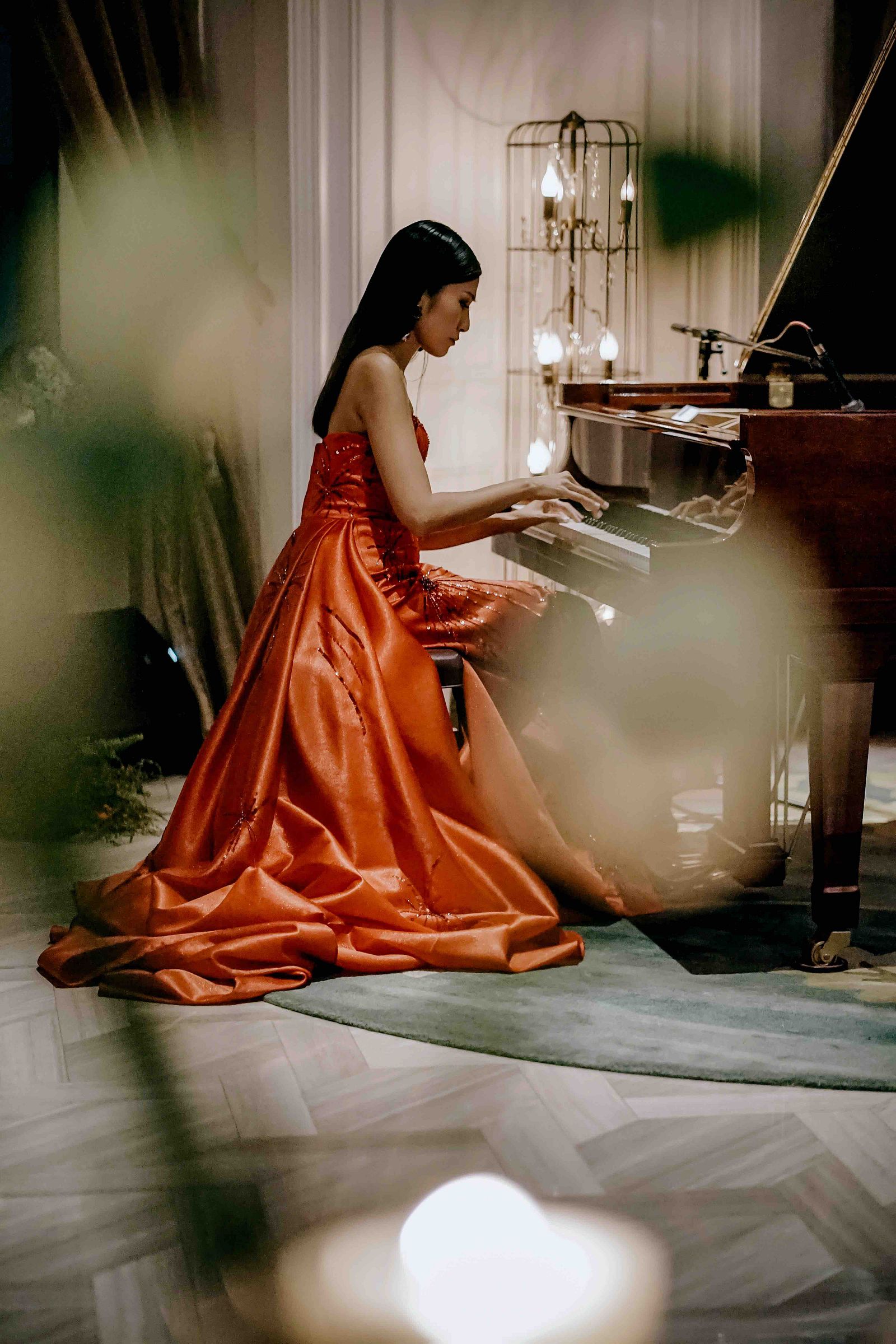 Finally, Etrain describes how the hotel applies artistic concepts and aesthetics to service. Much like the attention a painter gives to each brushstroke, each interaction and service provided by Hôtel des Art Saigon receives special consideration. For example, upon arriving, guests are offered fresh glasses of kumquat tea - a sweet citrus beverage associated with traditional Vietnamese customs for making business deals. From the exclusive fragrance lightly wafting in the lobby, the bird songs softly playing in the state-of-the-art spa and exclusive exercise area, and embroidered daisies on staff uniforms, details are arranged with the care of a composer placing notes along a register.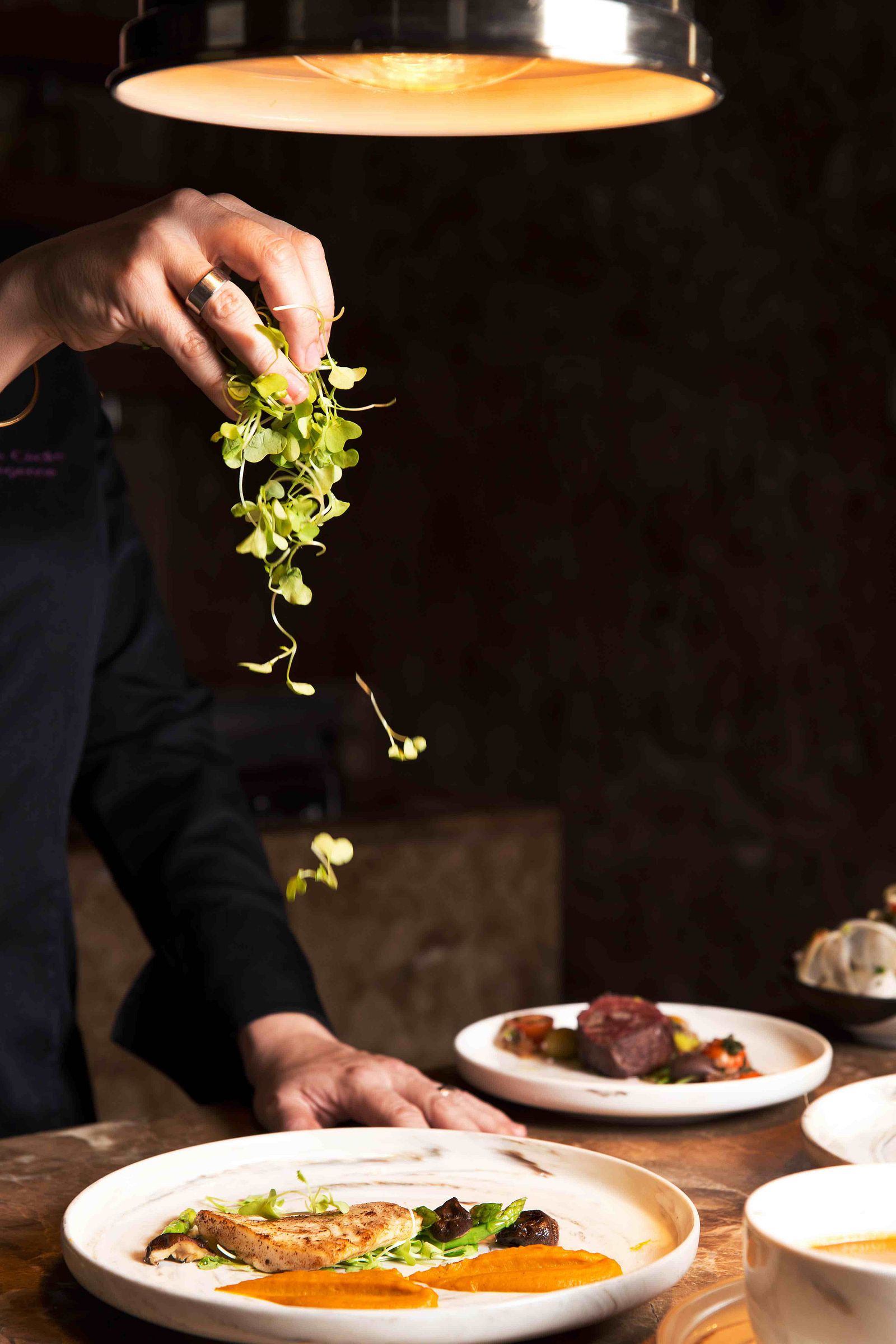 Hôtel des Arts Saigon understands the hollowness of a life without art. They, therefore, ensure visitors encounter it in every aspect of their stay. The paintings, events, views, and dining all offer unique experiences inspired by melancholic beauty.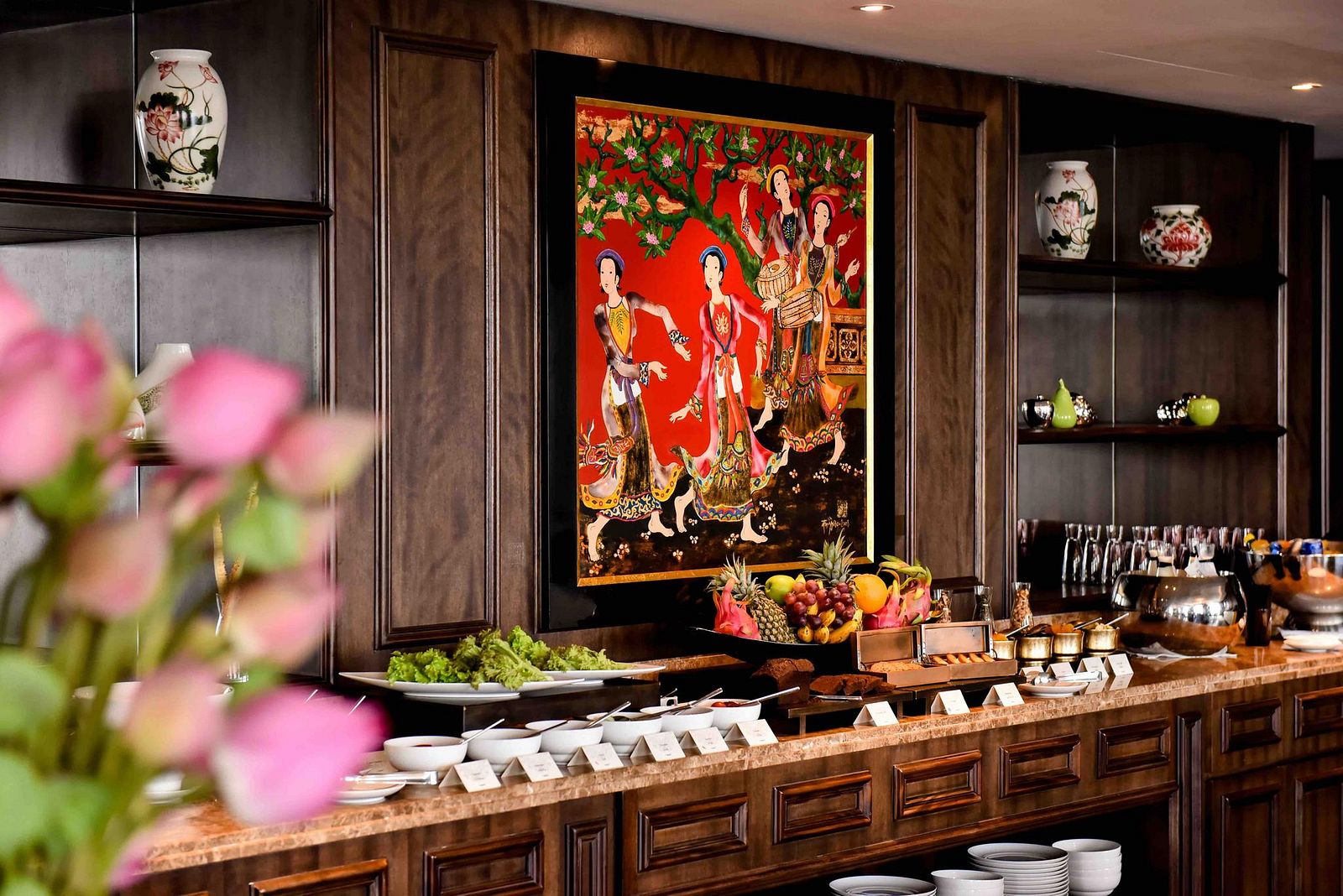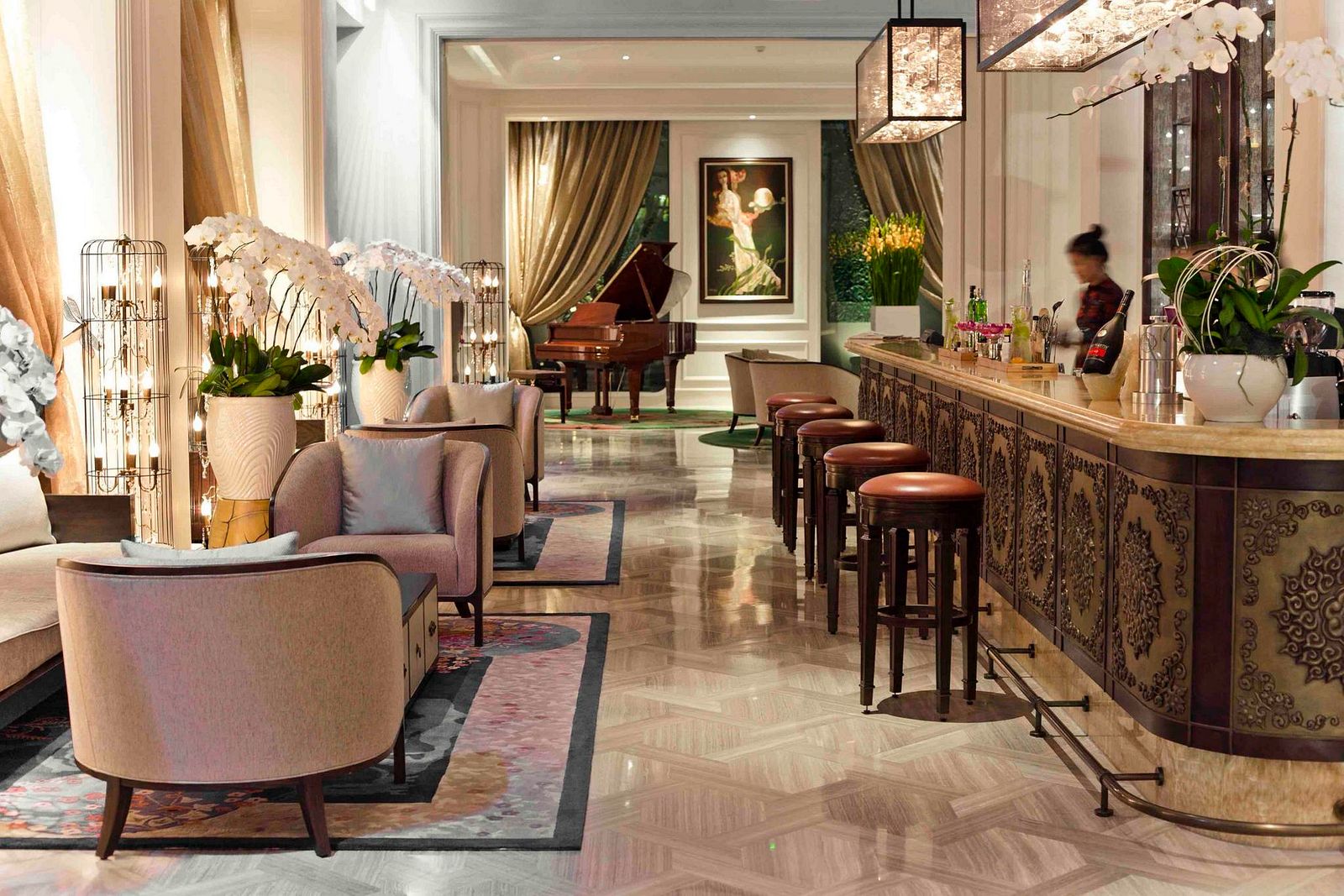 Hôtel des Arts Saigon's website
(+84) 02839 898 888
Hôtel des Arts Saigon | 76-78 Nguyen Thi Minh Khai street, D.3, HCMC