The translucent balls one would normally identify as caviar held a secret.
They were not fish eggs, but rather jewels that burst apart in one's mouth, releasing a deliciously dry martini. After weeks of tinkering, the team at INK 360 on Phu Quoc had just perfected the process and were now brainstorming on ways to make use of the caviar alcohol. Perhaps they could incorporate it in a cocktail that relied on a device that clarifies liquids; turning a glass of pineapple juice translucent thanks to their Spinzall machine. Perhaps strangest of all, during my visit last month, I even drank an avocado pit (you read that right) mixed with Calvados that the team was experimenting with in their backroom laboratory.
A vibrant streak of Strawberry dust laces one side of the Three Way Mirror glass with an equally arresting turmeric dust on the other. Licking either side, head bartender Giuseppe Carneli explains to Saigoneer, changes the acidity, and thus the flavor, of this Gin, St. Germaine and sparkling wine cocktail. The Coral Mule is no less outlandish. The original concoction, which relies on Triple Sec, Aperol, Fernet, ginger beer, calamansi and lemon, is a sweet, tropical treat that always turns heads when brought out thanks to the striking edible pink mushroom bouquet that fills the top of the glass.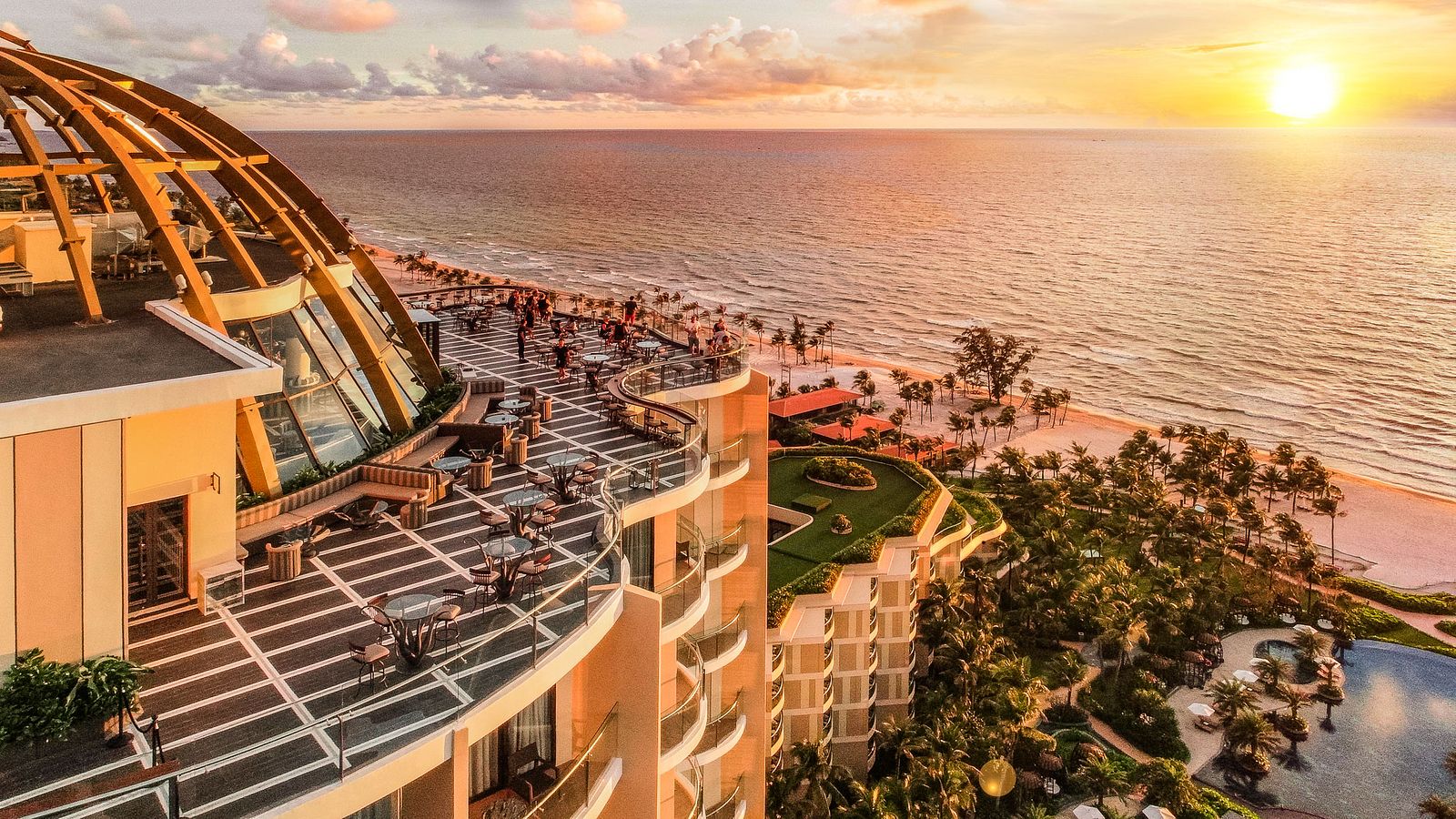 While they make for flashy, Instagram-ready experiences, Carneli and Aaron Cabural are clear in telling Saigoneer that they don't want to use technology or extravagant presentations in a gimmicky way. First and foremost, they want to make delectable drinks that suit the island's tropical environment. After watching them work, it seems that half the reason they take drinks to the next level is how much fun they have exploring their own creative impulses.
Situated on the 19th floor of the newly open resort, InterContinental Phu Quoc Long Beach,INK 360 caters to a diverse crowd. The clientele hails from countries all around the world. Having more than 250 unique bottles on hand and a bevy of local ingredients, from honey to citrus fruits, makes catering to different palates and preferences easy. Tronik says he often won't even hand a guest a menu, instead asking what types of drinks they like and then creating something unique on the spot to please them. Such a routine even led him to concoct a durian cocktail at one point, that he is proud to admit was actually quite tasty.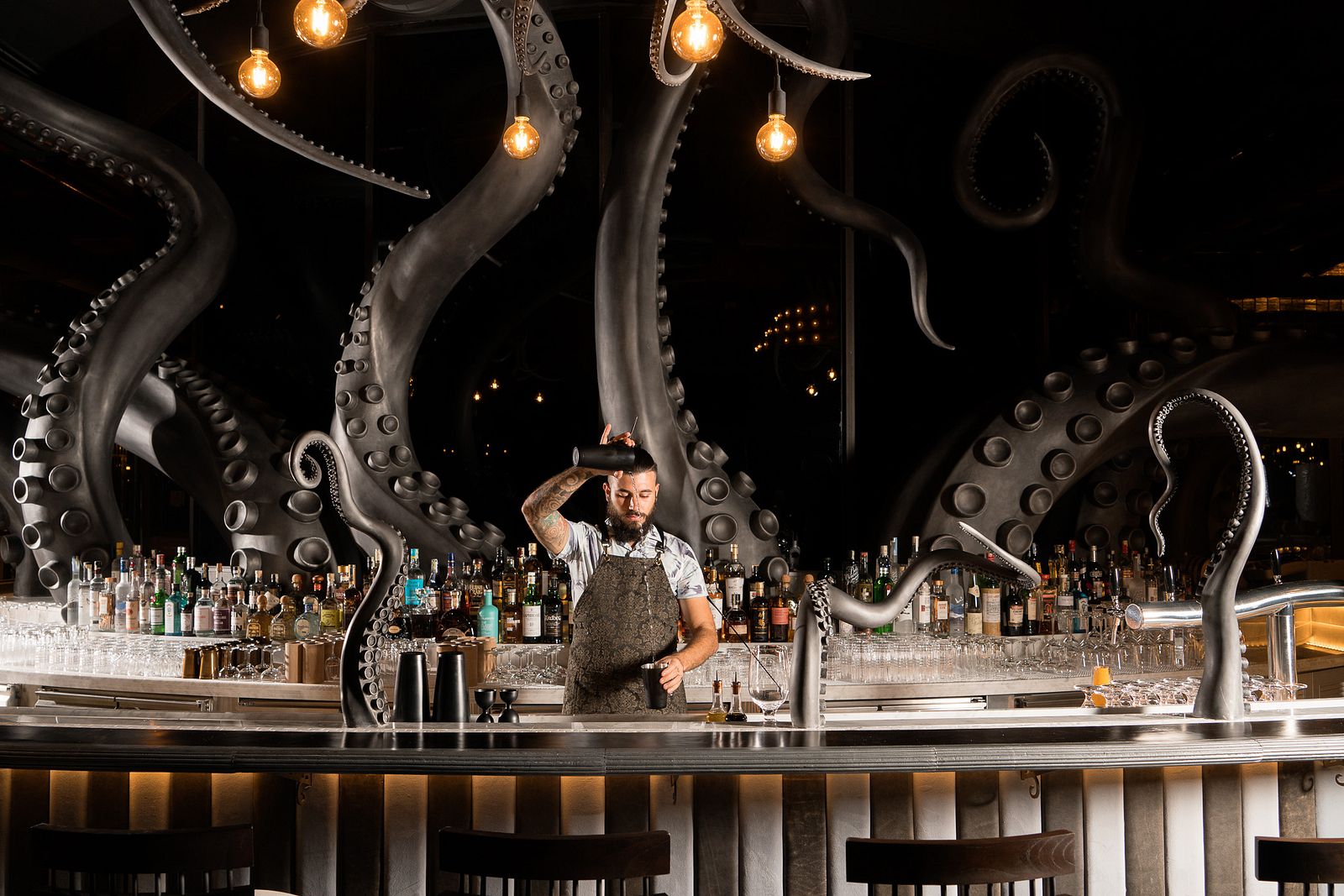 As wild as the drinks may sound, it is INK 360's incredible scenery that people first notice. Occupying the highest man-made structure on the entire island, it offers an incredible 360-degree view. The sunset is especially powerful, as it engulfs the entire sky in a panoply of pastels and illuminates the tips of waves so they resemble a thousand scattered shards of crushed champagne flutes.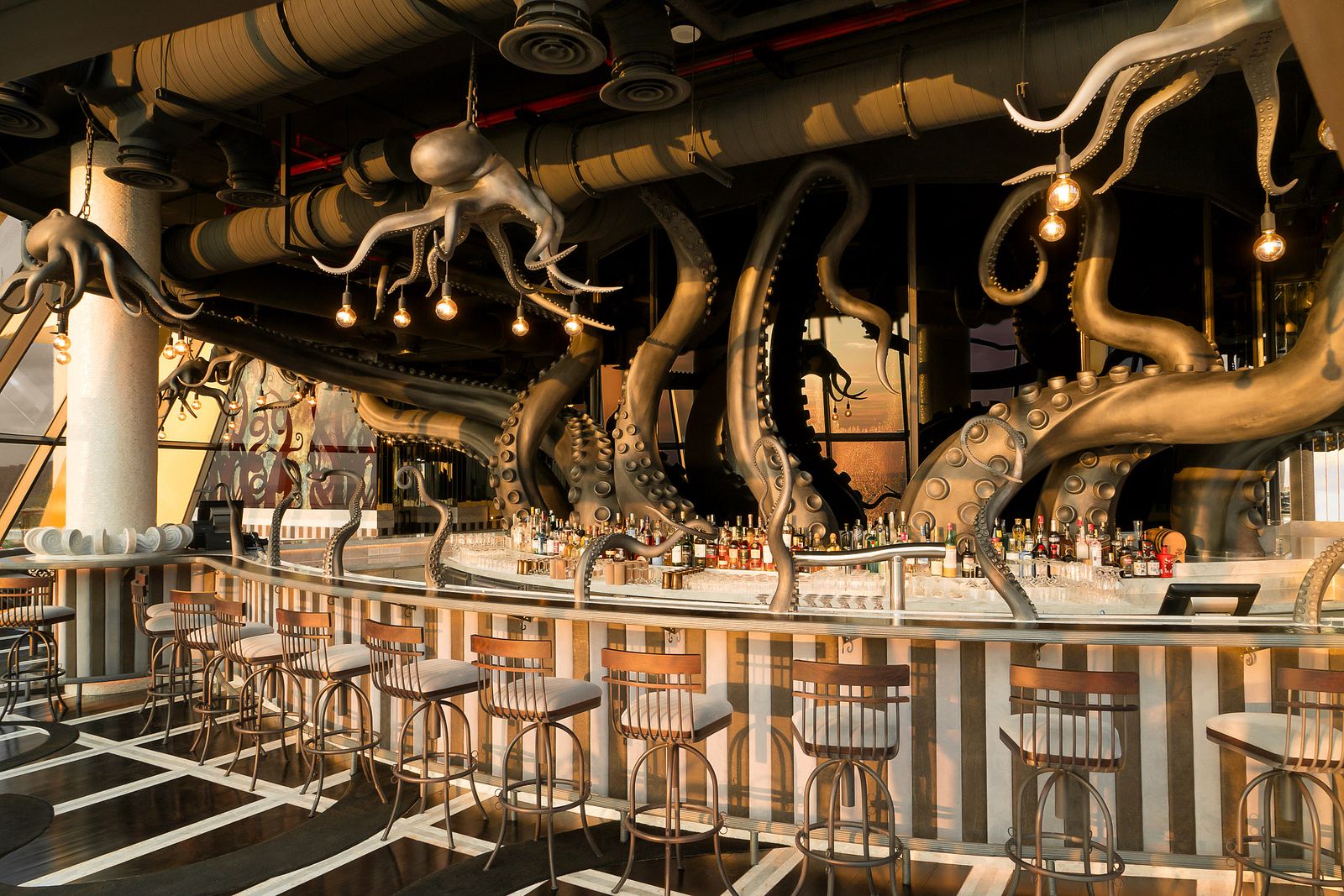 The bar's architecture is no less breathtaking. Inspired by nautical lore, famed Australian designer Ashley Sutton imagined the domed structure to be the body of a giant octopus that had crawled from the sea to consume the bar. Thick metal tentacles curve menacingly behind the bar, hang from chandeliers and serve as tap handles, while the backs of the wooden chairs call to mind old pirate ships.
When INK 360 opens at 5pm, its balcony fills with people holding glasses designed to complement the view. It takes on a casual vibe fit for families and remains this way until around 8:30 or 9, when the lights drop and the music shifts from chill to dance tunes. While the interior remains calm and quiet, the outside patio becomes a spot for dancing. The venue also hosts occasional events, for example Mexican Vibes and Flower Power, and has space available for private groups to rent.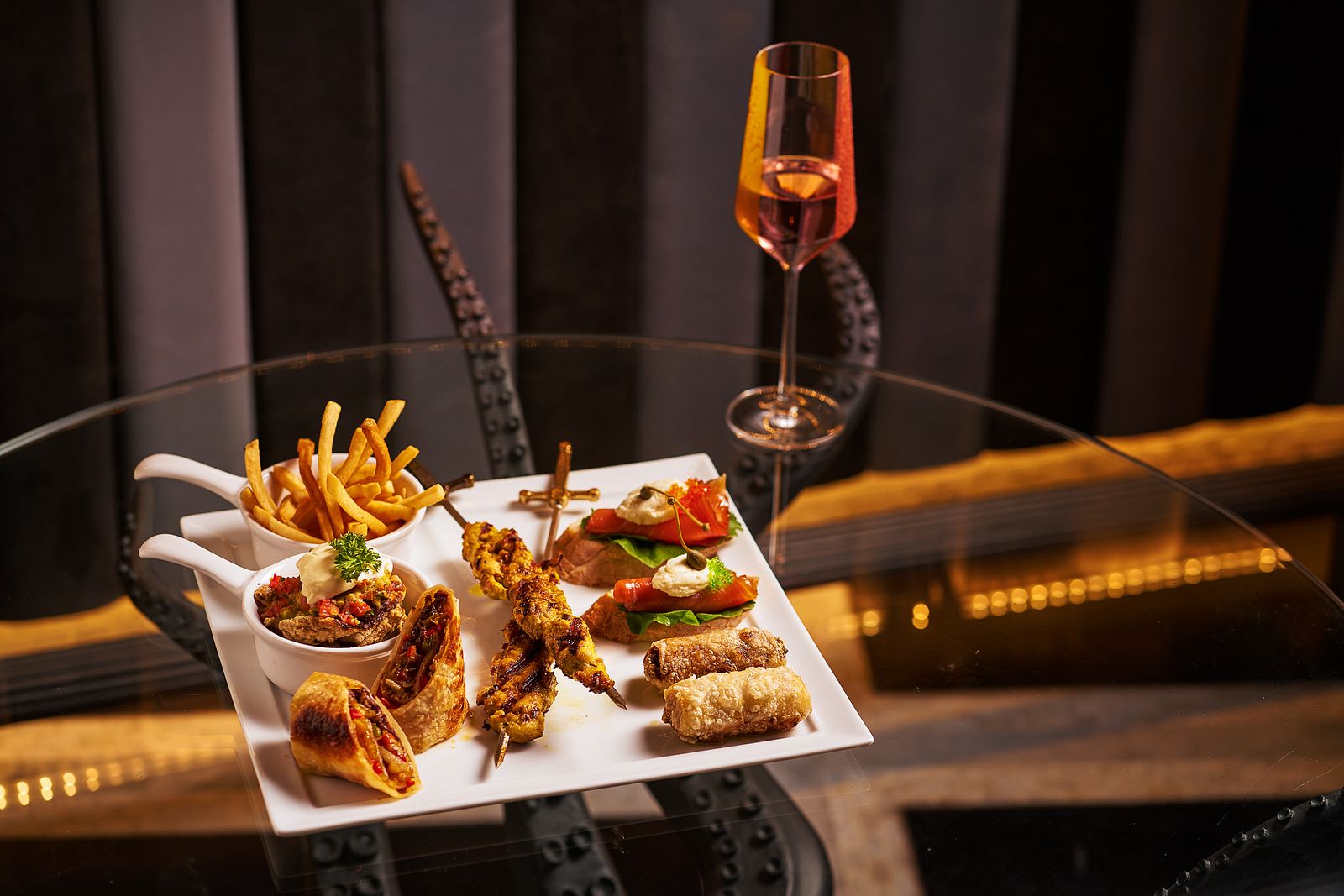 Many people who come to Phu Quoc rarely venture past the gates of the resorts they are staying at. INK 360's view of the ocean and island alone should compel people to visit it. The wildly innovative drinks, made with techniques unlikely to be seen anywhere else in the country and served by staff eager to geek out about drinks, double the reasons to check it out. The bar is the type of place social media was made for.
InterContinental Phu Quoc Long Beach Resort's website
InterContinental Phu Quoc Long Beach Resort's Email
Bai Truong, Duong To, Phu Quoc, Kien Giang, Vietnam