While the seasonal rains paused only long enough for mosquitos to breed in standing pools of water, in 2017, the East West Brewing team had to lug brewing equipment through the mud of Saigon.
Three buildings were bulldozed to make way for the District 1 brewery, and the equipment was set up at the same time as walls were built, metal was sawn and wires were laid. Only able to operate in the dark hours of the early morning when the streets were empty enough to bring trucks through, the process involved using cranes and ropes to haul in enormous beer vats to be beautifully showcased in the microbrewery and taproom in Saigon.
The struggle was worth it, however, as having the brewing facility prominently in the middle of the spacious building allowed for Vietnamese customers to see the craft brewing process in action, an essential part of introducing locals to the drink at the time. While the market has rapidly evolved, and there is less need for education about the concept of craft beer, the brewery still benefits from having the equipment on site for aesthetic and logistical reasons, and the chance to provide tours.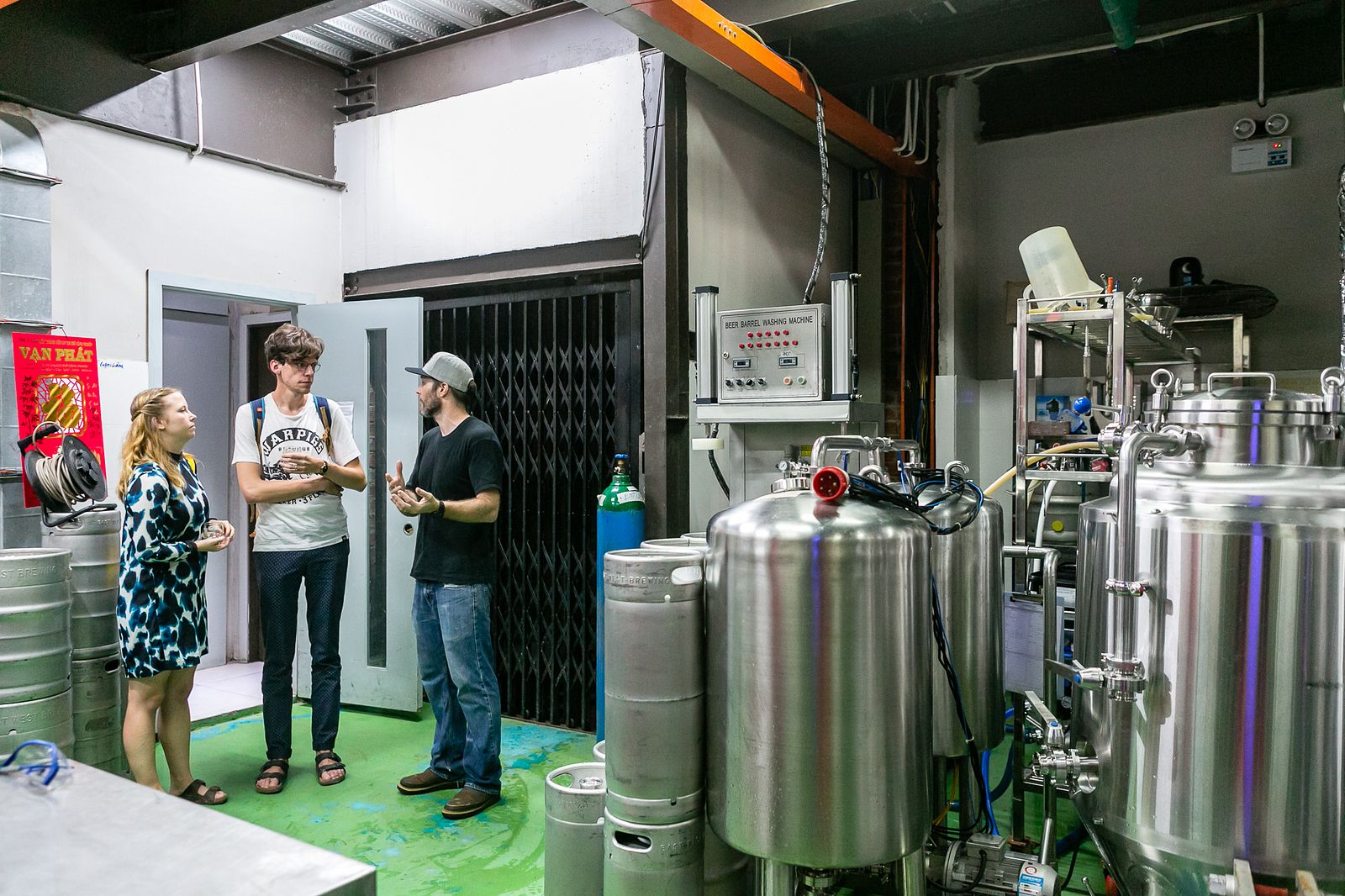 Head brewer Sean Thommen invited Saigoneer on one of the tours that he leads every Thursday and Sunday. On this particular afternoon, he was showing two Americans around the facilities. One of them is a homebrewer, and when he asked what kinds of hops were used in the Far East IPA, Sean's eyes lit up and he started spouting off names like Centennial and Mosaic. He doesn't always get so deep into the specifics when giving tours; instead, he tailors his talk to whoever is attending. The week before, for example, he introduced two Vietnamese women to the basics of craft brewing. It's all about flexibility and knowing what people are looking for, he says. The tours are not only unique because they are led by the head brewer himself, but because they are also the only ones available in the entire city.
Once they've been led through the brewery room, pausing to learn about the bottling line and grain mill, Sean takes them to the main dining area, where they sample some beers accompanied by tasting notes. This part of the tour is customized as well, with the beers served responding to the attendee's preferences. Once they've raised their first glasses, those that have signed up for the Premium tour sample a variety of dishes that blend Vietnamese and Western cuisine and often incorporate beer in their recipes.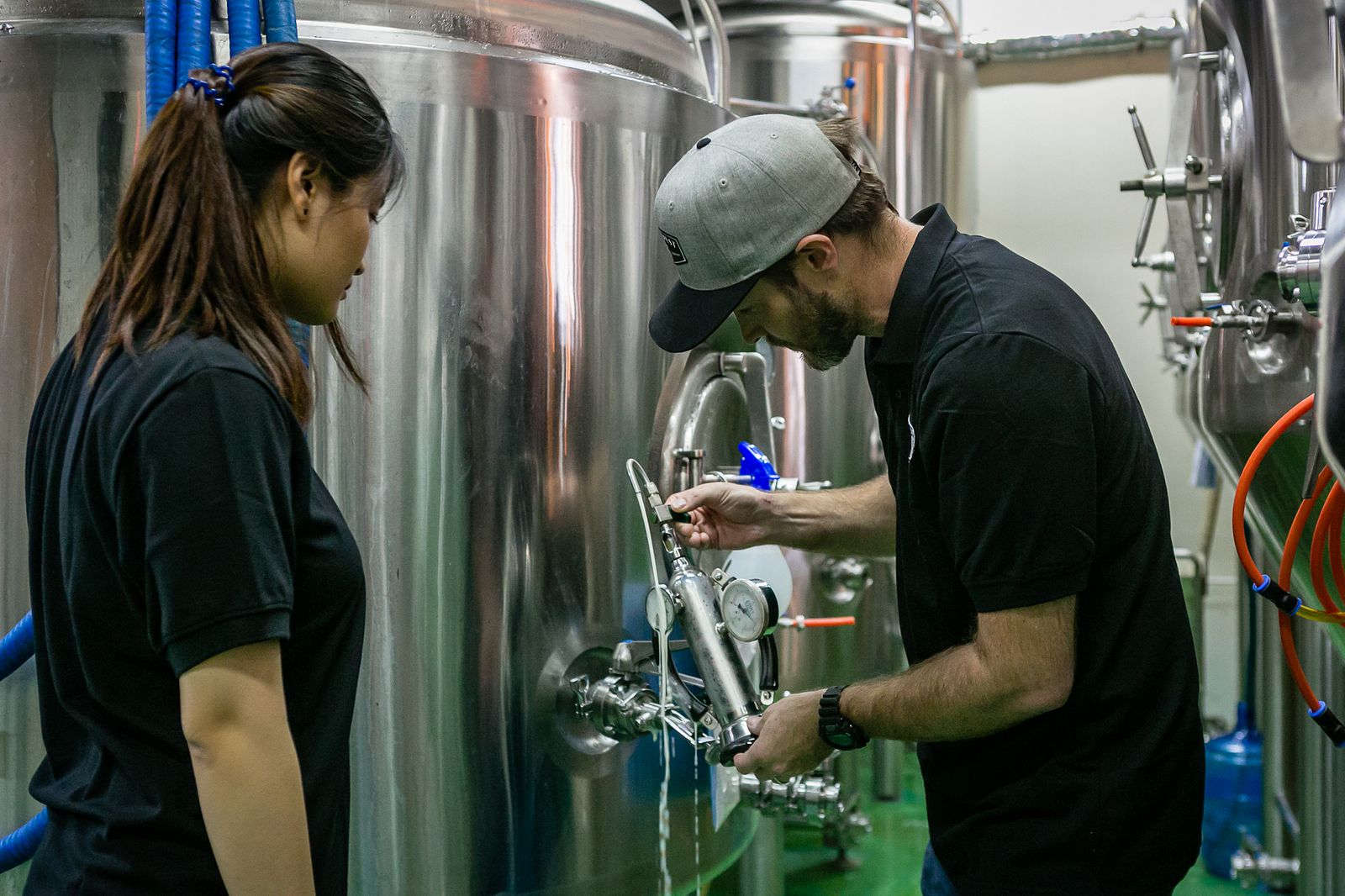 Also joining us on the tour was Linh Nguyen, one of the brewery team members who had started as an intern and was transitioning into a larger role that might include stepping in to offer tours if Sean is busy. As a food science and tech student, she was drawn to the confluence of art and science found in winemaking. Of course, Saigon has no wineries, which is why she turned to craft beer. At East West, she is involved with quality control, monitoring the brewing and some design work. While noting that most people consider beer a very male-dominated field, she doesn't feel uncomfortable, explaining that the team is very welcoming and supportive. She is one of two women that help brew the beer, a fact that Sean notes with pride because he admits sometimes the industry can have image problems, and it's important to actively counter that narrative.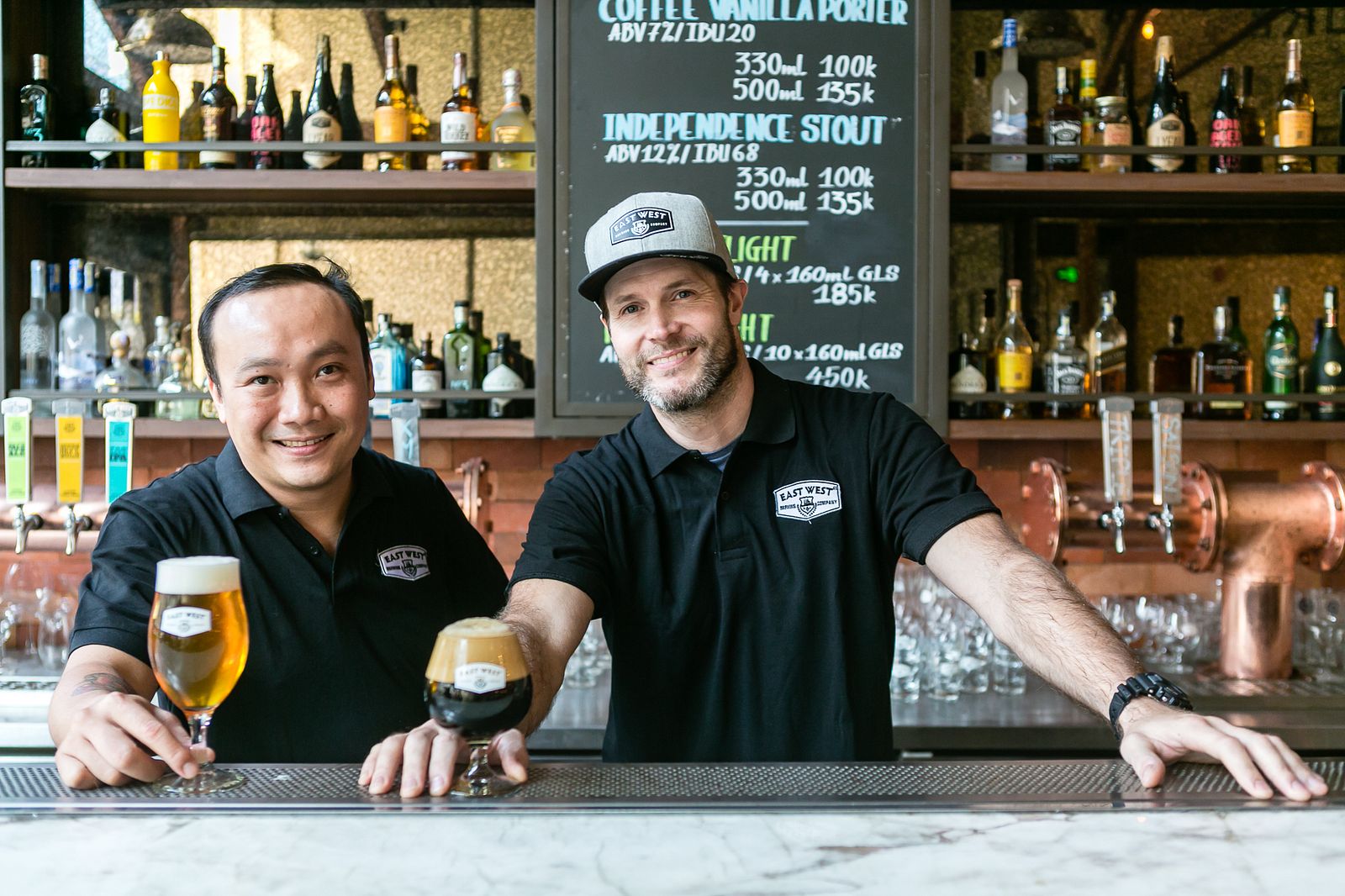 One of East West's main goals is to live up to their name by being a meeting point of cultures. It was therefore essential that Sean has a Vietnamese brewer at his side. Trung Dau came to craft beer only a few years ago after enjoying European beer while overseas. In addition to all brewing activities, he explained to Saigoneer that one of his roles involves explaining Vietnamese drinking preferences to Sean; a palate translator of sorts. He also serves as a manager and catalyst for myriad tasks, including sourcing ingredients and dealing with vendors.
One surprising benefit which Trung brought to East West came about thanks to his practicing of Kung Fu. He recruited much of the brewery's staff to join him at the dojo where he trains. The responsibility, dedication, attention to detail and physical strength they cultivate via the martial art makes them ideal employees. It also explains why, in their downtime, they perform some incredible physical tricks, which they were eager to show off for Saigoneer on our visit.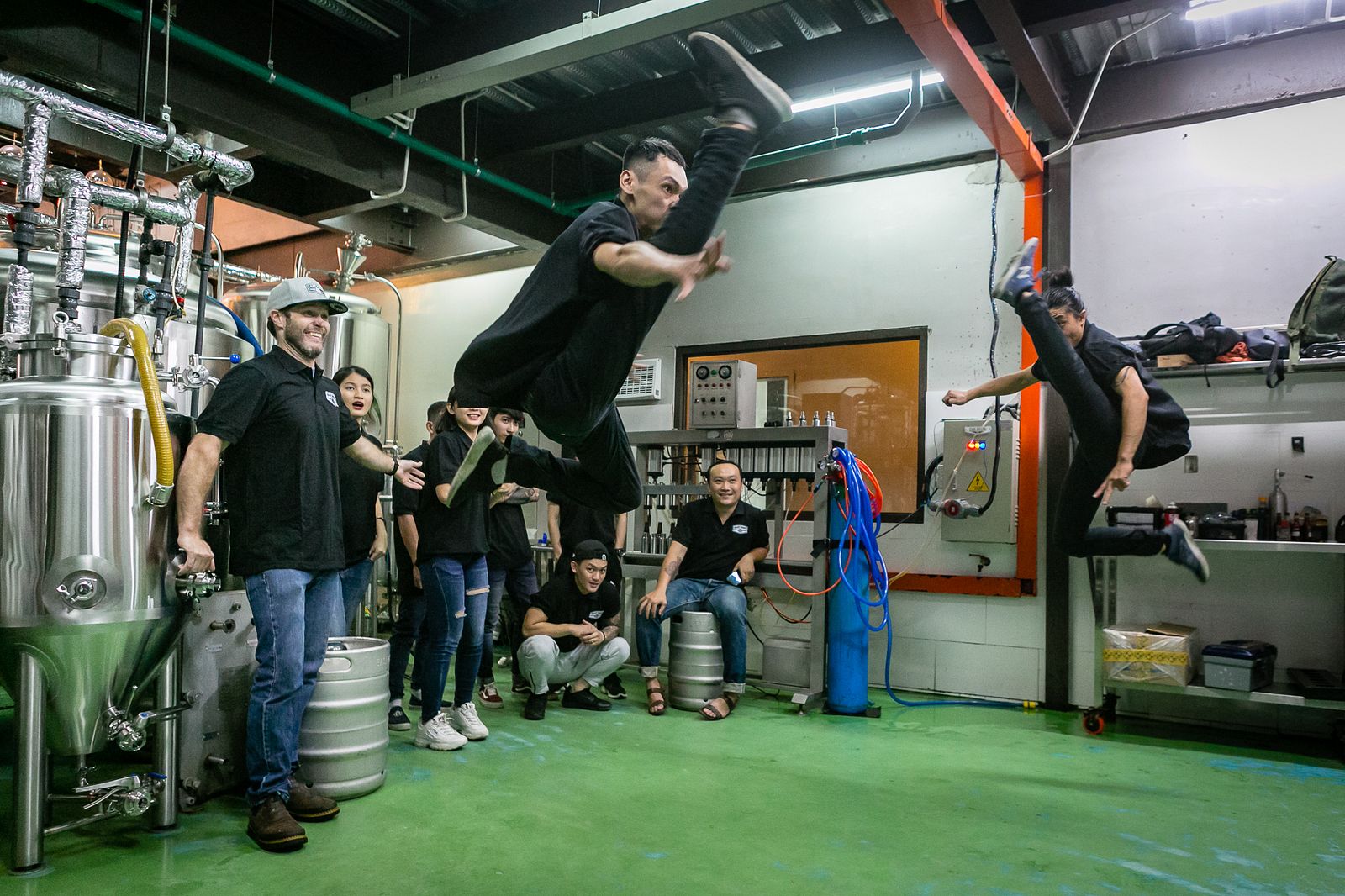 After the tour, Sean sat down to explain a bit more about the goals and ethos of East West. He explained that beer is less novel to people in Saigon now, and it has become part of the everyday routine for many. That is part of the reason why East West doesn't make shocking beers reliant on wild colors or ingredients; they want their lineup of brews to be exceedingly drinkable and consistent for everyday enjoying. So while they still want to experiment through special releases and barrel-aged ales, they will remain rooted in American and European traditions of brewing. In five years, Sean says he hopes people will come into to the brewery and, when looking at the equipment, feel a sense of nostalgia akin to visiting one's grandparents because of the operation's pioneering role in Saigon's beer scene.
While standing in the brewery, the clink and clamor of kegs being hauled in and out and the distinct aroma of fermenting beer wafting in the air, it is difficult to imagine that a little over two years ago it was a muddy construction site. East West has come a long way since then. Now available at over 300 venues nationwide, it might soon outgrow this home and add a second location. But the team doesn't plan to drift too far from where they started, as what Sean describes as "a little microbrewery with a big dream."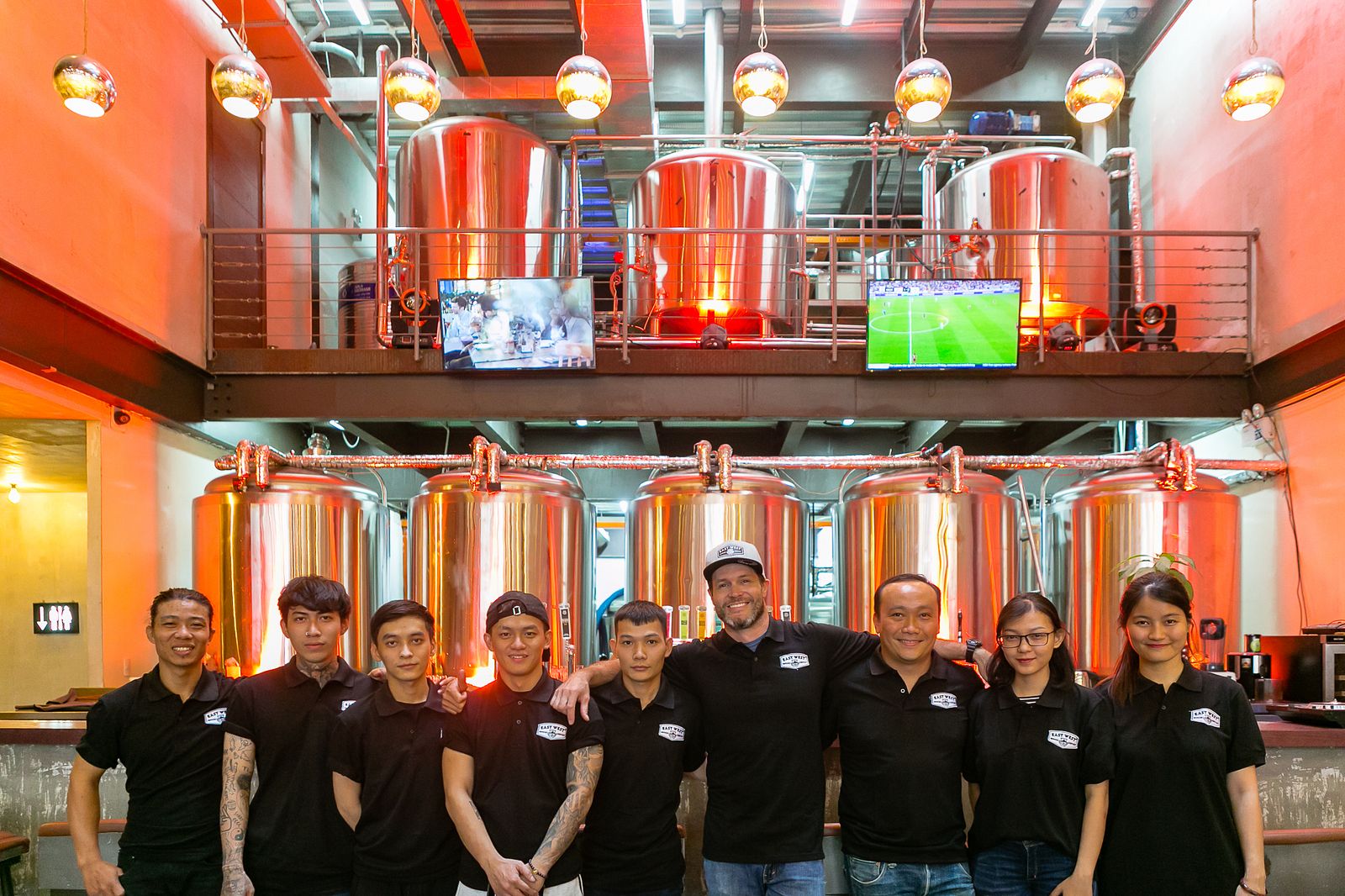 East West Brewing Co.'s Facebook Page
East West Brewing Co.'s website
Monday – Wednesday, 11am – 12am
Thursday – Saturday, 11am – 1am
Sunday, 11am – 12am
181 – 185 Ly Tu Trong, D.1, Ho Chi Minh City