Despite boasting gorgeous natural beaches, lush forest-covered mountains and fresh air, Cam Ranh is hardly a household name for people outside of Vietnam. And if they have heard of the small city in Khanh Hoa Province, it's probably because its harbor once held an important military base for American troops during the war. Most tourists who fly into its namesake airport today do so to scoot up the coast to Nha Trang's crowded beaches, filled with tourists and construction. Yet the city is quickly growing, thanks in part to resorts like Fusion Resort Cam Ranh that make use of the quiet anonymity to offer stays where people can rest and recharge.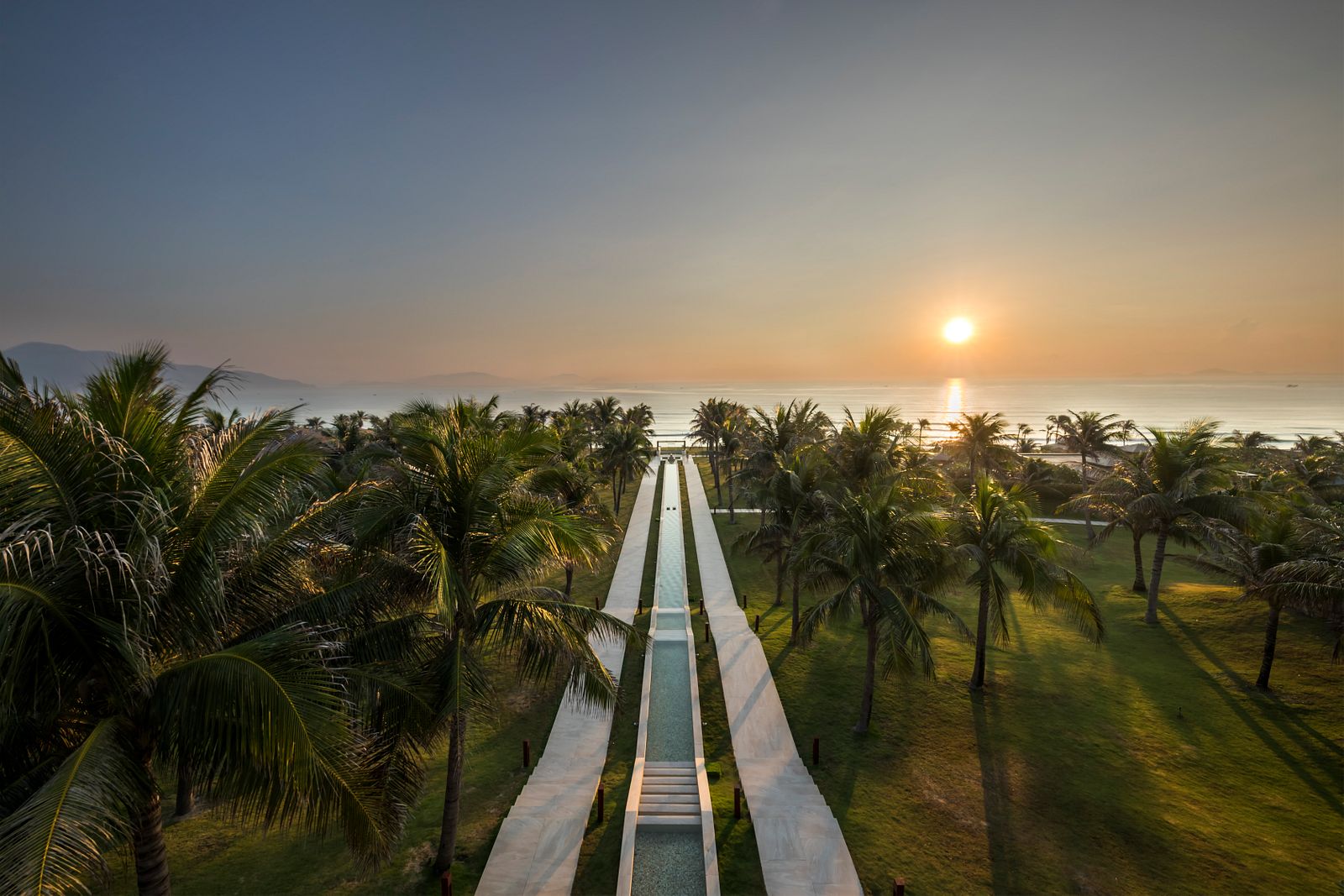 Trees laden with lush white blossoms fill the expansive green lawn sloping down from Fusion Resort Cam Ranh's reception. The stretch of land, with stunning views of the azure water, would yield considerable profits if turned into rooms, but that would ruin some of the resort's inherent splendor and peaceful atmosphere. For similar reasons, none of the resort's buildings rise above the palm trees, and they've left a natural sand dune intact so as to maintain a zen-like atmosphere that supports the sleek architecture and wellness offerings.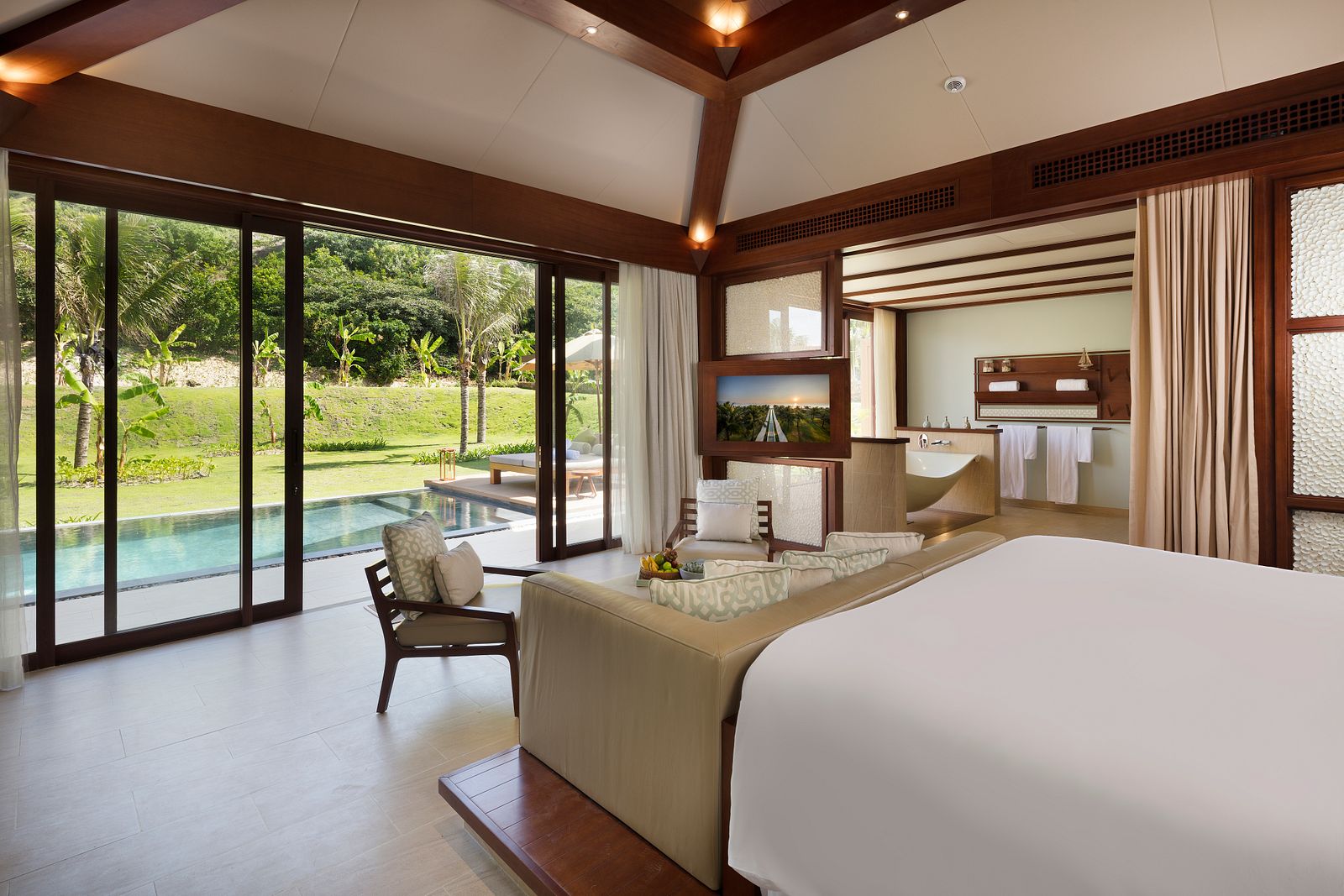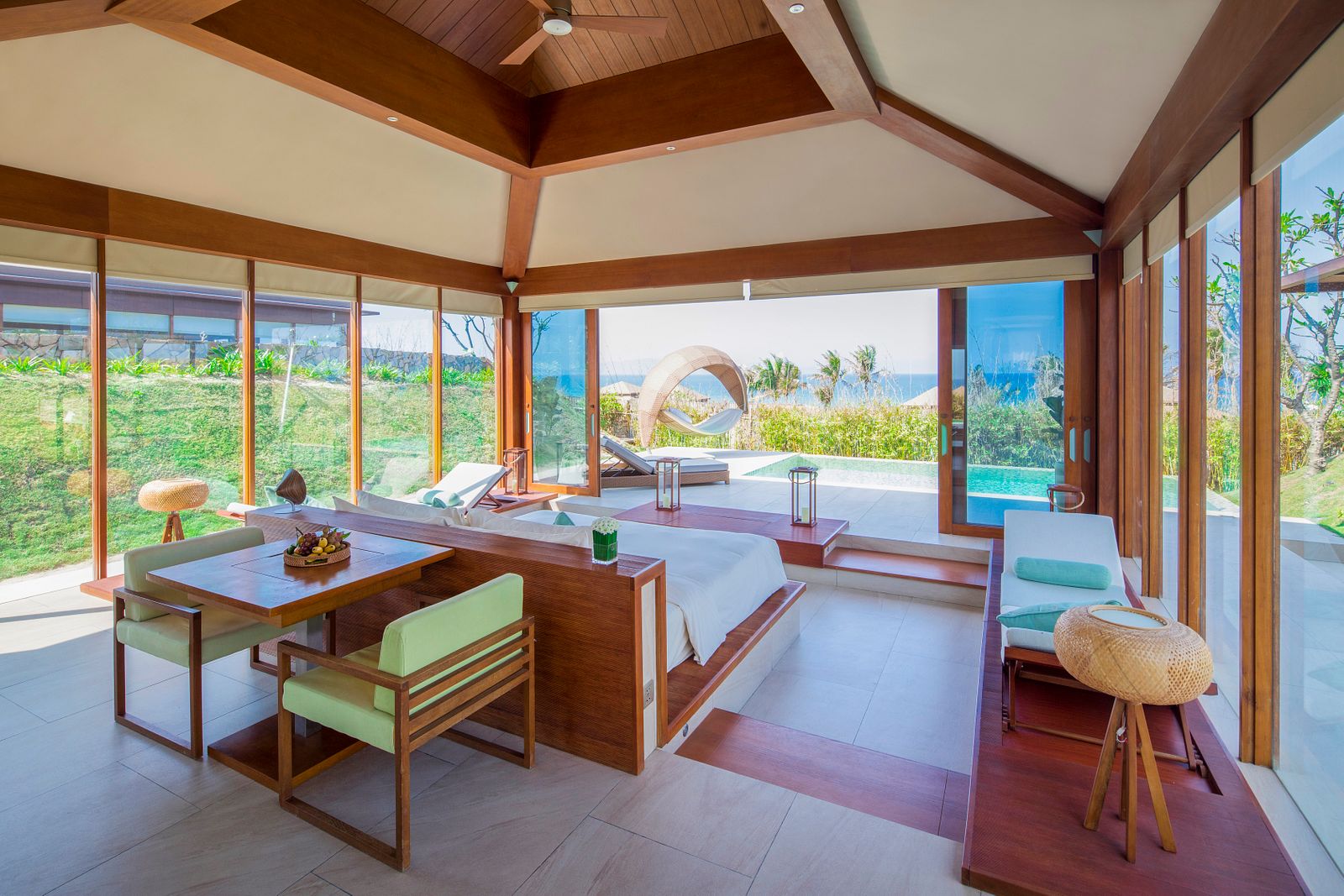 One knows they are at a Fusion Resort the moment they arrive. Thanks to a large in-house design team, each property adheres to a modern, minimalistic design influenced by the surrounding area. At the Cam Ranh resort, this means each room's typical large windows, high ceilings and light wood accents are joined by soft pastel pillows and interior walls made with delicate seashells between glass plates. The aesthetic extends to the bamboo-thatched cabanas spaced around the infinity pool that shimmers towards the sea and the secluded huts placed on the beach.
The resort dedicates 60 staff members to full-time landscaping efforts, which is understandable given its amount of green space. In addition to the manicured lawns surrounding the two public pools, restaurants and paths leading to the beach, many of the villas include private gardens. A pool and shaded lounge chairs and couches are given complete privacy due to grass-covered hills that function as walls. At dawn, the sunshine falls on the ferns and flowers, coaxing bird song from the trees, and guests can be forgiven if they think they are awaking in their own private Eden.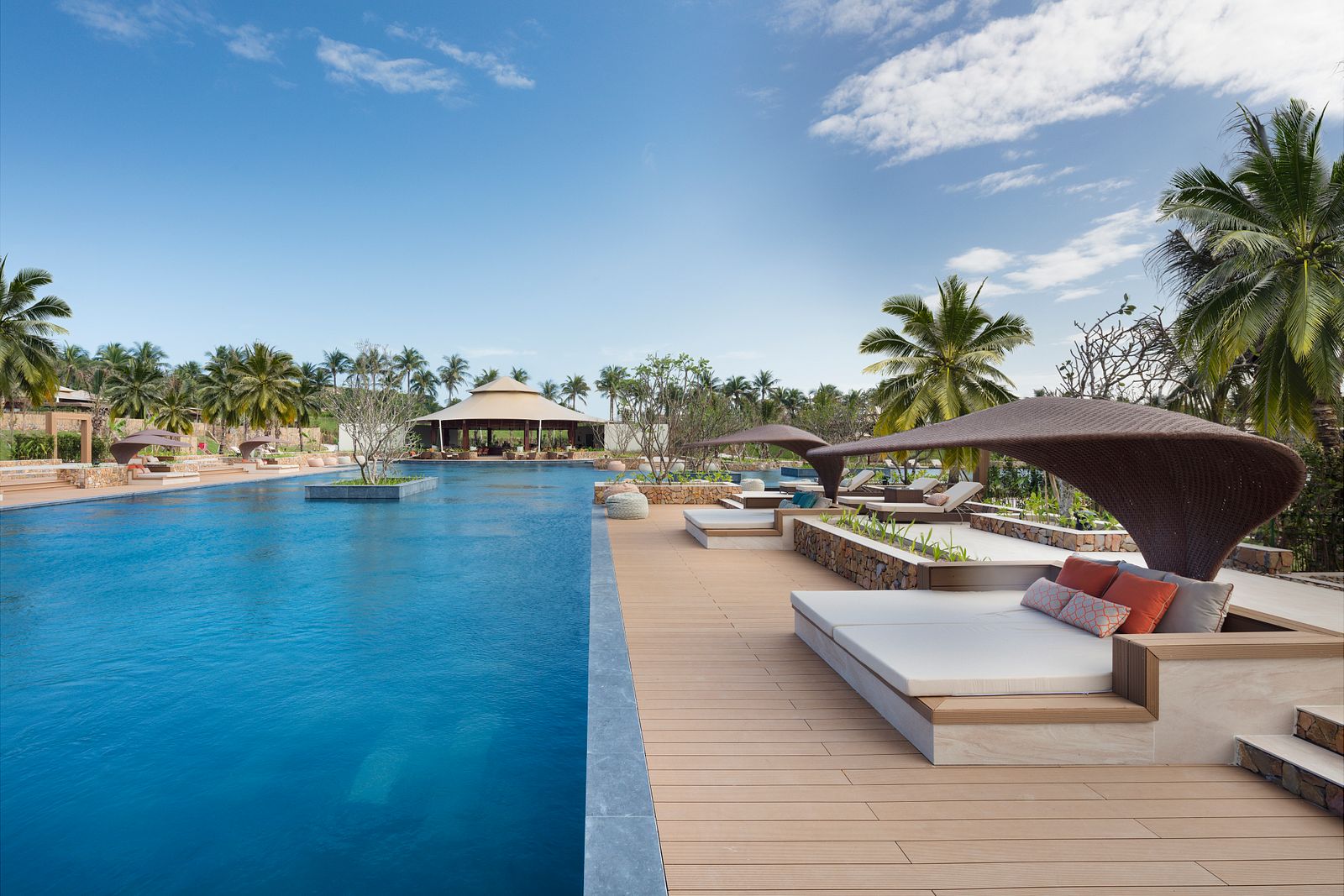 Another unique element of Fusion resorts witnessed at Cam Ranh is the role of the Fusionistas. This position, which other properties typically call concierges, make the small efforts that go a long way in having a person feel comfortable and valued during their stay. Resort Manager Michael Wirz explained to Saigoneer during our recent visit that given the rise of tourism in the area, and Vietnam as a whole, it is difficult to attract and retain staff, but they are succeeding via small extra efforts, such as being one of the first resorts to switch to a mandatory two days off per week schedule. Staff members, or "Fusion stars" as Wirz calls them, are encouraged to "do what you do best," and therefore have flexibility in choosing their positions and assignments. And to accommodate diverse visitors, Fusion Resort Cam Ranh has recruited staff that can speak Korean, Japanese, Chinese, German and English, in addition to Vietnamese.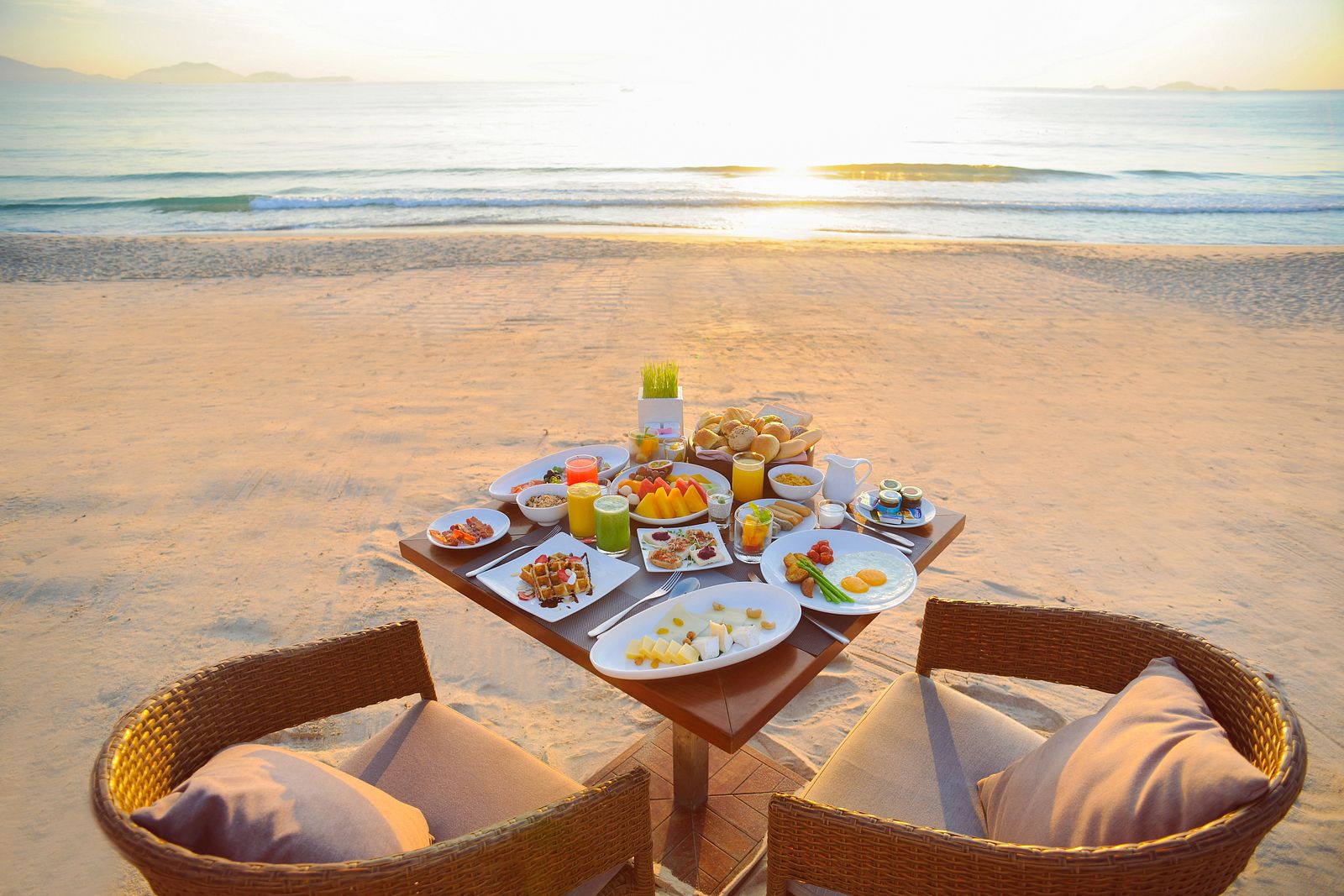 "If you have to ask what time breakfast ends, you're already trapped by the daily schedules and stress that we want you to come here to escape," Wirz says. Therefore, Fusion Resort Cam Ranh serves breakfast anywhere, anytime. Whether you've spent your morning rejuvenating with a signature spa treatment, grown hungry after a late-night dip in the ocean, or simply don't feel like leaving your villa's peaceful garden, you can have complete western or Vietnamese breakfasts brought to you at any time of day.
In addition to the all-day breakfast, one of Fusion's signature specialties is its all-inclusive spa service. Every room booking includes two complimentary spa treatments per night. And with everything from coffee scrubs to tropical flow therapy to chakra balancing, the offering list may seem daunting at first for spa-novices, but Wirz stresses that one shouldn't feel overwhelmed; just going in for a simple foot massage, for example, offers a chance to turn off your phone and rest at peace with your thoughts. Wellness offerings such as daily yoga and tai chi further allow people to focus on mind and body health that is too-often neglected during frantic city life.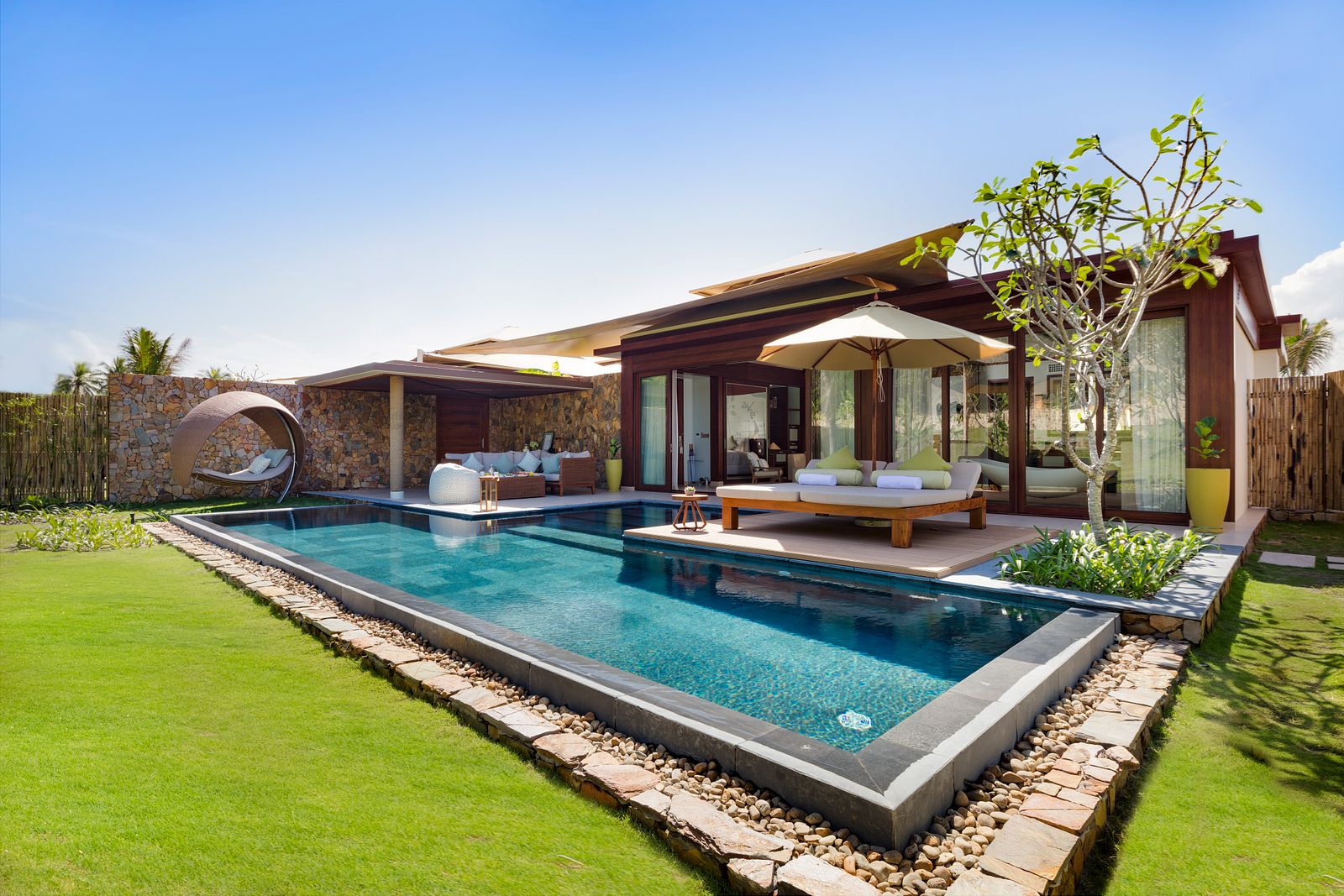 Averting one's eyes from a phone or computer screen, one of the resort's greatest aims, is easy given the beautiful surroundings. Whether on the beach, beside the pool or reclined on a comfortable chair outside your room, Fusion Resort Cam Ranh encourages guests to savor a moment of reprieve from the hectic pace of daily life. The chic architecture, abundant nature, attentive staff and robust spa services may not put Cam Ranh on the map, but keeping in the peaceful shadows may be more the resort's speed anyway.
Fusion Resort Cam Ranh's Website
Fusion Resort Cam Ranh's Email
LotD10B, Nguyen Tat Thanh Street, Bai Dong, Cam Hai Dong, Cam Lam, Khanh Hoa province