"No more spicy chocolate passionfruit cocktails…no more durian," jokes a mixologist at Drinking & Healing when asked what they'll do differently in its second year.
But aiming to be more persuasive in responding to guests with special requests that are unlikely to succeed doesn't mean that the innovative cocktail bar plans to curb their ambitions for providing thirsty Saigoneers with cocktail experiences they've never encountered before.
"Do you ever hear about them?" mixologist Vu Doan Vien Du, or Zoo, answers with a grin when asked about the success of the bars that have tried to emulate Drinking & Healing. The response shouldn't be mistaken for cockiness, but rather pride in what the team of seven bartenders has accomplished in the year that they've been working together. With their first anniversary celebration about to go down, it was the perfect time for Saigoneer to sit down with the team to find out what they've done, and their plans for the future.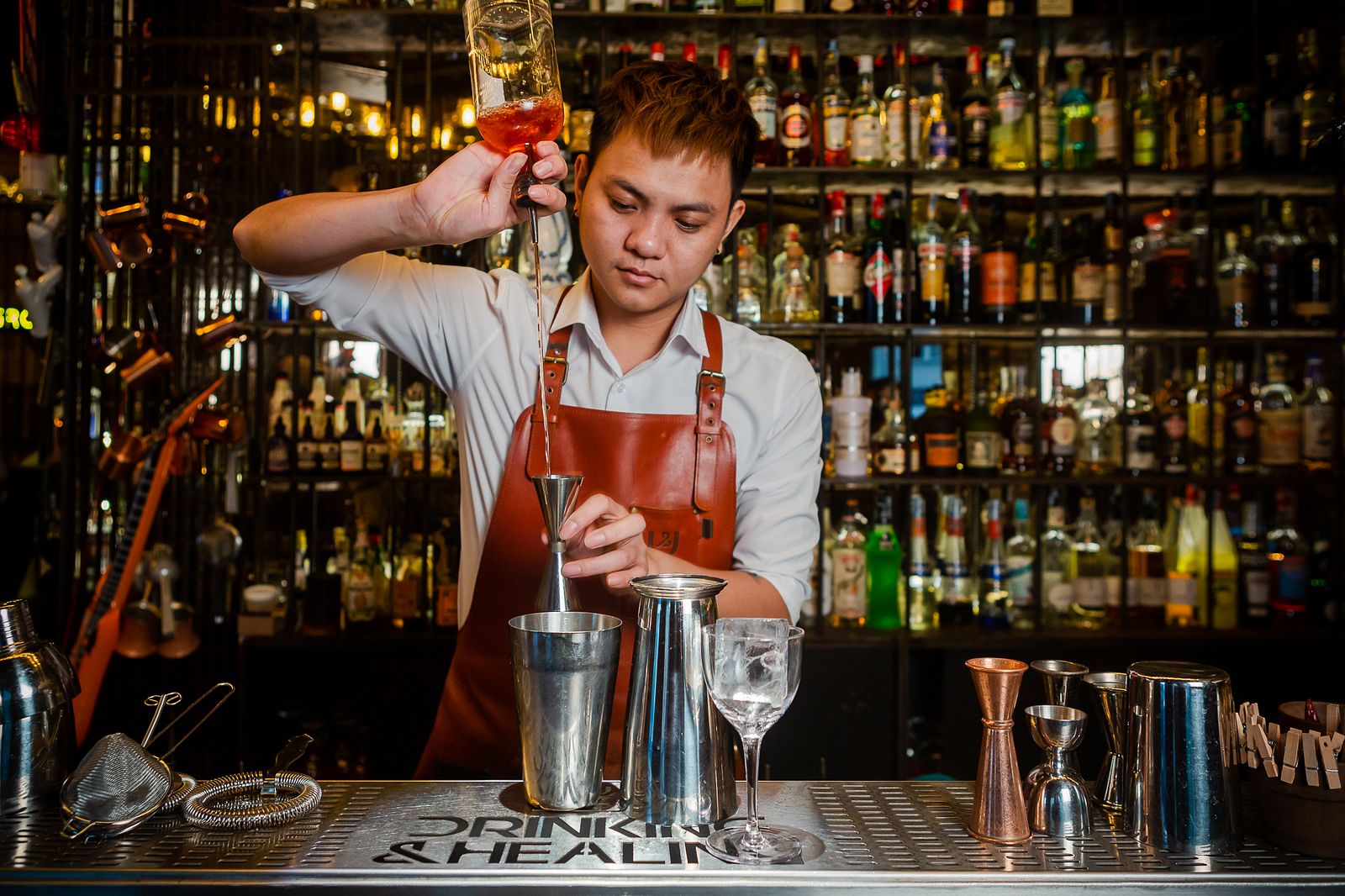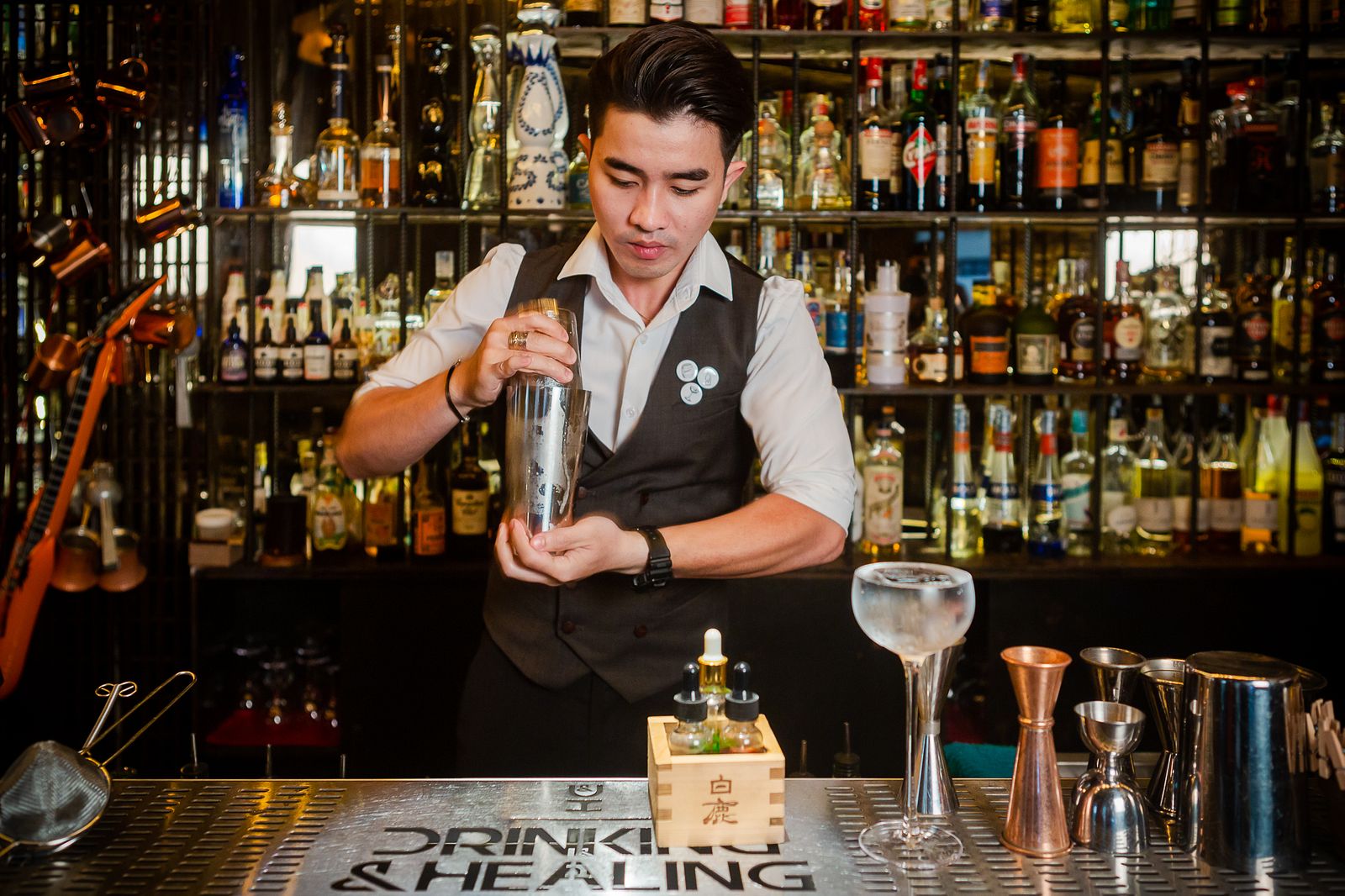 Drinking and Healing credits its success to the chemistry of its staff and their collective ability to inspire, challenge and impress one another to achieve a common goal. The past year has been filled with personal highpoints for each year as well. Zoo, for example, was named champion at Campari's Asian Bartending competition. Beyond giving him further reason to be confident in his skills, the honor, which included a trip to Italy, introduced him to a great network of other skilled cocktail makers from around the world that can share their knowledge. Since the competition, some of the other contestants and attendees have even visited Drinking & Healing and left behind tangible impacts.
The Morning Beautiful cocktail combines Hennesy V.S., pandan syrup, Vietnamese coffee and soya milk, and was invented by one such visiting bartender. It is now regularly available at Drinking & Healing, which is all according to plan. When it first opened, the District 1 bar had no permanent menu. The team of seasoned mixologists, headed by 2016 World Class Vietnam bartender champion The Vinh, could have concocted a stellar menu. But they wanted to go "omakase" style, inviting guests to share their taste preferences and have completely unique drinks made for them. The best ones, as tested upon repeat business and feedback from other patrons, then made their way onto a permanent menu that was supplemented by creations from some of the region's top visiting mixologists.
This sharing of knowledge and preferences is one of the aspects of working at Drinking & Healing that the bartenders enjoy most. Despite potentially more lucrative positions at other establishments, each of the original team members has stayed in place since day one, allowing them to grow like a family, with customers an extension of that family. The bartenders don't see themselves as educating guests, but rather introducing them to new tastes and experiences. In return, they gain a lot of knowledge about what is going on in drinking scenes in other countries.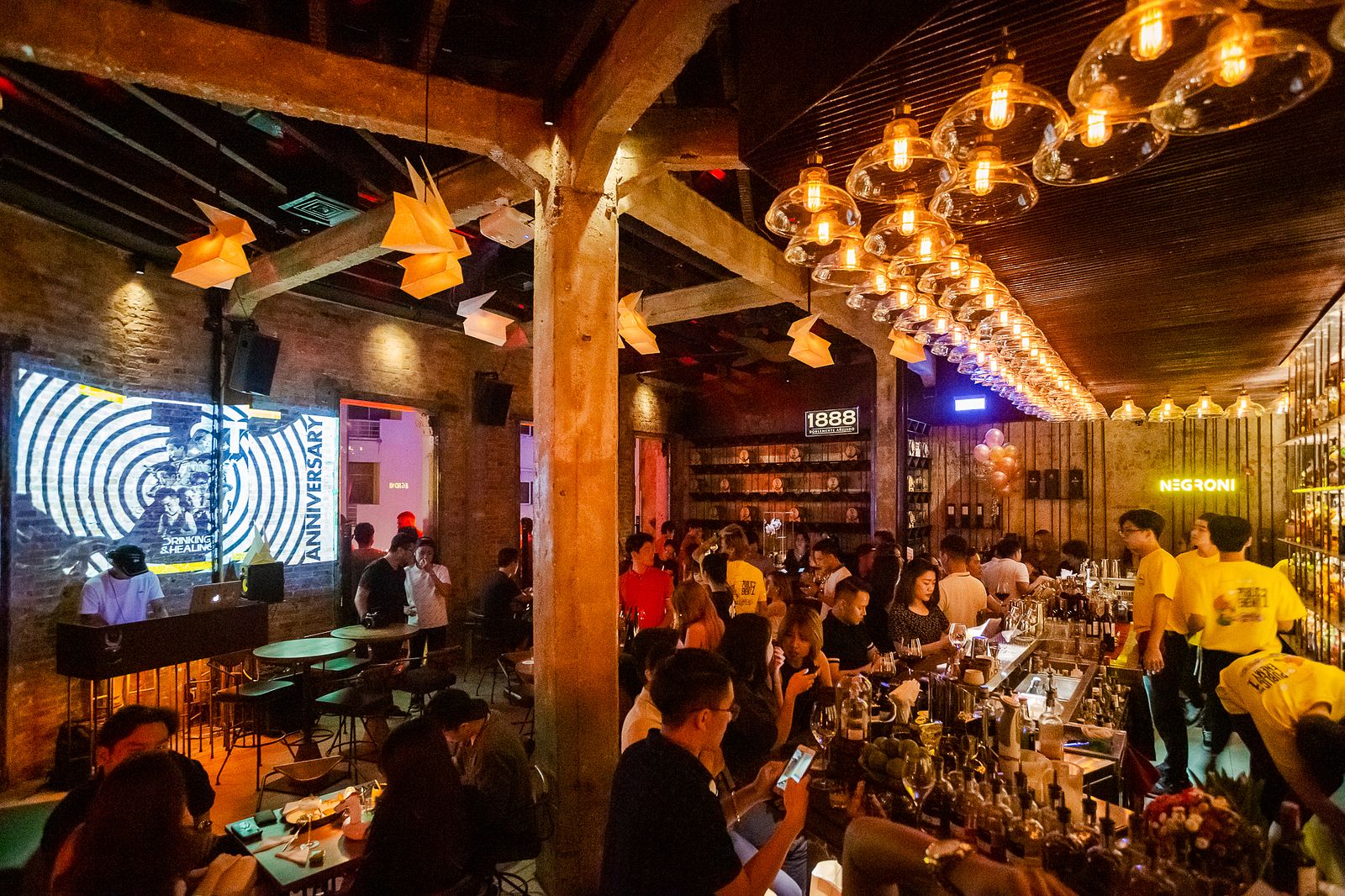 One particular source of pride is having a core group of regulars who don't feel the need to dress up or put on airs when they come. When women, in particular, visit the first time, they might arrive in their finest clothing and full makeup, but on subsequent visits, they become friends with the bartenders and feel comfortable being themselves and dressing more casually. It helps that Drinking & Healing is decidedly not a nightclub. To that point, as its popularity grew, the staff tried to replace some of the comfortable chairs with standing tables, but saw how it changed the relaxed vibe and quickly reverted to the original layout.
In response to the first anniversary, the team is relying on what they've learned about their customers' tastes and unveiling a new menu formatted with drinks of ascending strength. A soft sherry and apple tea-based drink caters to those who prefer lighter drinks, while a Brugal 1888 rum blended with chocolate and cinnamon packs more of a punch. The menu will also feature Saigon's most expensive cocktail - a small VND10 million drink with a US$3,000 tequila base complimented by truffles and saffron.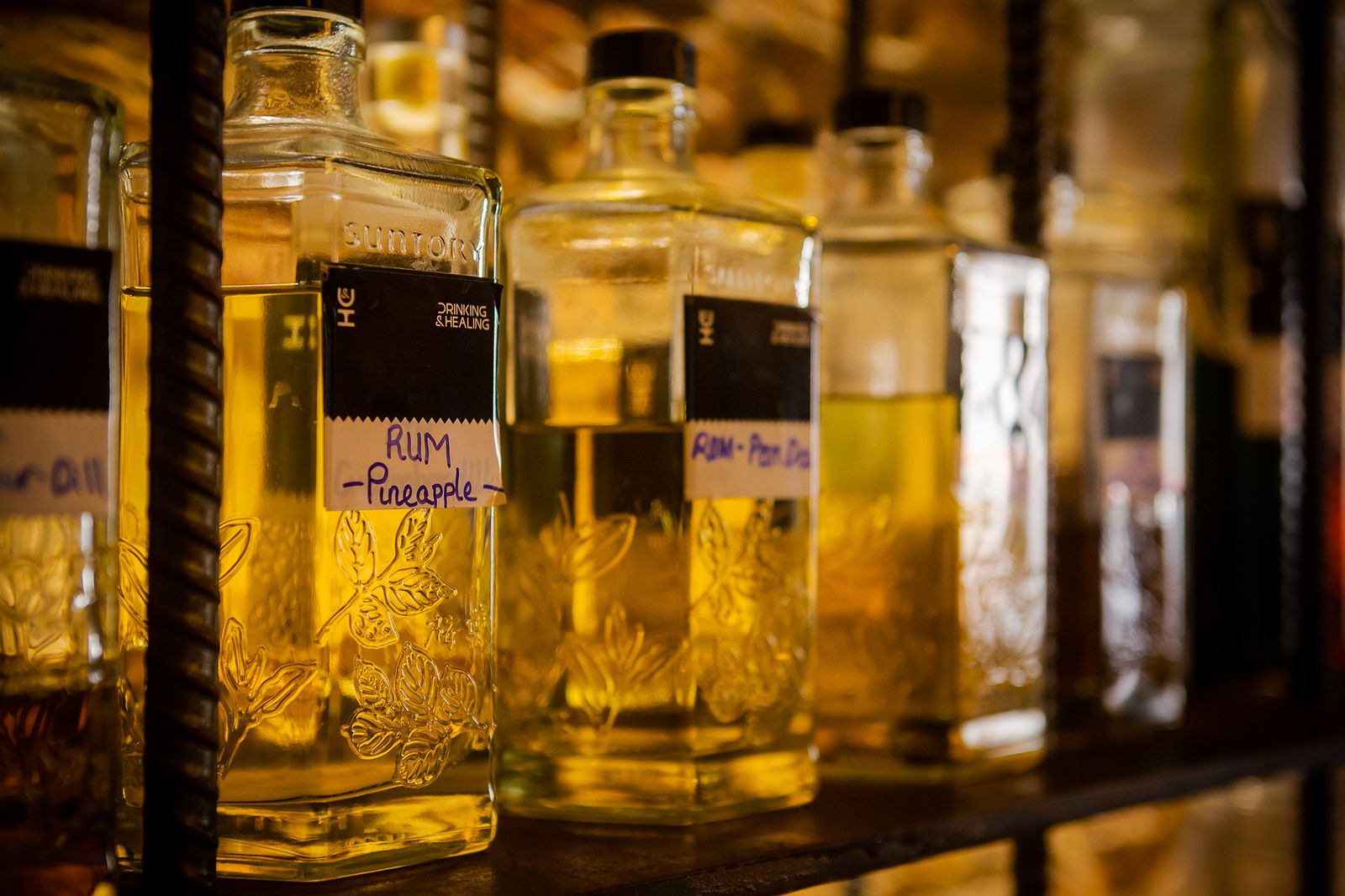 To offer such a variety of drinks, Drinking & Healing makes use of an expansive list of bottles that has expanded by 300% since last September. Relying on spirits hand-delivered from Singapore, Malaysia, Europe and the United States, the team continually looks to offer flavors locals have never tried. During the past year, they've paid special attention to tequila and mezcal, identifying the agave-based liquor as a global trend that hasn't fully arrived in Vietnam yet.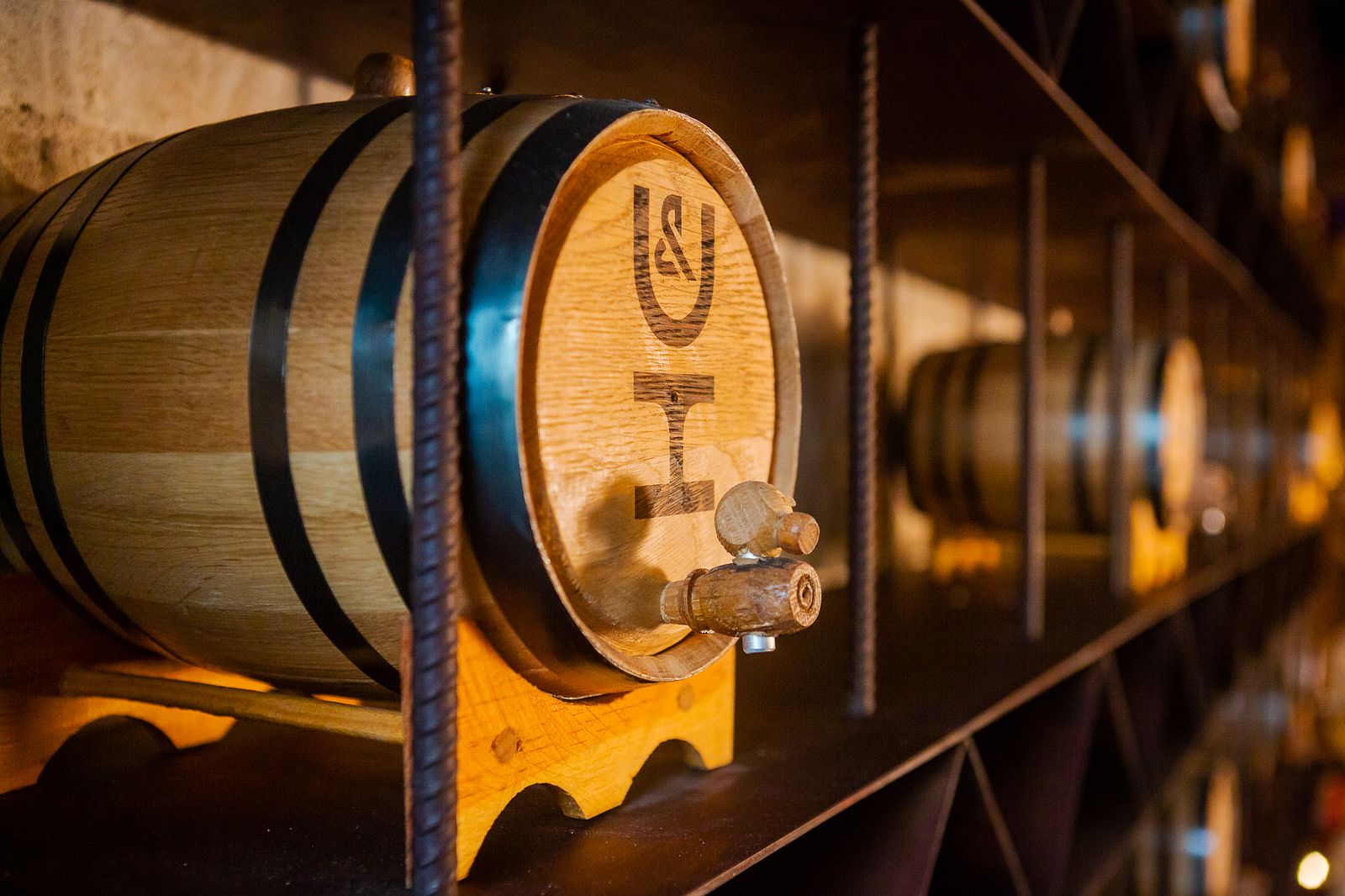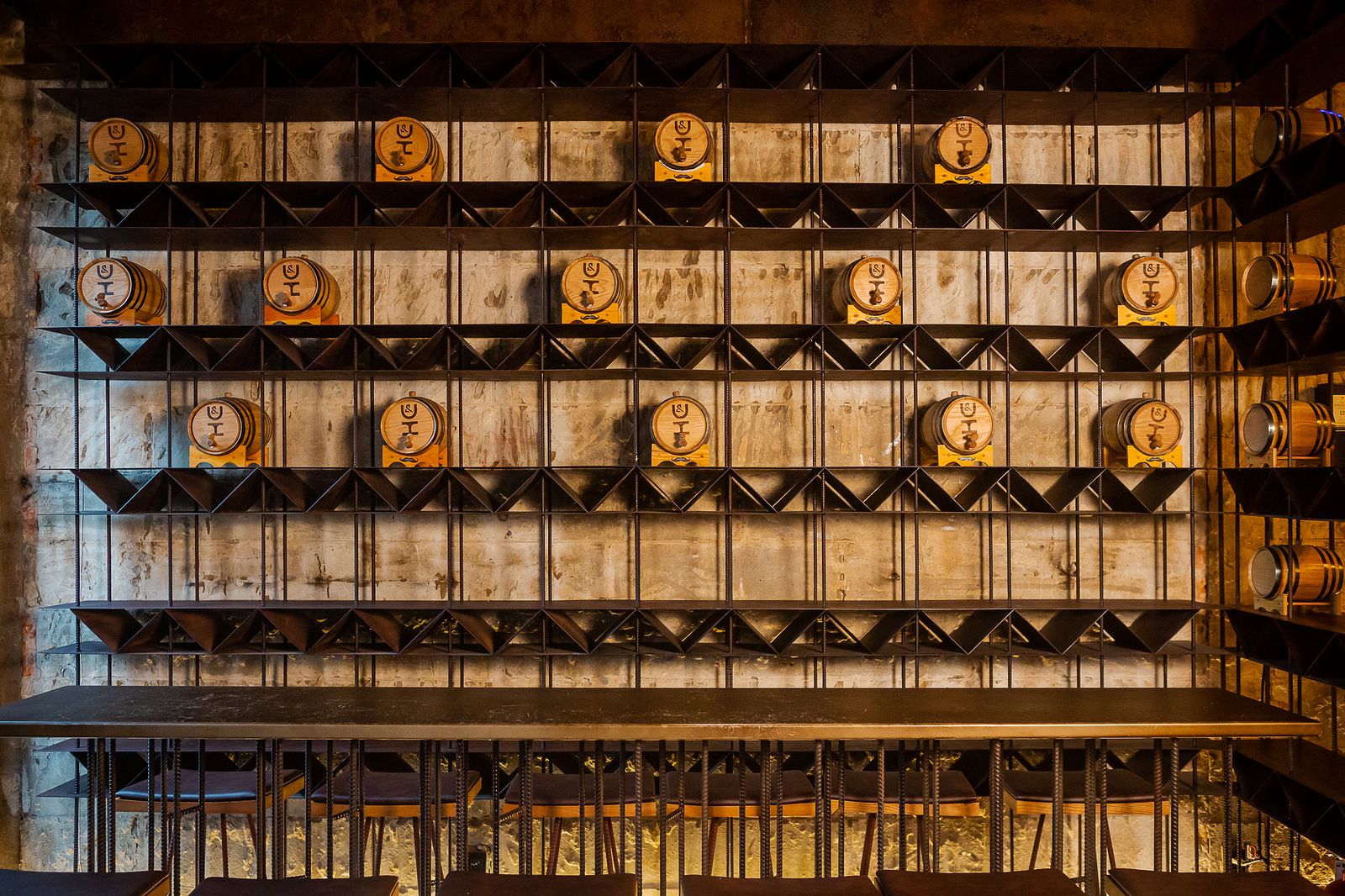 Perhaps the most exciting new development at Drinking & Healing is the barrel-aged cocktail line that will be ready within the coming months. After extended stays in spent bourbon casks imported from America, a variety of classic and original cocktails take on new, nuanced oak, smoke, vanilla and tobacco flavors that reveal startling elements in the original drinks.
"Don't make the drink from the head, but the heart," Zoo says when sharing the greatest lesson he's learned in the past year. "Knowledge is important, but keeping customers happy is the best part." Considering the loyal following they've already attracted and the creative plans for the future, it's a safe bet that Drinking & Healing will keep Saigon's cocktail enthusiasts happy for a long time to come.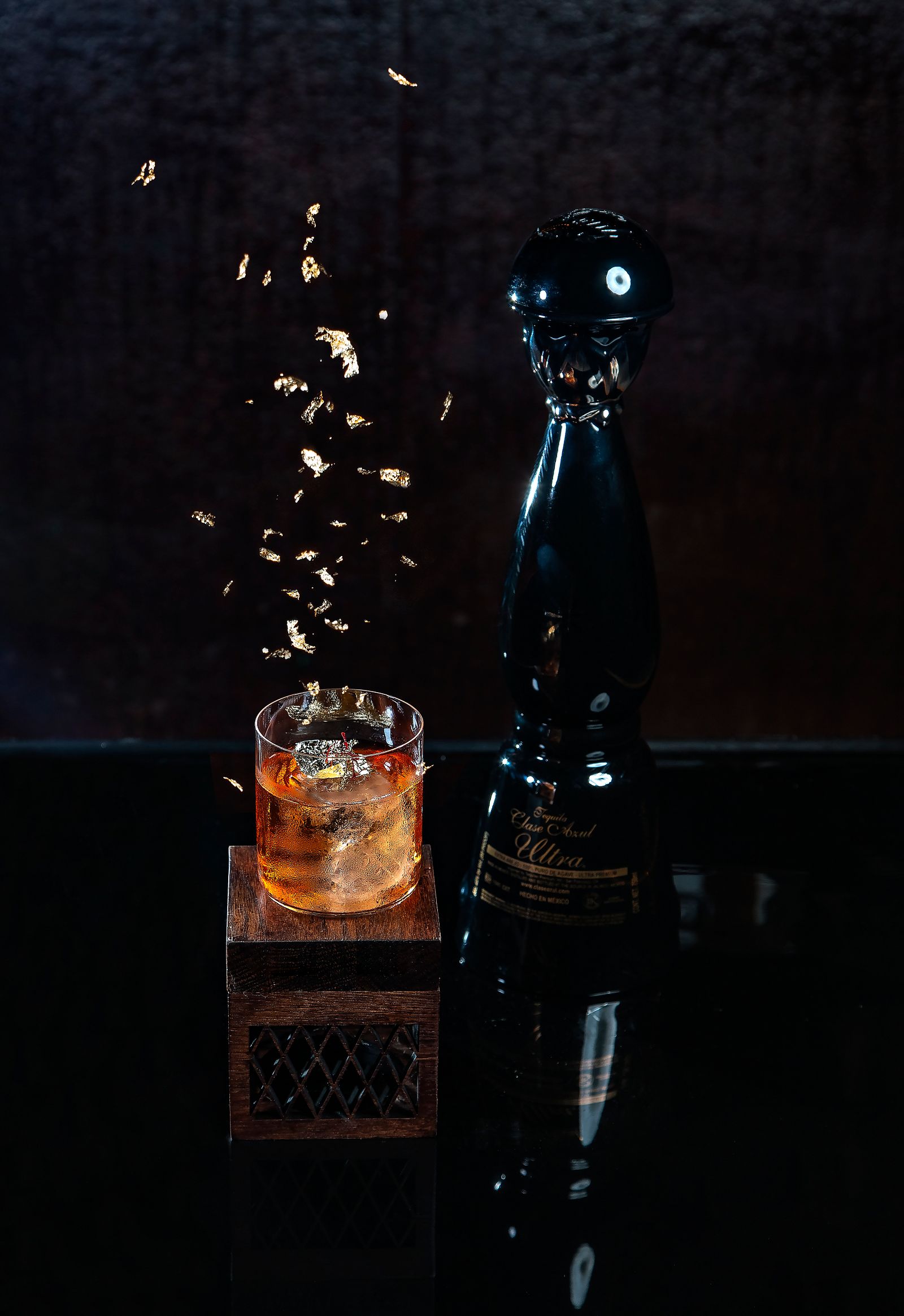 Hotline: 0934 110 110
Drinking & Healing | L2, 25 Ho Tung Mau, D.1, Ho Chi Minh City