The term "Made in Vietnam" adorns clothing and accessories enjoyed by millions of people around the world, as Vietnam's textile industry generates a whopping US$40 billion a year, constituting a significant portion of the nation's economy.
Such value should convince people of the inherent skill and experience in manufacturing here, but people often consider textile products originating from Vietnam as being not only of lower quality but produced under horrendous working conditions. One Vietnamese bag company, Pretty Simple, is aiming to change this perception while introducing environmentally-friendly and sustainable vegan leather products to increasingly eco-conscious consumers.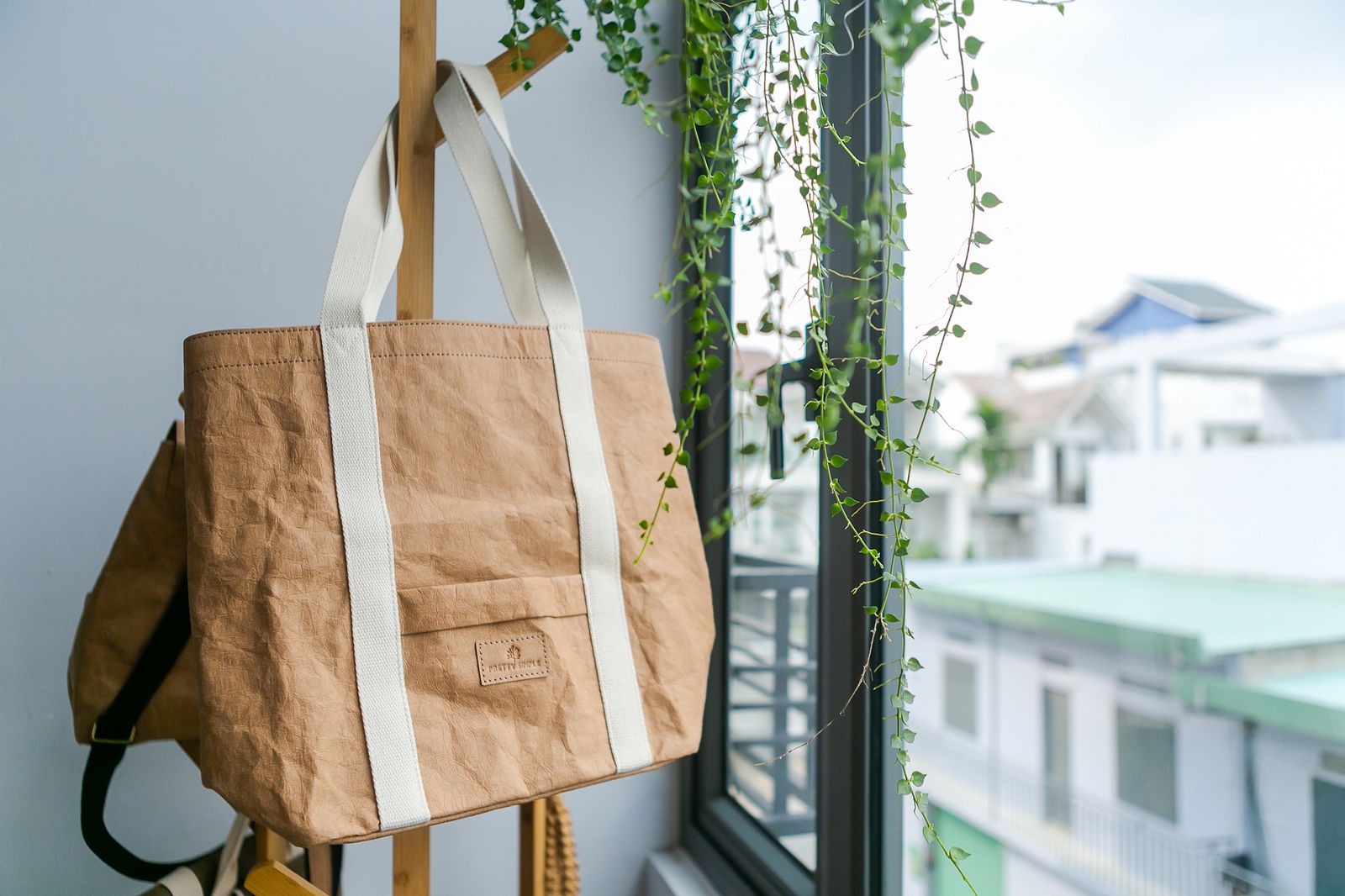 A few women bobbing their heads to music in a comfortable air-conditioned space more akin to a living room than a factory is not what one typically imagines when thinking about "Made in Vietnam," but it is the reality for Pretty Simple. The company prioritizes comfortable working conditions, reasonable hours and fair pay. Moreover, Xuan, the brand's lead craftsperson, plays a significant role in the creative process. Based on her extensive experience in the industry, she offers crucial feedback and ideas when turning sketches into tangible products.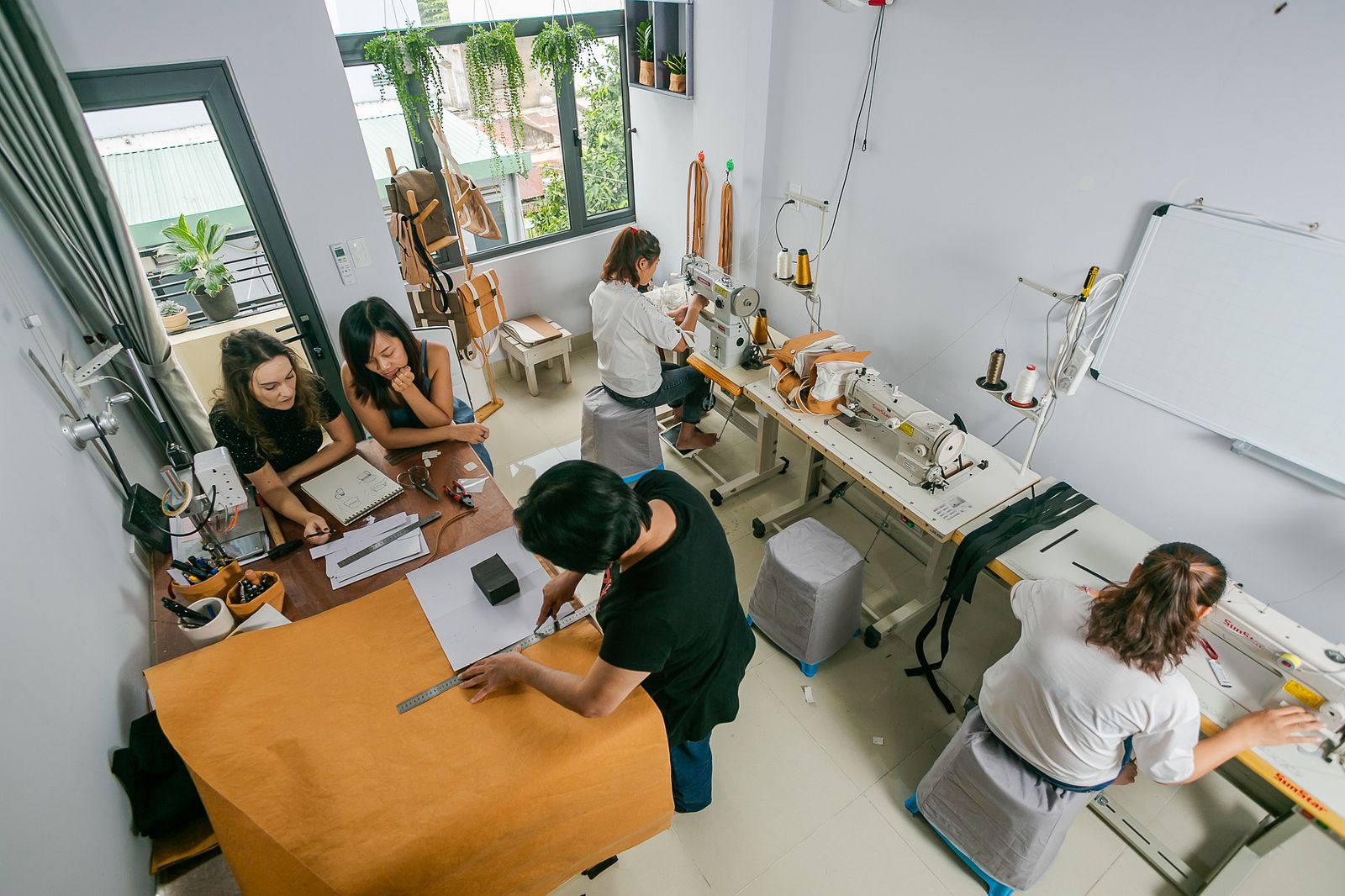 Though the term vegan leather may sound unfamiliar, if you've ever noticed the rectangular logo swatch on the back of a pair of jeans, you've seen the fabric before. Officially known as Kraft-tex, the 100% natural plant fiber is tanned in Italy, has Forest Stewardship Council certification and is fairly traded and cruelty-free. It looks almost identical to animal leather, and when Saigoneer visited Pretty Simple to see some samples in person, we were shocked at how sturdy it looked and felt. The durable material lasts for years and can even be washed in a washing machine with regular soap and won't wrinkle or shrink.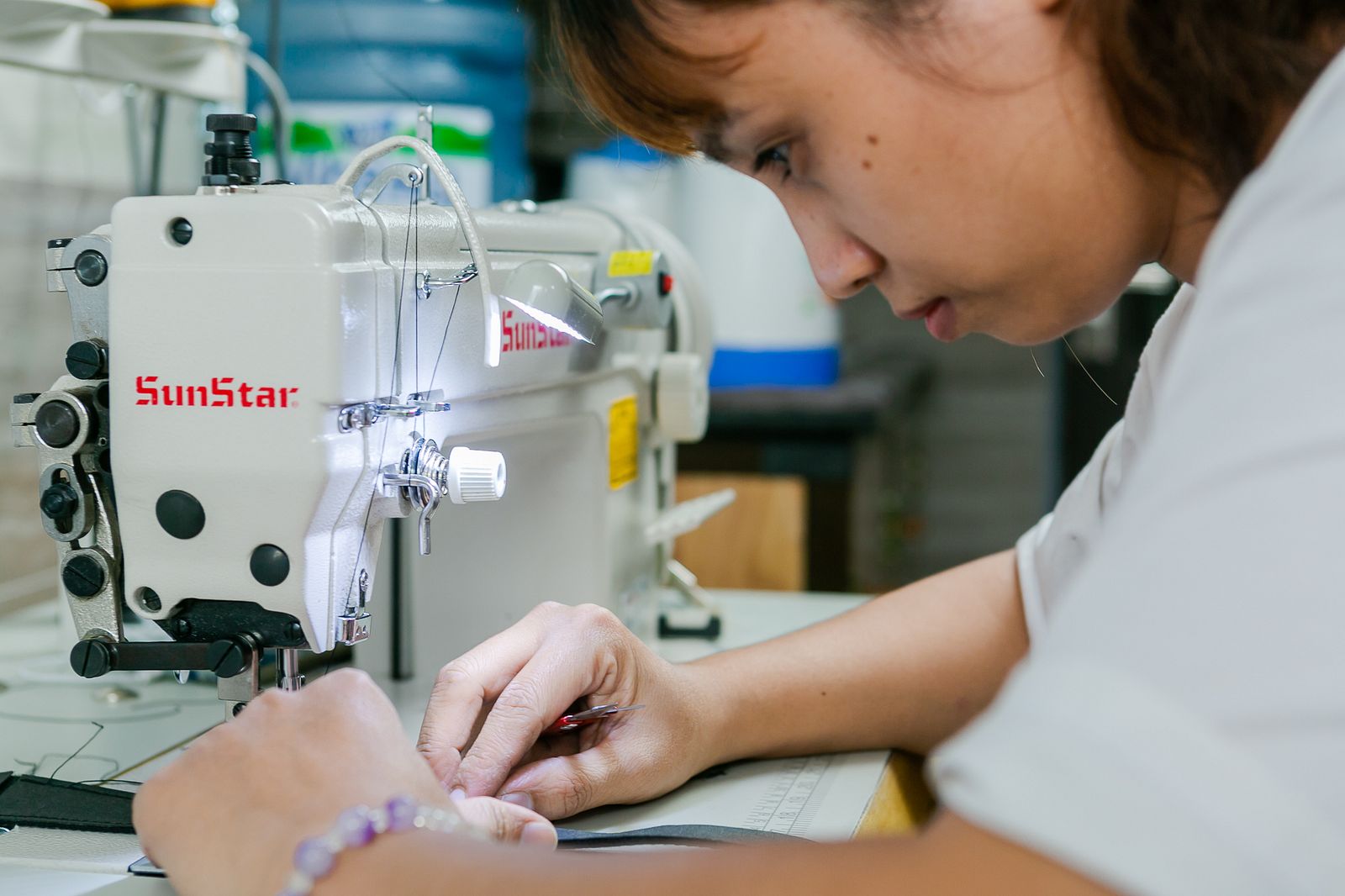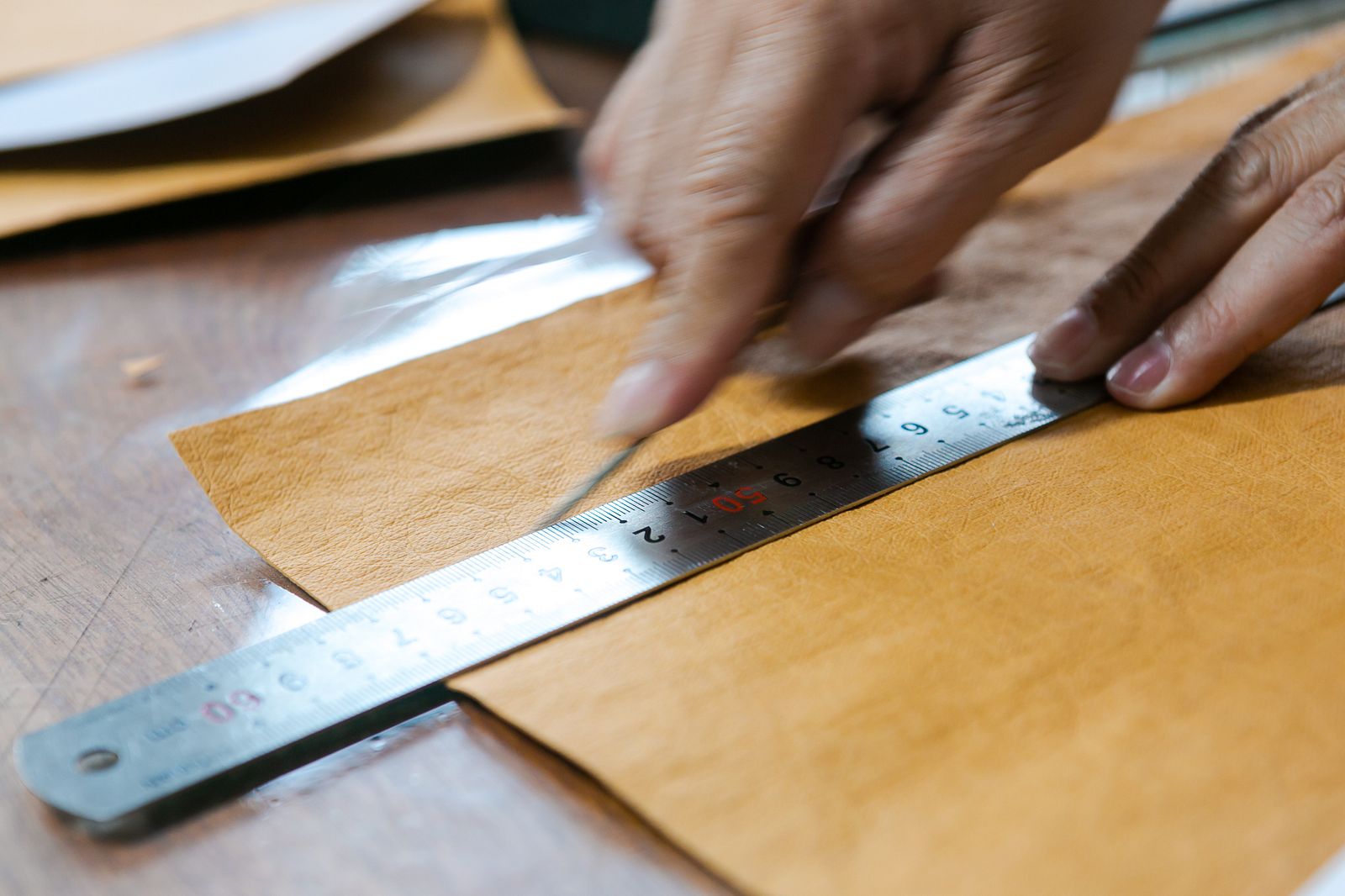 Ella, one of Pretty Simple's co-founders, was a practicing vegan but has recently relaxed her restrictions out of necessity. She isn't extreme about it, noting every mindful act makes a difference and they add up; a view exemplified by the materials Pretty Simple uses in addition to the vegan leather. They'd like to forgo all plastics and rely completely on re-usable, highly-sustainable goods, but that isn't currently realistic, so they make brief concessions when sourcing zippers, buttons and similar accouterments. Whenever possible, they purchase factory surplus materials and keep an eye out for new alternatives.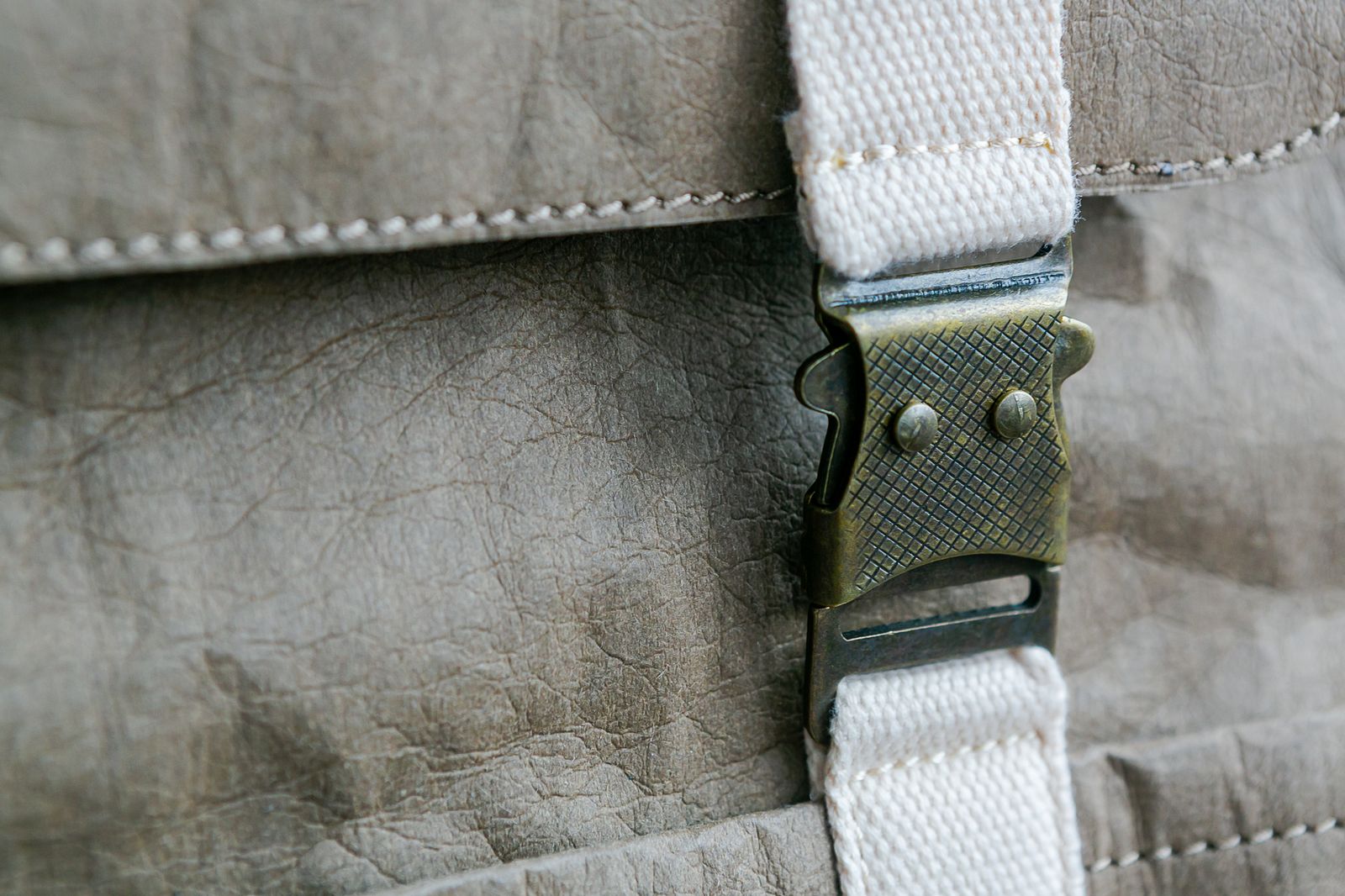 Pretty Simple describes their style as "slow fashion," in contrast to the mass-produced and easily discarded goods popular around the world. This means fabrics that will last for years and timeless designs that don't chase trends. Using sustainable ink, and true to the brand's name, the bags come in a limited number of minimalist grays, blacks and browns that prize function over flash.
Their commitment to "slow fashion" also means slow growth. While it's a newer trend, Vietnamese consumers are becoming more and more interested in sustainable products, as well as brands that wear their "Made in Vietnam" logo with pride, a shift Pretty Simple has observed in person when bringing their products to various art markets and fairs throughout the city. Meanwhile, expats and travelers are increasingly interested in purchasing high-quality goods in line with values being widely adopted in the west. This is especially important for Suong, the other Pretty Simple co-founder. She explains that people don't respect her native country for producing boutique goods, which is unfair considering the level of craftsmanship here.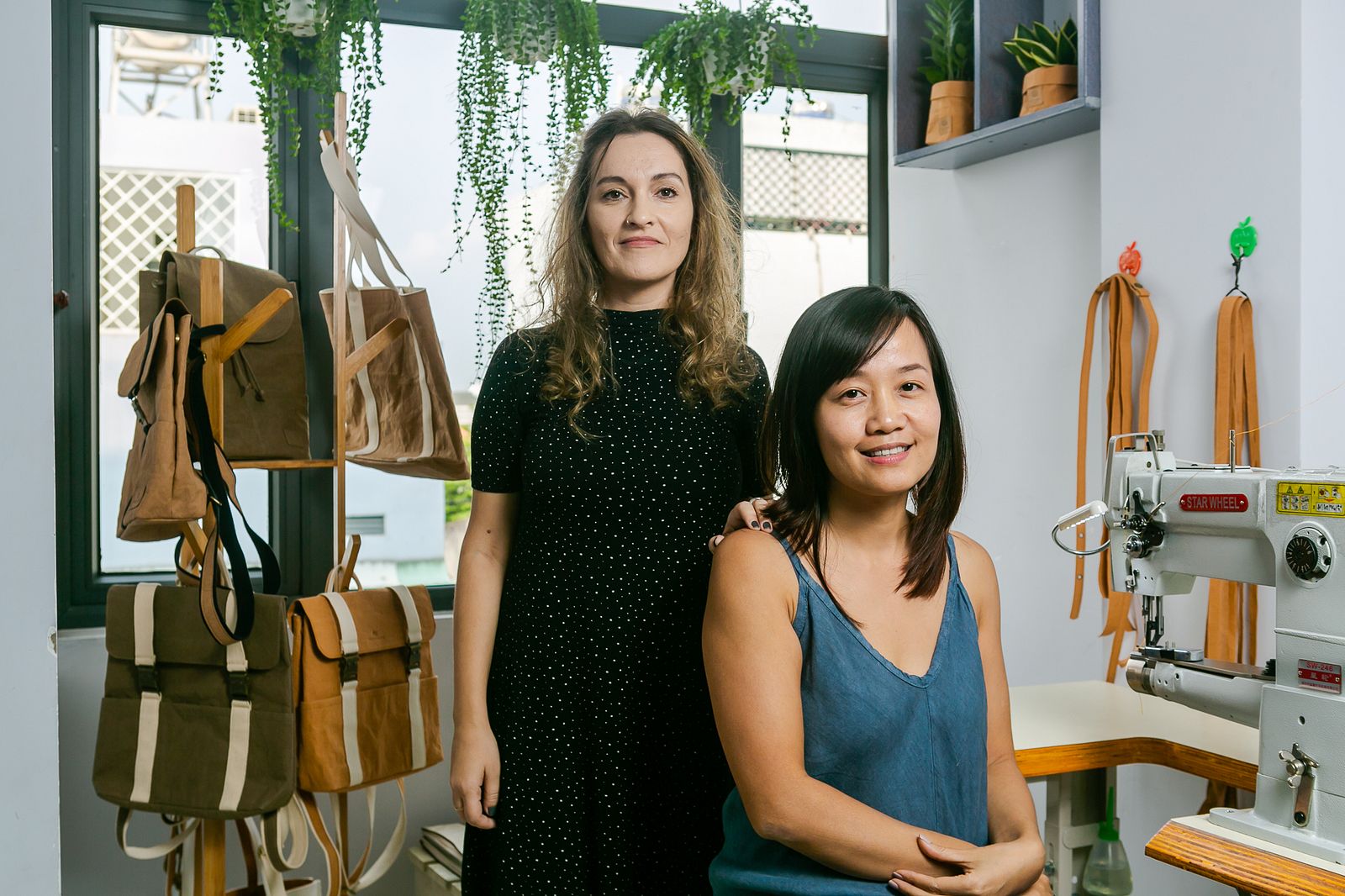 Pretty Simple is in no rush, but they do have plans for the future. In addition to expanding to home-decor and exploring other materials, such as leather alternatives made from pineapple and cork bark, they hope to be featured in more stores around the world to continue changing people's perception of "Made in Vietnam" and help people do their small part to help the planet.
Pretty Simple Goods can be found at several retail outlets in Saigon, Hanoi and Da Nang and through their online store.
Phone: 0902496240 (English and Vietnamese)
Phone: 0762404510 (English)