Tet in Vietnam offers a unique opportunity to engage in timeworn traditions. British International School Hanoi (BIS Hanoi) paid homage to the Year of the Pig with a lively assembly which included a plethora of student performances on the legend of Lạc Long Quân and Âu Cơ and theatrical lion dances.
There was an audible buzz in the school, with students and staff scampering around preparing for the day's main event. The high pitched chattering could mean only one thing: the last day of school and the anticipation of the upcoming Tet break was upon us.
Students and staff alike were encouraged to wear traditional áo dài, and this turned the assembly hall into a riot of crimson, gold, indigo and silver. What's more, before and during the event itself, a calligraphist, a staple of Lunar New Year celebrations, brushed oil-black ink onto paper, inscribing messages of peace, luck, and happiness or simply writing individual student's names.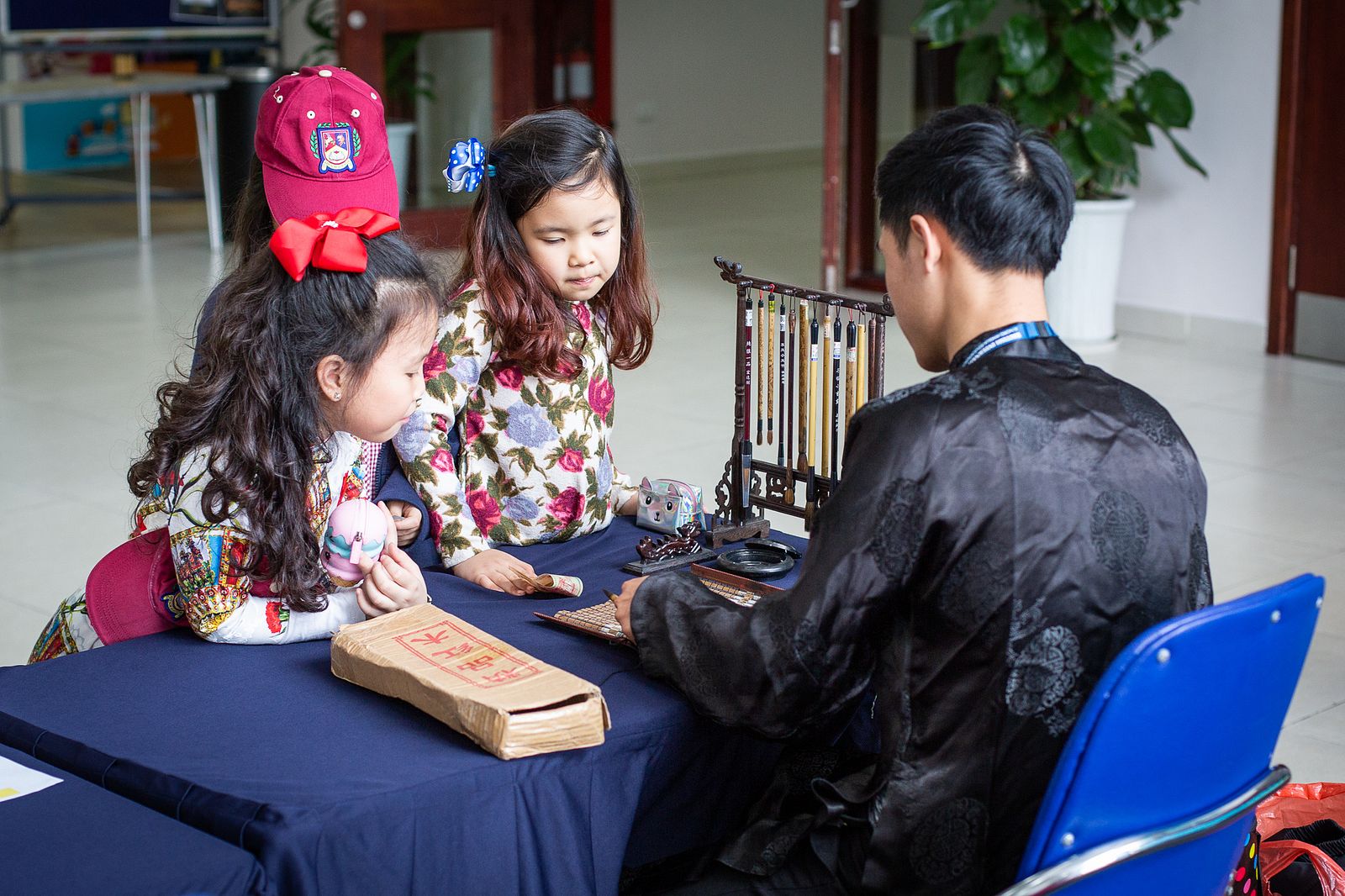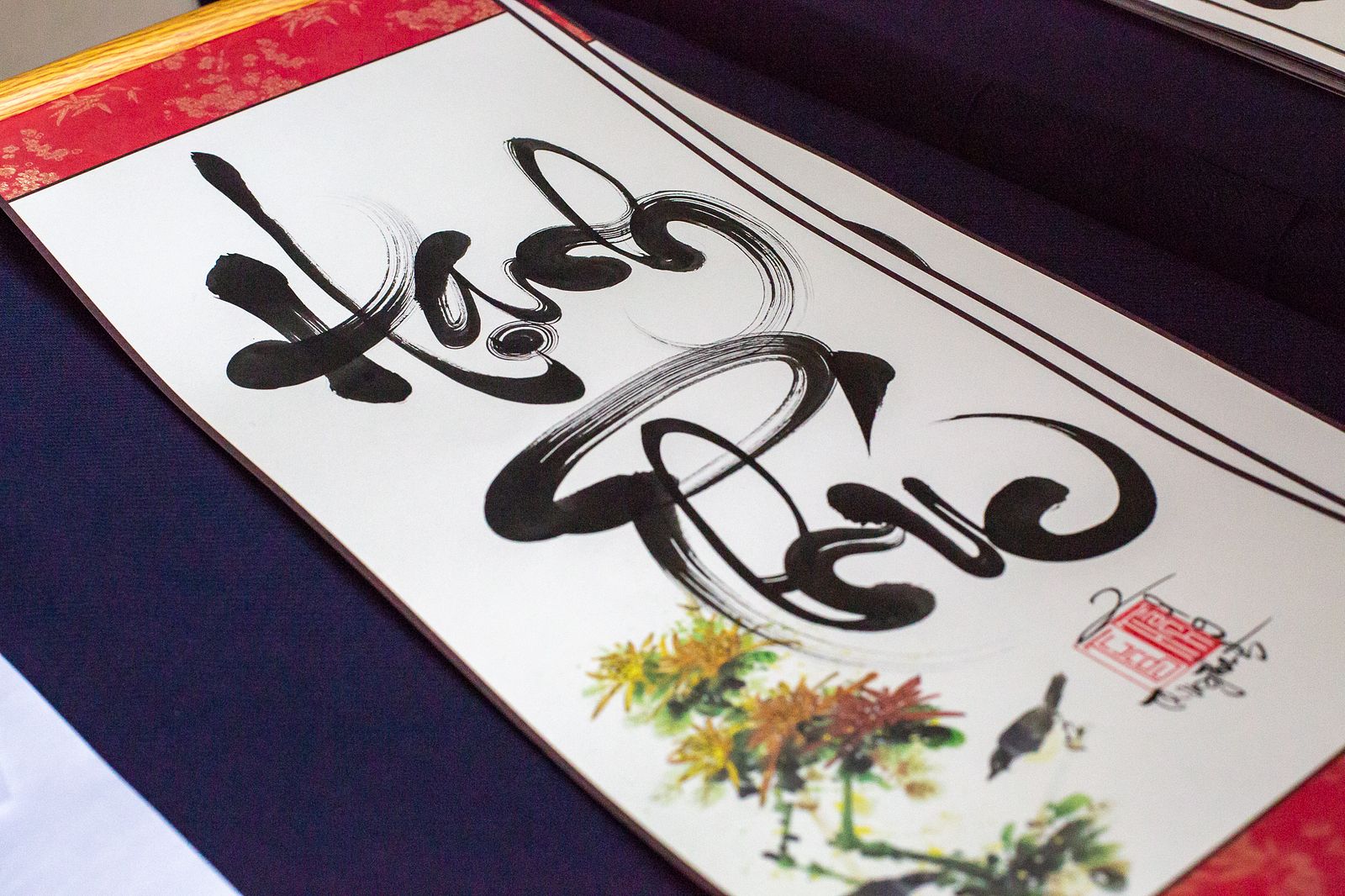 Yet the focus on traditions began much earlier, with the BIS Hanoi Primary School's international student body spending the entire preceding week learning about traditional Vietnamese culture and Tet traditions. In the assembly, students learned about Âu Cơ, the immortal mountain fairy who married the dragon king Lạc Long Quân and bore an egg sac that hatched a hundred children and thus became the mother of Vietnamese civilization.
Year 10 students kicked things off with an entrancing fan dance before a collaborative performance from Years 3 to 6 students showed how Âu Cơ's 100 children learned to develop agriculture, fend for themselves and fight their enemies.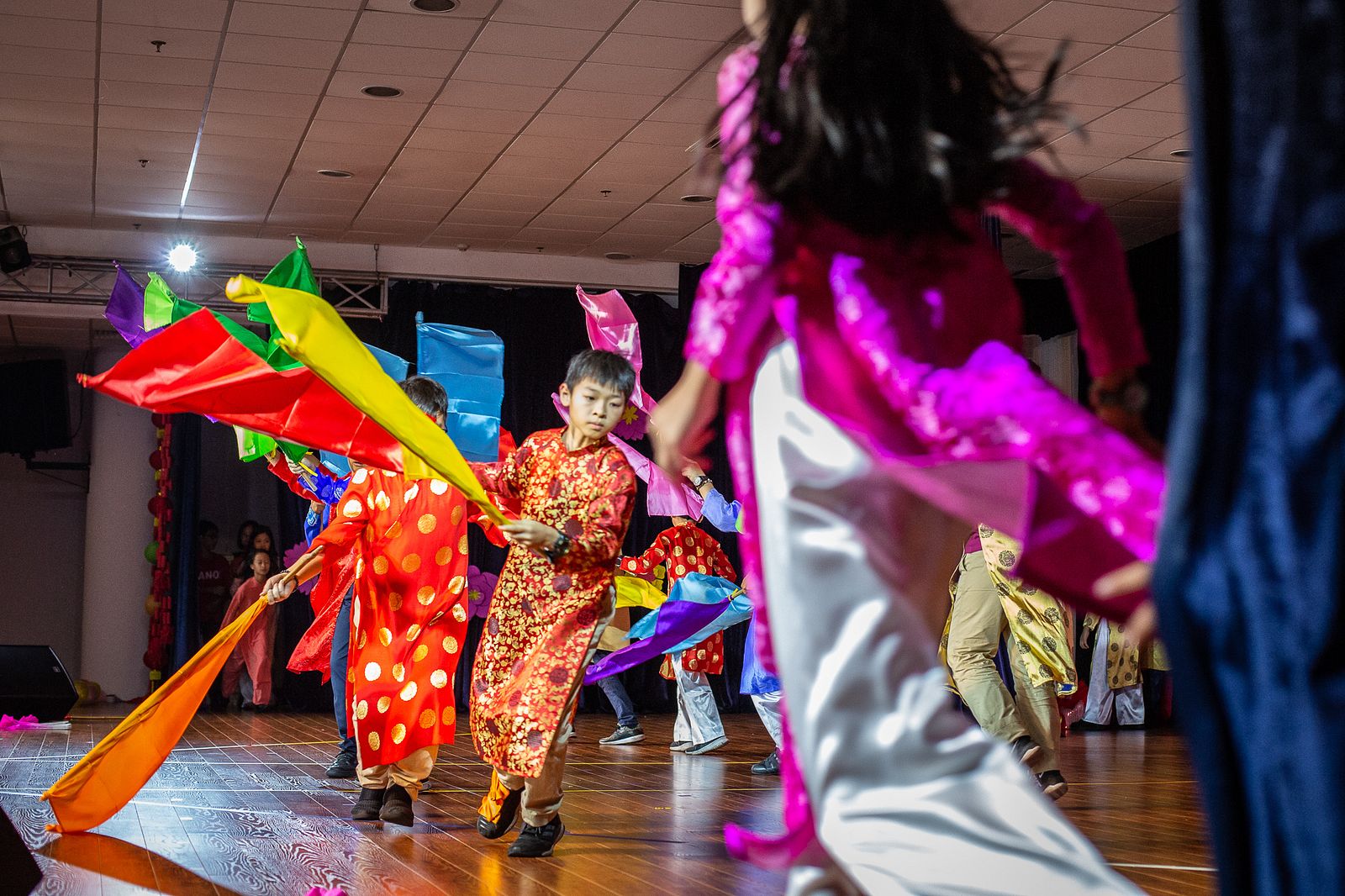 The biggest audience reaction, however, came in response to the Year 7 and 9 pupils performing Tôi Yêu Vietnam, a dance that summed up the humility, gratitude, and pride that has characterized Vietnam's football triumphs in 2018, and which inspired repeated chants of "Vietnam!" from the crowd.
The climax of the entire assembly was a traditional lion dance, in which performers displayed remarkable dexterity, strength, and coordination, and even engaged the audience by prowling through rows of seated students while dragons swirled on stage.
For Year 7 student Aarini Sengupta, the event was crucial in helping her appreciate and understand Vietnamese culture. "I'm new to Vietnam," she said, "so it was great to get to know more about Tet and Vietnamese history. It's very important to learn about the culture of Vietnam, especially if you are a foreigner here."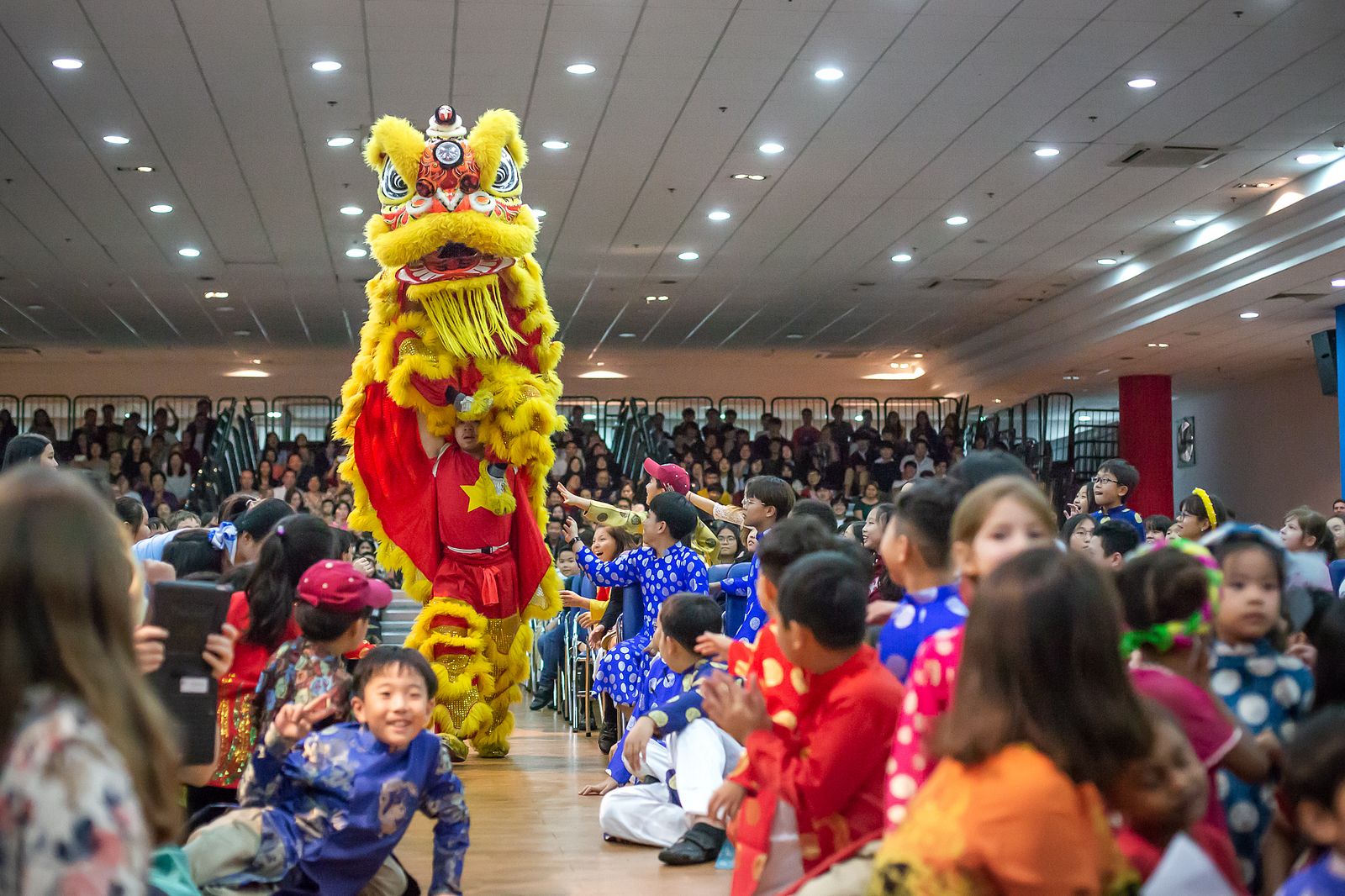 "It was fun participating too," she added, "because we did so much at practice and then we finally did it! It was really fun because we were cheering on our friends too and enjoying the songs."
For fellow student Jeanette Reeves, the event revealed the potential of diverse cultural celebrations. "I thought it was wonderful how non-Vietnamese and Vietnamese expressed their cultures in different ways and told the story together," she said, "because some people express their culture through football, some through dancing and others through ancient culture."
It wasn't only students in attendance, though, and Amelia Segura, a Spanish parent who has two kids in BIS Hanoi's Primary School and is also new to Vietnam felt the assembly helped them connect. "I really enjoyed it," she said. "We just arrived in August, and shows like this help us and the kids feel settled."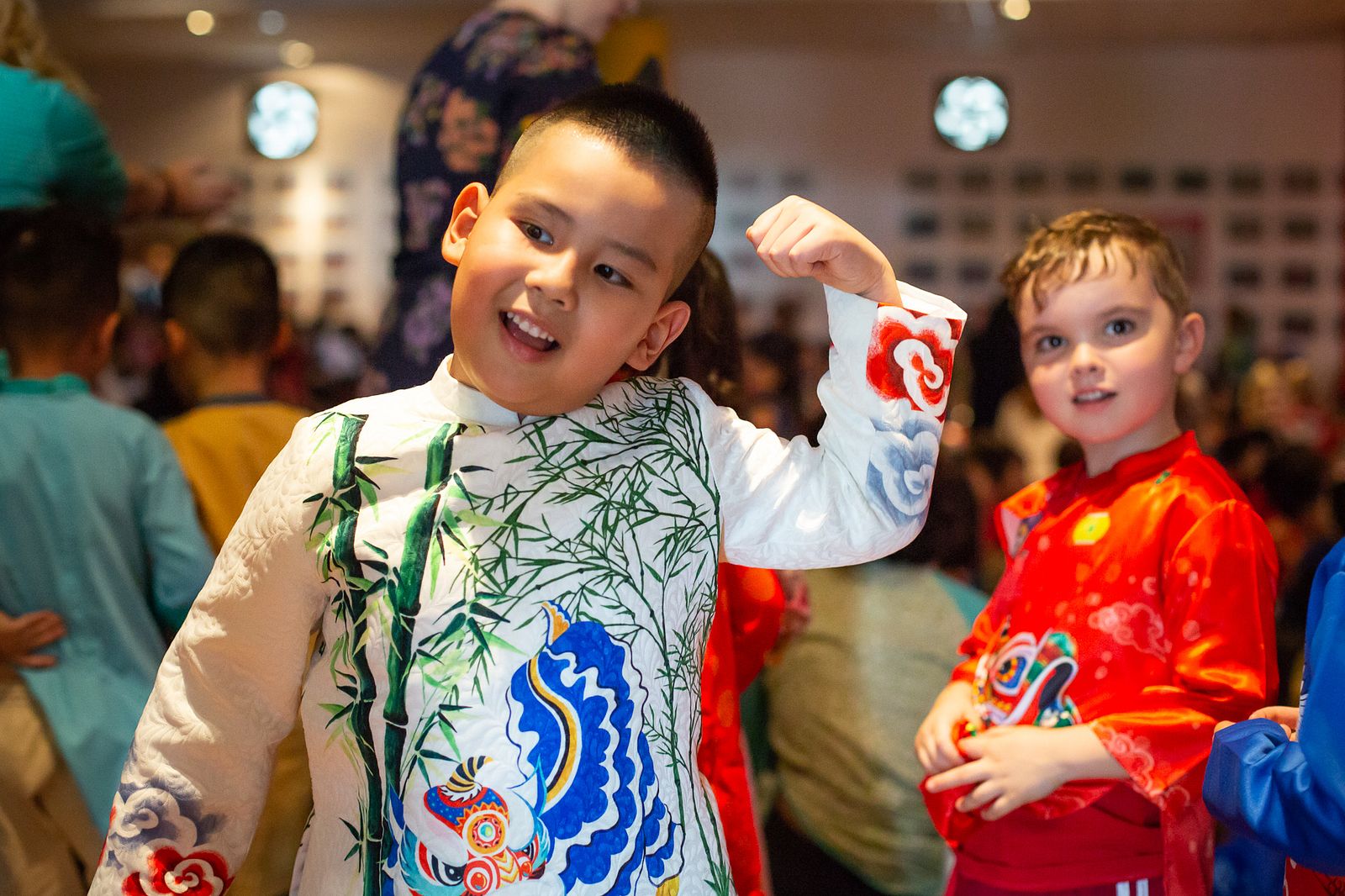 All teachers at BIS Hanoi attended too, and Paul Forsythe, Head of Science in Secondary School, was stunned. "I spent 18 years teaching in the UK, two years in the Middle East and now I'm here in Vietnam, " he said. "What I've found absolutely amazing is that we are a 2-18 school, but I've never been to a school where every child from every year group is in assembly celebrating together. This is really encouraging."
"What I love," he continued, "is you get some of the little ones doing performances, and the older kids are all cheering them on. They were with them all the way. All schools should get together like this. I've never seen a Tet assembly before and, for me, that was really something."
None of the day's events would have been possible, though, without the encouragement and guidance of Vietnamese staff members such as Miss Hai Nguyen, Vietnamese Subject Leader, and IB Teacher.
"Every year we plan a Tet assembly or the Full-moon Festival assembly relative to Vietnamese culture," she said. "We spent about a month preparing. The students practiced during lunchtime or break until finally, we had rehearsals. Teachers supported in the beginning, but then the students practiced entirely by themselves."
"It is important to have these kinds of events," she added. "It is a school based within Vietnam, and so it's very important for people from other countries and cultures to know about Vietnamese culture, and we share our traditions with everyone who attends the school."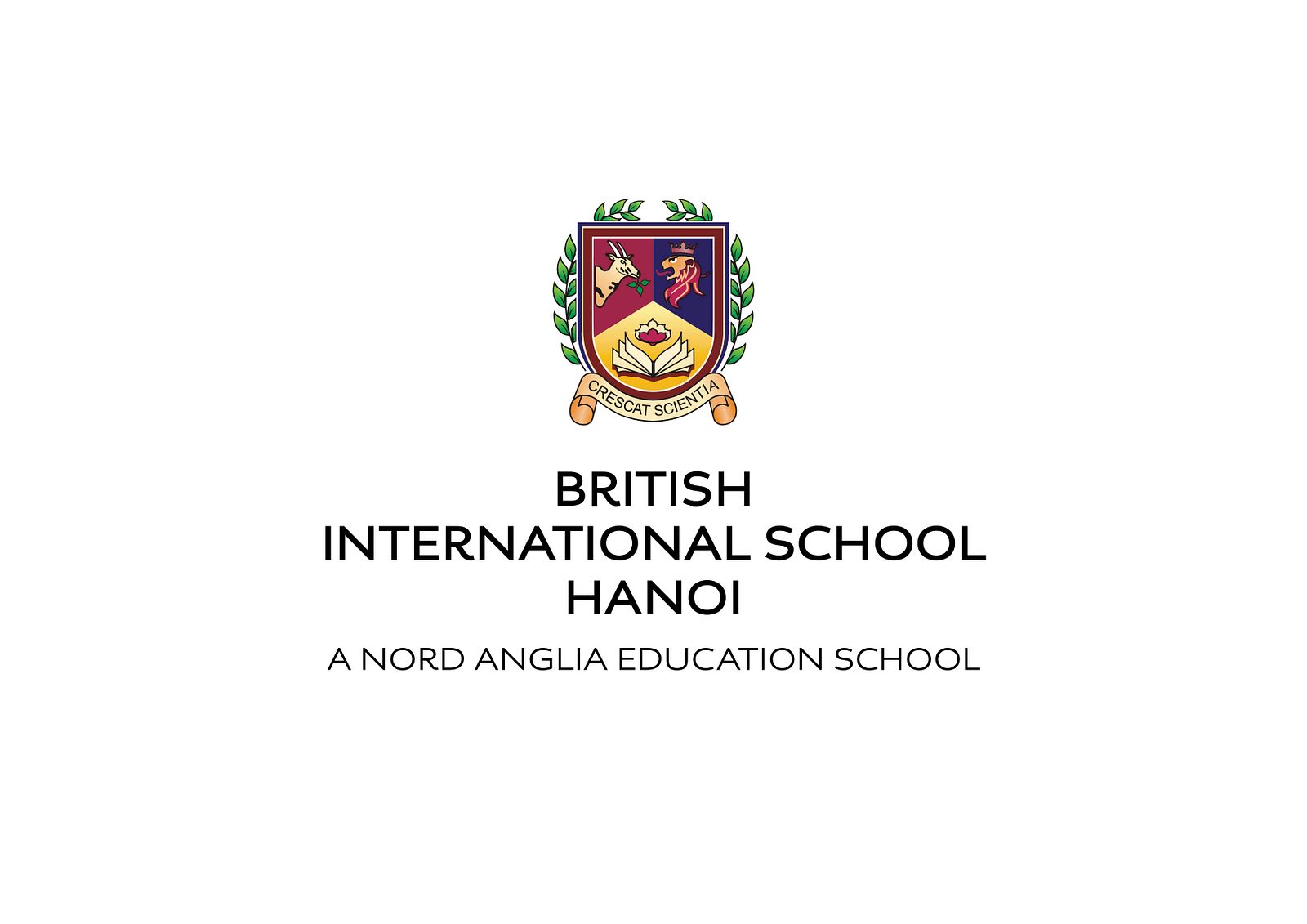 British International School's website
British International School's email
+84-24-39460435
British International School, Vinhomes Riverside, Long Bien, Hanoi