On a small goat path beneath the high peaks of the Ma Pi Leng Pass, a group of H'Mong ladies walked uphill with more than 10 kilograms of wood and grass on their backs.

After flashing her smile, speckled with shiny golden teeth, one of the ladies looked at me and said: "Exhausting... My village, five more!" She opened her right hand, counted her fingers and then pointed to the road on her right. She paused, took a deep breath, and then continued walking. I couldn't hide the surprise on my face, or the sympathy I felt for the woman and her family.
Thanks to the rapid growth of social media and Vietnam's international standing as a tourism destination, you might already know about Ha Giang and the gorgeous Ma Pi Leng Pass. Located 1,500 meters above sea level, the spectacular location is not only known for limestone mountains, rice terraces and cavernous valleys, but also its rocky plateaus and the ethnic minorities who call the region their home.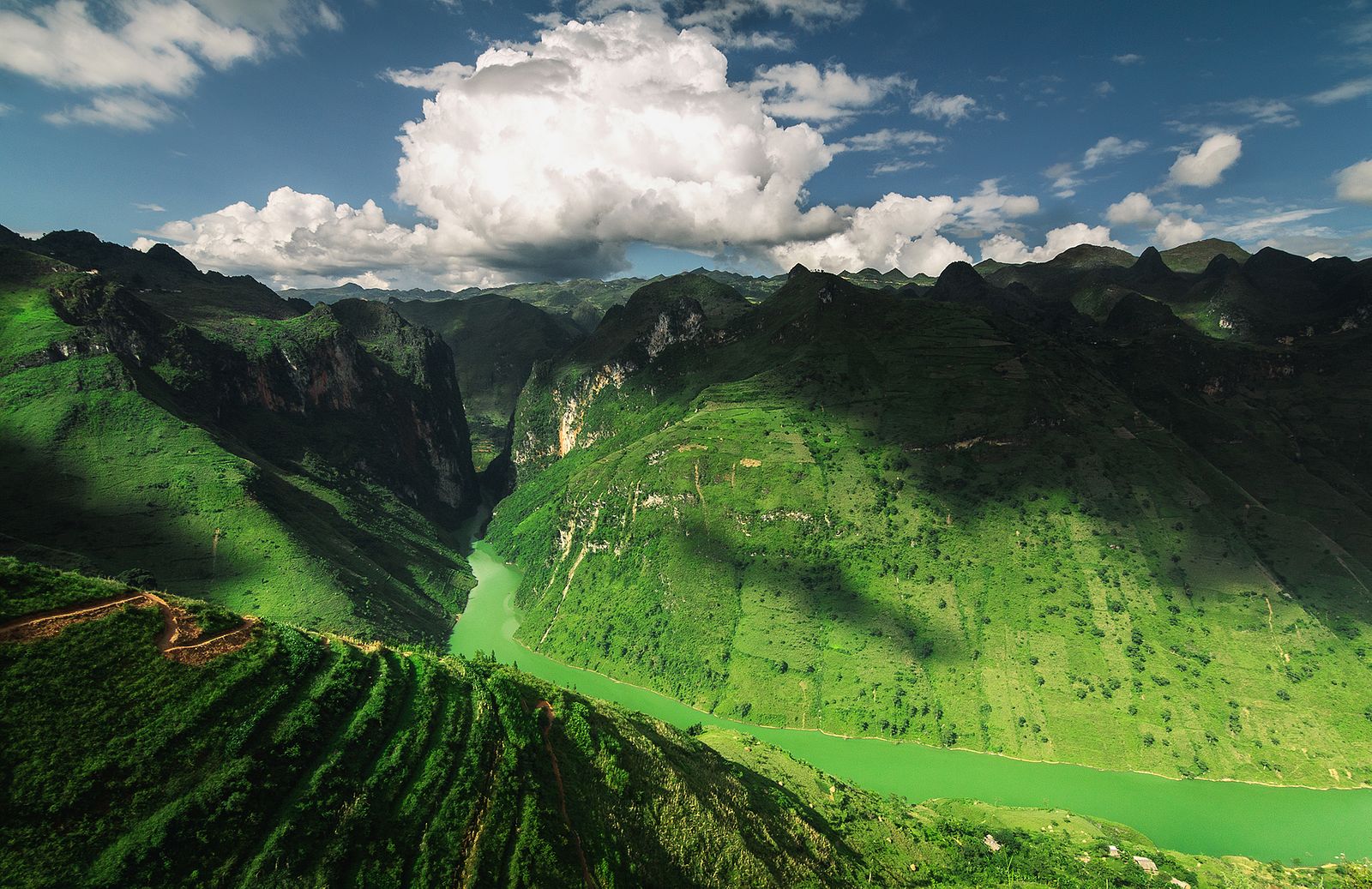 Back in 2016, the first time I visited Ha Giang, no words I conjured could describe the feeling of driving through the pass on a motorbike. The fresh air in my lungs, driving alone on a road with clouds flowing by a few hundred meters beneath me, watching the sun go down over the rugged landscape. Yet always, it was the people, and the way people think about them, that stayed in my mind.
Alcohol and judgment
"They are lazy. They would have a much better life only if they worked harder." "They are so bad at business. They are stupid. You could build a wonderful hotel here."
These are just some of the judgments of minority groups I heard when heading up to northern Vietnam. Due to high rates of alcohol consumption among H'mong, many ethnic Vietnamese portray them as lazy, unmotivated people who have no desire to improve their lives. It is easy to find them drinking at any time during the day, and especially during the weekend market. To the H'Mong, wine is a better option for starting the day than coffee or tea. When they're hanging out, alcohol and tobacco help forge friendships. When the weekend market finishes, they gather together and share drinks whether it's been a successful day or not.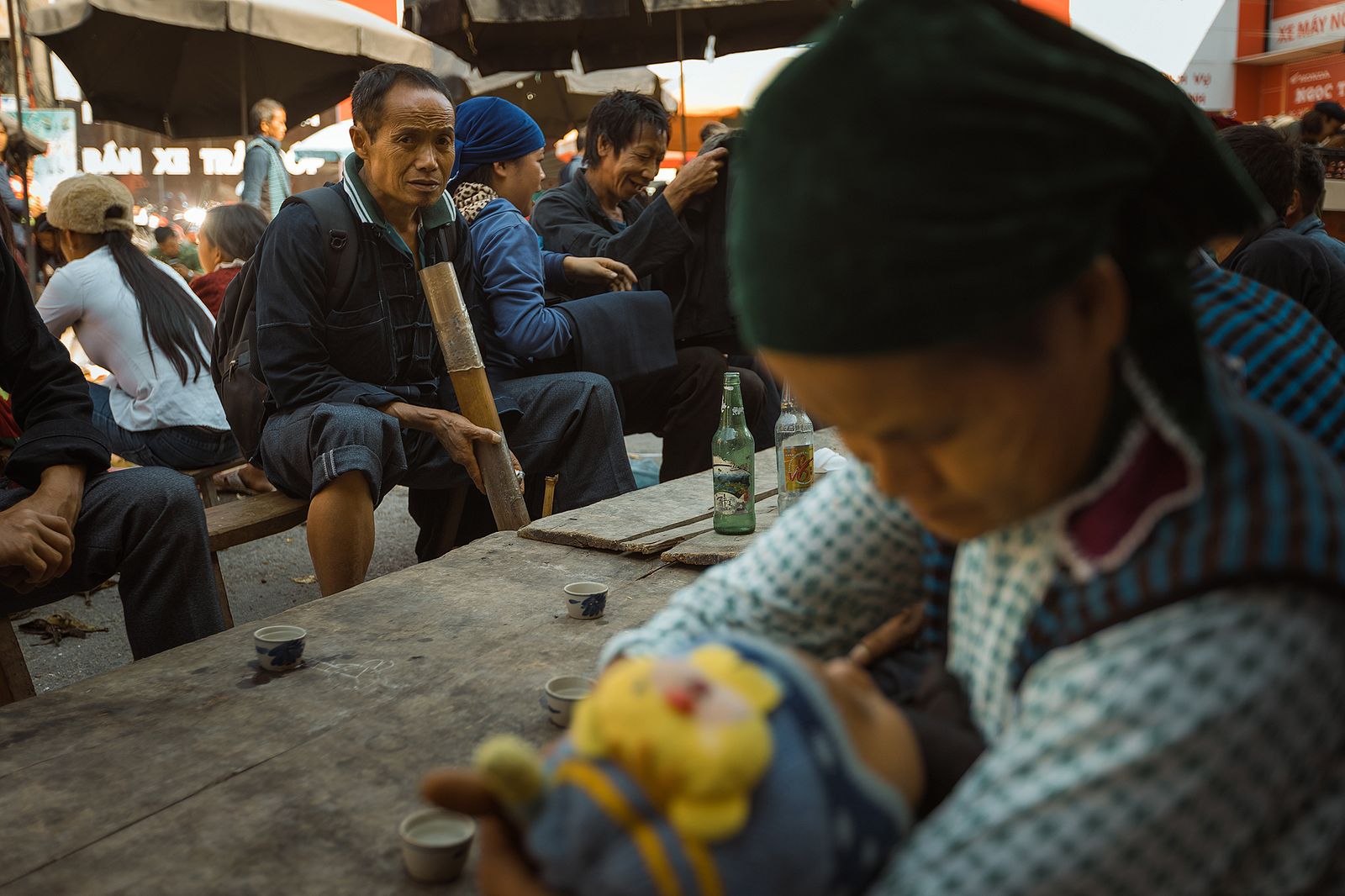 Some even pretend they are "wine tasting" in order to get free booze. They check the quality of rice wine at every seller they pass and, of course, the only payment they offer is a shake of the head before walking on to the next lady. When they get drunk, they often opt for a nap before heading back home, or even just sleep until their wife comes and picks them up.
While it's interesting to look into the H'Mong people's drinking culture, doing so also reveals how incorrect people's judgments are. Besides having fun, enjoying alcohol is a way for them to show respect, to express their feelings and to strengthen relationships. We all know the phrase "work hard, play harder." The H'Mong people work extremely hard in the fields during the day, and when night falls, families join together with different generations to sit around the fire, eat and drink. When they do, they talk about life, work, their ancestors and their spirits, and about the happiness of having nothing other than family. The fire and the wine help them survive frosty nights in the mountains.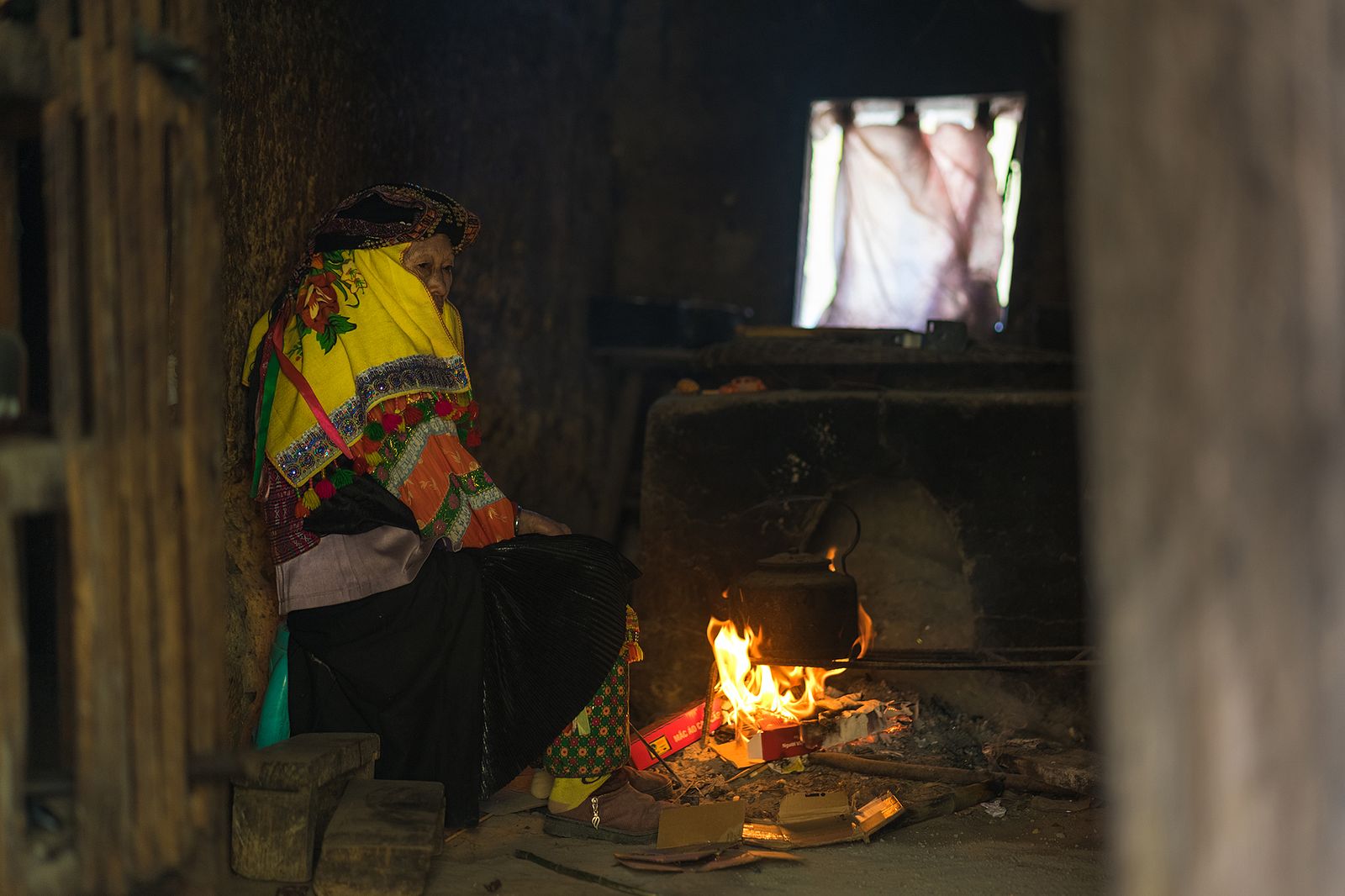 Harsh conditions
The rock-strewn, jagged landscapes common in many areas of Ha Giang mean basic supplies such as firewood, water and food are sometimes hard to come by for the H'Mong. Although they receive a lot of help from the government and NGOs, it's still a hell of a life when winter, which is considered the dry season, arrives. When storms hit the area it can be even worse, with flooding and landslides regular occurrences.
Twice a day, the H'Mong trek up and down the valley to collect brushwood and harvest elephant grass. Unless it's a school day, children take part too. The brushwood keeps them warm at night and the grass feeds their buffalo. Yet why trek such long distances every day to collect food for their buffaloes when the animals could go out and eat themselves? For the H'Mong, a buffalo is everything. They are expensive and vital for agriculture. Buffalo dung also fertilizes the soil, and the waste is even more important here as the rocky terrain is harder to farm on.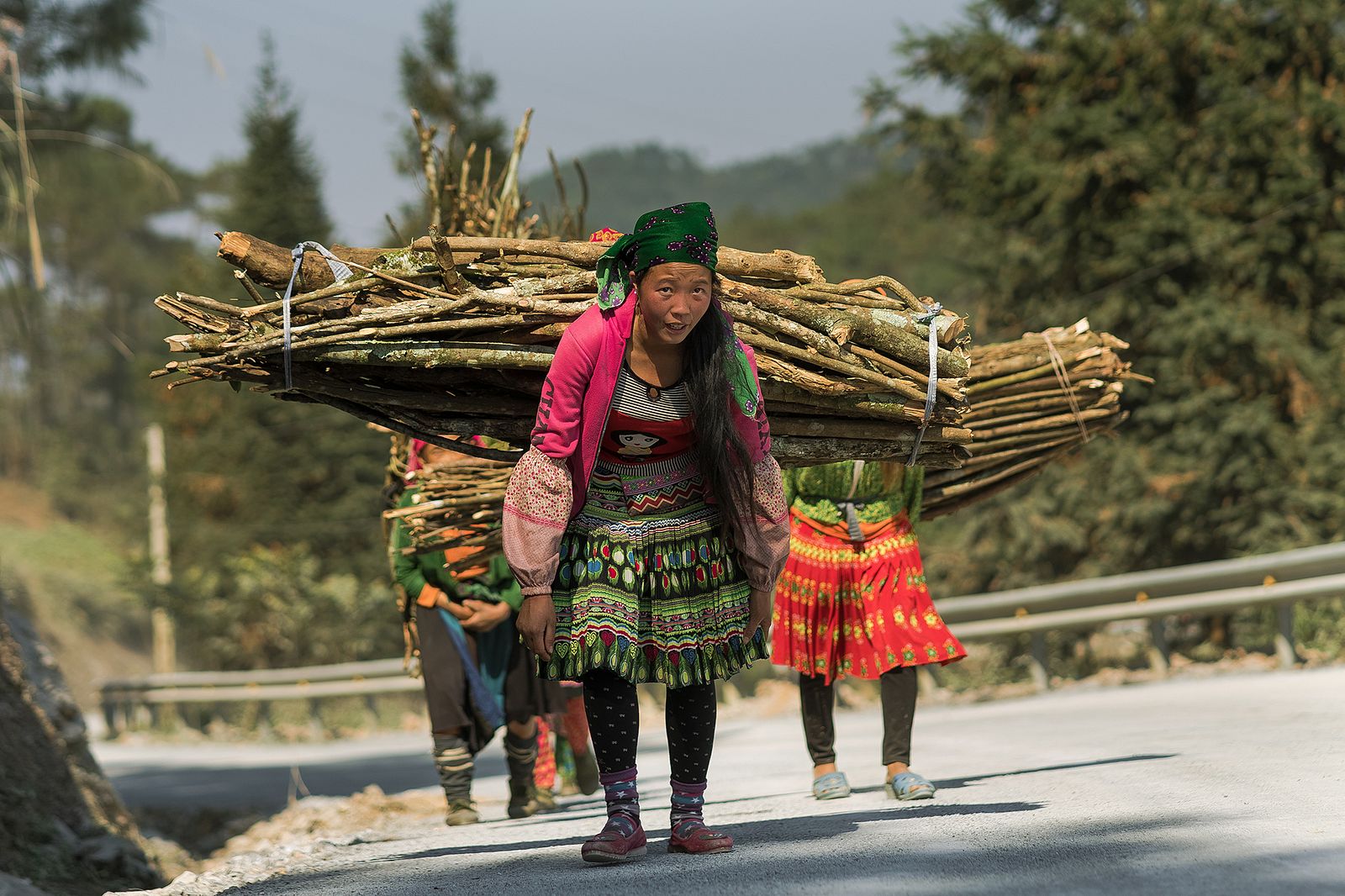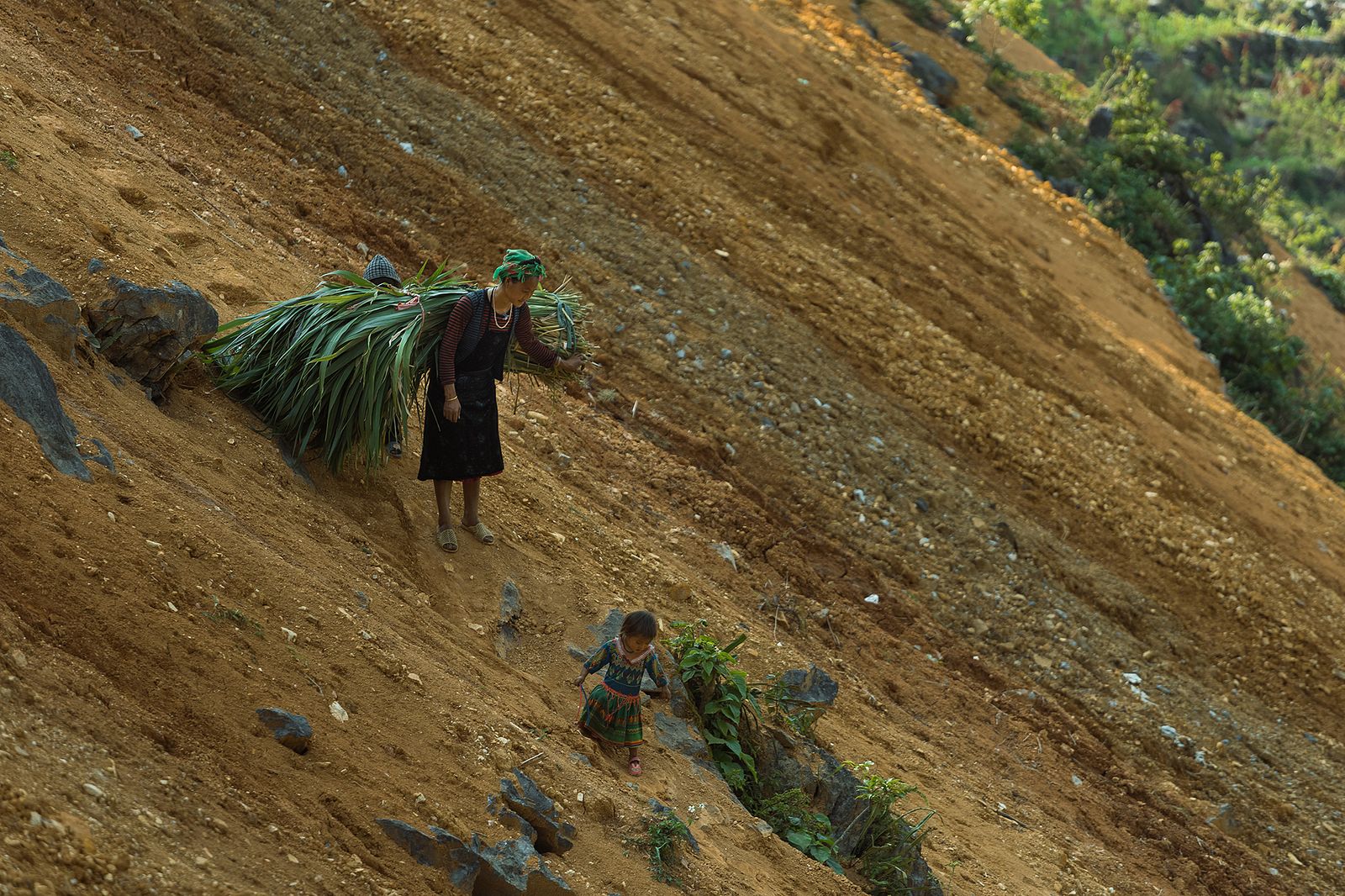 Leftovers such as corn cores or straw are another source of burning material, which they store them in a dry area to keep them ready for burning and are used to get a fire started. The H'Mong, however, have to trek down through the terraces in order to bring this kindling home. They are too poor to use more than one motorbike and, amid the rugged terrain of the Dong Van Karst Plateau Geopark, bikes can't go where the brushwood and grass are.
While driving around, I came across a mother and her three children. They walked slowly up the pass with huge bundles of grass and brushwood on their backs. Following the mother, the family turned left into a shortcut — a dirt slope scattered with tiny, sharp rocks. The oldest kid began to cross, quickly making it to the end, leaving his mother, younger brother and sister behind. While acting as a pole for the youngest son to hold onto, the mother watched her daughter treading step-by-step across the slope. The son fell down once but managed to return to the crossing. He took the grass bundle off his back and took a quick rest, before trying to catch up with his mother and younger sister, who were already further along. When I looked to the right, I saw the oldest brother already relaxing, chewing on sugar cane, and laughing joyfully at his siblings.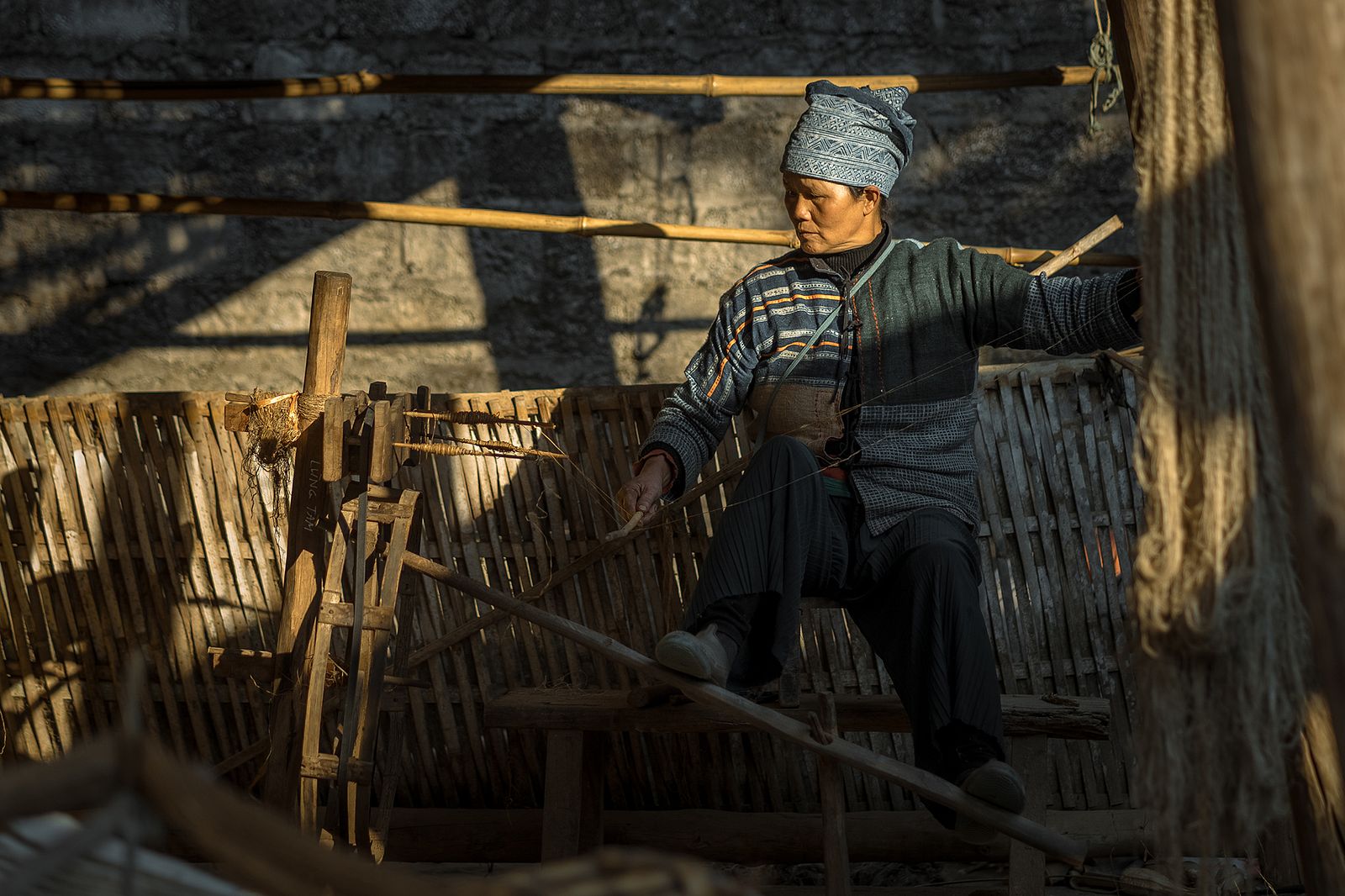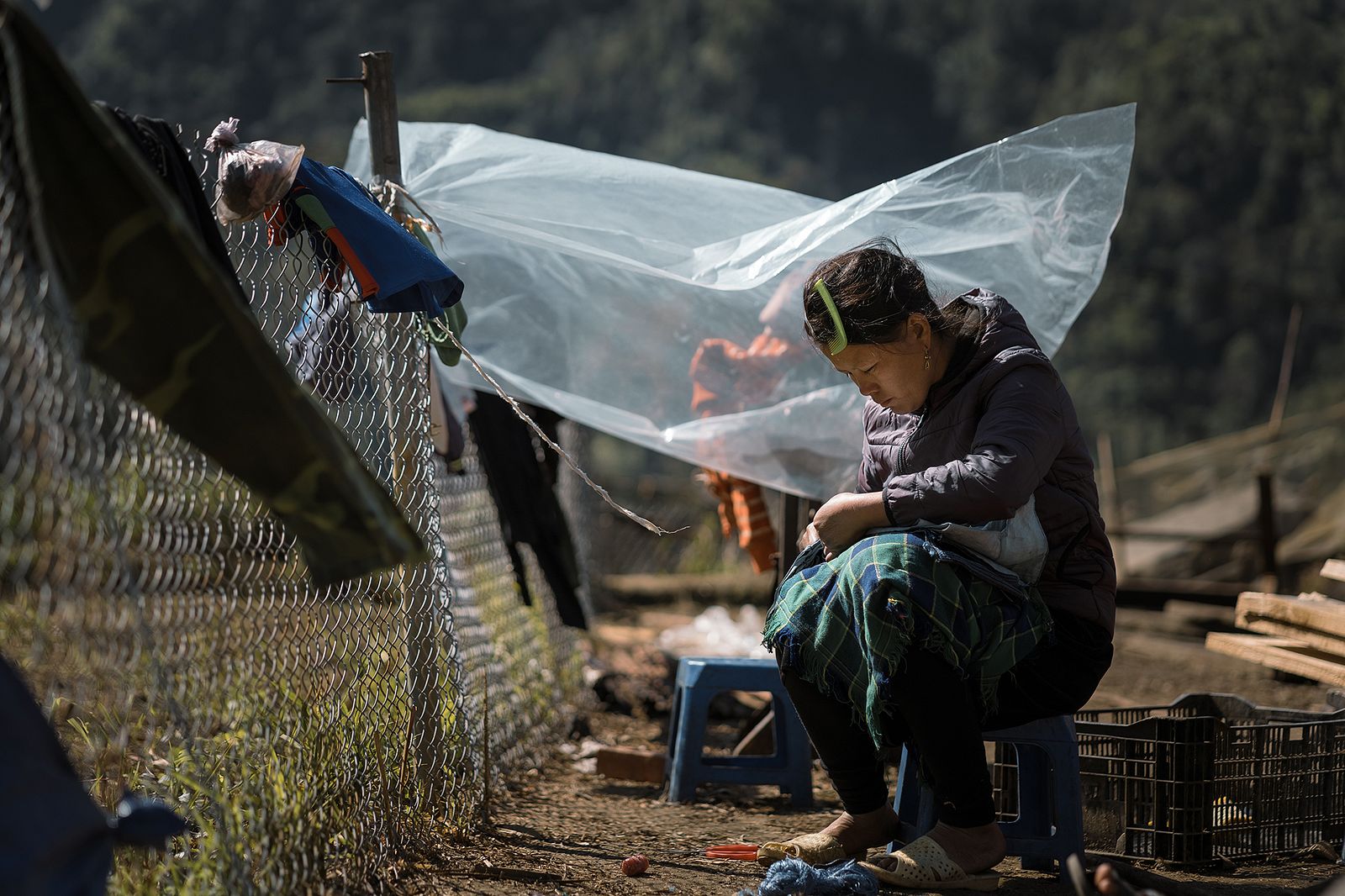 Artisans in the mountains
Like natural-born artists, the H'Mong are blessed with artisanal skills in handicrafts and construction. Their handicrafts survive through generations, as they've found a way to live and to make a profit by using nature's gifts. They texture the hills with rice terraces, color food with natural dye and turn hemp into soft, comfy clothes that women stain blue using indigo leaves and roots.
Vang Thi Mai, shown weaving in the image to left above, is one of the pioneers bringing brocade linen products to markets both across Vietnam and internationally. Mai is the founder of a linen cooperative which has improved the quality of life for local H'Mong women. Their business model focuses on sourcing local materials, which in turn helps support sustainable livelihoods, traditional ways of living and minority communities in the area.
One of the most memorable things to do when visiting northern Vietnam is to get lost while walking along the rice terraces during harvest season where these communities live. Drinking in the landscape as the sun sets and the wind smells like young rice is about as magical as it gets. Yet one must remember how that scenery is made — the hard work and patience of the H'Mong people who have shaped the land for countless generations.