Details

Published on Tuesday, 21 May 2019 13:55
Written by Saigoneer.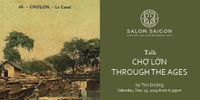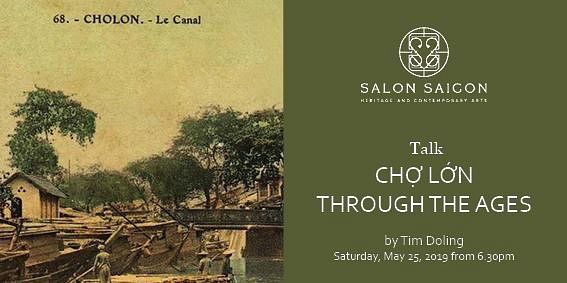 To coincide with the launch of his new 680 page guidebook "Exploring Saigon-Chợ Lớn - Vanishing Heritage of Hồ Chí Minh City" - a rewritten and much expanded version of the 2014 book " "Exploring Hồ Chí Minh City" - Tim Doling will deliver an illustrated talk entitled "Chợ Lớn Through the Ages" at 6pm on Saturday 25 May 2019 at Salon Saigon.
Tim will start by tracing the settlement of modern Chợ Lớn, first in the late 17th century by Ming refugee settlers, and then in the 18th and 19th century by waves of later Chinese settlers known as Qīngrén 清人, examining the important contribution both groups made to the economic growth of the South, and the physical evolution of the town, as defined by the creation and later filling of various inner-city waterways.

He will also show how, after the destruction of the Tây Sơn era, the earliest "xã Minh Hương" was reborn as Dī Àn 堤岸 - Tai Ngon in Cantonese dialect - and how after 1859 that 19th-century name, romanised as "Saigon," was "stolen" by the French to rename their colonial capital, formerly known as Bến Nghé.

The talk will examine how the Chinese were the administered by the Nguyễn dynasty, and later also by the French, being taxed heavily but ultimately kept on side by the award of special privileges denied to Việt people.

Particular attention will be given to the evolution of the earliest settlers into the mixed-race Minh Hương community, and to the way in which the Chinese in Chợ Lớn administered their own communities through the bāng 幫 system, building temple-offices known as huìguǎn 会馆 (assembly halls) and looking after the welfare of their citizens by offering them financial and legal assistance, maintaining the streets, and building schools and hospitals. The very special "executive" role of the communal temple known as the Thất Phủ Võ Đế Miếu (Qīfǔ Wǔdì Miào 七府武帝廟 or 'Seven Districts Martial Lord Temple') during the French colonial era will also be explained.

Tim will conclude by showing how, despite the emergence of an influential Vietnamese middle class from the 1920s onwards, and the demise of the bāng system under Ngô Đình Diệm's RVN First Republic, powerful Chinese merchant families continued to exert a strong grip on the economy of Chợ Lớn until 1975.
Tickets:
- Through Ticketbox: 200,000đ/tkt (120,000đ/student and Salon Saigon Member )
- At entrance: 230,000 đ/ tkt (150,000đ/ student and Salon Saigon Member)
Saturday, 25 May
6:00pm - 8:00pm
Salon Saigon | 6D Ngo Thoi Nhiem, D3, Ho Chi Minh City