Having ventured into Saigon's food scene for a while, I have one guiding principle: the best spots are always the ones circulating via word of mouth. Quiet corners, culinary rarities and communities that have their own niches — you simply don't find these things on the search bar of an average food review channel.
Editor's note: As of January 2022, Nhà Phạm has moved to a new location. Read our review of the new location here.
Nhà Phạm, a cafe casually name-dropped by a friend of mine, is peculiar. I can only assume whoever is reading this will know what I mean when they see it. But I'd like to disperse any preconceived judgment by saying that it's not just peculiar because the decor is retro — though indeed it's a trope that's been exploited to death by Saigonese coffee shops, causing a confusing state of nostalgia.
If you ever come to 129 Le Van Duyet (previously Dinh Tien Hoang), Binh Thanh, you'll find a building in the shell of what formerly seemed to be a building complex. It's unclear what the complex's original purpose was, but its spacious yard is currently being used as a car park, while its units are now occupied by establishments that are marginally related at best. These include a co-working space, a beer brand's warehouse, a stationery shop and a fashion studio.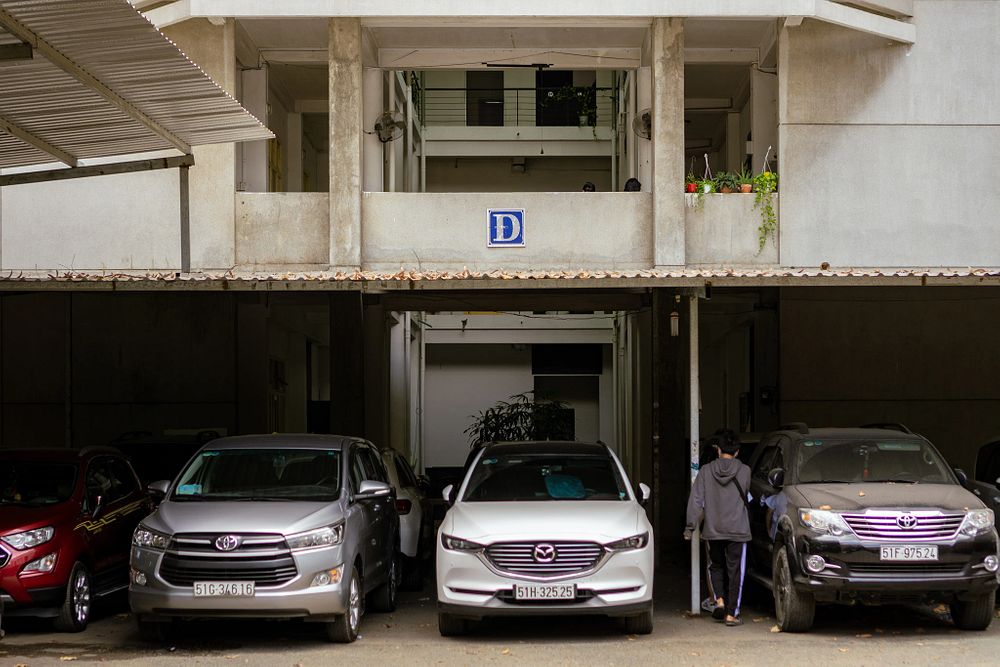 The building is recognizable with a "D" painted on the front wall. When I got there, I had to slip through a "barricade" of parked cars before making it to the ground floor. It was graced by the presence of a few lonely shrubs, which added to the overall rustic aesthetic of the place. The two stairways leading to Nhà Phạm, one on each side, were dark and eerie — the perfect setting for a stereotypical Vietnamese horror film. At this point, the only sign pointing to our cafe destination being an interesting place was a bright skylight well where sunbeams and fresh air flooded in.
And my intuition was right. The moment that I set my foot onto the first floor, I seemed to have stepped into an alternate reality of a different time and space, safe from the bludgeoning pace of the surrounding world.
An intimate counter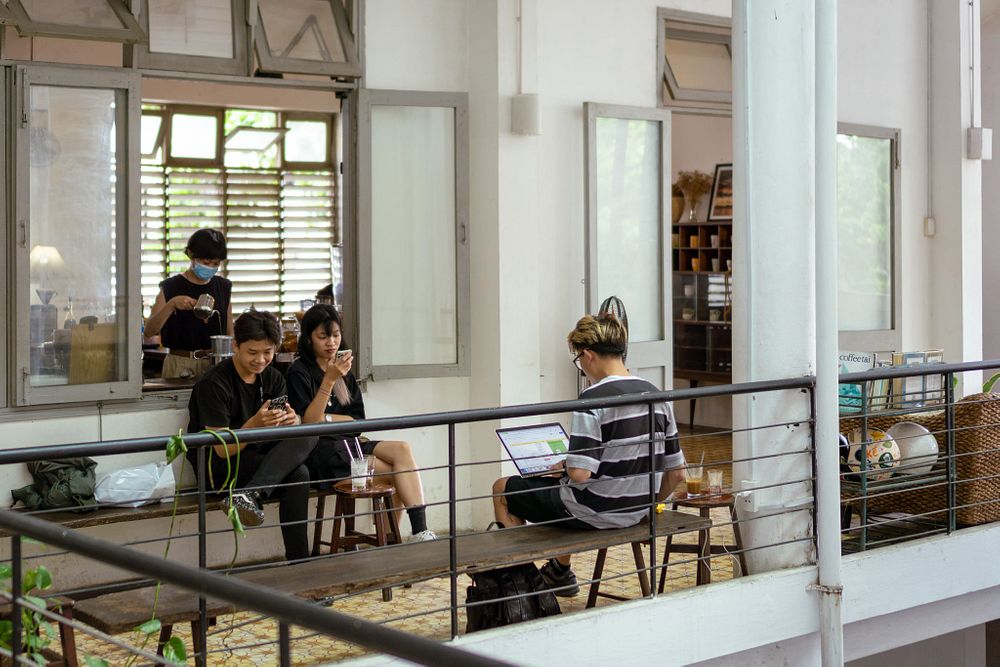 Making my way across the corridor, I entered a spacious room that is also the central area of the cafe. Taking up most of the room was a time-worn barista counter made of dark brown wood. On the countertop, coffee-making gear was arranged neatly: cylinders of coffee beans, a grinder, a mini espresso machine, paper and metal filters, a cold-brew maker, a V60 pour-over cone, a moka pot, among many others. Most are for making hand-brewed coffee. Next to them is a sign that offers daily specials like juice or a new pastry.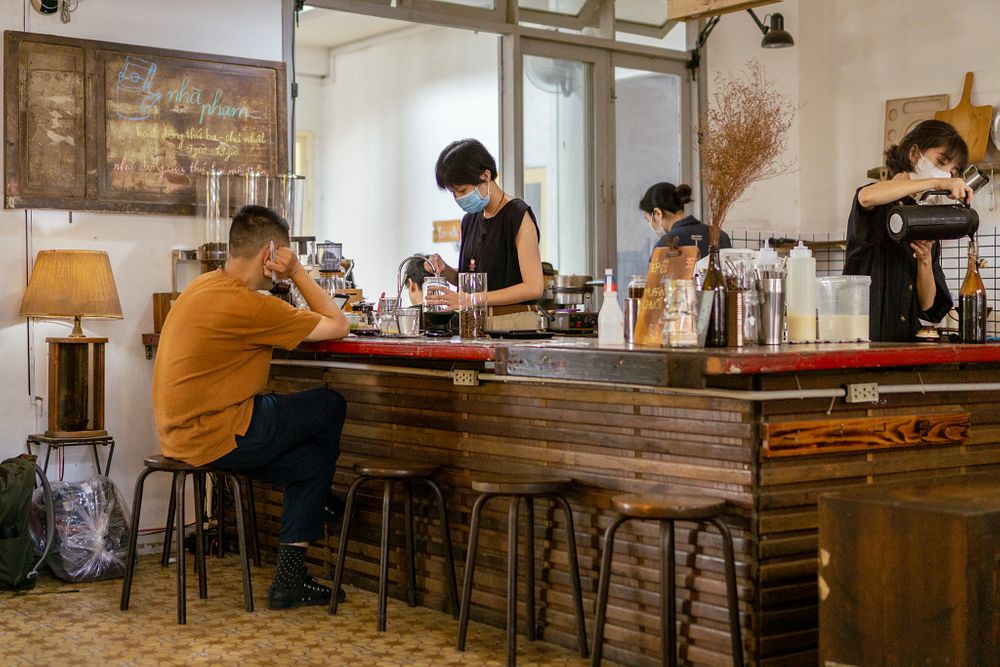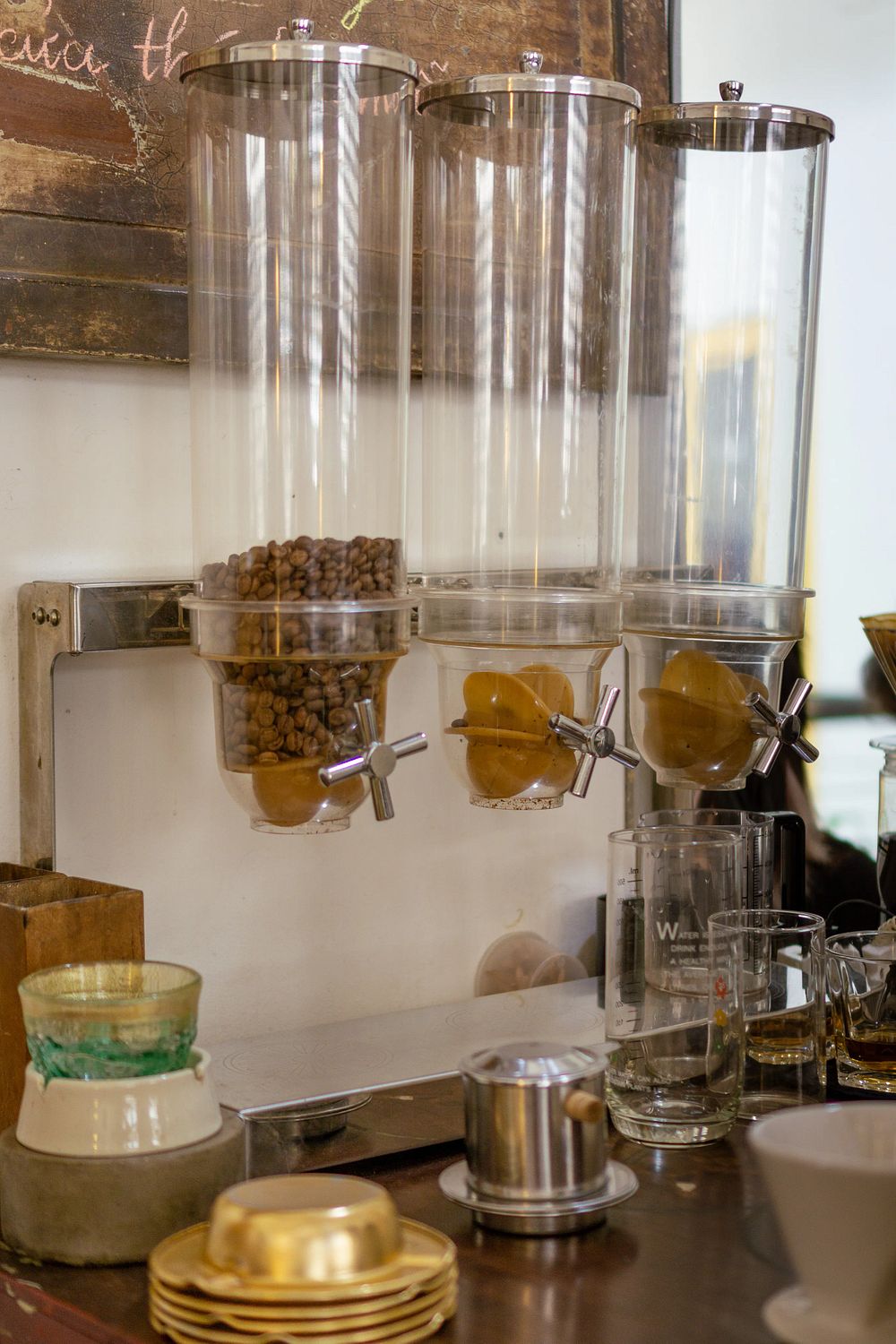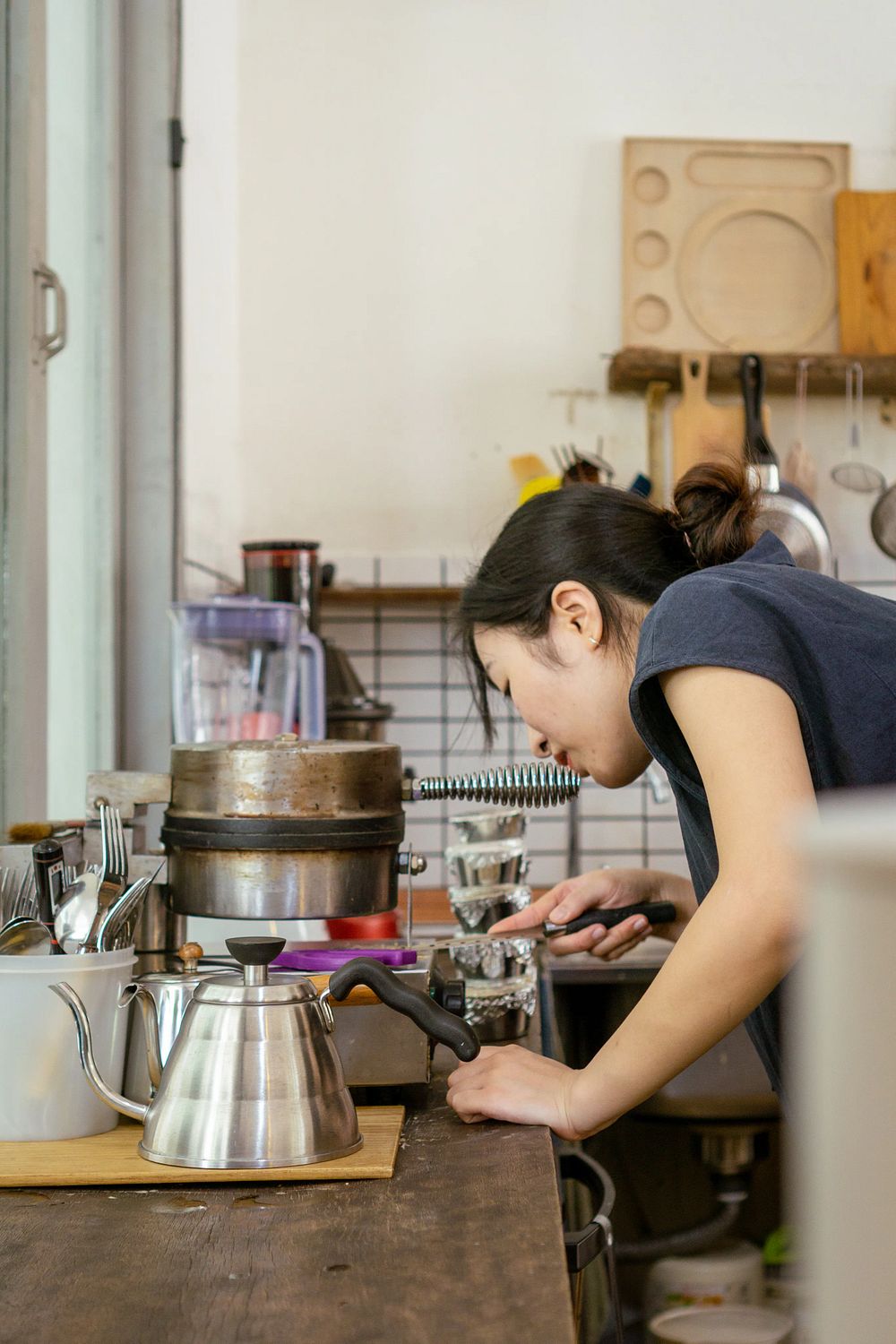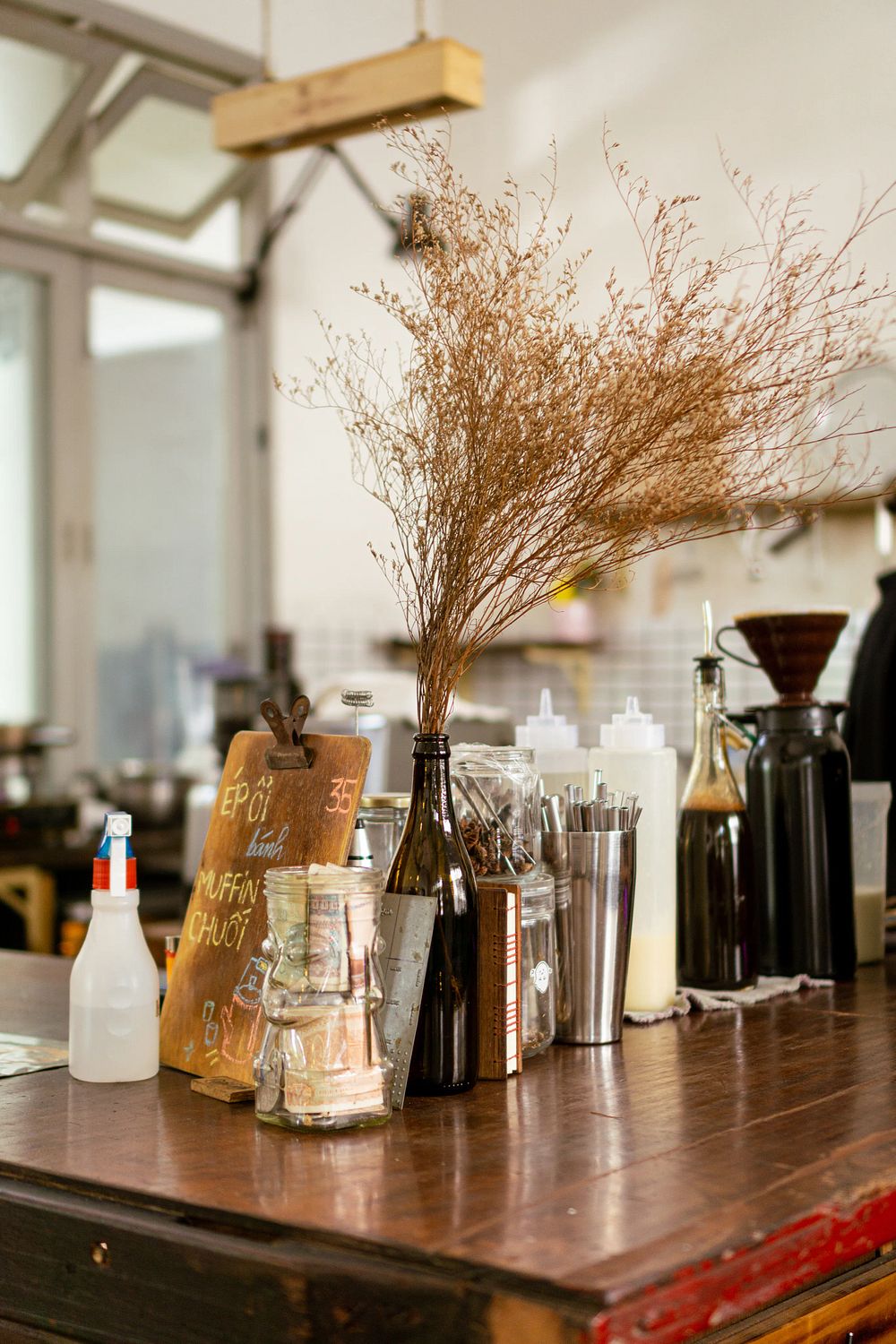 Everything here started with the three-sided counter. Trọng, a co-owner of the cafe, said he got the idea for Nhà Phạm when he first saw this space, which was then a classroom for tailoring lessons. As he stood in the opposing corridor and gazed at the window frame on the other side, he saw a vision of a bar where he couldpursue his passion for beverages — a place where people can gather closely and enjoy themselves. And so the barista counter became Nhà Phạm's centerpiece. One of its sides faces a window that is always open to let the natural light in. The other two are lined with chairs — an invitation for guests to come in, take a seat and share their stories at any time of the day.
The smell of coffee and freshly baked pastries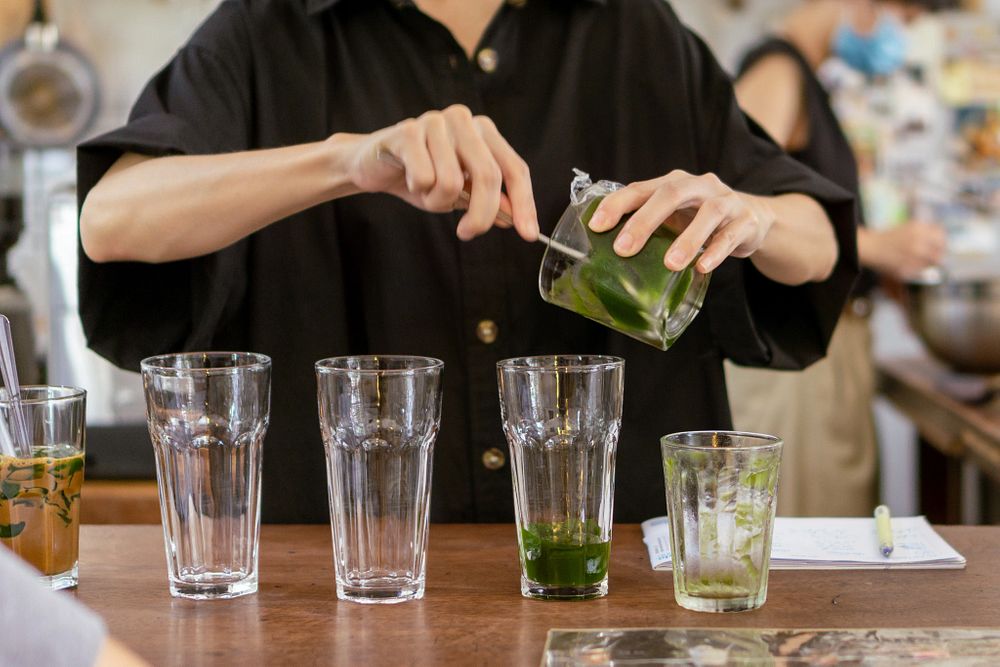 Nhà Phạm was founded by two brothers. Tài is the architectural and design mastermind, while Trong shapes the identity of the cafe with its drinks.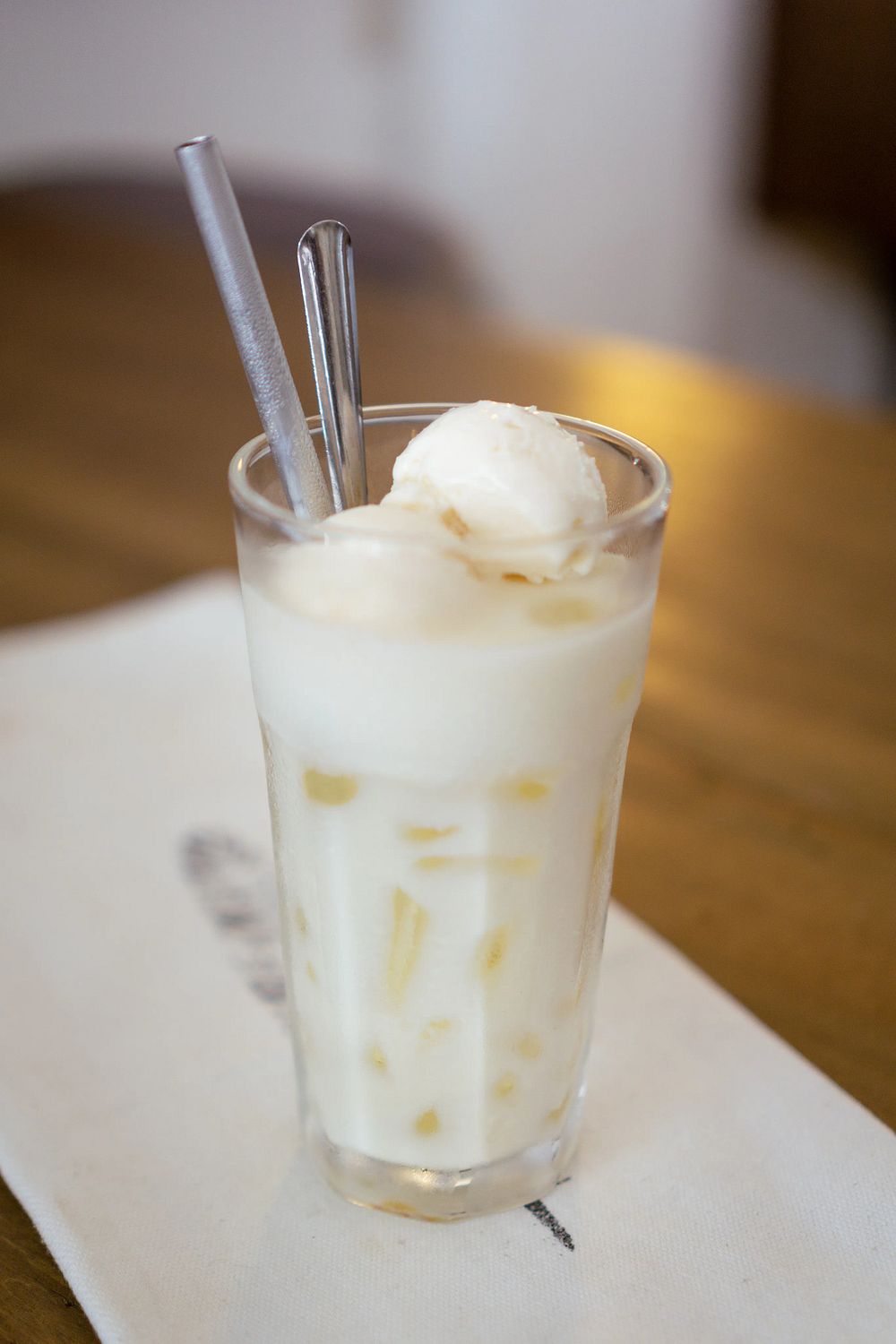 Trọng used to work for a coffee business in Da Lat. With his knowledge and passion for coffee beans, he initially developed a menu that revolved around coffee, from traditional Vietnamese cà phê sữa đá to Italian espresso varieties. Later on, cold brew was added to the menu, which came with different added flavors such as cinnamon, lemon, salted caramel, coconut milk and banana. "I didn't create all these things just for fads. These diverse flavors are meant to bring a different drinking experience to our customers," said Trọng.
Realizing that it should be more inclusive of people who aren't keen on coffee, or simply have had enough caffeine for the week, the cafe decided that it needed to expand its menu. Lý, a staff member from Da Lat, believed that they should make rice milk. Inspired by its Korean counterpart, Lý combined rice milk with Da Lat's own creamy pasteurized milk to create Nhà Phạm's signature drink, which is now a customer favorite.
If you're feeling a little peckish, take a look at the cafe's food menu, which includes five dishes: bolognese spaghetti, egg benedict salad, tuna sandwiches, waffle served with fresh fruits and coconut ice cream, and a Vietnamese essential — bánh mì with condensed milk.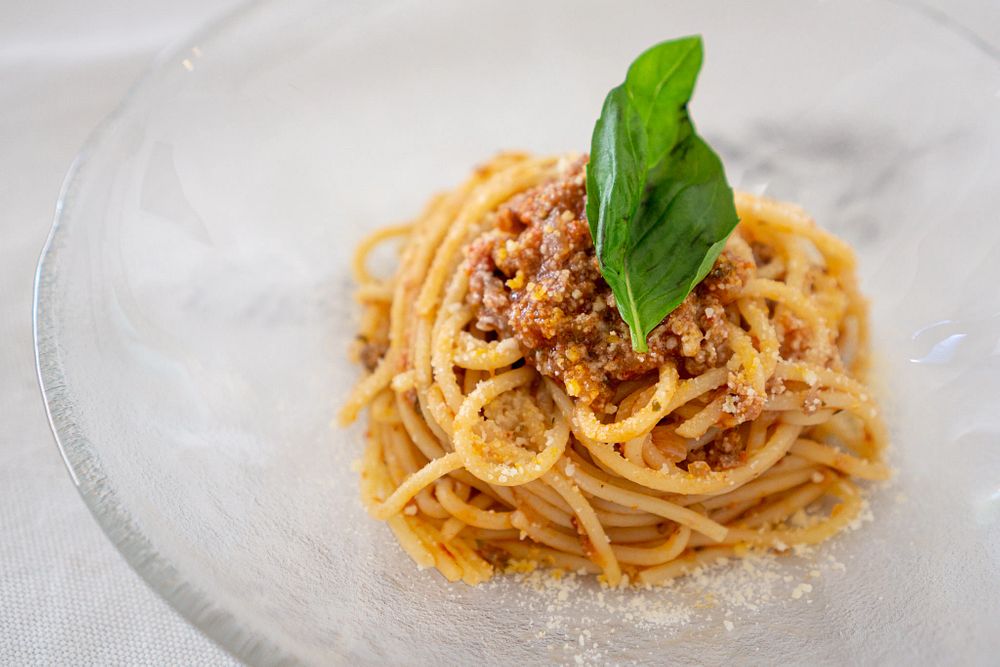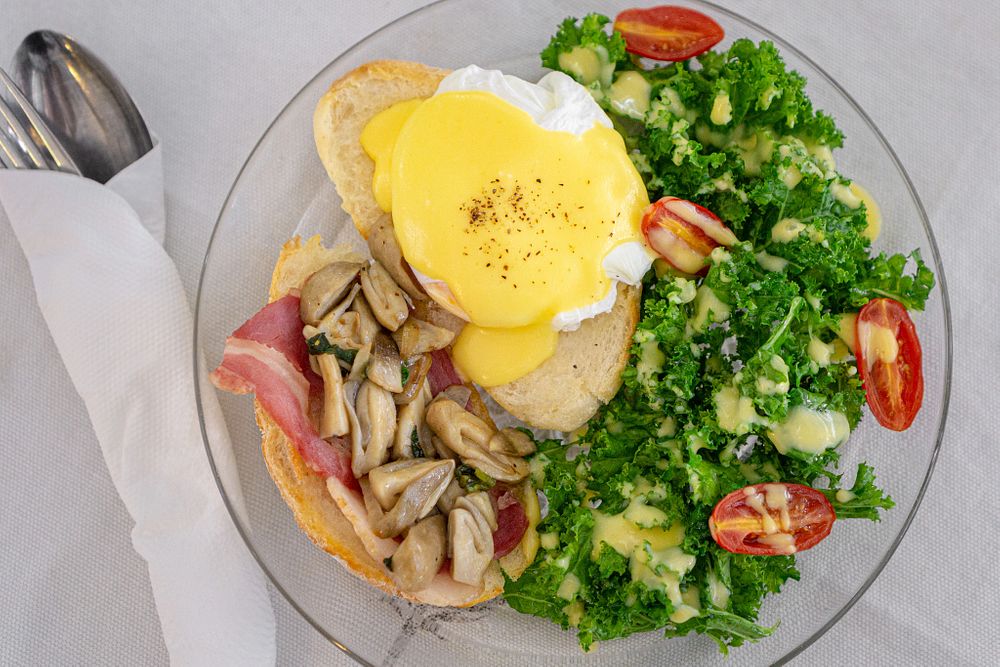 Banana muffins were also being tested for the menu, and as the sweet smell of muffins coming out the oven and milky waffle batter filled the air in the room, I could not help but take a sniff. The prices ranged between VND25,000–45,000 for drinks and VND40,000–60,000 for food.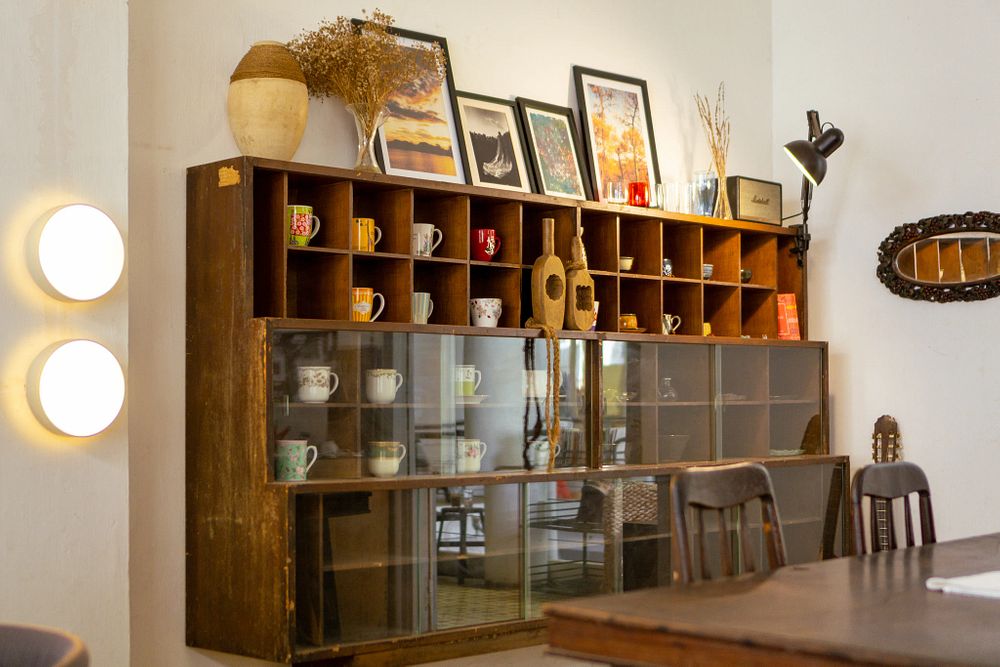 Nhà Phạm is also peculiar in the way it was decorated. It doesn't conform to any definitive style, yet every piece seems to blend in together. The place had an "old" feel to it, but it's impossible to tell which time or culture it's manifesting.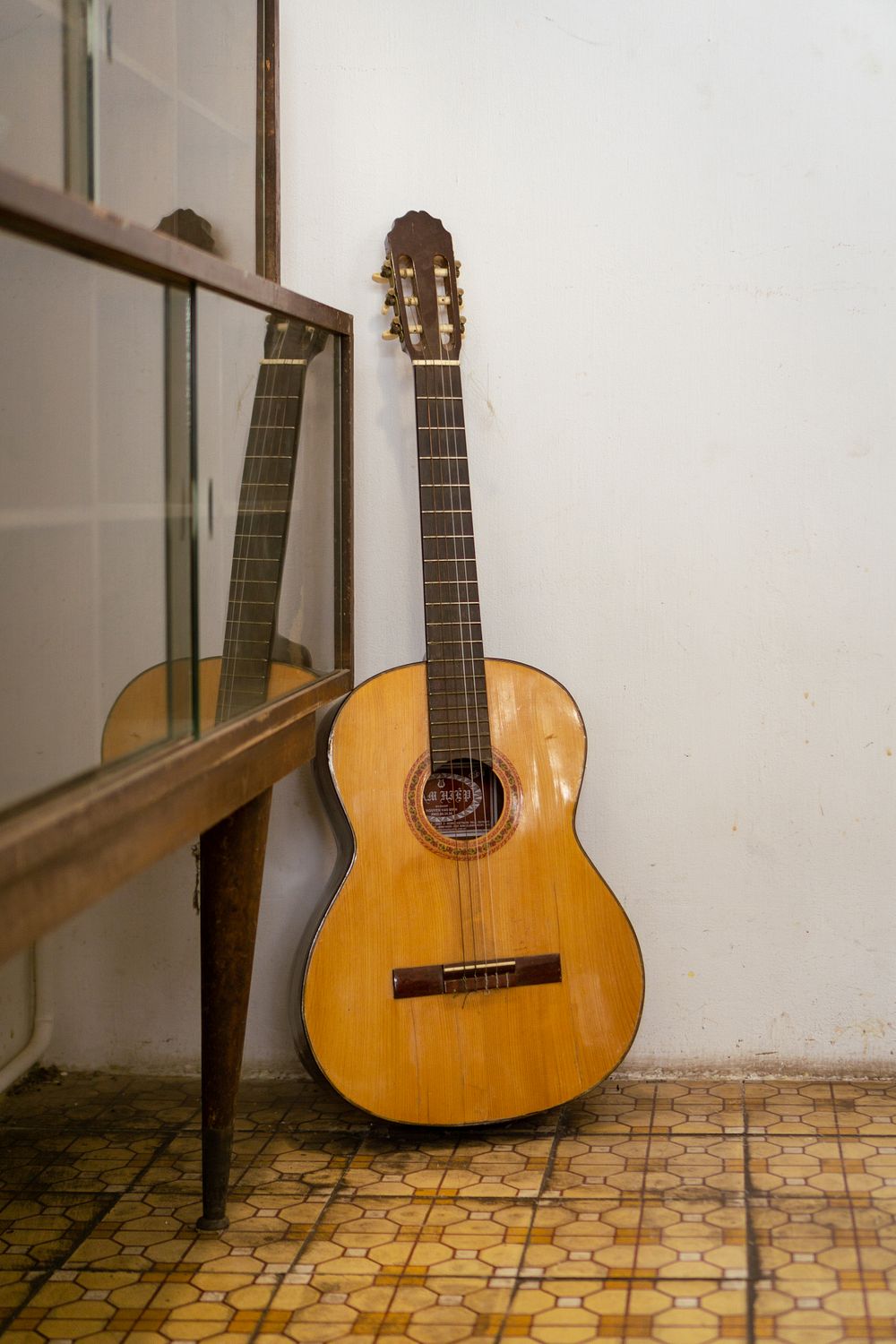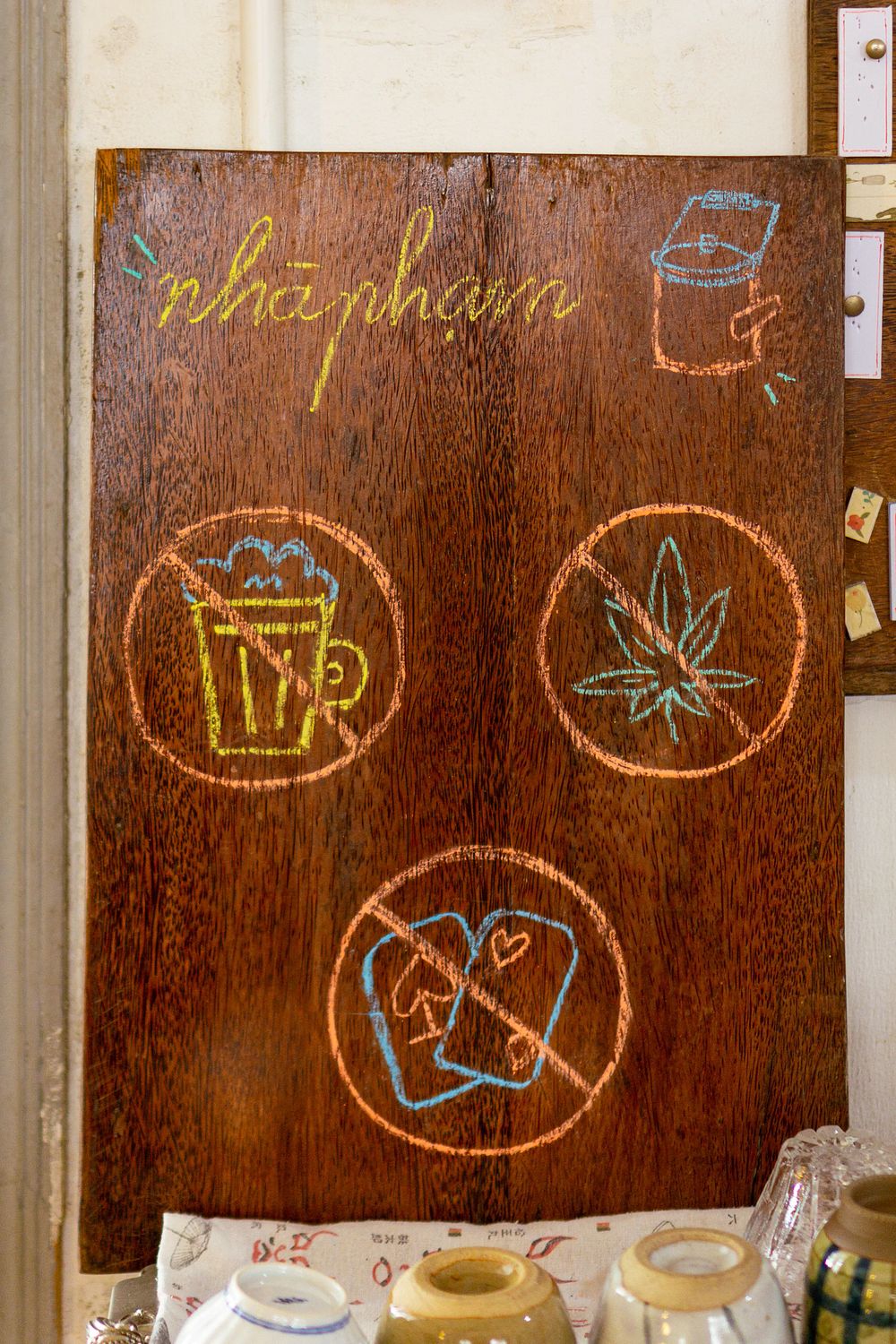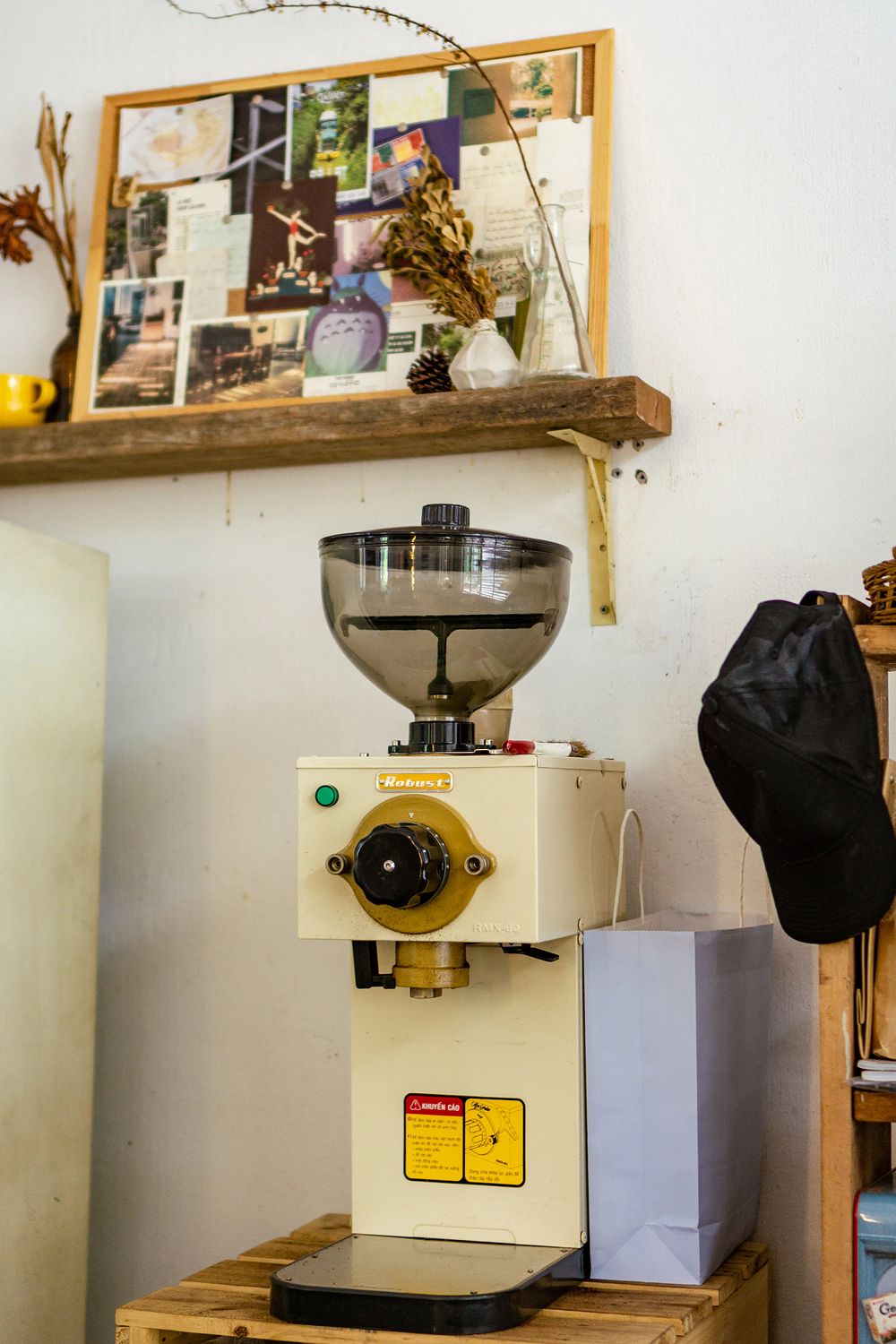 An inspiring space with abundant natural light
In the semi-outdoor area, chairs are placed around the lightwell. The two adjacent flats are fashion stores, both decent and quiet. Block D was formerly called Cộng Sinh (symbiosis), as it used to be a collective of creative studios, recreational centers and small boutiques.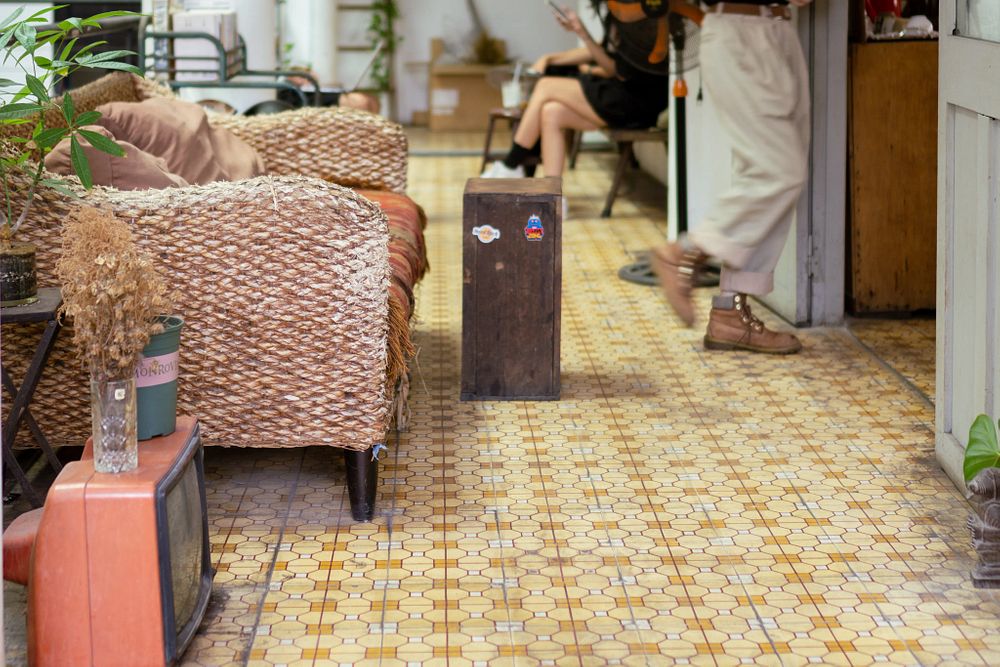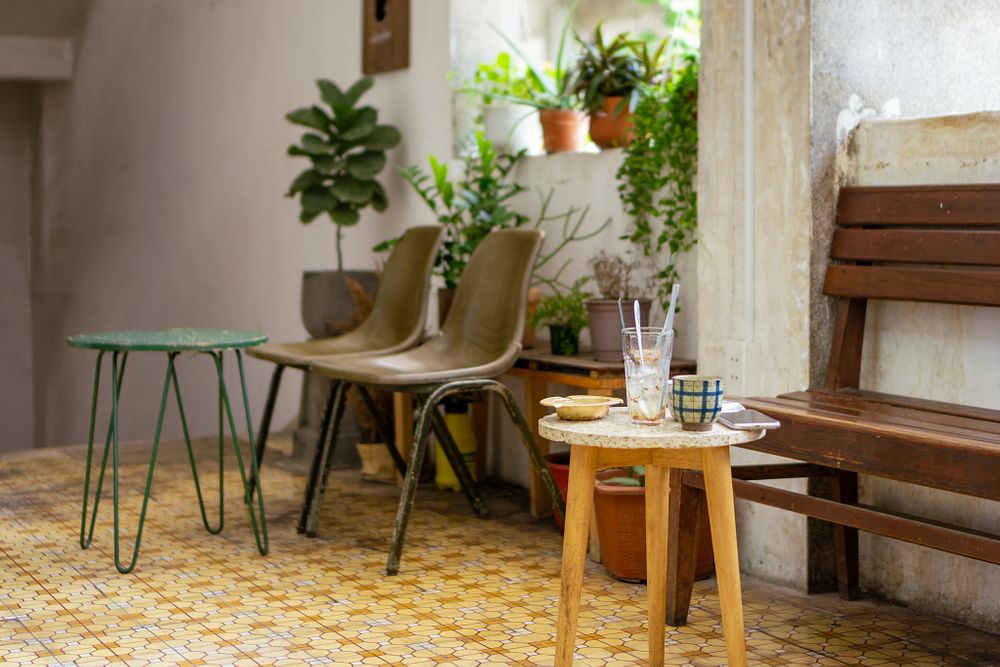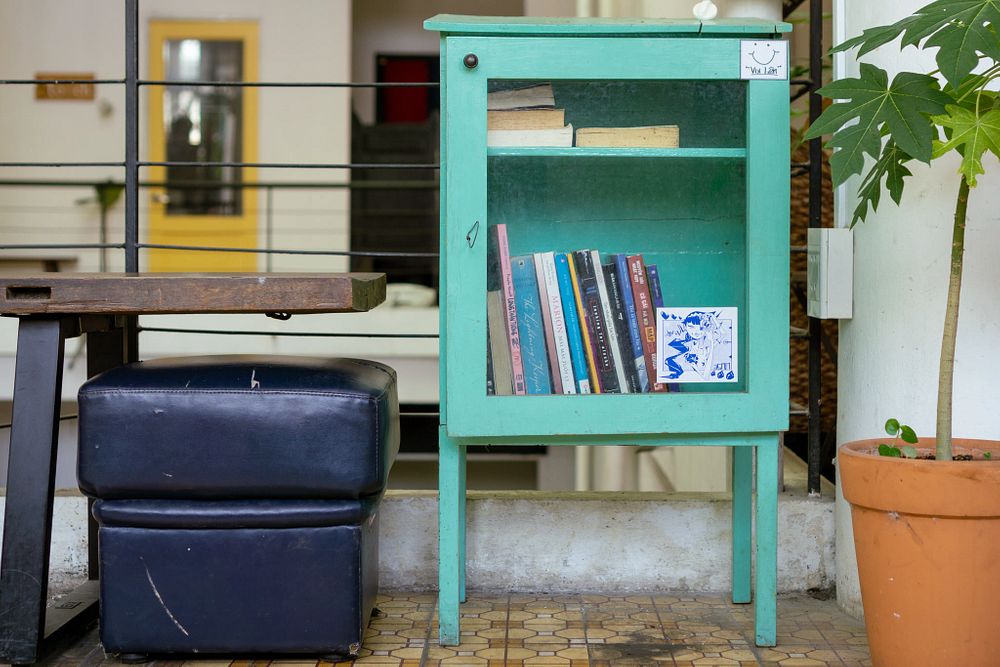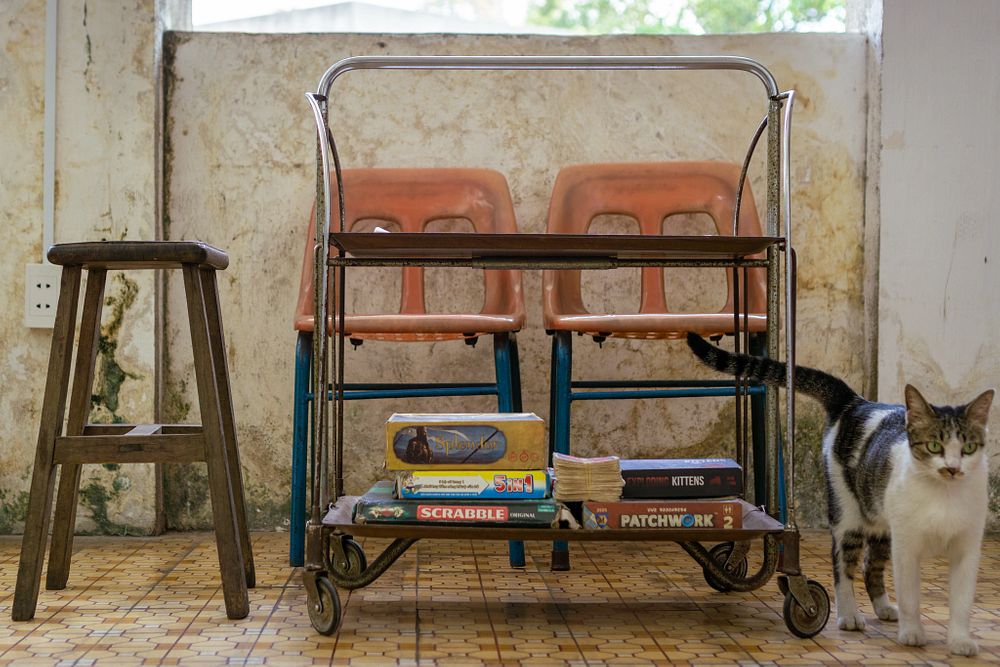 To best experience Nhà Phạm, come in the morning when the city is not yet busy, or in the late afternoon when the sun is setting. Perhaps you'll catch yourself humming to a sweet melody, enough for your soul and mind to relinquish the aches of life. Then you'll be able to return to your authentic self, complete and unique.
The front of Block D faces the junction of Le Van Duyet and Phan Dang Luu streets, near Ba Chieu Market. Looking from here, one can see the interesting contrast between the busy flow of traffic and two rows of tall, straight and green trees right above it. This sight reminded me of my favorite poem by Lưu Quang Vũ:
In a city there is a garden, / Trong thành phố có một vườn cây mát,
In a million there is you with me. / Trong triệu người có em của ta.
Nhà Phạm is open from 9am to 7pm, Tue–Sun.
To sum up:
Taste: 5/5
Price: 4/5
Atmosphere: 6/5 — 3/5 for people sensitive to smoke because there's indoor smoking.
Friendliness: 6/5
Location: 4/5 — VND6,000 for parking.
Cafe Nhà Phạm
1st Floor, Block D, 129 Le Van Duyet, Ward 3, Binh Thanh, HCMC