Sharing a building, Montauk and LP Club might initially appear to be just another cafe and another record store, but their goals are far loftier than selling drinks and vinyl.
I place my highball on one of the tables inside Montauk and head upstairs to LP Club. There, I find two men sitting on a rug surrounded by cardboard, scissors, and stacks of purple CD cases. They laugh and hum along to Japanese city pop as I flip through wooden boxes filled with records. Slowdive, M83, Frank Ocean — I could spend the next three days here without getting bored.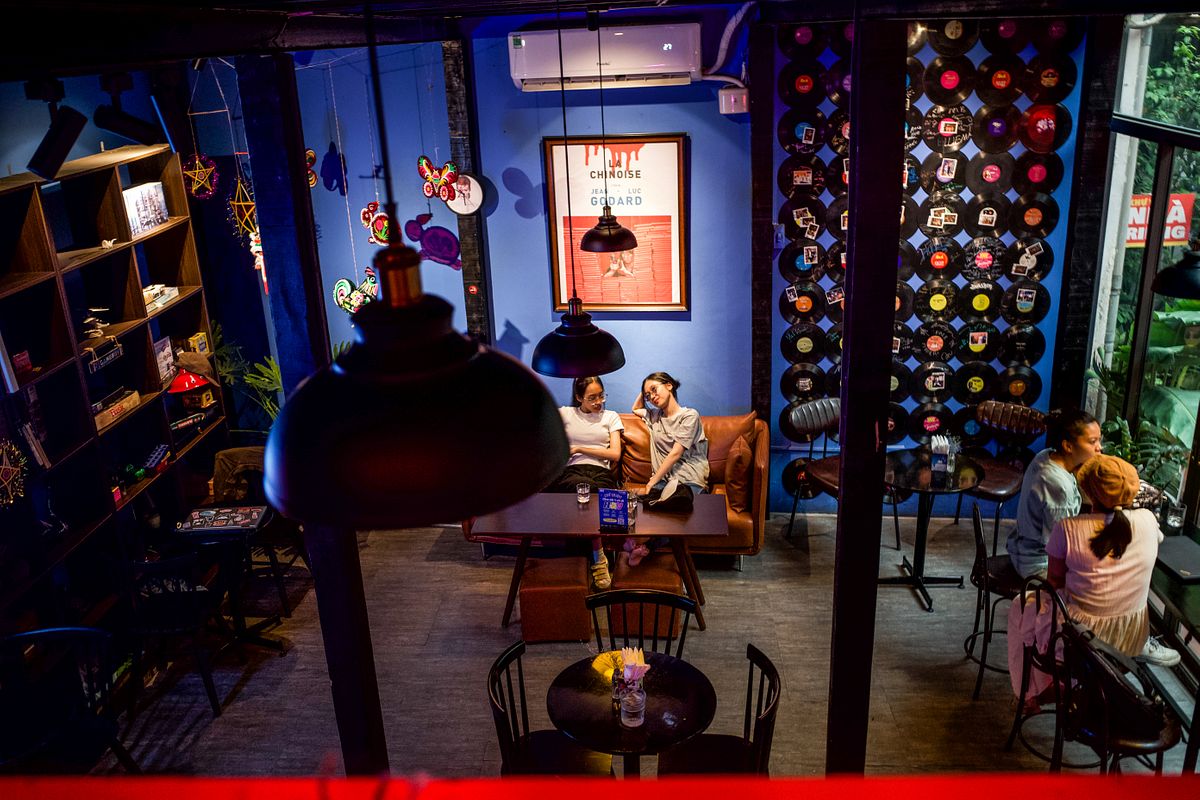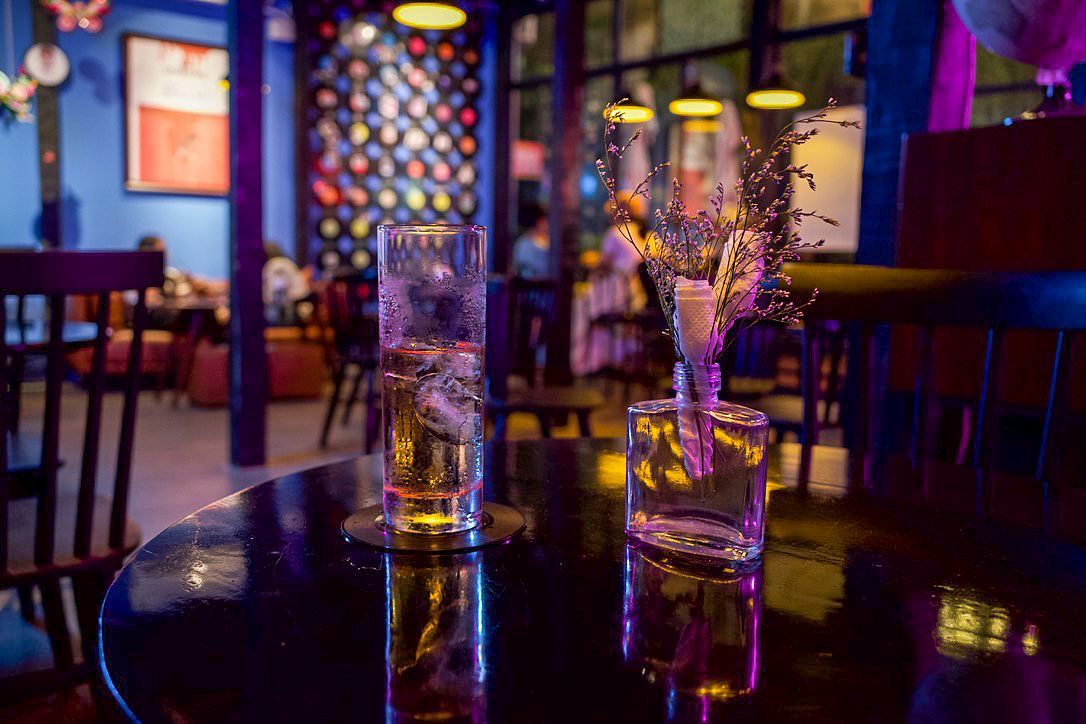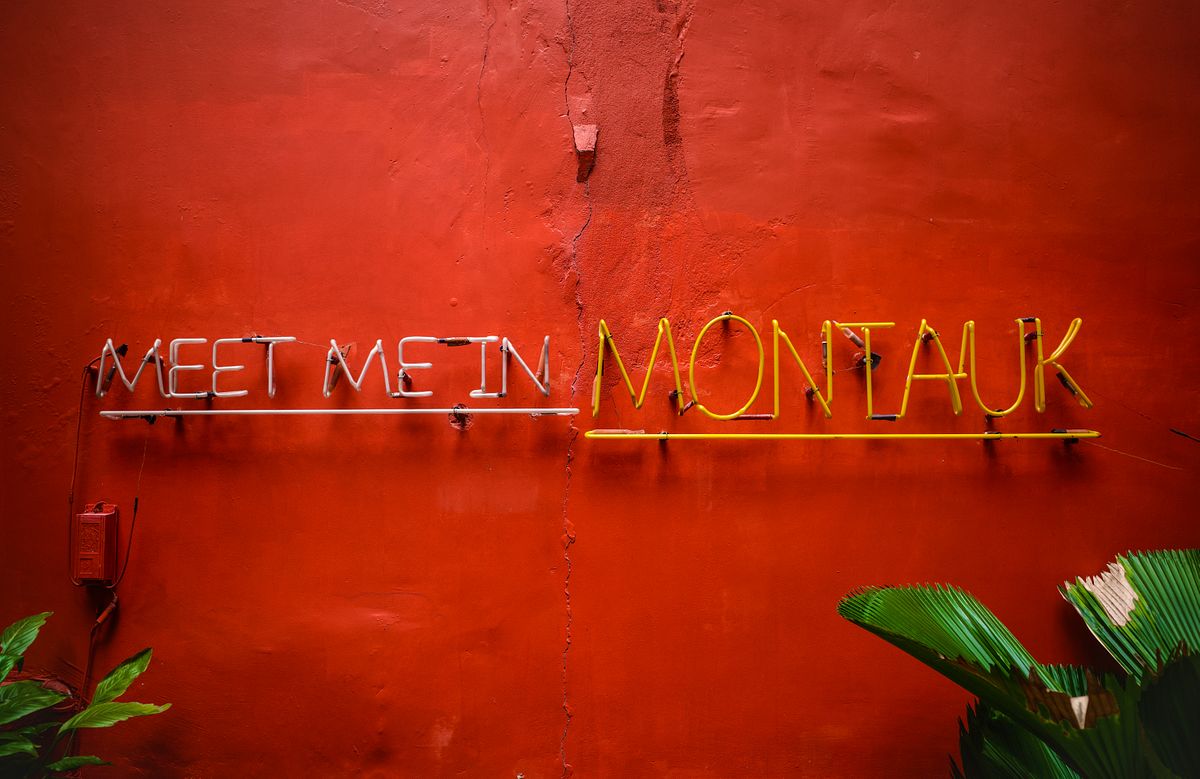 Unfortunately, thanks to Joe Biden's imminent arrival in Hanoi forcing all businesses in Kim Mã to close for the next two days, I only had a single afternoon to spare. Upon learning this, I chug my highball, hop a xe ôm to my hotel, grab my camera, and rush back to Montauk/LP Club.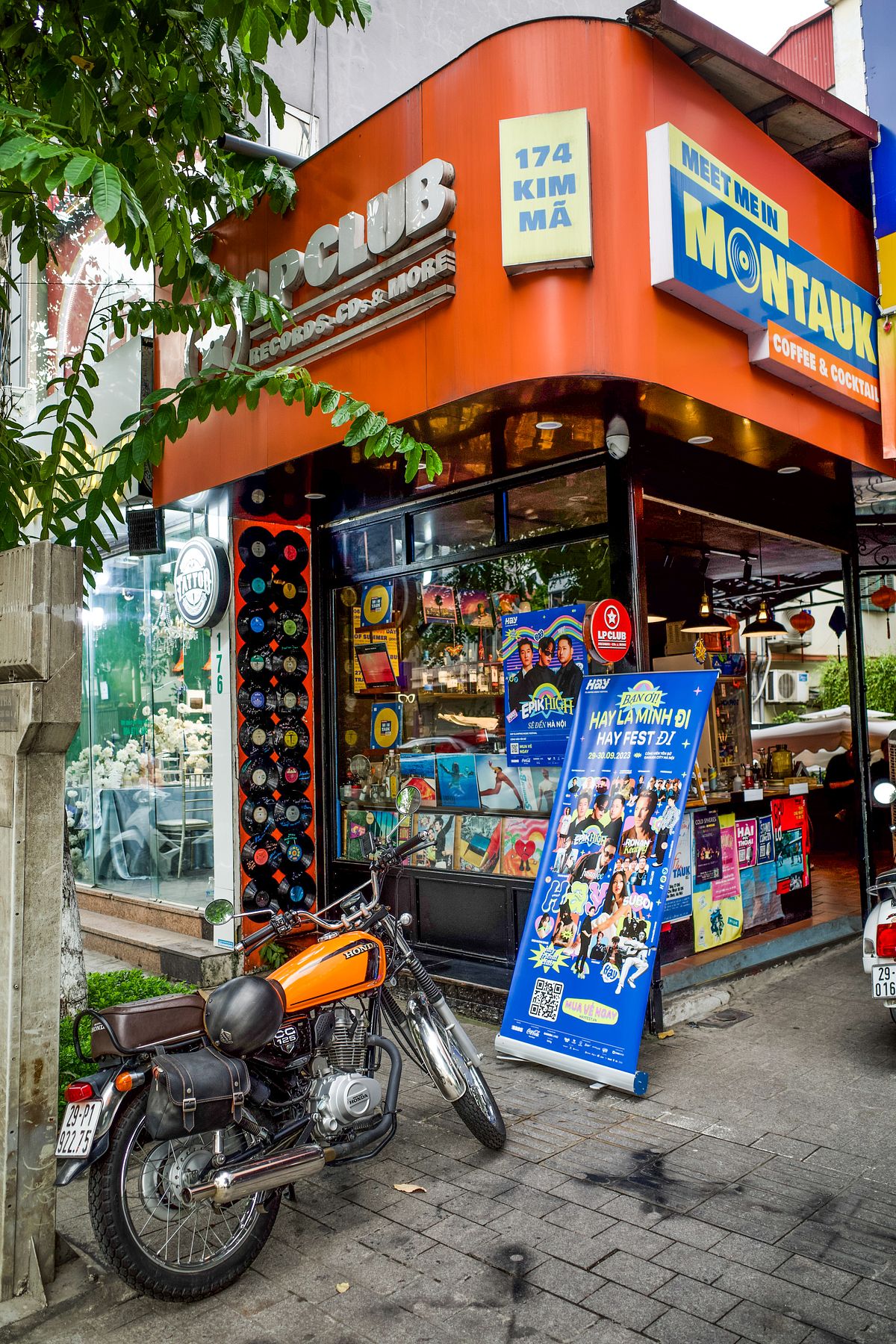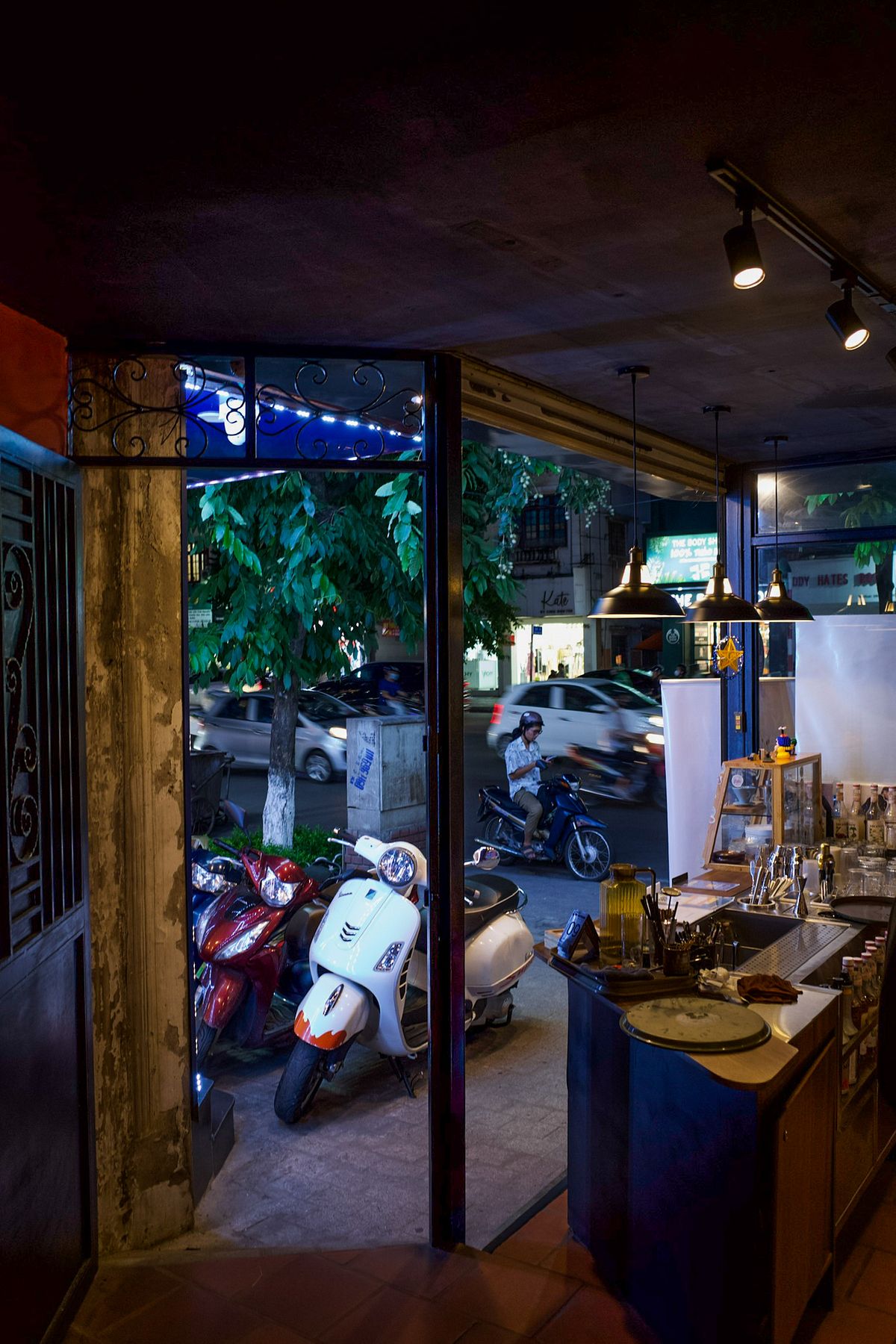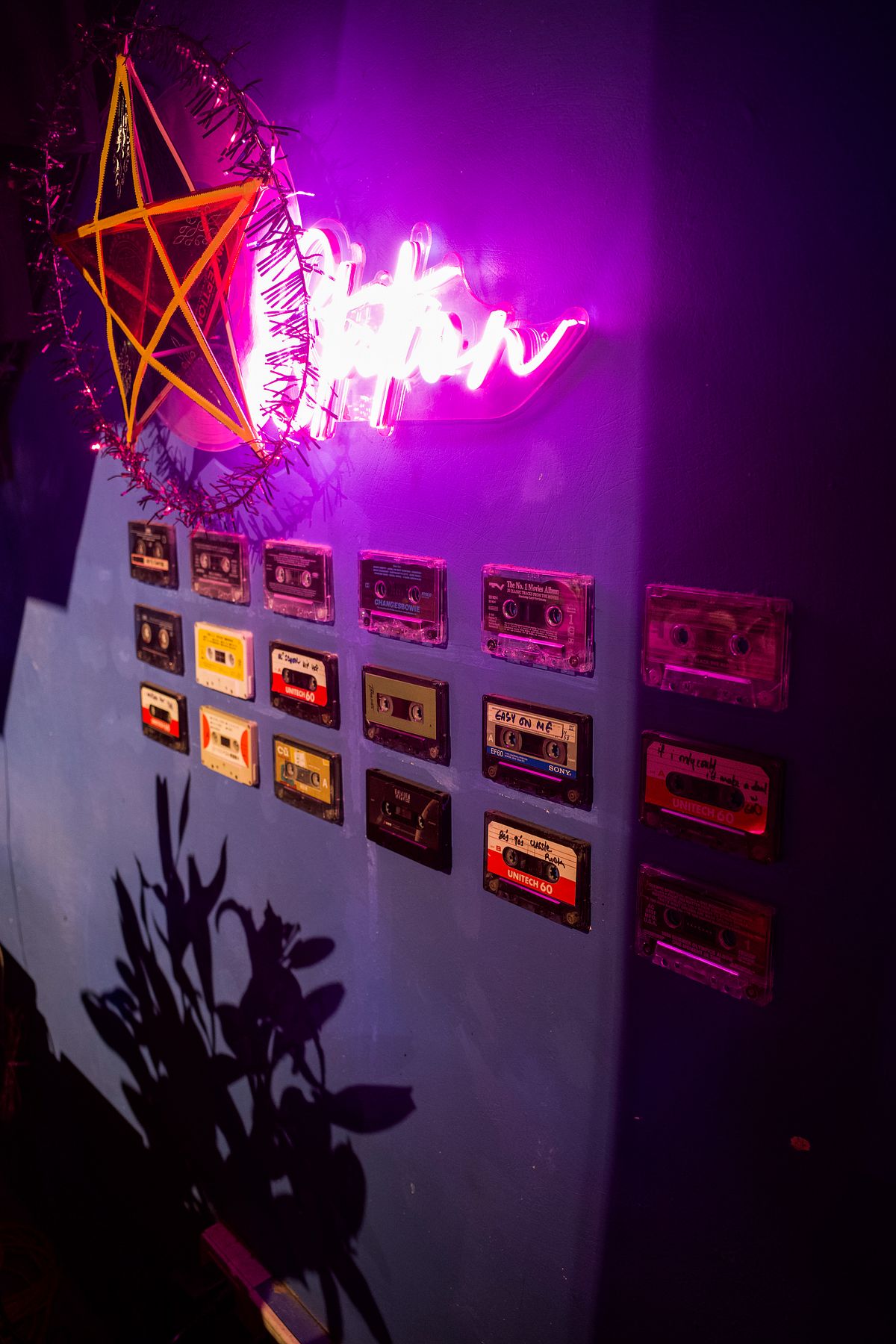 It's a very photogenic space, especially if you enjoy getting lost in small details: a fish tank, vinyl sleeves above the bar, old cassettes stuck to the wall beneath the stairs, anime figurines, mini vinyl drink coasters, local band merch strewn over antique speakers, a shrine hidden behind an upholstered chair, and at least three days' worth of vinyl to flick through.
Montauk is inspired more by 2000s film than by music. The name Montauk refers to the setting of the 2004 Charlie Kaufman movie Eternal Sunshine of the Spotless Mind, and the blue and orange color scheme evokes Kate Winslet's hair and coat combination from that movie. The playlist is as hip as you would expect, mixing the occasional Vietnamese number into mostly western sets. It's a great space to work or just kill a couple of hours chilling to the soundtrack and sipping cocktails, especially if you can nab a place on the sofa.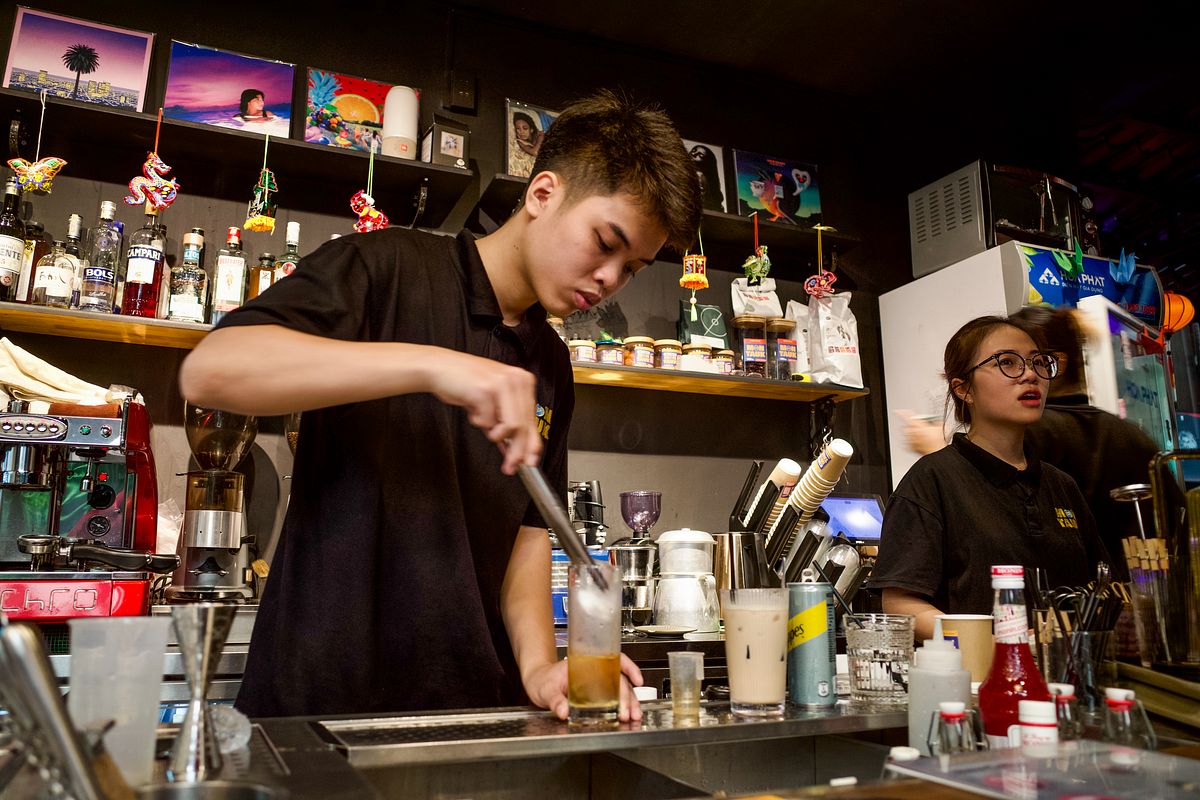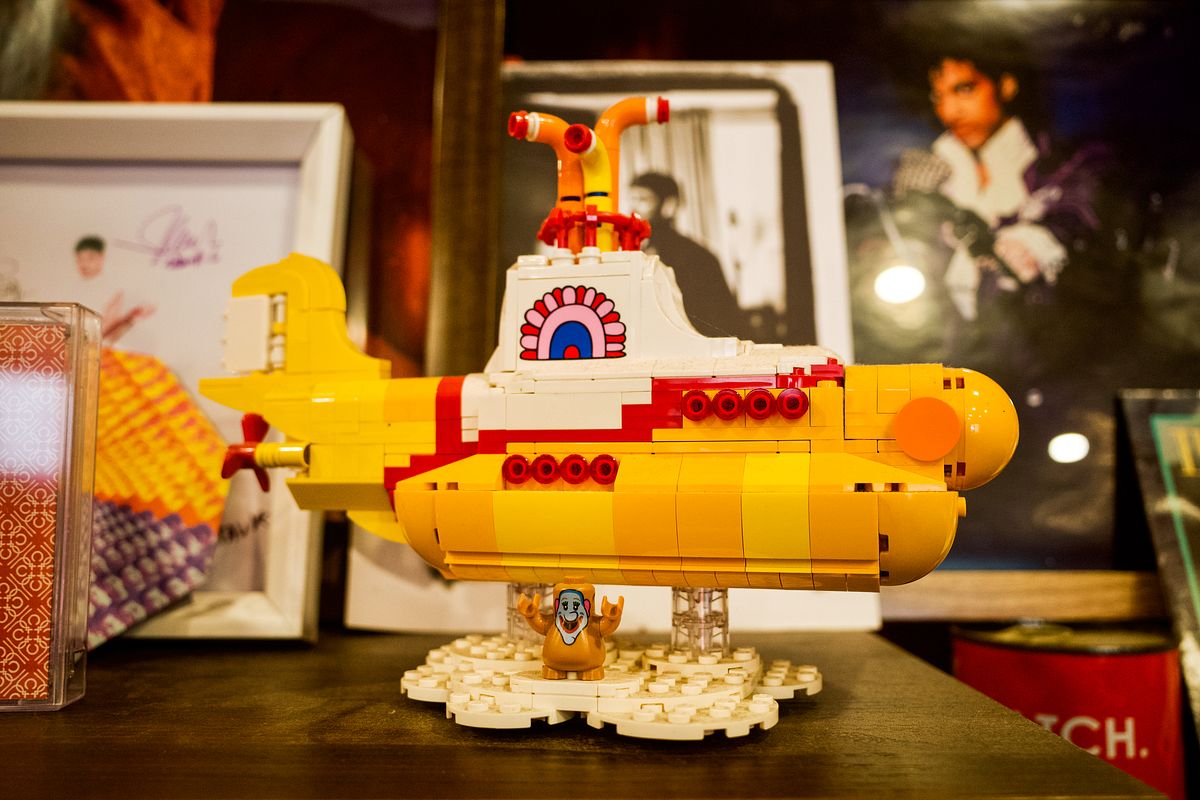 While there seem to be innumerable retro-inspired cafes opening around Hanoi, the goal of Montauk/LP Club is deceptively progressive. Its mission becomes clear when I start speaking to Anh Tú, the owner of LP Club, among the piles of CD cases scattered over the shop floor.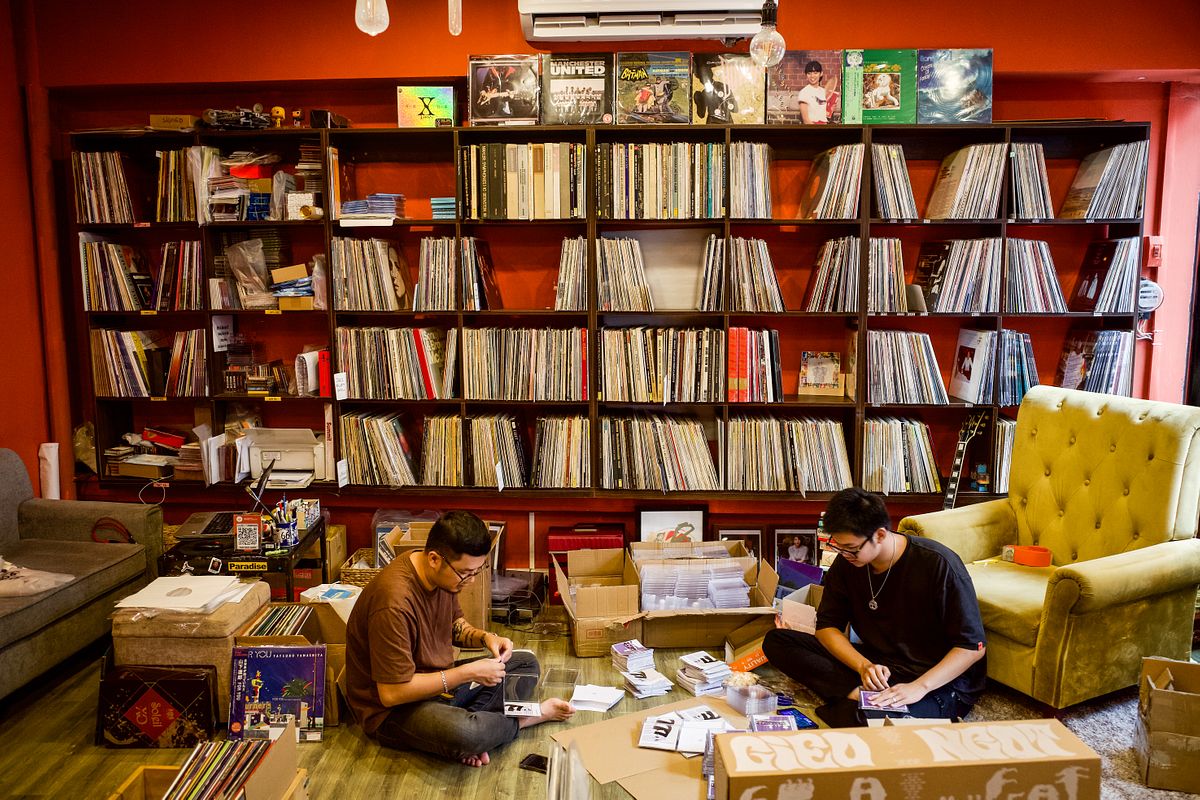 "There have been many record shops opening in Hanoi the last few years, but most have already closed down because they're just record shops. We're able to keep going because we also produce music," Tú explains.
This music production is a joint venture between Anh Tú and Ngọc, the owner of Montauk. Ngọc has spent most of his career working in Vietnamese media where he was able establish vital connections and learn about the music industry.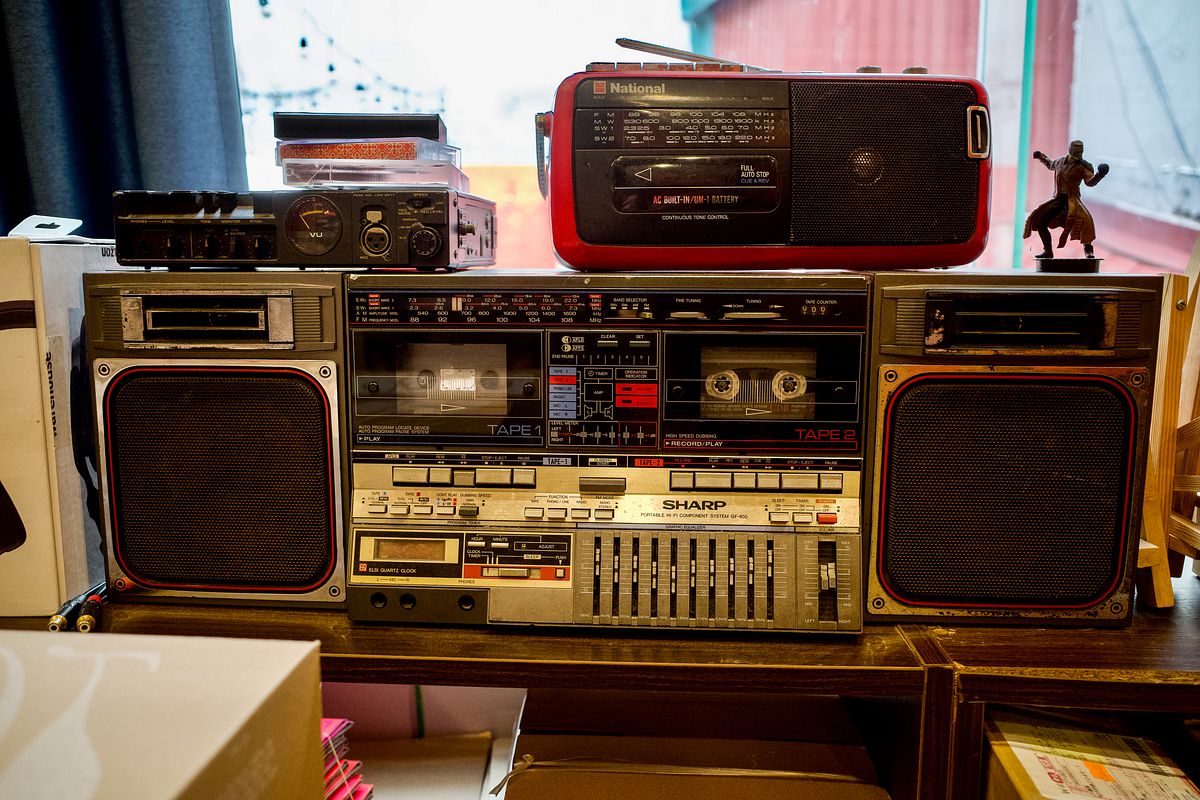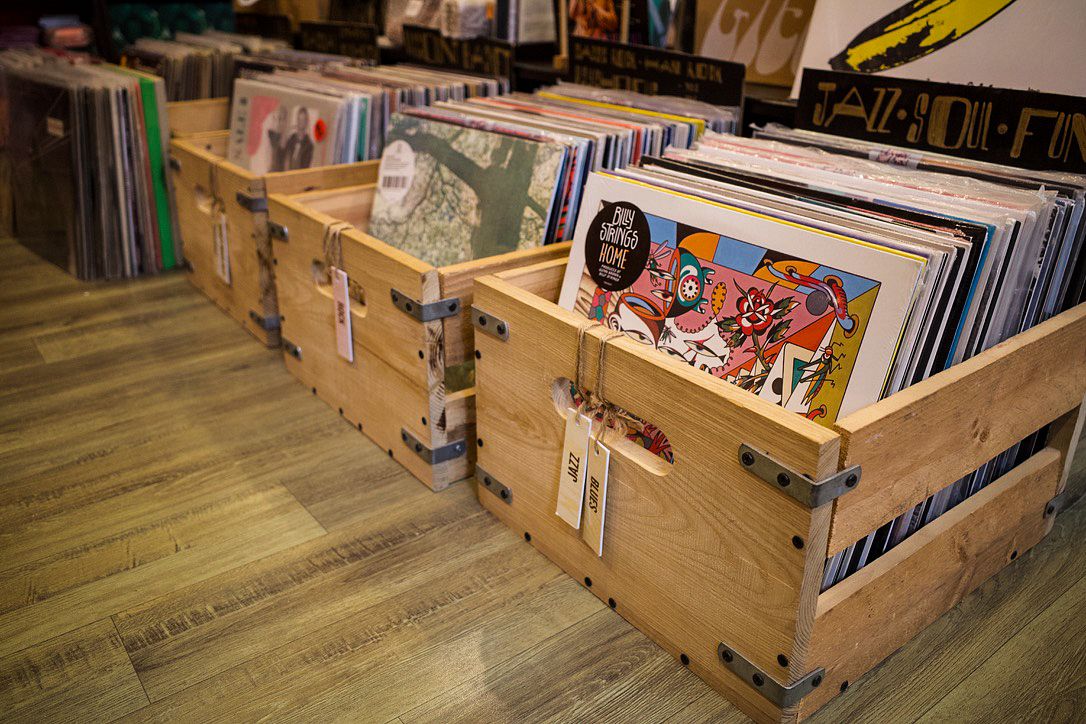 The purple CDs on the floor, Tú explains, are for a Thanh Tùng tribute record by local artist Quỳnh Anh. Tú gladly shows me more CDs that he and Ngọc are producing for other indie acts, one presented in such an elaborate boxset of paraphernalia that he has to point out where the actual CD is.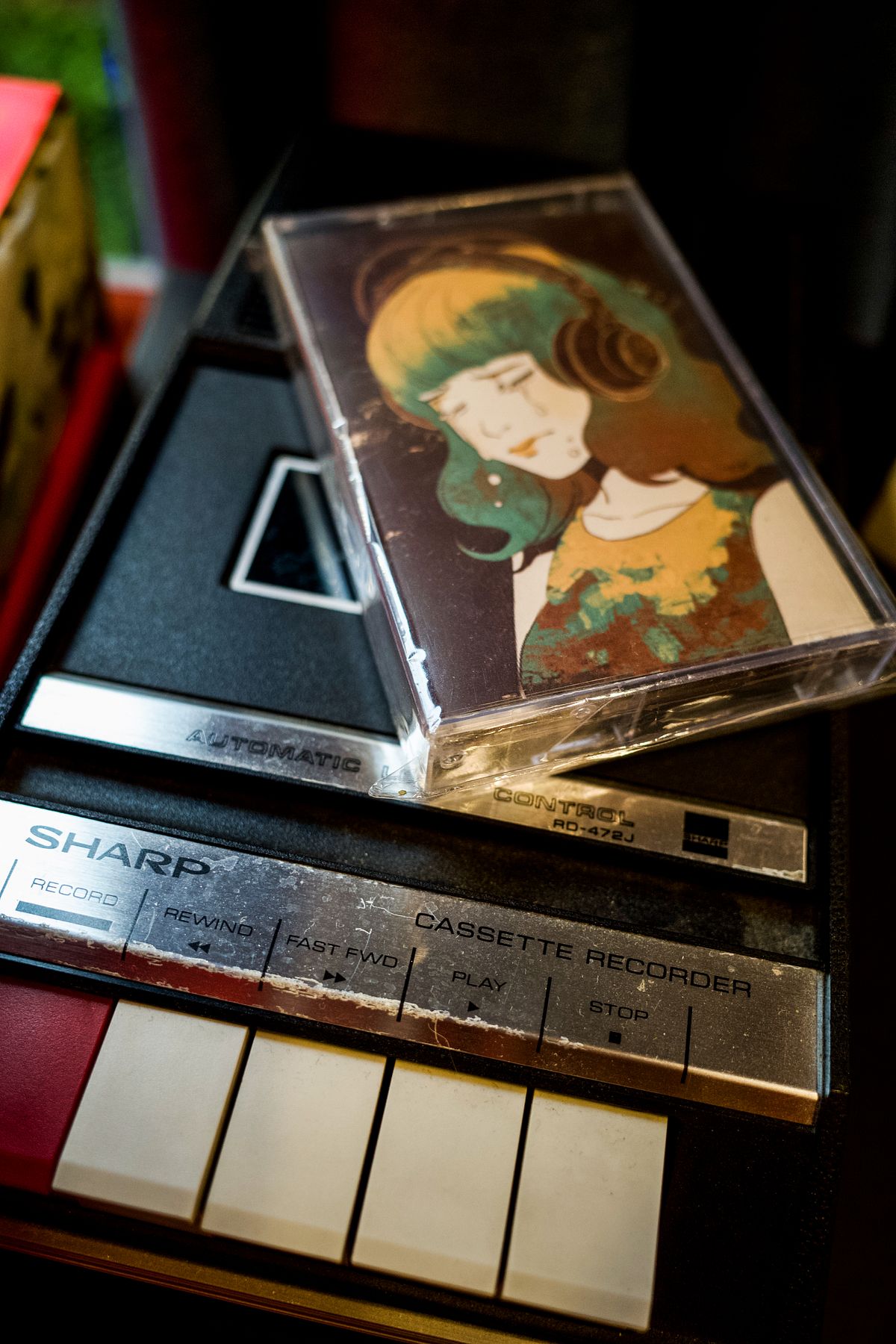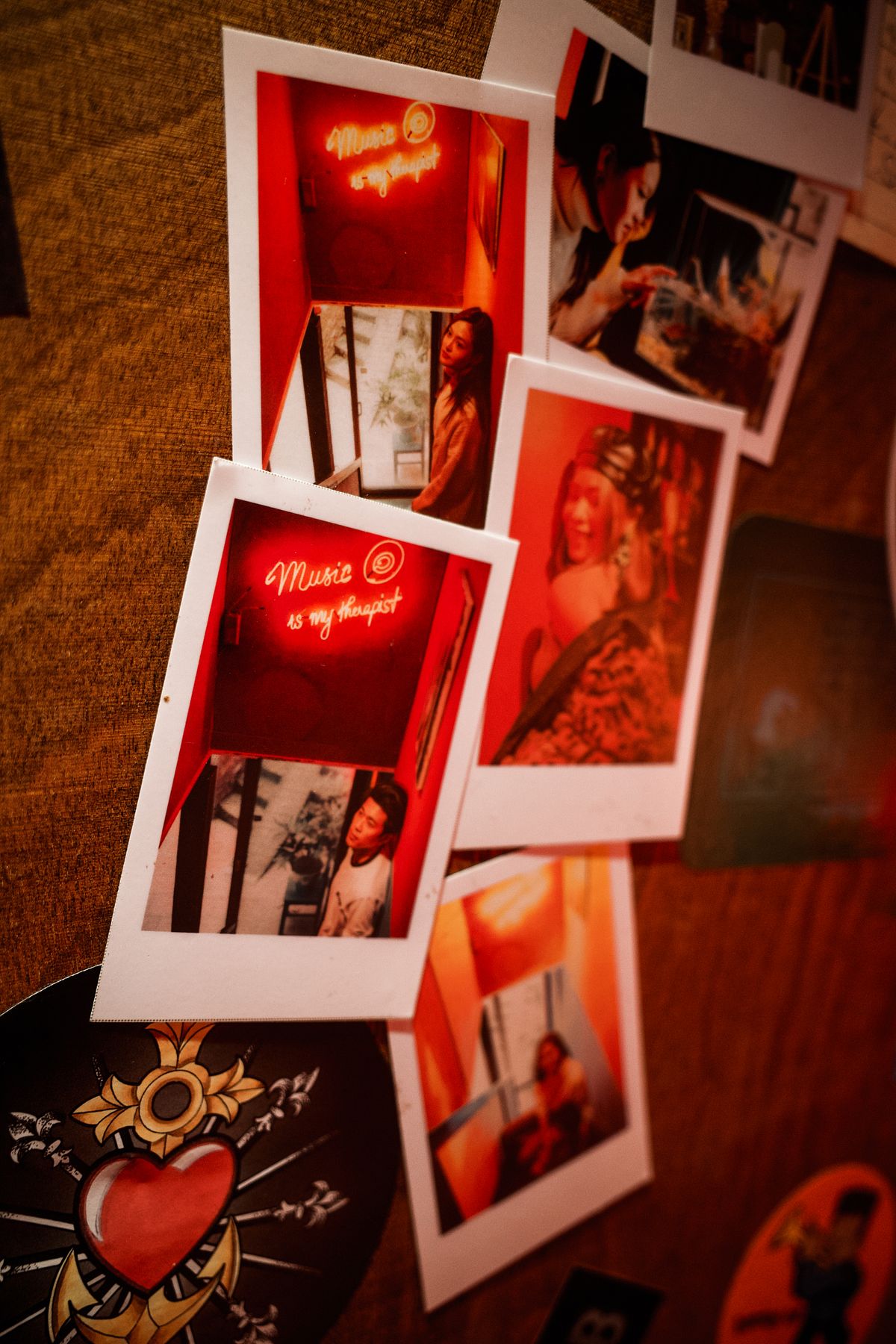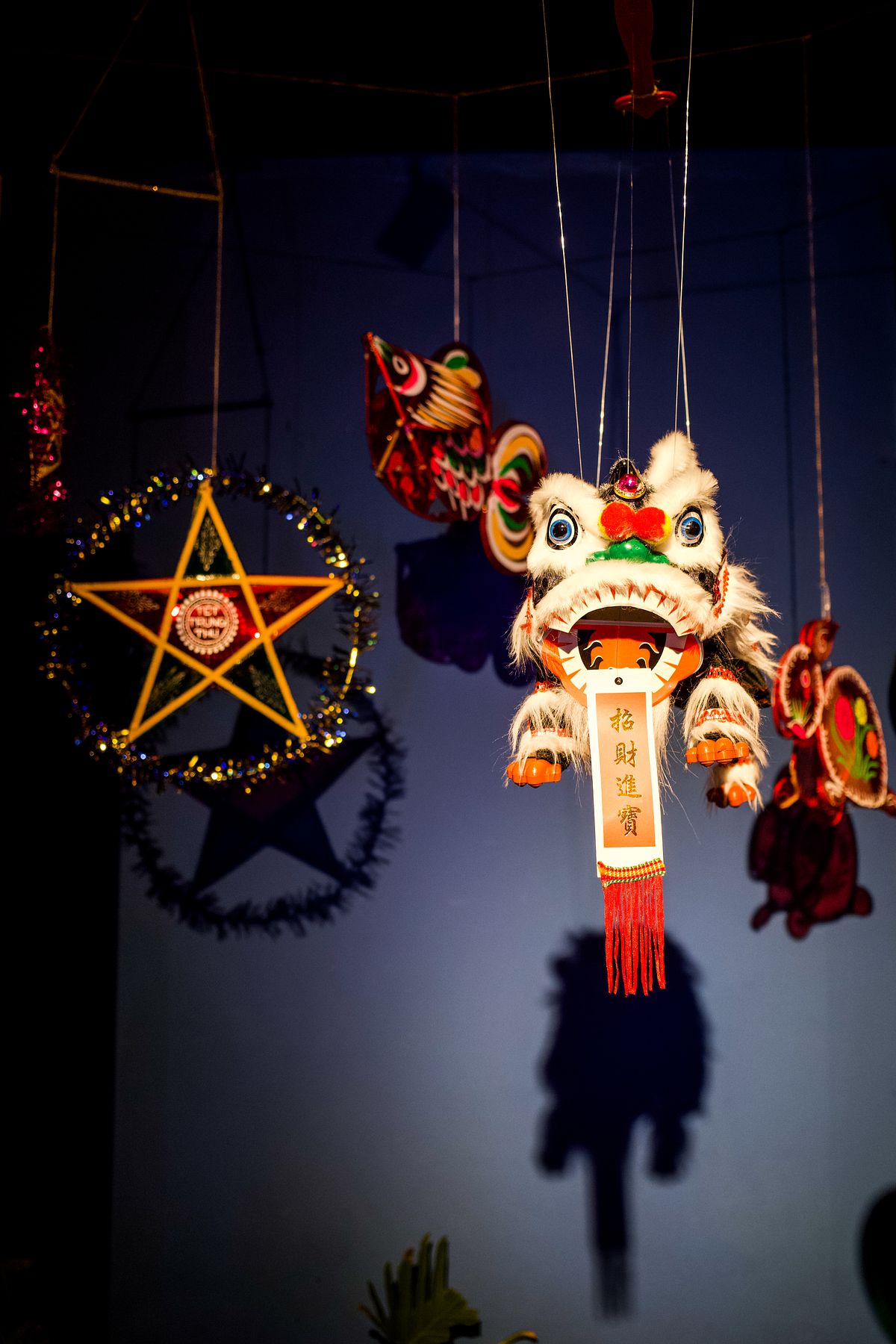 "People want the physical product," he shares. "And sure, this phenomenon is happening all over the world, but it's especially true in Vietnam. This is because traditionally in Vietnam artists don't really make albums — even the most famous ones. And because of this, their fans have no loyalty to them. They don't have real fans, just people who enjoy hit records. So if they put on a concert of just them, I'm telling you, I'm telling you — no one will come. But now indie bands, because they are making albums — not just making albums but also releasing them on CD, vinyl, cassette — they have strong groups of real fans and can sell out their shows."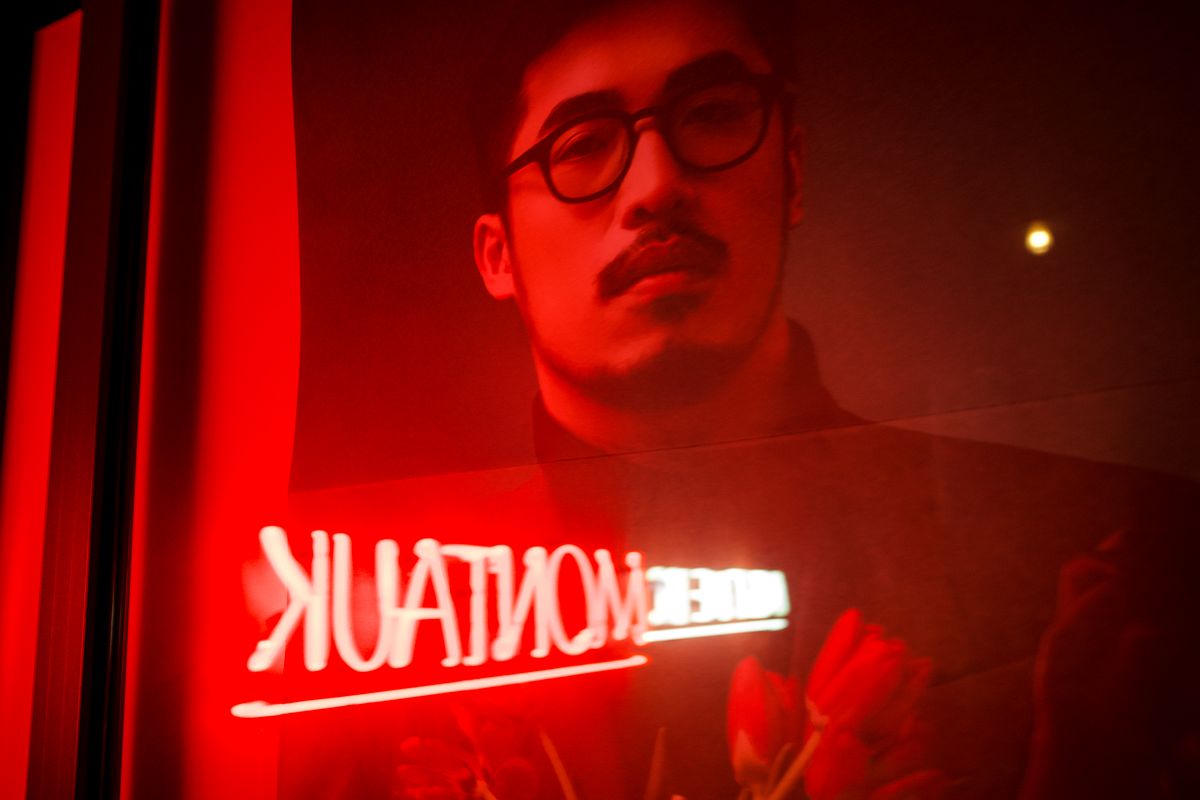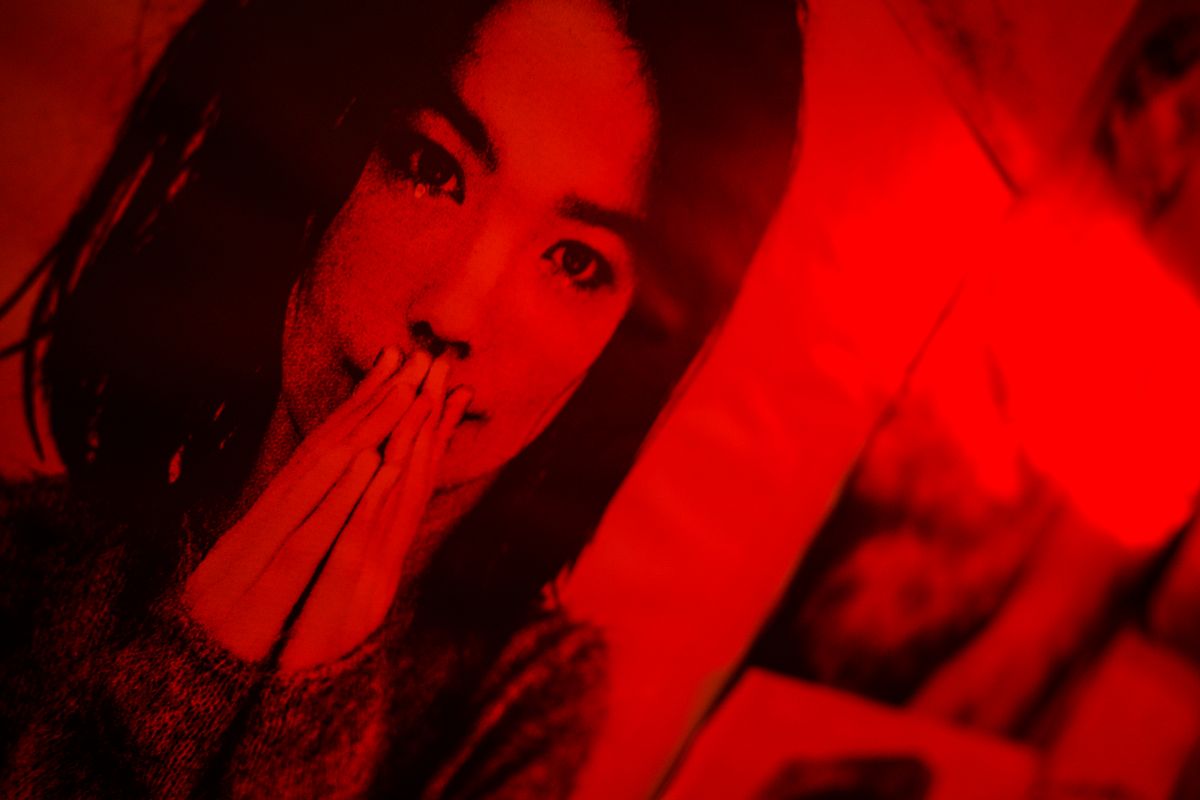 Local musicians can actually hold these shows at Montauk. The owners frequently use the space to stage album release parties. Such events embody the values held by Montauk and LP Club; they are not simply milking nostalgia trends to sell coffee and records, but using their businesses as a springboard for new artists. This in turn gives both of them a stronger foothold within the local indie scene.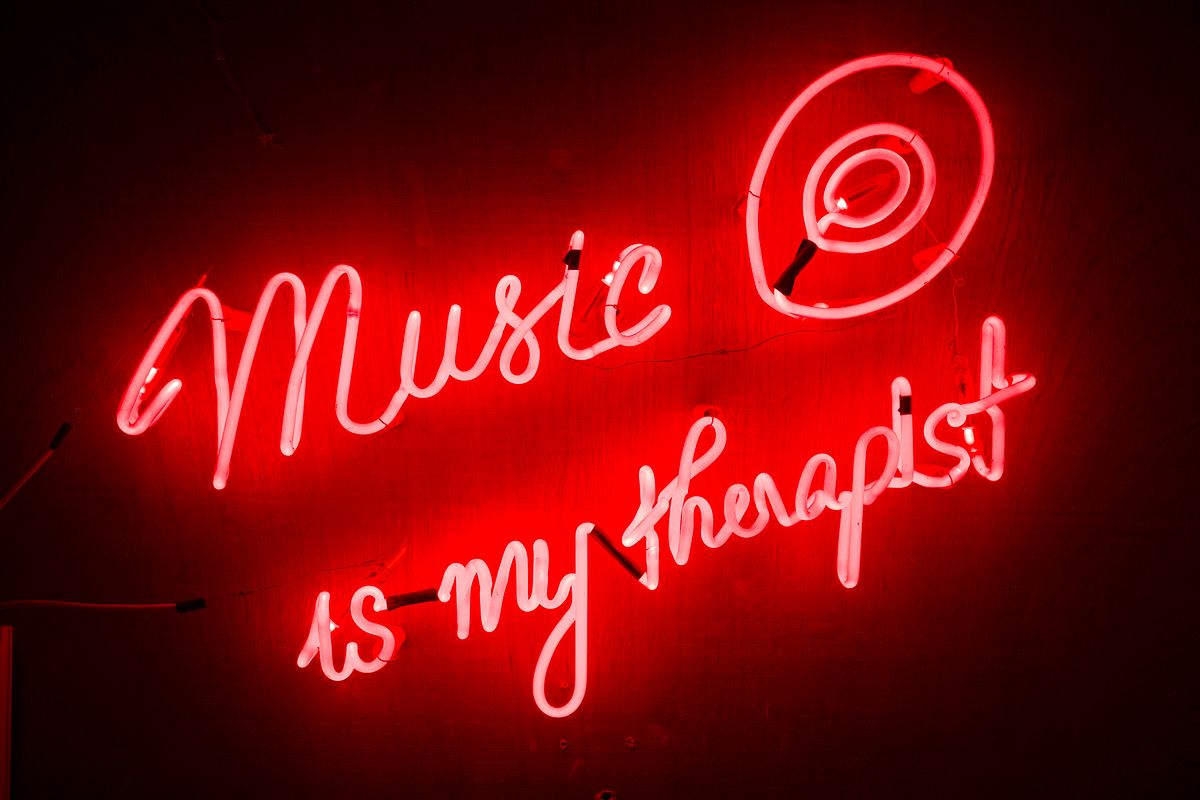 Of course, the music production and album parties would not work if Montauk/LP Club were not simply a cool place to hang out, have a drink, and browse records. Like a lot of the best cafes in Hanoi, it feels like a place that shouldn't exist, like a bubble of calm amid the chaos. Once you set yourself down with your drink, and the music kicks in, and you take a sip and marvel at the retro decor, it feels like nothing could ever tear you away. Nothing except the convoy route of a foreign politician, of course.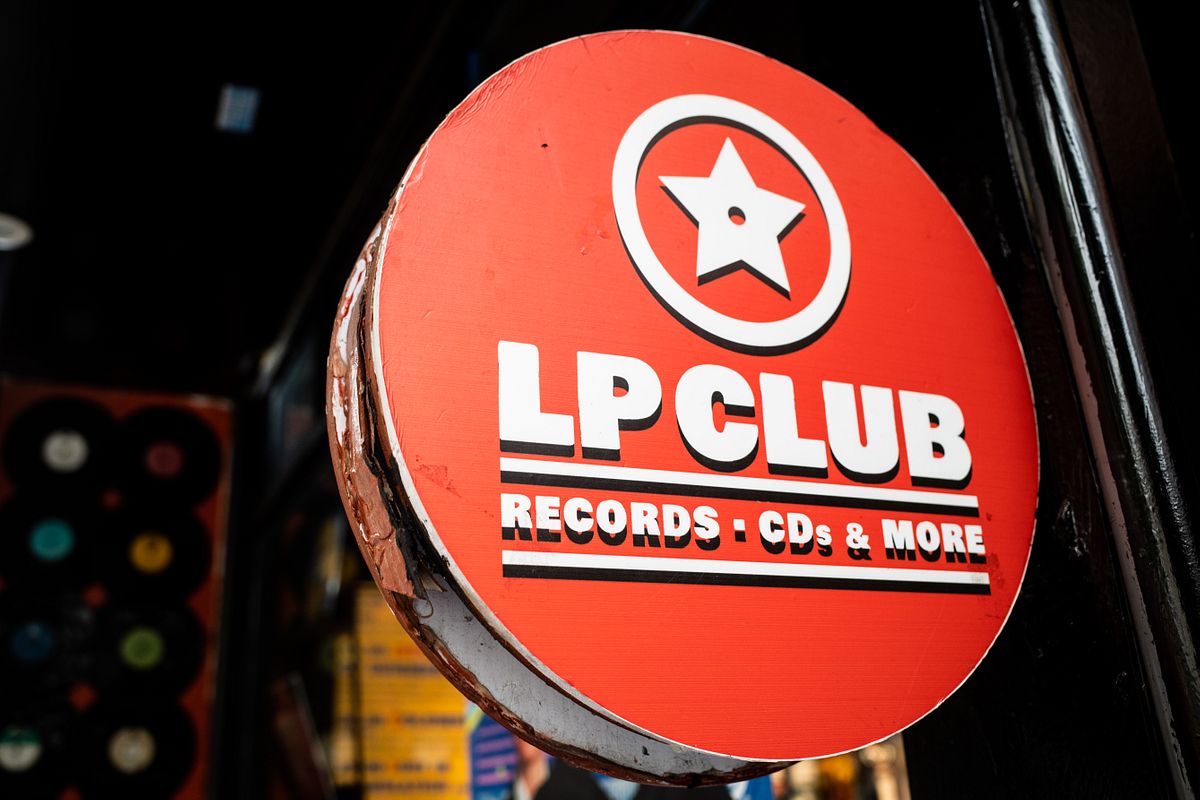 Montauk and LP Club are open from 7:30am to 11:30pm.
Montauk/LP Club
174 Kim Mã, Kim Mã Ward, Ba Đình District, Hanoi