You've probably spotted them before: a black catfish leaping out of the water, people dressed in ancient festive costumes or, most famously, a pack of five tigers staring at you with piercing eyes. These are just a few of the most common subjects of Vietnam's Hang Trong paintings.
Named after one of Hanoi's specialized streets, Hang Trong paintings belong to one of Vietnam's dying arts. These festive and vividly eye-catching tapestries became popular from the end of the 19th century through the start of the 20th century. Hang Trong Street is part of an artisan neighborhood in the capital that produces altar paraphernalia: drums, Dao Mau paintings, metallic wares, etc.
In the past, Vietnam's rich sense of spirituality brought ample business opportunities to the artisans of Hanoi's Hang Trong, Hang Non and Hang Hom streets. Artwork like the paintings from Hang Trong and Dong Ho Village used to be highly sought-after items during festive occasions like Tet, the mid-autumn celebration and more.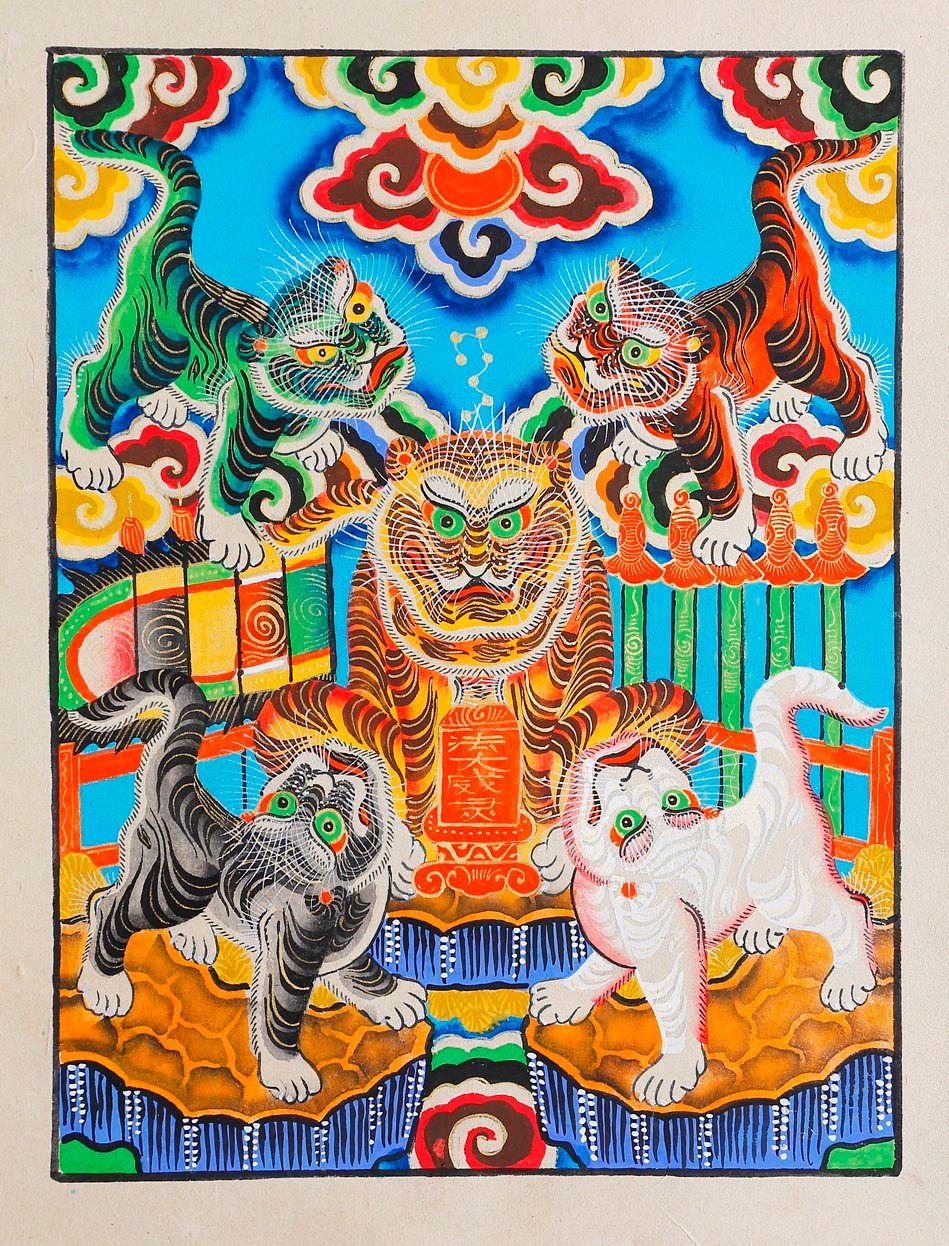 Alas, as society progressed further away from those short decades around the end of the 19th century, the heyday of Hang Trong artworks came to an end. In today's Hanoi, there's only one Hang Trong artisan left, Le Dinh Nghien, who's been trying to pass down the craft to his son. While the future of Hang Trong's art pieces remains murky, thanks to a recent restoration project by a group of young Vietnamese, public interest in these vibrant works has been renewed in recent months.
The project in question is an art reference book titled Hoa Sac Viet Tu Tranh Hang Trong, which aims to digitize design elements from ancient Hang Trong works to aid creative professionals in replicating the art form's distinctive style in future projects.
Hoa Sac Viet is the brainchild of S River, a group of art enthusiasts formed by leader Trinh Thu Trang. Trang is a teacher at the Hanoi University of Architecture, and the art book began as her pet project. However, Hoa Sac Viet has since transformed into a full-fledged campaign that has garnered great interest from designers and the public alike.
Speaking with Saigoneer, Trang reminisces about her childhood while living in Hanoi and coming across Hang Trong paintings everywhere.
"Born and raised in Hanoi, I adore and have a close connection with traditional cultural values of old Hanoi, which have more or less become obsolete or even completely gone," she said in an email to Saigoneer.
She added: "Among these values, Hang Trong paintings – the unique painting style of urbanites in old Hanoi – stand the risk of being forgotten as the demand for spiritual and cultural art forms have changed a lot over the years."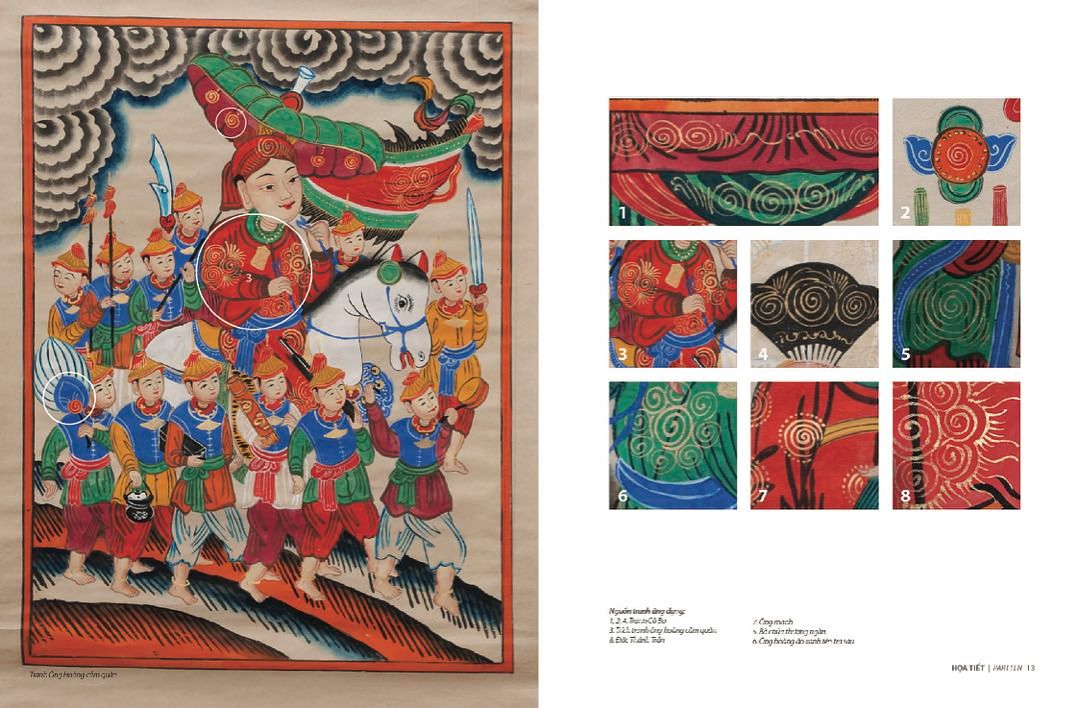 The seed of Hoa Sac Viet was sown when Trang chanced upon artisan Le Dinh Nghien, who showed her his oeuvre, including "breathtaking tapestries reaching 1.5 meters with bold colors" as well as "a highly contrasting way to use hues."
With an eye for design, Trang grew to appreciate the vivid palette and realized that the Hang Trong painting style has immense potential for design applications. The first meeting with Nghien was history; since then, the architecture lecturer has assembled a team of like-minded young creatives to actualize the plan: turning Hang Trong paintings into a rich source of design motifs and color schemes.
According to S River, in the book, the data procured from the paintings "will be digitized into color-coded, vector-patterned [sic]. Color-matching instructions and practical products will also be delivered for graphic designers, fashion designers, interior designers and handicraftsmen."
Late last year, S River launched a crowdfunding campaign on Comicola to take Hoa Sac Viet one step further. They sought to attain VND150 million to get the book published, but by the deadline, the campaign's performance exceeded the group's expectations, as they collected VND185 million in total.
This goes to show that despite a decline in popularity of the craft, Hang Trong – as purely an art form – can still garner a sizeable following. If things go according to plan, Hoa Sac Viet will be published this March as a bilingual book in both Vietnamese and English.
Once the book hits shelves in bookstores across Vietnam, S River hopes to take their work to another level: releasing merchandise featuring design elements. Browsing through Hoa Sac Viet's crowdfunding campaign page or other press materials, one might notice a plethora of products with Hang Trong patterns, such as the elegant handbag in the top photo.
Unfortunately, if you've fallen for any of the items on display, you're bound to be disappointed as they are just product mock-ups created by S River members to showcase the design potential of the project.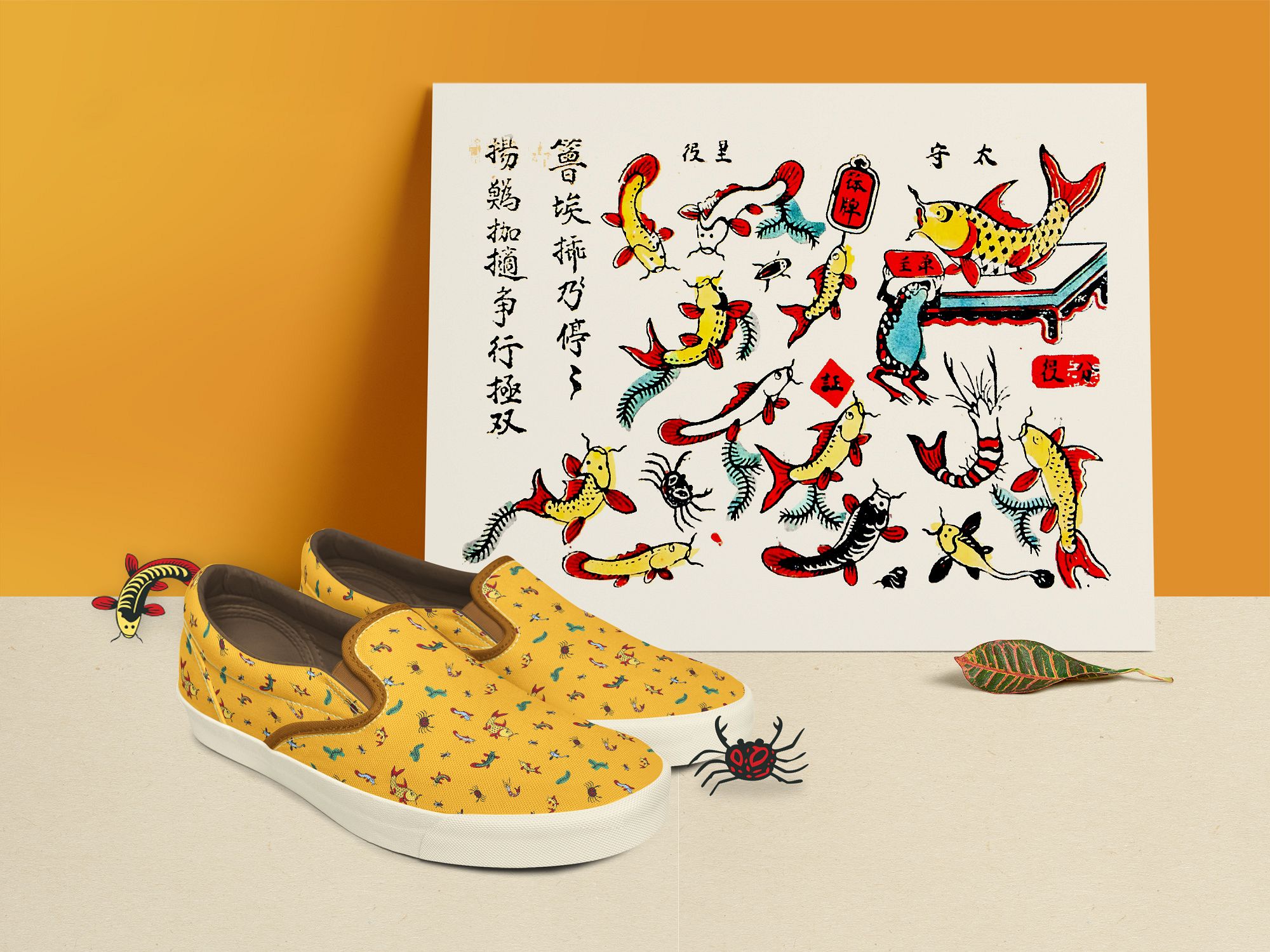 "When we posted this image [of the pair of shoes] on the Hoa Sac Viet page, it's funny that some fans thought that it's a real product and even asked where to purchase it," Trang said. "This encounter shows that S River's mock-ups can be easily applied into daily life."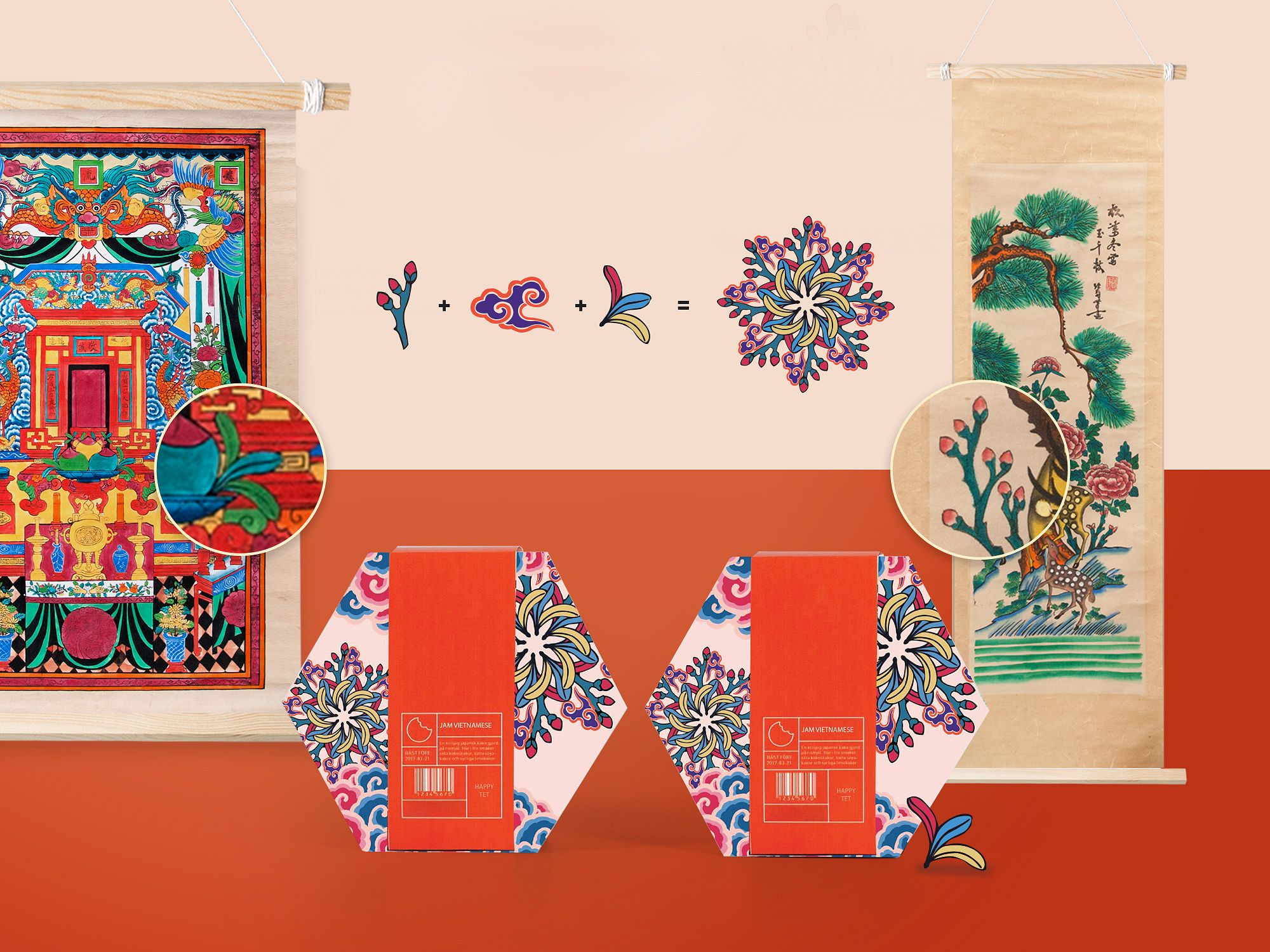 The range of potential applications for Hang Trong design elements can be observed in several product mock-ups, for example when the team blended the painting 'Con Nai' (The Doe) and an altar tapestry with a tray of Tet treats. Illustrators took a few details from traditional paintings – the flower bud, the cloud and the young leaf – to design the package for the tray.
With only two months left until Hoa Sac Viet hits bookstores nationwide, S River is currently finalizing the digital manuscript of the book for submission to get a publishing license.
Visit the project's Facebook page here for the latest news regarding Hoa Sac Viet's progress. If you happen to be in Hanoi from now until January 25, drop by the Ca Chep Bookstore to see for yourself how Trang and her team are preserving Hang Trong paintings through their project. Click here for more details on the event.
---

Related Articles:
---