Details

Published on Saturday, 14 April 2018 13:00
Written by Saigoneer. Photo by An Du.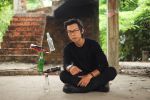 The level of talent involved will make you feel self-conscious about your past failures at Jenga.
You've heard of Kokei Mikuni, Japan's rock balancing extraordinaire, who is capable of crafting physics-defying sculptures from pebbles and river rocks. Now, get ready for Vietnam's own balance "magician," Saigon's own Ly. On social media, he's better known by the simple moniker "Chú Lý Chơi Xếp Hình" (Ly who does puzzles).
Like Mikuni, Ly is able to toy with gravity and create – quite literally – breathtaking artworks from common objects: in this case, glass bottles and even ceramic containers. Apart from years of practice and an unimaginable amount of patience, for the artist, the most important factor determining whether the work will take shape is inner calmness.
Ly's pieces are both extraordinary for their difficulty and fleeting existence: an erring breeze could reduce hours of effort into a pile of broken glass. Nonetheless, we're sure that for appreciators of Ly's unique art form, transience is exactly what makes these bottle towers stunning.
Have a look at Ly's works in the video below:
---

Related Articles:
---