Đỗ Trọng Quý's first solo show in Hanoi at Mo Art Space (136 Hang Trong), "One Endless Summer," presents 26 of his most recent works during the past year.
This series of oil paintings curated by Đỗ Tường Linh represents the artist's exploration of still life as landscape paintings through figures and forms of toys. In an ambiance filled with dim, yellow light, Quý's toys appear theatrical, almost as if he is trying to narrate sentimental scenes.
A short conversation with the artist
Born in 1994, Hanoi-based Đỗ Trọng Quý has enjoyed painting and making little toys.
When he was a little boy, his mother made him go to art classes even though he did not like them. Later, in his teenage years, he found his passion for skateboarding and even dreamed of becoming a professional skateboarder. The goal gradually directed him toward western trends and styles, influencing Quý's unique expression in his high school years at the Hanoi College of Arts.
When he got into the Vietnam University of Fine Arts, he tried to integrate himself into the local art community and become dedicated to painting. He gave up skating to pursue art professionally. Since his junior year, he has established a close collaborative relationship with Dong Phong Gallery (3 Ly Dao Thanh), one of Hanoi's longest-running galleries.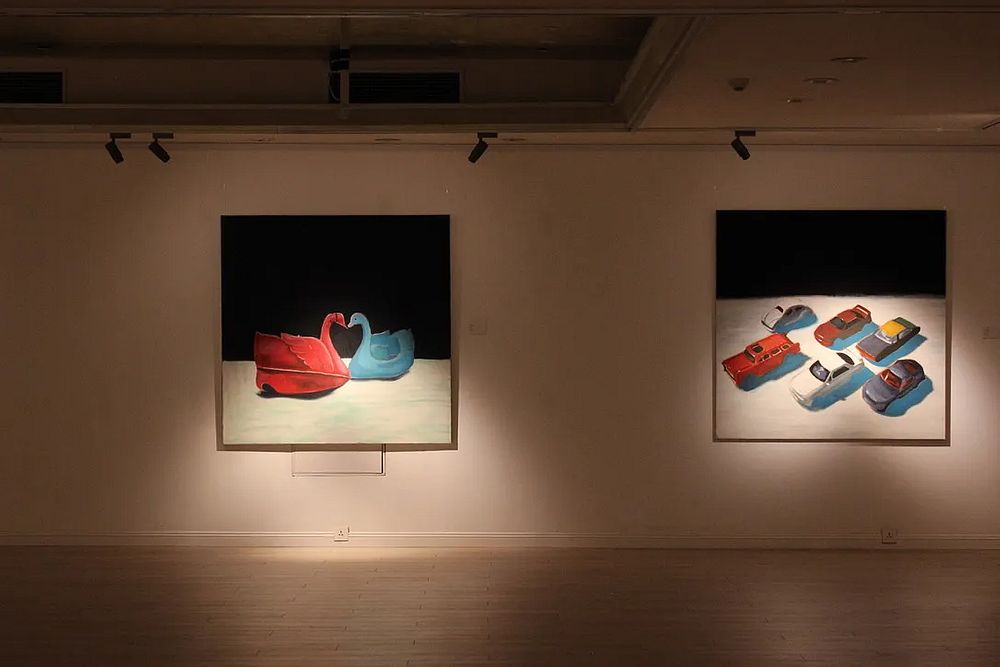 Quý emerged in the art community when he was still a student and has since gained valuable experience from previous generations of artists which helped him develop his unique method using various materials and techniques after a process of trial and error.
Quý began working as an independent artist upon his graduation in 2020, working alongside the Hanoi Group of Independent Young Artists. That same year, he co-organized with The Muse Art Space the exhibition "Xem Voi" (Watching Elephants) at the Art Space of the Vietnam University of Fine Arts.
Inspiration for the series "One Endless Summer"
The exhibited paintings embrace the dynamic culture of the past decade in Vietnam and reflect ways in which western culture influenced Hanoi youths. A post-Đổi Mới romanticist, Quý has found himself familiar with, yet distant from, the modern visual language dominated by brand logos such as DHL or McDonald's.
"Normally, people make 'Phở Cali' [Californian-style phở], I make Vietnamese-style burrito!" he said with an ironic laugh. Although he's influenced by western cultures, like many in his generation, it doesn't define him, because Vietnamese culture is still his base.
He explores the relationships between the cultures in his paintings and toys. There are variations in scales, sizes, and types in Quý's toys, which offer a viewing experience fundamentally premised on eccentricity. For example, 'We need to get the hell out of this place' uses the appearance of two DHL mail trucks coming out of a "magazine" tunnel, as does 'Can't tell but there was an accident here earlier,' which illustrates an elephant performing the role of a fireman.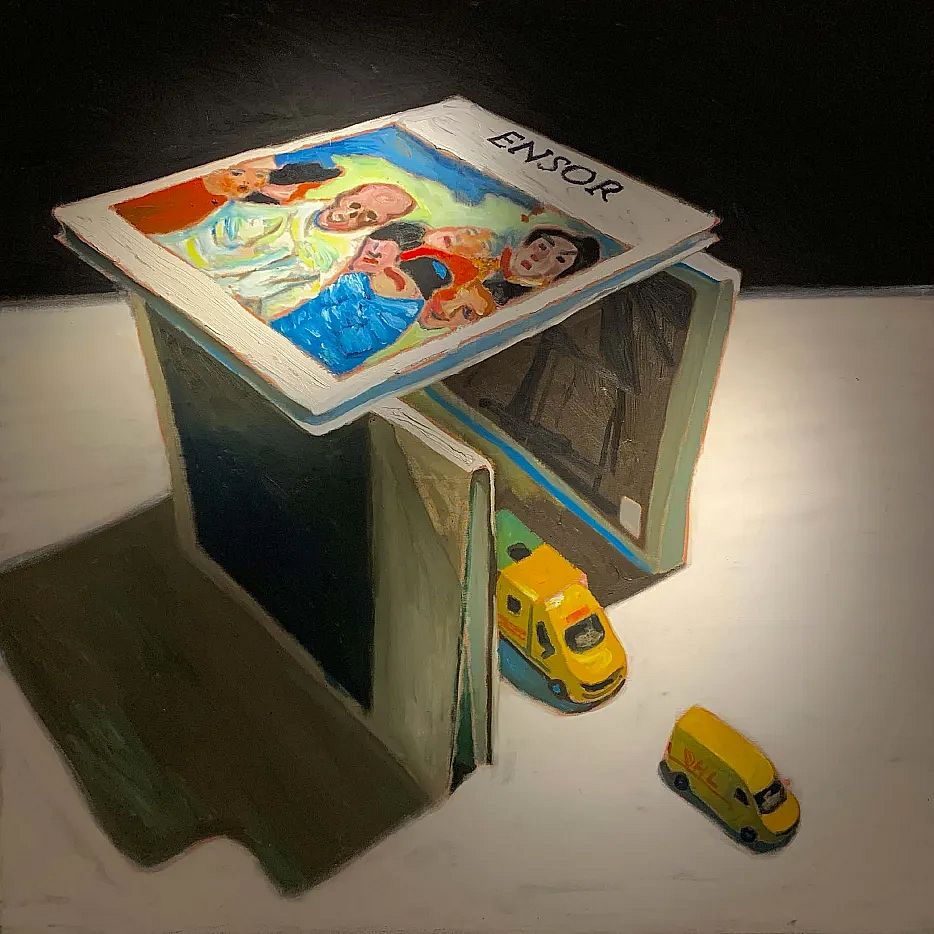 The artist also created an installation featuring three models of white wooden trees with cartoonish twigs. These trees often recur in the background of Quý's paintings and, when presented in the exhibition space, ensconce their viewers in another world where humans become designated characters. Adding to this viewing experience is the interactive aspect, as viewers can open and close tiny doors on the wooden trees.
Quý seeks inspiration from his personal life. Although the painted subjects may appear strange to viewers, they connect to the artist deeply and almost spiritually: toys are his comfort objects. When he paints, the incomprehensible emotions dissolve and take new forms on the canvas; every day, Quý spends time in the studio and manifests energy through painting his toys.
On the other hand, he also enjoys being out and alone, absorbing energy from observations of daily life. To him, this creative process is similar to the mechanism of a modern car's four-stroke engine: the engine operates four steps to achieve one complete power cycle, absorbing and releasing energy simultaneously. Indeed, Quý is a powerful creator in his studio but remains an average citizen when he wanders around his neighborhood.
"Painting has become my everyday routine, just like watering flowers — you feed your essence to something valuable, little by little each day. I like the freedom, and I am grateful to my university because their education is the reason why I am doing what I am doing today. Now, I no longer try to act western; I identify myself as a Vietnamese artist."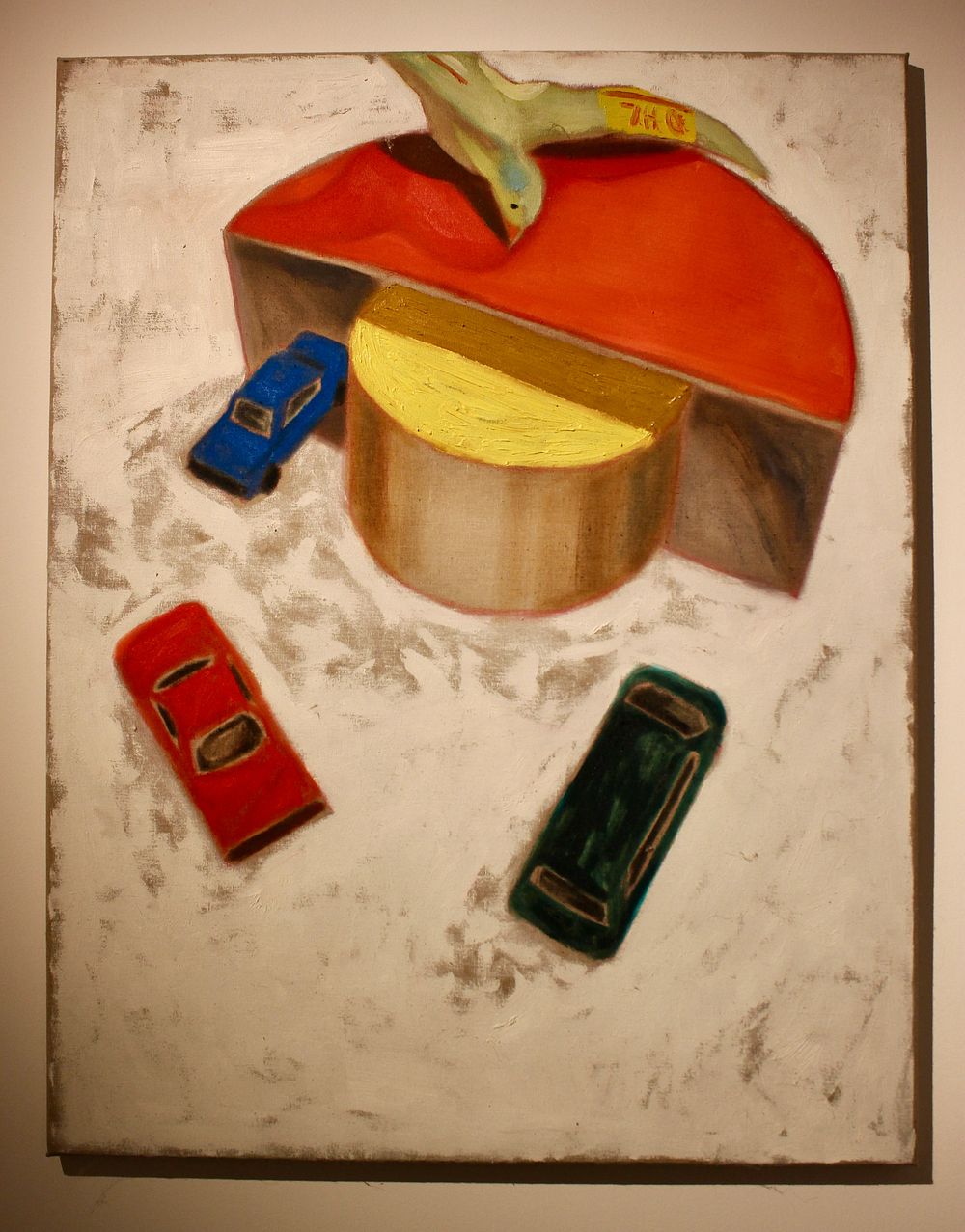 "Art is not a competition on a race track, so there should not be competitions between artists," he said. "It is rather an open circle where everyone has an equal chance to join and contribute. So, I wish to do my best and inspire the next generation."
The exhibit
As I wandered around the exhibition from one day to another, I realized that visitors had an urge to perceive and understand Quý's paintings.
Although Quý's creative process is primarily intuitive, he aims for professionalism. A resourceful artist, his hobbies span from singing and playing instruments to making toys. To him, creativity is not limited but function as constant ripples in the mind of the creators. He is always playful for that reason, always allowing enough space for interpretation while at the same time providing an environment complex enough to intrigue uncertainty.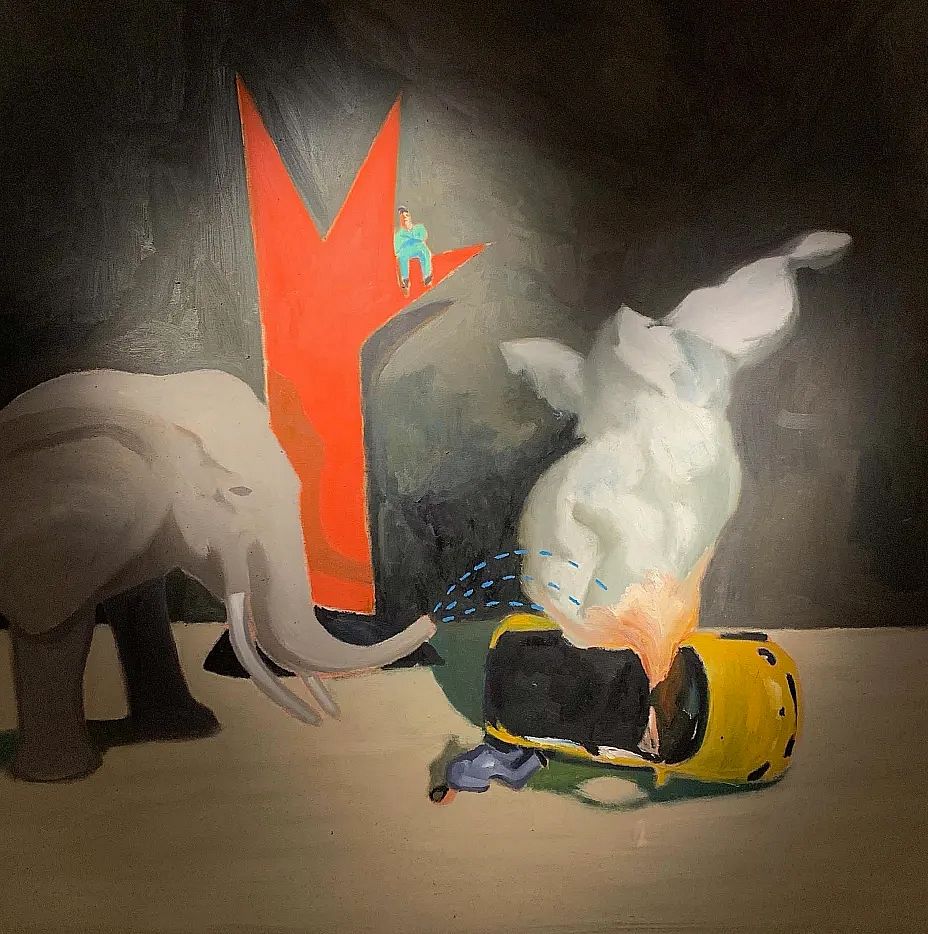 I remember Quý telling me: "Painting on canvas is traditional, so my paintings engage the viewers in simple and familiar visual interactions. They truly reflect my life, what I feel, what I see, and how I work on a daily basis."
Đỗ Trọng Quý's exhibition "One Endless Summer" is on view at Mo Art Space, 136 Hang Trong, from May 16 to July 4, 2021.
This article was made possible through support from Quỳnh Chi and the team at Mo Art Space.