Hoi An's cuisine makes a modest appearance in District 7's food paradise.
Similar to how Hẻm Gems are usually found, my friend Quang discovered Mi Quang Pho Hoi by accident. It was on a rainy Saigon afternoon, as he wrote on his Instagram account, that he popped into the tiny Hoi An eatery near his office for a serving of cơm gà. What came next was an epiphany of remembrance: the quaint plate of rice - from the shredded bits of chicken to every evenly cooked rice grain - was so on point that it briefly took Quang back home to Hoi An, where his mother's family still tends to a lantern shop on Tran Phu Street. Quang's post had no photo of the dish he mentioned, but his words alone were enough for me plan an excursion to District 7.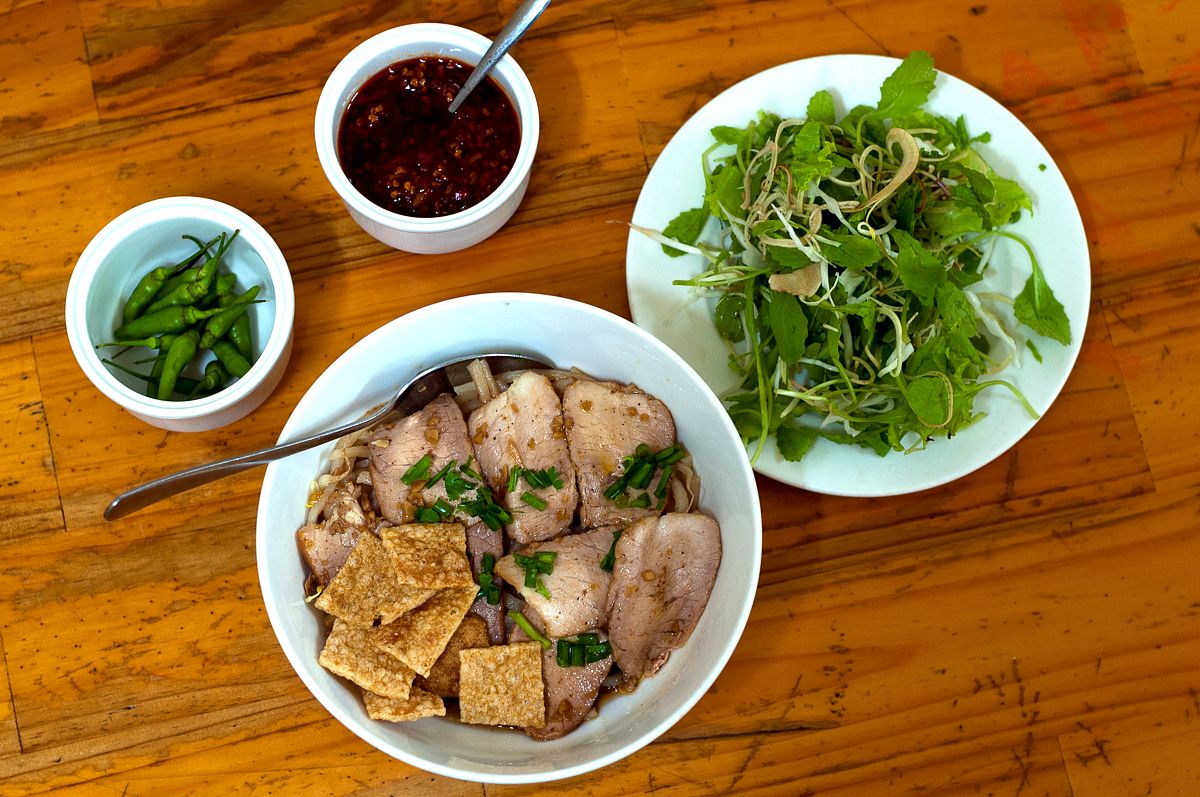 So there I was a week later, braving Saigon's scorching sun on a motorbike to arrive at the treeless street of Nguyen Thi Thap. A group of office workers was lingering by the front porch of Mi Quang Pho Hoi, while some lanterns hovered above. Inside, the color yellow covered the walls and the atmosphere. Behind the two saucepans full of nước mạ, cô Tâm, the lady who runs the place, was busy handling her giant wok of braised chicken.
The menu was small but decidedly regional: mì Quảng of several different varieties, cao lầu, cơm gà and gỏi gà. Quang, who kindly agreed to join me for lunch, again went with chicken rice. Despite his approval of the dish, I knew what I had come for: cao lầu, Hoi An's most esteemed culinary feat.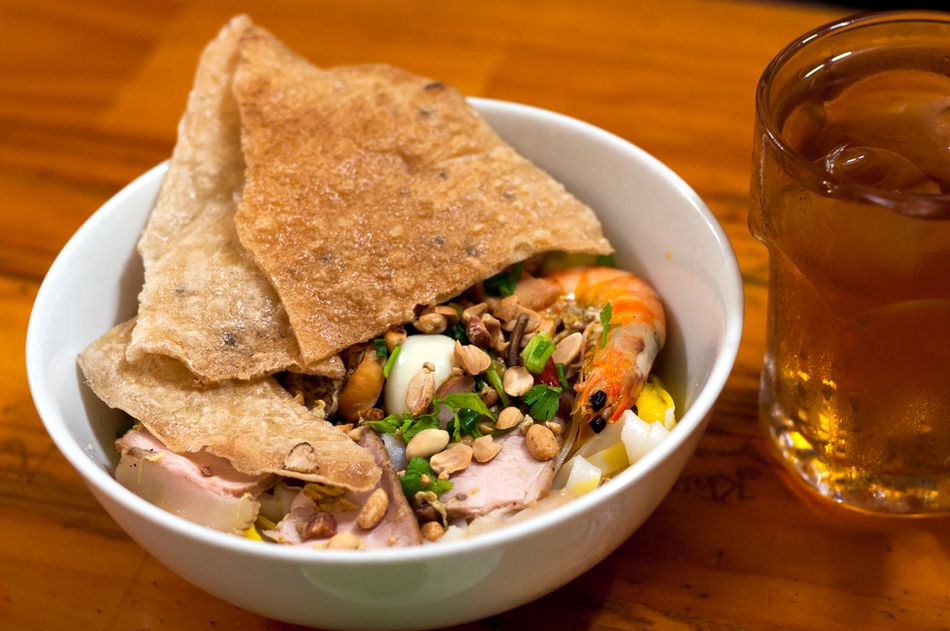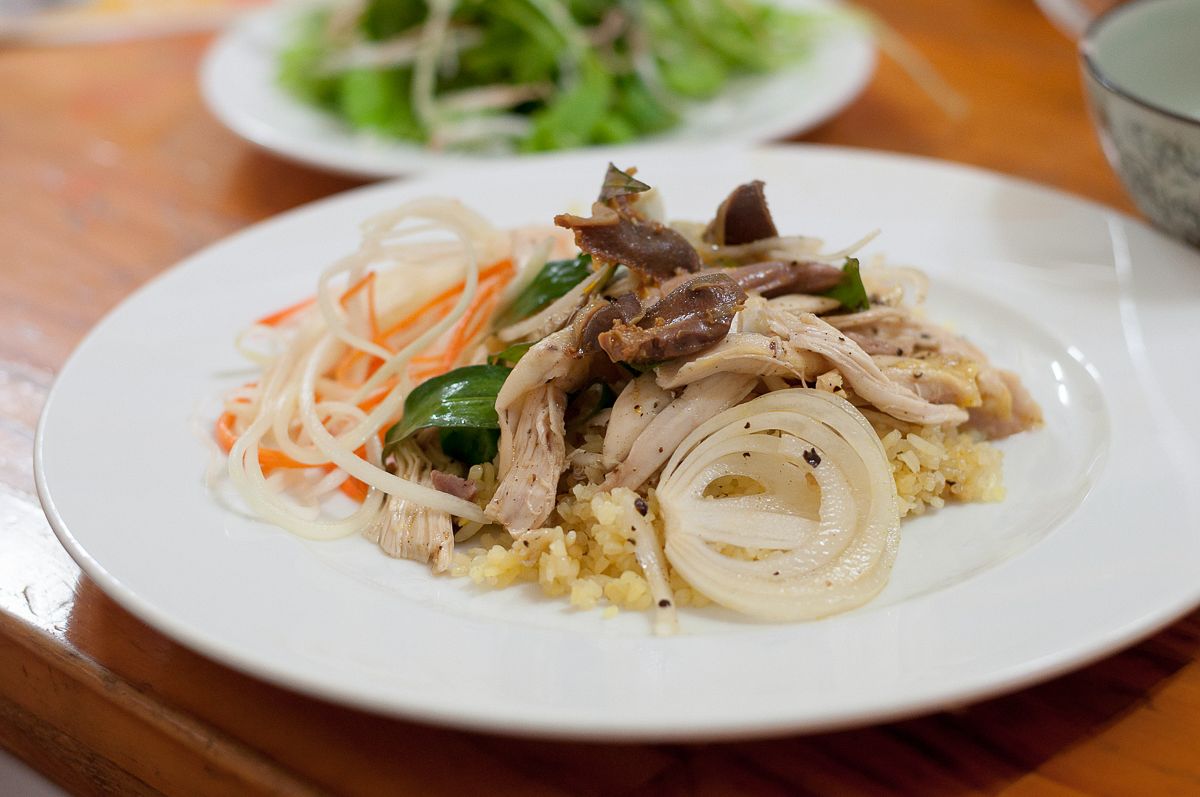 At some point over the last few years, I had given up looking for cao lầu in Saigon. While mì Quảng joints have proliferated recently, cao lầu remains somewhat of a rarity. Perhaps it is because many components of the dish remain exclusive to its native town: the udon-like rice noodles that must be made with water from Ba Le well, for example; or the tiny green herbs that come from nearby Tra Que Village. After all, as David Farley wrote in his famed essay, cao lầu is "the ultimate example of culinary terroir."
Today cao lầu is less exclusive than that, with daily flights delivering supplies southward. Still, it's a tall order to attempt to replicate the dish anywhere else. Fortunately, cô Tâm's rendition lived up to my expectations. Her hands were fast at work, but I could also tell that she took care to arrange the thinly sliced thịt xíu and crunchy crackers atop the blanched mix of brownish noodles and beansprouts. My serving arrived hot to the touch, accompanied by a plateful of small-leaved herbs. I added a generous dollop of chili paste, and 10 minutes later all that was left was a dark brown broth that carried hints of five-spice seasoning.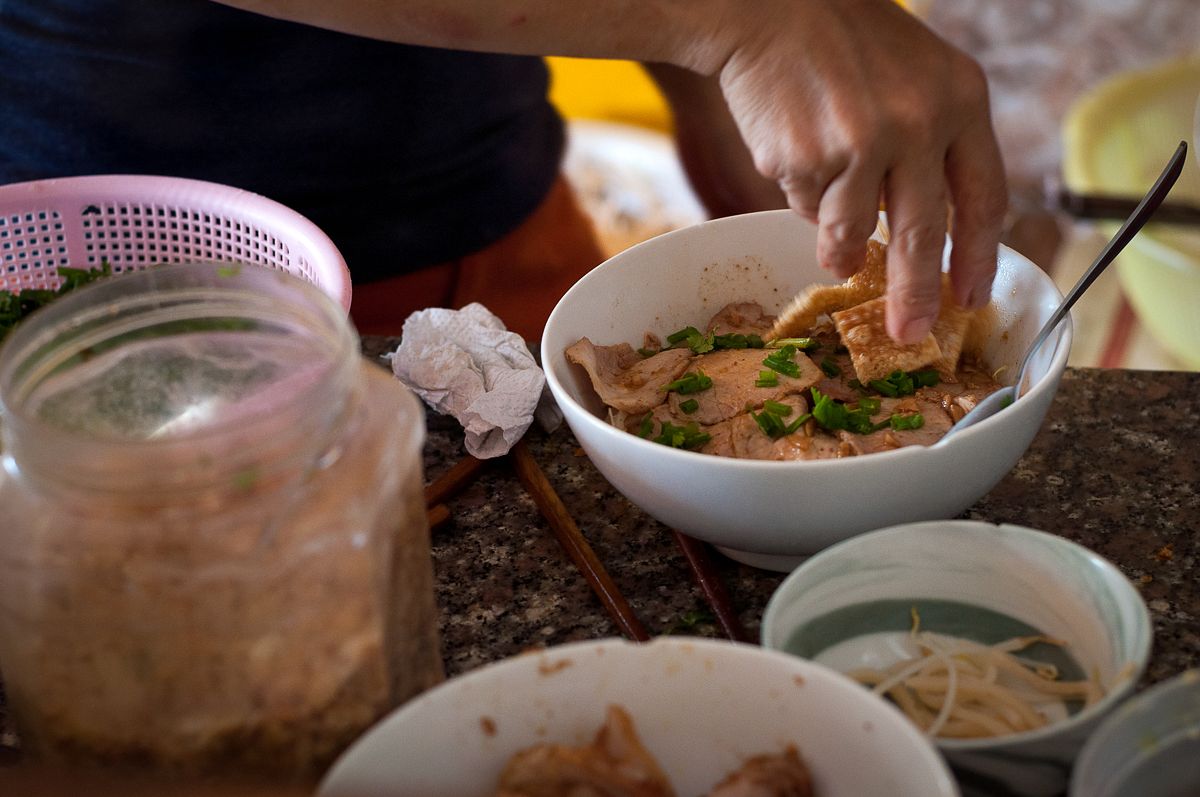 To make cao lầu, cô Tâm shared, many of the ingredients have to be imported from Hoi An. When asked about the recipe, she only beamed at me, then mumbled something about a family tradition. Indeed, as Quang explained while he deconstructed his plate of chicken rice, Mi Quang Pho Hoi's menu is often cooked in a typical Hoi An household.
In cô Tâm's case, hers is the household that runs the established Pho Lien in Hoi An's old quarter. Cô Tâm moved to Saigon with her husband almost a decade ago, and her Hoi An eatery in District 7 – now more than two years old – has a bowl of cao lầu that is worth running across the city for.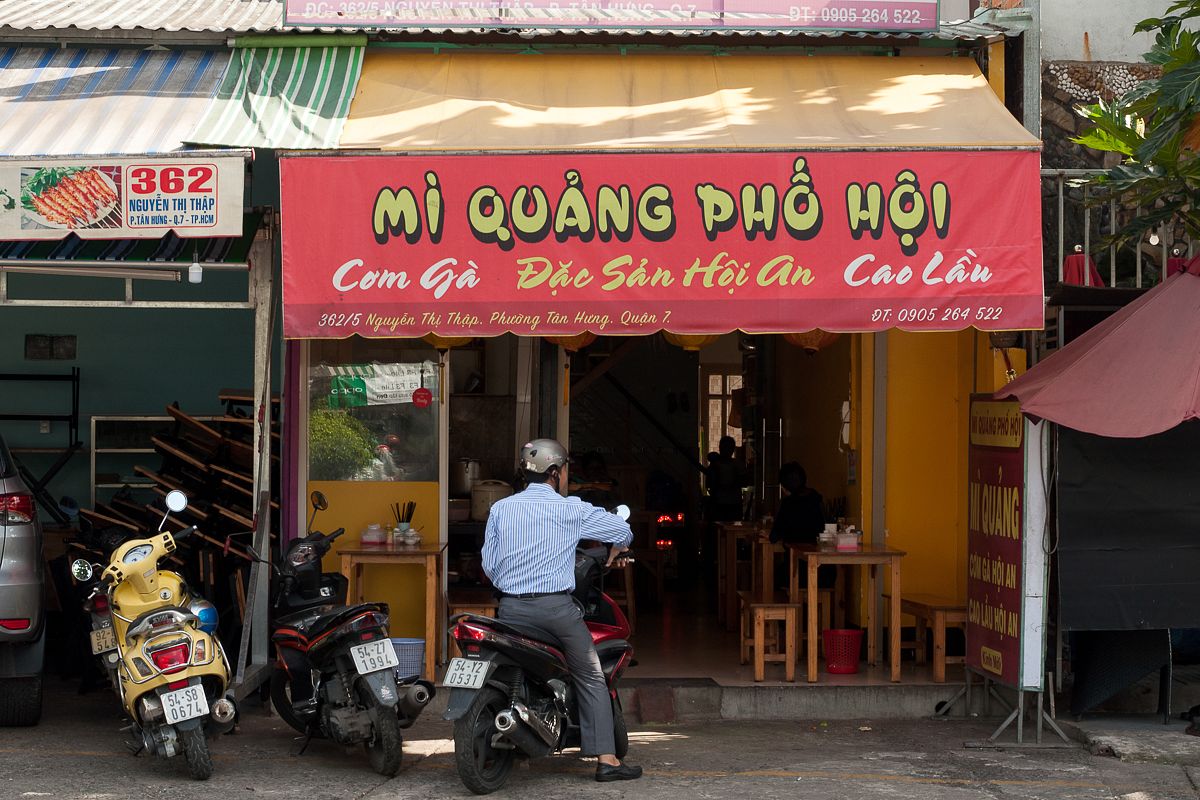 To sum up:
Taste: 5/5
Price: 4/5
Atmosphere: 4/5
Friendliness: 5/5
Location: 3/5
Nguyen's main hobbies are dancing and checking out eateries in Saigon's Japan Town.

Mi Quang Pho Hoi
507 Nguyen Thi Thap, Tan Phong Ward, D7

---

Related Articles
---