At the corner of a dead-end alley and the crowded pub street of Ton That Thiep among neon signs of nearby bars and restaurants, an eatery with an old hand-painted sign reading "Thanh Xuan" might come across as a forgettable, insignificant spot with its few small tables and plastic chairs. Yet this place has been home to three generations of a family who brought to Saigon – and named – hủ tiếu Mỹ Tho in 1946.
Originally based in My Tho, Do Xuan Khue left during political attacks between 1944 and 1945 to come to Saigon. Beginning with only a little cart while working part time in Justice de Paix (where Sun Wah Tower stands today), Khue, by fate, befriended the head of the nearby Indian temple, where he served his homemade hủ tiếu Mỹ Tho every morning. This fortunate acquaintance with the kind-hearted monk got Khue a bit of the Indian temple's land where this humble shop now stands.
"He quit his job at Justice de Paix and concentrated on the eatery. We have been selling hủ tiếu at this very spot ever since," reminisced Khue's grandson and current owner, Do Xuan Thanh.
The quiet little shop carries quite an interesting history of the dish itself.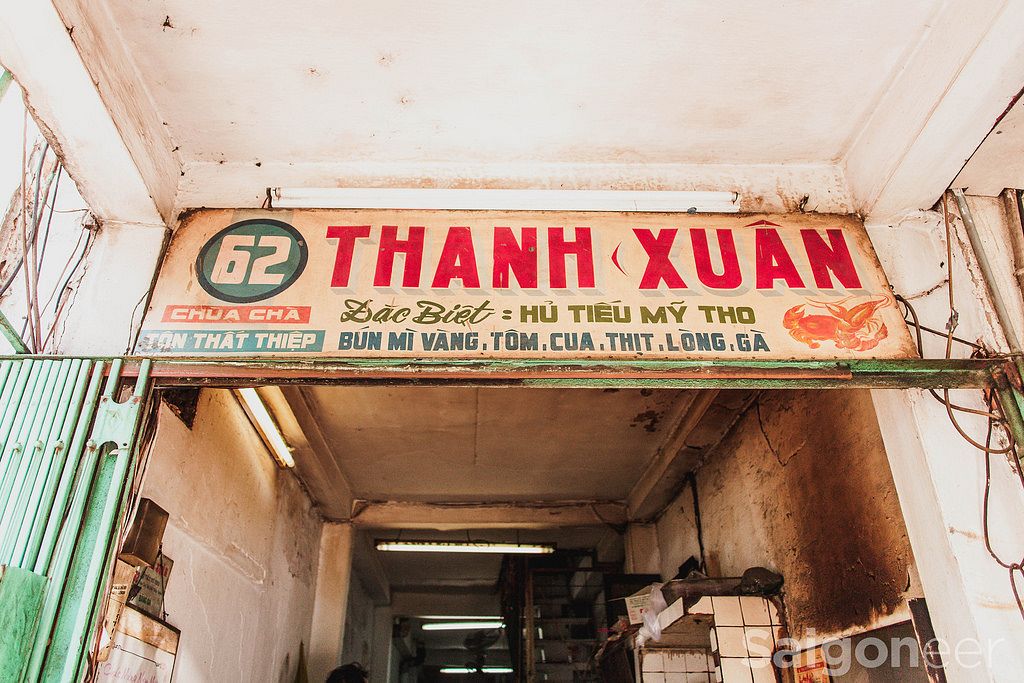 "Before, there was no such thing called hủ tiếu Mỹ Tho, only hủ tiếu Nam Vang (Cambodian) or the Chinese variety until my grandfather interweaved the two versions. The sweetness of the Cambodians' hủ tiếu pairs with the dry serving style of the Chinese hủ tiếu," Thanh explains. In addition, a signature tomato sauce, of which the recipe has been passed down from generation to generation in Thanh's family, adds originality and depth to the dish.
Dry stems of hủ tiếu, soft and chewy, are topped with minced pork, prawns, crab meat and mellowed out with the warm, deep red tomato gravy, then garnished with cilantro and green onions.
Despite his pride in his family's cuisine, Thanh is a very modest, well-mannered Saigonese man.
"Look at my shop, it does not look pretty enough to be advertised," he explains. "Most of my customers are regulars. Many immigrated to other countries and come back during Tet holidays to eat our hủ tiếu."
"I am thankful to know that our hủ tiếu has become a kind of recollection for those who had to leave their homeland, like my grandfather, who named the dish hủ tiếu Mỹ Tho after the hometown he left."
Growing up in Saigon without having known his father – for he had abandoned the family before he was born – Thanh learned his family's recipe by the age of 10 and decided to prolong the culinary legacy after quitting his job at a post office.
"It is a heritage spanning three generations already, and it means a lot to us," he says. "Even the name of our shop was appointed by our grandfather as an homage to a person who came from a town called Thanh Xuan and warned us about the attack so we could escape. I, and later my daughter, are to continue it."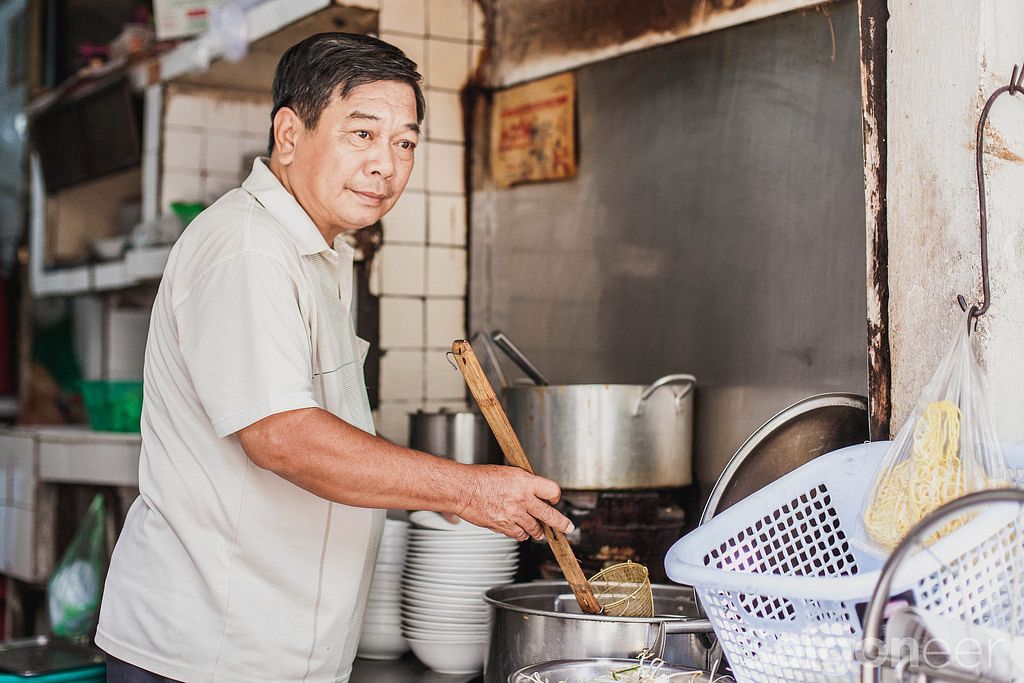 Thanh, however, is uncertain about the future of his family's legacy.
"Although, with all the construction and constant development in every part of District 1 these days, there is no certainty that we will even keep our home, let alone preserve the dish of our ancestors," he continues.
"Besides, growing up in a city with graceful architecture and shady tree-lined streets, and now seeing both the buildings and the trees fall, it makes me quite melancholy. I don't oppose modernization, but what is currently going on seems not right. But who am I to say? It is just helpless," lamented Thanh.
The elderly man began to reminisce about a time when Saigon was the "Pearl of the Orient" and how its people queued and behaved with pleasant manners, but quickly shook his head and changed the topic.
While some might see Saigon as glorious with the constant rise of sleek, modern skyscrapers, others mourn its disappearing pearls. Pearls that, in Thanh's words, "portray" and form a piece of jewelry in one's memory of this august city.