Judging by the amount of food delivery drivers waiting with a phone in their hand outside of popular restaurants, and passengers paused on curbs checking an app to see when an important package is set to arrive, Vietnamese have fully embraced technologies for on-demand services.
Statistics back up anecdotal evidence of the rise of Vietnam's love affair with delivery. The food delivery sector alone, for example, was worth an estimated US$33 million last year, and may exceed US$38 million by 2020. One aspect of the popular delivery culture that hasn't been given attention, however, is parties. Drinkies.vn emerged late last year to fill this niche. The site allows people to order large amounts of extra cold beer, soft drinks and snacks delivered in 60 minutes or less.
One central part of Vietnamese life is nhau, or casually eating and drinking without specific reasons. Close friends or large groups gather in homes, restaurants or bars to drink beer, snack on salty dishes and chat. These sessions often pop up organically with little planning, which can be a problem if one doesn't have food and beverages on hand. In such situations, people might have to scramble to the store or abandon the social activity altogether. Drinkies.vn responds to this reality be delivering all of the necessary party essentials.
Beer consumption is rising rapidly across the country, hitting 52 liters per capita in 2018. With this increased imbibing comes more attuned pallets and preferences, along with an array of producers to choose from. Drinkies.vn offers beer from a wide range of brands including Heineken, a premium beer enjoyed across 192 countries, Tiger Beer, Strongbow Cider and Amstel which offers a light, subtily fruity and smooth alternative to other lager beers. Suffering through a warm lager or watering it down with chunks of ice can be a serious buzzkill. Therefore, Drinkies.vn promises that all the beer delivered is perfectly cold. Furthermore, nearly every party has at least one person who can't or doesn't want to drink alcohol, so the site also has a variety of soft drinks.
For Vietnamese, a beer without a snack is like Tet without Abba's Happy New Year playing on the speakers. Something crisp and salty not only compliments a beer, but also fills the belly so one does not get overwhelmed by alcohol. Thus, Drinkies.vn offers an assortment of chips, jerky and noshable snacks for sharing.
Hosting friends and family also allows for spontaneity. The service's speed makes it possible to hold last-minute victory parties celebrating the Vietnamese national team, or a surprise visit from a guest in addition to planned events. And to further encourage people to try it out, large orders come with exclusive gifts.
As much as Drinkies.vn caters to time-honored drinking culture, it is also helping to reshape it. Sitting on plastic stools at streetside joints or upscale bars is great, but the settings can sometimes be noisy and inconvenient or lack intimacy thanks to rowdy neighbors and intrusive vendors. Moreover, if one doesn't have a designated driver or access to public transit, leaving the house to party can lead to poor driving decisions. Thanks to the service, partiers can now enjoy each other's company in the comfort of their own homes.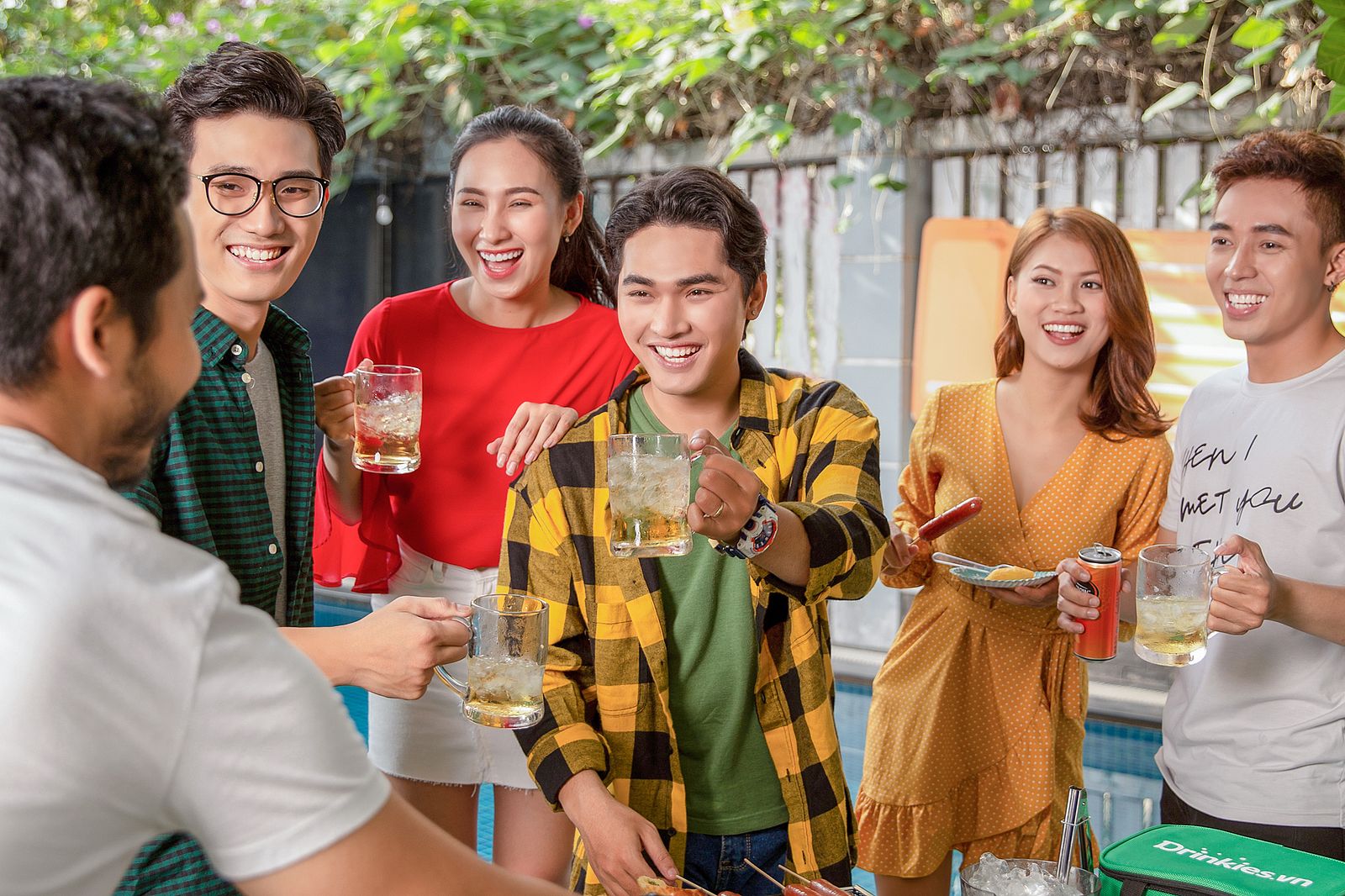 Drinkies.vn sits at the intersection of tradition and innovation. The Vietnamese love for parties is certainly not going anywhere, but new technology now allows people to do so more safely and conveniently. The ability to quickly go to an intuitive website and have ice cold beer arrive at your doorstep anywhere in Saigon within an hour will both preserve nhau culture, and help transform it into an at-home experience.
Hotline: 19002170