In ancient times, people ate small amounts of savory food before a large meal, believing this could help digestion and increase appetites. Whether scientifically sound or not, the practice of enjoying these appetizers, as they came to be known, continues to the modern-day, where they've taken on many different forms and names depending on country and culture. In the 18th century, people in France, for instance, placed various meat spreads on small pieces of crustless bread. The toppings appeared to sit, and thus they were given the name canapés, the French word for couch.
Park Hyatt Saigon recently unveiled a special selection of canapés alongside a set of French tea-inspired cocktails to coincide with the unveiling of their redesigned Park Lounge, complete with nightly live music performances. When Saigoneer visited, we quickly understood that their canapés were far more extravagant than simple meat spread on dry bread. The indulgent sampling of bite-sized snacks was perfectly suited to a relaxing, luxurious evening.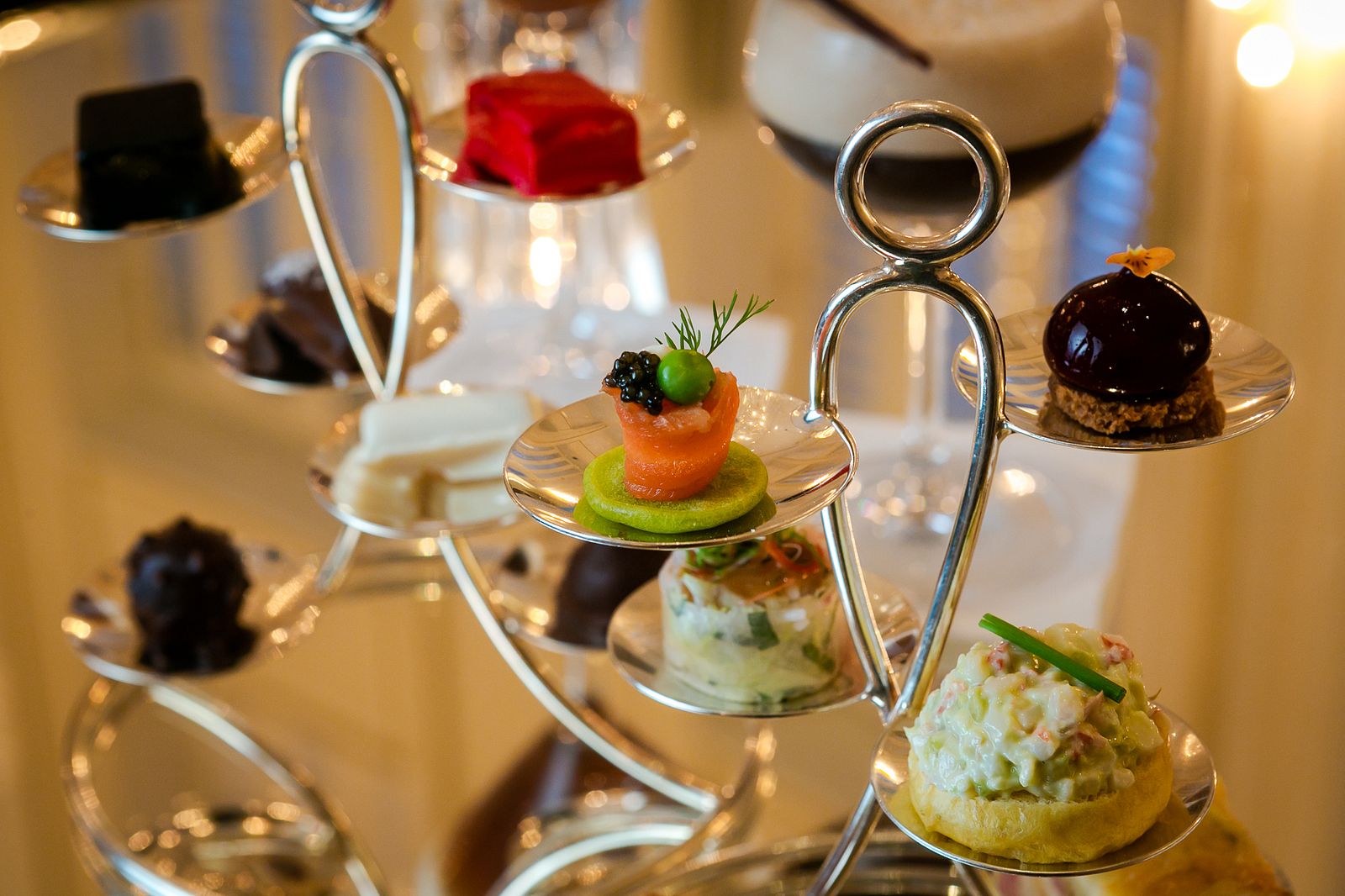 Before even biting into one of the canapés, expectations were set by the elegant silver Ercuis stand they were served on. Since 1867, the famous Parisian silversmiths have gained wide attention for bringing modern styles to the timeless material. The presentation made sense considering that French traditions and aesthetics with Vietnamese flourishes inspired Park Hyatt's six different savory canapés, including foie gras dome, tiger prawn brioche, lobster spring roll smoked salmon blini, quail cromesqui and truffle croque monsieur.
Sprigs of colorful garnish curled out of the top of the spring rolls, the foie gras dome shimmered like a mystical orb, and the smoked salmon shone a particularly graceful shade of pink in the dim light: each item was a small piece of art that we were almost ashamed to destroy by eating. But eat we did, and while each may have been small in size, they were large in flavor. The tiger prawn brioche was splendidly silky, while the quail cromesqui featured tender, fresh meat inside a perfectly crisp exterior, and the truffle croque monsieur contained a subtle spiciness that tempered the gooey cheese's richness.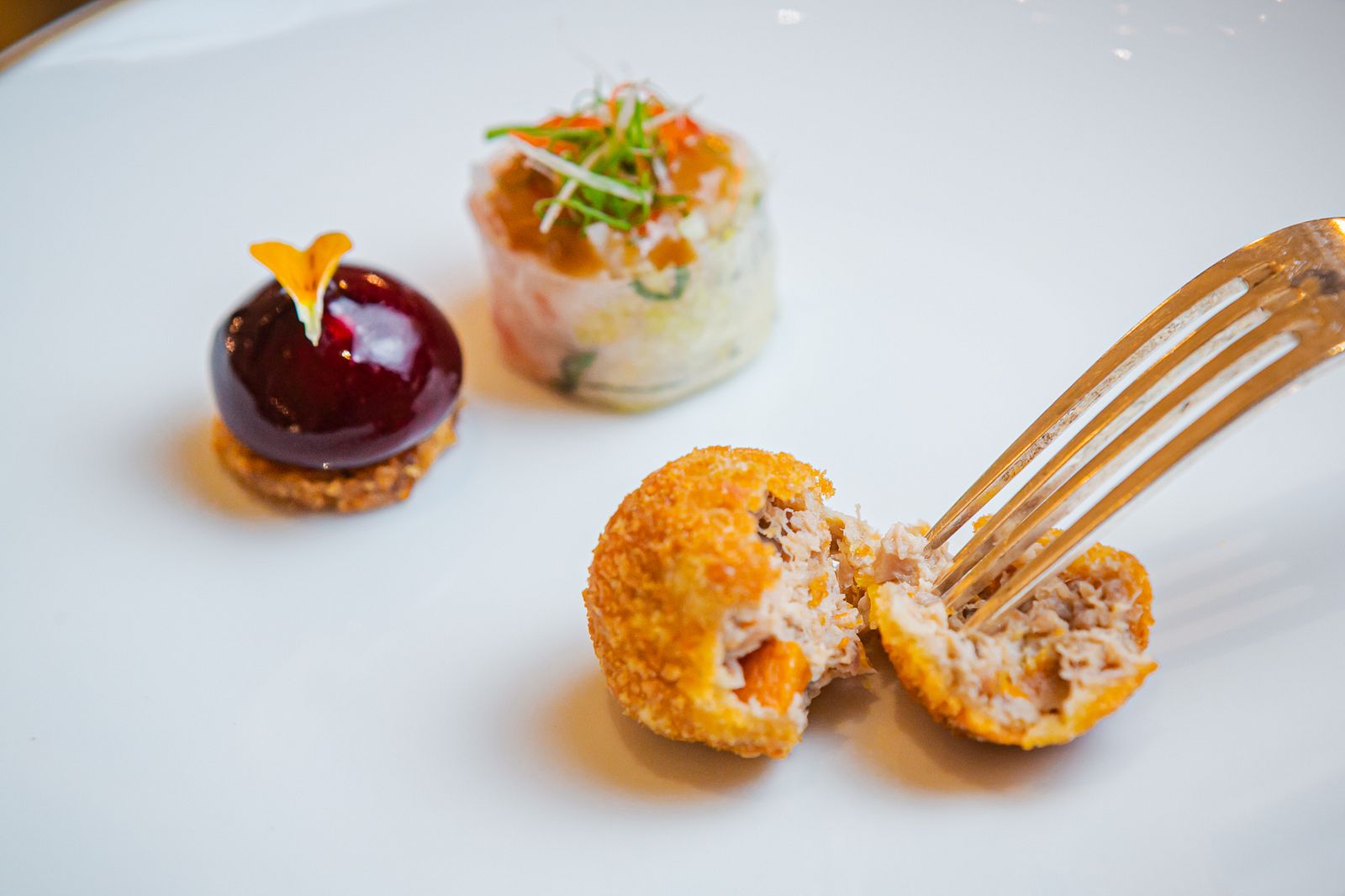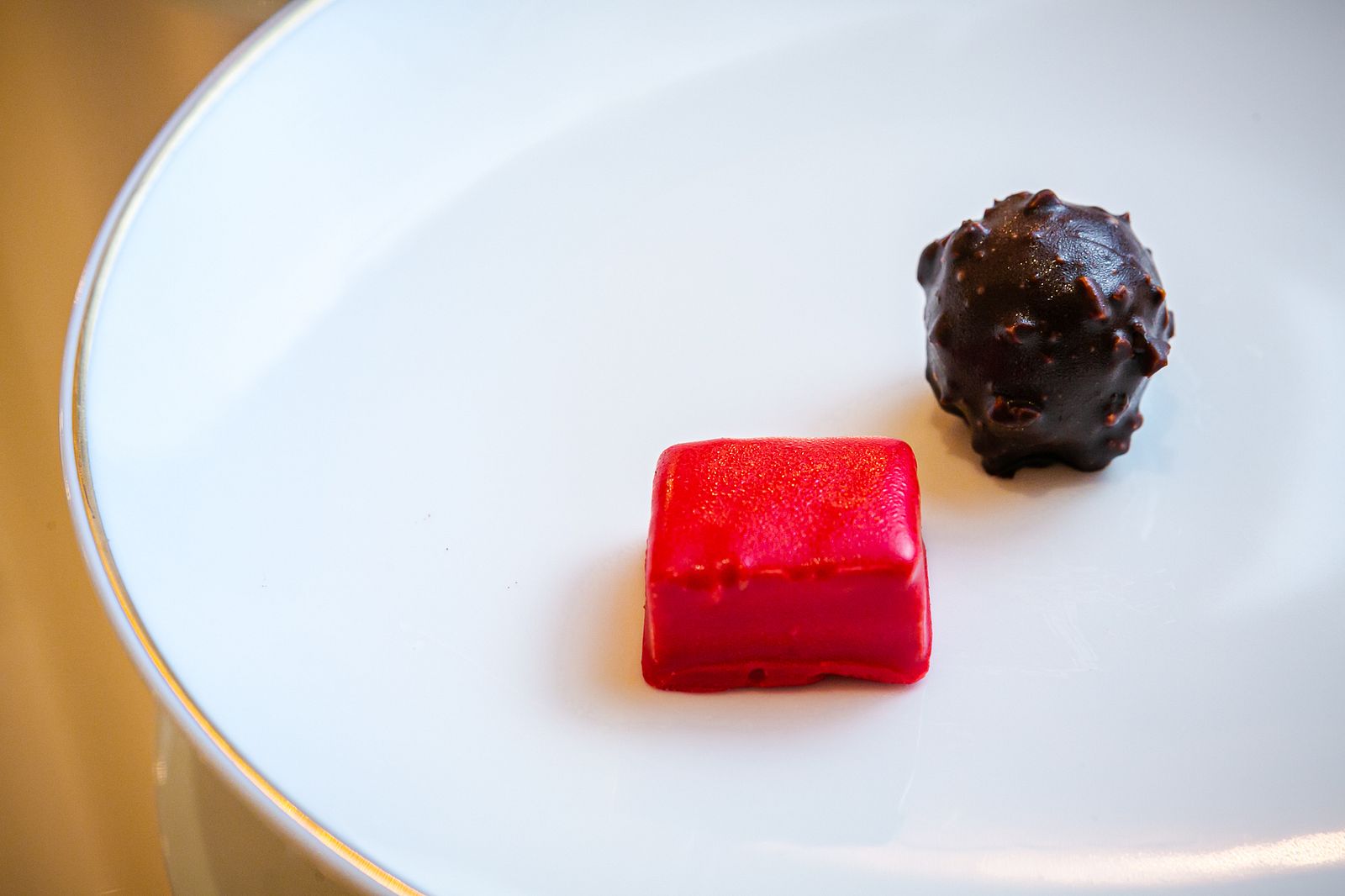 For those with a sweet-tooth, Park Hyatt Saigon has also introduced a selection of chocolates. Ranging in darkness, some of the rich morsels contain fruits or nuts. They act as a great dessert or a sugary complement to a set of the savory canapés.
The canapés are meant to be intermittently enjoyed with time between for sipping on a cocktail. Park Hyatt Saigon released a new selection of signature drinks that combine French teas with local ingredients that nod to Saigon's sweet tropical climate and European sophistication. The Longan Tea, for example, marries the west's favorite Darjeeling tea with dried longan stock and Mekong coffee blossom honey for a sweet, husky rum-based drink. The Saigon Wakeup, meanwhile, tastes like an extremely upscale version of a streetside ca phe sua da thanks to the caramel and toffee tea, espresso ristretto, Frangelico and vanilla essence that joins the rum. Other new cocktails include the smoky Earl Gray Martini and a floral-forward Rhamos Fizz that relies on homemade chamomile syrup.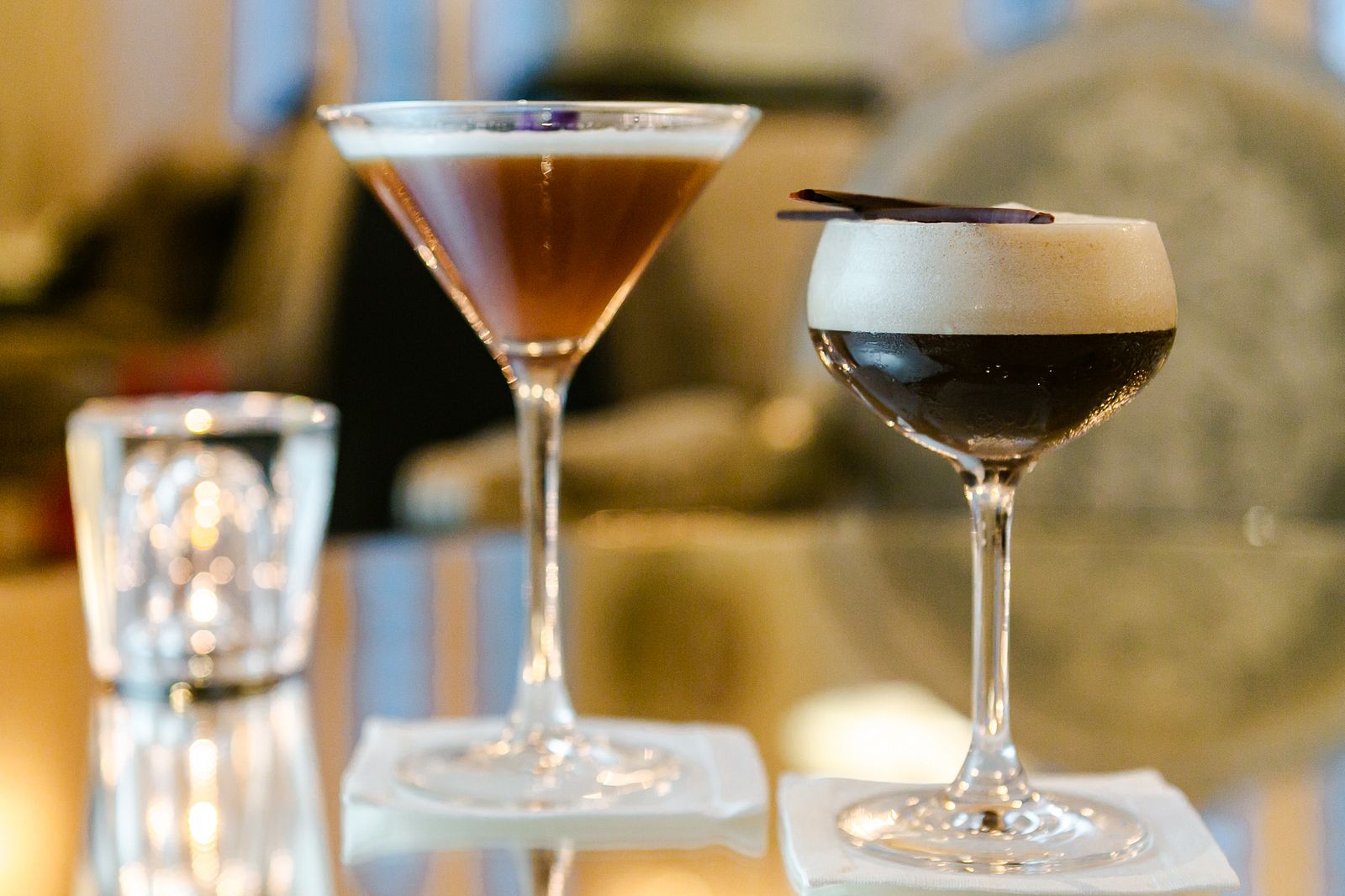 While the Park Hyatt Saigon continually introduces new items and experiences for its guests, the new cocktails and canapés are in part to celebrate the Park Lounge's new design. To maintain its position as one of the city's most luxurious and comfortable destinations to meet friends, family or business partners, they've completely redone the interior. Plush French furniture compliments vibrant flower arrangements designed by world-famous florist Alfie Lin. As the sun begins to set, a warm glow emanates from the sleek new German light fixtures, casting soft shadows below a collection of artwork from some of Vietnam's most prominent contemporary artists, including a massive tree blossom piece behind the bar that sparkles thanks to inlaid jewels.
At 5pm, when the canapés and cocktail service begins, the lounge slowly fills with foreigners unwinding after a long day of work, local groups of friends who have gotten dressed up to enjoy one another's company, and people savoring a slow-paced start to what may prove a big night on the town visiting high-profile parties.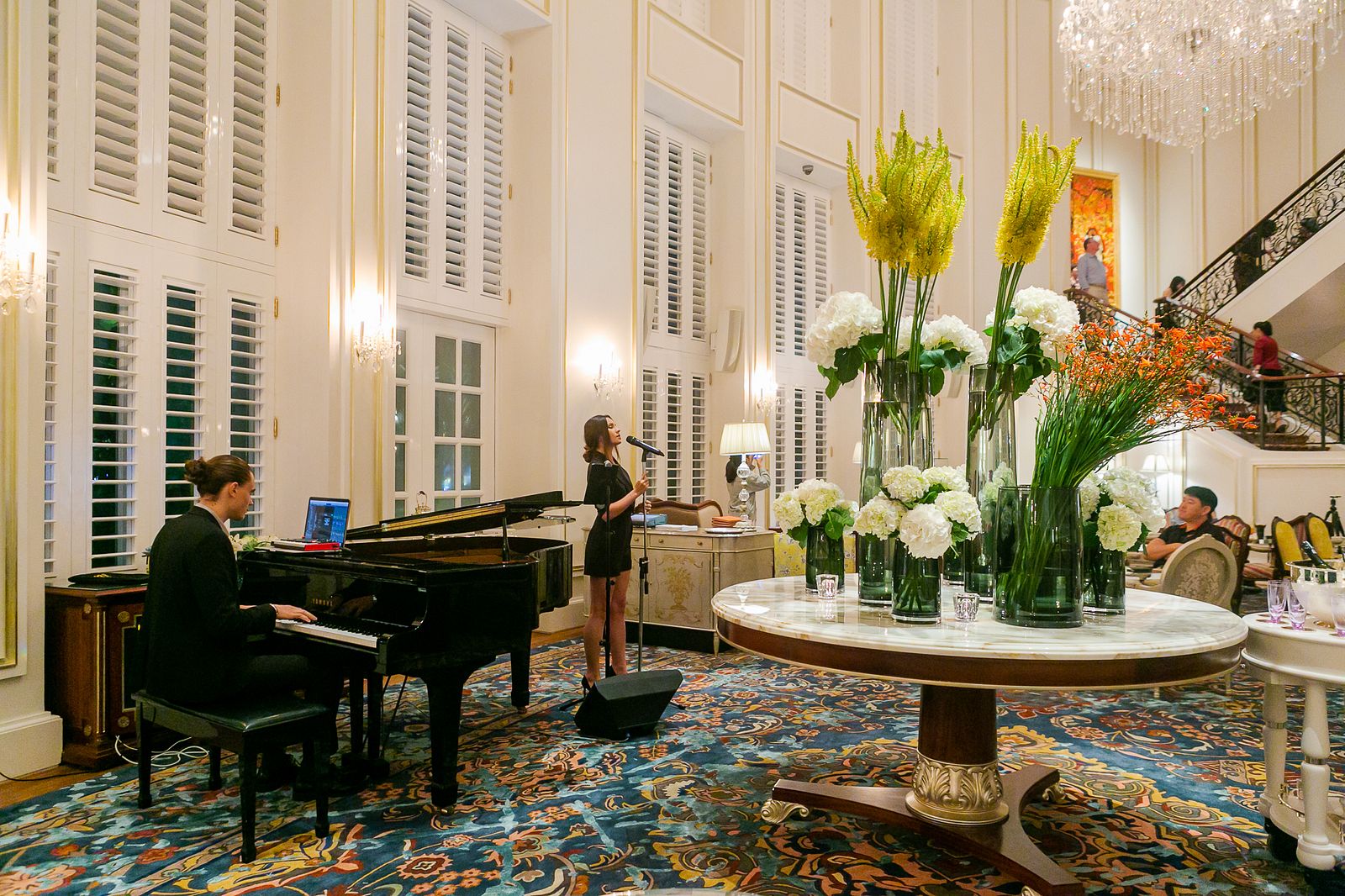 At 7:15, Artem takes a seat beside singer Olha for the first of four 45-minute sets. The pair, collectively known as The Loungers, play sultry, sometimes melancholy-tinged versions of a variety of familiar hits spanning decades, including Frank Sinatra's "I Did It My Way," "Shape of You" by Ed Sheeran and "You are So Beautiful." Their performance is soothing enough to linger in the background of conversations, while also intricate enough to entertain those who give it their undivided attention.
The special cocktails and canapés menus provide the perfect reason to visit the new Park Lounge, whether one is a frequent guest who hasn't seen the remodeling yet, or someone that has only wondered about the famous hotel's lounge when driving past its iconic District 1 location. It provides a perfect example of how brands famous for luxury balance timeless elegance with new experiments and modernization.
Park Hyatt Saigon Lounge's website
Park Hyatt Saigon Lounge's Email
+84 28 3824 1234
Park Hyatt Saigon | 2 Lam Son Square, D.1, Ho Chi Minh City