Deep in the Amazon rainforest 5,300 years ago, the Mayo Chinchipe Marañón culture was consuming cacao, the first known domestic use of the plant in the world.
Of course, they weren't eating expertly crafted chocolate bars, but this relatively recent discovery by anthropologists gives cacao – the precursor to chocolate – a much longer history than previously thought. The Aztecs and the Mayans also consumed cacao, though in quantities and ways, for example drinking raw cacao, that would likely disgust a modern consumer. These ancient civilizations, and particularly the Mayo Chinchipe, thrived in what is today considered the birthplace of cacao: Ecuador.
It should come as no surprise then that To'ak Chocolate, one of the world's premier chocolate companies, is based in Ecuador, sourcing and producing all of its fine flavor chocolate there. As James Le Compte, To'ak CEO, says, "Ecuador is the Bordeaux of the cacao world."
Le Compte recently joined 10 other experts on a wide variety of topics, including wine, photography and floral design, at the Park Hyatt Saigon's second Passion Week for a series of fascinating masterclasses, dinners and conversations with some of the world's leading artists from across genres. The special event which features Michelin star chefs, a flower designer, winery owner and heads of high profile auction house, Christie's Asia Pacific, is an extension of the luxury hotel's commitment to bringing art into people's lives in unexpected ways.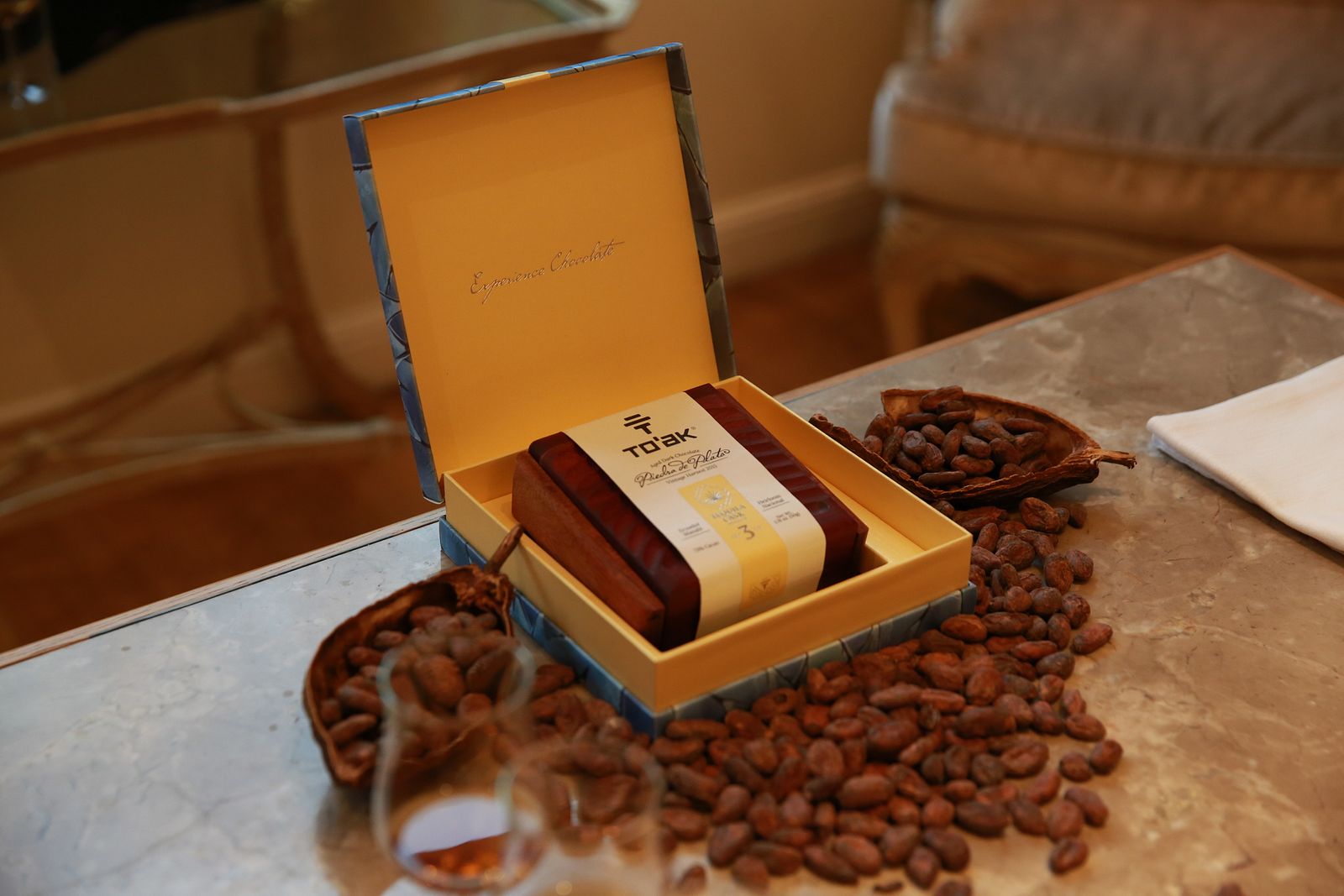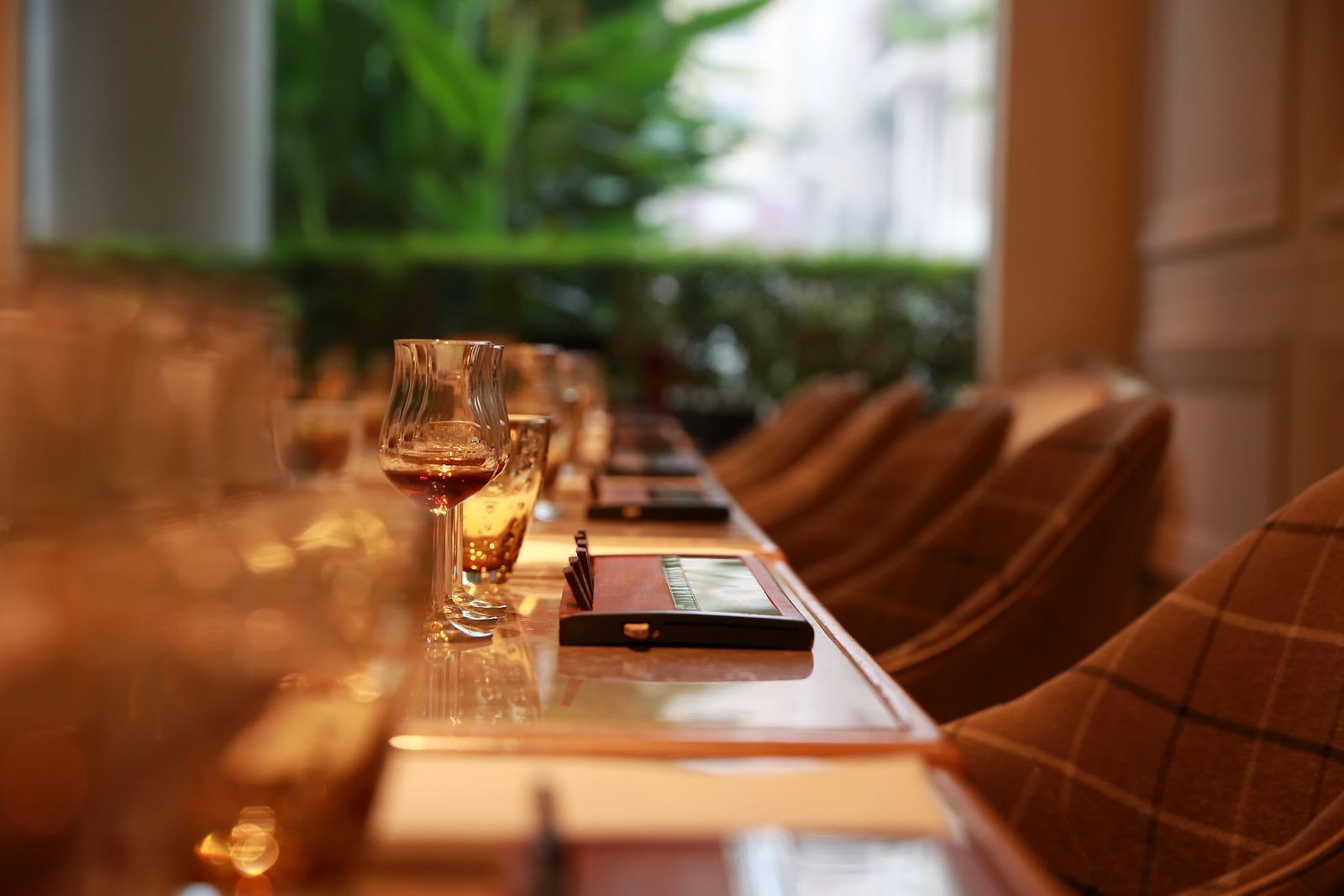 During the masterclass helmed by Le Compte, 12 guests were seated in front of six small squares of To'ak chocolate, each a different variety, as well as three glasses of Glenmorangie whiskey for pairing. Le Compte began by sharing the To'ak origin story before diving into the differences between the chocolate they make and much of what shoppers see at their local supermarket.
"Good chocolate should only have two or three ingredients," he said. "A full 95% of the world's cacao is bulk, low-grade, mostly from Africa. That's used for Hershey bars and things like that. Fine flavor chocolate makes up the remaining 5%, and Ecuador produces 65% of that 5%."
To'ak uses a very rare variety of cacao tree called the Nacional for some of its chocolate. This strain traces its history all the way back to the Mayo Chinchipe era, and was thought to be extinct until 2009 when Ecuador's agriculture institute found six pure Nacional trees out of 11,000 DNA samples taken from trees throughout the country. In 2013, To'ak found nine more pure Nacional trees in the Piedra de Plata valley, where the company sources much of their cacao from.
This heritage, along with a relentless focus on quality, has allowed To'ak to carve out an important position on the global chocolate map, and Le Compte was excited to share his vision. "It's one of the most exciting parts of the job," he said. "Being able to introduce people to a new experience with chocolate, something that hopefully surprises them and gives them a different perspective on how complex and fine-flavored chocolate can be."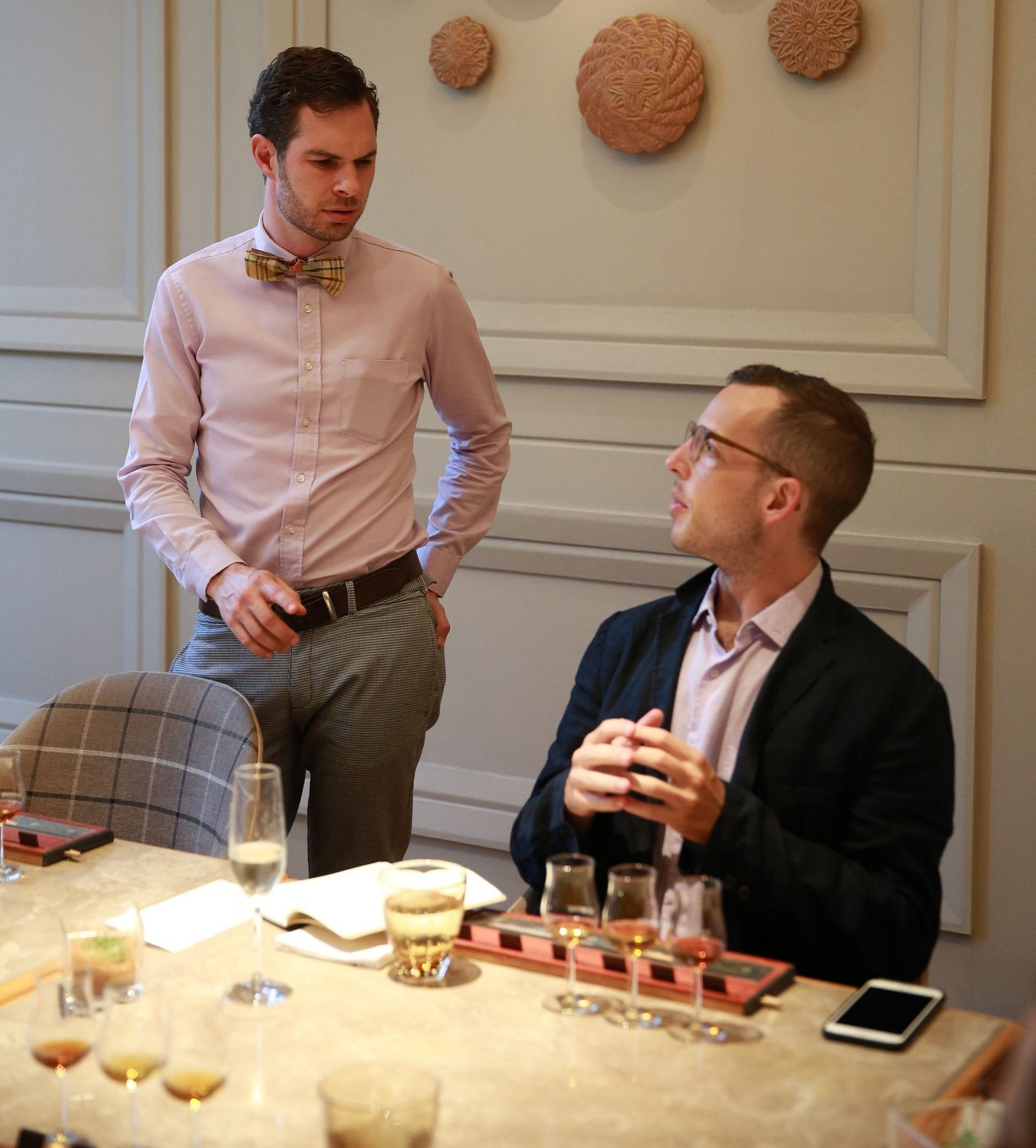 Of course, as interesting as this history is, the attendees were also there to try some chocolate, and it did not disappoint. The six varieties which Le Compte brought included a 73% cacao harvested in 2015 with just two ingredients: organic cacao and cane sugar. Other chocolates came from To'ak's aged collected, where chocolate is aged in a barrel used in liquor production or another aromatic. The 73% was aged in an Islay whiskey barrel for three years, for example, while the 80.5% cacao had been aged in Cambodia's famed Kampot black pepper, giving the smooth chocolate a subtle spice.
Ultimately, Le Compte hopes to spur consumers to view chocolate the same way they view fine French wines, and To'ak will continue to push toward that goal through highly unique offerings such as the world's first chocolate sourced from the Galapagos Islands, as well as the world's oldest aged chocolate, which is in the midst of being aged in a cognac cask for five years.
The Art of Mixology
Another masterclass was conducted by Shingo Gokan, one of the world's top bartenders, in the Park Hyatt's stylish 2 Lam Son bar. Gokan, who is the founder of the SG Group and oversees highly regarded bars in Shanghai and Tokyo, shared insight on dealing with innovation and bar success before leading attendees in the creation of three cocktails.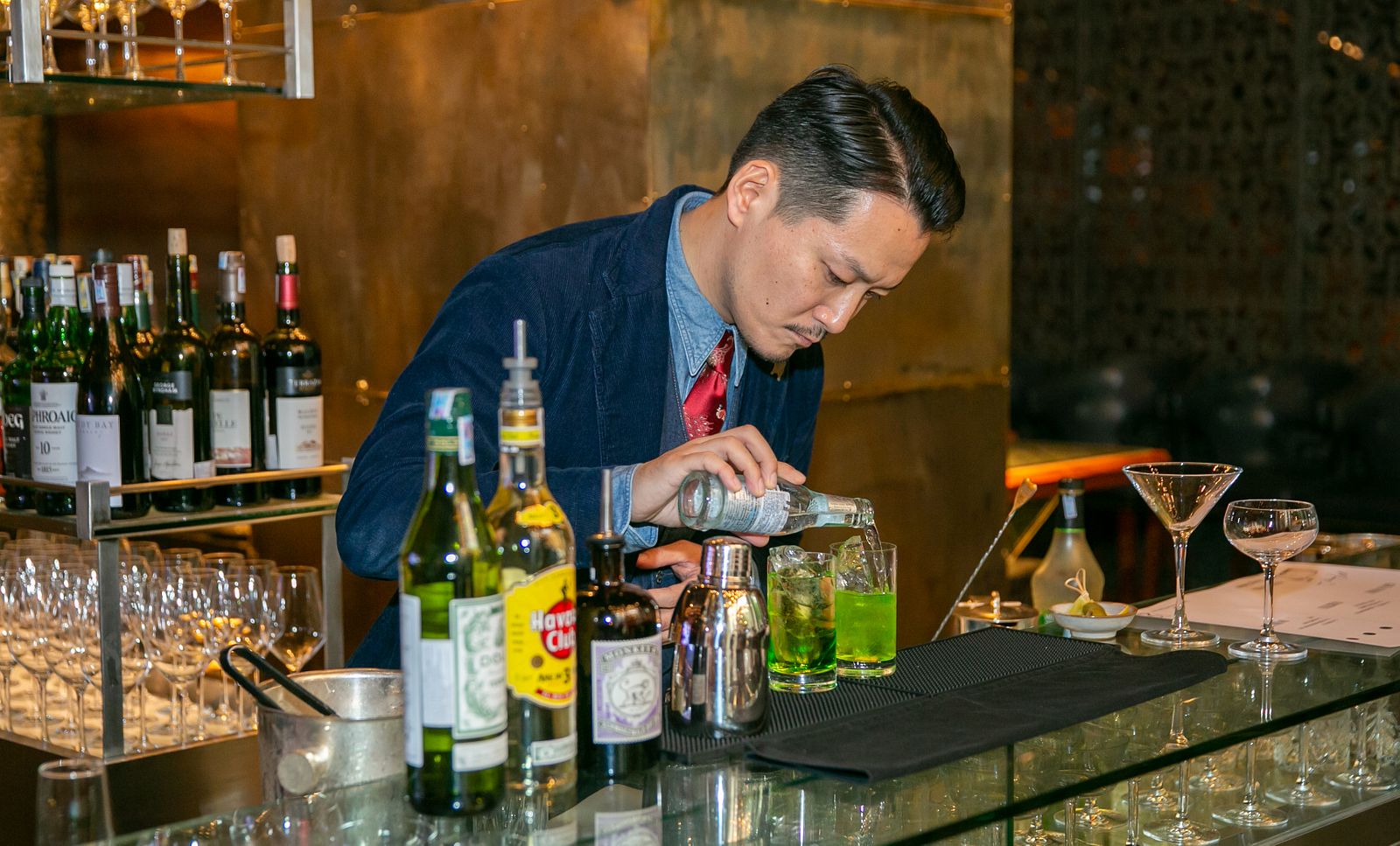 He discussed topics such as how to invite customers to experiment with drinks and flavors they haven't tried before, as well as ways to create new drinks. For the latter, he emphasized the importance of improvisation, or "developing accidental ideas."
Then, we got hands-on by making a gin & tonic, martini and daiquiri, with Gokan providing expert guidance and tips along the way. For example, when stirring a gin & tonic, one should stir gently, and just three or four times. You should barely even hear the spoon moving around the glass, as stirring vigorously will break up the ice and dilute the drink's flavor. This goes for any drink you mix by stirring, including a martini. Make sure you stir only using your wrist as well; do not move your entire arm. When it comes to a G&T, if the gin is room temperature, stir it in the ice before adding the cold tonic, which should be poured directly onto the gin without hitting the ice. For a drink like the daiquiri which requires mixing, snap your wrist in order to fully mix the ingredients, instead of just shaking it back and forth, as that won't fully aerate the drink.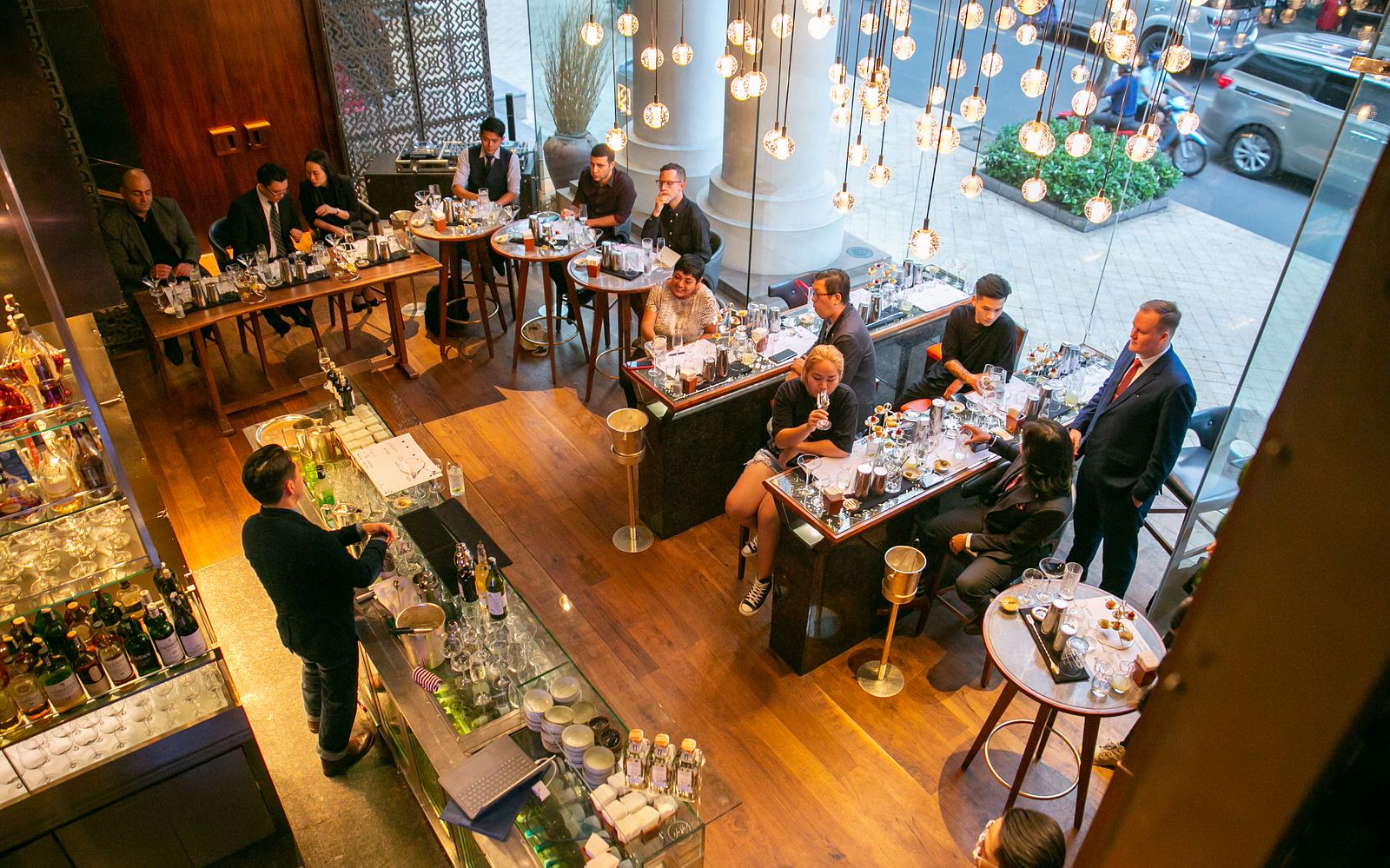 As Gokan said, "Good technique makes a good drink, it's not just about ingredients." Hospitality, he added, is another of the most important factors when running a bar and serving high-quality drinks. To illustrate this point, he shared the story of a visit to Hokkaido, Japan's northernmost main island. "I went to a tiny bar and the owner was a 96 year-old bartender," Gokan said. "He had been making drinks for longer than I've been alive, and he couldn't make many given his age, but he crafted each one with care and love. When we left he even came outside and bowed goodbye. It almost made me cry."
Stories like that, as well as To'ak's pure-bred heritage dating back thousands of years, are what draws Park Hyatt Saigon to invite world-renowned experts like Le Compte and Gokan to share their knowledge with a few lucky guests. And while Passion Week is a one-of-a-kind experience for Saigoneers, and next year's edition will undoubtedly provide more eye-opening opportunities, it's a great example of the commitment Park Hyatt Saigon placing on bringing people to the finer points of life.
+84 28 3824 1234
Park Hyatt | 2 Lam Son Square, D.1, Ho Chi Minh City