The village of Cu Lac in central Vietnam is a postcard image of rural life. Water buffaloes and cattle graze among low-slung houses, and verdant rice paddies stretch to the nearby Ho Chi Minh Highway. The broad, green-tinged Son River flows past the length of Cu Lac, while a breeze whispers through the bamboo trees lining its banks.
In 1971, however, this was not such a peaceful place. Quang Binh province, where Cu Lac is located, was one of the most heavily bombed areas of Vietnam during the American War. Sometime during that year, according to local legend, two bombs aimed at a nearby fuel depot detonated on a patch of land beside the river.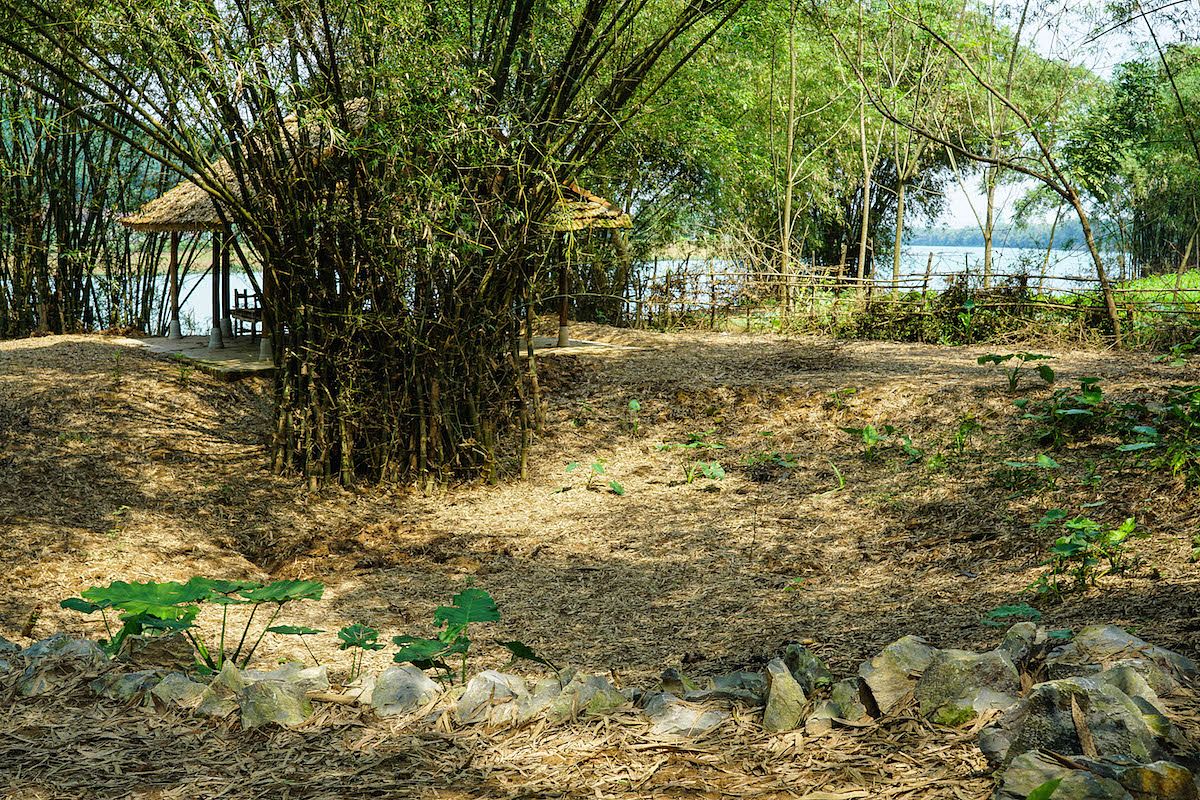 For decades after the conflict ended, the craters left behind by the ordnance served as garbage dumps for villagers. Last year, however, local resident Nguyen Thi Ngoc and her husband Dinh Anh Tuan decided to do something with the surrounding land. Tuan's family owns the property across the street from the plot, and the couple runs a popular restaurant in nearby Phong Nha, the epicenter of Quang Binh's cave tourism boom.
"We thought it was a very nice place to stop on your way from Phong Nha to the village, or vice versa," Ngoc tells Saigoneer at her bustling eatery. "In the summer it's really hot here so people would look for somewhere to drink and relax, and there wasn't anywhere."
Ngoc and Tuan reached out to their friends Lesley Arnold and Mark Heather, who work for the Phong Nha Farmstay and have lived in the area for three years. "They [Ngoc and Tuan] brought us to this spot and asked: 'What do you think of this?'" Heather says at the bar above the din of a countryside wedding taking place down the road. "There was nothing here, just buffaloes grazing."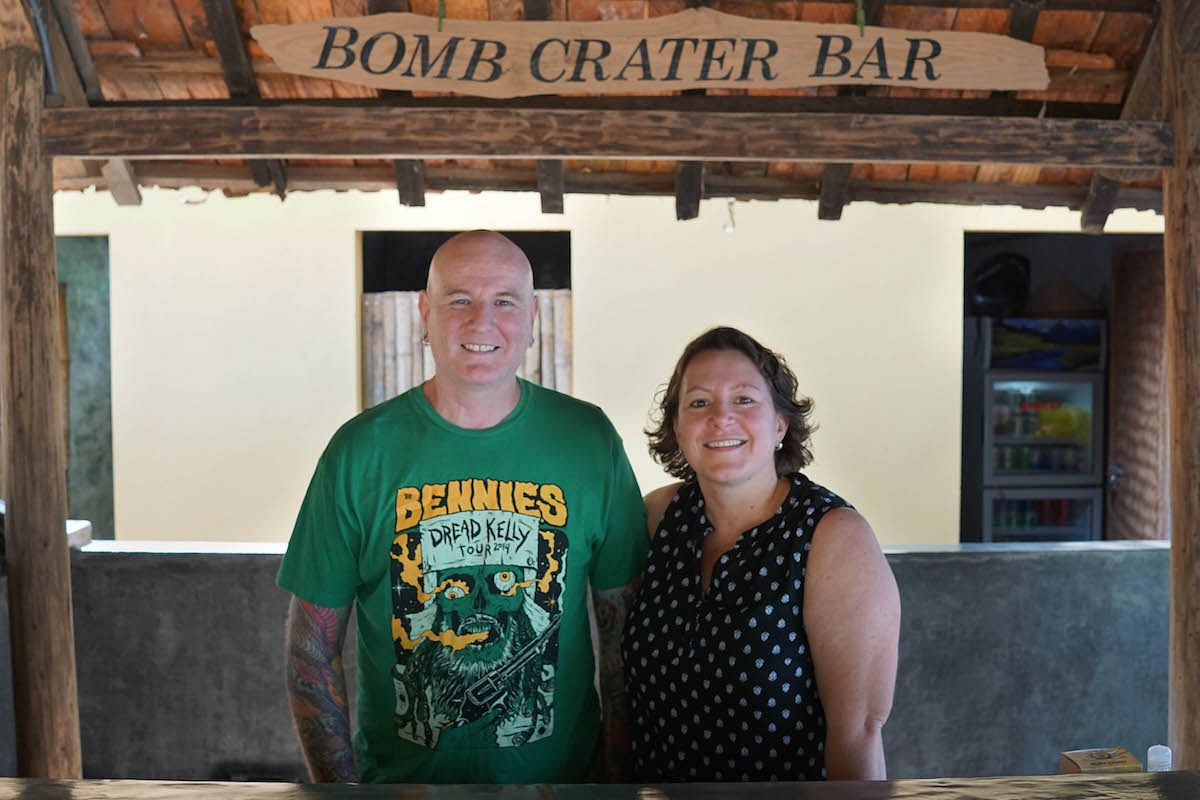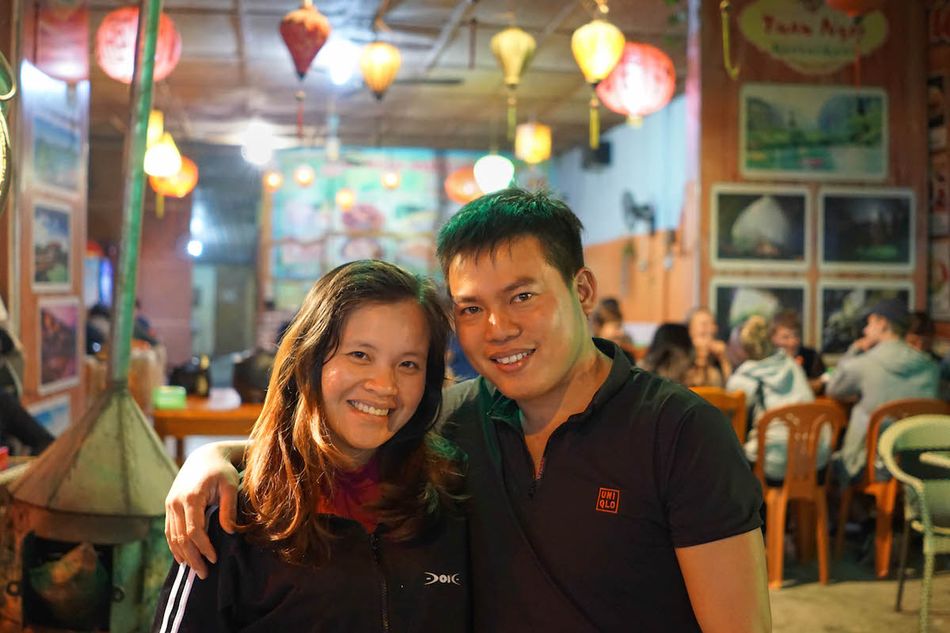 Arnold and Heather thought the location was perfect, and last July the Bomb Crater Bar officially opened, with the expats serving as freelance barkeeps and gregarious conversationalists while Ngoc and Tuan focus on their restaurant.
The setup is simple, with a wooden sign on the old French highway that slices through Cu Lac pointing to a small driveway into a clearing surrounded by stands of bamboo. A thatch roof covers the bar and a few seats. The view across the Son is stunning: low mountains line the horizon, with small farms and endless rice paddies in the foreground.
On either side of the bar sit the namesake bomb craters. Though significantly shallower today thanks to decades of mud left over from annual flooding, they still serve as an impressive reminder of the violence wrought on the province years ago.
Arnold explains: "We wanted something that respects the history of the area but also embraces where we are now, which is really all about tourism."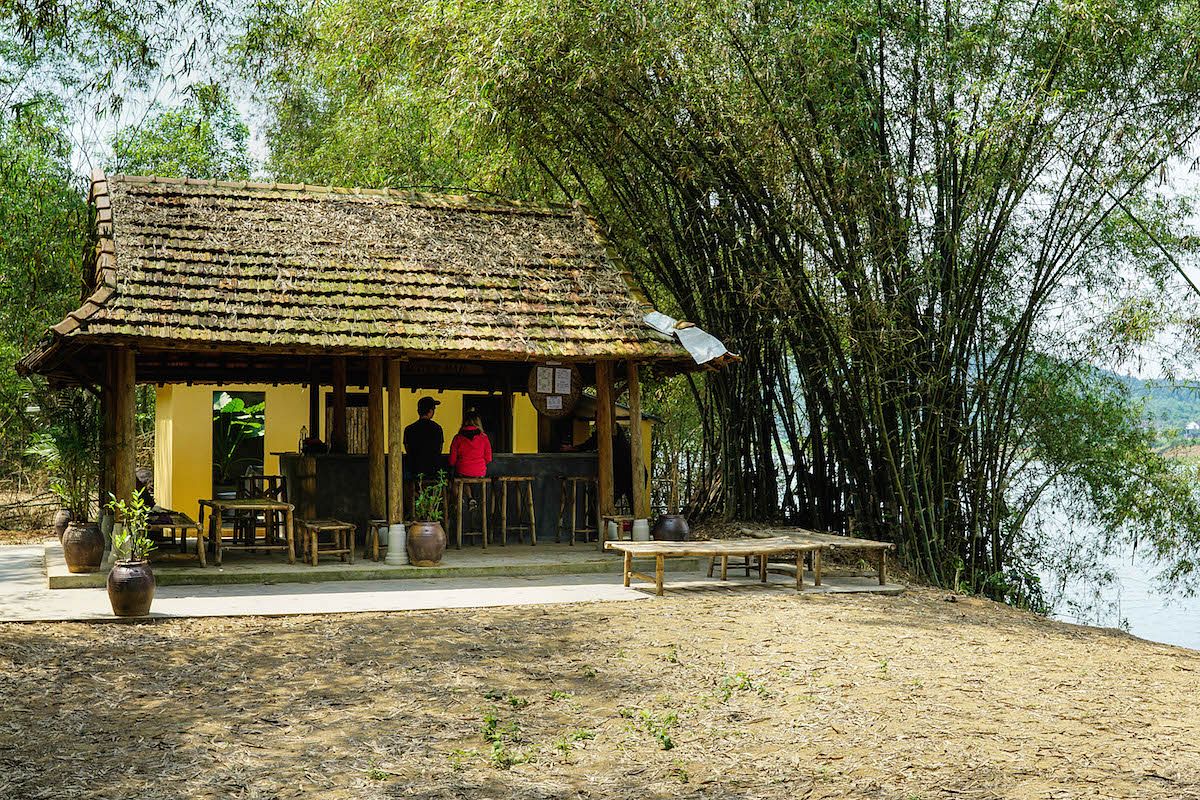 Ngoc is also careful to note the area's bloody past, which created challenges when they decided to open the bar. UXO, or unexploded ordnance, still litters the countryside in this part of the country.
"In the past, there was heavy bombing here and many people died. Before we opened we talked to the government and MAG [the Mines Advisory Group] inspected the land many times to make sure there weren't any bombs still there," she says.
Business has been slow to take off due to the deadly flooding that struck Phong Nha last fall, forcing Ngoc and Tuan to close the bar for six months. However, they have big plans for the location.
"In the future, we'd like to make it more well-known and do more food and drink," she shares. "We're thinking about doing a homestay, but we might have to build it on stilts since it floods every year."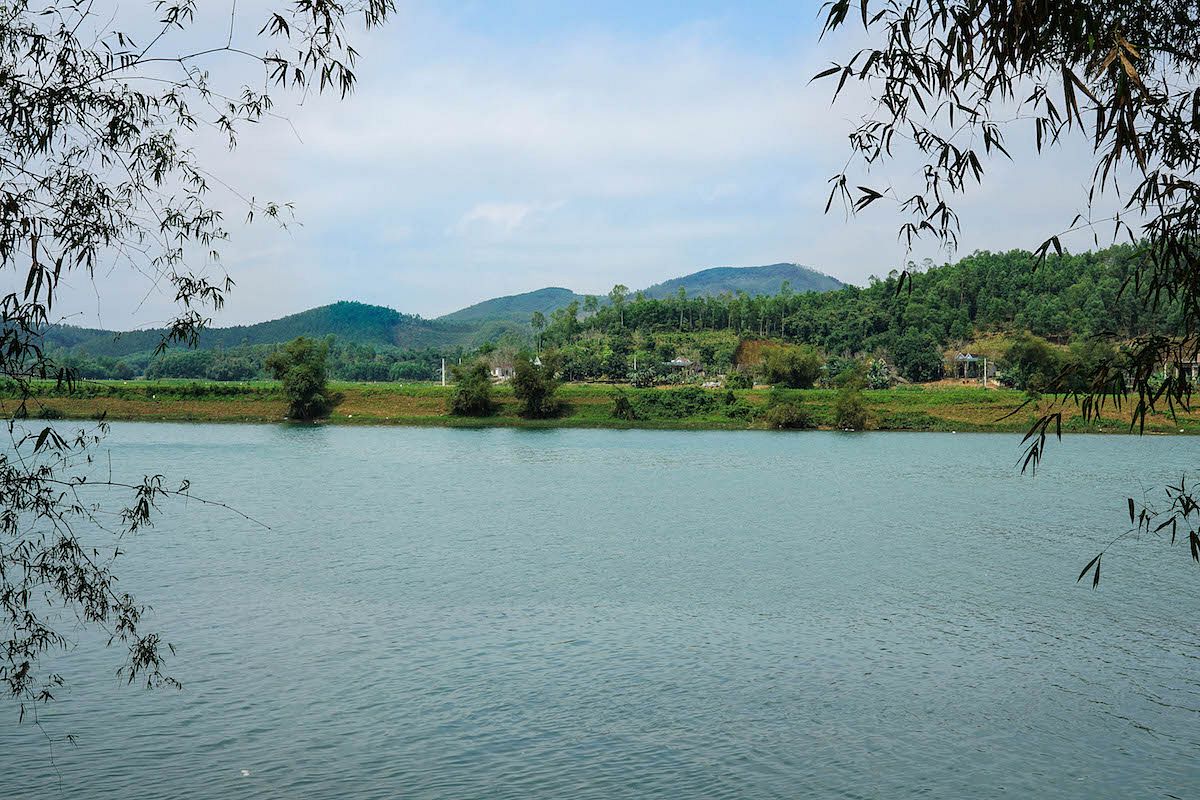 If everything goes smoothly, Bomb Crater Bar may begin a small tourism economy of its own in Cu Lac.
"Many people in the village are farmers and they don't have much money," Ngoc says. "We want to make a nice place so more people come, and in the future hopefully more shops open and more farmstays come so local people can find jobs and make money."
Arnold hopes to see this vision come to fruition as well. "If you go to the center of Phong Nha there are hotels and they're all jammed up next to each other, and there are restaurants and coffee shops…it's getting pretty busy," she explains. "It's good to try and decentralize things so people can have small businesses, which really helps the local people."
In modern Vietnam, it's often easy to forget that the country was consumed by destruction 50 years ago. Bomb Crater Bar serves as a tasteful reminder of the past, while looking ahead to a more prosperous future.
"It's good for us," Ngoc says, "but we also want it to be good for the locals."
Bomb Crater Bar is located at Km 560 H1, QL 15, Cu Lac. Check out their Facebook page or website for more details.

---

Related Articles:
---