In a previous life, Nguyen Van Son was an auto parts salesperson. As a gift of appreciation for his wife, he acquired a seemingly trivial plot of land in Da Lat and made it a place where the family could cultivate flowers as a summer hobby. But things changed when he was approached by some cunning businessmen who convinced him to grow coffee for quick cash: he was sold trees that never produced cherries.
Read the article in Vietnamese here.
Every cloud, however, has a silver lining. Meticulous in technique thanks to years of dealing with automobiles, Son's eagerness to expand his gardening and botany knowledge changed his life rather unexpectedly. He is now one of the most sought-after experts of Arabica coffee in Lam Dong Province. I joined Son, who is now known to aspiring baristas and coffee shop owners as the legendary Son Pacamara — after a Salvadorian coffee cultivar — for a 'farm-to-cup' experience.
"During the three-month harvest season, we have visitors almost every day," he said. "They come to learn about coffee."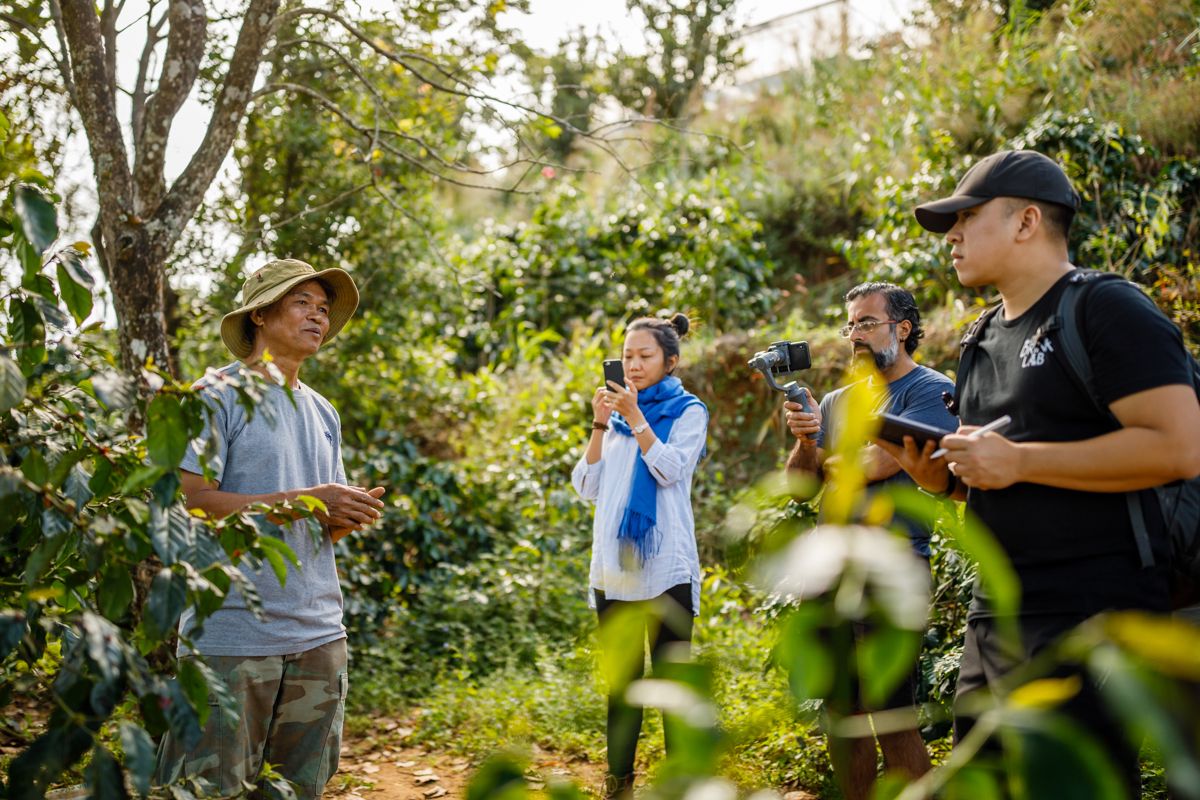 In 2010, Son accidentally acquired some unwanted coffee trees from a local agriculture research facility. Rumored to be gifts from the El Salvador government to Vietnam, these trees failed to bear fruit under research conditions. Owing to Da Lat's favorable natural climate, these trees finally produced cherries at his farm, and the resulting roasted coffee garnered attention from Taiwanese bean hunters. They later linked Son up with experts from the Specialty Coffee Association of America (SCAA), who then realized that the beans were in fact rare Pacamara beans from Central America.
"It was a surprise! A completely unexpected surprise! We had so, so many surprises!" Son exclaimed.
Pacamara coffee was first discovered in 1956 in El Salvador, a hybrid of Pacas and Maragogipe beans, which themselves are natural mutations of the Typica and Bourbon varietals, respectively. The original Pacas coffee was named after the Pacas family, who have been growing coffee on the country's San Rafael estate since the 19th century. Just like the Maragogipe varietal, Pacamara beans are exceptionally large in size and are thus often called 'elephant beans.'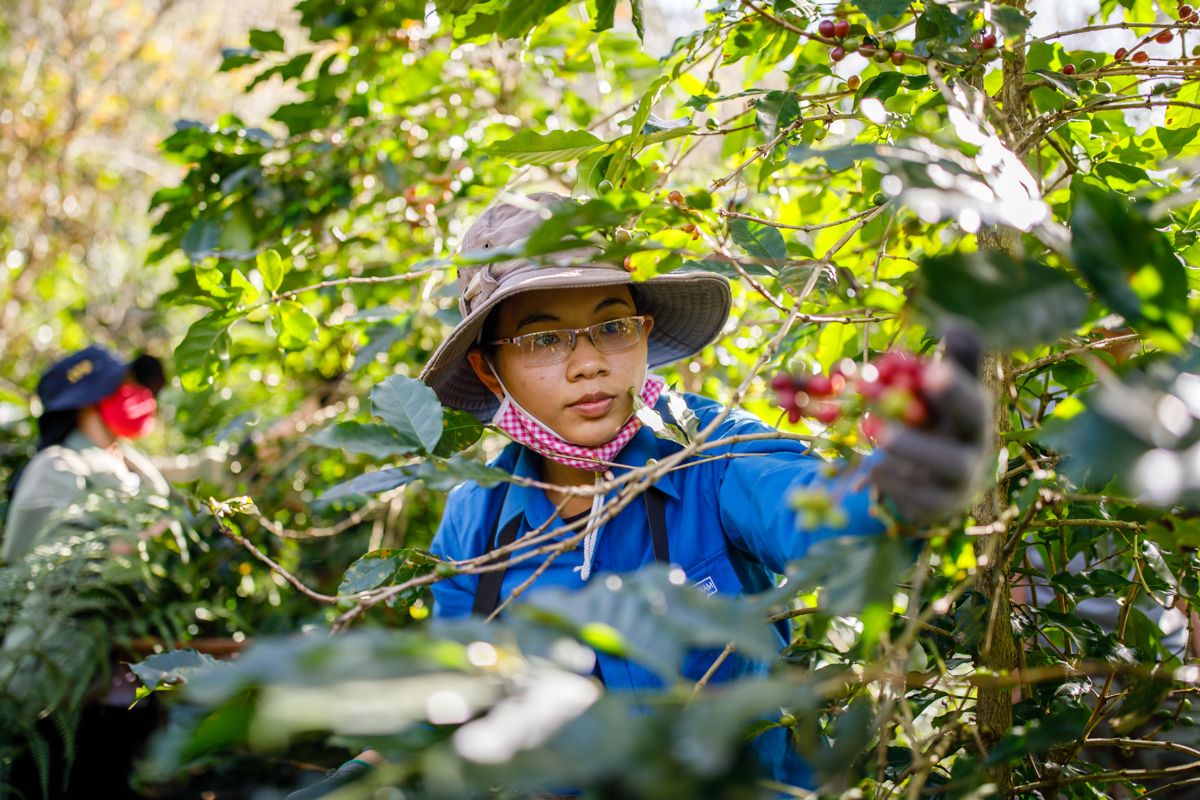 Soon after this discovery, Son adopted the trade name "Son Pacamara" and began studying coffee seriously with American specialty coffee expert Will Frith, whose mixed Vietnamese-American heritage inspired him to return to Vietnam in search of coffee in Da Lat. His coffee beans are now being served in Saigon as well.
Beyond the distinguished Pacamara varietal, Son also grows Typica, Bourbon, Mundo Novo and Da Lat's Heirloom Arabica, all descendants of the original Arabica coffee that was first imported to Da Lat from Africa by French colonists.
Maintaining the unique characteristics of each varietal is not an easy task.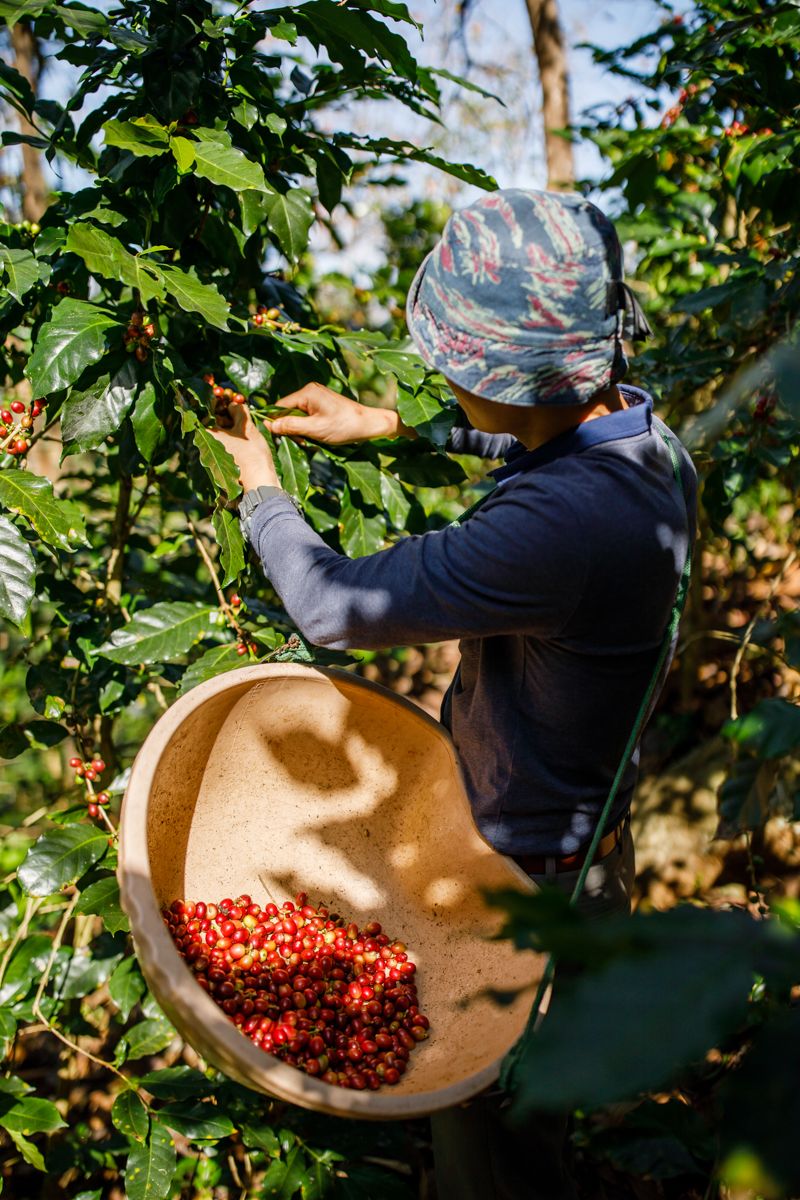 "Cross pollination occurs naturally, and grafting is the best way to maintain the purity of each varietal," Son explained.
"For picking and production, I use volunteers who love coffee," he added. Coffee cherries need to be picked when ripe; low wage pickers, paid by the kilogram, are often unwilling to do this because coffee fruits typically ripen very unevenly on the same tree.
"[Because of this], we only harvest 30 kilos of cherries a day, compared to an average of 300 kilos at other farms in Da Lat," Son said.
Volunteers then participate in coffee bean processing, a critical step that directly affects the cup quality of the final brew. To make wet processed coffee, coffee cherries are first pulped mechanically, leaving behind the seeds, or beans, with their mucilage intact. The mucilage of coffee exists as a thick, sweet edible layer surrounding the beans, reminiscent of the flesh of fruits such as jackfruit. The beans are then fermented in water for up to two days.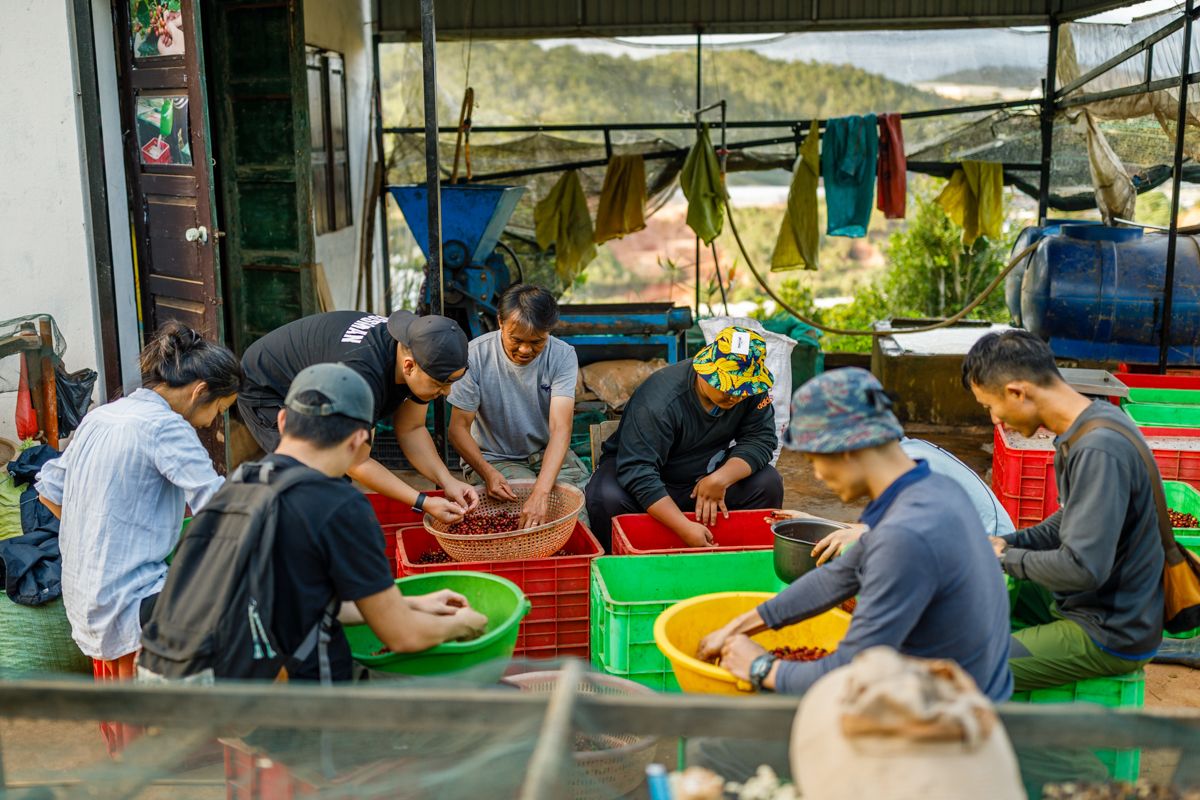 Two of Son's guests, Tam and Raghu, from the United States, had the chance to take part in a hands-on roasting and cupping session with the coffee expert. The American duo has been running a beverage kiosk in Boston for almost two years.
"My trip to Vietnam was to source suppliers for my coffee wholesale business in America," Tam shared. "When visiting a major coffee processing and distribution company, we were referred to Son when inquiring about sourcing specialty coffee beans."
After roasting, Son points out coffee bean defects to the couple, another crucial but commonly neglected step which affects quality.
Tam felt his time at the farm was an invaluable experience: "With our signature drinks being coffee-based, having hands-on experience and field-based knowledge will help us in not only sourcing better coffee, but also allow us to better educate our team, and in turn, our customers, about coffee: from the farm to their cup."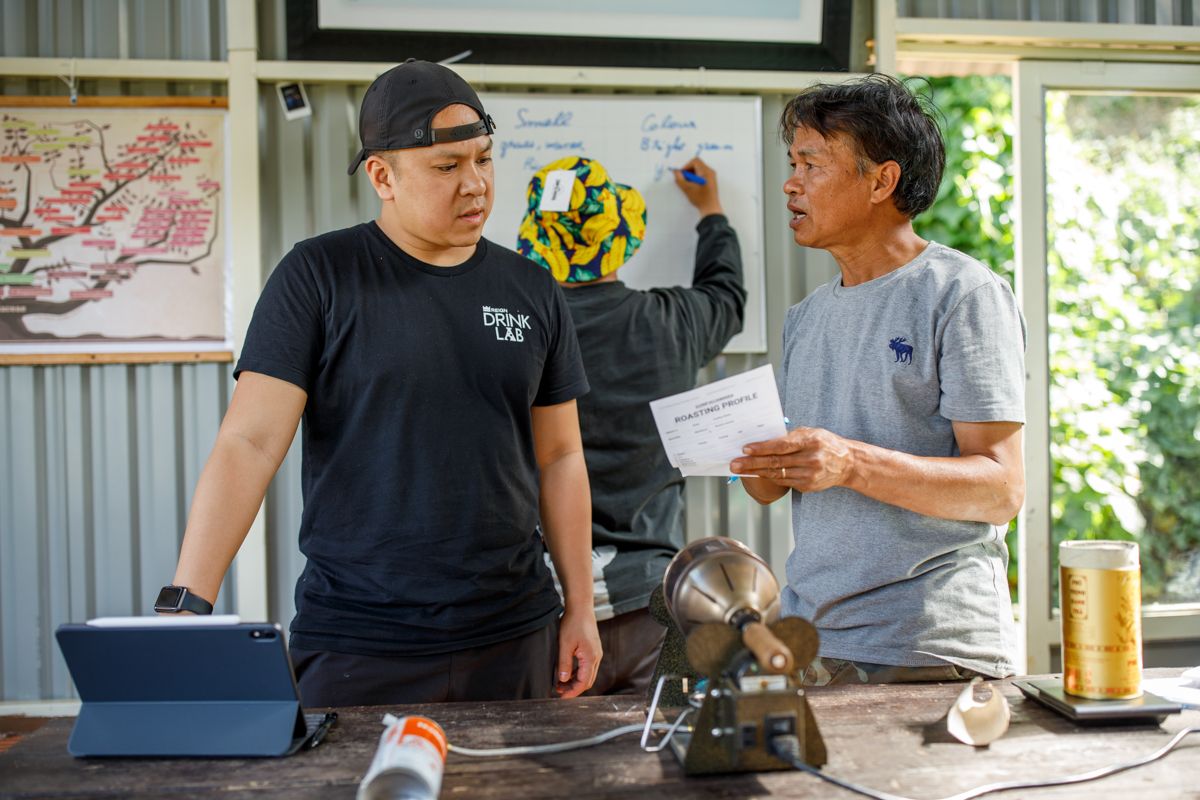 While making us a pour-over coffee, Son's assistant, Dung, shared his own bean story, a distinct transition from city to farm.
"I was a hotel manager for a year after graduating from French and Tourism major," he said.
That life, however, proved not to be his cup of coffee. Dung eventually discovered the farm after his elder sister volunteered to work with Son. He hasn't looked back since. "After a week here, coffee chose me," he said. As philosophical as this sounds, he decided to move to the farm to live here practically full-time.
After nine months in Da Lat, Dung returned to Saigon to try his hands at his own coffee business. Perhaps rather unsurprisingly, he was back on Son's farm after just three months.
"I was using commercial beans and making Vietnamese filter coffee," Dung said regretfully. "I don't care about money, just quality. In the future, I'll try again; [Do something like a] trading spot for Vietnamese coffee," he added.
When we asked what his next venture may be called, Dung, as idealistic as he is, couldn't be bothered: "Name? I don't care!"
Sơn Pacamara Specialty Coffee Farm | 20C Van Thanh, Ward 5, Da Lat