Pasteur Street Brewing was the first craft brewery of its kind which opened up the floodgates for Vietnam's Craft Beer Revolution.
Established as one of the most award-winning craft breweries in Vietnam, PSBC provides Bia crafted in Vietnam with all of the fantastic local fruits and flavors the brewers can get their hands on. Since opening the Tap Room in early 2015 the gang at Pasteur has rotated through over 200 different styles of beer, all featuring some Vietnamese ingredients including Jasmine from Sapa, Marou Chocolate from Tien Giang, Passionfruit from Dalat, and many more! The brewers skillfully merge these flavors with classic American Craft brewing recipes to make world class craft Bia that is now exported around the world.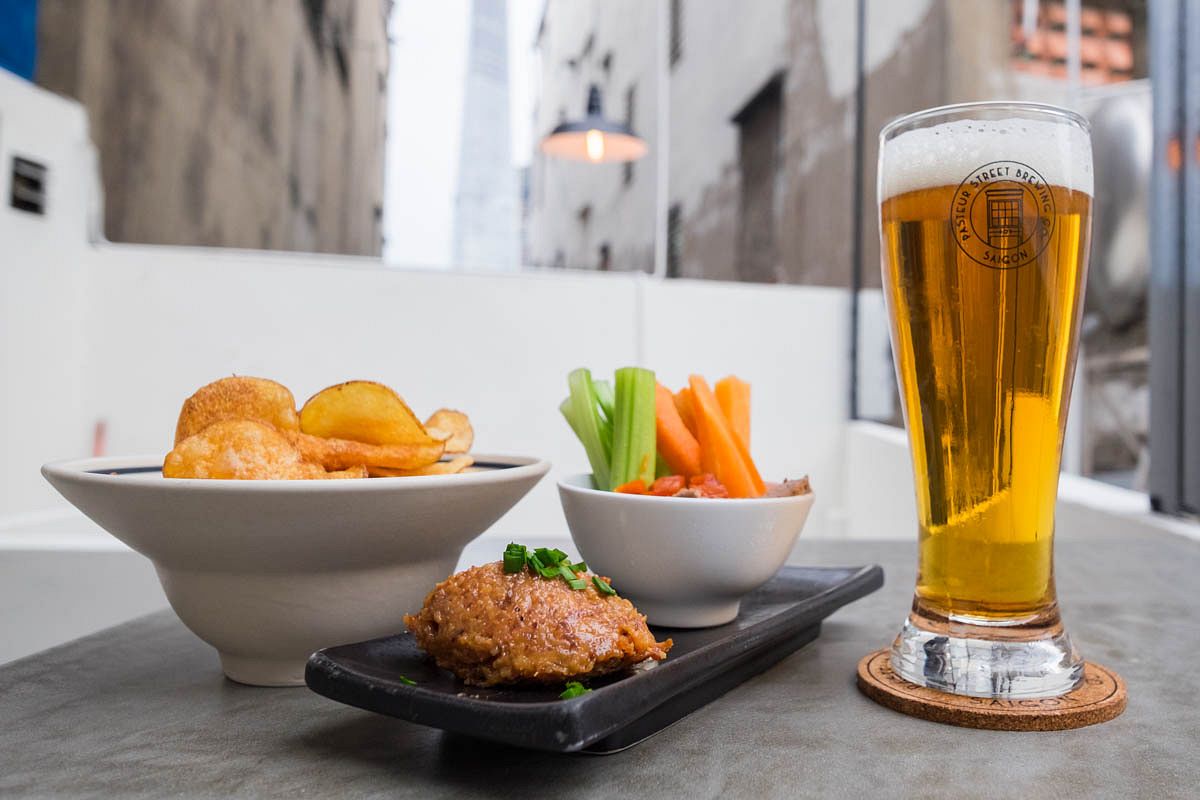 A consistent favorite among locals and tourists alike, the ever popular PSBC Tap Room has 12 Taps of year round favorites and rotating seasonal brews. The venue has recently added a second location in the same alley to allow for comfortable sampling with double the space and a rooftop bar. The beers are complemented by a southern-inspired menu including the signature Nashville Hot Chicken. With no TVs in sight and a smoke free main floor the focus here is right where it should be - good beer and good conversation. The décor is comprised mainly of repurposed wood sourced locally in HCMC, with a gorgeous natural wood bartop. A mix of classic and contemporary rock on the speakers keeps things lively.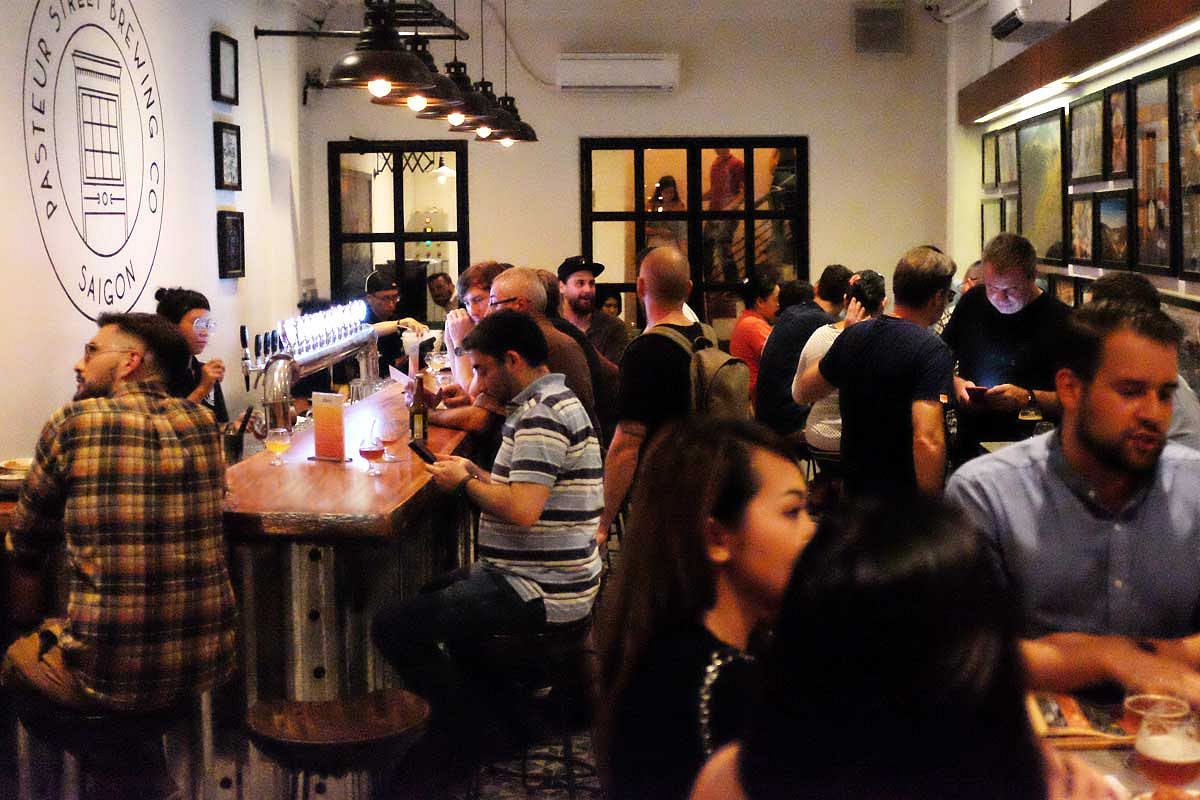 While you are there, be sure to check out the artwork in the alley featuring the Vietnamese names of the Vietnamese ingredients used in the beer as well as the provinces from where they are sourced. You can also see the 7 cities in Vietnam Pasteur Street is currently available. The artwork in the tap room explains how their beer is made.
Come back often as beers get rotated in and out according to the season and the creativity of the brewers. Try a tasting flight so that you can experience the wide array of styles on offer at any given time.
Pasteur Street beers are also available on tap at outlets around HCMC as well as in Hanoi, Nha Trang, Danang, Hoi An, Sapa, Mui Ne, and Vung Tau. PSBC also exports internationally to Thailand, Malaysia, Hong Kong, and the USA.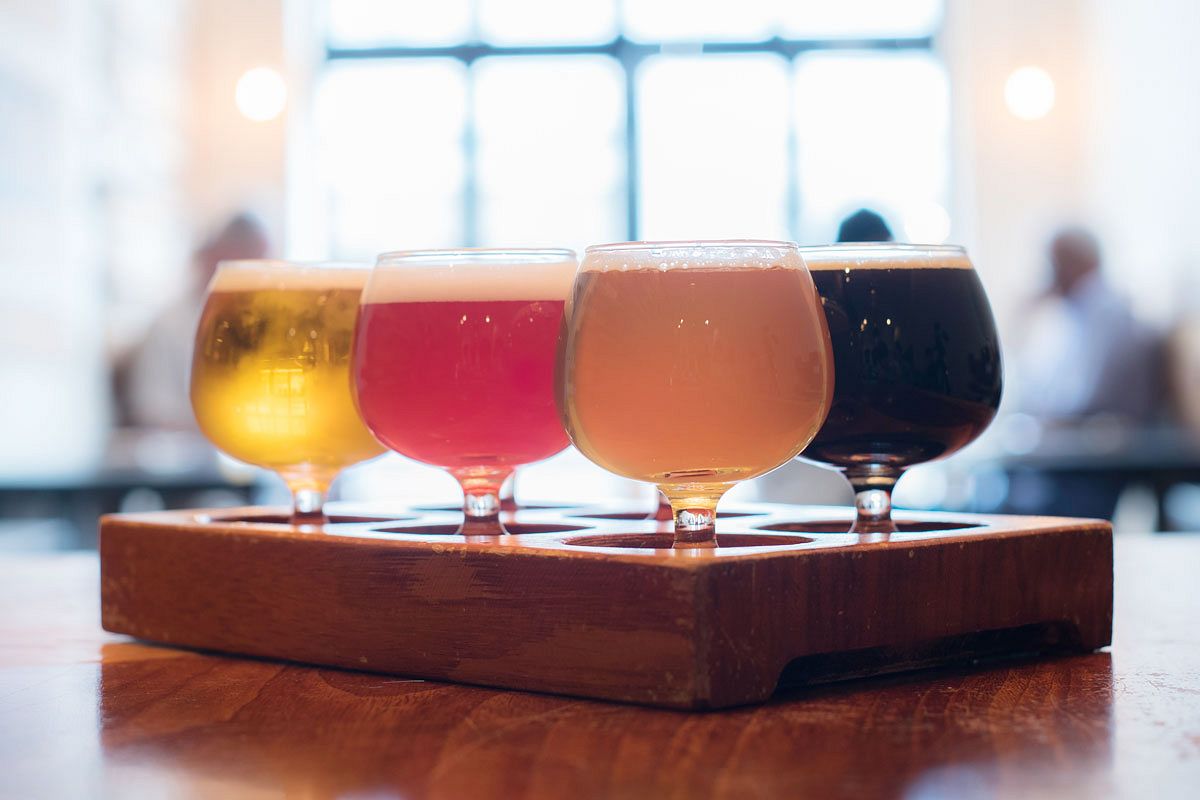 Pasteur Street Brewing Company – Taprooms
THE ORIGINAL TAP ROOM
144 Pasteur Street, District 1, Saigon
Down the alley, to the left and walk up the stairs to enter our Tap Room
+84 (0) 8 3823 9562
Opening hours: Monday – Thursday 4pm – 11pm & Friday – Sunday 11am – 11pm
Facebook
HEM TAP ROOM
144 Pasteur Street, District 1, Saigon
Down the alley, to the right
+84 (0) 8 3823 9562
Opening hours: Daily 11am – 11pm
Facebook
FILLING STATION
29 Thao Dien, District 2, Saigon
+84 (0) 28 62730562
Opening hours: Monday – Thursday 4pm – 11pm & Friday – Sunday 11am – 11pm
Facebook
HANOI TAPROOM
1 Au Trieu, Hoan Kiem Hanoi
+84 (0) 2462949462
Opening hours: Daily 11am – 11pm
Facebook
Pasteur Street Brewing's Facebook Page
028 3823 9562
144 Pasteur Street, D1, Ho Chi Minh City
29 Thao Dien, D2, Ho Chi Minh City