Like turtle shells breaching shimmering shallows, giant ochre boulders rise from tufts of green bushes and trees on the mountains overlooking the East Sea in south-central Vietnam.
Eagles soar on thermals above the turquoise waters dotted with small fishing boats while the tide slowly laps against expansive, sandy beaches. Nui Chua National Park, one of the most well-preserved areas in Vietnam, offers a rare glimpse of unique, remote nature.
Nui Chua translates to "the place where they worship gods," and considering the sun-soaked area's serene beauty, it's easy to see why. Established in 2003, the park is a sprawling 30,000-hectare desert ecosystem at the base of the Truong Son Mountain Range in Ninh Thuan Province. Thanks to its high elevation and brief rainy season, the dry, cactus and thorn-bushed filled area is an intriguing contrast to the tropical forests most people typically associate with Vietnam. As one of only six official Marine Protected Areas (MPAs) in the country, the shore-stretching park has retained its pristine environment.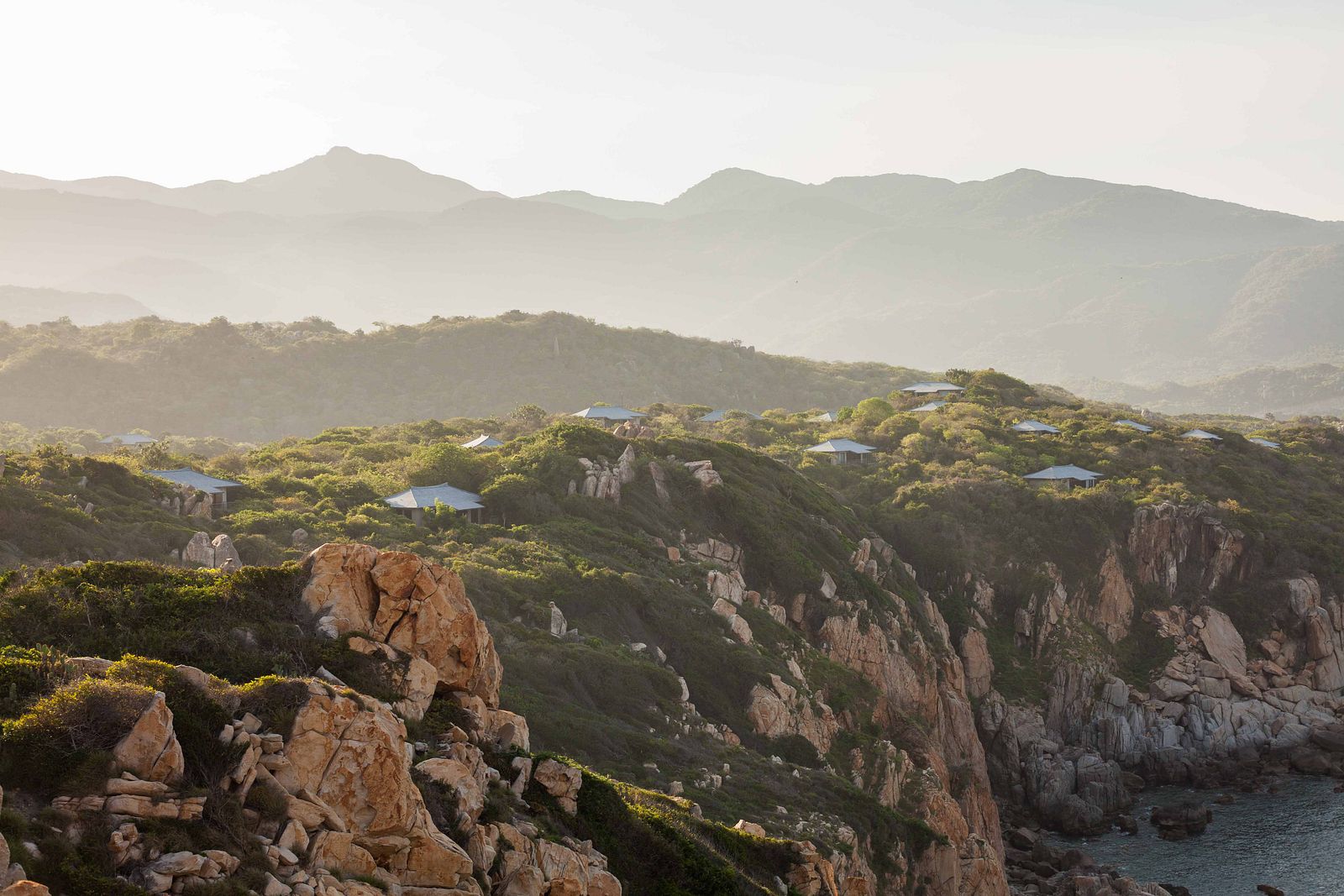 As one travels deeper into Nui Chua, a few dark roofs emerge from the mountain peaks. They belong to the rooms and villas of Amanoi - the only resort permitted in the national park. Opened in 2013, a member of the prestigious Aman international hotel group, Amanoi provides guests with unparalleled levels of privacy, along with opportunities to indulge in the unspoiled surroundings.
The 42-hectare property contains just 53 bedroom units distributed amongst a variety of secluded pavilions, villas and residences, which means guests can feel pleasantly alone with nature. Whether it's gazing at the stars, listening to the chattering of white-crested laughing thrushes in the afternoon or watching the sunrise splash golden light across the granite rocks from the seclusion of one's own room, Amanoi truly deserves its name – aman meaning "peaceful" in Sanskrit and noi meaning "place" in Vietnamese.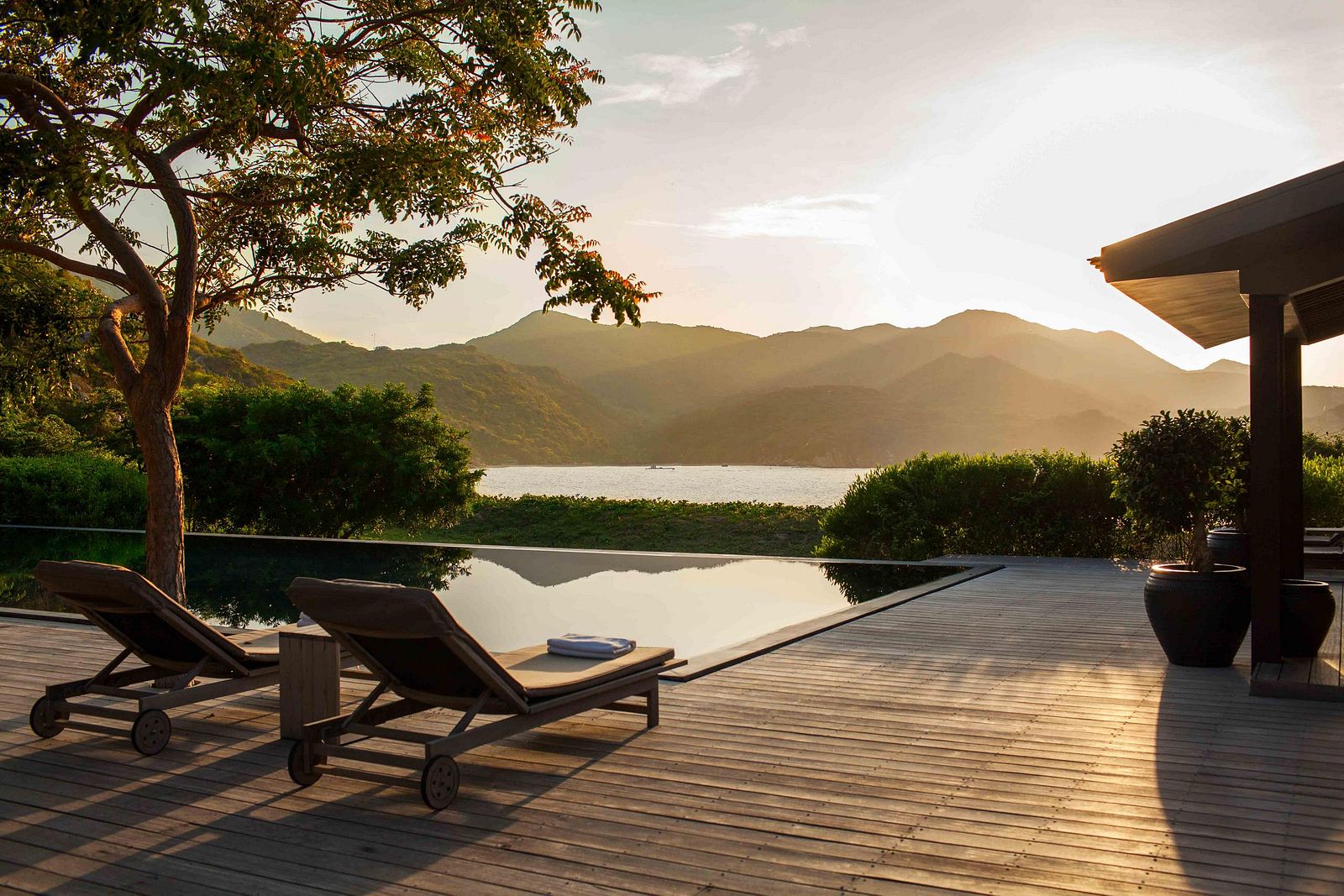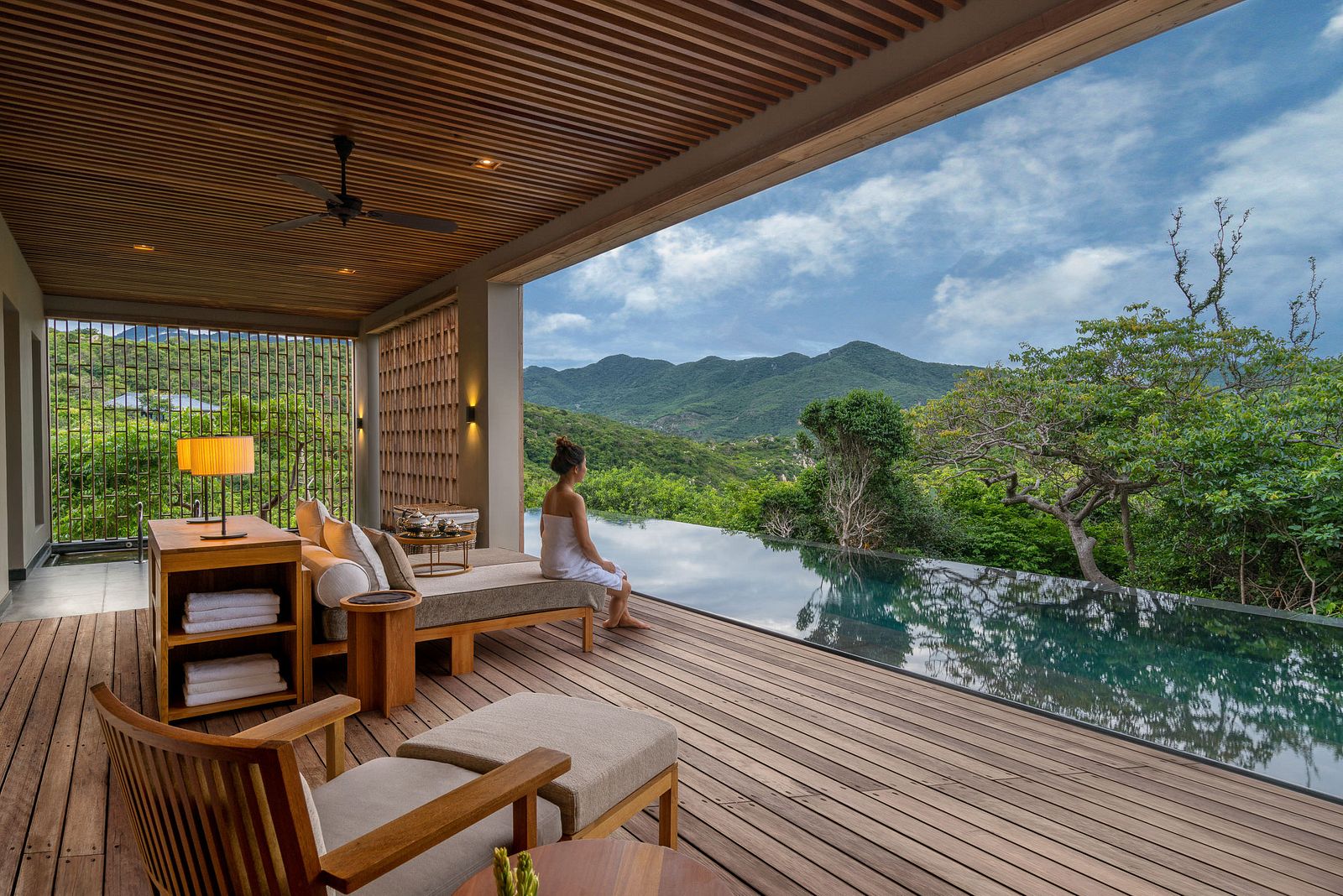 Since it is built within a national park, Amanoi has to follow strict building and conservation regulations, which have resulted in a property in harmony with the environment. Boulders cause paths to twist and curve, while flower-laden bushes and trees arch over building entrances. Only indigenous plants are involved in the landscaping, and the spacious grounds provide homes to native animals including squirrels, deer, birds and butterflies. It is not unusual to witness a sea crab scurrying across a pathway or to see a red jungle fowl pop out of the undergrowth. Built with sustainable materials, a percentage of each stay goes directly to the national park to keep it as a refuge for plants and animals.
While the luxurious rooms, pools, spas, fitness studios, lounge, library and restaurant make for an extremely relaxing experience, Amanoi encourages explorations of Nui Chua and its surrounding areas too. Several guided hikes of varying difficulties allow adventure-enthusiasts to check out the panoramic views atop Goga Peak, Ong Hao Temple Cove, Bai Da (Rock Park) and Hang Lake. During these excursions, the knowledgeable Amanoi guides share fascinating information about the ecosystem and its inhabitants which include endangered animals such as sun bears, slow lorises, black shanked doucs, large-antlered muntjacs, egrets, eagles and a wide variety of butterflies and reptiles.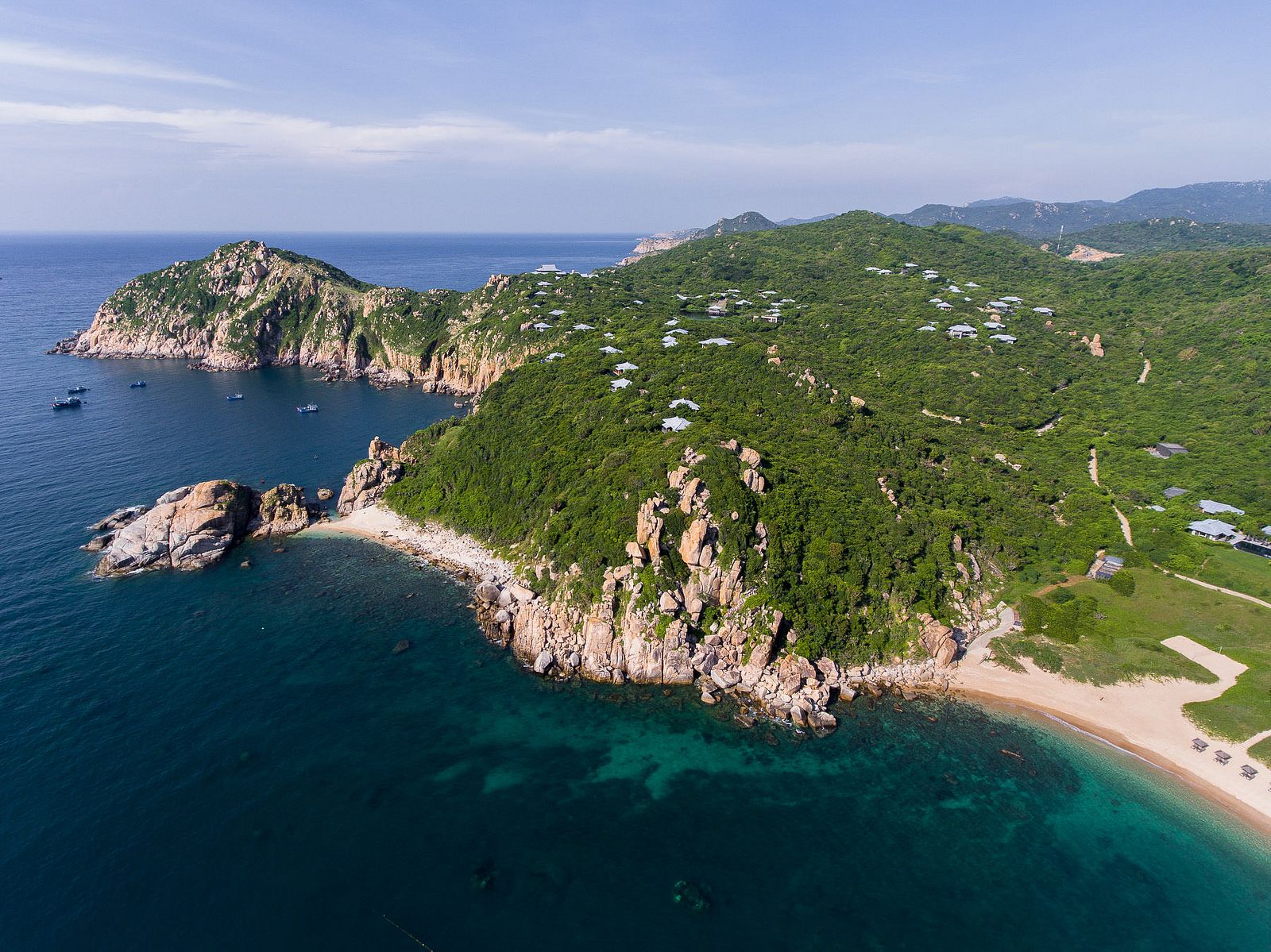 Nothing could be more relaxing than reclining on Amanoi's private beach sipping cocktails and meditating to the sound of the surf, but the resort makes it incredibly easy to get into the waters as well. Guests can go windsurfing and water skiing or don snorkeling gear to explore the vibrant reefs populated with technicolor fish, crustaceans and coral, either alone or on a guided adventure. Swooping through the undersea gardens while holding onto an electric-powered water scooter is as close to visiting a foreign planet as one is likely to find.
Just up the coast from Amanoi rests Vinh Hy Village on Vinh Hy bay, a small cove filled with traditional boats plying the water for mackerel, tuna and red snapper, while also laying lobster traps. A smattering of small restaurants in the area serve dishes straight from the ocean, and the chefs at Amanoi also rely on fish freshly caught in the clean waters. Guests can visit the cove via kayak, water bike, catamaran or paddleboard, all of which are available at the resort. They can also reach the area via the Amanoi speedboat, which swoops out into the open ocean and swings around a rugged island where a few daring residents scale the precipices collecting swiftlet nests. Before returning to land, the boat takes passengers to a secluded lounge nestled into the cliffs for cocktails and a private sunset.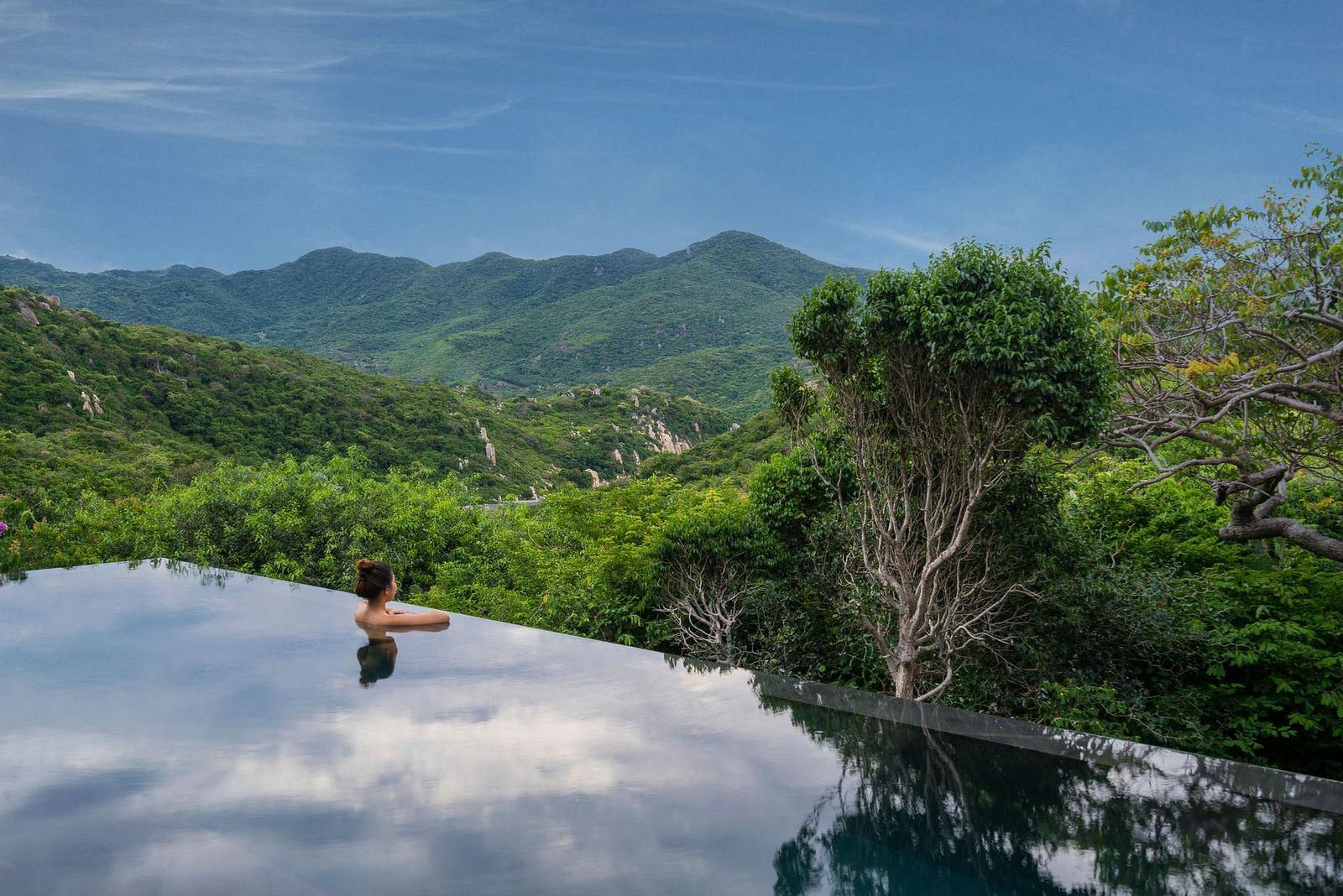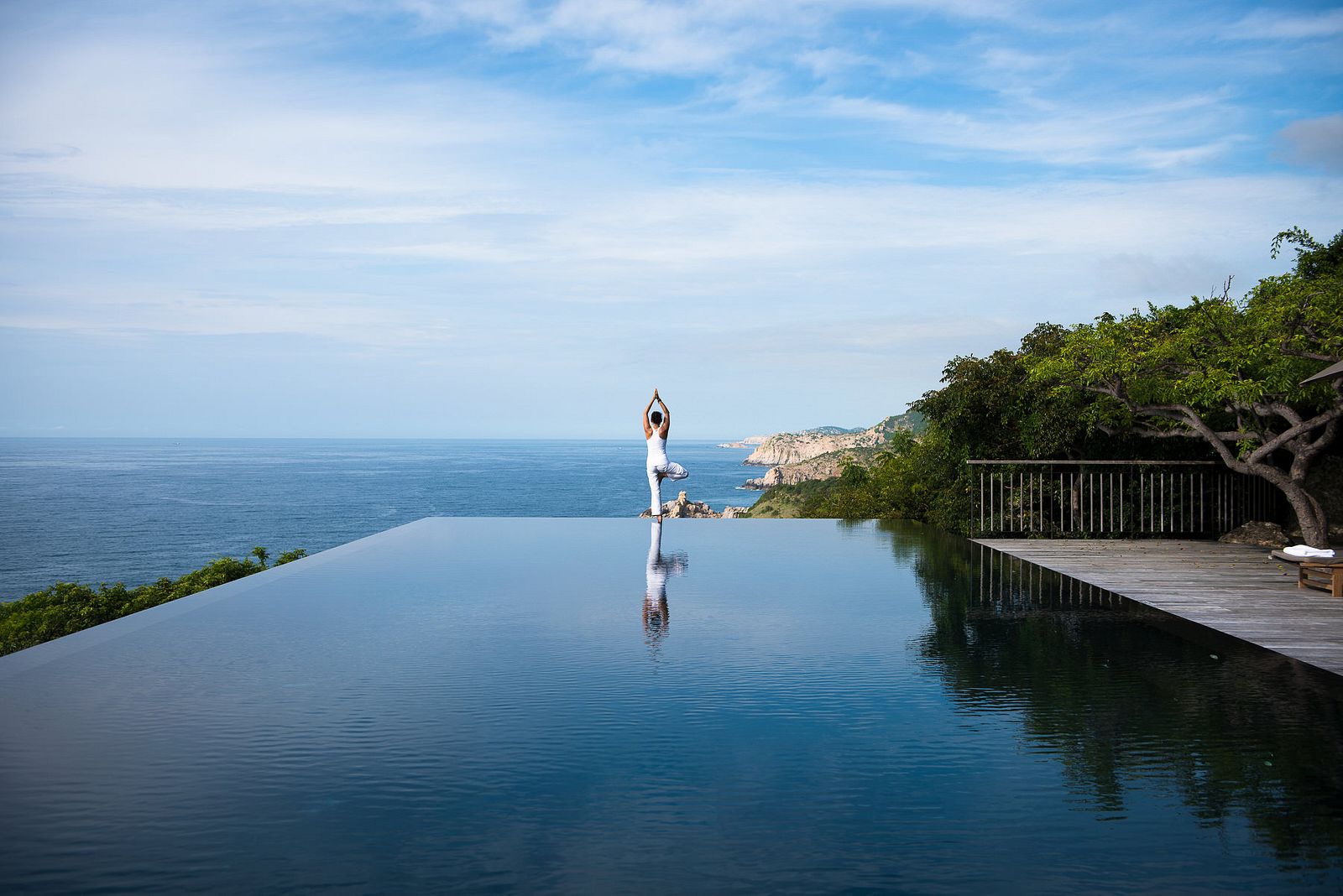 In addition to the national park, this section of the country offers insights into the history of the Cham Empire. The seafaring people settled in this region hundreds of years before Vietnam's borders and cultures became what they are today. Their kingdom's success and sophistication is seen in the elaborate architecture that was at the center of a former capital near the national park. Po Klong Garai, the most impressive and intact multi-tower complex in the area, honors its legendary namesake king and is one of the few remaining ancient Cham structures to host contemporary Cham festivals filled with music, dancing and traditional crafts.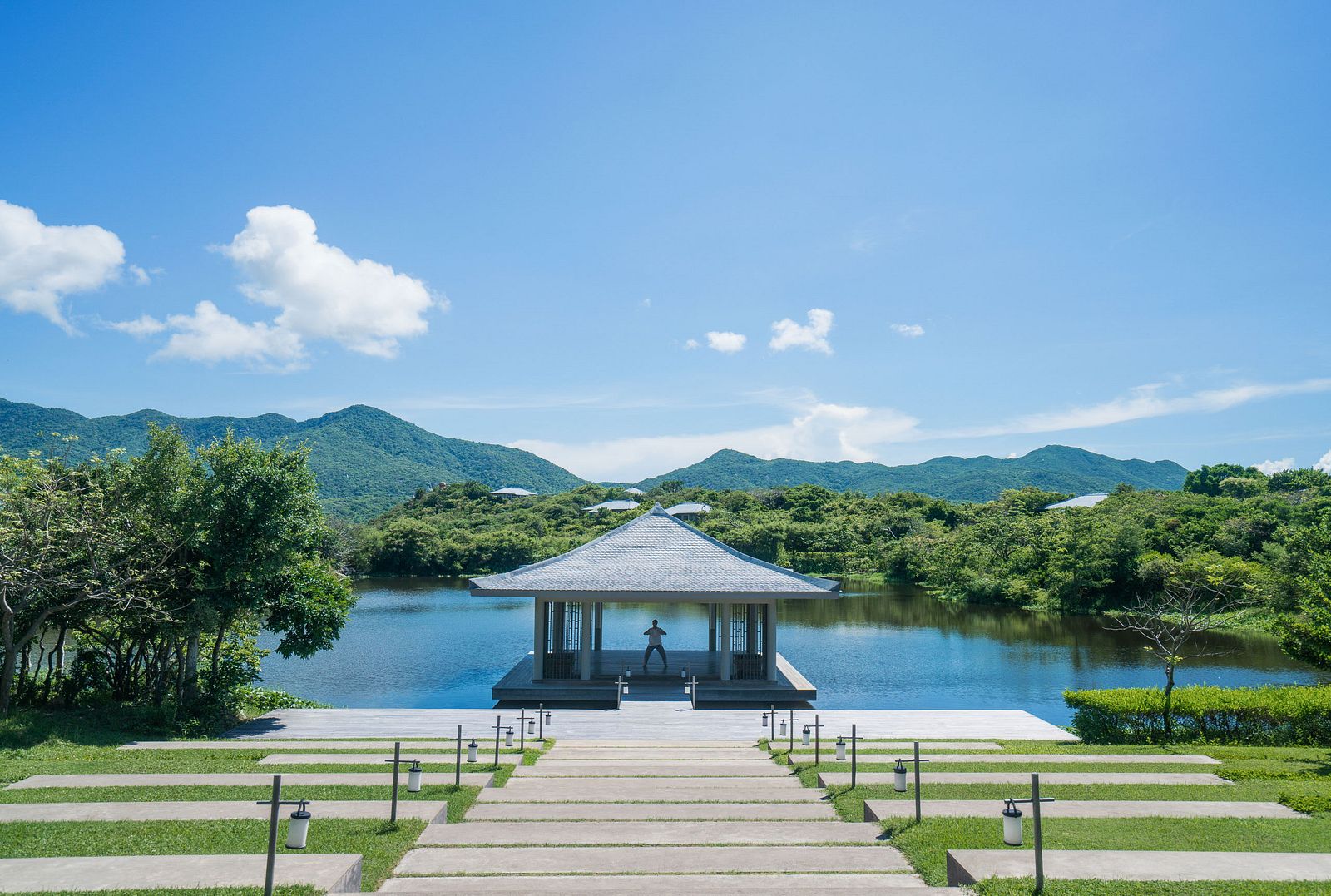 Amanoi can arrange special visits to explore Po Klong Garai with Dang Nguyen Luu Kieu Tuyen. Tuyen, as she is affectionately known, is of Cham descent and guides visitors through the complex's museum while explaining the ethnic minority group's history and providing detailed information, such as the meaning of one tower's Shiva inscription. Before returning to the resort, visitors are invited to a meal with Tuyen's family to enjoy authentic flavors few are fortunate to sample.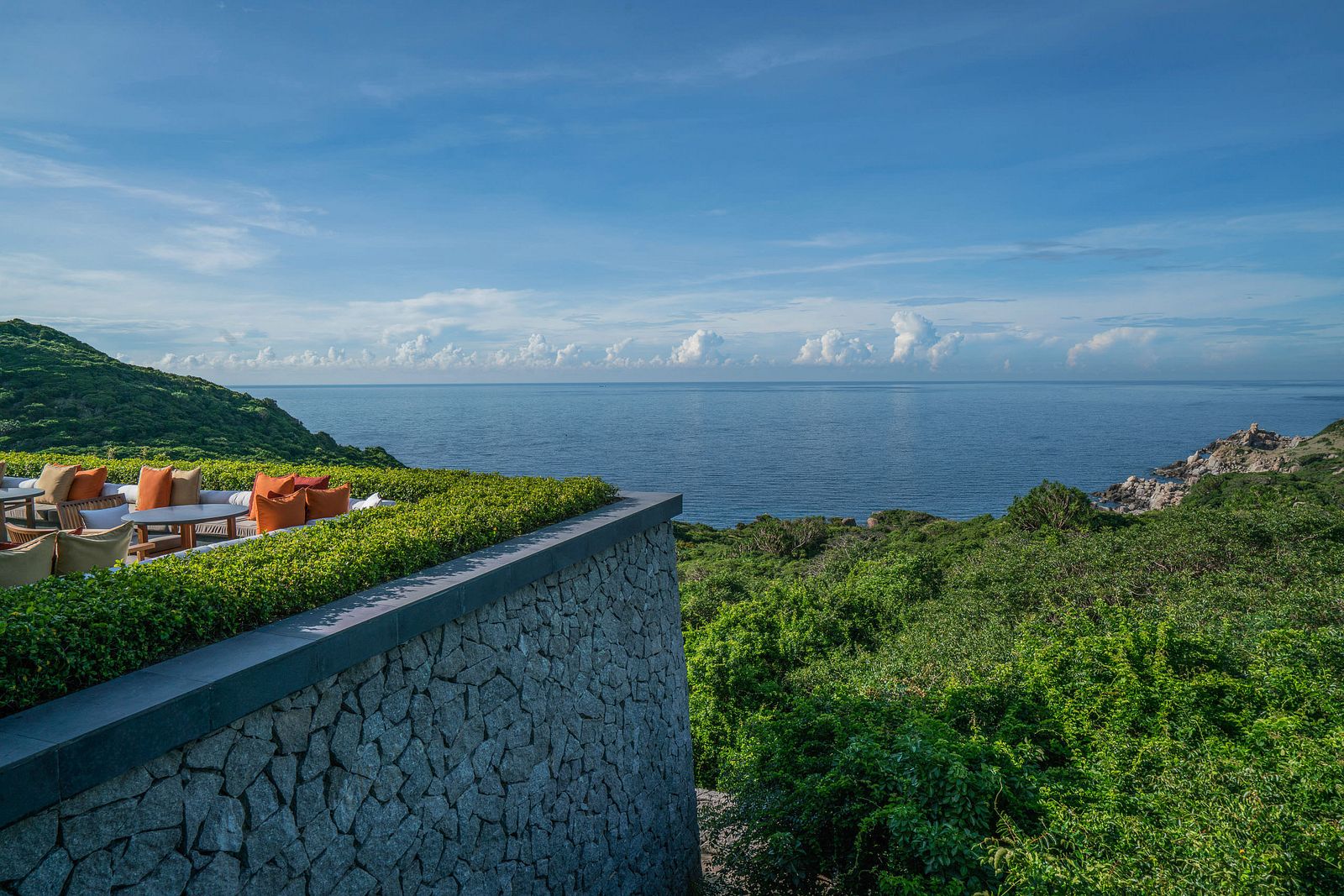 While Vietnam's rapid development has produced myriad positive changes for people inside the country, more and more natural places and their unique ecosystems are vanishing. Cam Ranh Airport, for example, bustles with tourists from all over the world who catch cabs and buses north to the heavily developed and crowded beaches of Nha Trang. Few go the other direction, however, traveling 45 km south along Highway 1 to investigate a distinctive ecosystem. Thanks to its out-of-the-way location and official government protection, Nui Chua National Park and its surrounding communities stand as one of the nation's most pristine and peaceful areas. The easiest way to experience its beauty, while enjoying great luxury and comfort, is a stay at Amanoi Resorts.


+84 (0) 259 3770 777
Vinh Hy village, Vinh Hai commune, Ninh Hai district, Ninh Thuan province, Vietnam