Some kumquat and peach blossom sellers on the streets of Hanoi have resorted to sleeping in tents to guard their trees.
It's only a few days until Tết. Here and there on the street of Hanoi, it's hard not to notice people carrying pots of quất (kumquat) or đào (peach blossom) on their motorbikes, bringing the plants home to decorate for the traditional holiday.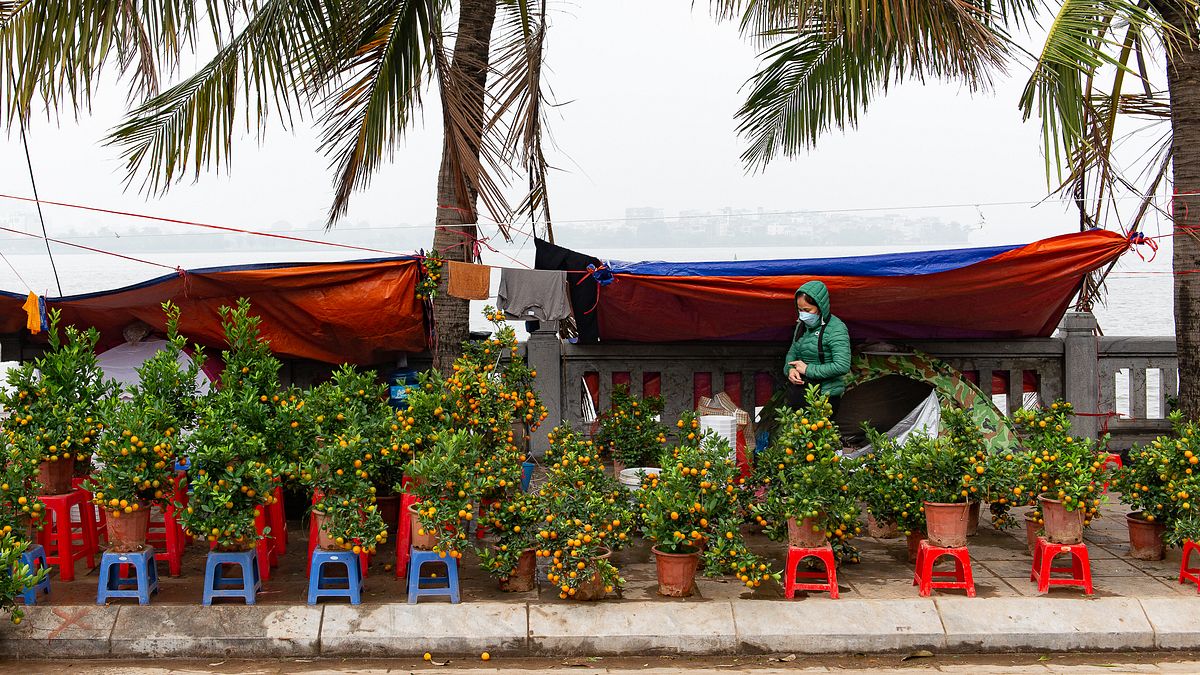 Nhật Tân Village and Quảng An Flower Market are the most popular places to buy these trees, but they can also be found on the stretch of Lạc Long Quân Street by West Lake. Some of the vendors are residents from metropolitan Hanoi, but others come from the suburbs or nearby provinces. Some grow the ornamental trees in their hometown and bring them to sell in the capital city in the month before Tết in the hope of making a buck during the biggest holiday season of the year.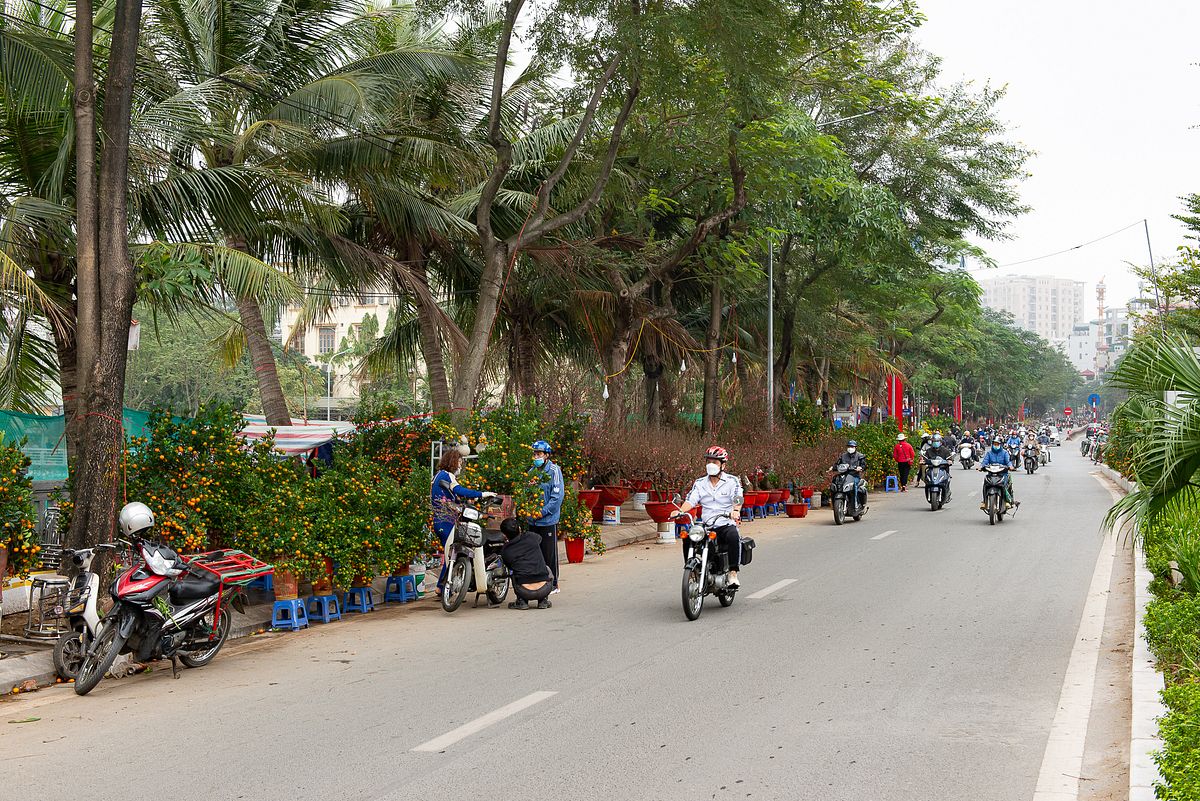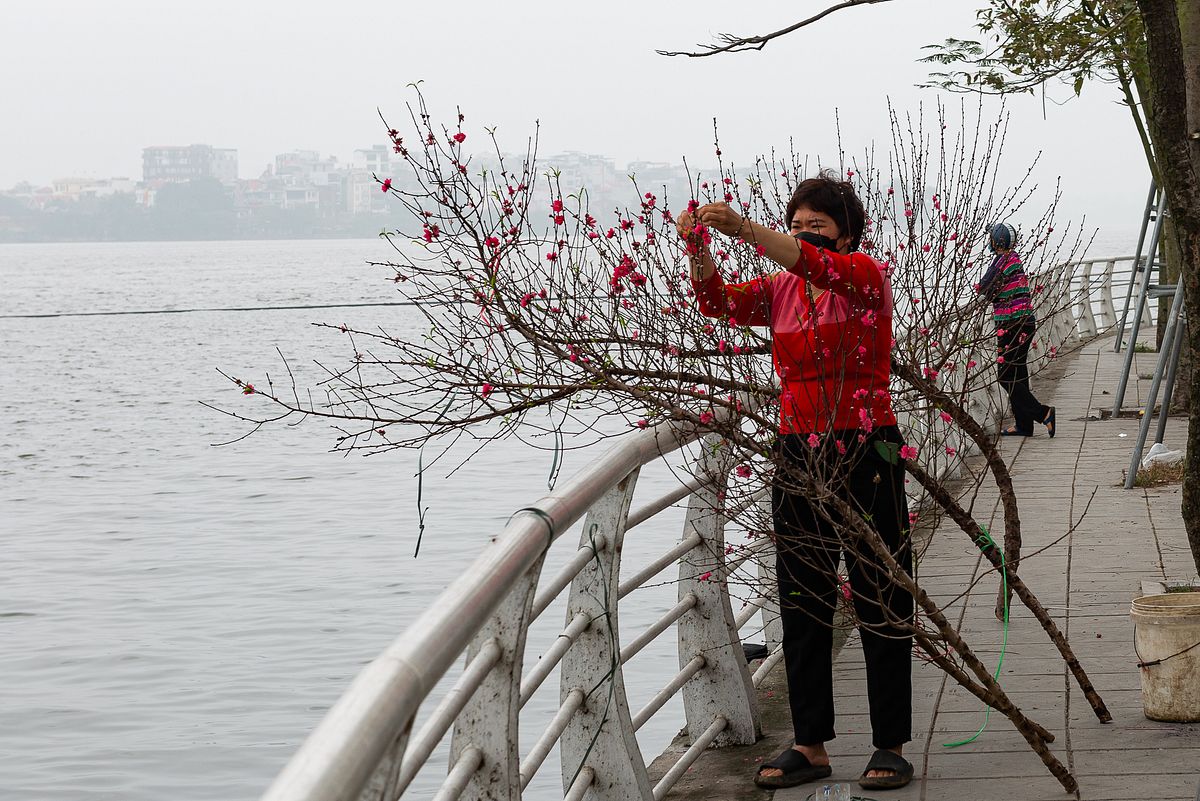 More impressive than the abundance of trees displayed is the effort made by the sellers: they set up tents to stay in place day and night to keep an eye on the trees.
Tough to sleep in the rough
Among the vendors, 27-year-old Nguyễn Văn Tuấn comes from Hoài Đức, an outer district. He's a freelance laborer who usually takes on seasonal jobs, but this holiday, Tuấn and a group of friends decided to sell peach blossom trees, which they bought from growers in Nhật Tân Village. Tuấn doesn't rent a place, but takes turns with his friends to stay in a tent on the street by the trees. Each person stays there for a few days and then goes home to rest when it's not their turn.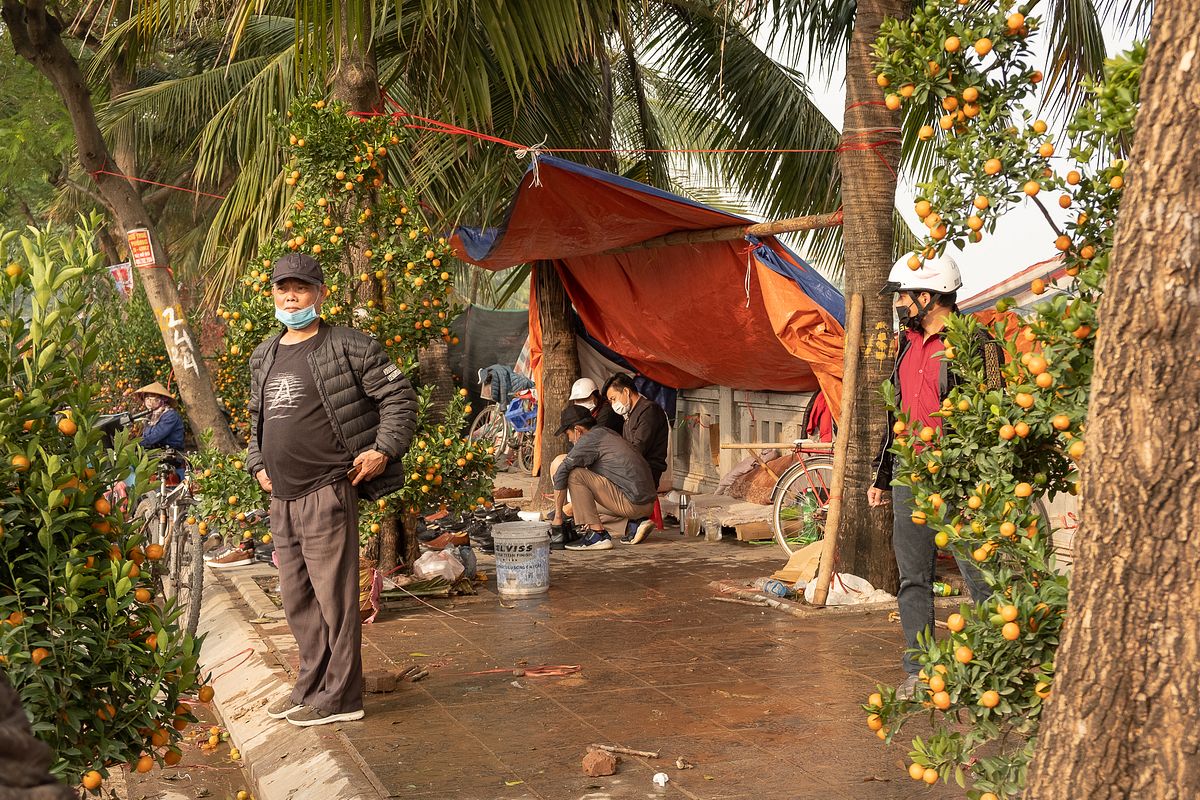 "We stay here to guard the trees in case someone might steal them at night," Tuấn says. "It's not difficult to get food because I can go to eateries," he adds. "I bring water out here to brush my teeth and wash my face. If I want to shower I'd go to a motel." He plans to stay there to sell the trees until the day before Lunar New Year's Eve.
Selling quất next to Tuấn is a woman from Hưng Yên Province and her nephew; both opt to remain anonymous. Their Tết trees were grown in their home gardens. Each of them lives in a separate tent and finds it tough to sleep in such rough conditions. "It's very inconvenient," says the woman. "Now I just hope I can sell all the trees; I spent the entire year growing them. Life is hard these days, in every way."
"It's so cold at night," she laments. "I go to motels to bathe. I pay to shower there, it can't be convenient like at home. It costs money. I'm not making much money and still have to spend quite a lot."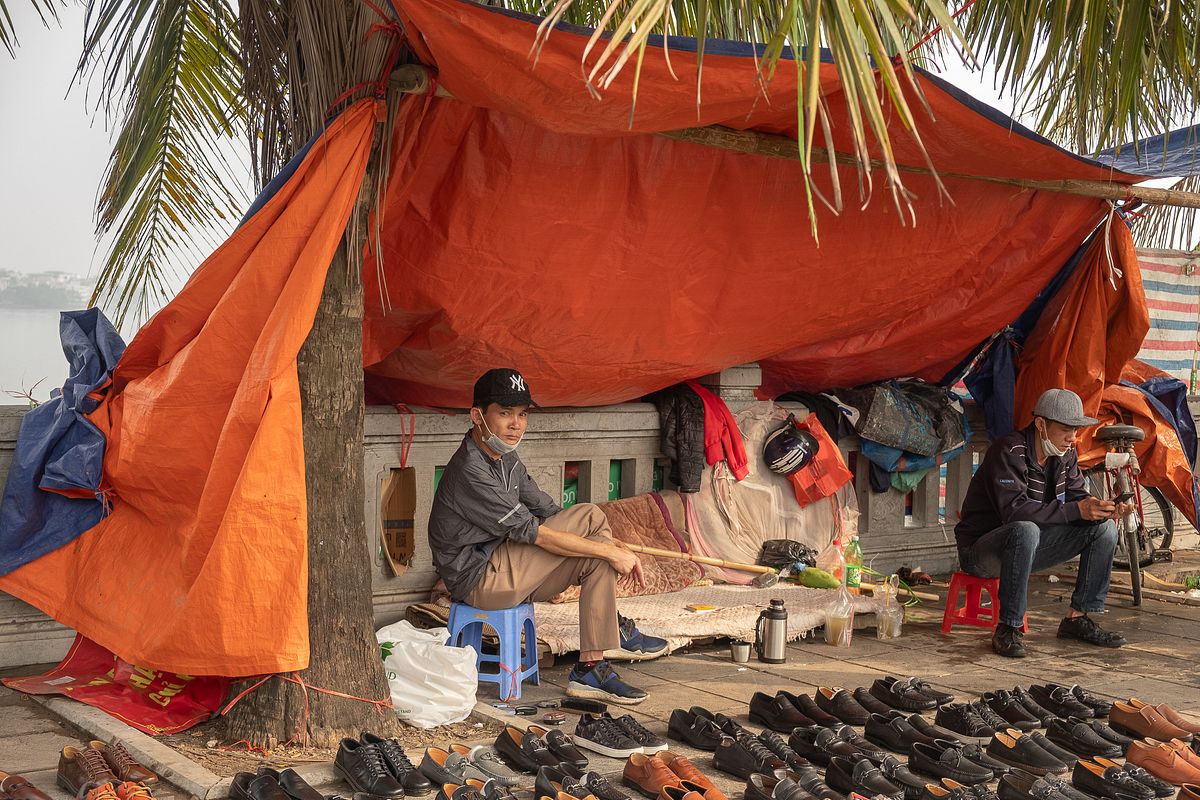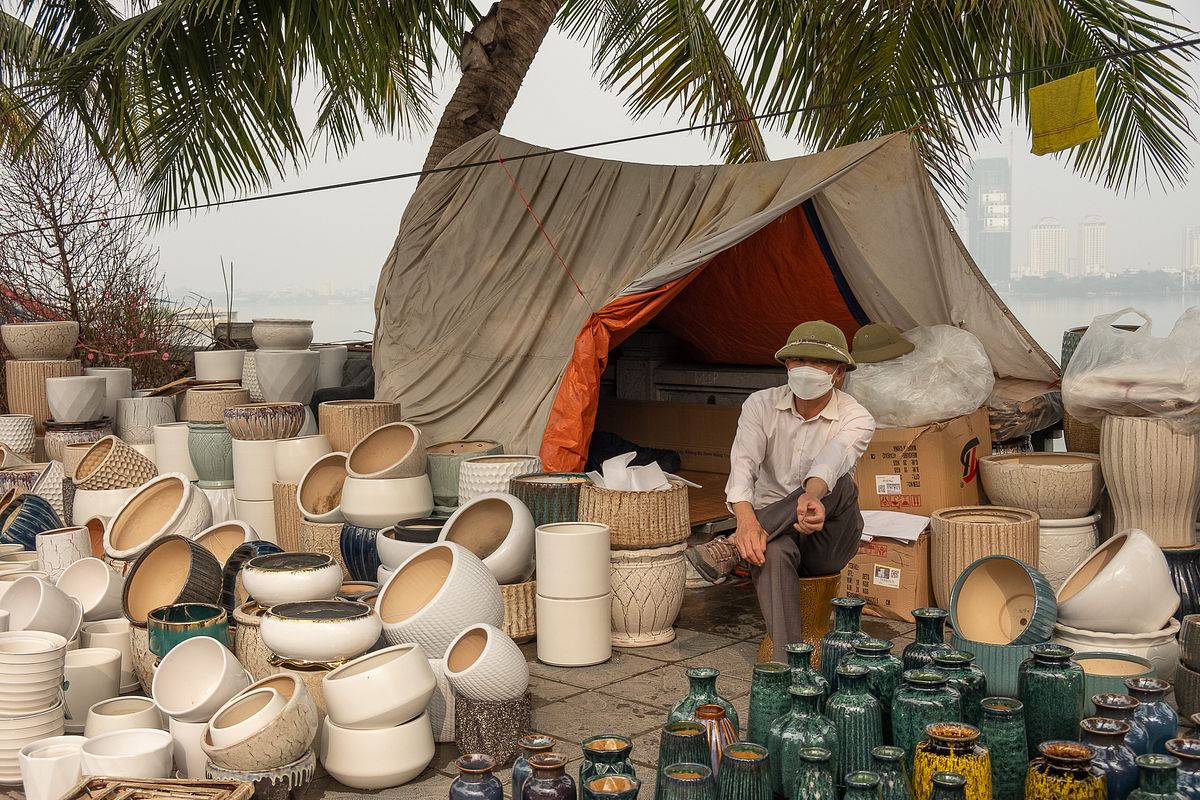 The pair put a polyethylene tarpaulin sheet over their tents to shield them from the wind and rain, but it doesn't help much. The nephew shares: "On rainy nights I have to get out of the tent to get the water off the sheet, otherwise it would fall into my tent. Life is tough for peach blossom sellers like us. We are not making any money selling the trees, let alone money to rent a place."
Precarity
Luckier than the others, 22-year-old Lê Quý Khương doesn't live very far away. He also doesn't have to sleep outside as he helps his uncle sell white peach blossom trees. The white variety of peach blossoms need to be guarded carefully as each can cost from VND1-3 million on average. If its roots are particularly strong and the branches have beautiful shapes, the tree can fetch VND4–5 million.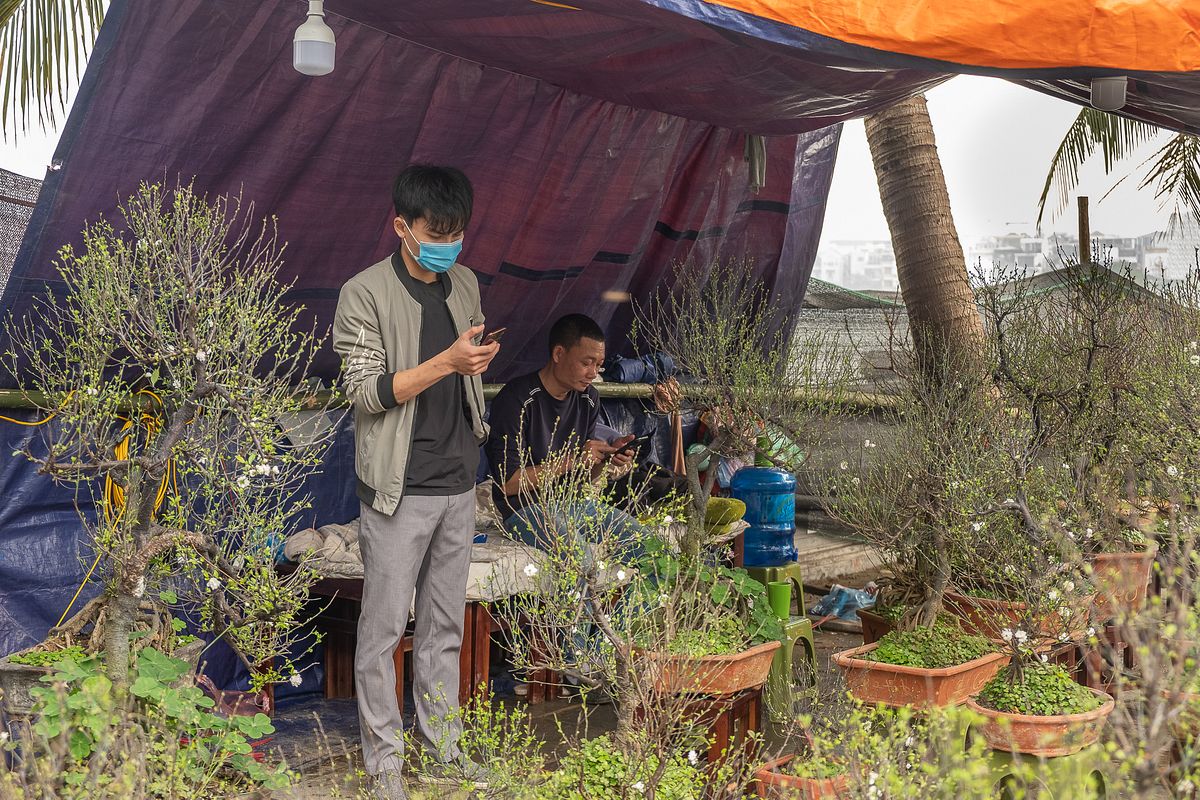 "My uncle sleeps here at night," Khương describes their routine, gesturing to a bench under a tarpaulin sheet, where a pillow and a blanket sit. The makeshift bed serves as a place for his uncle and other relatives to get some shut-eye when they can. "We have to keep an eye on these trees, as they cost a lot of money. If we go home, they will be stolen at night. We sleep very little, or take turns to sleep."
Despite the COVID-19 pandemic and the trees' relatively high price, Khương said his customers are still willing to shell out big bucks for an elegant tree. "I think it [the economy] doesn't affect the purchasing power much. Those who want to buy still can buy. They still have the money. For example, those who could spend VND2 million in previous years on a tree still can spend VND2 million this year," he says.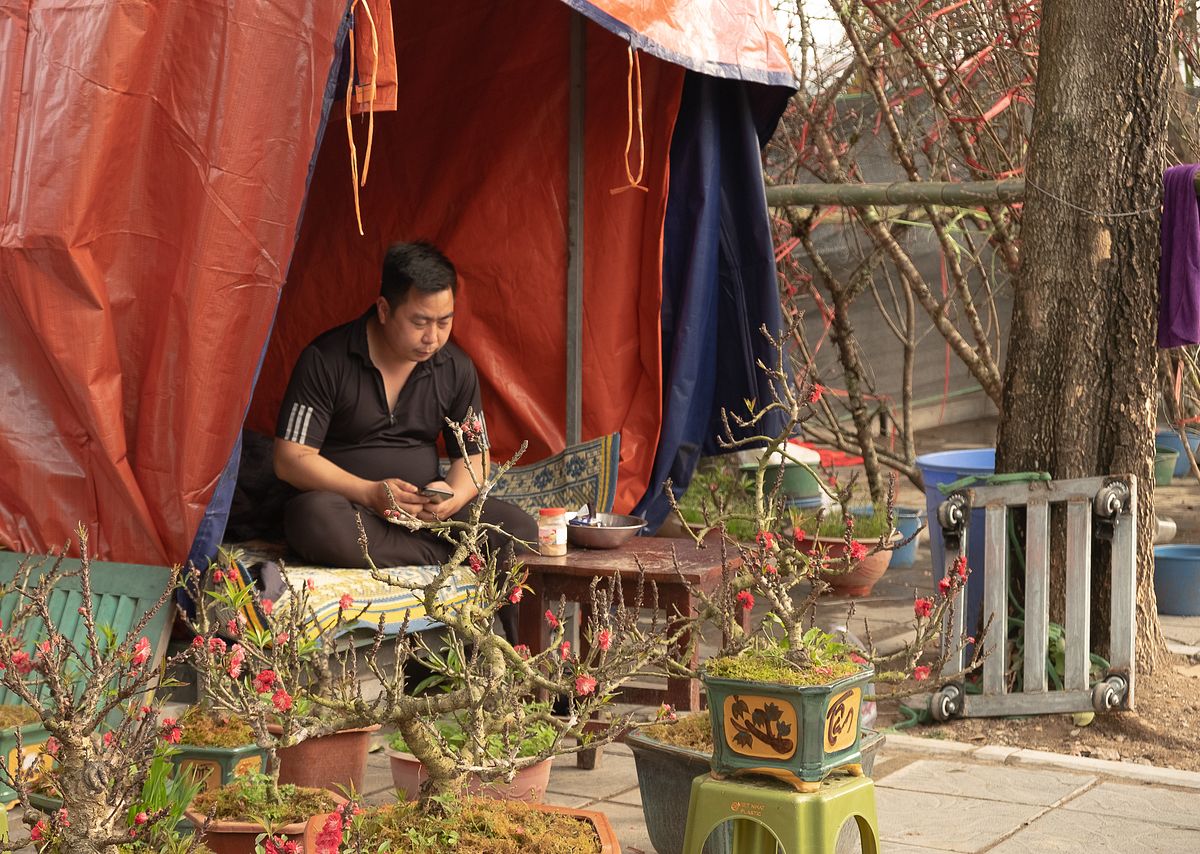 In stark contrast, kumquat sellers are worried sick. "This year's price is almost half of last year's. VND200,000 a tree and people still say 'expensive,'" bemoans the vendor from Hưng Yên. "I don't know what to do, it's devastating. We work hard the entire year and only look forward to this time to sell the trees, but this is so bad. I feel so sad."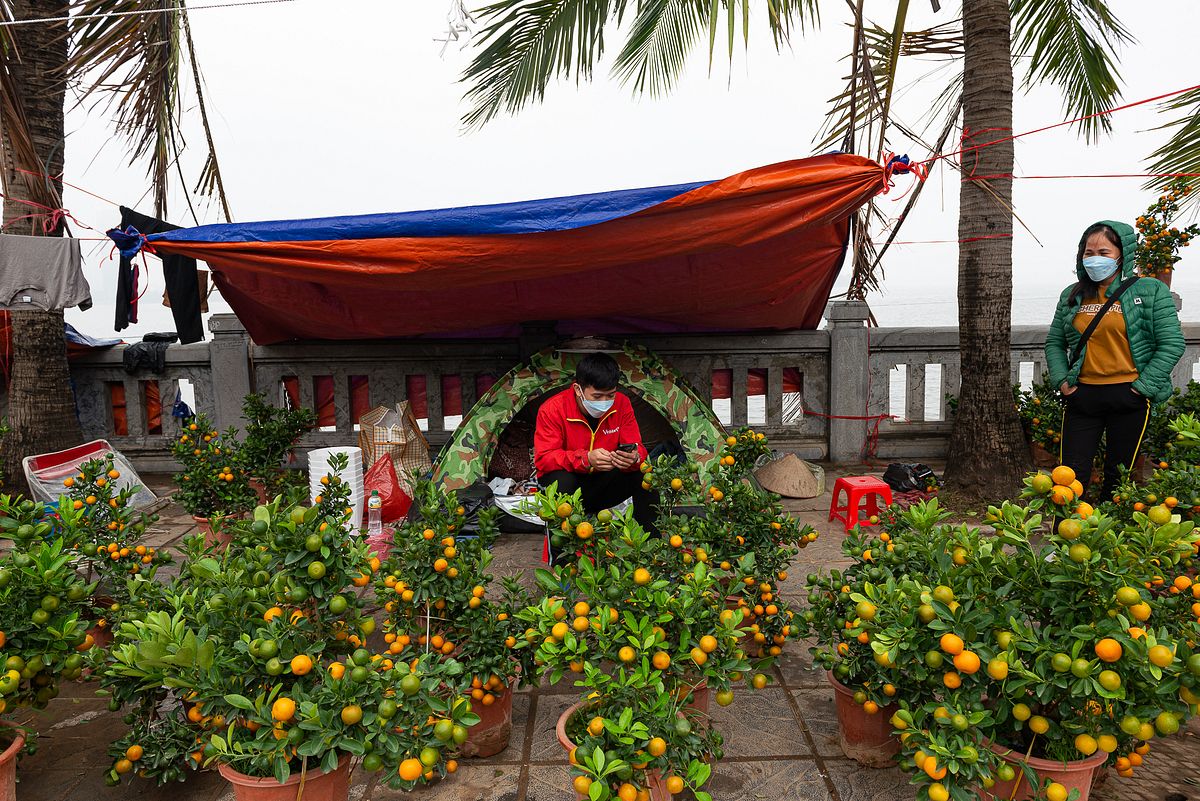 She explains: "We grow the trees ourselves, so we just hope people will support us. If each person can buy one or two, it will help us to sell them all. It's such a pain to grow them then no one buys them. It's also a pain selling them at this price, but it'd still be better if we can sell all of them than not selling any. It's really been a difficult year. It's very sad."