When you initially spot the café, it's hard to tell exactly what it is — it isn't hurtling towards you at 50 miles per hour and doesn't have helmet shrapnel from its previous victims stuck to its grill. Instead, one of Hanoi's newest cafés sits in its own peaceful oasis in a desolate parking lot in Ha Dong, far from the city center, yet still surrounded by the ruckus of traffic.
The refurbished bus falls into the category of 'upcycled,' where the only remnants of its past life are its outer shell. In a city of waste, the bus stands out as a symbol of something salvaged in a newer part of Hanoi: the depths of Ha Dong. It may seem a slightly odd choice to put this hip café so far away from the rest of Hanoi, but Ha Dong, it seems, is growing every day.
Though surrounded by plenty of new tower blocks — and there are a lot of them — and buzzing traffic, it somehow projects an element of calm. Its windows are draped in plants, and gently humming music does something to drown out the horns outside.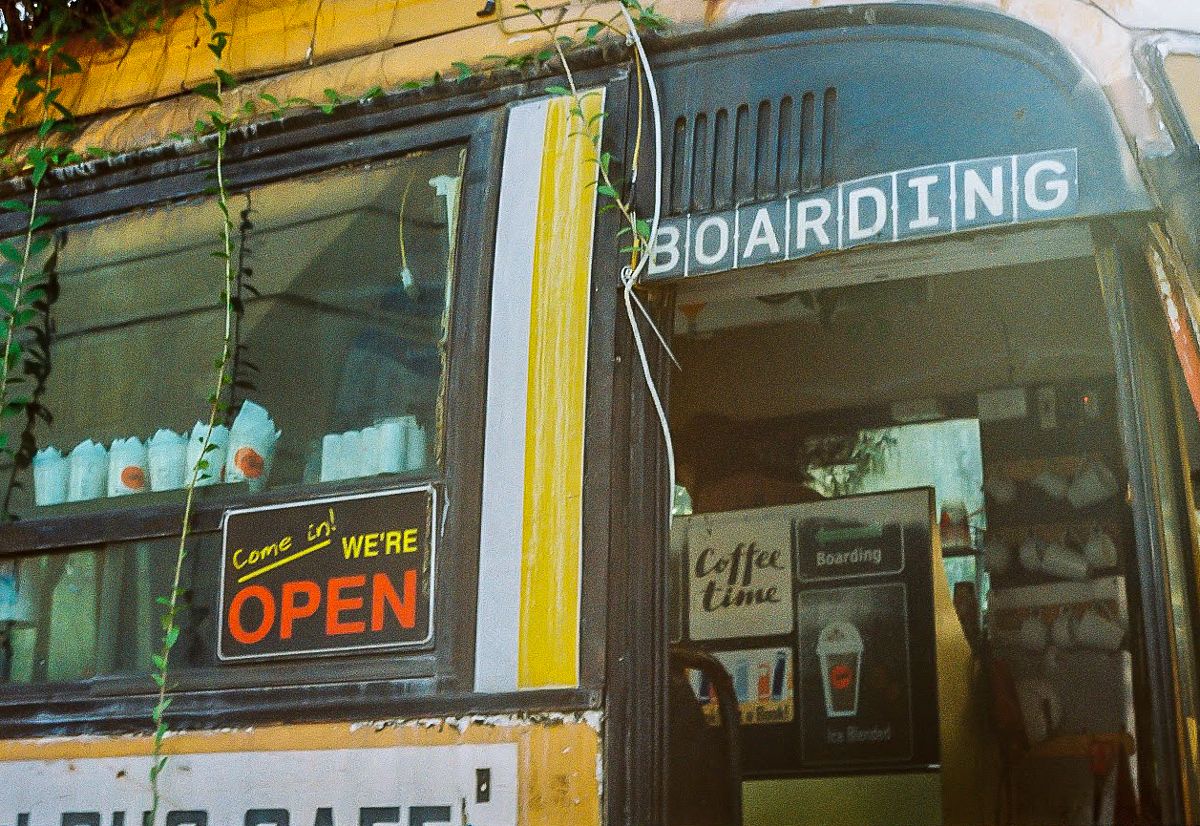 The only problem with a bus café, though, is its struggle to overcome the novelty of being a bus café. It forces the customer to ask, "Is it all bus and no substance?" If it does overcome this problem, it's thanks to the affection poured into the space — it's as though the owner saw it as a blank canvas for all of his quirks and interests.
Painted on the outside of the bus are two very striking eyes and, with a mustache-clad face featured on the front too, it might be terrifying if actually driven in Hanoi. Inside, there are books in every space that could fit a book, and plants in makeshift pots.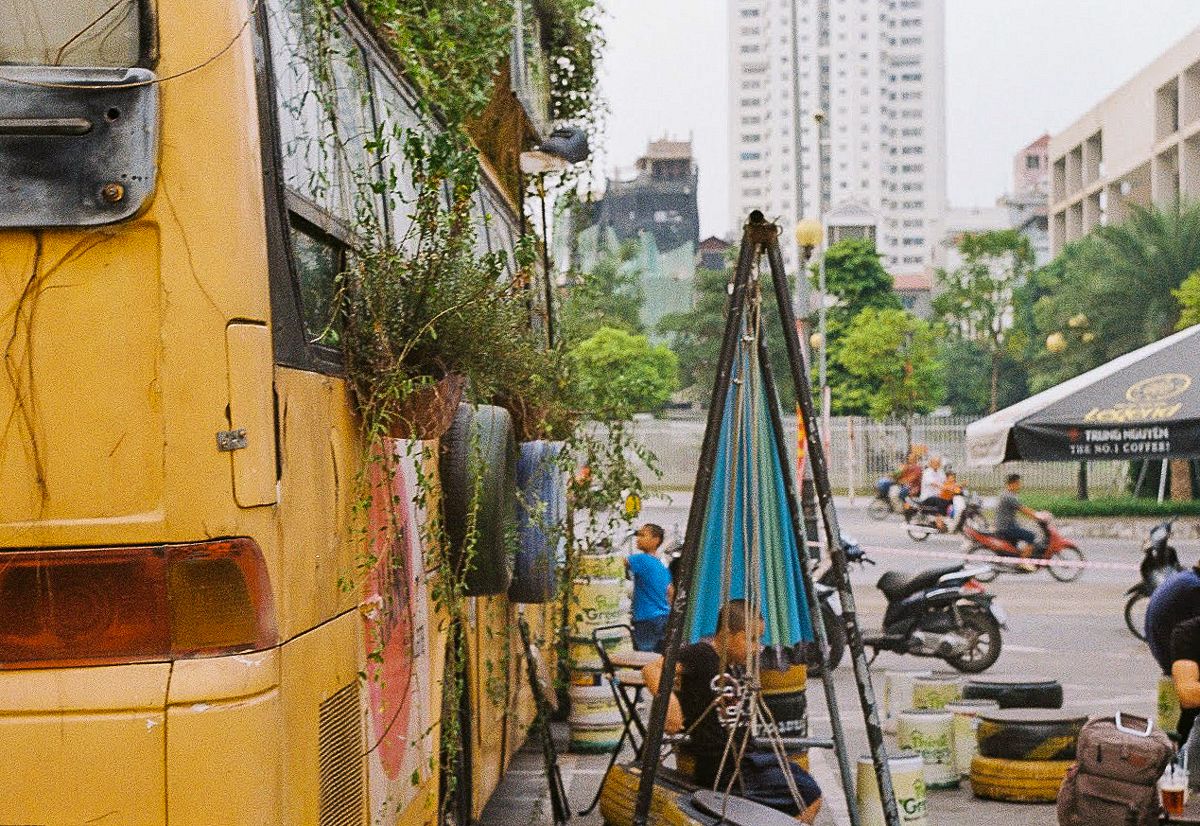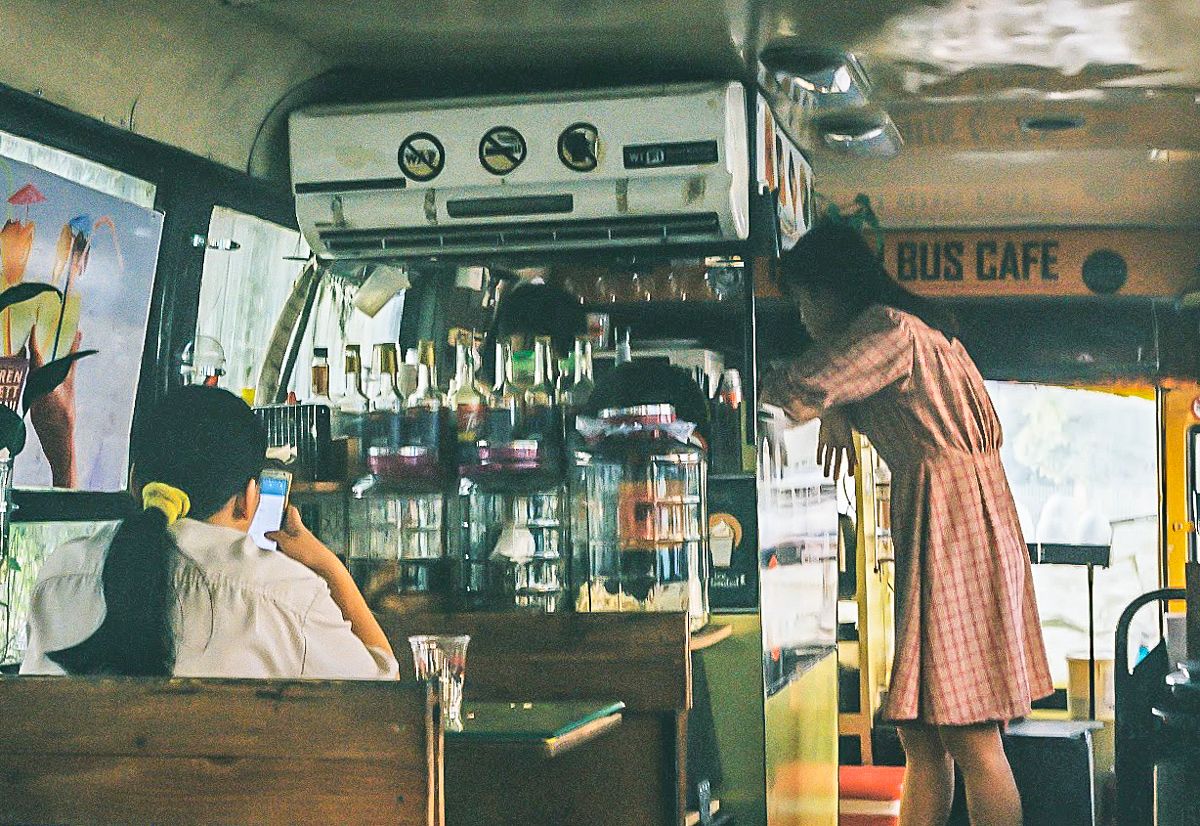 The bus thrives on these minor details, which would be easy to miss unless you were specifically looking for them: a tire-turned-coffee table sits at the back, adding to the novelty bus atmosphere, along with signs that read, 'BOARDING' or 'café on board.' And then there are the mildly erotic silhouettes of women on the windows and signs indicating that smoking, shouting and war aren't allowed on the bus.
The menu is, like the café itself, delightfully quaint. Round and black, it resembles a worn out CD with drinks listed on it. The selection of coffees, juices and a few cocktails on offer are fairly standard — perhaps the only thing that lets the café down.
It's hard to ignore the fact that Hanoi Bus Cafe is located in the outer reaches of Ha Dong — the same place where the metro will stop, if it ever opens. But with skyscrapers and gyms shooting up all over the place, perhaps the owner is just aware of the area's changing tides. Either way, if you are nearby, it's worth a ride.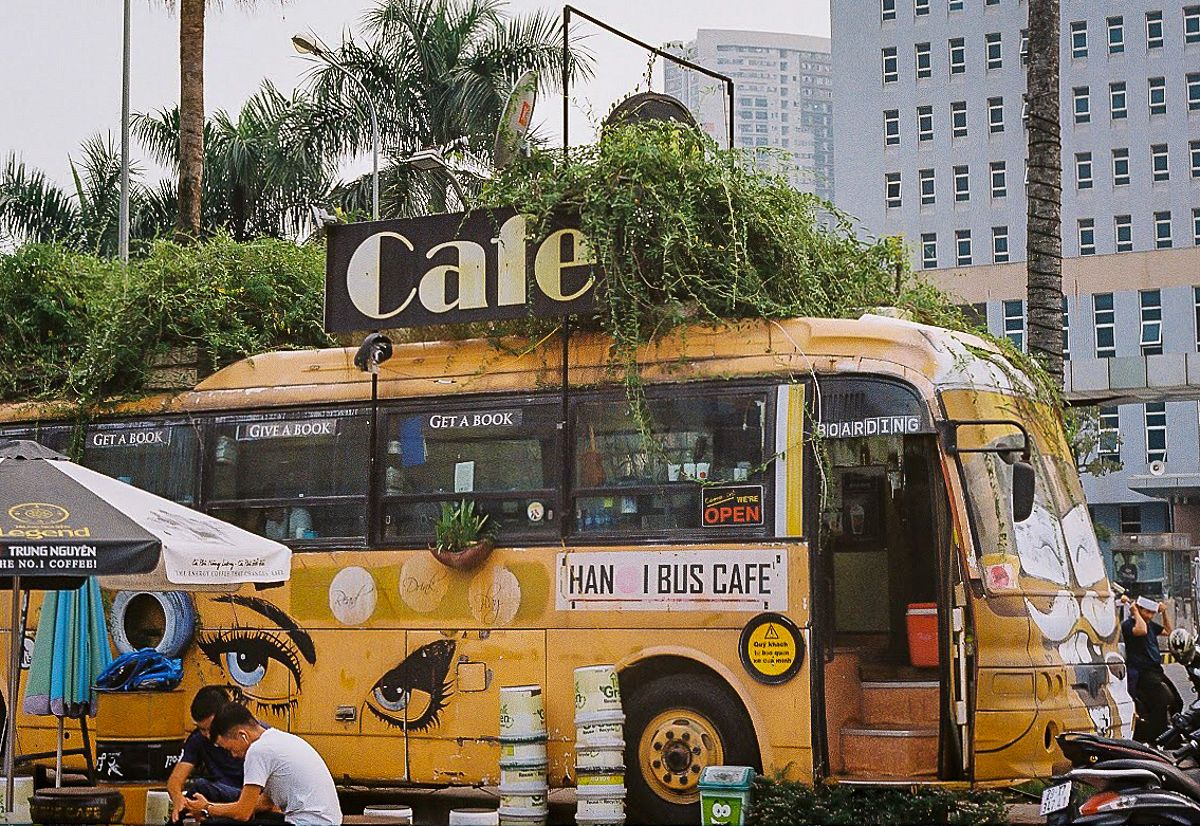 Hanoi Bus Cafe is open 24 hours a day. Find them at Metro To Hieu, Ha Cau, Ha Dong.
To sum up:
Taste: 3/5
Price: 4/5
Atmosphere: 5/5
Friendliness: 5/5
Location: 2/5
Ashley describes himself as "more cơm rang than man at this point."
Hanoi Bus Cafe
Metro To Hieu, Ha Cau, Ha Dong