Đà Nẵng does not feel like a surf town. The gaudy beachside nightclubs are a far cry from the bohemian vibes of Hawaii or San Diego, and the coastline is more synonymous with basket boats than surfboards. Look for it, however, and you'll find a subculture of beach breaks, skate bowl surf shacks, board rental huts, and passionate surfers within a tight knit but welcoming community.
Surfing is not new to Đà Nẵng. As infamously referenced in Apocalypse Now, many American soldiers surfed the East Coast during the American War. Đà Nẵng's Mỹ Khê Beach was "the place to kick back with a beer; an attempt to create a little bit of Honolulu in Vietnam, only with barbed wire." These are the words of Dave Ferrier, a former American helicopter gunner, discussing wartime surfing in an interview with The New York Times in 1992. Surfing also caught on among local Vietnamese residents, and the scene has been steadily growing in popularity since.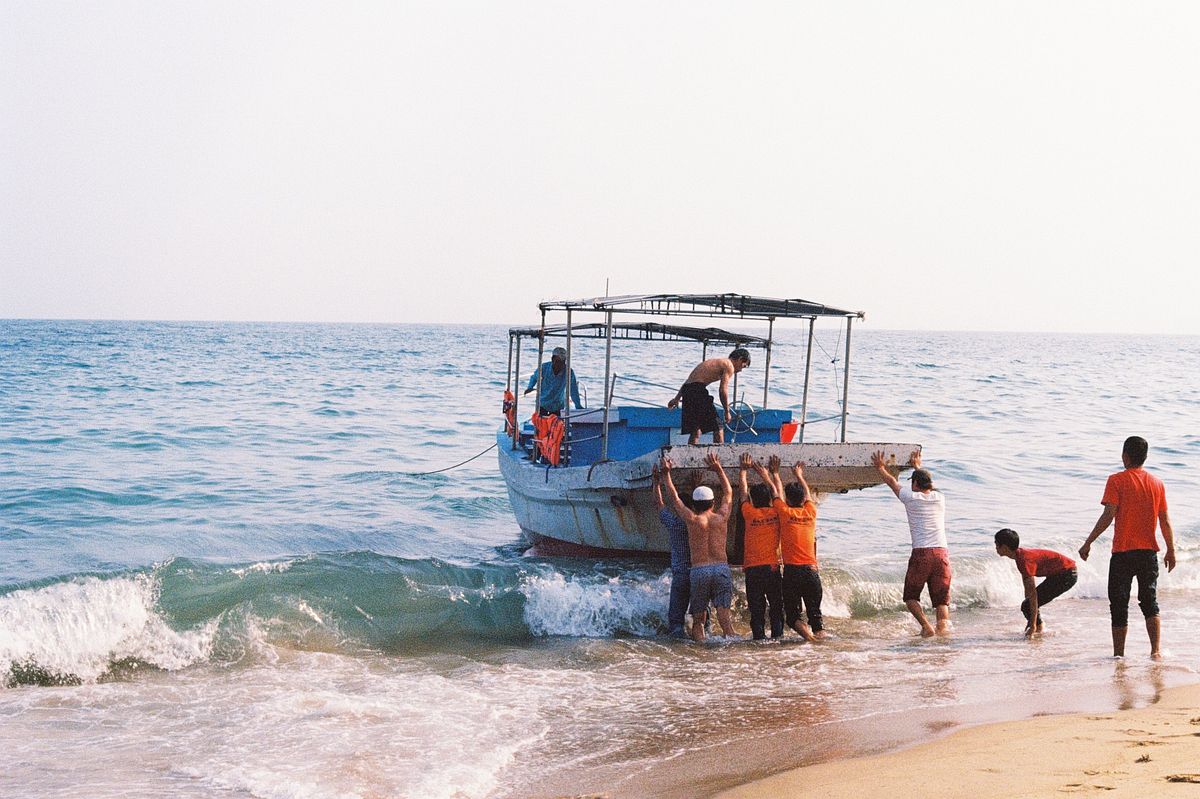 Mỹ Khê Beach hosted Vietnam's first international surfing competition in 1992. Vietnamese officials formerly invited students of San Clemente High School, California, to represent the US for the tournament, as well as amateur teams from Japan, Reunion, Indonesia, and South Africa. More recently, Mỹ Khê Beach held the Đà Nẵng Surfing Open in 2022, organised by Boardriders Club Đà Nẵng. Mũi Né-based surfer Việt won the competition, beating competitors from home and abroad.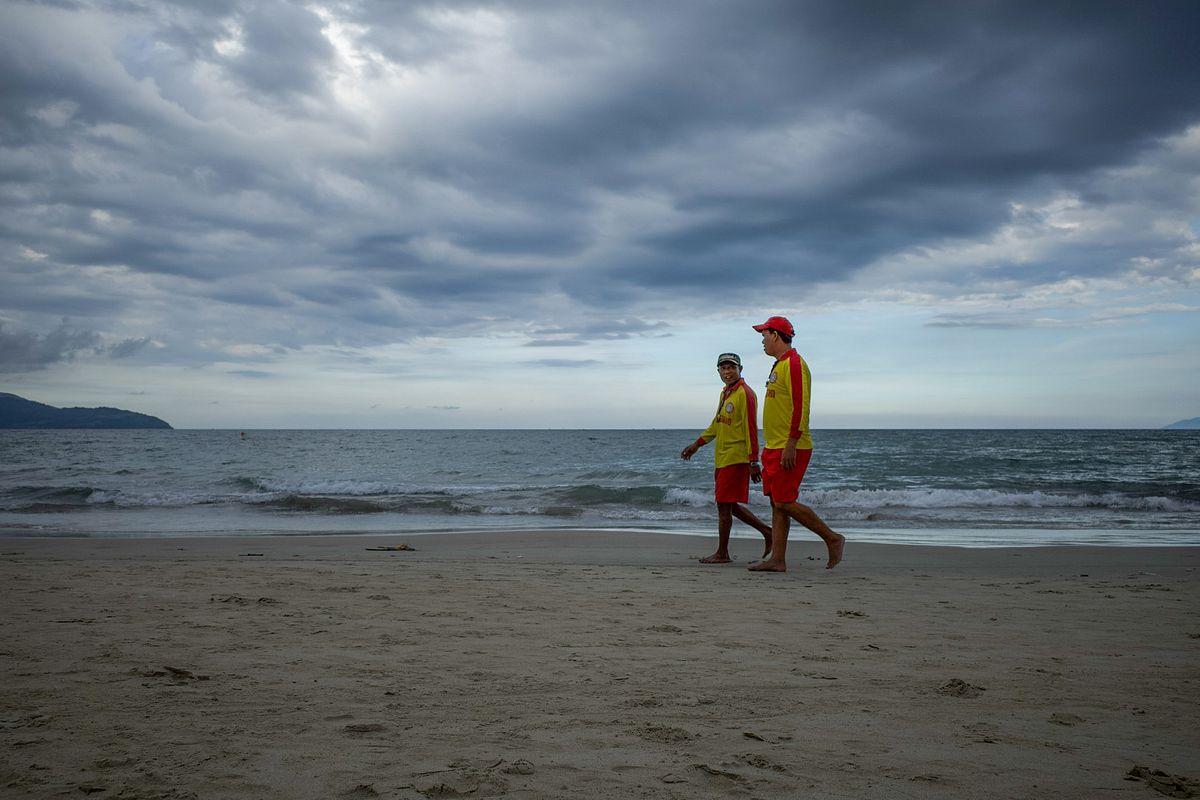 The three main spots in the area are Nam Ô Point, Nước Beach, and Mỹ Khê Beach. There are many others, running all the way from Bình An in the north down to Cửa Đại Beach near Hội An. Bình An has the least reliable conditions, but nearby Nam Ô Point gets relatively consistent surf thanks to its protection from North Easterly winds.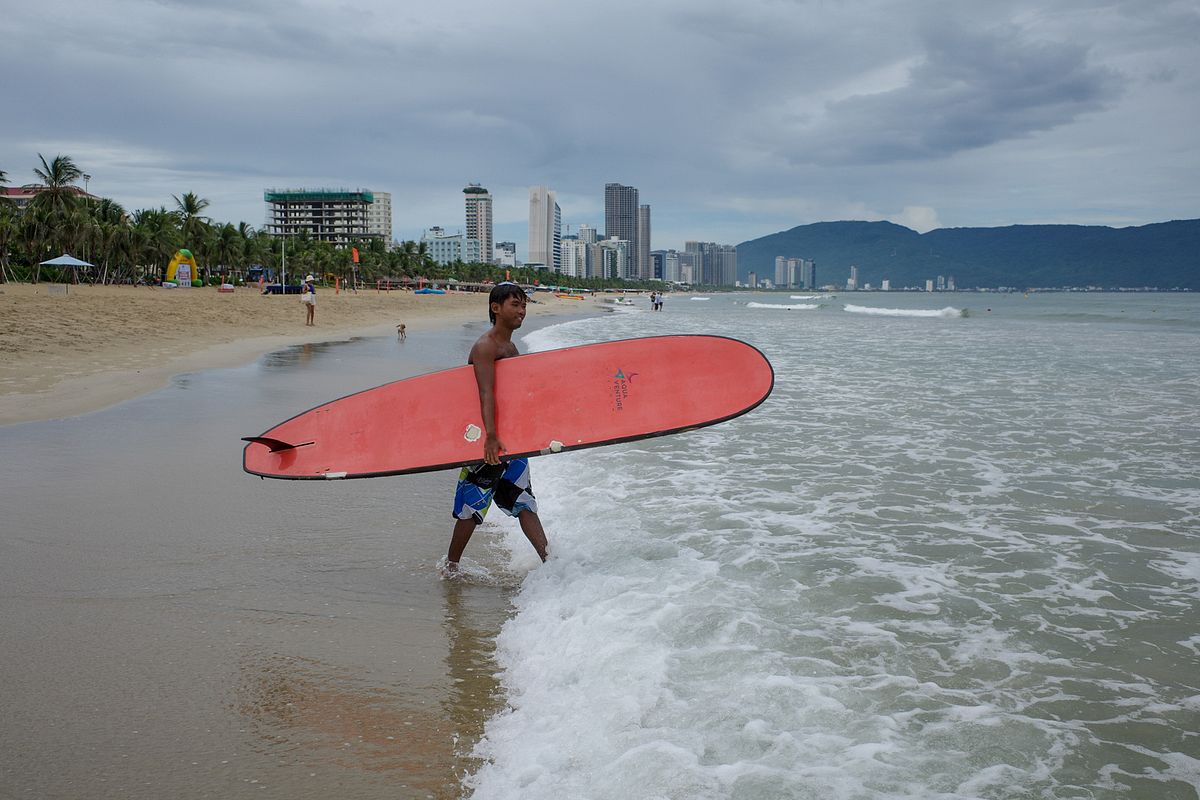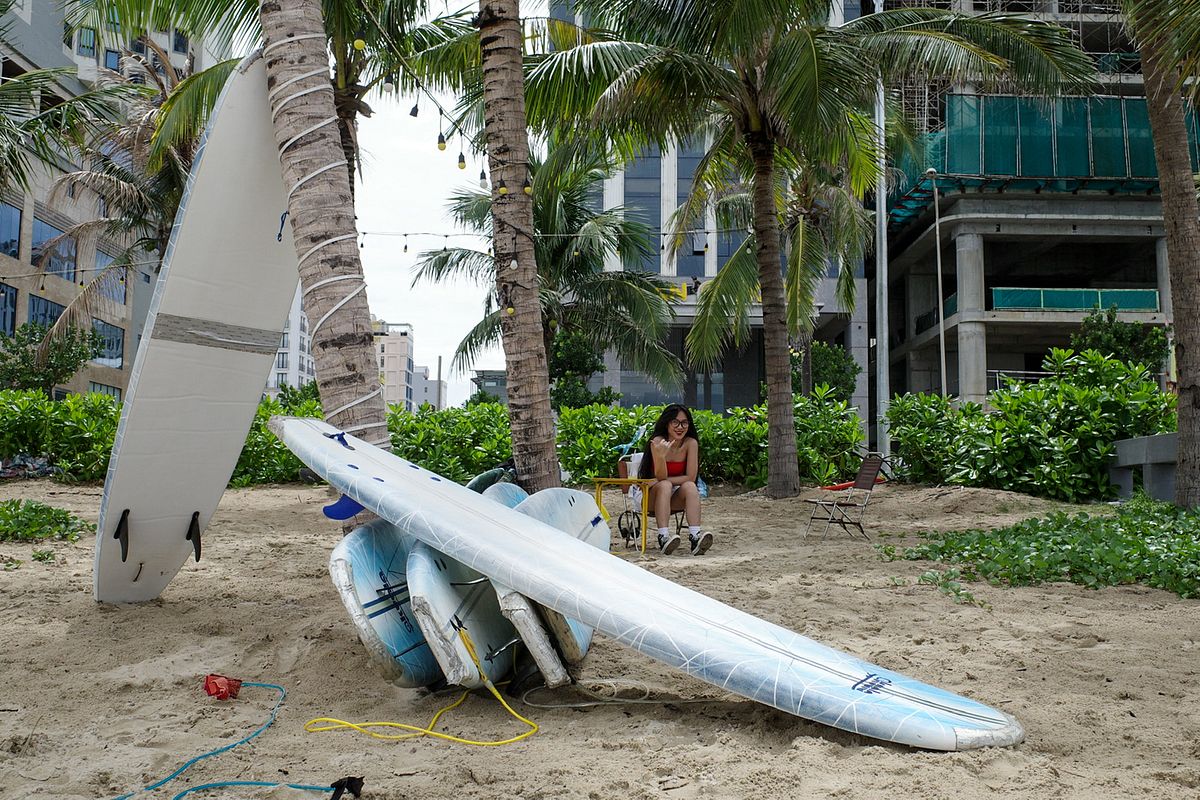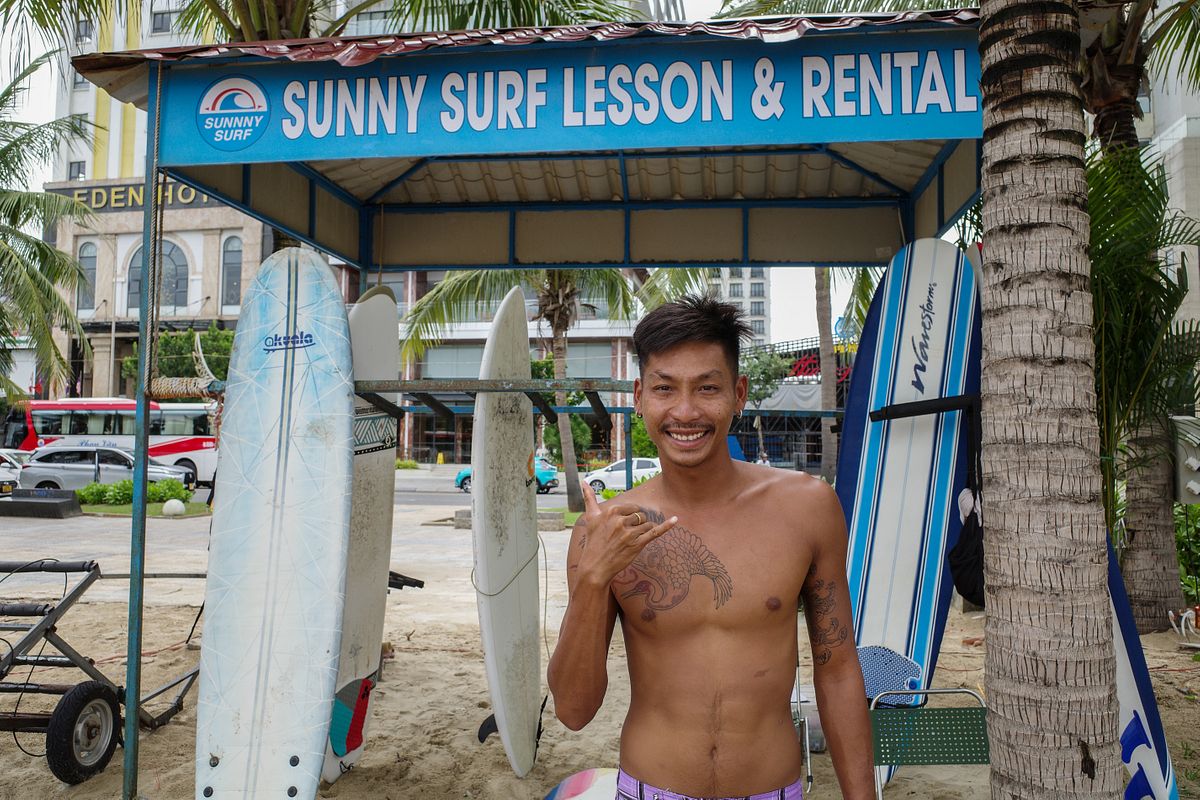 However, Mỹ Khê Beach is still the surfing cultural hub of the Đà Nẵng area, even if the lack of barbed wire doesn't make it feel any more like Honolulu. The sheer length of the beach means that it is easy to avoid other beachgoers, and it is home to more than ten surf rental shops, most offering lessons for VND800,000 an hour. Naturally, this is my first port of call after arriving in the city.
I had heard mixed things about the wave quality, so was pleasantly surprised to find a group of very capable surfers riding a consistent break. I flag one down as he brings his board onshore. He has a deep tan and dreadlocks and walks as if he owns the beach. "I'm surprised," I tell him. "The waves are pretty big." He looks offended. "These are tiny, bro!"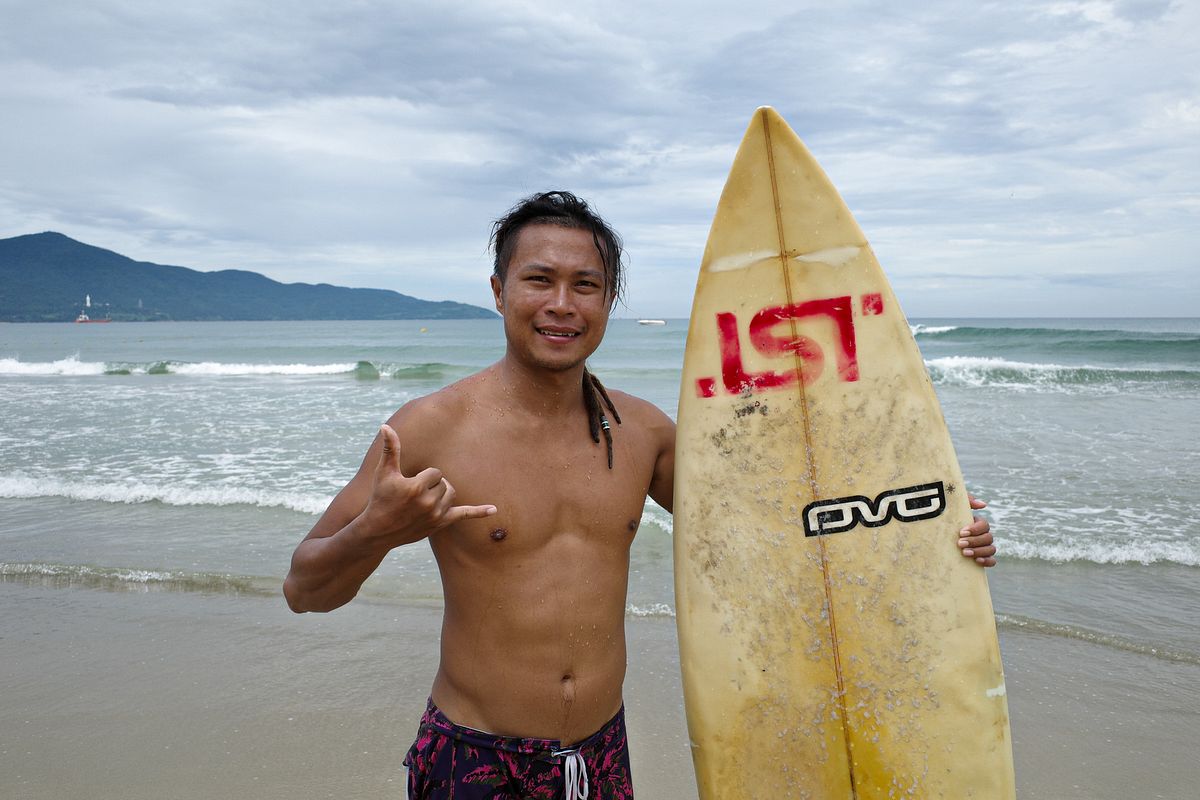 My new friend's name is Hải, and he is more than happy to explain why Đà Nẵng is the best surf town in Vietnam. "The waves are better in Mũi Né but Đà Nẵng is a better place to live — here we can party!"
Hải has a relentless energy for surfing, constantly asking me when we were going to hit the beach again. He also clearly loves the community and camaraderie that comes with it. "Where can I find this community?" I ask.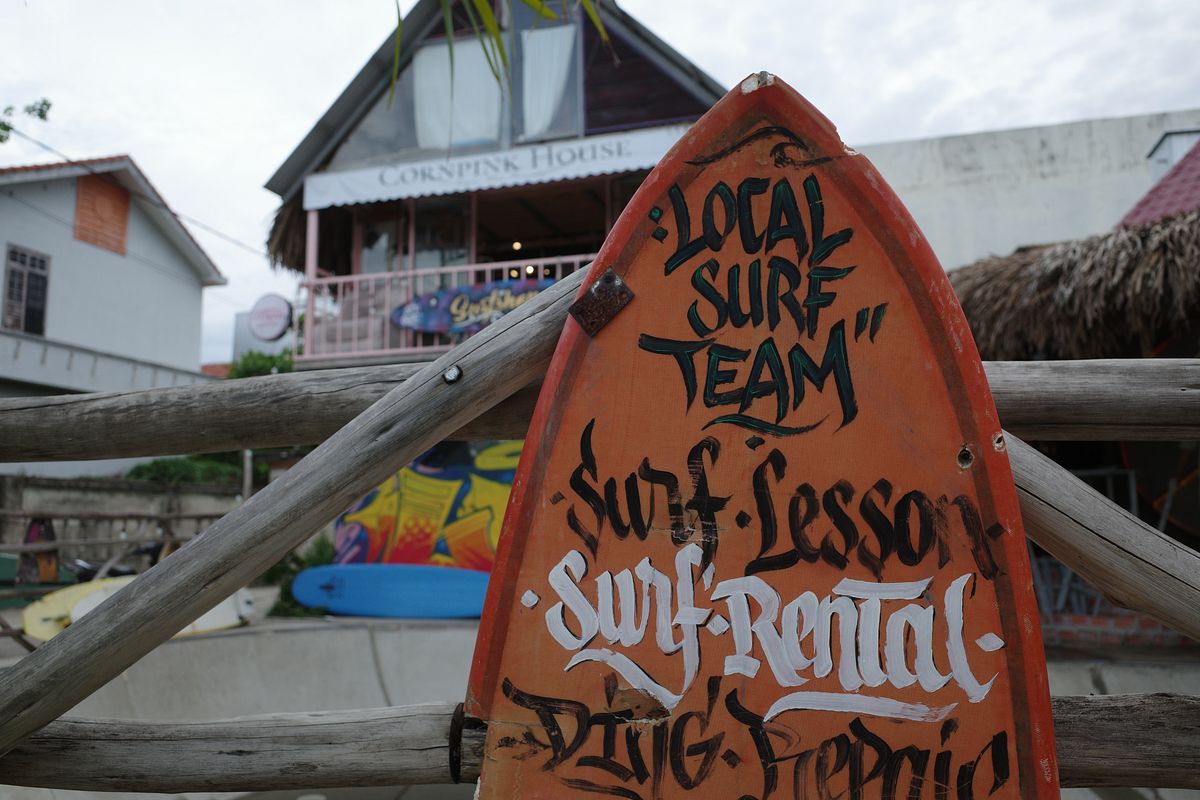 "LST, bro!" says Hải, proudly pointing to the LST (Local Surf Team) logo emblazoned across the nose of his board. LST, he explains, is the most popular surf shop among locals, and is joined with FAYA Bar and Cafe, where surfers and skaters congregate in the evenings.
This sentiment is backed up by Hải's friend Thảo. Thảo lives in Hanoi but is in Đà Nẵng for five days to help run her friend's surf rental store on the beach. Thảo tried surfing for the first time this February, and loved it so much that she's been on several trips to Đà Nẵng since. Like Hải, she speaks about surfing with the borderline obsessive tone that I have heard in so many surfers from Japan, Mexico, California, and now Vietnam — that sense that once it clicks, nothing else can compare, because when you're on your board, nothing else matters.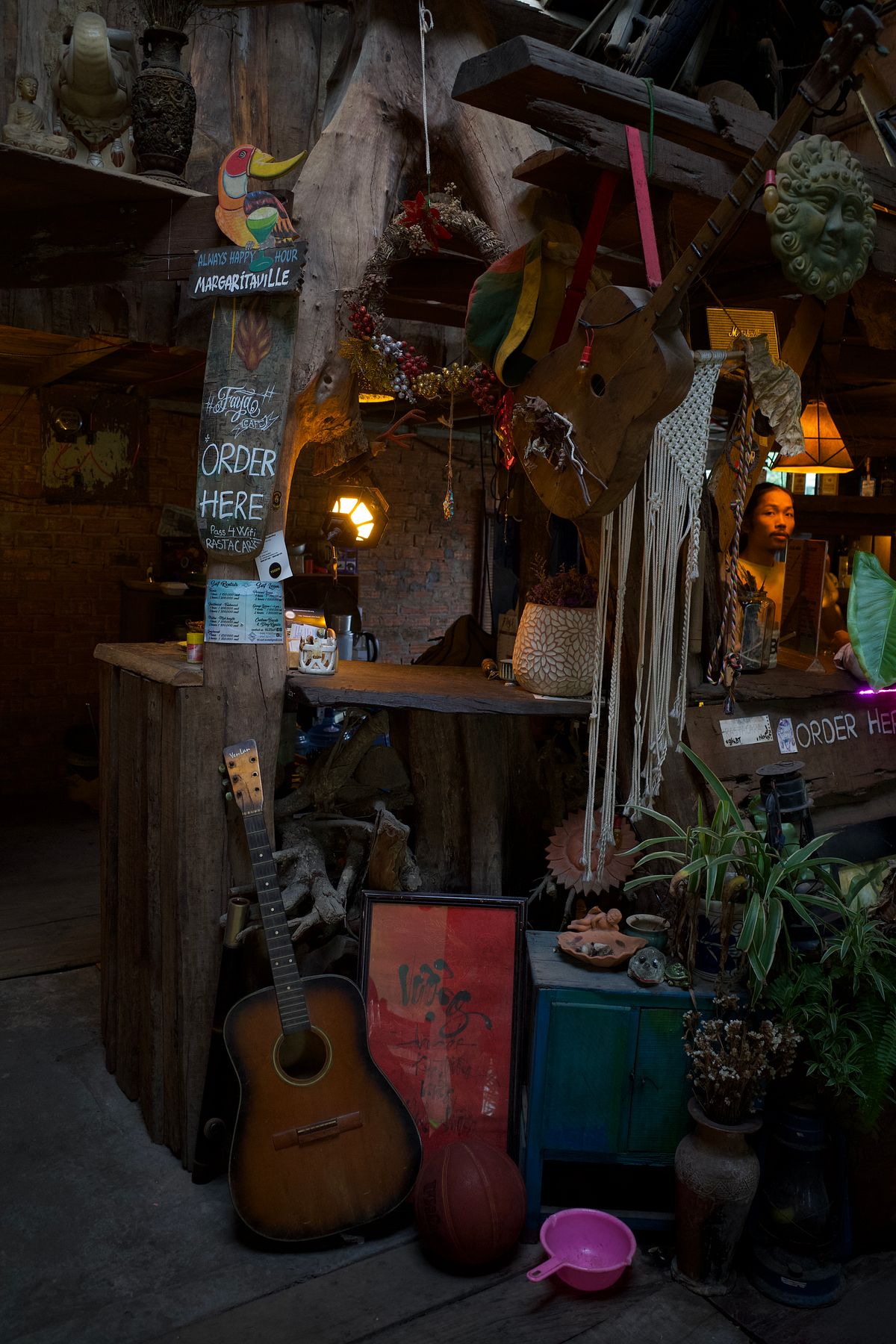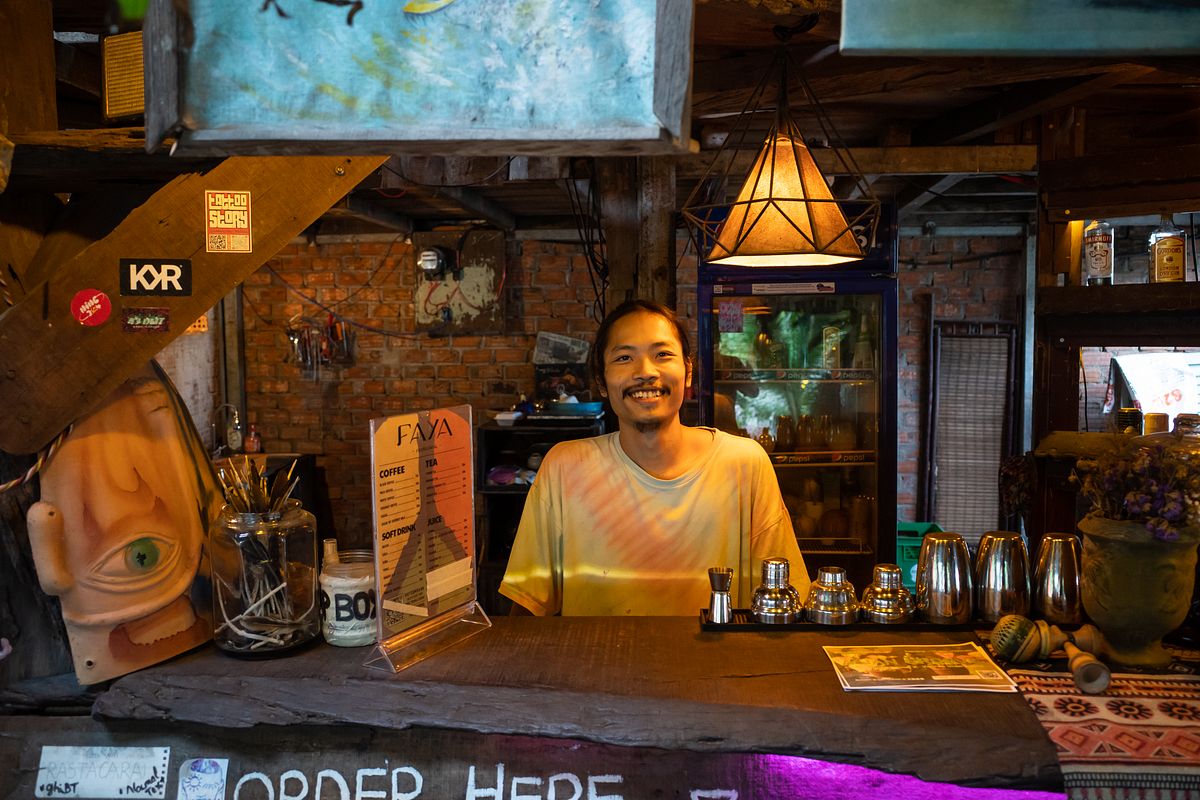 "Have you made many friends surfing down here?" I ask her. "Oh yea," she says. "I think surfing is one of those things where it's easy to make friends… You should go to LST or FAYA Bar if you want to meet more surfers."
LST and FAYA Bar and Cafe are technically two separate businesses, but they complement each other perfectly and are connected by an impressive skate bowl in the courtyard. LST offers a variety of services from simple board rental to advanced coaching, custom board design and even bespoke motorbike board racks.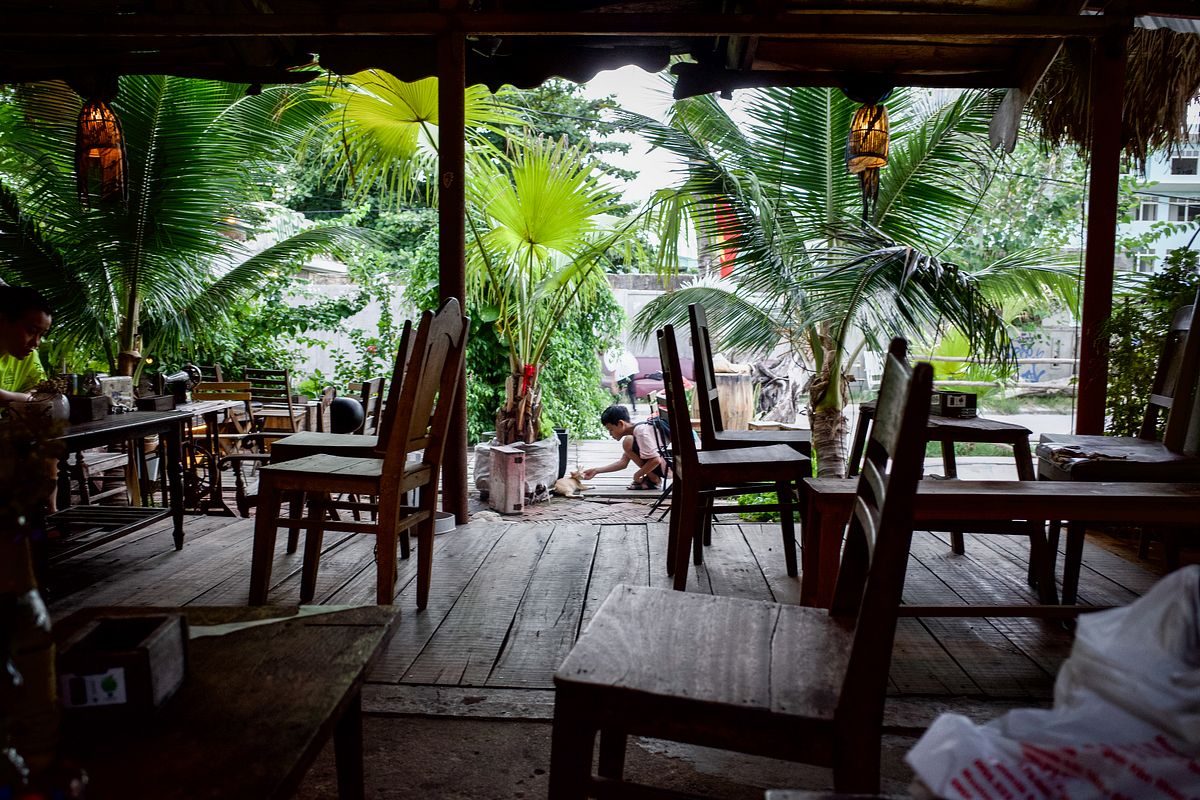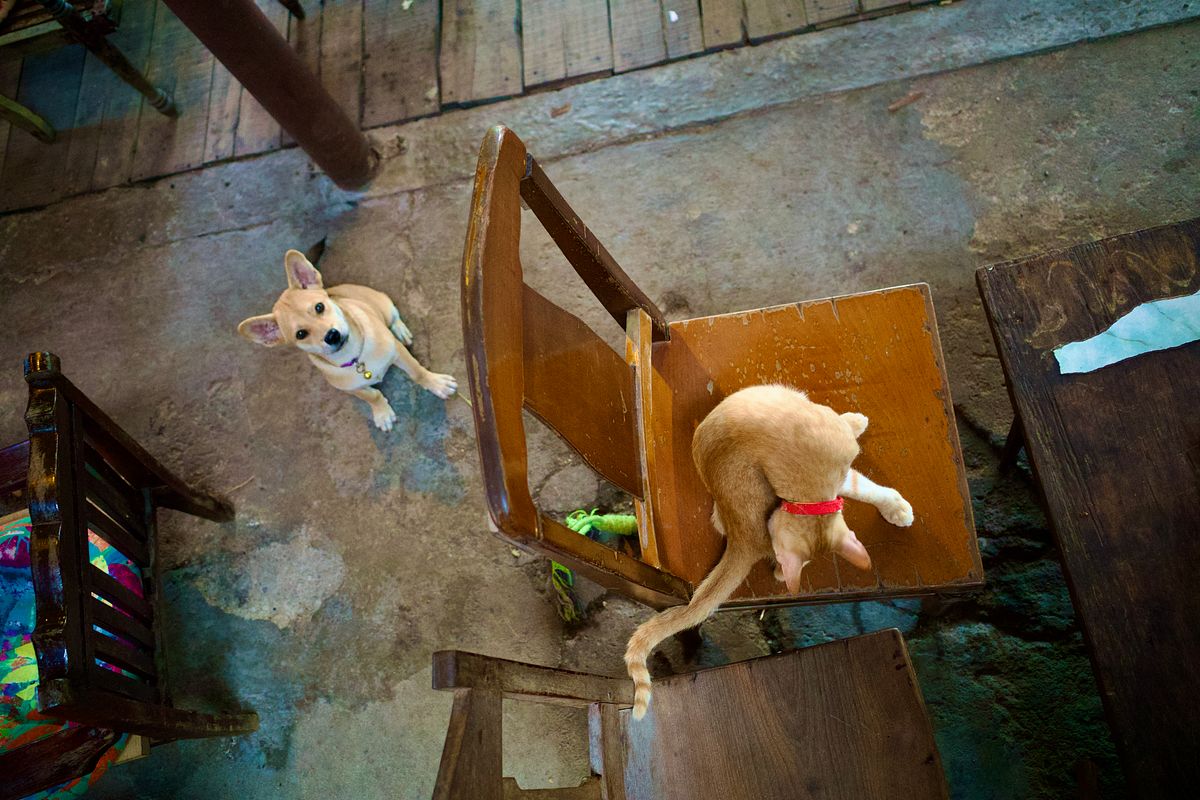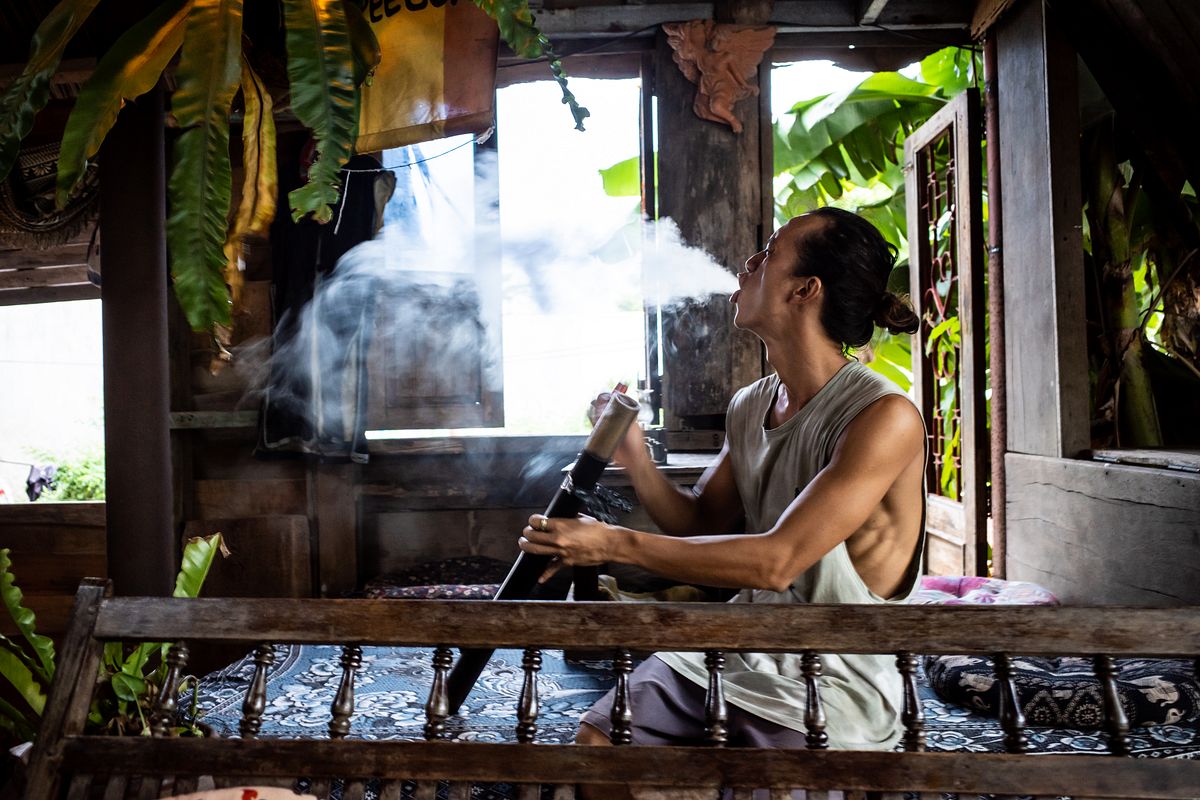 FAYA Bar offers drinks and good vibes, and is the perfect place to mingle after a hard day's surfing. Speaking to the owner Teo, I learn that he neither surfs nor skates. "So why open a surf bar with a skate bowl?" I ask. "Because we got the rasta lifestyle, yo!" When I ask if I can take his photo, Teo casually picks up one of several bamboo điếu cày lying around the bar, lights it, and says "OK" before taking a long tug and blowing a thick stream of smoke through the air. "Now, please excuse me," he says. "I'm off to play football."
The following day, I wake up to find the sea completely dead, and, unfortunately, it didn't improve for the rest of my stay. It's early September, the beginning of the season, and the surf is naturally unreliable. Thảo, Hải, and everybody I speak to recommends that I return from mid-to-late October when the surf is at its most consistent.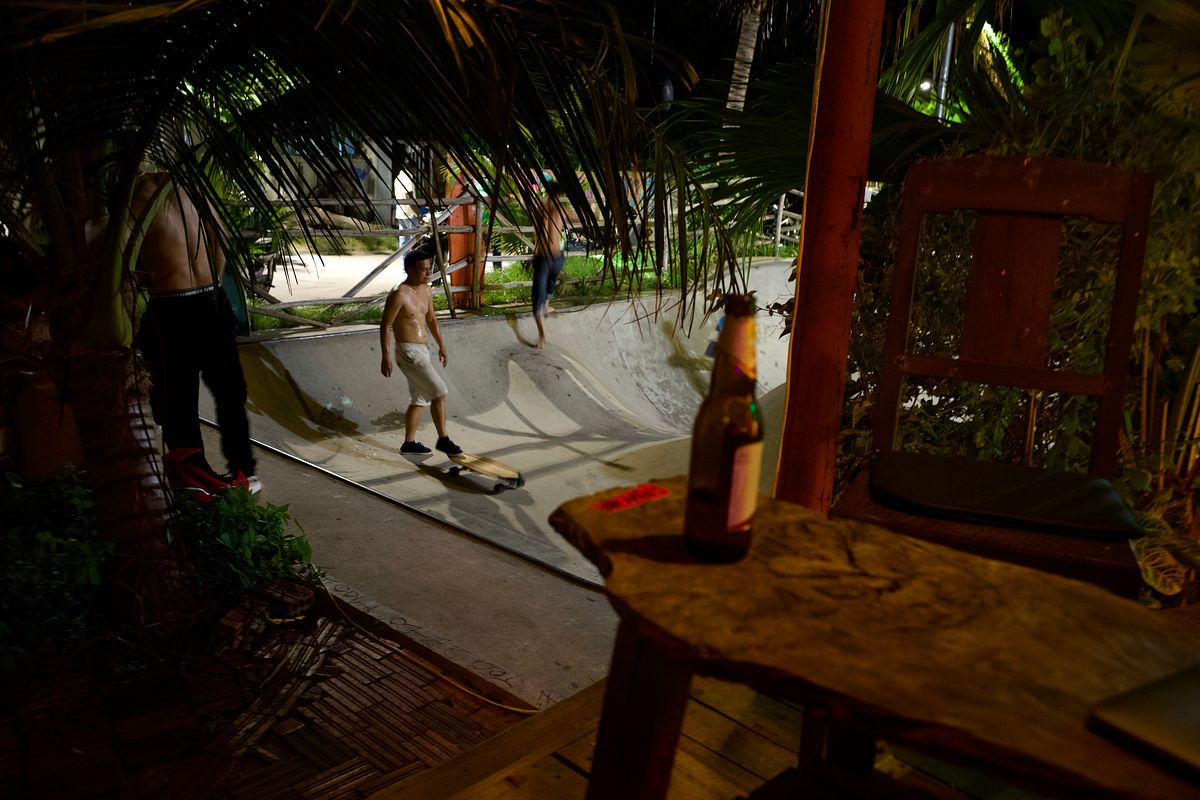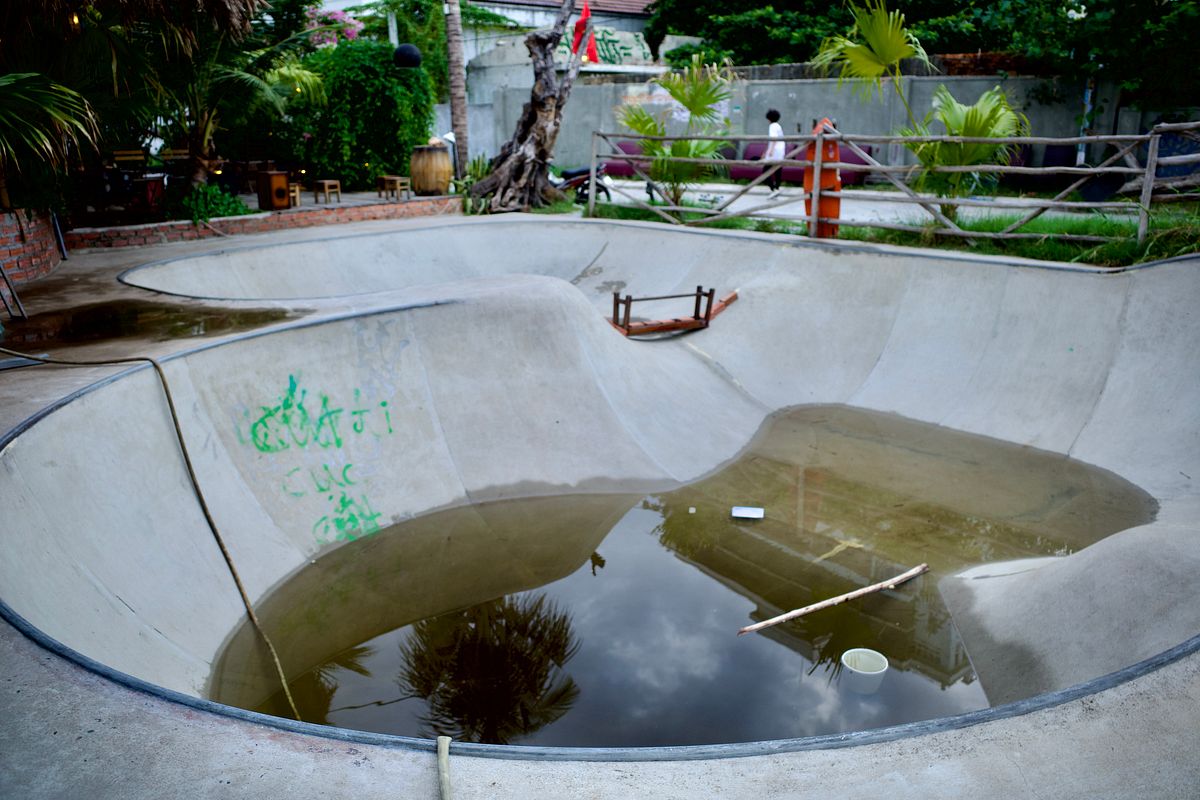 Sure enough, when I catch up with Hải in October, he tells me the waves are so high at Mỹ Khê Beach that he's heading further south to surf a gentler point break. He's as enthusiastic as ever, asking me when I'm coming back to hit the beach. "Local surfers welcome everybody in the world to come here and have fun sharing the waves," he says. "I think we're proud of it."
It is hard not to marvel at how this sport, which was introduced to Vietnam under the bleakest of circumstances, has forged such communal pride among a small contingent of locals — even some like Teo who don't surf at all. Đà Nẵng might not feel like a surf town and the waves might well let you down, but go to the right places and it feels like surfing is suddenly the most significant thing about the city's entire identity. This is not Hanoi with its beguiling old quarter, nor Hồ Chí Minh City with its towering skyscrapers; this is Đà Nẵng, and in Đà Nẵng you can surf… sometimes.