There are three H's that best encompass Vietnam: Hanoi, the capital; Hue, the ancient capital; and Ho Chi Minh City, the economic center. While I am still struck by Hue's vibrant culture, my memories of Hanoi are not as vivid. However, I instantly relived Hanoi moments after my visit to Ngách 160 café.
As a Saigon dweller for 18 years, I envy Hanoians and their the coveted winter. Although it's always hot in Saigon, whether it's the dry or wet season, the cool climate in Hanoi usually lasts from late October to April, though it can be dreadful during the end and the beginning of each year. In fact, there are still blows of a pleasantly cool breeze in Hanoi right now.
A ngách is a smaller street unit than a ngõ, the northern Vietnamese word for hẻm, and this cafe very much embodies the term. Tucked away in a small part of hẻm 160 on busy Bui Dinh Tuy Street in Bình Thạnh District, my colleague and I agreed that it is not easily accessible. Ngách 160 is therefore like an ivory tower, which any 'me-time' fiends who need an escape will appreciate.
Like most people, I often associate Hanoi with antiquity. It celebrated its 1,000th birthday in 2010, and the city was home to successive feudal dynasties in the past, while also witnessing Vietnam's most important events through thick and thin. Ngách 160 gives visitors an age-old vibe at first glance, with the faded yellowish wall and the doorway enveloped with typical Hanoi plants: a verdant lộc vừng canopy and hoa sữa foliage, leaving narrow crannies for slivers of light to show through.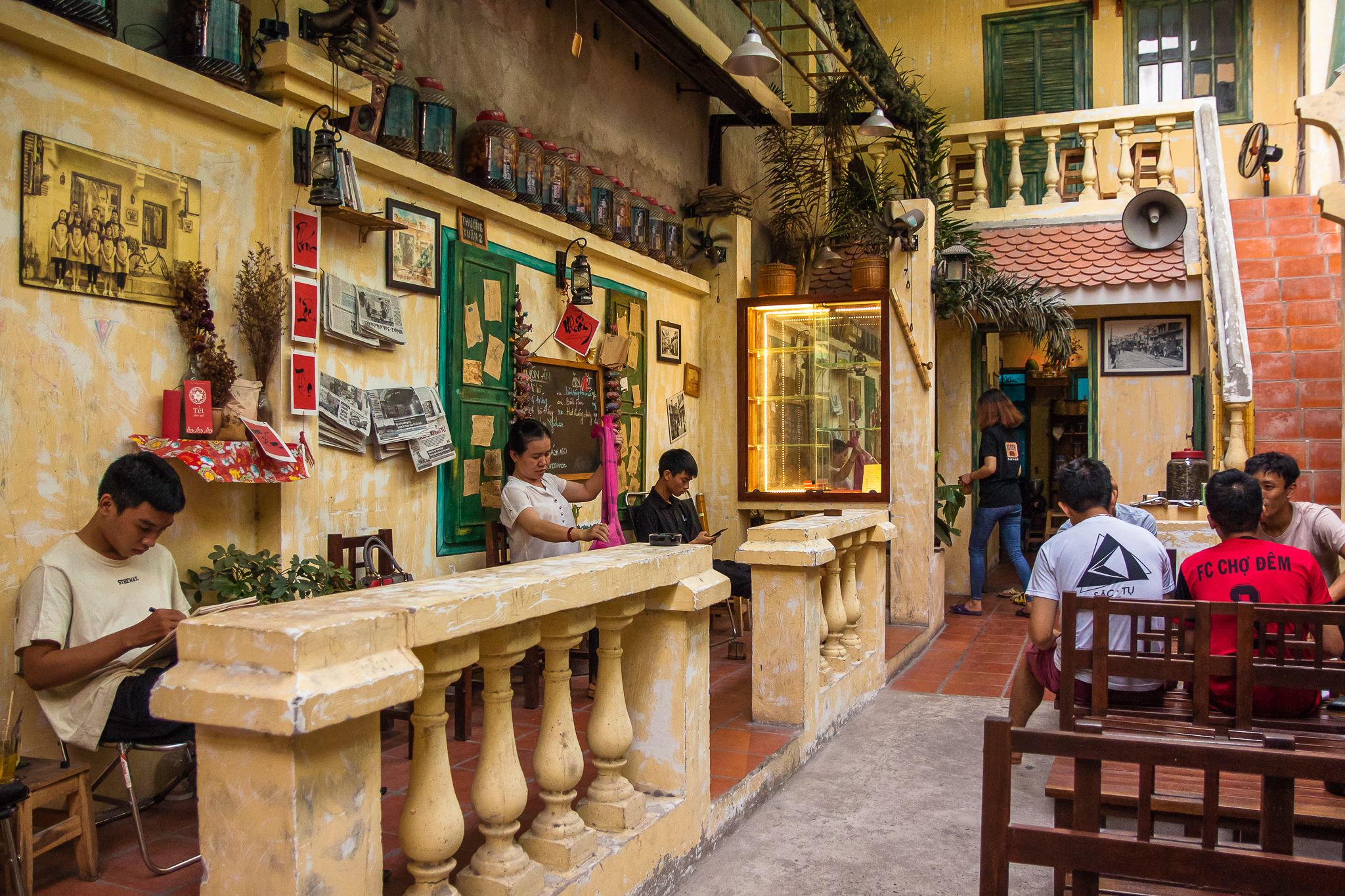 There's something about the red roof tiles in Ngách 160 that fills me with a vision of Hanoi. I think I'll attribute it to the shade of crimson and their scalloped edges. I was awed at the sight of fermented sấu and mơ jars orderly placed on the lip of the wall. The juice and the fruit of some containers have totally been discolored, with a thick layer of froth, suggesting they've been fermenting for a while; whereas a few other vessels are a bit clearer and brighter.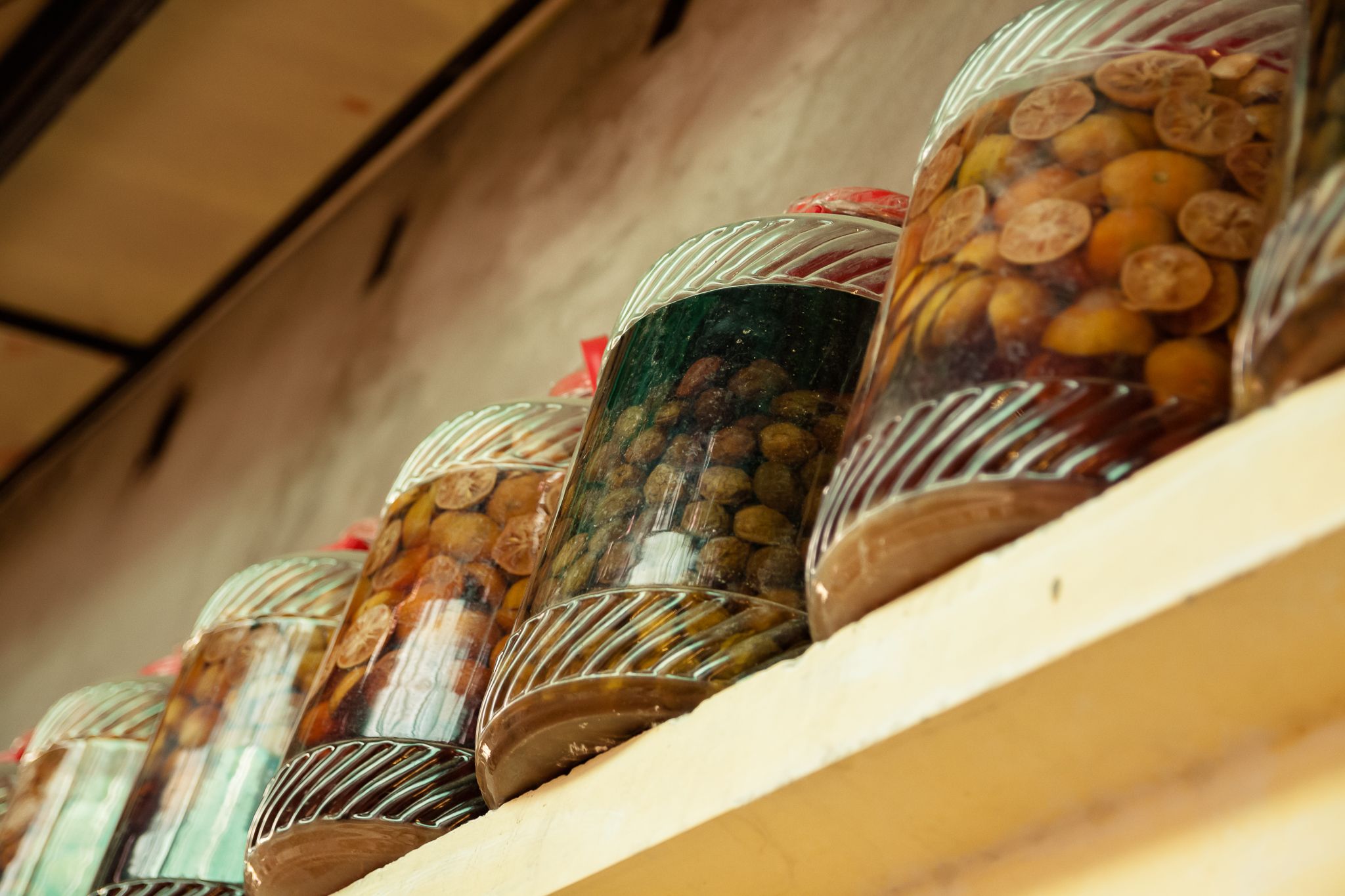 Visitors can enjoy their drink at different sections in the space inside. The similar-looking veranda has its wall embellished with festive knick-knacks. The space opposite is decorated like the pavement in one's neighborhood, with tables and stools placed at the thresholds of houses with muted greenish wooden windows. An air-conditioned room reached via red brick stairs is properly furnished like a Hanoi home, providing a great hideout. There is also a small porch with a little hut and an open area that resembles an area where Vietnamese parents greet guests.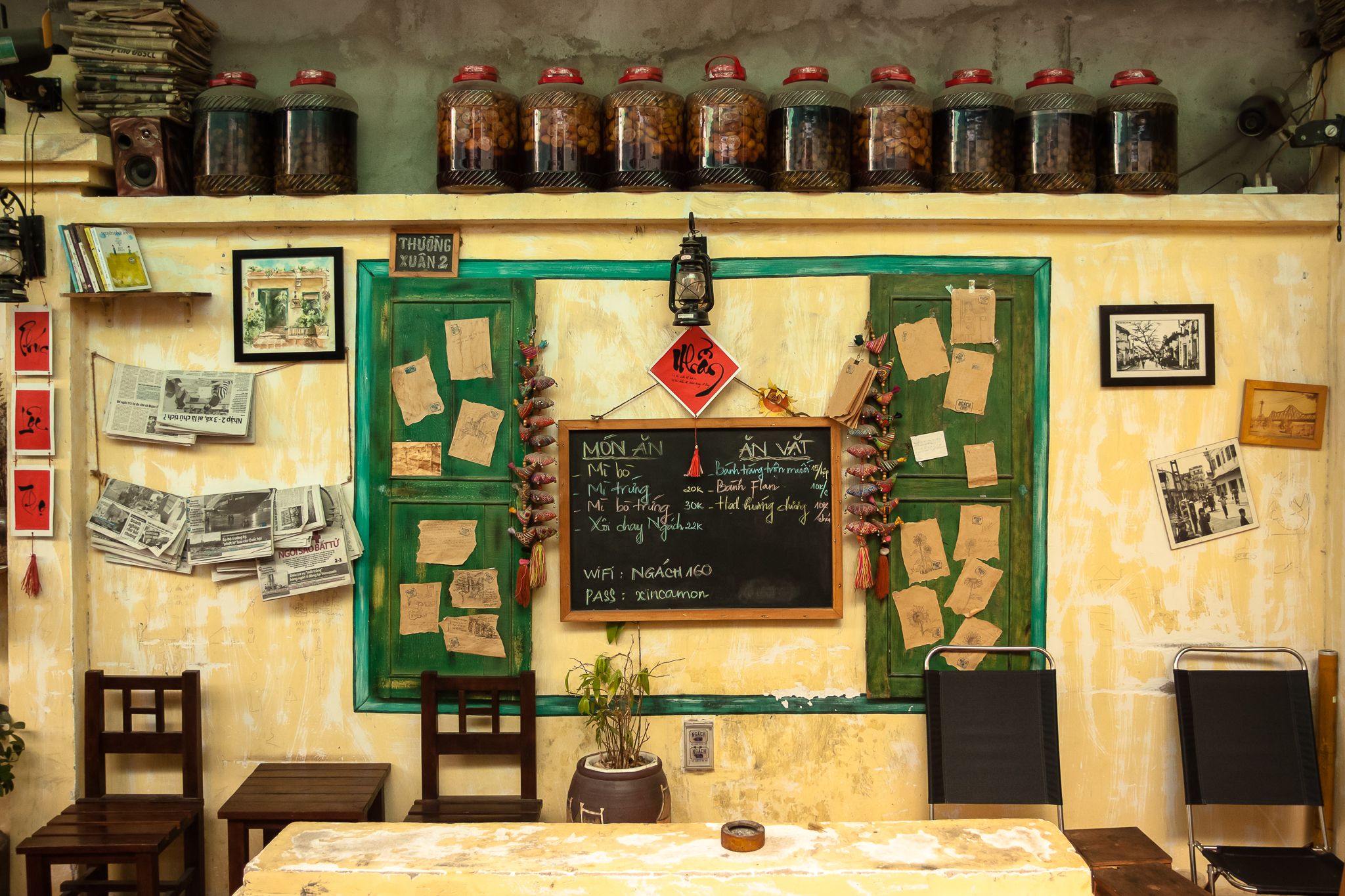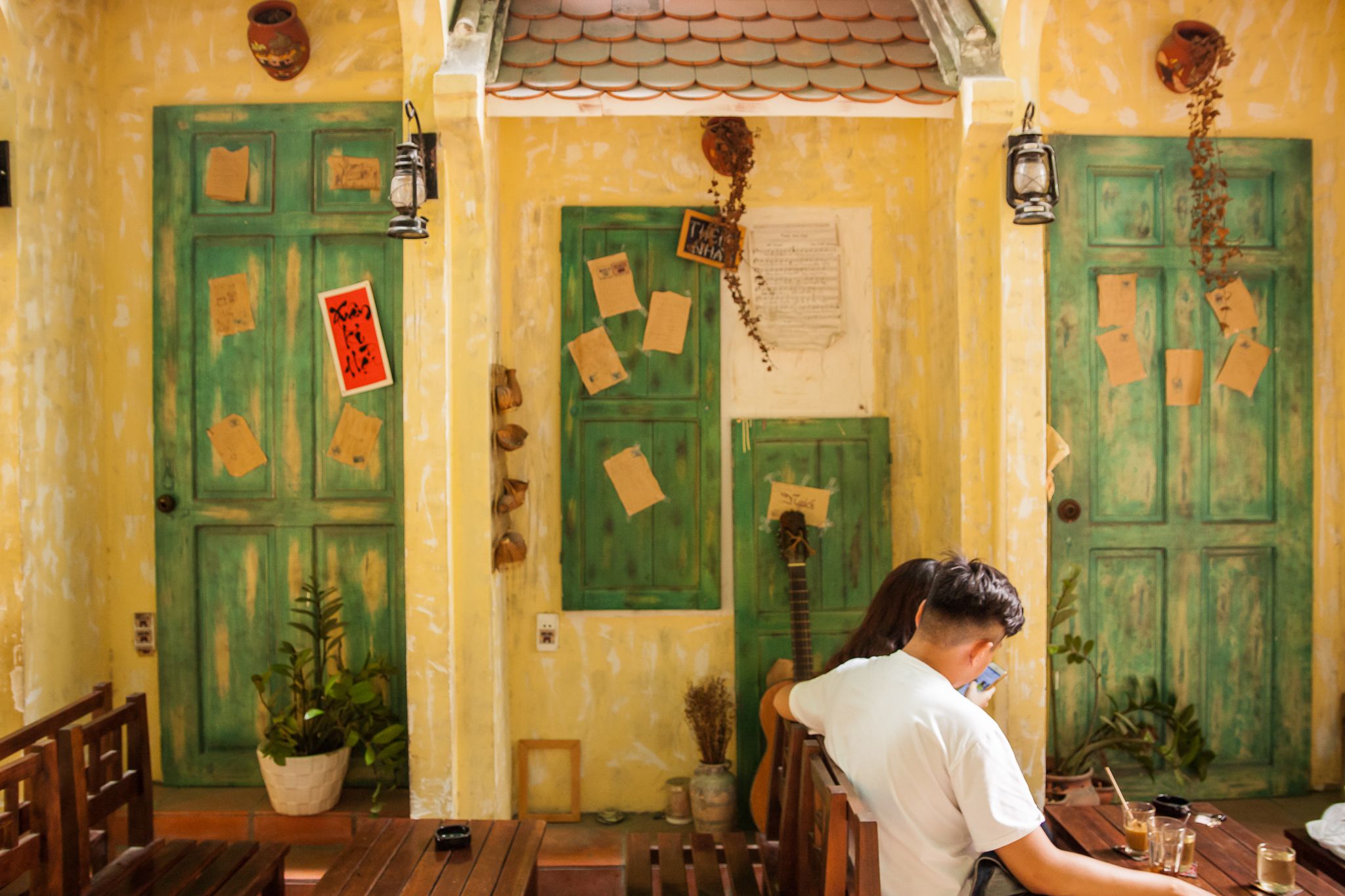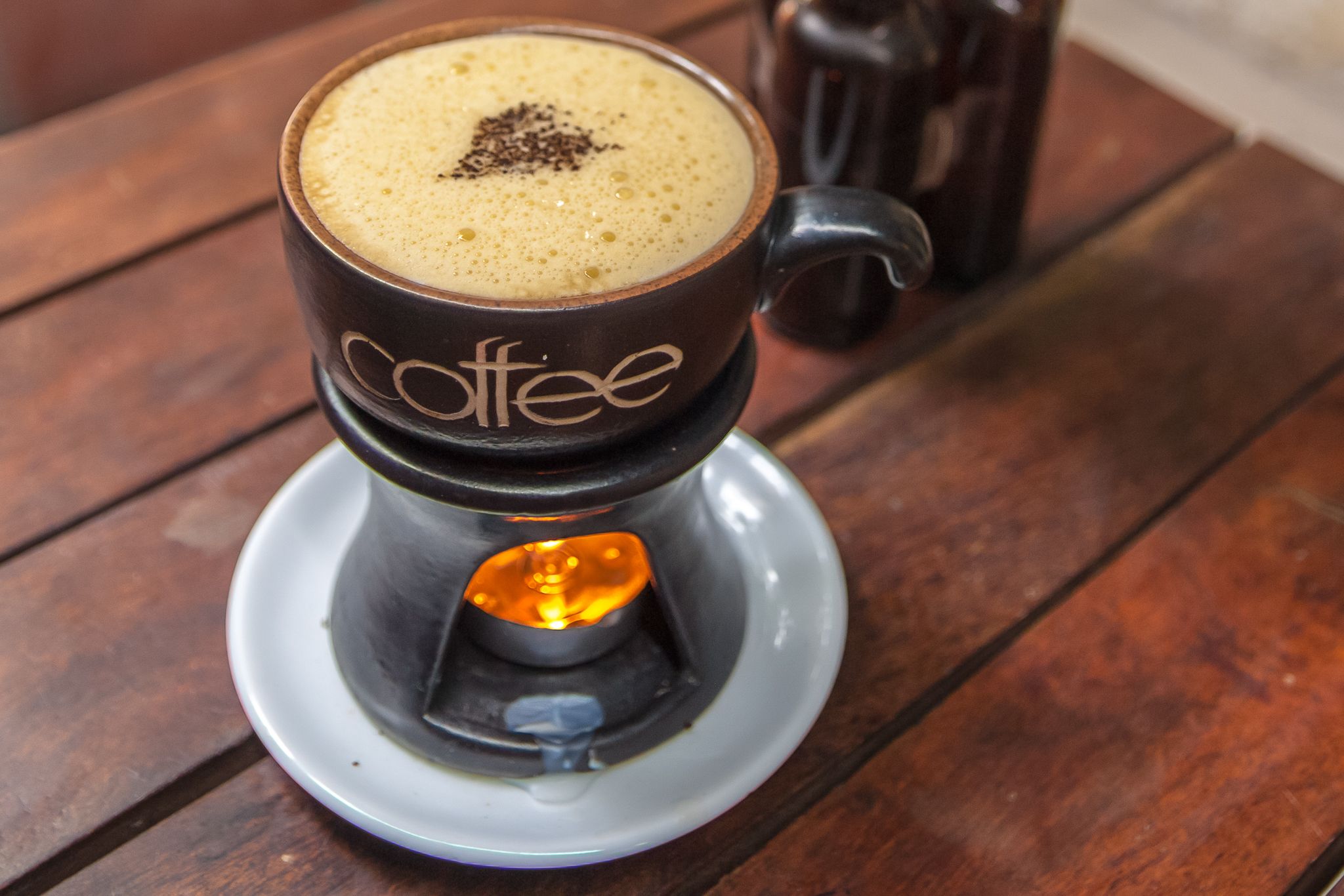 I ordered nước mơ and xôi chay, while our photographer had café trứng. My drink is made of fermented apricot, commonly found in the northern regions of Vietnam, with sugar, creating a syrupy and lovely acidic taste. I never imagined that the unsightly fruit could have such great flavor: it's not so tart like citrus, but still subtly sweet. It was also very balanced thanks to the timely fermentation, just enough to produce the deep, rich flavor without being too overpowering, making it a refreshing drink to cool the Saigon heat. The palatable xôi chay featured seasoned seared mock meat on a bed of glutinous rice topped with fried shallots and coriander, though the portion might not fill you up.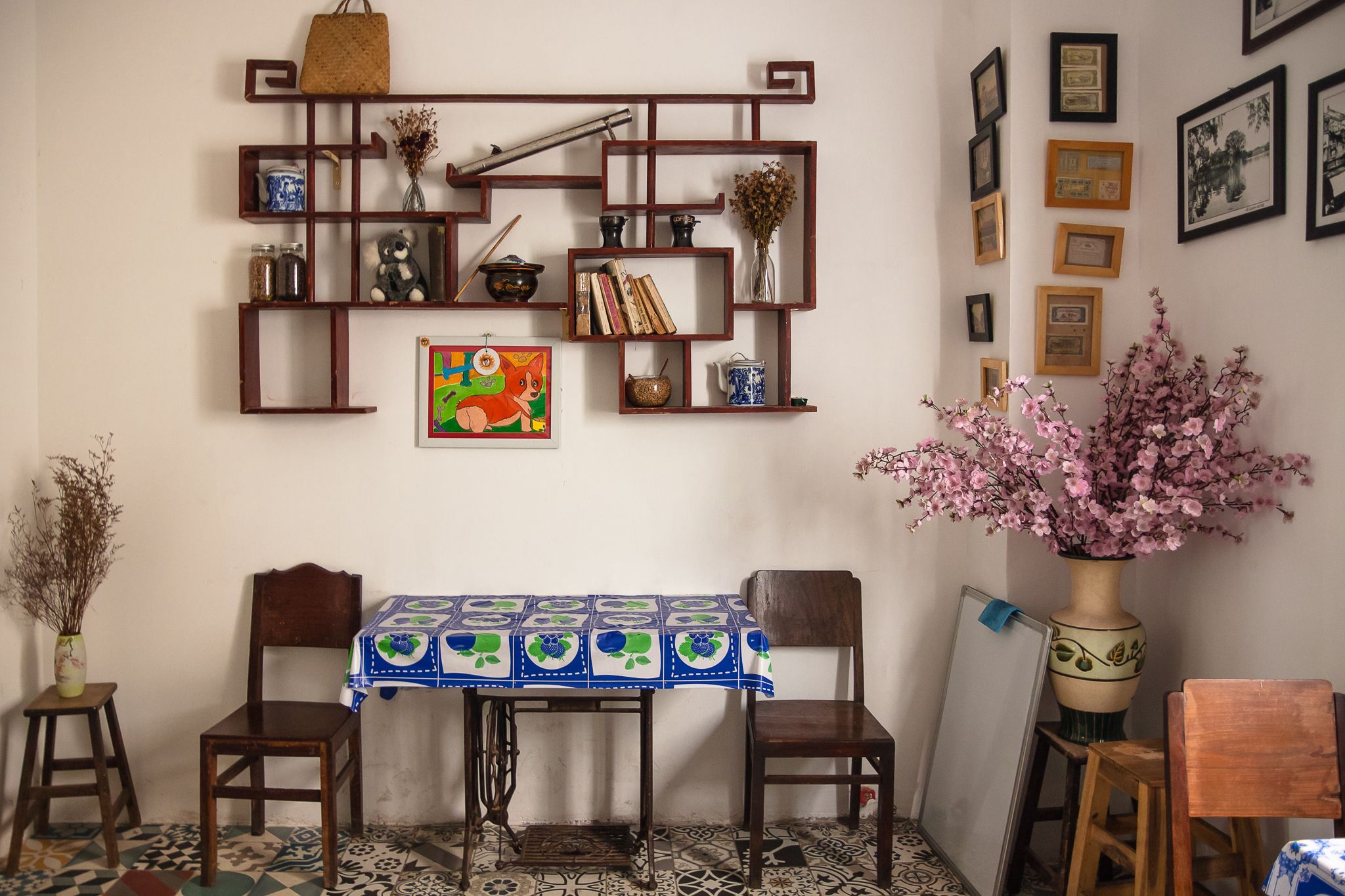 I came across Phuong, whose family settled in Saigon 10 years ago, while I was going around asking if any customers hail from Hanoi to share some insights. "These lanterns are exactly like the ones my family has in Hanoi," the frequent visitor of the café told me with excitement. Phuong likes the owners' vision of Hanoi-themed coffee and thinks they succeed in their design, especially the color scheme of the interior, which I hadn't noticed until she mentioned it. Had the yellow walls been a smidgen more mustard-y, or the moss-colored windows and doors been slightly more emerald, one's impression would not be the same. It would not be as distinctly Hanoian.
Ngách 160 is open from 6:30am to 10:30pm.
To sum up:
Taste: 4/5
Price: 4/5
Atmosphere: 5/5
Friendliness: 4/5
Location: 3/5
Tran Le malfunctions over beauty and couldn't live without YouTube.
Ngách 160
160/29 Bui Dinh Tuy, Ward 12, Binh Thanh District