Throughout the 20th century, as Vietnam underwent dramatic historical and political changes, a unique brand of modernist architecture developed in the country, transforming its present-day aesthetic and shaping how today's architects think about design.
Huynh Tan Phat, one of the pioneers of Vietnam's modernist architecture movement, was Ho Chi Minh's southern comrade. The Mekong Delta native graduated in 1938 as an architect from Hanoi's École des Beaux-Arts L'Indochine. In 1940, Phat started the first private Vietnamese architecture firm in Saigon.
He was among the first of the Vietnamese modernists, designing several beautiful modernist villas in Saigon and Da Lat as well as the podium in downtown Saigon from which Ho Chi Minh's Proclamation of Independence from France was read in 1945. That same year, Phat became a member of the Communist Party.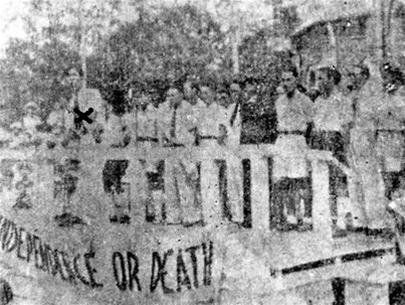 From his university days onward, Phat recruited intellectuals to the resistance against French and American forces and went on to become vice chairman of the National Liberation Front.
Phat was a modernist architect who became a modernist revolutionary: when the American War ended on April 30, 1975, he became prime minister of the Provisional Revolutionary Government for the Republic of South Vietnam until the country was officially reunified in July 1976.
Thus began the 80-year-long history of distinctive Vietnamese modernism.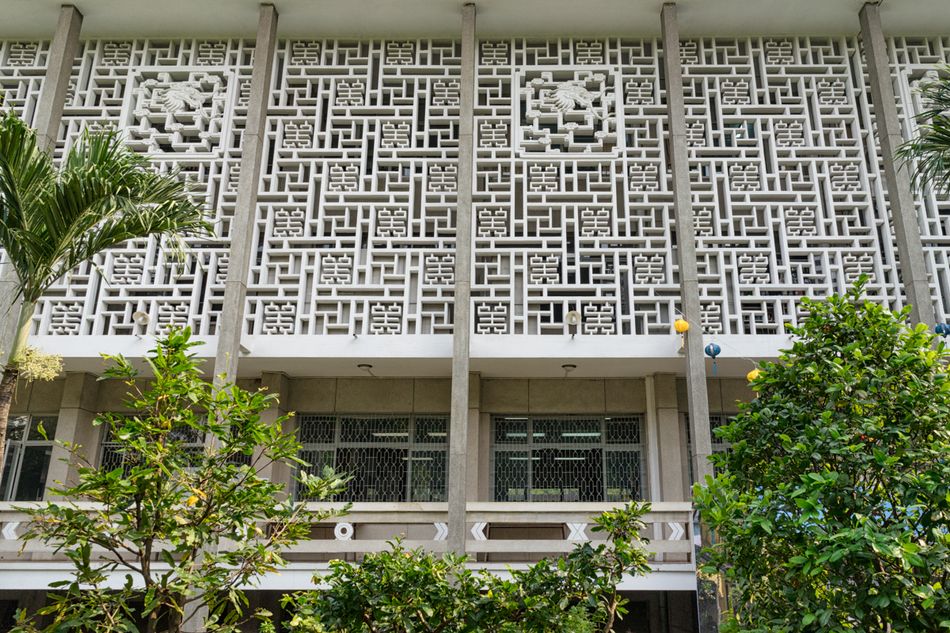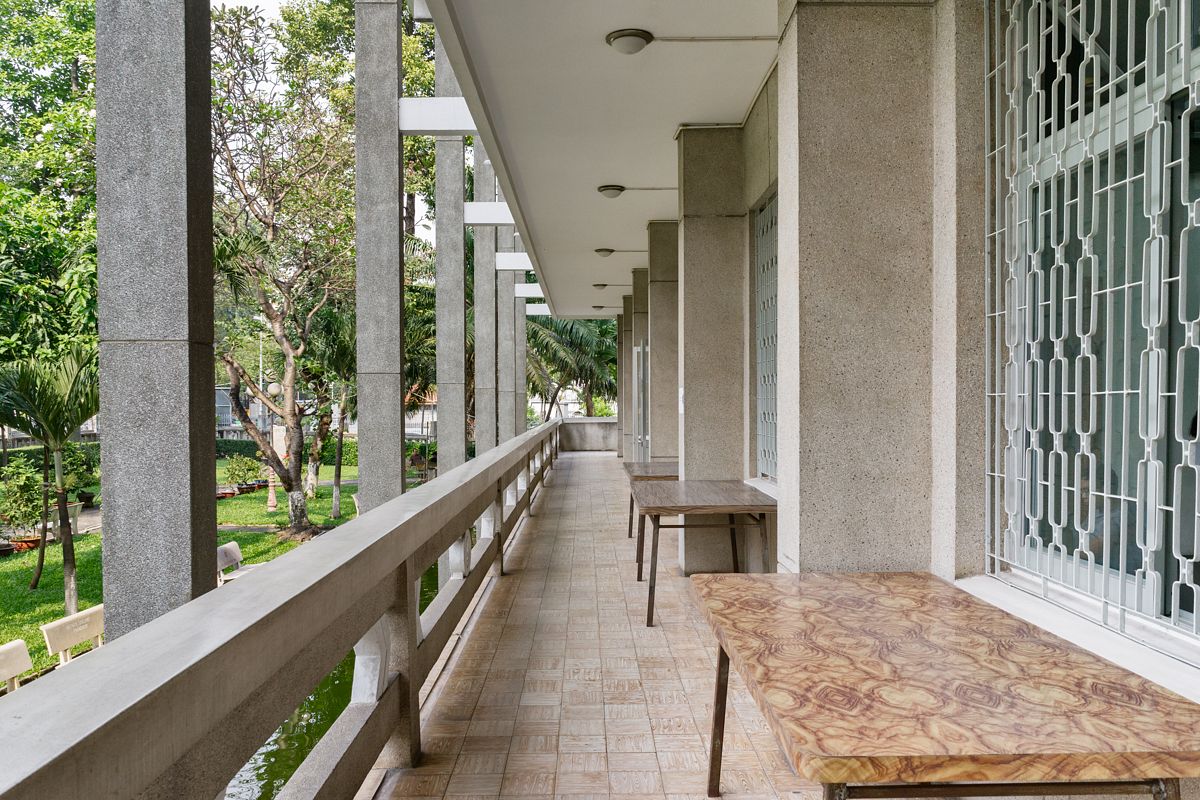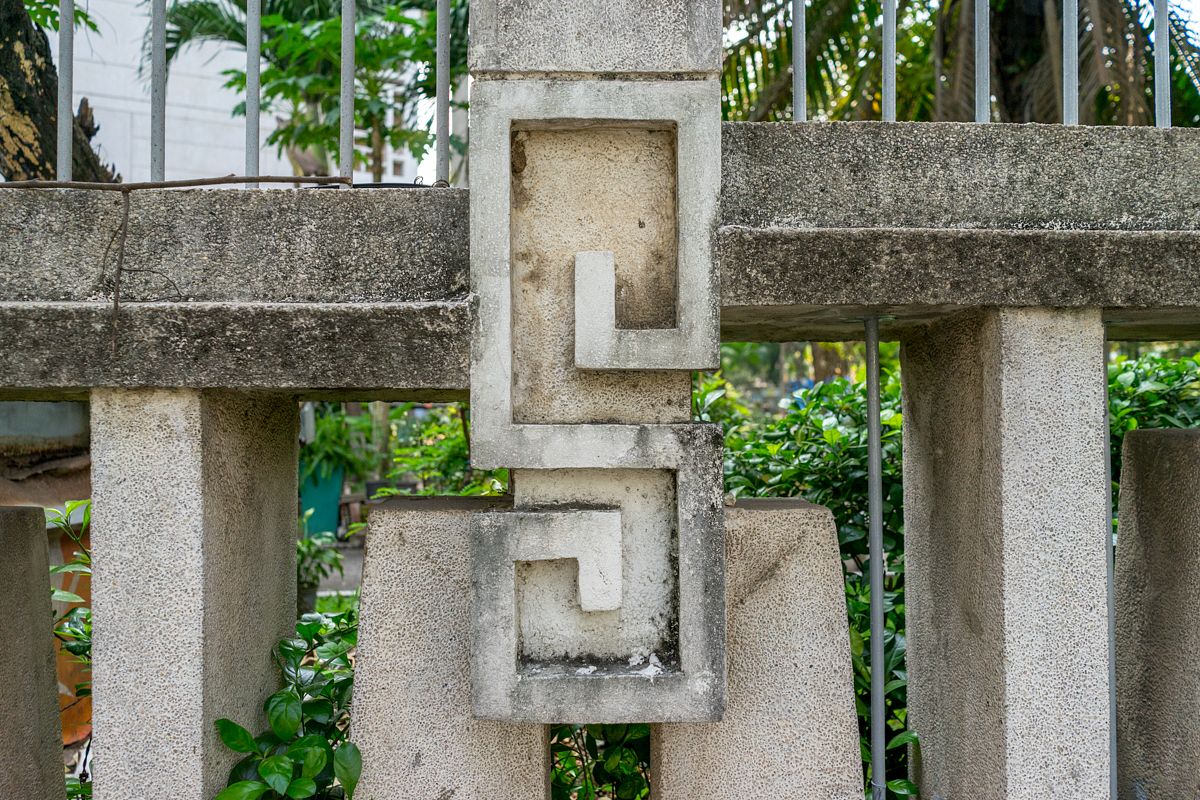 Walking around downtown Saigon, many tend to focus on the city's neoclassical colonial buildings and the new international-style towers without recognizing that the majority of the background buildings downtown are predominantly utilitarian modernist apartment blocks.
Vietnamese developers, working with local architects, constructed these background apartment buildings all over the inner city in the 1940s, 50s and 60s, and making the city predominantly modernist during that era.
I arrived here in late 1971 as a naval officer, managing construction contracts with Vietnamese contractors. Over a year's time, I was amazed at the quality and quantity of modernist architecture, especially on residential streets. Along the long street where I lived, 60-80% of the shophouses were modernist in style.
Vietnamese architects and historians consider the years from 1940 to 1975 the golden age of Vietnamese modernism. In that period, major modernist public buildings such as hospitals and hotels were designed and constructed.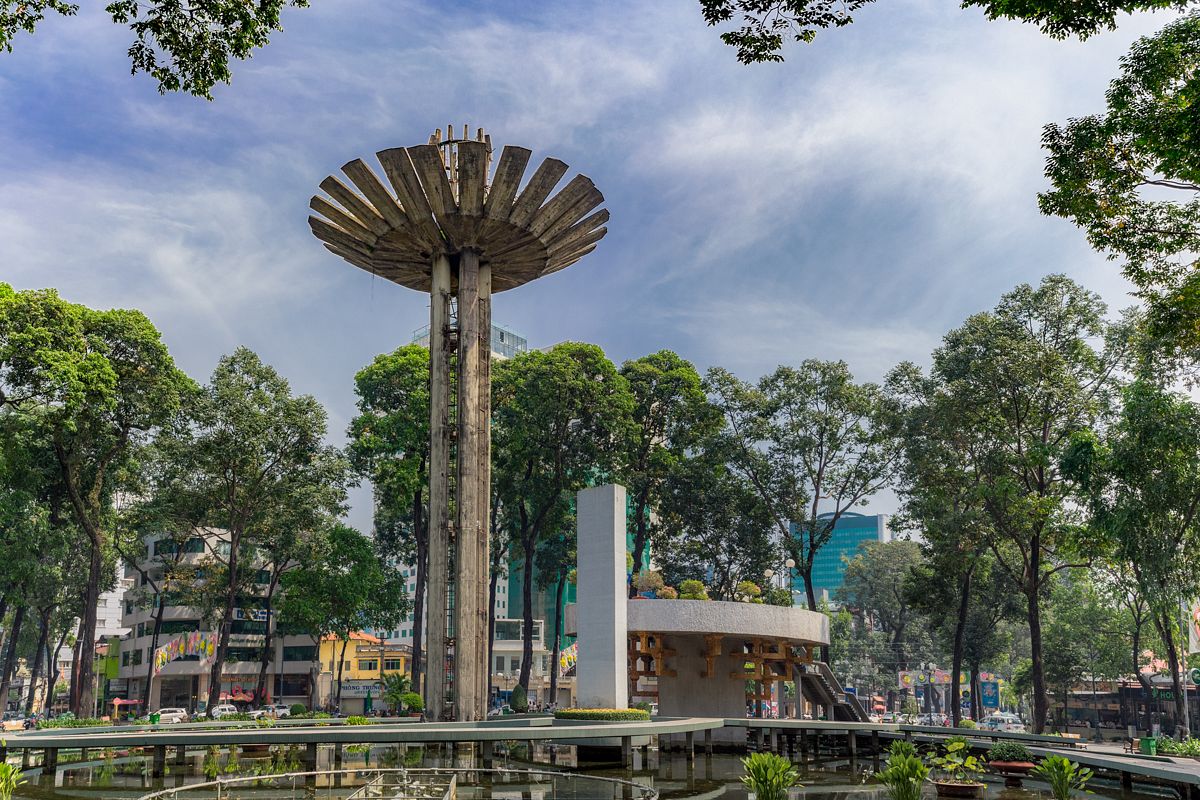 Three modernist architects, Nguyen Van Hoa, Pham Van Thang and Nguyen Quang Nhac, formed a firm in the 1940s that became the largest firm in the country, designing most of the major modernist buildings in southern Vietnam. The Caravelle Hotel, designed by Nguyen Van Hoa, was occupied in 1959. It has since, unfortunately, been remodeled into a more globalized international style.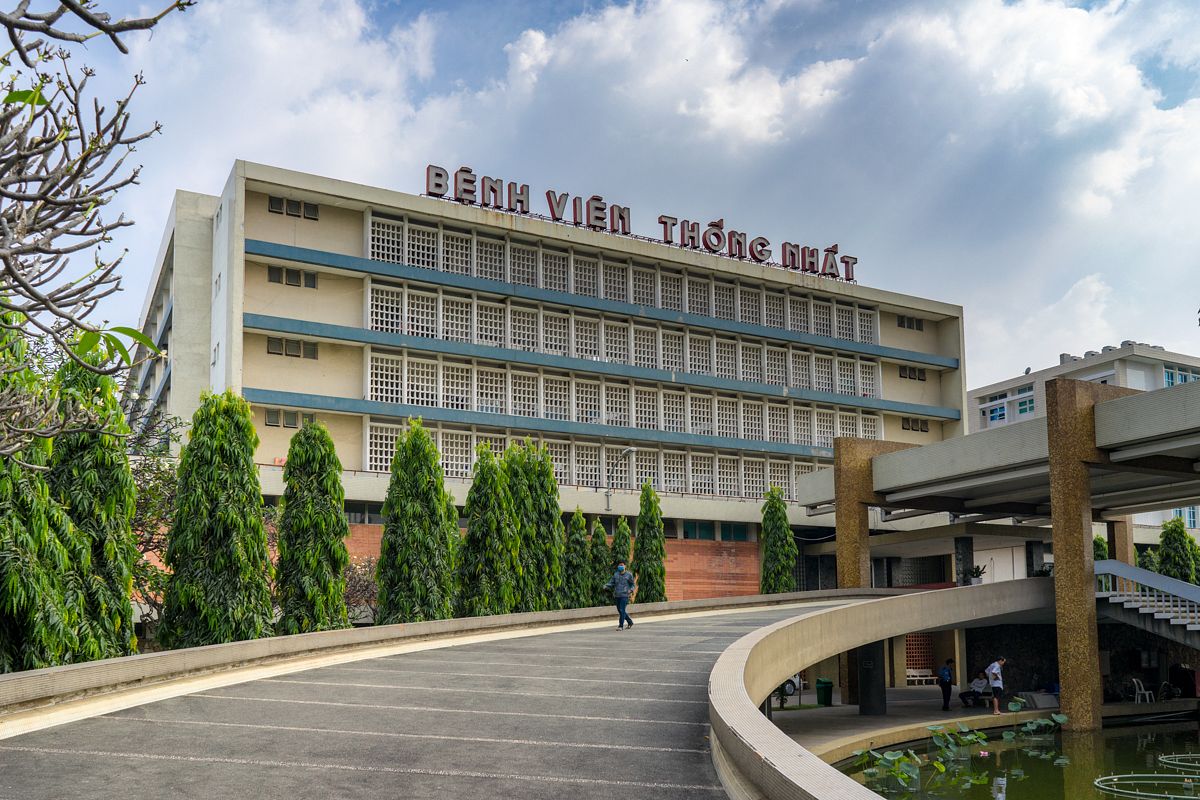 While all of these examples are found in the city, Vietnamese modernism is not limited to Saigon alone – this architectural style flourished in all of the southern cites, from Da Nang to Quy Nhon, Da Lat to Nha Trang, My Tho, Vinh Long and Can Tho.
Over the course of the 20th century, modernism truly became the predominant style for public buildings and houses in southern Vietnam.
Public and governmental acceptance of modernism was confirmed in the early 1960s, when a design competition was held to replace Norodom Palace with a new structure after it was bombed in February 1962 during an attempted coup. While several neoclassical schemes were entered, President Ngo Dinh Diem awarded the commission for the Independence Palace to a modernist masterpiece designed by Ngo Viet Thu, Vietnam's most accomplished and prolific modernist architect. Educated in Paris at the École des Beaux-Arts, Thu became the only Asian architect ever to receive the prestigious Grand Prix de Rome in 1955.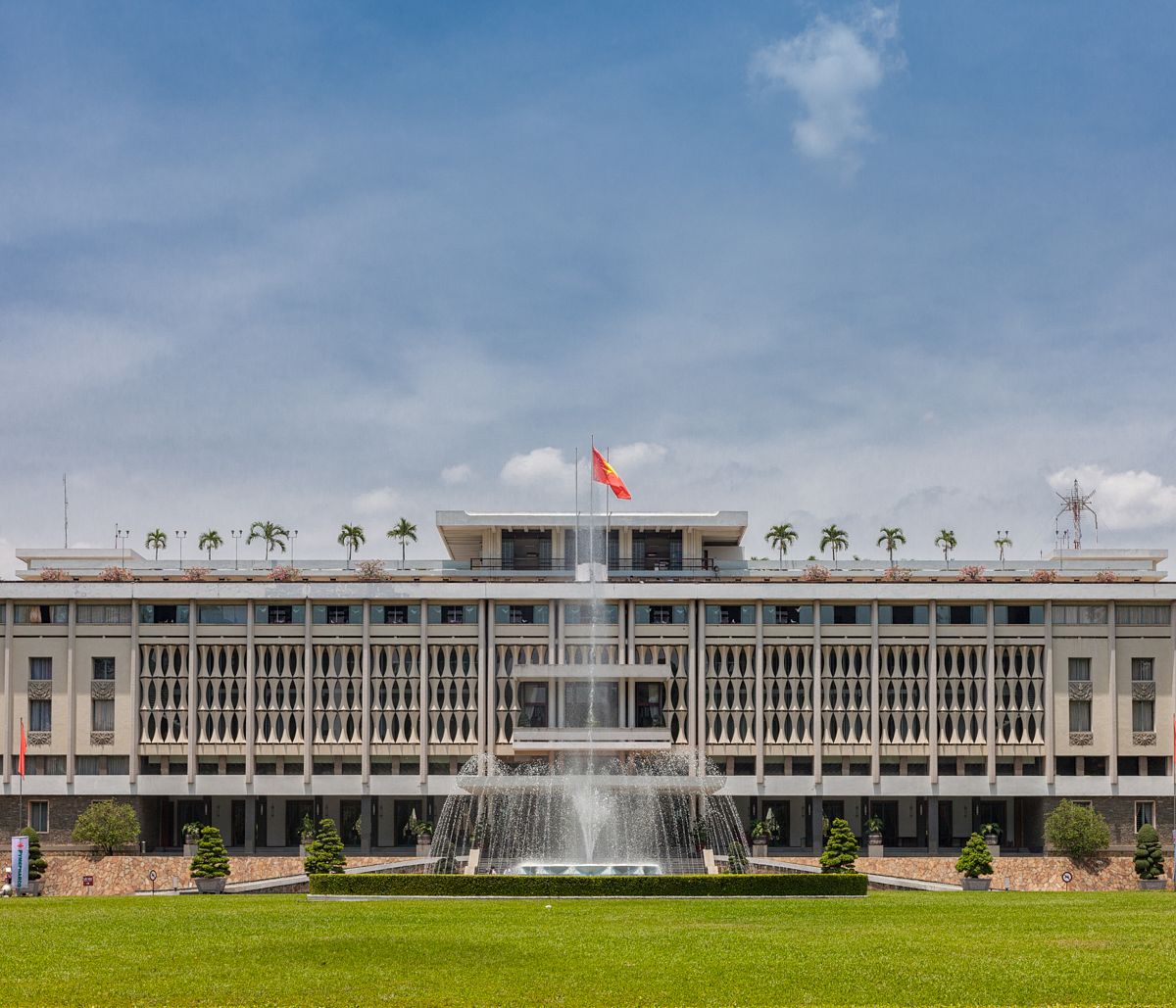 In the meantime, many modernist villas and shophouses were designed by Vietnamese architects in the neighborhoods surrounding downtown Saigon. In the city, modernism achieved a distinctively Vietnamese style through experimentation. Beyond boxy modernist forms, light and slender sun shades and screens were added to present a modernism not found anywhere else in the world.
This brand of modernism thus became the vernacular architecture of houses in southern Vietnam. Today, I can pick any street at random and find that at least 60% of the houses on the block are modernist. There is no "normal" – Vietnamese homeowners like diversity and want their houses to look different, but most often, local homeowners want their houses to be modernist rather than neoclassical or colonial.
The standard housing type in Southeast Asia is the shophouse. In Vietnam, these structures are usually between three and five meters wide and three to five stories tall. They occupy 100% of their lot. Since the houses are usually surrounded on three sides by adjacent structures, this leaves the front facade and the rooftop for design opportunity.
Modernism makes the facade the subject of experimentation, with design elements in an intellectual composition. Vietnamese architects use a very modernist intellectual approach to composition that is still rooted in rationality.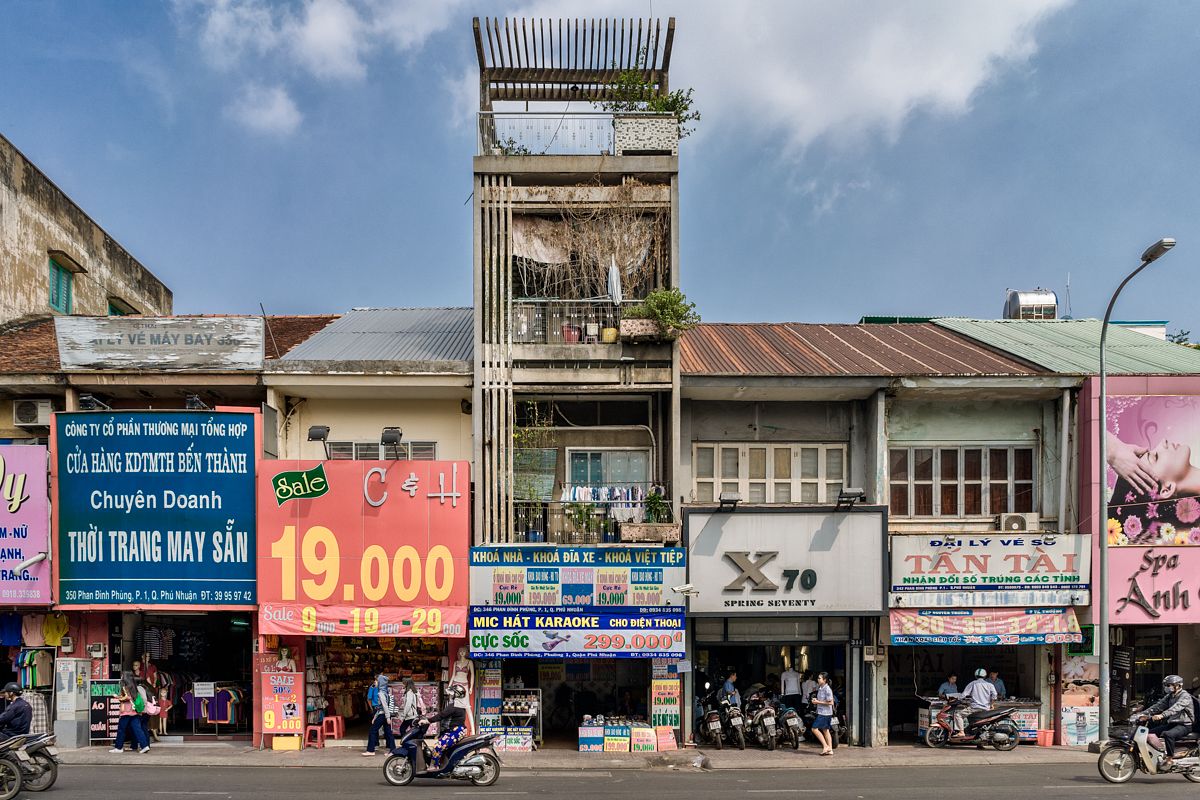 Over the past two decades, contemporary Vietnamese architects have continued this intellectual experimentation in composition, and contemporary Vietnamese modernism is thus richer than western varieties in its use of lines, planes, volumes, voids, materials, patterns, textures and colors.
Contemporary Vietnamese architects continue to embrace modernism even as they head towards an architecture for the information age. Like architects around the world, they are paying much attention to sustainability and environmental integration within their designs.
Local architects are also busting open the shophouse by introducing open stories or atrium spaces within the house, turning these structures from caves into truly tropical houses that allow more indoor-outdoor experiences.
Why have Vietnamese architects so wholeheartedly embraced modernism, while other nations around the world have not? First, I believe Vietnamese architects have an innate sense of design that leads them to make good or at least interesting decisions.
Second, I think the Vietnamese culture is eclectic in a very good way. Vietnamese architects are not beholden to iconic religious architecture as in Thailand and Cambodia; they do not steal and copy ideas but rather see a good idea, enhance it and make the design Vietnamese.
Third, Vietnam used its independence from colonialism to meet the industrial age head-on, even in the face of war, and modernism expresses the industrial age. Vietnam was never really beholden to the past; instead, Vietnamese architects wanted to be modern in their thinking and accomplishments, and they continue to be very future-oriented rather than looking backward.
Mel Schenck is an American architect with over 45 years of experience managing design and construction of large complex planning and building projects, primarily in San Francisco. He is currently researching Vietnamese modernist architecture as well as information-age architecture.