Over the past few years, Vietnamese architects have been developing a new architecture beyond modernism for small projects such as houses and schools. Architects around the world are taking notice and are beginning to follow their Vietnamese peers with similar designs.
Modernism has been the reigning architectural movement in the world now for over 100 years. Modernism in Vietnam moved past colonial neoclassical architecture over the same years, beginning with the Vietnamese architects trained in modernism at the Fine Arts College in Hanoi, graduating in 1931 and subsequent years.
Those early years were exciting for architects and the Vietnamese people as new modernist architecture was being designed and constructed at the same time as art deco and neoclassical colonial buildings. Vietnamese modernist architecture became predominant in southern Vietnam in the mid-20th century as Vietnamese architects independently perfected their own style that was well-adapted to the tropical climate and expressed Vietnamese identity.
Modernism was the architecture of the Industrial Age during the 20th century and suited the times well by representing the philosophies and sciences driving that era. Those principles were primarily based on the philosophy of breaking everything down into parts, which provided tremendous benefits for various industries as new material compounds and products were being developed. This interest in segmentation was extended to social and economic spheres as well. Modernist architecture reflected this by using new industrial products, assembled in parts, to create harmonious compositions.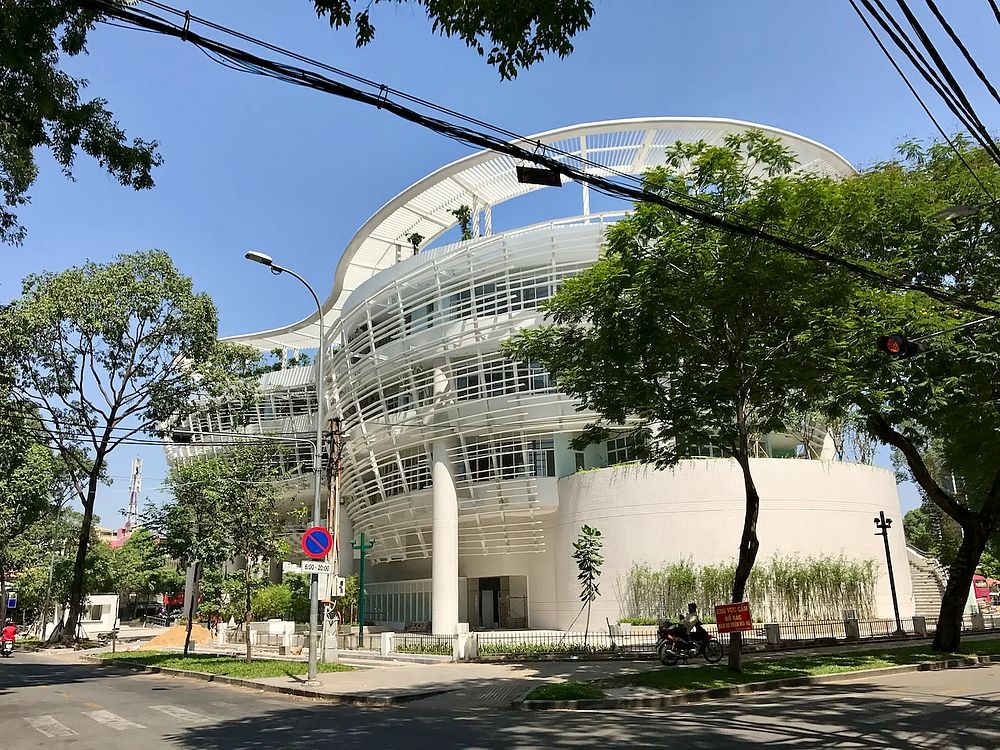 We are now at a similar turning point for global architecture better-fitted for today's times. Over the past few decades, we have been learning to view the world as a more holistic network seen from many perspectives. Quantum physics and relativity theories showed us that the world is based more upon complicated interactions of forces within a unified system, revealing patterns of probabilities. Our new knowledge of the space-time continuum has given us a different sense of reality in the Information Age and given artists ad architects new opportunities to interpret these new intellectual forces.
It has now been broadly accepted amongst scientists and economists that we are in the Information Age. The manipulation of data and information allows us to understand whole systems and apply systemic design to solve problems that could not have been previously resolved.
Architects have been interpreting this new age through the use of computers that allow us to see, analyze and model the factors impinging upon the environment, the functions of our buildings, and the users of buildings. This has resulted in architecture over the past couple of decades that is more holistic and reflective of the times.
These characteristics are best understood by considering the network as a metaphor for forms. Networks are inherently amorphous and random because you cannot discern a shape for a network such as the internet. Because any network is constantly being enlarged with new data that has myriad impacts across the network, what we perceive as its form is highly dissonant but nevertheless of a whole. The primary characteristic of this new architecture, therefore, is one that material predominates to create a holistic form.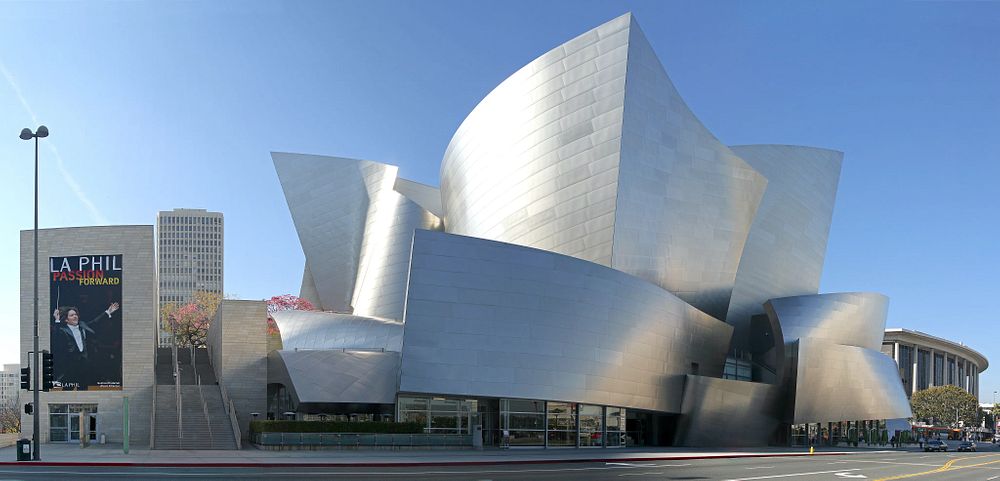 We recognize this style in the curvilinear forms of star architects such as Frank Gehry and projects like his Walt Disney Concert Hall in Los Angeles. We observe it in the fluid designs of Zaha Hadid, who implements it in large projects like her Dongdaemun Design Plaza mixed-use project in Seoul. But these star architects have not been addressing small projects such as houses or schools.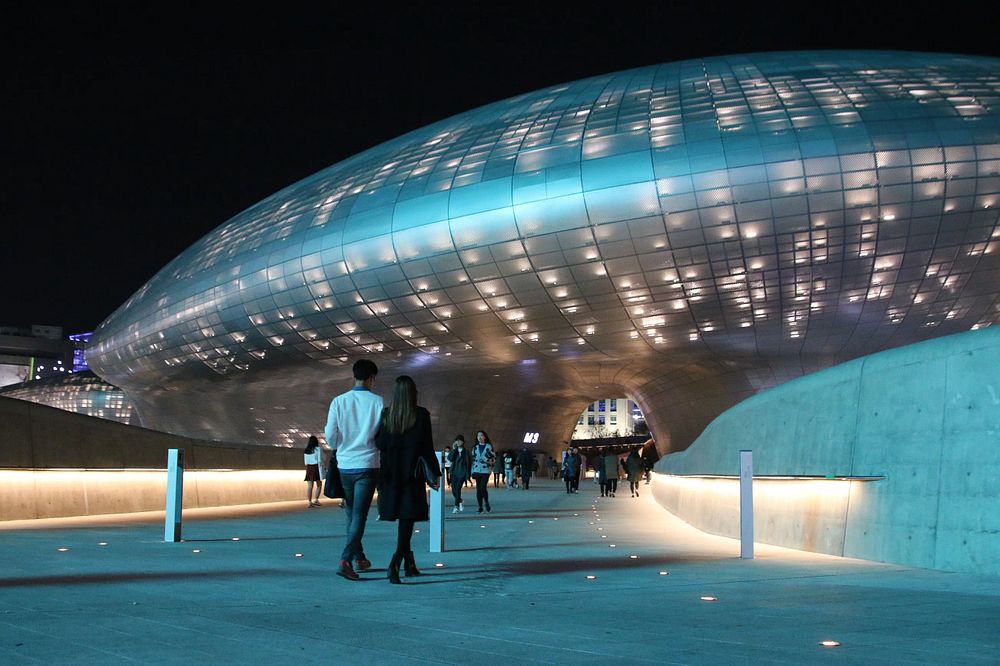 When you look at the parade of new houses published every day on online architecture websites such as ArchDaily, you see that the overwhelming majority of those designed by architects around the world remain exquisitely modernist. While the architecture of large projects continues to develop towards an architecture of the Information Age, the architecture of small projects around the world remains in the Industrial Age.
Beginning a few years ago, viewers of Vietnamese projects published on these websites started to comment that Vietnamese architects were doing something different. Most projects posted by local architects are houses and small projects such as schools. The commenters about Vietnamese projects couldn't seem to pin down what it was about Vietnamese architecture that was different, but they could see that it was moving beyond modernism and innovating in ways that weren't seen elsewhere in the world.
Over half of the Vietnamese projects published online remain modernist, and at a high quality that stands up well against all of the international houses published. But a portion of them are different and point towards a new architecture.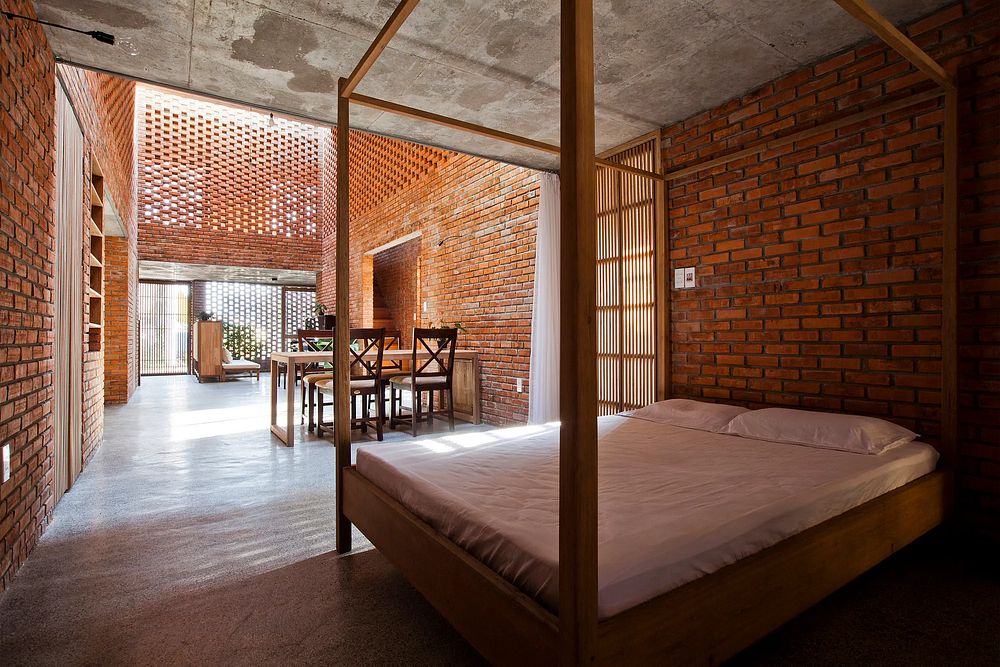 A good example is the "Termitary House" in Da Nang, designed by Vietnamese architects Trần Thị Ngụ Ngôn and Nguyễn Hải Long of Tropical Space Architects in 2014. They looked at the nests of termites in the area to see how they mitigate extreme temperatures. This method of developing a holistic design is called "biomimicry" — learning from nature to inform how to solve complex human problems. In this case, they learned that the termites produce double walls in their nests with small openings to moderate the temperature inside in relation to the outside conditions.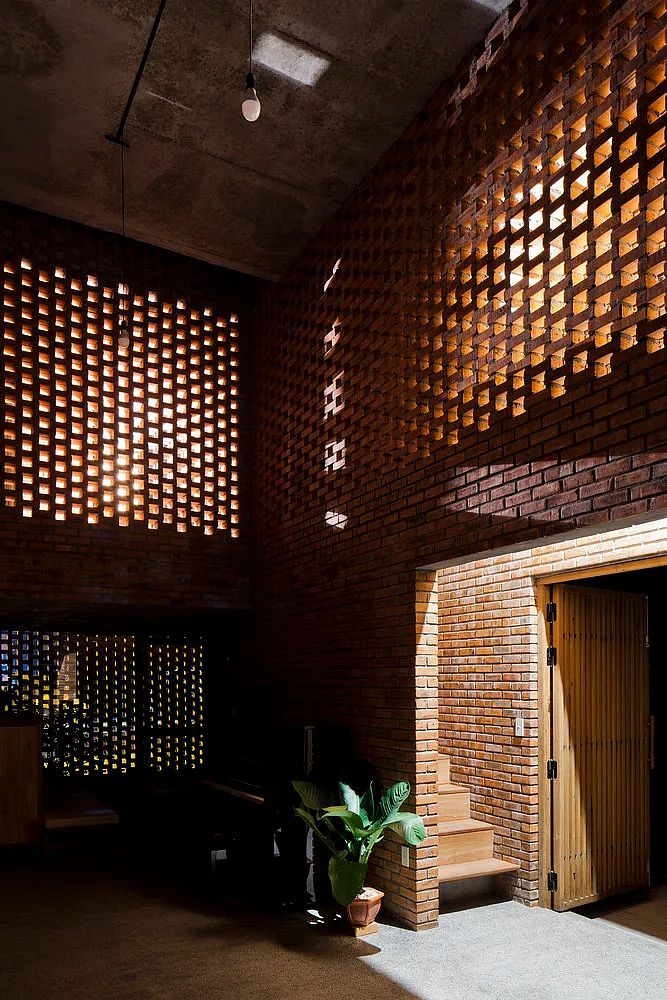 In the Termitary House design, this is manifested in parallel brick walls laid in a pattern that results in hundreds of very small openings for ventilation. The space in between the walls is used for service spaces. No air conditioning is necessary for this house. The visual characteristic of this design corresponds with the Information Age architecture of large structures with one material predominating — in this case red fired-clay brick. This characteristic is what separates this new Vietnamese architecture from modernist houses elsewhere around the world, and the Termitary House was the project where netizens first saw that Vietnamese architecture for houses was different. Nowadays, you see architects in other countries using these materials and techniques.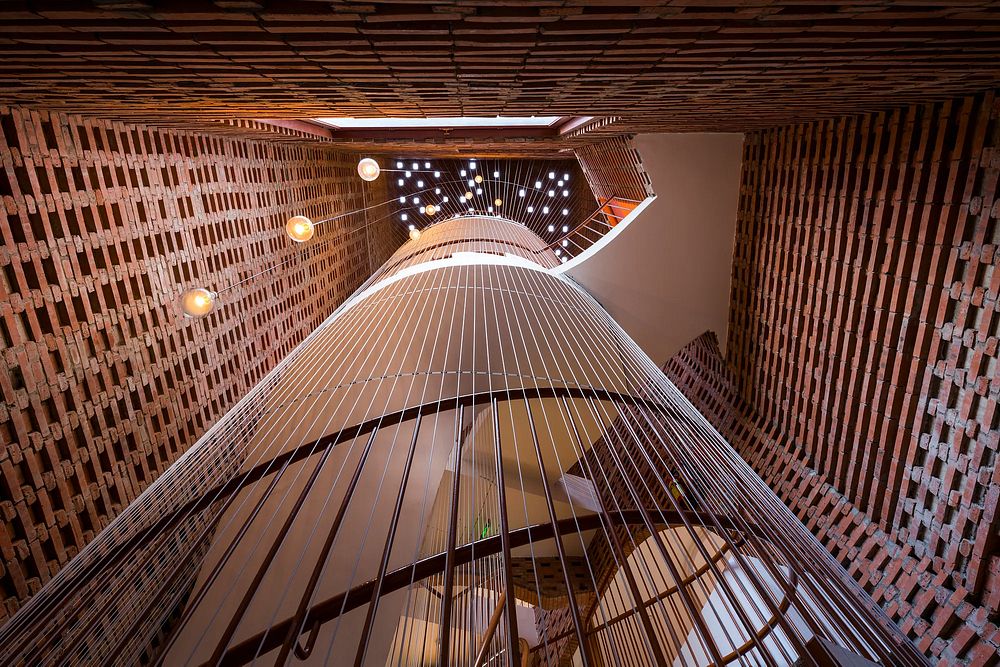 In addition to the appearance of Information Age architecture, a holistic design process distinguishes the work of some of Vietnamese architects. This is particularly true of the work of KIENTRUC O Architects of Ho Chi Minh City. Lê An Ni — recently named by Architizer as one of the 100 women in international architecture to watch — and her partner Đàm Huỳnh Quốc Vũ base designs for kindergartens and primary schools on extensive research into how children react to spaces and learn best.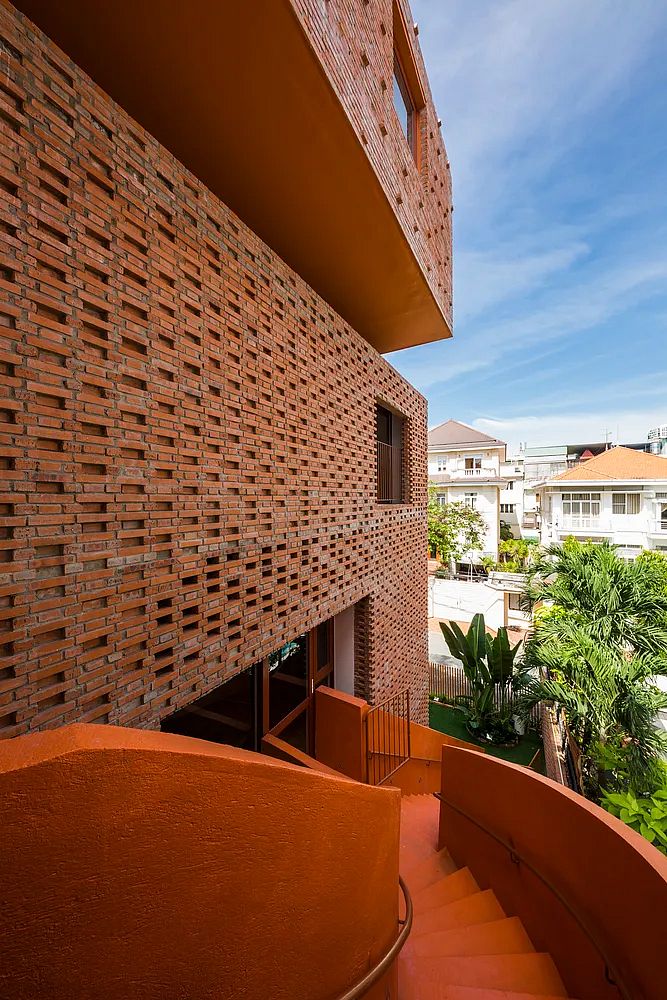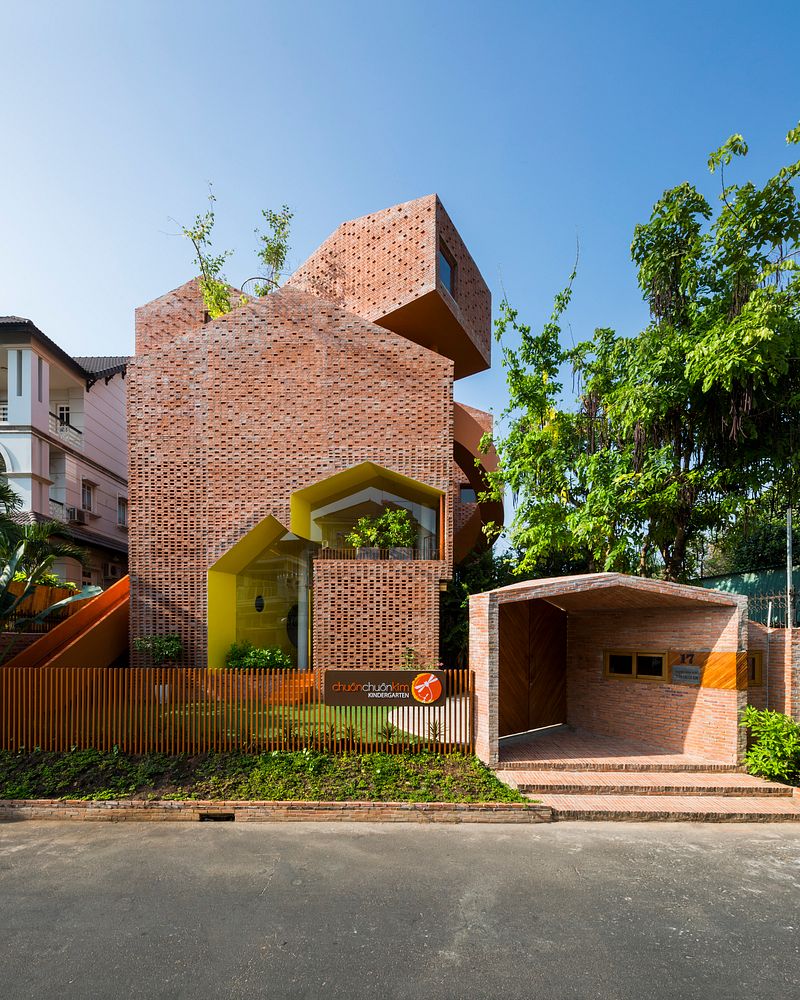 The Chuồn Chuồn Kim 2 Kindergarten in the Bình An area of Thu Duc City is a good example of Vietnamese holistic architecture that results from this research. This building form takes the shapes that are required to provide the journey of discovery for children through the school. Another school by KIENTRUC O was named by The Guardian in 2020 as one of the "The world's top 10 new architecture projects." The Bó Mon Preschool not only shows a beautiful free-form that fits into the rolling hills of a Son La Province village, but is based upon a holistic investigation and design process that involved the parents and the surrounding communities, construction materials suppliers, and constructors providing time and materials all together in a volunteer venture.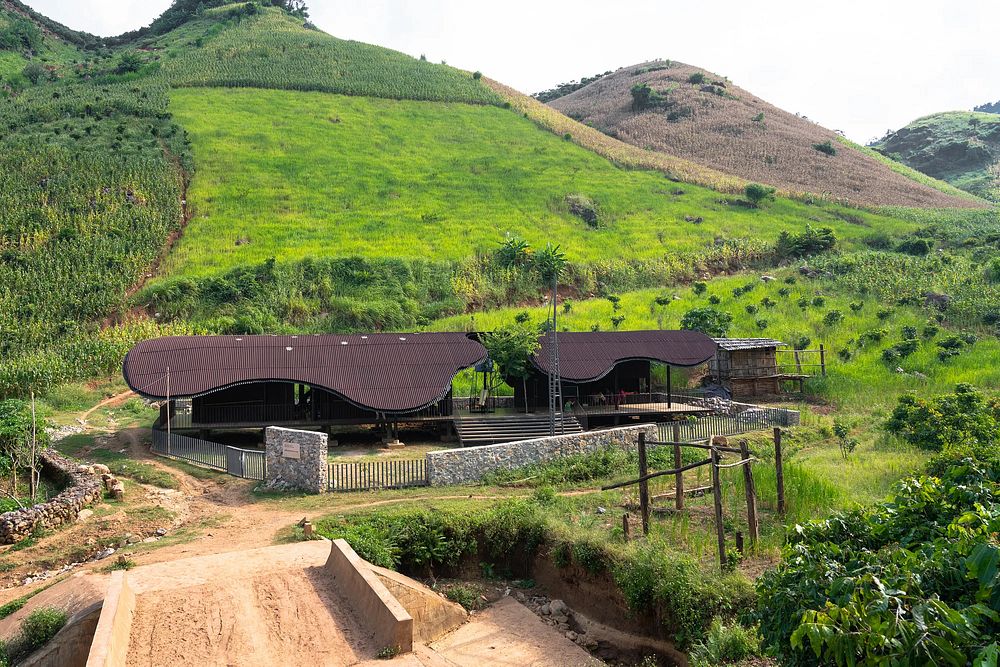 You will notice that none of these Vietnamese examples use a computer to generate curvilinear forms. While such technology has been important thus far for much of the large project Information Age architecture, it is not the driving force in Vietnamese Information Age architecture. Rather, the prime characteristic is a holistic design process that results in a form that appears to be whole, rather than an assembly of parts — usually through the use of one primary material. It is this holistic design process and the resulting holistic forms that have been making the Vietnamese designs for houses and small projects so different and exciting.
Correction (June 23, 2021): A previous version of this article used the wrong pronoun when referring to Zaha Hadid. This has been adjusted.
Mel Schenck is an American architect with over 45 years of experience managing design and construction of large complex planning and building projects, primarily in San Francisco. He is currently researching Vietnamese modernist architecture as well as information-age architecture. He is the author of the book Southern Vietnamese Modernist Architecture.