If you've ever stared into nature and had the calming voice of an elderly British man enter to narrate the scene, you are probably a David Attenborough fan.
The naturalist and beloved television host of such programs as Planet Earth, The Blue Planet and The Life of Birds has inspired countless children and adults around the world thanks to his unbridled enthusiasm for the strange wonders of the natural world. The man who attained knighthood for his effects has been honored numerous times, including the recently named polar research vessel, RRS Sir David Attenborough. He can now add a Vietnamese praying mantis to the list.
A research paper published in the Belgian Journal of Entomology on July 28 announced the discovery of a new species of praying mantis: Titanodula attenboroughi. The paper's author, Xavier H.C. Vermeersch, describes the green insect as "very large and robust" and pays significant attention to the male genitalia of the species, which helps differentiate it from similar mantises.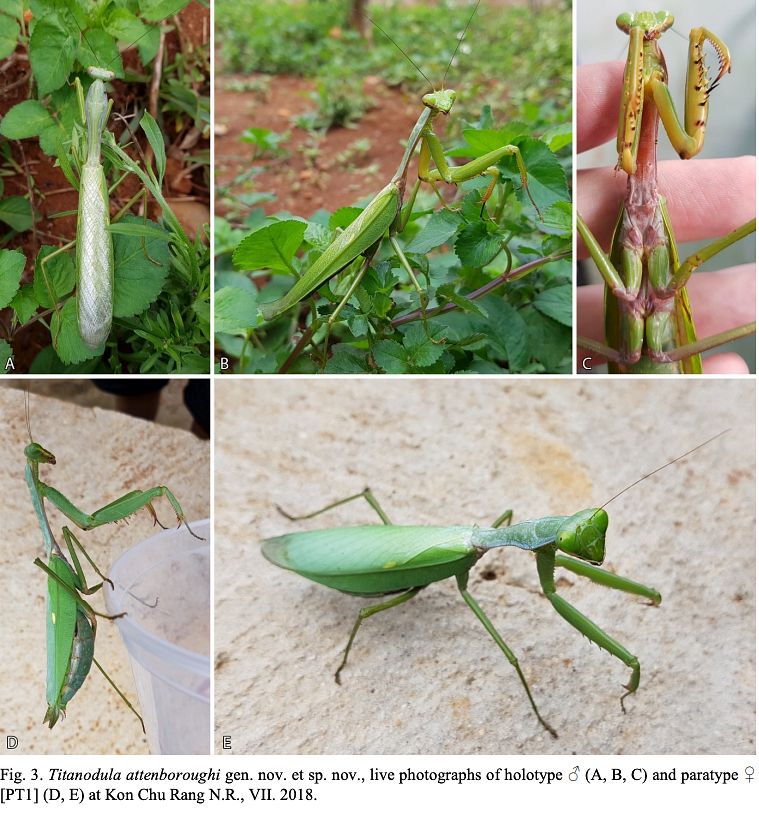 The mantis was caught in the Central Highland's Annamite Range (Truong Son) during the day in local vegetation and at night using a head or hand torch. They were found in and around forests and are suspected to be good fliers. Notably, an approximate quarter of the obtained Titanodula attenboroughi were parasitized with fly larvae. The larva is injected into the mantis' body and emerge when mature, but this grisly condition does not necessarily kill the mantis.
In addition to Titanodula attenboroughi, the scientists collected a number of already-identified praying mantis known as Titanodula fruhstorferi, which allowed them to better understand the Hierodula Burmeister genus, which the paper described as a "wastebasket taxon" that contains numerous Oriental praying mantis of dubious genetic similarities. The paper, therefore, introduced a new genus, Titanodula gen. nov.