At this point in our Hẻm Gem journey, I've stopped thinking of us – a two-person team consisting of me and my photographer colleague Brandon – as mere food reviewers, but rather food hunters from hunting-gathering bands of the Paleolithic age.
We've gotten this down to a procedure that's strategically both precise enough and sufficiently flexible to counter anything Saigon's fickle weather and street vendors may hurl at us. Things like a sudden downpour, flash flooding and random vacations taken by the vendor lady have all thrown a curveball at our plan in previous Hẻm Gems.
The hunt usually begins with word-of-mouth in our office. After thoroughly perusing the targeted eatery's online presence to figure out its opening schedule, Brandon will try to scope out the place a day before first to make sure it still exists. This just means that he would pay them a visit and have a meal there, but I'd like to imagine it to be more clandestine and Bond-like, involving stalking in local shrubs and surveilling with military-grade binoculars.
Once the existence of the vendor has been validated, we would make a trek to its home base, usually through throngs of Saigon traffic during rush hour. Brandon would dazzle the patrons and owners with his photography setup – a DSLR, a GoPro and a huge tripod – just in time for me to swoop in to chat up the chef and wait staff to get them to divulge their secrets and life story.
For this week's Hẻm Gem, the hunted is literally a diminutive cart on a pavement in District 5 that serves up one of the most delicious plates of nui xào bò, or stir-fired beef with noodles, in the city.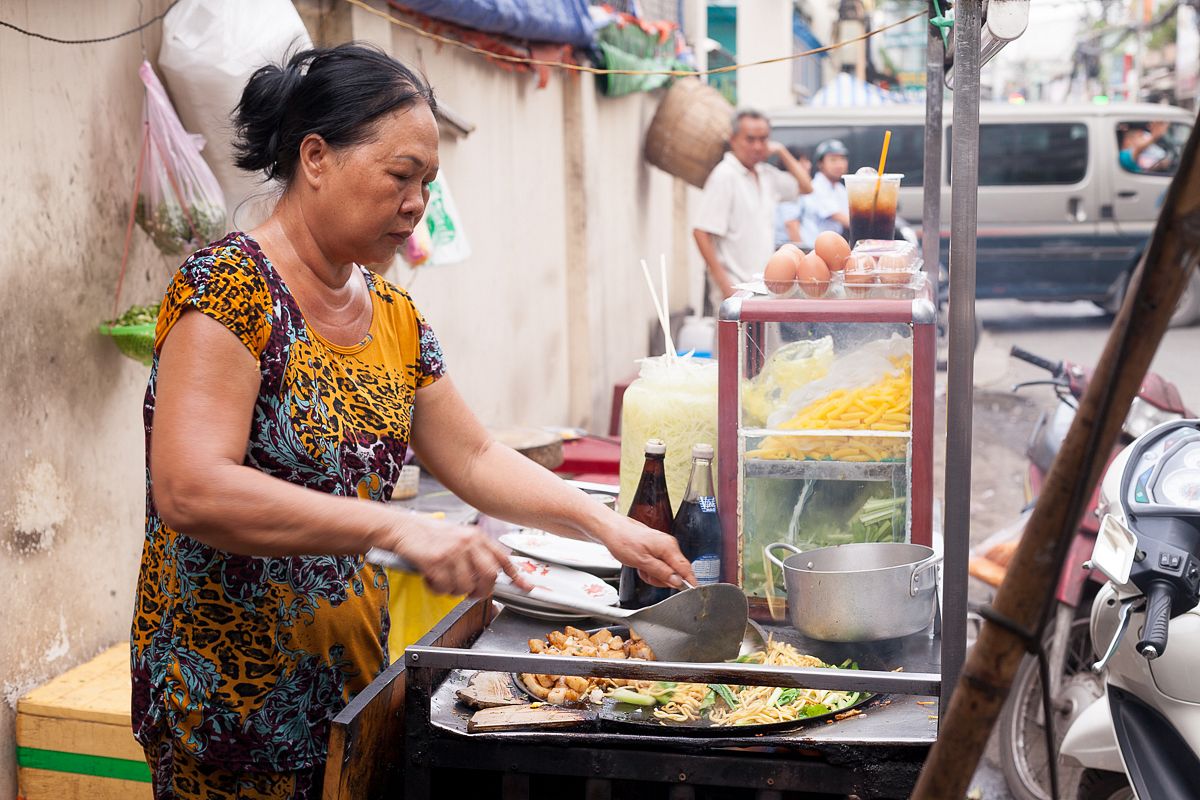 We arrived at the eatery at 5pm on the dot, after the stall was set up and empty. Lady luck was on our side because, as I would find out later after a chat with the owner, this was the first day they were open again after a short hiatus.
The owners of the nui xào bò place are a middle-aged couple – cô Nhi and chú Den – who have been manning the cart since 2000. We made our order: one plate of nui xào bò and another of mì Ý xào bò, or stir-fried beef with macaroni and spaghetti, respectively. Apart from noodles, Nhi also makes Chinese-style bột chiên, and she wasted no time convincing me that the Chinese version of the dish is superior to its Vietnamese counterpart.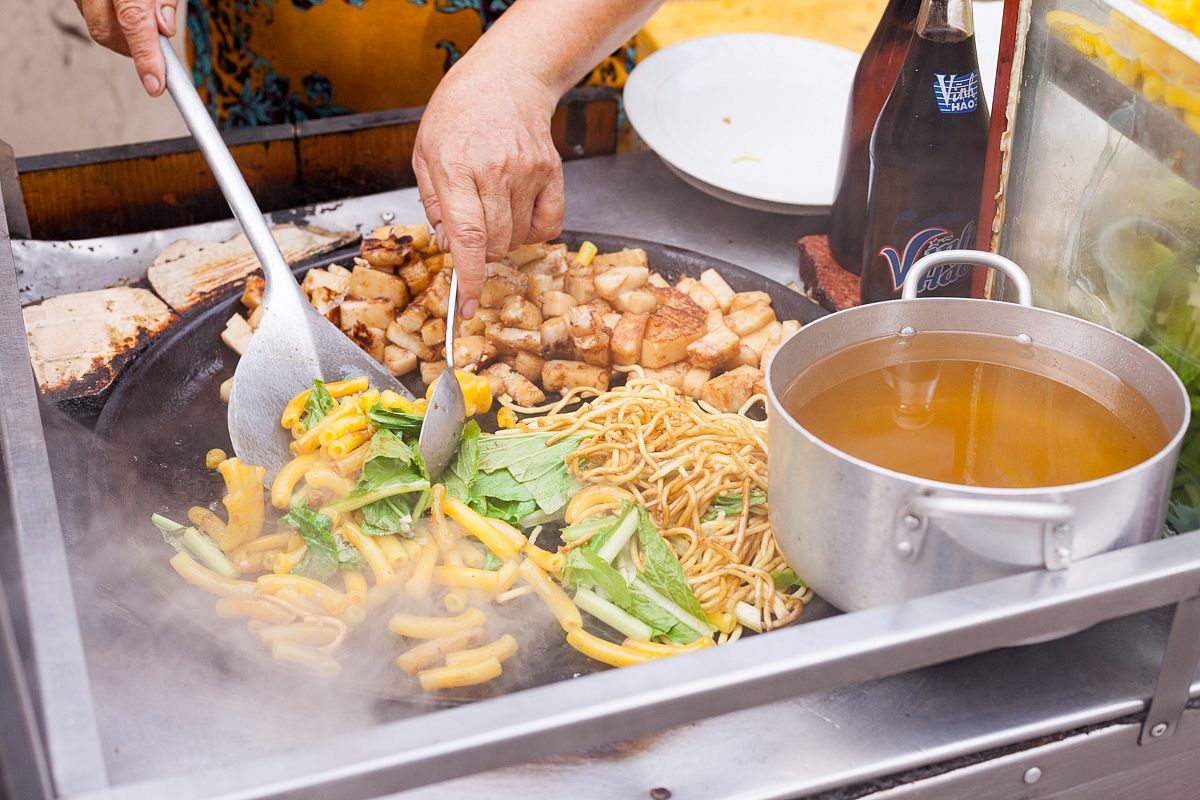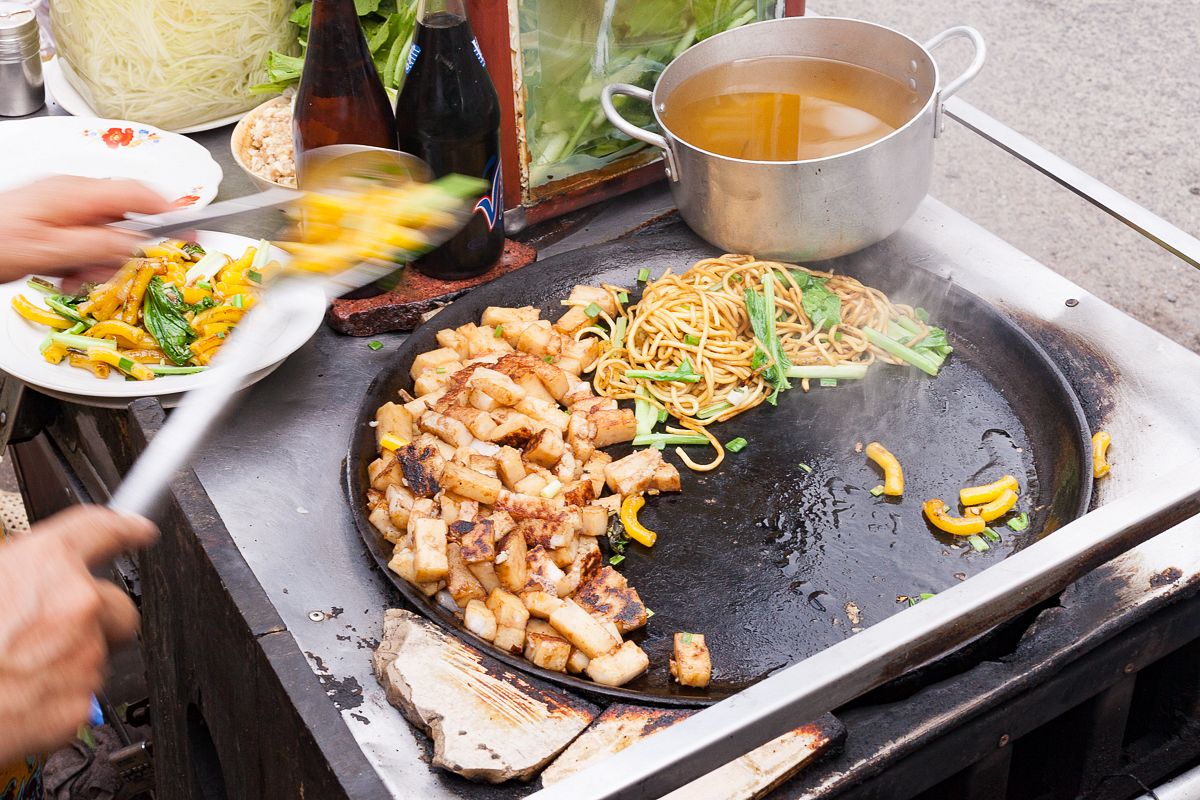 At Nhi's cart, VND35,000 will get you a gigantic plate with a generous serving of nui, beef and, unfortunately, cilantro. Just add a dash of soy sauce and chili oil, and you're off to an amazing end to a hectic day toiling at work. The spaghetti option is al dente and pairs surprisingly well with beef as a satisfying east-meets-west meal.
By the time we were done with our food, the small cart was enveloped in layers of hungry customers on their bikes waiting for takeaway meals. Nhi's customer base is fairly eclectic, considering her opening hours of 4pm to 2am: parent and kid duos on their way to evening classes, security guards in blue uniforms who just finished a shift at the nearby electronics emporium, and even sharply dressed office workers.
"My bột chiên is very special and healthier because I make it in Chinese-style," Nhi shared while we were bantering over different ways to make the dish in town.
"Some local stalls purposely fry [the bột morsels] for a long time to reach that crispiness," she added. "But I think that's very unhealthy because eating burnt food will make you sick."
It was around 6pm when we were done with our Hẻm Gem hunting trip. The row of street lamps on Le Hong Phong Street were lit up, coating the neighborhood in a warm orange glow. I said goodbye to cô Nhi to make my way home, but I wasn't sure if she heard me over the throng of customers gathering in front of her stall waiting to be fed. It was just another typical day at work for her making delicious food for Saigoneers.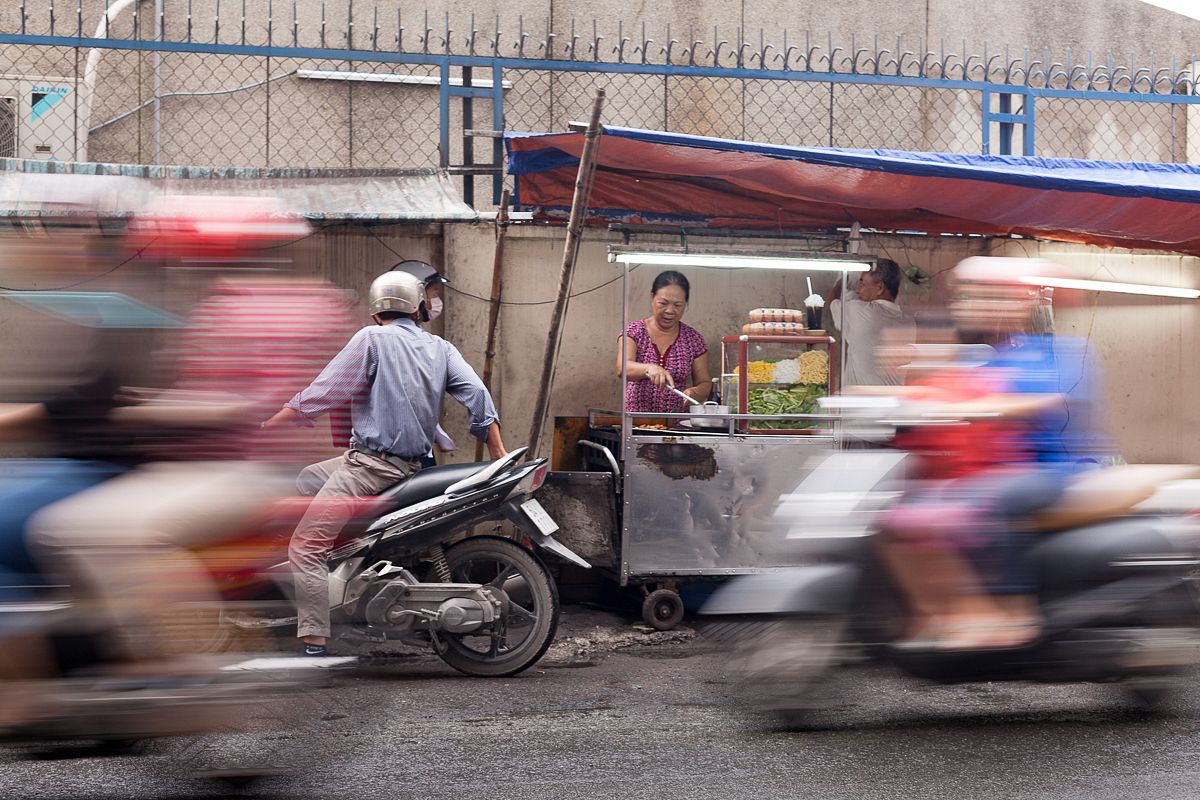 To sum up:
Taste: 4/5
Price: 5/5 – VND20,000 for stir-fried noodles with eggs, VND35,000 with beef.
Atmosphere: 4/5
Friendliness: 5/5
Location: 4/5
Khoi loves tamarind, is a raging millennial and will write for food.
Mì nui xào bò
64 Le Hong Phong, D5

---

Related Articles:
---