Working in the middle of a market that houses a plethora of food collectives can be a double-edged sword. It's convenient when you're pressed for time, but after a while, you tend to get lazy and just stick to a few favorite haunts.
After a few bouts of confusion caused by Saigon's labyrinth of construction sites, we managed to arrive at Bun Rieu Ganh just before the heat cooked us. Despite our anticipation of the shop's business during lunch hours, we were still overwhelmed by the crowd; however, eventually, we were able to score a table in the back. Bun Rieu Ganh has a modest dining space with a hẻm-like layout. It's hard to imagine that this eatery was once a street hawker.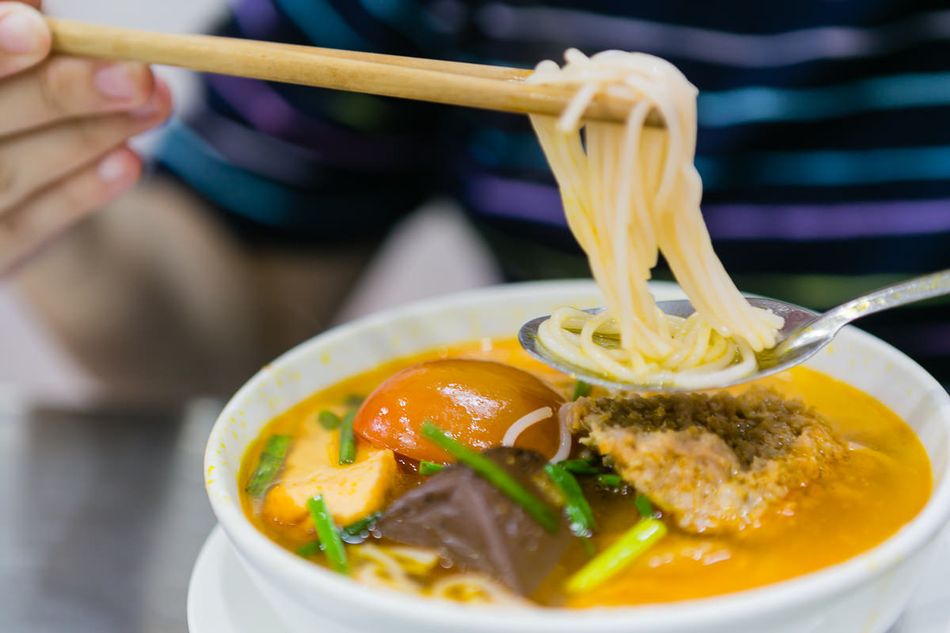 Bún riêu is a decadent dish with an excessive range of ingredients in my opinion. The soup, however, boasts a sophisticated combination of flavors that doesn't overwhelm the pallet. While tomato and paddy crab pastes lie at the heart of a bún riêu bowl as basic components, scores of toppings are always involved. Some options include snails, blood curd, pork, water spinach, fried tofu, sausage, tamarind paste, shrimp paste, and green onions. The large amount of ingredients creates versatility, as every place either has their own signature interpretation of bún riêu or will allow you to customize your noodle bowl to your own liking.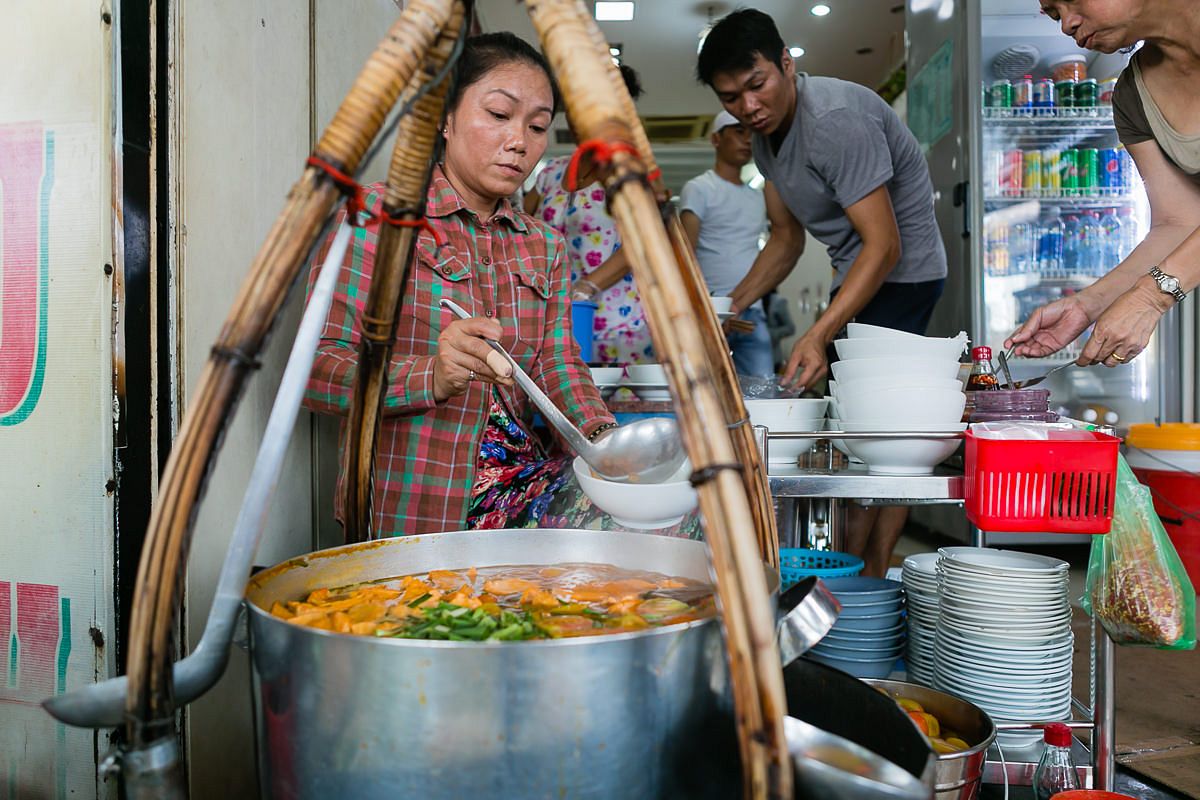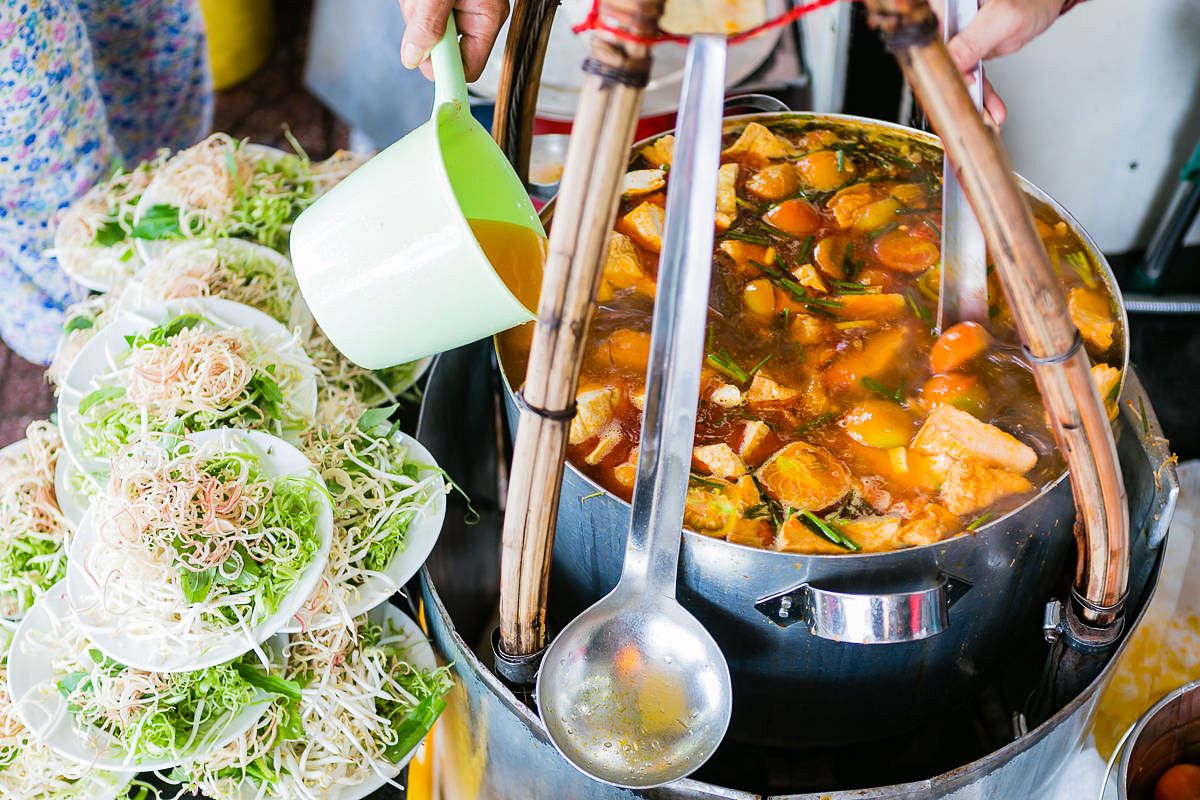 The presumption of abundance made me skeptical when our food was served. The bowl was strikingly simple. Besides the usual rice noodles and the orange broth, the toppings only consisted of a slice of tomato, a big chunk of crab cake, and a piece of blood curd. This place seems to serve everything in a big chunk.
I was happy my doubts were shattered once we dived into the bowl. The crab cake is unlike anything I've ever tasted – a very different take compared to the common paddy crab paste whose texture is closer to pâte. Bun Rieu Ganh's crab cake, however, is meaty and tender, with a consistency that straddles the line between a paste and a shumai filling.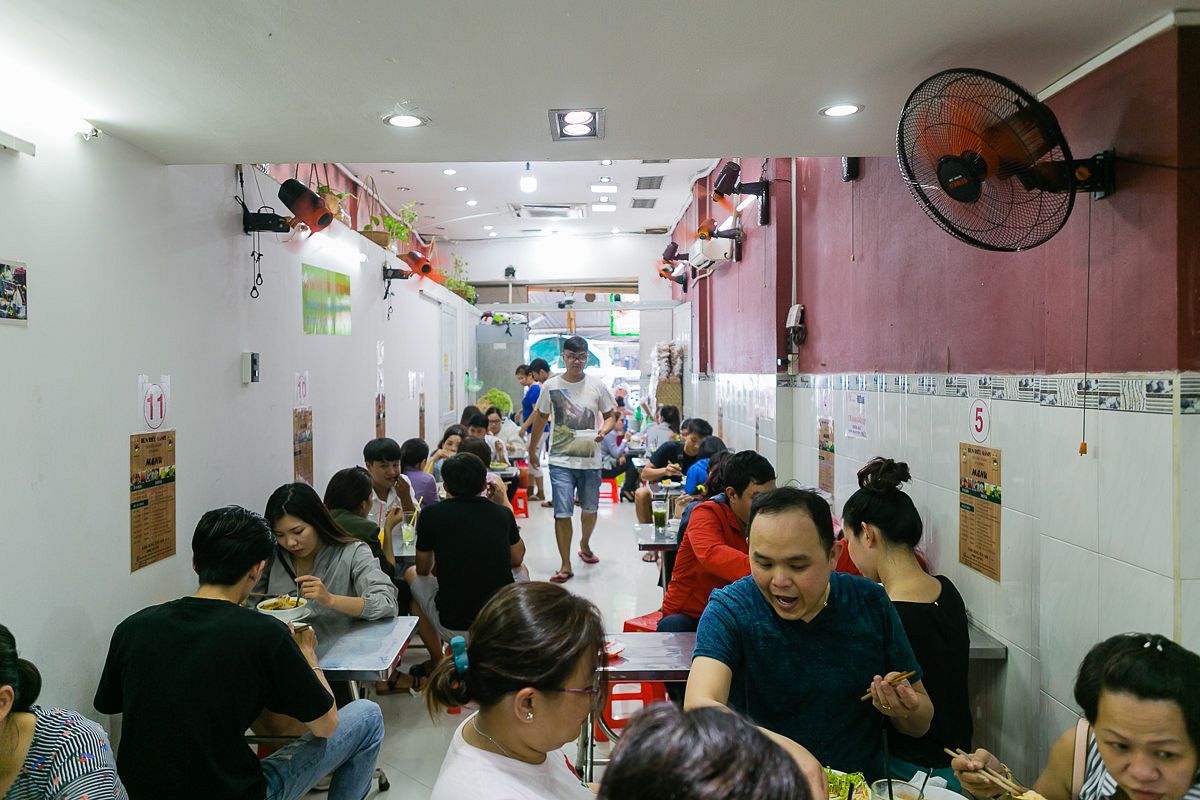 That being said, as a firm believer in seasoning, my most favorite component of the soup has to be the broth. The iconic sour flavor of a typical bún riêu bowl was toned down a little to make room for the umami heartiness from the crab cake. However, if you're a fan of the tangy goodness of bún riêu, the tray of sauces on the side – which contains tamarind, shrimp, and chili pastes – is your friend. While it's not exactly our photographer's jam, I found myself a diehard fan of the sauces. If you happen to love the quirky taste of shrimp paste, the sauce is definitely a game-changer.
We went for the standard option at VND50,000 with a full portion of toppings but if you're a minimalist, there are many even more stripped down variations to choose from.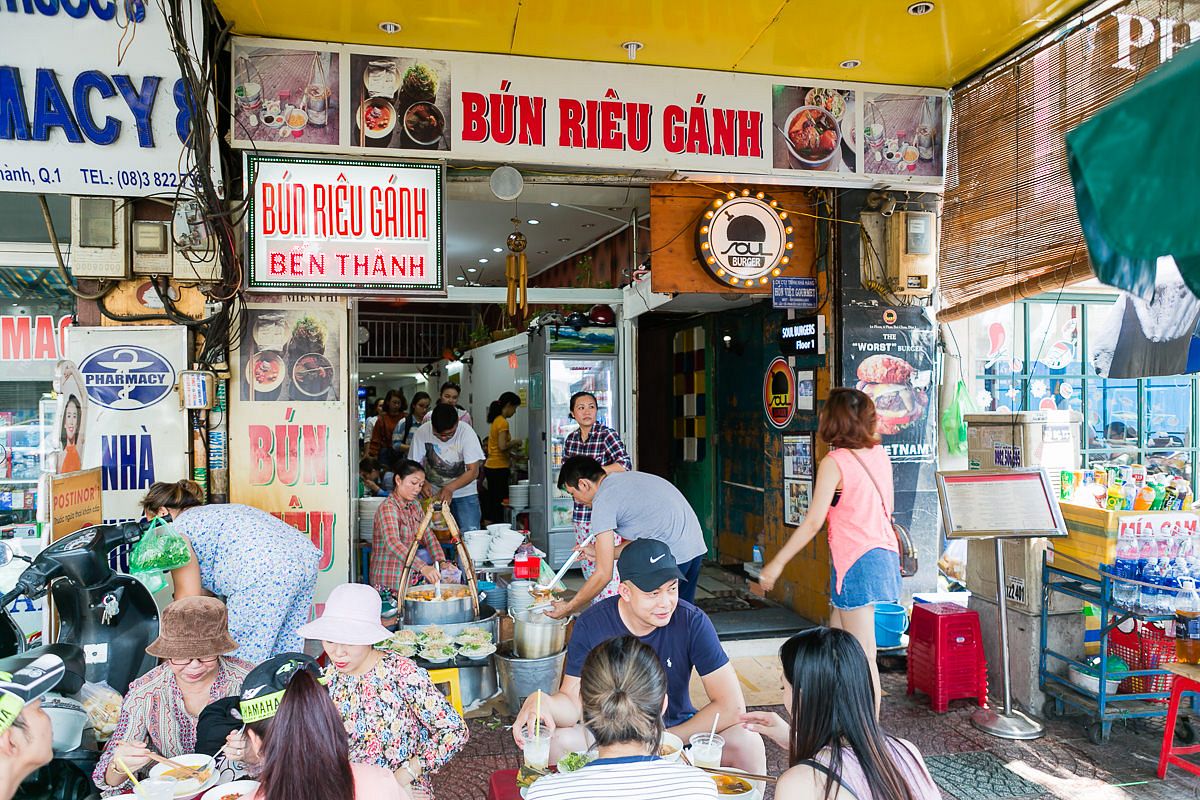 Bun Rieu Ganh is open from 9:30am to 7pm.
To sum up:
Taste: 5/5
Price: 4/5
Atmosphere: 3/5
Friendliness: 5/5
Location: 4/5
Thi is a mushroom-loving weirdo. In 2002, she was introduced to noodles and her life has changed course ever since.
Bún riêu
4 Phan Boi Chau, Ben Thanh Ward, D1

---

Related Articles:
---