We leave our office in search of District 1's famed phở áp chảo only to find bún mọc in a hopeless place.
In this day and age, nothing is permanent in Saigon: old buildings get torn down, new shopping malls open, people move away and the favorite lunch lady right at your door step could one day decide to up and move to Australia without prior warning (I miss your bún, co Phuong, come back!) The city's vendors also seem to operate on the same principle: they could close one day and open on the next at their heart's content.
This week Saigoneer set out to introduce one of our favorite renditions of phở in the city – phở áp chảo, or crispy fried pho with stir-fried beef – that tastes as good as it sounds. However, my colleague and I arrived at their door only to face a forlorn front pavement and tightly shut metallic doors. This is unfortunately not an uncommon sight, as Saigon's eateries can sometimes be as fickle as its weather.
Disheartened but not discouraged, after rounds of brainstorming we head to the next best thing in the vicinity, because the show must go on. This leads us to Bun Moc Thanh Mai, one of the most well-known bún locations in the area. Located on the corner of Truong Dinh and Nguyen An Ninh just a stone's throw away from Ben Thanh Market's west entrance, at a glance Thanh Mai appears rather modest for a famous restaurant right in the city's tourist quarter: two dining areas in a corner building with 40 or so customers. Still, the constant stream of diners coming and going assures us that whatever dish they serve will be worth our time.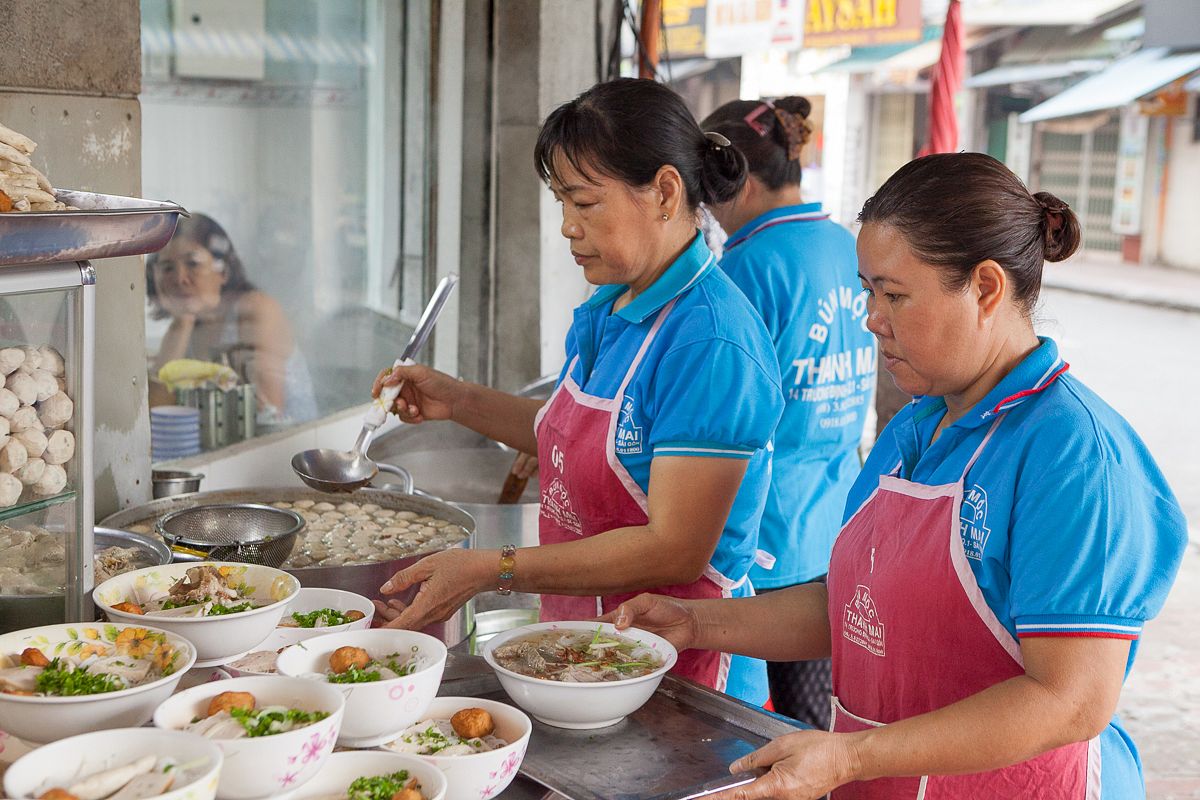 Thanh Mai's specialty is northern-style bún mọc, or bún with a variety of pork meatballs, and this is where I'll fight you on spelling. The meatballs are known as mọc, but for reasons that completely elude me, some tend to call them mộc, including the folks here, who go by the name "Bún Mộc Thanh Mai". According to Thanh Nien, the etymology of the term itself is a hotly debated topic: one camp insists that the morsels of protein are named after its place of origin – "Mọc" Village in Hanoi's Thanh Xuan District – while another camp thinks that mộc is an old Vietnamese word for ground pork, the main ingredient in the meatballs. Personally, I am a firm believer in the first camp's idea. Moreover, a quick search on Google generates 467,000 results for "bún mọc", while only 414,000 findings turn up for "bún mộc", so make of that what you will.
We sit down at a table at the corner of the dining room's small mezzanine. While space is tight, our view is fascinating: from above, diners have a complete view of the bustling activity below, from the servers' impressive maneuvers to chatty groups of tourists to laid-back locals casually slurping on their bowl of simmering goodness.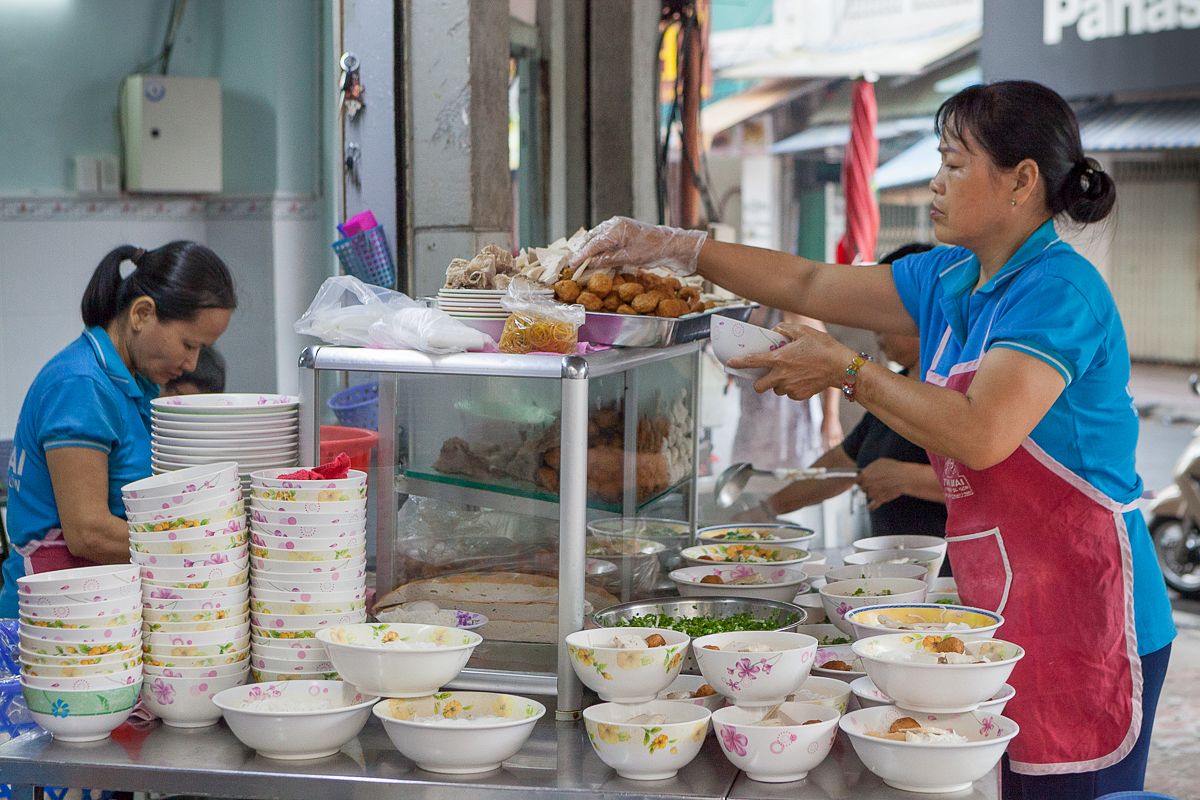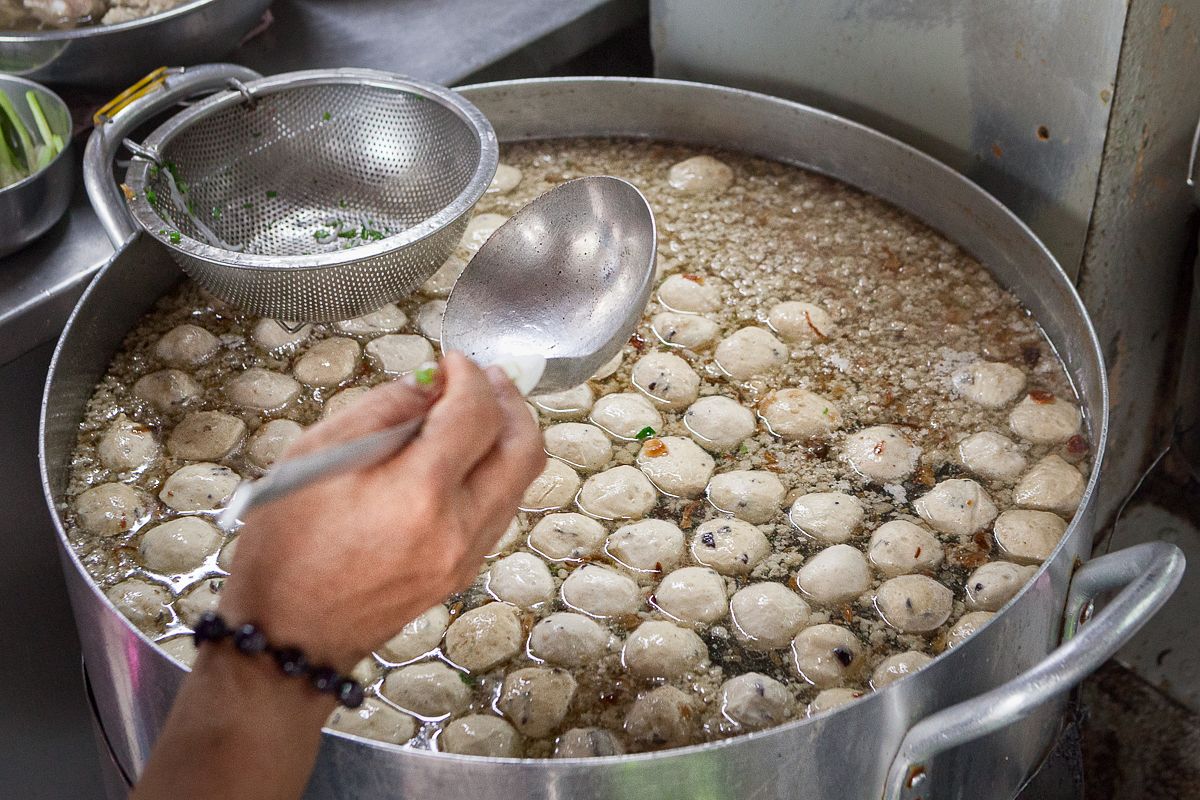 Thanh Mai's menu only has one food item: bún mọc, in two sizes, priced at VND50,000 for a small and VND55,000 for a large bowl. Beverage-wise, one might decide to sip on a cà phê sữa đá or nước mơ, also known as apricot juice, a Hanoi delicacy. A sugarcane juice station is also on standby right in front of the stall should one have a hankering for some fresh nước mía.
Our bún mọc portions arrive almost immediately after we order, delivered by a middle-aged lady who, as I later discover, has worked at Thanh Mai for dozens of years. The large portion is really substantial, with a generous helping of bún, garnished with chopped spring onions, fried shallots and minced pork. The centerpieces of the dish – assorted morsels of mọc – lie invitingly on top. I counted at least seven pieces of the protein, including a short rib, which seals the deal for me.
Usually I'm not a big fan of chả, or Vietnamese sausages, due to scores of previous allegations accusing producers of enhancing their chewiness with questionable additives. However, I have to give it to Thanh Mai, as theirs are so tender and flavorful that the taste suggests they are homemade. But, of course, homemade with what is a whole other story which I'm not prepared to delve into.
According to our friendly server, Thanh Mai has been in business for decades, enjoying the patronage of both locals and tourists alike. "We've been around for 30 or 40 years. I can't remember," she tells Saigoneer.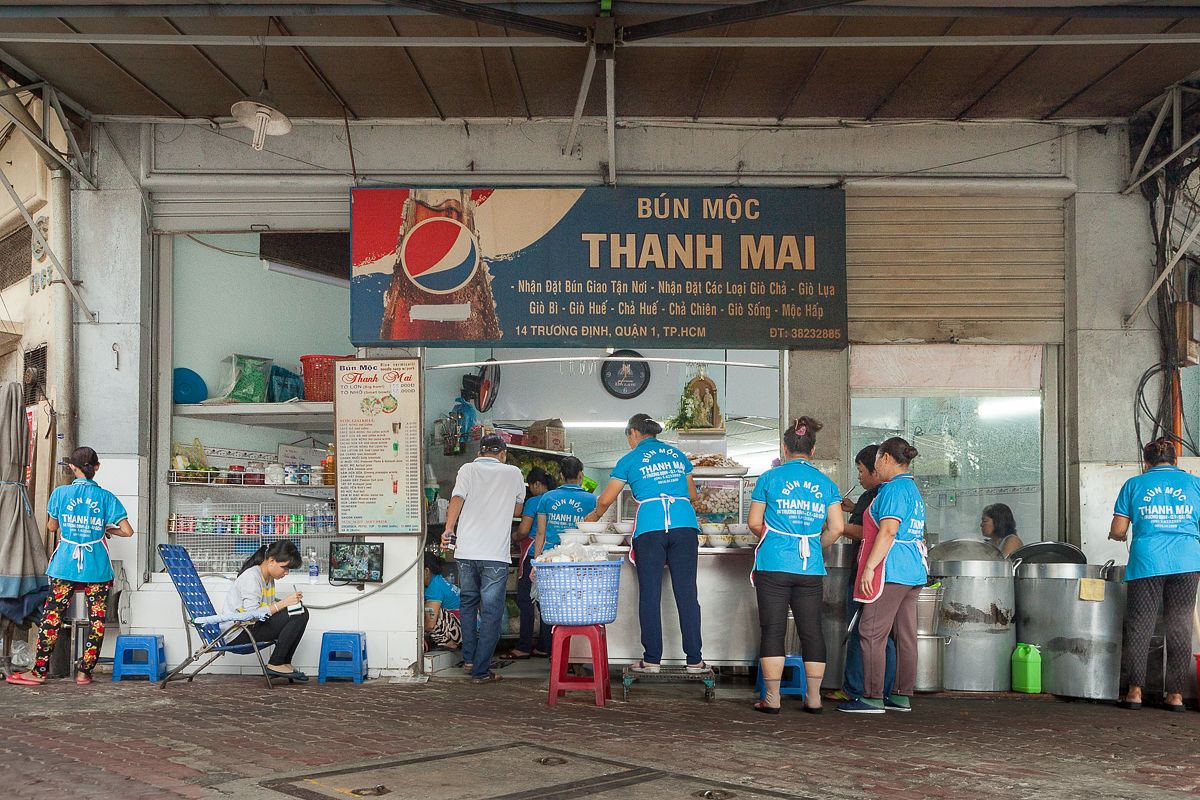 "See those girls at the corner there? They're Thai," she added, pointing to a table across the mezzanine. "They have been here many times. Thais are really cool, every time they want to order something, they point to a photo already taken on their phones. They have a photo for everything we sell here!"
While we're just beginning to take in this sudden burst of friendliness, the loquacious lady's tone changes. "We're the best in town at bún mọc, unlike those at Ben Thanh," she warns. "Our price stays the same no matter who you are. If they see that you're not from Saigon, they will hike up the price."
Thing starts to get awkward at that point but luckily she has meals to deliver and I have my wonderful bowl of bún to attend to. The lunch crowd is also pouring in from nearby office buildings and hotels, filling the limited amount of tables and keeping the wait staff constantly on their feet.
Our server lady arrives at our table once again with our check, looking tired but no less cheery. "Did you enjoy your meal? It's usually crowded during this time of the day," she says. The lady looks visibly proud once I tell her that I love the bún. "Bring some good photos back to America," she says as we prepare to leave. With food this good, we'll gladly tell the rest of the world about it.
To sum up:
Taste: 5/5
Price: 4/5
Atmosphere: 4/5
Friendliness: 5/5
Location: 4/5
Khoi loves tamarind, is a raging millennial and will write for food.
Bún Mộc Thanh Mai
52 Nguyen An Ninh, Ben Thanh Ward, D1

---

Related Articles:
---