We promise this will be the last Nguyen Tri Phuong-based Hẻm Gem…for now.
If you have been regularly following our weekly Hẻm Gem reviews, you might notice that Saigoneer has a special place in our heart for the dynamic food mecca that is District 10's Nguyen Tri Phuong Street. From delicious duck noodles to the crustacean-heavy bánh canh ghẹ muối ớt xanh to this week's Chinese food extravaganza at Com Ga Hai Nam, the vibrant district connector is a perfect destination for your next weekend (or weekday) binge-eating trip. At 379 Nguyen Tri Phuong, Com Ga Hai Nam, whose specialty is Singaporean-Hainanese chicken rice, serves up 10 pages' worth of various Chinese-style dishes on their menu that will satisfy all of your cravings for Sino cuisine.
I have come to look forward to our Hẻm Gem expeditions ever since we started making it a common fixture of our Fridays a few weeks ago. The special thing about good food – unlike obscure indie bands – is the joy of introducing it to others. Relishing a bowl of simmering mì hoành thánh or munching on chewy chicken asses is so much more enjoyable when you have friends with whom to share these delights.
As Saigoneer's band of hangry foodies arrive at the famed District 10 eatery, we quickly realize that this is not a normal food business: Com Ga Hai Nam is like a well-oiled factory of mouthwatering chicken rice. The patch of pavement in front of the vendor is free of parked motorbikes because as soon as diners step off their vehicle, a team of ninja-like attendants will quickly wheel the bikes away to a nearby hẻm for safe-keeping. Another team of nimble greeters is always on stand-by at a corner, dashing to and fro to deliver takeaway orders at a speed that could rival any McDonalds' drive-through window.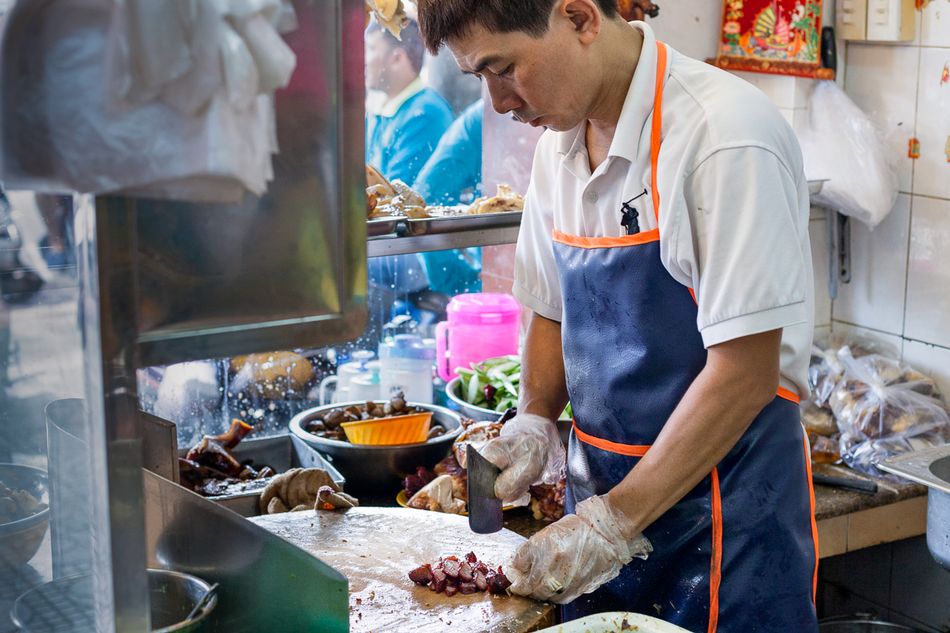 After informing them of our party number, we are hustled up the stairs by the greeter team to a vibrantly crimson square table that I later learn is an iconic feature of the chicken rice place. The dining area is rather cramped, with common white tile-and-mirror walls that you might come across in any food stall nationwide. On the patches of wall not covered by mirrors are a plethora of food illustrations that have seen better days. All of the food items feature both Vietnamese captions and red decals of Chinese characters. But what Com Ga Hai Nam lacks in interior design, it certainly makes up for in its impressive repertoire of dishes on offer. From at least five different types of rice to 10 variations of stir-fried noodles, one could possibly overdose on Chinese food should you stay at the eatery long enough.
At the recommendation of our colleague, who used to live in the area and is well-versed in all things Nguyen Tri Phuong, we decide to go for two portions of Singapore-style fried rice and stir-fried noodles; chicken rice with a few different protein options: poached chicken, roast chicken and xá xíu, or char siew; and a big bowl of canh củ sen – Chinese-style lotus root soup – as a light, cleansing relief from the distinctive oiliness of the food.
As expected, everything is wonderful and I have to force myself to make small talk with everybody so that I don't gulp down the food too fast and choke to death. The rice is well-cooked and soft, awash with a golden sheen of chicken fat that goes great with the clear, warm soup. Contrary to common belief, the fact that Vietnam is a top global rice exporter does not mean there is uniform ability when it comes to cooking rice. I've learned this the hard way, literally: some vendors tend to churn out tough, undercooked bowls that fail to do the national grain justice. This is obviously not the case with Com Ga Hai Nam, because I could happily eat their version all day, sans garnish or chicken.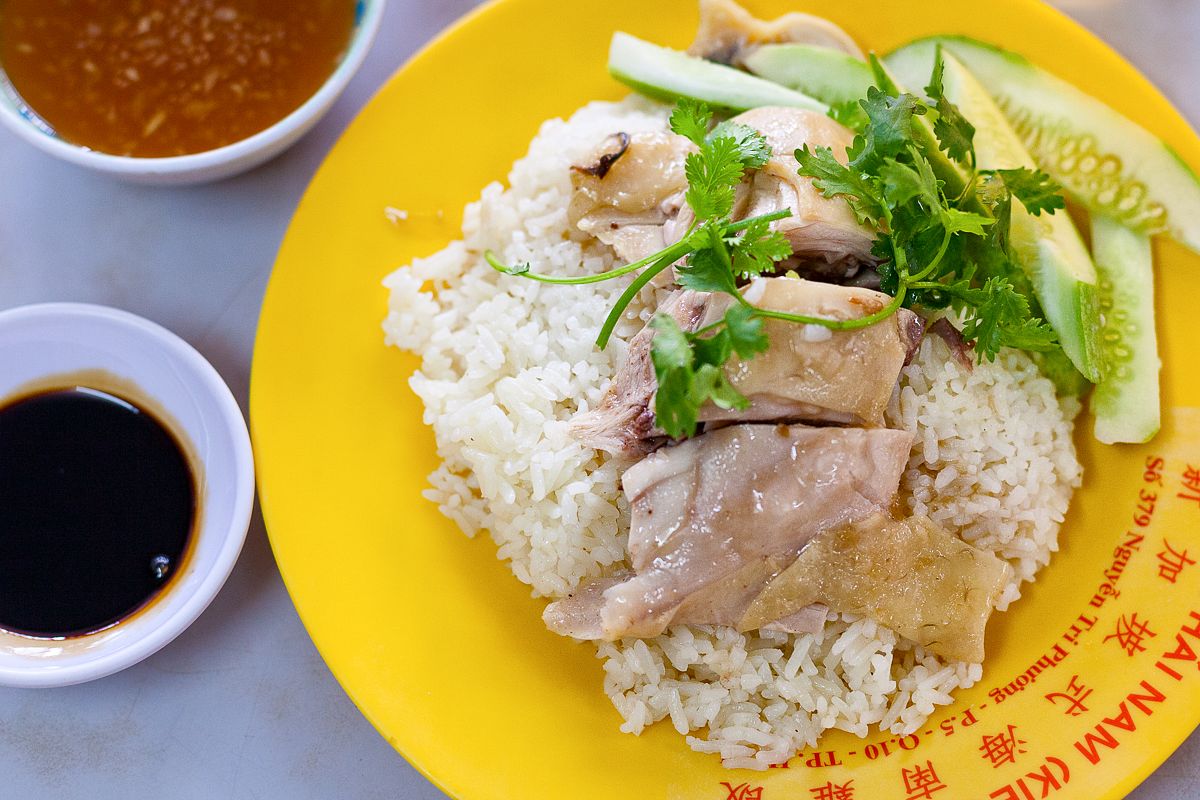 Com Ga Hai Nam's xá xíu and chicken options – VND38,000 each – also live up to the restaurant's reputation as one of the best chicken rice locations in the area. The slices of burgundy pork are tender and flavorful, as they are prepared in small chunks rather than slabs, thus allowing that tantalizing mix of spices to coat more surface area. I haven't tried the chicken, but according to my colleagues, the roasted version is highly recommended.
It would be a heinous crime to write about a delectable Vietnamese dish without mentioning its accompanying sauces. In this case, the stall's signature sauce to go with the chicken is a sweet-and-savory mix that features a delicate balance of chili, ginger and garlic to accentuate its chicken. Again, just give me that delicious concoction and their chicken rice, and I'm a happy camper.
The wok dishes – fried rice and stir-fried noodles at VND43,000 and VND45,000, respectively – possess that must-have smoky taste of Chinese food and are well-prepared, both in terms of the texture of the rice and the complementary vegetables. However, I personally find them a tiny bit oily. Thus, I would recommend ordering a portion of soup – lotus root, seaweed or bok choy soup – to wash down the richness.
All told, the trip is yet another resounding success for our ragtag team of food enthusiasts as we waddle back to the cab well-fed and well-satiated. At this point I'm starting to believe that one could throw a rock anywhere on Nguyen Tri Phuong Street and it would land on an eatery with amazing food.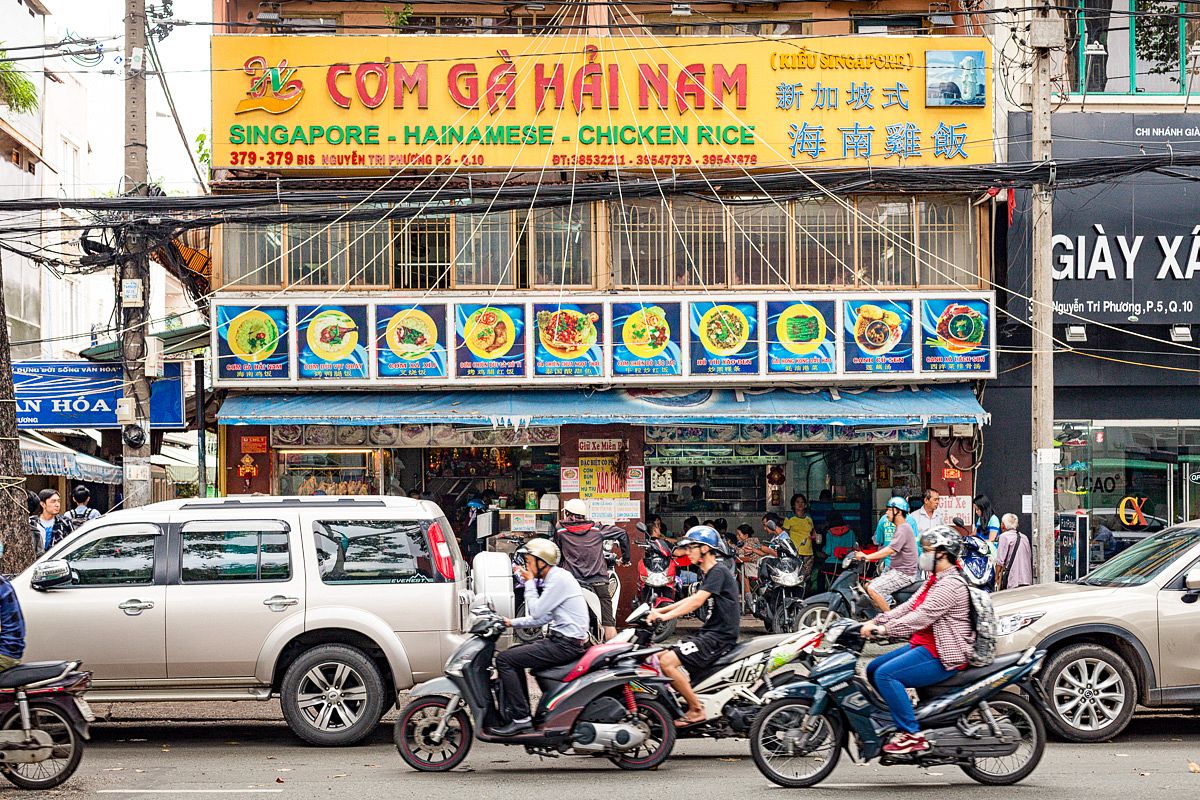 To sum up:
Taste: 5/5
Price: 5/5
Atmosphere: 4/5
Friendliness: 3/5
Location: 4/5
Khoi loves tamarind, is a raging millennial and will write for food.
Cơm Gà Hải Nam Nguyễn Tri Phương
379 Nguyen Tri Phuong, Ward 5, D10

---

Related Articles:
---