Saigon has a wonderful tropical climate with two seasons: dry and wet. As the cold weather approaches, chasing the blazing heat away, we all crave for some hot and steamy dishes to keep warm.
While any kind of noodle bowl, from trusty phở to flavorful bún bò Huế is the most convenient and popular option, I would like to introduce something more out of the ordinary - phá lấu skewer.
Since I was having a cold for days and was not in the mood for a bowl of noodle soup, a friend recommended this particular place instead, and swears by it. However, this friend, who is just as into street food as I am, did not warn me about the horrific gridlock during the "golden" rush hour. That being said, the journey to and from the table for this meal proved as interesting as the meal itself. I would never have thought that I would be able to unlock a whole new hidden side of Saigon this way.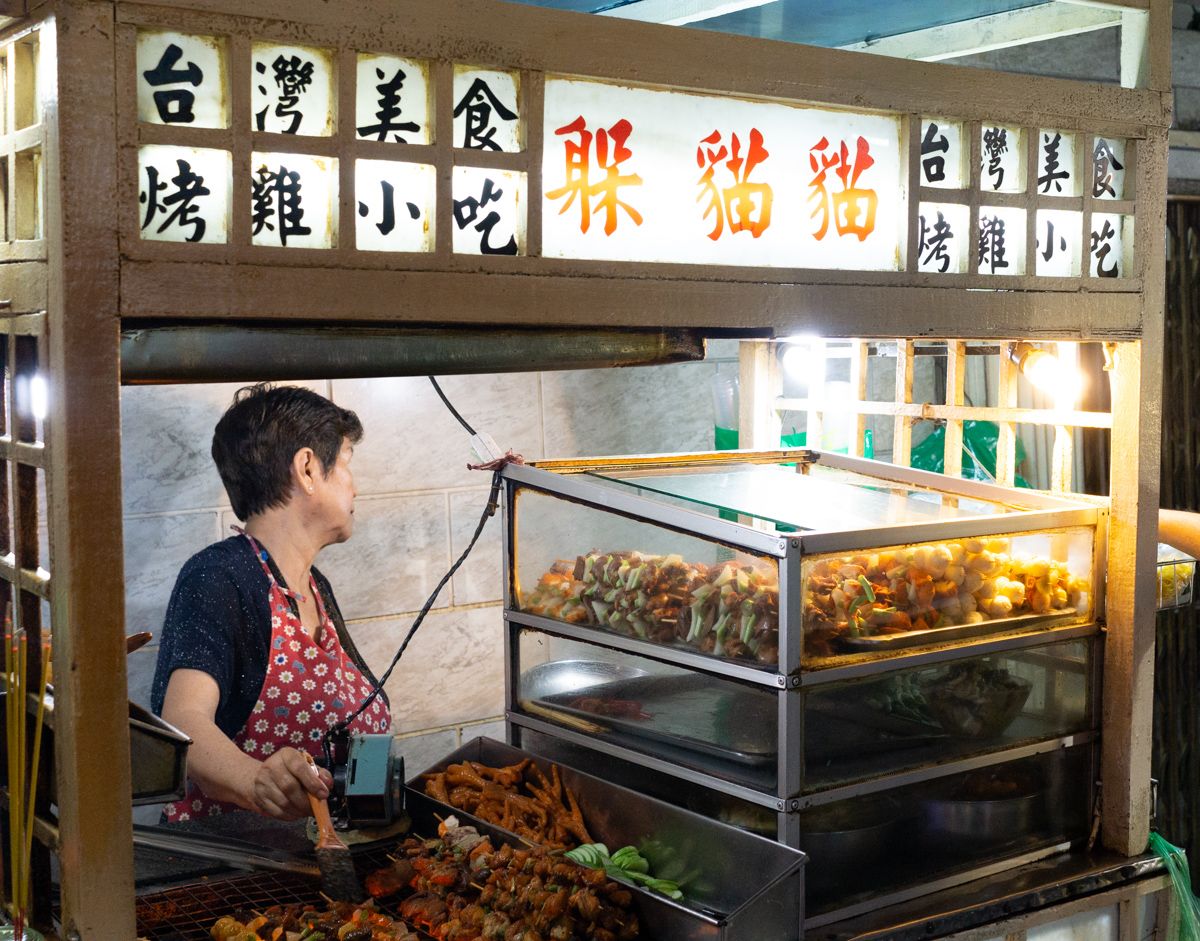 Tucked away in hẻm number 565 of Nguyen Trai Street — the heart of District 5 — the skewer spot does not have an official name nor a proper roof or flooring, even though it has been in business for over 25 years. After flinging myself through obnoxiously chaotic intersections, a wooden pushcart embellished with Chinese symbols marked the end of the journey. This is the kind of typical food stall, run by an old couple with small plastic tables and stools lining one side of the narrow street.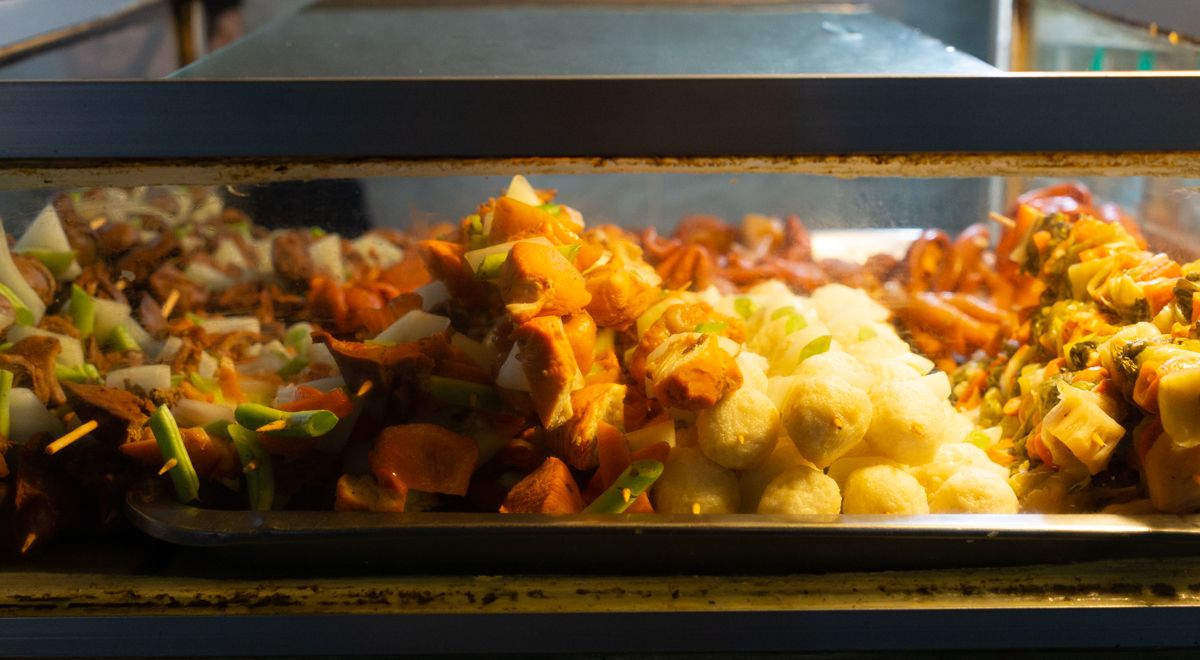 Phá lấu is a Vietnamese dish of Southern Chinese origin, made with pork meat and offal (organ meat) that is braised in a spiced stock. Everything (pork and chicken intestines) is packed onto skewers and slathered in a tasty, spicy sauce. Served alongside a side dish of wonderfully vinegary vegetables, the meat imparted just enough heat to numb my tongue. The menu section is rather diverse, but for VND15,000 per skewer, I would not mind paying and trying all six of them, plus a glass of trà đá to wash down the spiciness.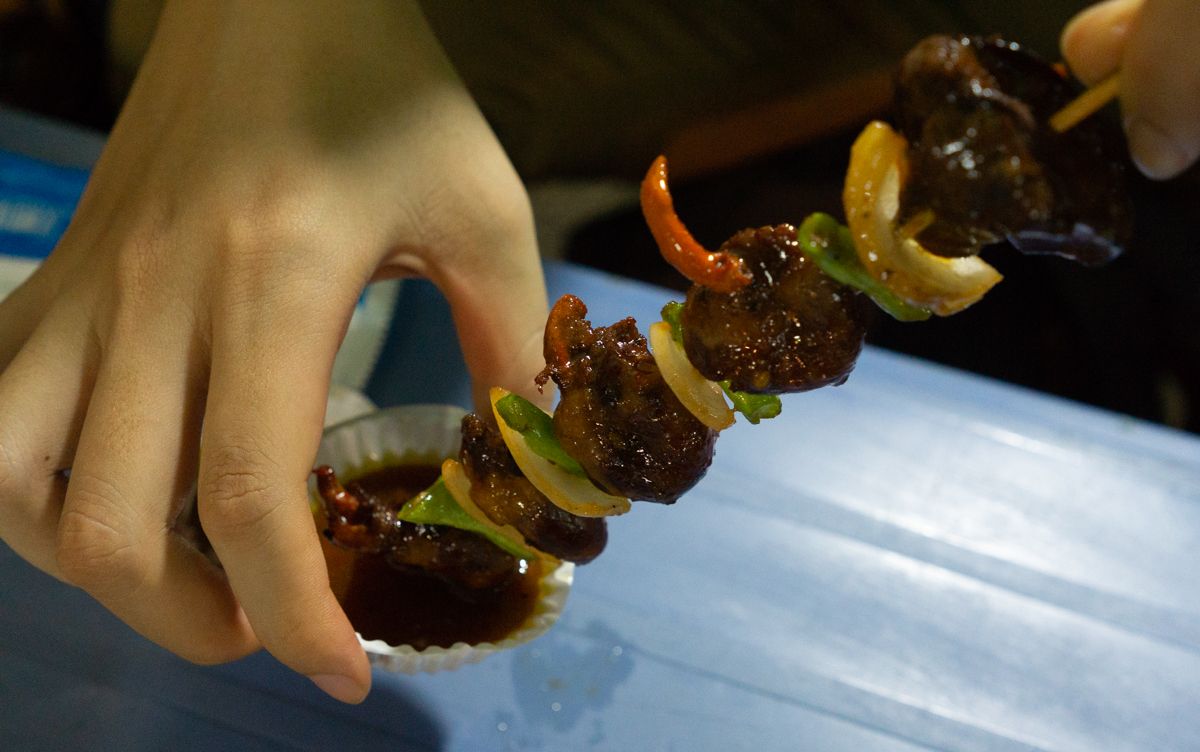 What I find so great about this dish is the beautiful and intense flavor, which was spicy and strong enough to sweat off the cold in me. The only complaint I have is the terrible traffic during the rush hour, but any lure of good food is enough of a motivation to suffer it. And even though the seating area is kind of cramped, anticipation of delicious food to warm your belly makes up for it!
Phá Lấu Nướng is open from 5.30pm to 10pm.
To sum up:
Taste: 4.5/5 – the spiciness might put some people off
Price: 5/5
Atmosphere: 4/5
Friendliness: 4/5
Location: 2/5
Phá lấu nướng
565/21 Nguyen Trai, Ward 7, D5