At first glance, Oc Dao looks like a factory. A giant, secret snail-grilling operation tucked behind several twists and turns along a narrow downtown alley, where plates of fresh crustaceans are churned out one after the other and beer crates line the perimeter of the dining area.
For the most part, local outfits tend to stay local. Your favorite neighborhood street food spot isn't nearly as famous two districts over, let alone across town, but there are a select few which have managed to transcend Saigon's web of hyper-local microeconomies. Oc Dao is one of them.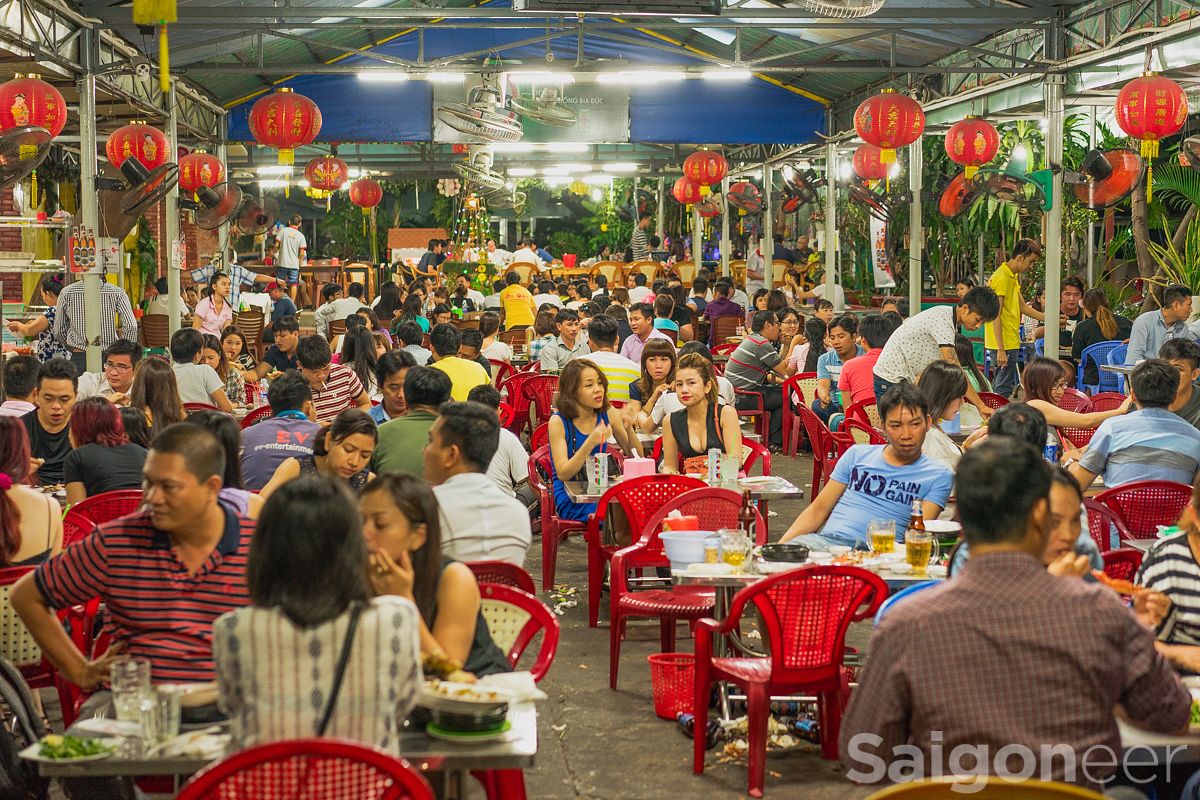 Its array of metal tables and plastic stools – standard-issue décor in the world of Saigon street food – sits beneath a corrugated tin covering, making this an all-weather place. It's also, apparently, a restaurant for all-seasons: leftover Tet decorations still liven up the surrounding area, with lanterns and bright red lì xì envelopes swinging from the ceiling and the trees.
When we rolled in to Oc Dao's hidden dining area, I was admittedly skeptical. The place was packed, which was a vote of confidence for the spot, but there is a specific District 4 territory dedicated to ốc, and as I have learned in Saigon, it is best to stay where there are many of the same thing. Our server, no older than her teens, stood by as we perused a grimy, price-free menu. In a fit of hunger and anticipation, we ordered five dishes and a round of beers.
The first to arrive were the nghêu hấp xả, or lemongrass-steamed clams. Portions are modest at this place, but like all nhậu foods, snails are best ordered in small amounts; this allows you to comfortably choose half the menu without feeling shame. The clams were piping hot and subtly flavorful, and the dish did well to tide us over as we waited for the rest to arrive.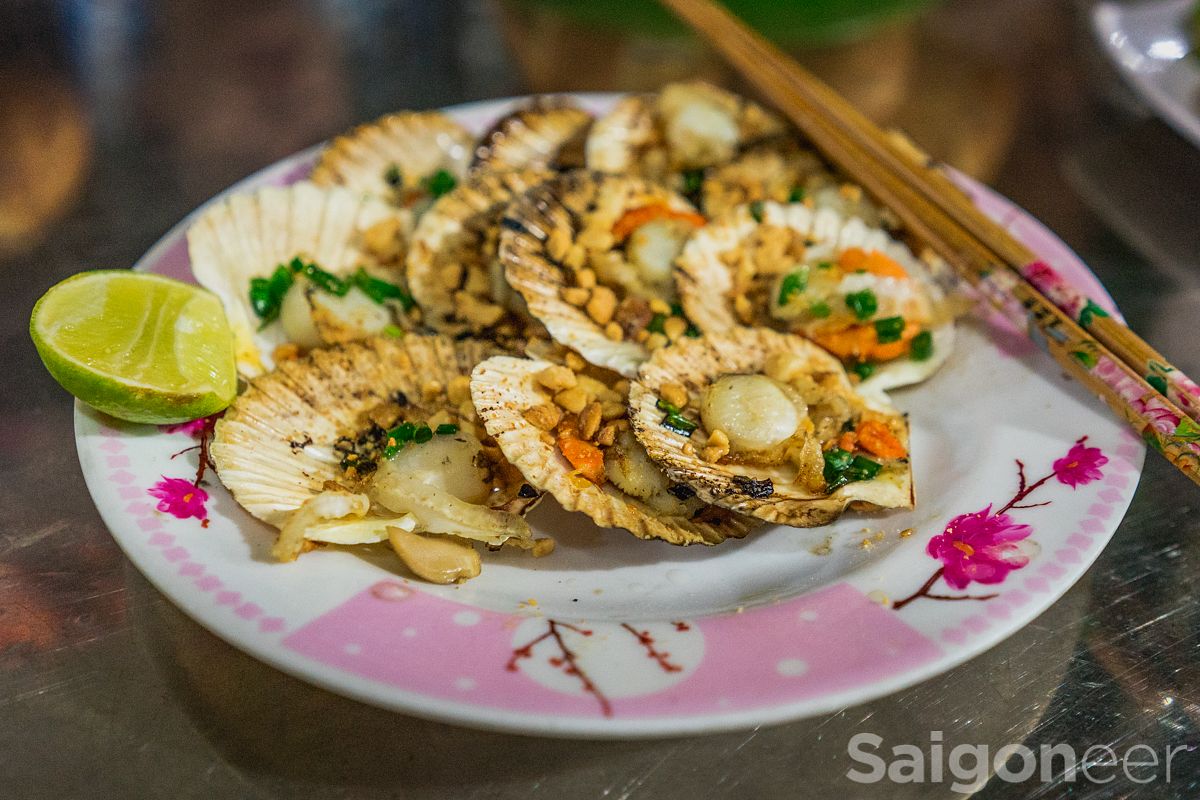 Next up were a series of dishes in rapid succession: scallops covered in greasy green onion sauce, better known as sò điệp mỡ hành, ốc móng tay me (fingernail snails in tamarind sauce) and sò dương xào tỏi (garlic-sautéed cockles). The scallops were small but tasty, though they went a little too fast, and the sò dương xào tỏi, while nice were a bit nondescript.
The real star of the show, however, was the ốc móng tay me. In the grand scheme of sauces, tamarind should be regarded as the elixir of the gods. From the moment the plate hit our table, it was all chopsticks and tiny forks and trying to figure out how to maximize sauce consumption on each long, thin snail. Thankfully, the fine folks at Oc Dao are sensitive to the grave hardship which affects ốc eaters in Vietnam: too much sauce and no way to enjoy this leftover magic when the snails are gone. Whatever you do, be sure to order a few bánh mì to soak up the remaining sauce from your ốc orders; you will not regret it.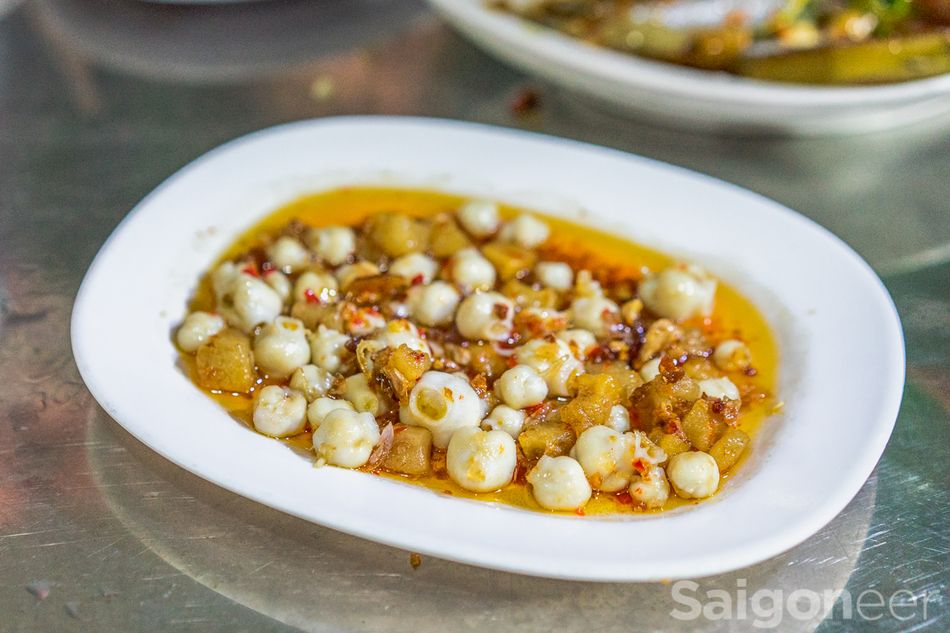 Our final selection of the evening was răng mực, a dish best described as buttery squid popcorn. These tiny, round nuggets of goodness are colloquially known as "squid teeth" but are really the mouth parts of a squid. Whatever they are, they're delicious.
By the time we'd demolished our ốc supply and managed to soak up every ounce of sauce left on our plates, the crowd had cleared out. We lingered for a while, picking at the remaining bread on our table and finishing off our beers before heading back along the hẻms and out into the city again.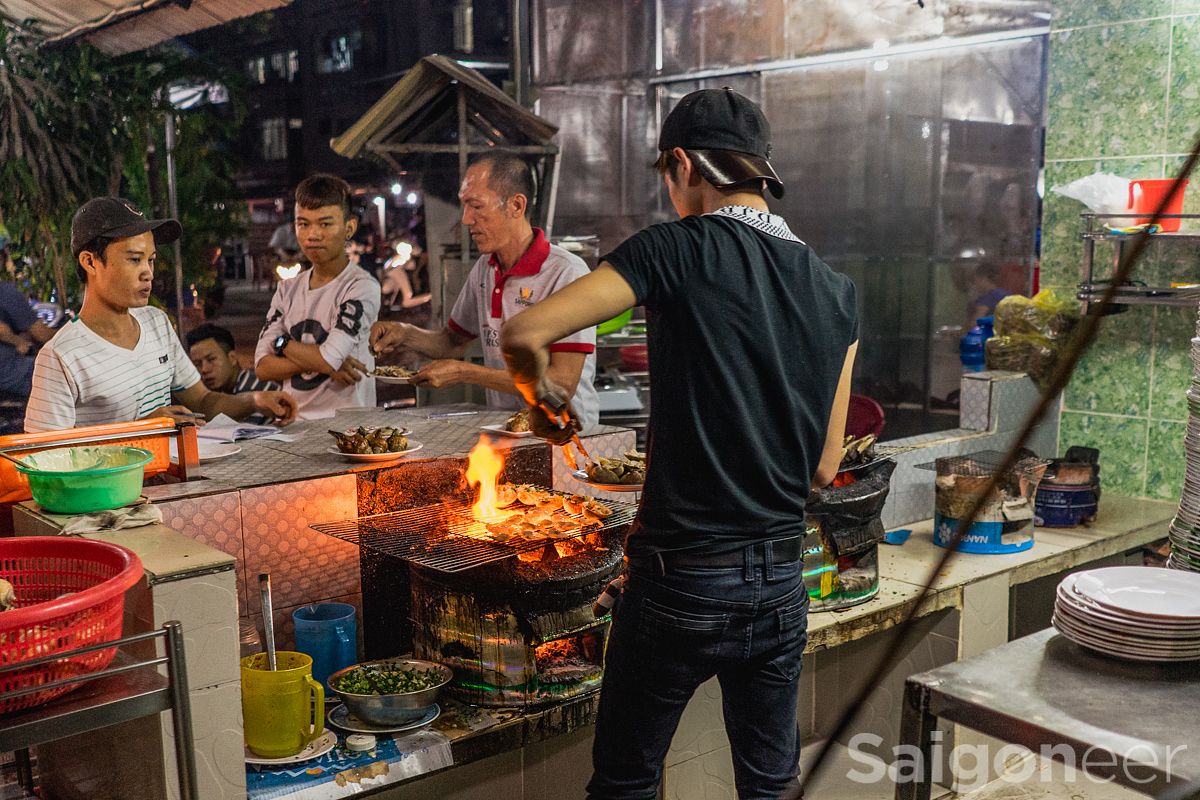 To sum up
Location : 5/5
Friendliness : 3/5
Atmosphere : 3/5
Taste : 4/5
Price : 4/5 – Dishes run between VND30,000 and VND100,000.
Dana is 70% caffeine, 50% fish sauce and hasn't taken a math class since 2004.
Oc Dao
Hẻm 212B Nguyen Trai, Pham Ngu Lao Ward, D1

---

Related Articles:
---