Relishing a bowl of assorted chè at Thach Che Hien Khanh is more than just an afternoon spent shooting the breeze with friends, it's also a trip down memory lane and an exploration into Saigon's heritage, all rolled into a few sweet treats.
I almost thought that we had gone the wrong way. The description and photos I came across online painted a picture of a modest dessert place with old-school sets of tables and chairs and neat, beautiful hand-painted signs. It seemed almost impossible that such a rustic hangout could be located on Nguyen Dinh Chieu Street, a district connector from District 1 to District 3 that's decidedly more famous for hip fashion boutiques and wedding rental shops than decades-old chè places.
Upon arriving at Hien Khanh, it was like taking a step back in time dozens of years ago, when modern appliances were non-existent and people actually talked to one another during meals instead of perusing their phones. The eatery's front sign is a treat in itself: clean, retro typeface in vibrant shades of red, blue and orange.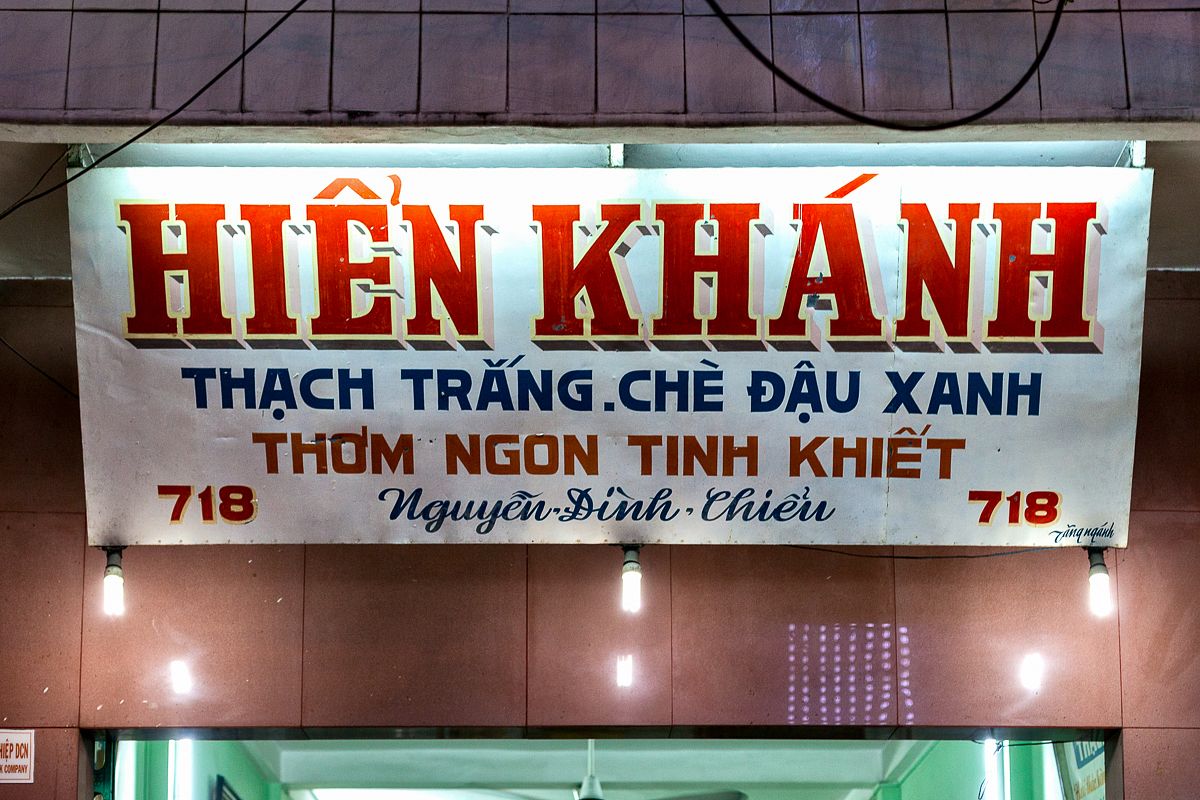 The chè place's dining area is outfitted with a few tables that could seat at most 30 people, featuring blue tabletops and nondescript metal stools. Once you sit down, the server will immediately present a few plates of traditional treats like bánh cốm (green glutinous rice treat), bánh đậu xanh (mung bean pastry) and delicately wrapped bánh phu thê. Interestingly, these are all traditional requirements of northern-style Vietnamese weddings, which one can also order from Hien Khanh for their betrothal.
According to Nguyen Thi Nguyet Minh, Hien Khanh's current owner, the restaurant started serving cold treats in 1959. Opened by Minh's father, Nguyen Quy Quyen, and his best buddy, Tran Nghe, the chè place used to be the "it" place for District 1's intelligentsia to hang out. Hien Khanh's original location was in Da Kao ward, however, the location soon proved to be too crammed for the shop's growing popularity. Therefore, the duo had to launch a new outlet on Phan Dinh Phung Street (now Nguyen Dinh Chieu) and close the original.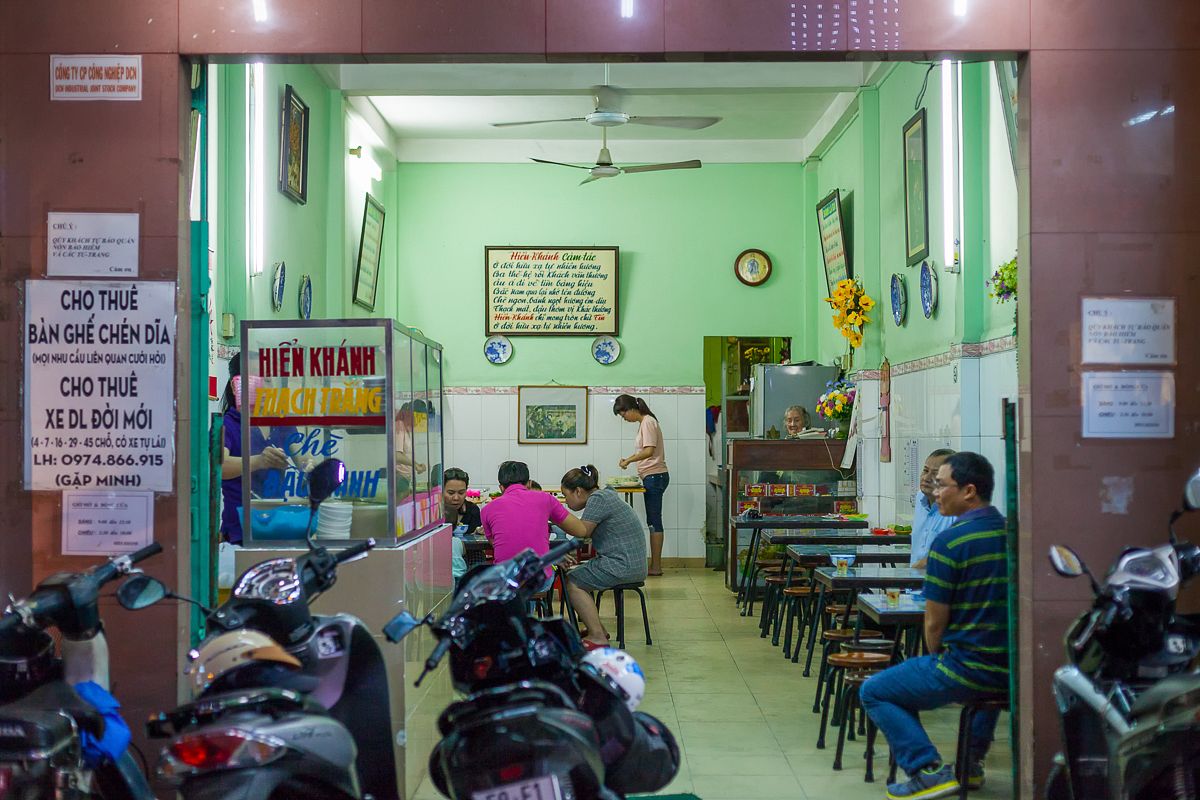 Both Quyen and Nghe were sterling wordsmiths, and thus went on to embellish the new shop house with scores of poems which they composed themselves. The beautifully presented poems still exist in today's Hien Khanh, framed and hung on the walls as tasteful decorations. These were also the main attraction that drew old Saigon's literature-loving crowd to Hien Khanh from institutions all over the city: Gia Long (now Nguyen Thi Minh Khai), Chu Van An and Petrus Ky High School (now Le Hong Phong).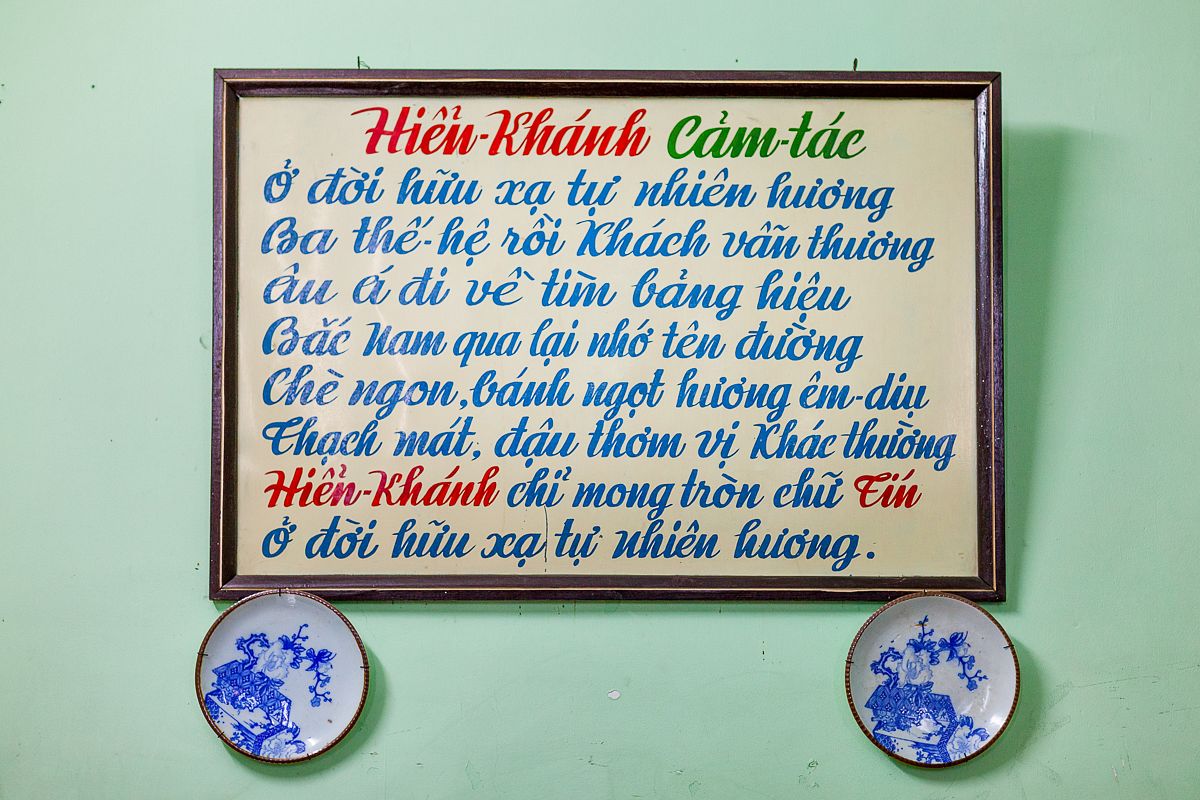 What makes Hien Khanh stand out in a sea of retro hangouts today is the simplicity: they believe in preserving what has already been there rather than bringing in old elements from elsewhere.
The shop's main dessert dish, like most thạch chè places' could be boiled down to three elements: thạch, or thinly sliced strands of soft agar; a sweet syrup made from palm sugar and fresh jasmine blossoms; and various delicious toppings served over shaved ice. The easiest way for newcomers to enjoy a bowl of chè is to just go up to the glass display and point at whatever looks good; however, I usually go for the thập cẩm, or assorted, version (VND22,000), which allows one to sample all the toppings the shop has to offer. The range of toppings includes ginkgo seeds, lotus seeds, thốt nốt (palm kernel), nhãn nhục (dried longan) and water chestnuts, among other things.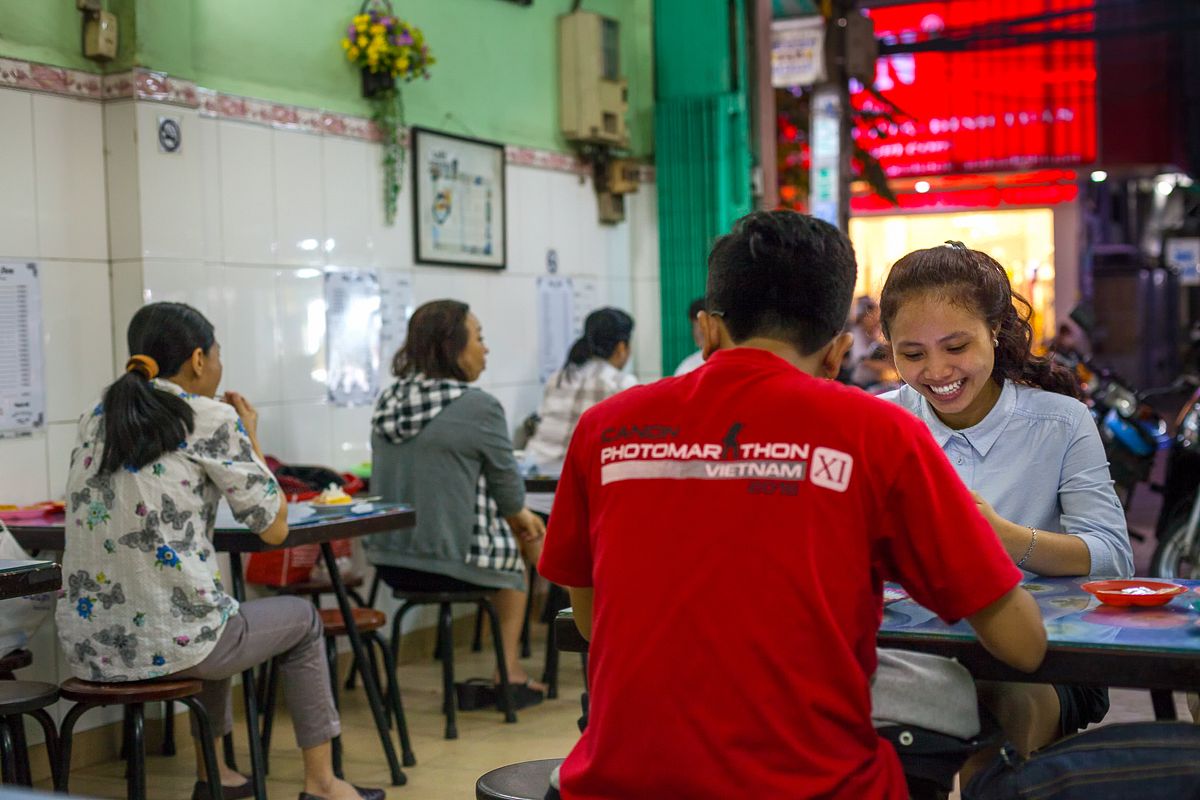 While the sweet toppings are well done, it's important to point out that what Hien Khanh nails is the balance: from the fragrant syrup to the fragile strands of thạch to the toppings, they work together to bring about a subtle sweetness in the dish that helps to relieve one's thirst instead of parching your throat.
At the end of the day, I have to admit that Hien Khanh's desserts don't offer much. But if I've learnt anything after spending months scouring the city for mouth-watering munchies, it's that more often than not, the atmosphere and the bantering that come with the food are as important as the cuisine itself.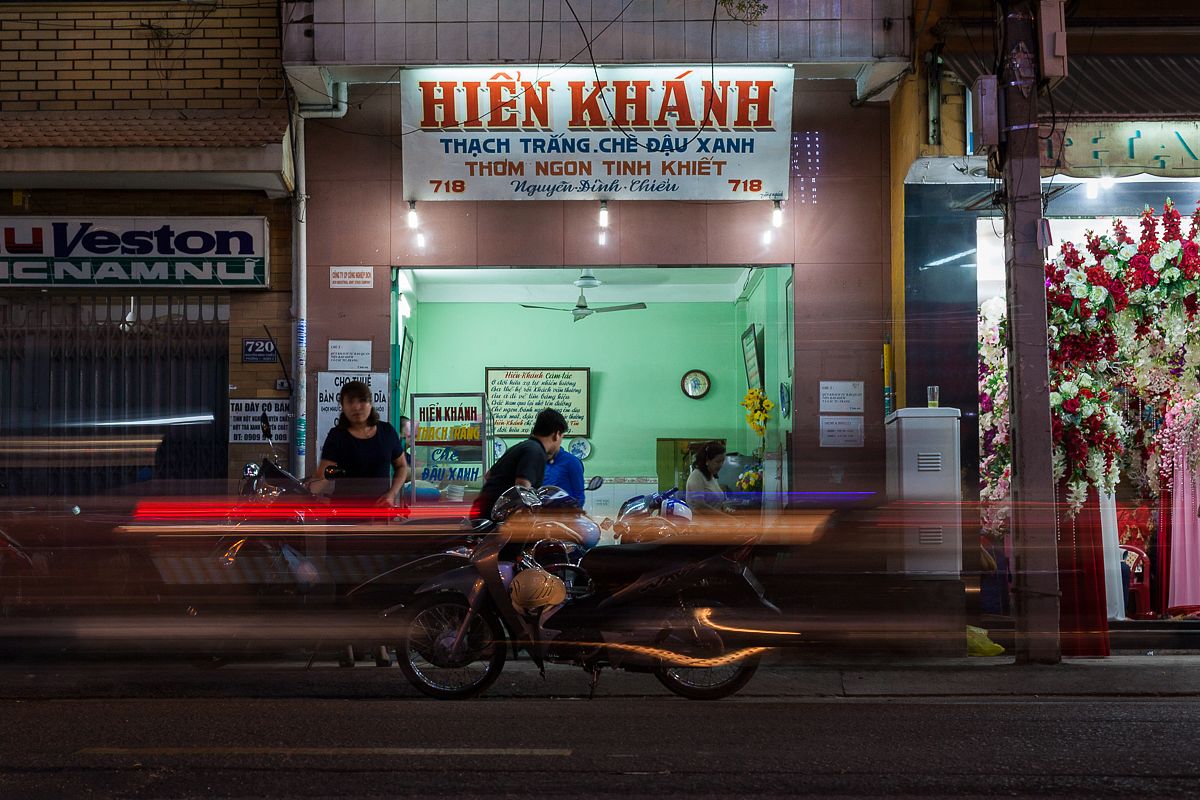 To sum up:
Taste: 5/5
Price: 5/5
Atmosphere: 5/5
Friendliness: 4/5
Location: 4/5
Khoi loves tamarind, is a raging millennial and will write for food.
Thạch Chè Hiển Khánh
718 Nguyen Dinh Chieu, D3