If you're able to wake up for them, early mornings in Saigon are a delight. Traffic is minimal, tempers are calm and the sun's rays are gentle. There are few better places in town to enjoy such mornings than at Villa Song's elegant riverside location in Thao Dien.
Now, you can also enjoy an outstanding breakfast selection while cool morning breezes drift in from the water and golden light bathes the dining area.
This is a welcome addition to Thao Dien, which is still somewhat lacking in the breakfast department despite a steady arrival of new restaurants. Villa Song opens early – 6am, to be precise – meaning one can stop by for a calm meal before braving morning rush hour on the way to work.
The enticing menu caters to both western and eastern tastes, with portions ranging from light to hearty. Prices are certainly higher than one would pay for street food, but the quality of ingredients combined with the beautiful setting is well worth it.
We visited on one sunny recent morning to try a few dishes from both halves of the menu, and they did not disappoint. The eggs benedict (VND150,000) features two poached eggs, smoked salmon or bacon and spinach served on an English muffin with béarnaise sauce.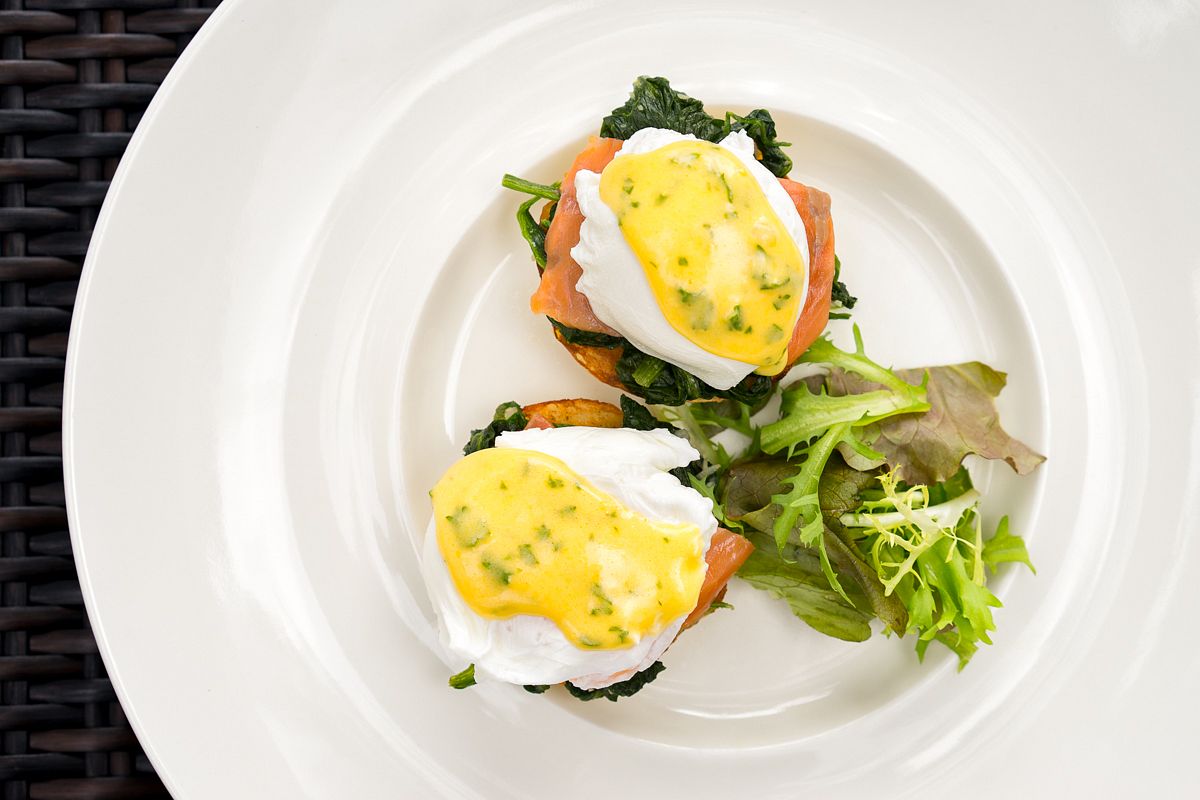 Ours was served with salmon, creating a fairly light start to the meal. Eggs benedict is an easy dish to mishandle, but this certainly wasn't the case here. Replacing the standard hollandaise sauce, which often ends up as a gunky mess, with béarnaise is a wise choice, as it has a more appealing consistency. The fresh spinach and salmon were great as well.
The waffles (VND150,000) with berry compote, maple syrup and kaya were light fluffy, while the side portion of crispy bacon and pork sausage added some heft to the dish. The homemade kaya, or coconut jam, hinted at the kitchen's Singaporean roots, and was an unexpected highlight of the meal.
Our last western dish was the aptly named 'Big Breakfast' (VND250,000), a heaping plate which includes two eggs any style, bacon, pork or beef sausage, grilled tomato, hash browns, sautéed mushrooms, baked beans and toast with butter and jam.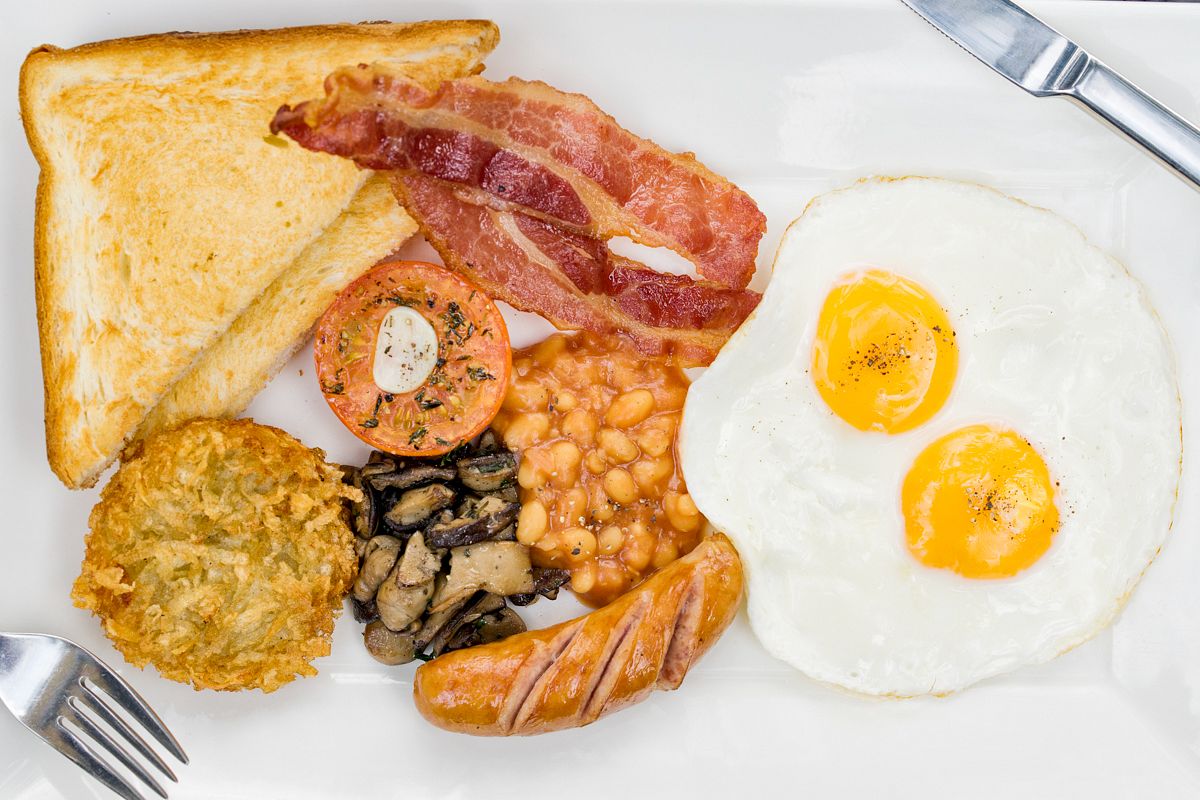 Big enough to satisfy even the most voracious diner, this dish would be ideal as a hangover fighter, or for anyone looking for a taste of a hearty American or British breakfast.
The Vietnamese breakfast options, on the other hand, are much more delicate and complex in both presentation and taste. Among options like banh cuon, mi bo kho and pho, we went for the mi hoanh thanh xa xiu and hu tieu Villa Song.
The mi hoanh thanh (VND165,000), or minced pork and shrimp wontons and char siu with yellow noodles, was beautiful to behold. Somehow it tasted even better than it looked, with each wonton exploding with flavor, while the soft noodles were far superior to anything you may get at a street cart.
Finally the hu tieu (VND165,000), or egg noodles with shrimp, squid, pork, chicken egg and vegetables in homemade chicken stock, topped off a fantastic meal in elegant style. The bowl was so pretty we almost – almost – felt bad disturbing it with chopsticks, but it was too delicious not to. The in-house stock elevated the soup to a whole other level. There are plenty of fabled hu tieu spots around Saigon, but this offering deserves to be up there with the best of them.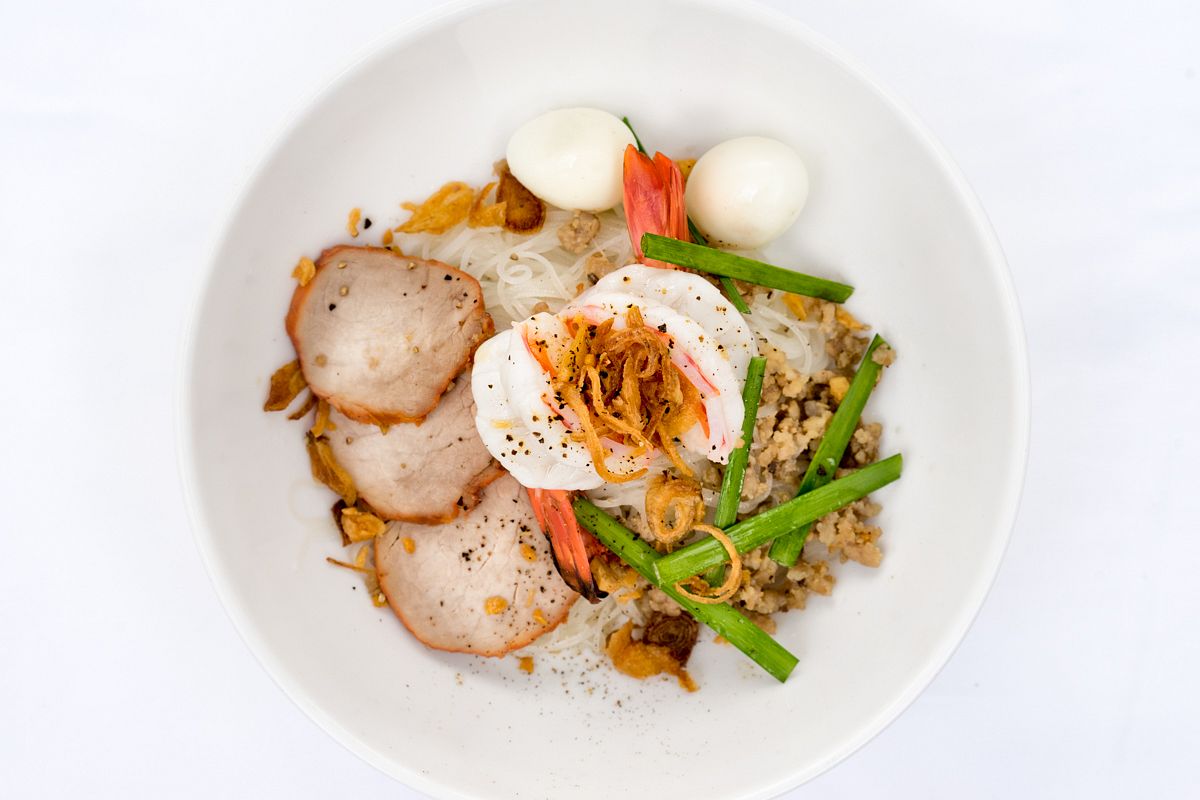 Villa Song's delicious breakfast dishes and unique, relaxed setting should put it at the top of the list for must-try morning spots in Saigon. Visit anytime from 6am-11:30am daily.