It's no secret that Da Nang is one of Vietnam's best destinations.
Its combination of beaches and mountains, big-city restaurants and broad oceanfront roads is unmatched. Especially for those living in the chaotic, traffic-choked metropolises of Hanoi and Saigon, Da Nang offers a sun-drenched escape, where the roads are clear and the air even clearer.
Of course, one of the area's main draws is the epic stretch of sand running all the way south to Hoi An. A recent addition to this stunning beach is the Sheraton Grand Danang Resort, which opened earlier this year. Situated just 20 minutes away from the airport, visitors are quickly ensconced in the resort's peaceful, verdant setting.
The property consists of two hotel blocks, one containing 130 rooms, and the other 128 rooms, all of which feature views of either the private beach or the resort's epic pool.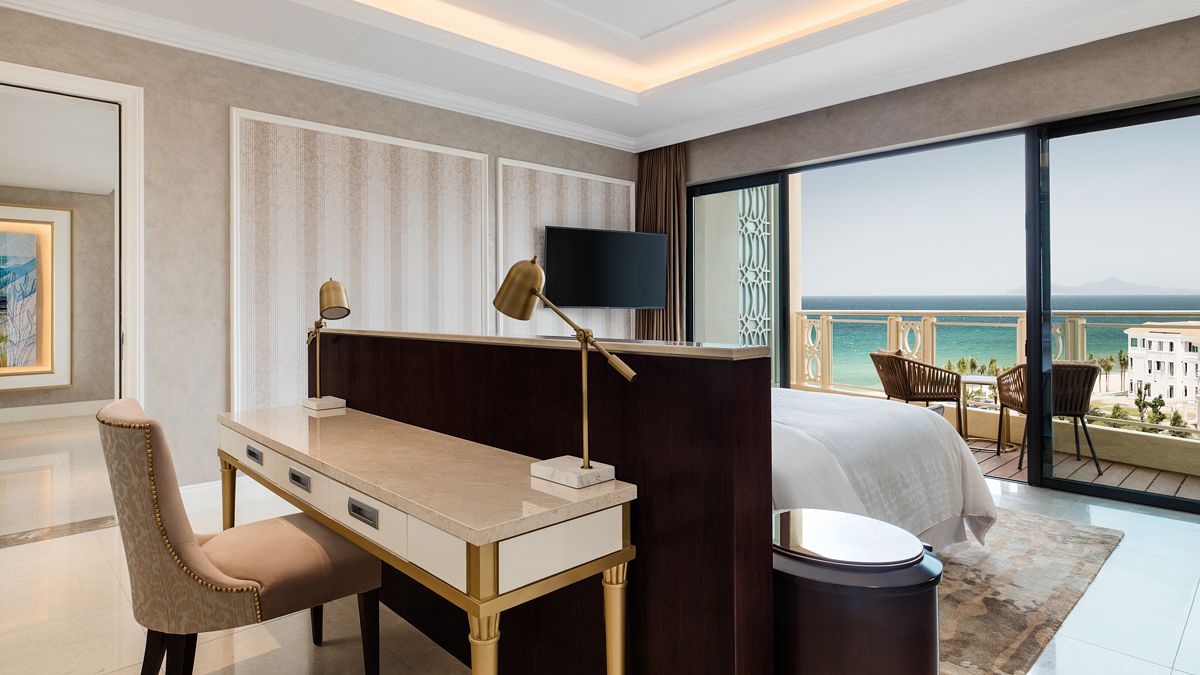 Speaking of which, the Sheraton Grand is worth a visit for that pool alone. Stretching an incredible 250 meters and ending directly on the beach, it is the longest infinity pool in Vietnam. Lined on both sides by plenty of seating – including lounge chairs and secluded cabanas – it is the perfect place to enjoy Da Nang's gorgeous weather, and you'll never have to worry about not finding a place to relax.
Or, if you're looking for a bit of exercise, the pool's sheer length makes it easy to get in some long-distance swimming, as just a couple of laps will leave average swimmers feeling like they got a solid workout.
After enjoying a meal at La Plage, one can saunter down to the beach to relax in a lounge chair, or take part in one of the many water-based activities offered by the resort, including boating, kayaking, surfing and beach volleyball.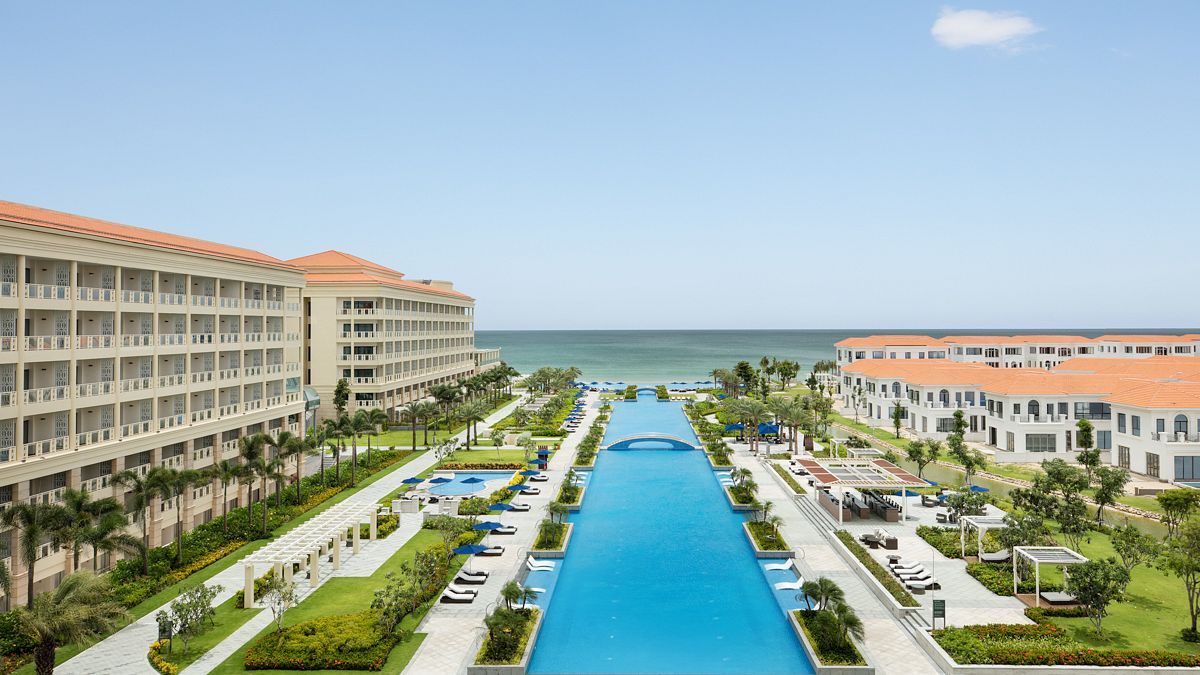 For anyone feeling more adventurous, the Sheraton Grand is conveniently located near many of the region's top spots, including several of Da Nang's award-winning golf courses, the striking Marble Mountains, Ba Na Hills and its now-viral Golden Bridge, and Hoi An, with all of its culinary and architectural delights.
Back at the resort other food and beverage options include the Tea Lounge, serving high-quality coffee and over 25 types of tea from around the world. The view from the café is impressive, with the immense infinity pool appearing to stretch directly into the East Sea.
Solid food and drink options are a necessary part of any enjoyable resort stay, and the Sheraton Grand features seven restaurants and bars for guests to choose from. La Plage, located right next to the beach, serves casual Asian and western cuisine in a breezy, open-air setting with spectacular views of the sea, Da Nang's skyline and the Son Tra Peninsula.
The Grill, meanwhile, serves as the resort's flagship fine dining restaurant, where diners can enjoy a large, expertly curated wine list and top-notch imported steaks. Incredibly fresh seafood is served as well, which comes as no surprise since the ocean laps at the shore just a few hundred meters away.
Guests are also in for a treat at the included breakfast buffet, which serves up an eye-catching array of options, including local fruit, freshly baked bread, dim sum, an egg station and so much more. It would be impossible not to leave breakfast feeling completely satisfied and ready for the day, whether that day entails hanging out by the pool, exploring Da Nang or resting in one's comfortable room.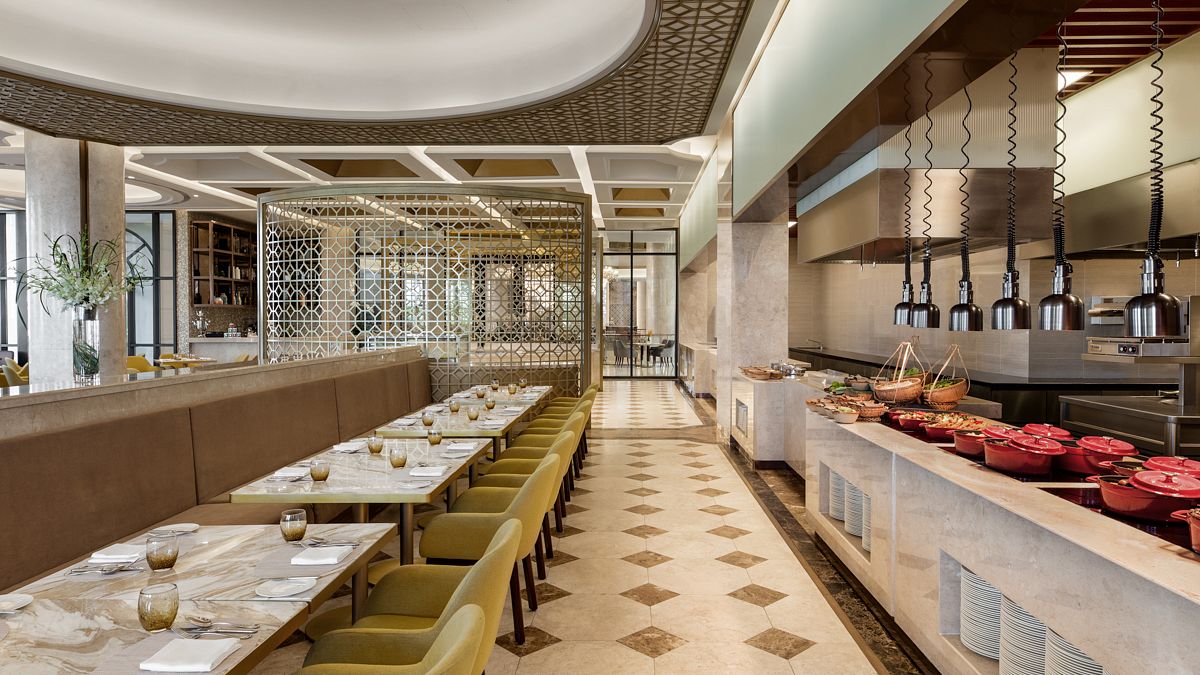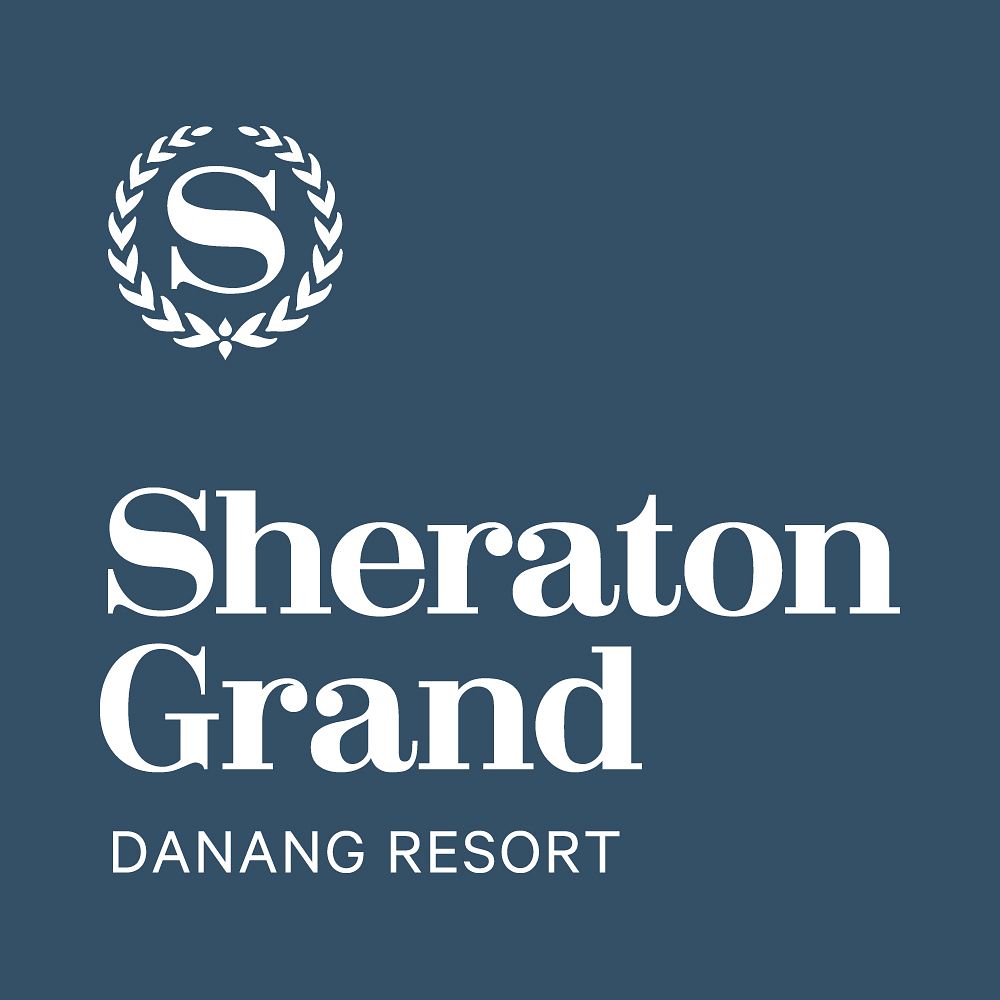 Sheraton Grand Danang Resort's website
Sheraton Grand Danang Resort's Email
84 236 398 8999
35 Truong Sa Street, Hoa Hai Ward, Ngu Hanh Son District, Vietnam