After a long hiatus, Park Hyatt's terrace bar has returned as After 5. Aptly named, it caters to professional crowds looking for a relaxed ambiance for their after-work wind down.
While Park Hyatt's long-established Opera Bar caters to people in search of a tropical luxe vibe, and 2 Lam Son is a sleek, modern cocktail bar complete with cubby holes for privacy-seeking patrons, After 5 provides a laid back atmosphere in an alfresco setting with lush vegetation. As Saigon's thirst for cocktails continues to grow and mature, After 5 aims to serve as an alternative to pubs and clubs.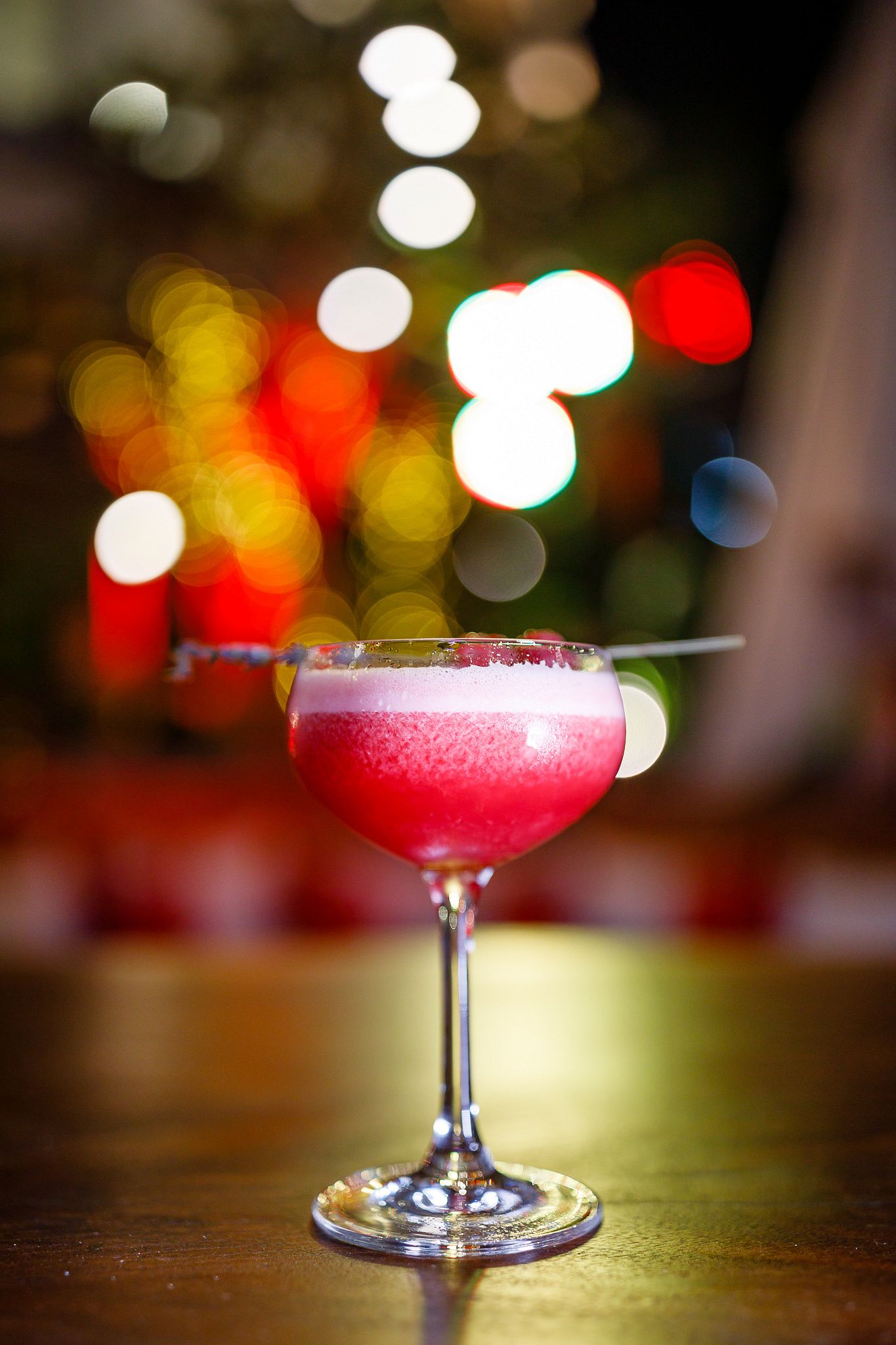 As part of its relaunch, After 5 is partnering with Monkey 47 gin for a dry season al fresco pop-up that features gin cocktails, music played at a volume you can hold a conversation over - a rarity in this city - and small monkey statues swinging from trees.
An apt partner for Park Hyatt, Monkey 47 produces a range of modern gin hailing from the Black Forest region of Germany that includes 47 botanicals bottled at 47% (yes, really). It has won a slew of global awards and regularly features on "Top 10 Gins" lists, citing the complexity of flavor as its main feature.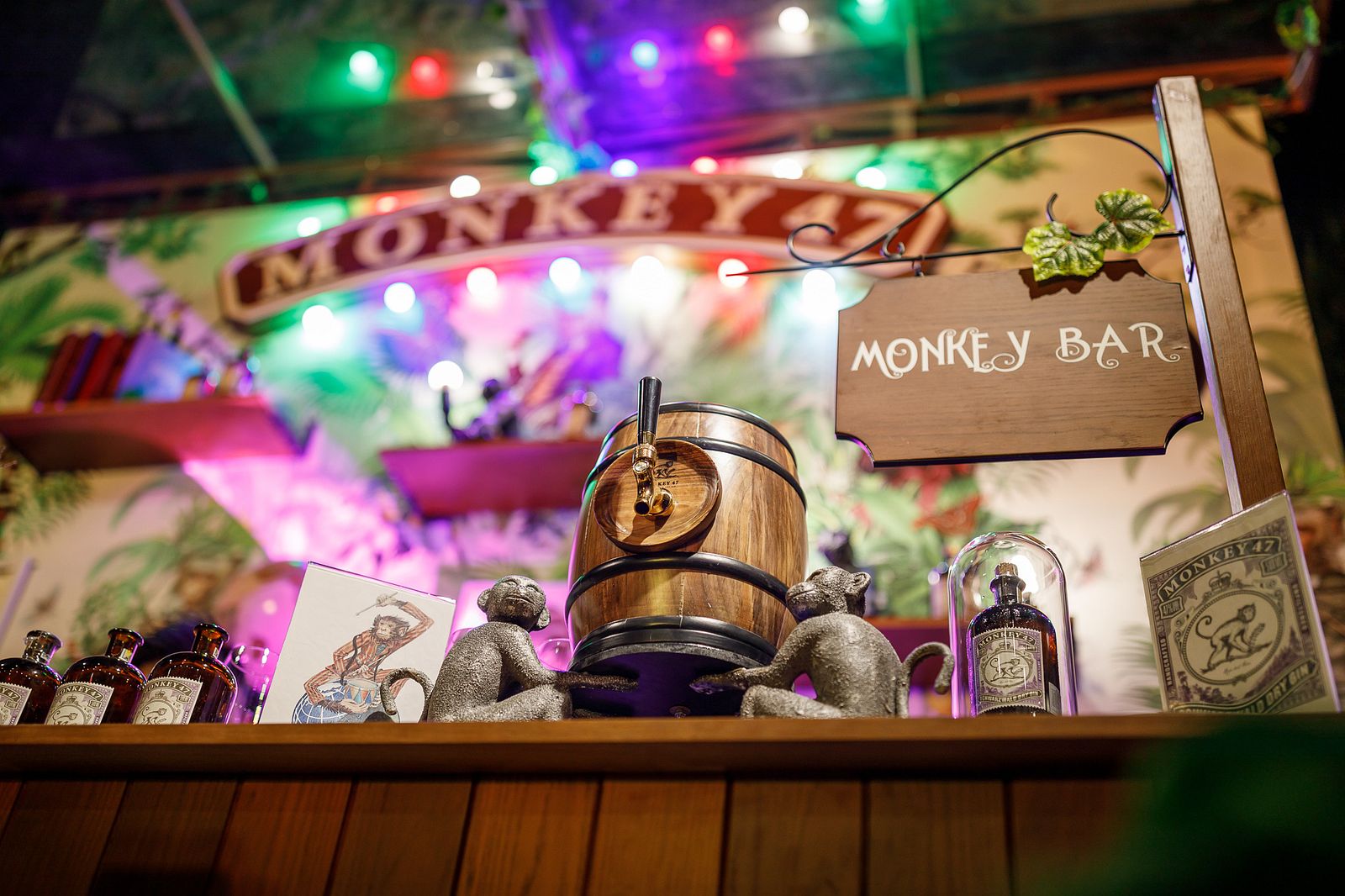 Branded as a quirky, 1930s colonial-era style gin with nods to its English heritage, Monkey 47 respects tradition as much as they play with its boundaries. The pop-up has led to a quirky cocktail bar, with a faux-colonial backdrop and images of monkeys dressed as gentlemen in tropical topiary. The event decor merges seamlessly into the existing frangipani trees and fairy lights on the roof to transport guests out of the hustle and bustle of Saigon.
Stavros Packeiser, Director of Food and Beverage, explained the vision behind After 5, "Saigon was in need of an al fresco bar with a relaxed vibe that provides high quality drinks at attractive prices. Monkey 47 provides this with signature cocktails, beers and wines at great prices."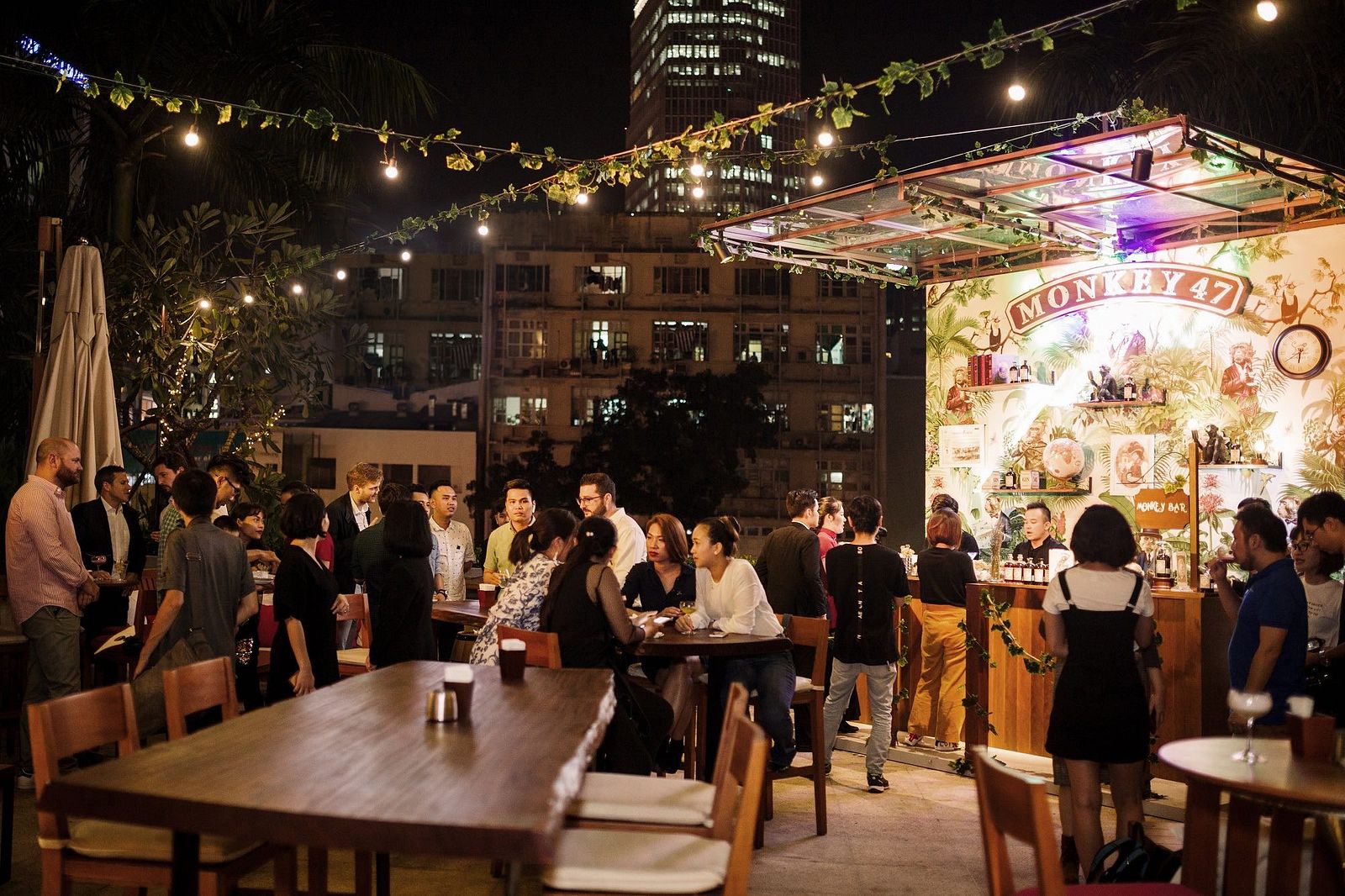 Saigoneer was invited to the relaunch party, which sought to present the new venue's vibe. A live band played, canapes were brought around, and celebrities mingled with sharp-looking corporate types. The weather was kind, and a gentle breeze blew as the bartenders shook up cocktails. Later in the night, a close-up magician entertained an amazed crowd that jostled to be called on to participate.
The highlight of the evening was the cocktails, all of which included Monkey 47 gins. Several reimaginings of old favorites incorporated Vietnamese ingredients, leading to such tipples as the Shiso Fizz (gin fizz with a shiso twist) and the Kho Qua (bittergourd) Negroni. Classics such as the gimlet were also executed flawlessly, with the 47 botanicals lending extra complexity without overpowering the end product.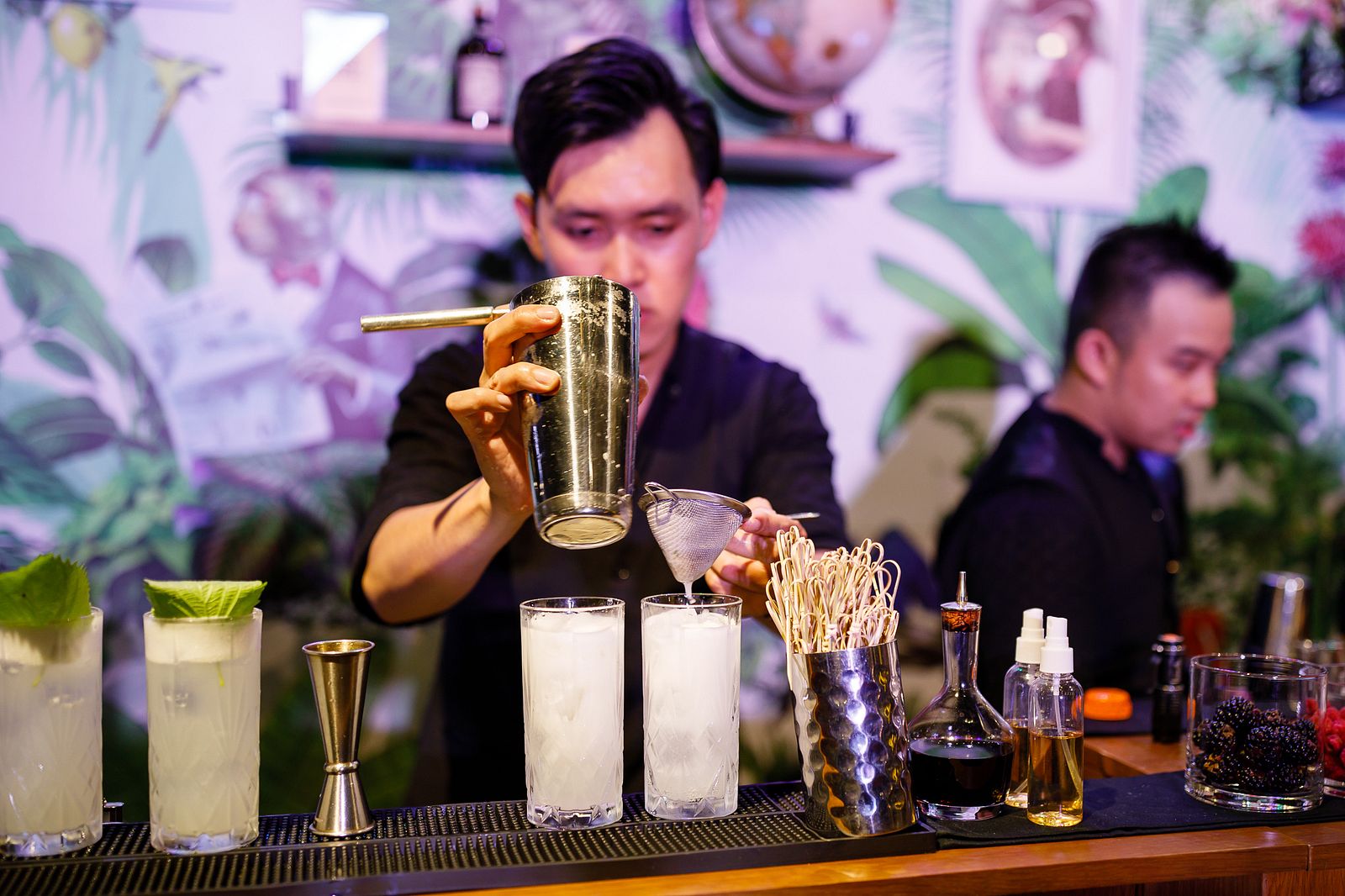 The new, post-launch drinks menu includes more than gin, with classic cocktails, wine, beer and a small collection of spirits available.
Signature Cocktails start from 290,000 VND, and as an official Monkey 47 locale, After 5 prides itself on having "The Cheekiest Monkey 47 Gin prices in town".
After 5 serves food as well, mainly in the form of small plates, like kingfish ceviche and soft shell crab rolls. For those looking for some comfort food, the menu also includes spring rolls and the After 5 hot dog.
As Saigon's thirst for cocktails evolves, After 5 may help pave the way for a new trend of bars in the city that provide an alternative to dingy pubs and rowdy clubs. The format of the modern upmarket bar with a beach resort vibe has proven popular in cities such as Bangkok, Singapore and Bali, so its likely to appeal here. If nothing else, an upmarket location for a delicious drink is always welcome.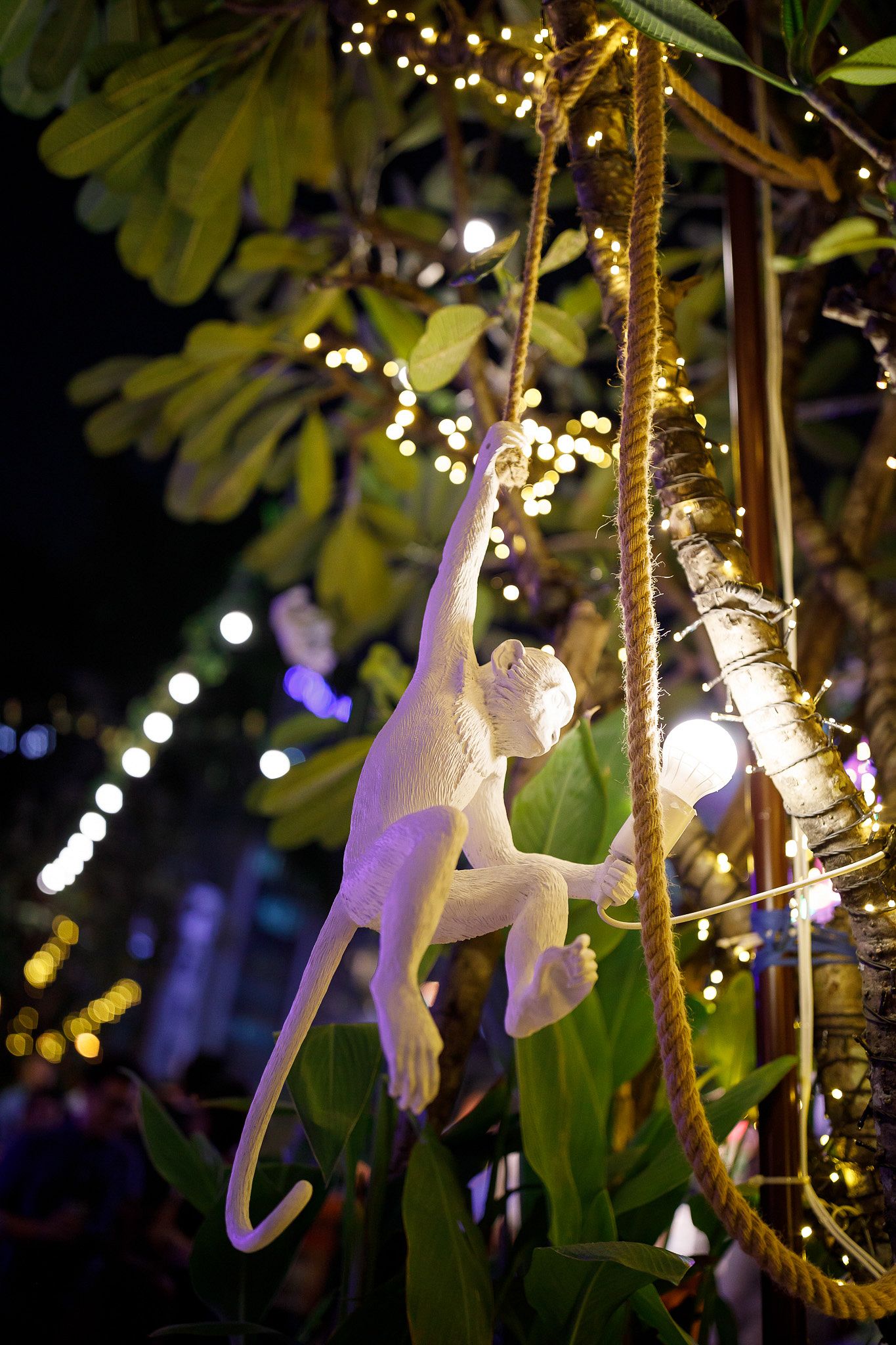 For the month of December, first drinks are on After 5. To qualify, each guest needs to check in at "After 5, Park Hyatt Saigon" on Facebook and post one or more photos of where they are. They then need to show After 5 staff the public post in order to enjoy a complimentary signature Monkey 47 Gin Cocktail. Each patron receives one drink per day and the promotion lasts the month of December 2018. Drinks commence from 5pm.
+84 28 3824 1234
Park Hyatt | 2 Lam Son Square, D.1, Ho Chi Minh City